Mixed Bag
Fish were boiling fifteen feet behind the boat. Each handful of live pilchards increased the feeding frenzy.
"Cast your baits right into the middle of the action", I instructed my anglers. "You should get bit right away."
Kaitlyn and Danielle cast their baits out and sure enough, an instant "double header"! A pair of attractive young ladies stood on the front of my boat with big smiles and bent rods; it's great to be a fishing guide in Sarasota!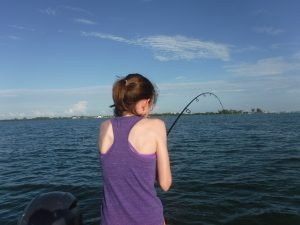 Opportunities abound for anglers who go fishing on the west coast of Florida. Redfish can be sight fished in shallow water, tarpon are targeted along the beaches, and snook will ambush prey along mangrove shorelines. But the majority of fish caught on my Sarasota fishing charters are done so on the deep grass flats in Sarasota Bay. Danielle and Kaitlyn were in town on a visit from Ontario. Like many of my clients, they had very limited angling experience. In fact, Kaitlyn had never caught a fish before and we certainly fixed that! Fishing the deep grass offers those anglers the chance to catch a lot of fish. These same techniques will produce all along the Gulf Coast.
While the largest fish on the flats are typically found in quite shallow water, the deep grass flats will produce more in terms of action and variety. Anglers who just want to bend the rod and perhaps catch a fish or two for dinner can't do better than drifting the deep grass flats. Spanish mackerel, speckled and silver trout, pompano, bluefish, jack crevelle, mangrove snapper, gag grouper, black sea bass, flounder, cobia, ladyfish and even tarpon are all available at one time of year or another. Every once in a while a snook or redfish will be encountered over open flats deeper than four feet. Mottled expanses of grass in depths from four to eight feet will be the most productive.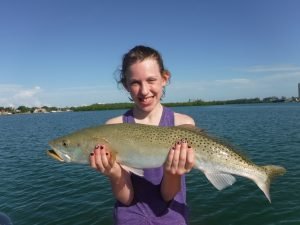 Wind, tide, and water clarity all play a role in choosing which flats to fish. The best situation is one in which the wind and tide are moving in the same direction. Generally speaking, incoming tides are preferred but as long as the water is moving, fish can be caught. Flats just inside a pass can be the best spots of all as they flood with bait and clean water from the Gulf of Mexico. The exception to this is right after a cold front passes through. Those flats will soon be covered with "dirty" water due to wind churning up the water in the Gulf. On breezy days it is easier to fish flats that are in protected water as opposed to those in open bays.
Many inshore bays have a shallow bar that runs parallel to the shoreline. These bars generally have a sloping bottom with lush grass that drops off into deep water. These are great spots to fish! Speckled trout and pompano might be taken in the four to five foot depths while Spanish mackerel, bluefish, and ladyfish are usually found on the outer edges of the grass. Points usually have good grass flats on both sides and are also excellent spots to try. Areas near passes will have natural deep channels along with man-made dredged channels. Any grass flat that drops off sharply into deep water can hold fish, particularly on a low tide.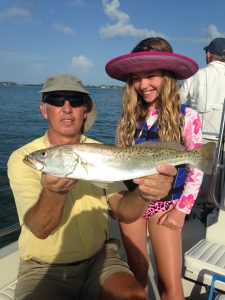 Artificial lures are both very productive and a lot of fun to fish. Casting lures out in front of a drifting boat is a great way to cover a lot of water efficiently. Begin the drift on the up-tide or up-wind side of the flat. Fan cast the area while varying the retrieve. Pay attention to details such as depth and water clarity. If a drift produces good action, idle around and make another pass through the same area. If not, move on to another spot. This technique allows anglers to eliminate unproductive water fairly quickly.
Occasionally, I will anchor when using lures. One recent charter comes to mind. It was very windy and Spanish mackerel were isolated on the up-tide side of grassy points with good current flow. The wind and tide made working these points difficult while drifting. I anchored a short distance away and had my clients cover the small flat using Rapala X-Raps. A fast, erratic retrieve triggered some very exciting strikes! We ended up with a dozen nice Spanish for the box along with speckled trout and ladyfish.
The most popular artificial bait on the west coast of Florida is the lead head jig with a soft plastic body. These baits come in a myriad of colors and styles, but they all basically work the same. And they all catch fish. Bass Assassin jigs come in some great colors and sizes and are very cost-effective to fish. My personal favorite is the gold shad tail on a ¼ ounce white jig head. Grub tails and jerk baits are also effective. Dark colors such as olive, green, and rootbeer work well in dark water while gold, silver, and white are good choices in clear water. Chartuese is a great all-round choice and hot pink is a good option when the water is dirty. Scented soft plastic baits such as Gulp! and Trigger-X can make a big difference on days when the fish are reluctant to bite.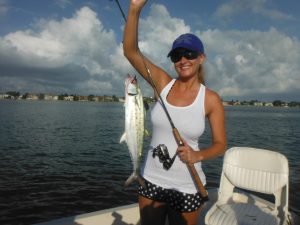 Plugs are also effective lures when fished over the deep grass. Suspending plugs such as the venerable MirrOlure are deadly on speckled trout. Both topwater and shallow diving plugs will also catch plenty of fish. The Rapala X-Rap slashbait is a great choice for working areas where fish are breaking on the surface. These lures dive a few feet down and have great action. A fast, erratic retrieve is usually very effective. One disadvantage in using plugs is that the multiple treble hooks can damage small trout.
Silver and gold spoons have been around a long time and they still catch fish. Spanish mackerel love a quickly retrieved silver spoon while speckled trout seem to prefer a slowly wobbling gold spoon. In open water spoons with a treble hook such as the Johnson Sprite are utilized; there is really no need for a weedless spoon in this application.
Fly fisherman can use the same tactics to score on the deep flats. Any fish that will hit a jig will take a weighted fly. The most popular pattern by far is the Clouser Deep Minnow. There are a ton of variations on this fly, but basically it is a hook with some dressing and a weighted eye that allows it to sink. The fly is cast out, allowed to settle for several seconds, and retrieved back in short strips. White, green/white, olive/white, and chartreuse/white Clousers tied on a #1 or #2 hook are the most popular flies. A 7or 8 weight rod with an intermediate sink-tip line works best. Many fly anglers make the mistake of using a floating line. Even with a weighted fly, the line will not get down deep enough when fishing in water over six feet.
While artificial lures are productive, live bait is tough to beat. Shrimp and bait fish are the two most popular live baits. Shrimp are purchased locally while bait fish are usually caught, but they are sometimes available at bait shops. Pinfish, grunts, and "whitebait" are the most commonly used live bait fish. "Whitebait" is a generic term for any shiny white fish that schools up in large numbers (pilchards, threadfin herring, etc). Match the hook size to the size of the bait. A 1/0 live bait hook is a great all-round choice. I usually free line the bait, but sometimes either a split shot or a float will be required, depending on current flow and depth. Use a long shank hook if cut-offs from mackerel and bluefish become a problem.
A well full of 3" pilchards practically guarantees success. These are caught with a cast net over shallow flats or out on the beach. In the summertime flats near the passes will be covered with these bait fish, especially on an incoming tide. If they are seen on the surface "dimpling", it is easy enough to quietly ease into range by drifting or using a trolling motor. Chumming is a great way to get a bunch of baitfish within range of a cast net. A can of jack mackerel (purchased at your local Publix) and a half loaf of wheat bread is a proven mixture. Add just enough salt water to make a thick paste. Anchor in two to four feet of water on the up-tide side of a flat and sparingly toss pea-sized pieces into the water. The bait should show up within a few minutes.
I use the same tackle and rig with both live bait and artificial lures. A 6 ½ foot spinning rod with a matching reel spooled with ten pound monofilament line works well in both applications. A Spider Hitch is used to double the last three feet of line and a double Uni-Knot attaches a 24" piece of fluorocarbon shock leader. 30 lb test is a good all-round choice, but conditions will dictate what size leader to use. Clear water will perhaps require lighter leader while dirty water or the presence of toothy critters such as bluefish, mackerel, or sharks will make 40 lb or 50 lb leader a better choice. The lure or hook is then tied on to the end of the leader. I do not like to use snaps, swivels, or any other types of "hardware". The exception to this is when using spoons. A snap swivel will eliminate line twist.
One Siesta Key fishing charter last summer illustrates how exciting this technique can be. I was fishing the last hour of an outgoing tide early in the morning. Several spots produced a couple of ladyfish and snapper. The third spot was a small grass patch that dropped off into ten feet of water with bait fish activity on the surface. An 18" speckled trout was quickly landed and then Anne-Christine's line started moving off to the side. She reeled up the slack while raising the rod tip, expecting another nice trout. Instead, the mystery fish took off on a long, powerful run, getting perilously close to a channel marker. She was able to turn the fish, then started working it patiently back to the boat. I caught a glimpse of the fish before it took off again; it looked like a pompano. Moments later the mystery was solved as an eight pound permit slid into the net!