Dance A Jig
As the weather cools, the water temperature drops, and the hordes of baitfish that inhabited the bay in the summer migrate to warmer waters, artificial lures become more productive. While lures certainly catch fish all year long, they are even more effective this time of year. And no bait is as versatile or effective on a variety of species as is the simple, but deadly, lead head jig.
There is evidence pointing to the jig as the first artificial bait used by man. And after all these years, it still catches fish! Like many other lures, they come in a myriad of styles and colors, but they can really be broken down into two types; hair and plastic tailed jigs. A painted lead head jig with a plastic body is the most popular of the two here. They are inexpensive, easy to use, versatile, and productive.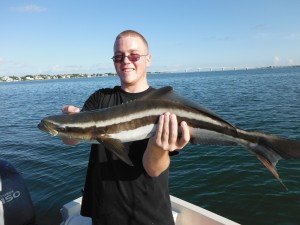 Jig heads come in many colors, but white and red are the two most popular. Tails also come in various shapes, sizes, and colors. Shad and curly tail baits imitate fish while paddle tail and shrimp bodies mimic crustaceans. Both catch plenty of fish. Don't get overwhelmed, just pick up a handful of heads in white and red in 1/8 and ¼ ounce along with some packages of bodies. I like Bass assassin products, but they are by no means the only choices. A basic color selection of gold, olive, rootbeer, and chartreuse in both bait and grub style will be all an angler needs to get started. One advantage of these types of jigs is the ease with which tails can be replaced and colors changed. They are also very economical. Scented soft plastic baits such as Trigger-X and Gulp! are a bit more expensive, but on slow days they can make a big difference.
Jigs can also be purchased that are manufactured with nylon or natural fibers. Bucktail jigs have been around a long time and white is the best color. Spro jigs are a quality bucktail jig that is an excellent lure. Pompano jigs are usually made with artificial fibers. Typically, they have a heavy head and a short tail. A good example is the Bomber Saltwater Grade Pompano jig. I prefer the chrome head/green tail combo. While very productive, hair jigs are not as durable or cost effective as the jig/grub combo is. They are a great choice for pompano and speckled trout, but not for bluefish and mackerel.
Both Big Sarasota Pass and New Pass can be great spots to fish jigs, as long as the water is clean. Both passes have shallow bars and deep channels and fish can be in either of those spots. In the deeper water, vertically jigging while drifting with the tide is a time-proven technique for pompano and other species. Simply drop a jig to the bottom and drift along while sharply raising the rod tip every couple of seconds, then allow the bait to flutter back to the bottom. Heavier pompano style jigs work very well in this application. Each time the bait hits the bottom it will kick up a puff of sand, imitating a crab or other crustacean. On the shallow bars, casting jigs out and retrieving them back to the boat is the preferred method.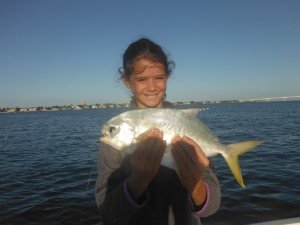 Jigs are very productive on the deep grass flats. Speckled trout in particular are suckers for a jig/grub combo, but bluefish, Spanish mackerel, pompano, cobia, flounder, sea bass, grouper, jacks, and ladyfish will all readily take a jig. The lure is cast out and retrieved back using a sharp "twitch", generally from the 10:00 to 12:00 position. Most bites occur as the jig is falling, seemingly helpless. Anglers who keep the line tight as the jig falls will detect more strikes. Darker colors such as olive and rootbeer work very well on the deep flats. Another popular technique is to fish a jig two feet under a noisy cork. The rig is cast out, allowed to settle, then the rod tip is sharply twitched. This causes the cork to make a loud noise, attracting fish. It also causes the jig to jerk up and then slowly settle back down. The cork not only keeps the lure from hanging in the grass, strikes are easily seen as it disappears.
Scented soft plastic baits on a 1/8 ounce jig head are deadly on redfish and snook when fished in shallow water around oyster bars and in pot holes. Rootbeer is a great color in darker water. The area from CB's Saltwater Outfitters south to Blackburn Point is a great area to fish in cooler weather There are many oyster bars here and it is more protected on windy days. High tides in the afternoon are the best times to fish. Potholes in north Sarasota Bay near Long Bar and Whale Key will hold snook and reds when the water is clear.
Depending on weather conditions, fishing can be very good in the inshore Gulf of Mexico for both surf fisherman and anglers in boats. Good conditions would be clean, clear water in the mid 60s. Jigs cast from shore will catch pompano, whiting, jacks, mackerel, and ladyfish. Anglers fishing from boats will target surface activity from breaking false albacore and Spanish mackerel.