Siesta Key Fall Fishing Frenzy
Shorter days and cooling water temperatures announce the beginning of autumn here on the Suncoast. The changes are subtle, but they are there. A sweatshirt might be required on some mornings, along with long pants. The grass stops growing. The oppressive humidity is easing. It is one of my favorite times to fish in Florida! When conditions are right, I will be out in the inshore Gulf of Mexico chasing Spanish mackerel and false albacore enjoying a Siesta Key fall fishing frenzy.
Spanish mackerel are a terrific and underrated gamefish. They strike lures, flies, and live bait with reckless abandon, make long runs, and are superb table fare. October is a prime month to target these speedsters both in the Gulf of Mexico and in Sarasota Bay. There will be plenty of mornings when the wind is out of the east and the Gulf is flat; these are excellent conditions to run the beach in search of outstanding light tackle action. Birds working on the surface are a certain sign that feeding fish are in the area. Several artificial reefs off of Lido Key are also reliable areas to fish.
When schools of fish are seen feeding on the surface, a true Siesta Key fall fishing frenzy, I usually choose to cast artificial lures at them. My personal favorite is a Rapala X-Rap in the (08) size. Lighter colors work best in the clear water. Cast the plug out and rip it back in with an erratic retrieve, the faster the better. This will produce explosive strikes! Silver spoons, jigs, and flies are also quite effective. I will often times replace the treble hook(s) with a single long shank hook to allow a better release. On days when the fish do not "show" as well, blind casting or free lining live baits can produce.
This is a great opportunity for anglers who are interested in a Siesta Key fly fishing trip. Larger mackerel will get into the backing. The best outfit is an eight weight with an intermediate sink tip line. A white D.T. Special tied on a long shank hook will catch plenty of fish and reduce cut-offs. An eight foot piece of fluorocarbon leader works well, but a section of 50 lb can be added should the sharp teeth of the macks become a problem. Fast retrieves work best. In fact, it is sometimes difficult to move the fly quickly enough. Keep the rod tip low, strip quickly, then "strip strike" the fish when it hits. This involves pulling sharply on the fly line with the stripping hand and smoothly raising the rod tip.
Anglers who anchor up and chum on one of the inshore artificial reefs are virtually guaranteed to experience success in October. They can create their own Siesta Key fall fishing frenzy. The best approach is to anchor up-wind of the structure and free line a live bait back behind the boat. A long shank 1/0 hook and 30-40 lb leader works well. Use a split shot if wind or current do not allow the bait to sink. Chum is not always necessary but increases the odds. Frozen blocks of chum can be purchased at CB's Saltwater Outfitters on Siesta Key and other local shops. Live baitfish that are crippled and tossed out will bring the gamefish right up to the boat.
False albacore (little tunny, bonita, fat Alberts, albies) will also be encountered in the inshore Gulf of Mexico. Albies are incredible sport though more challenging than the mackerel. They can be fussy and usually move faster and do not stay up as long. Patience will pay off. It is better to sit and wait for a good shot than run all over the place. Eventually they will pop up within casting range. The same lures that fool the macks will catch the tunny. Anglers should not be surprised if other gamefish crash the party. Sharks, king mackerel, cobia, and even tarpon will hit baits meant for smaller game. The albies and mackerel can be landed on fairly light tackle but the cobia, kings, and tarpon will require a step up to heavier gear, so bring along some beefier tackle, just in case.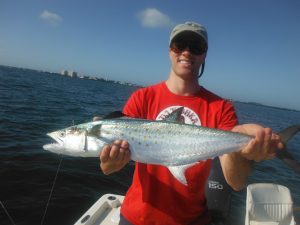 There will be plenty of opportunities to catch Spanish mackerel for anglers who prefer to fish inshore or when the weather keeps boats out of the Gulf of Mexico. Both Big Sarasota Pass and New Pass will be full of mackerel, along with bluefish, pompano, and ladyfish. Surface activity is a dead giveaway to actively feeding fish, but even if the fish are not showing there still may be action to be found. Drifting along with the current and casting jigs, spoons, or plugs will quickly determine if the fish are there. Free lining a live shrimp or baitfish can also be productive as long as there isn't too much current.
The deep flats near both passes will also attract Spanish mackerel. An added bonus is that speckled trout should be plentiful, along with the chance to catch pompano, bluefish, jacks, ladyfish, and other species. The same lures that produce in the passes and on the beach will be effective on the flats. Generally, the best time to fish is during incoming tides that bring clean water and bait in from the Gulf.