I was unhooking and releasing a small trout for Jesse when I saw Lily bowed up and heard the drag squeal in protest as a decent fish made a couple of short runs.
"I thought it was a tiddler", she said, (I learned just that morning that "tiddler" was British slang for something small), "but then it got a lot bigger!"
The mystery was solved shortly as a huge speckled trout came into view. Riding on the line was a hand-sized pinfish. Obviously, the pinny hit the pilchard and the big trout ate it. Lily fought the fish gently and with patience and I slid the net under it, hoisted it up for a quick photo, then released it to live and breed, those big trout are the future of the fishery.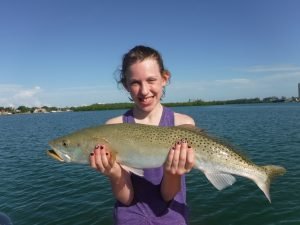 I get asked a lot of questions while performing my duties as a fishing guide, and none more often than,
"What is the best time of year to come to fish in Sarasota?"
For anglers seeking fast action and variety, the answer is easy, and to some a bit surprising; summertime! I have fished with the Derry family from the UK several times, and like many of my clients this time of year, they do not fish a lot at home. I need to be able to put them on a bite that is both productive and easy for novice anglers. Chumming the deep grass flats meets both of those goals.
In many fishing situations, the heat of summer can be a tough time to go at it, but not so here in Sarasota, Florida where I guide. Despite water temperatures in the upper eighties, action on the deep grass flats in Sarasota Bay is usually fast and furious. The reason for this bonanza is simple; bait, and lots of it! Speckled trout are probably the most commonly caught species when fishing Sarasota Bay, but Spanish mackerel, bluefish, mangrove snapper, jack crevelle, juvenile gag grouper, flounder, sea bass, ladyfish, sharks, and more will respond to this technique.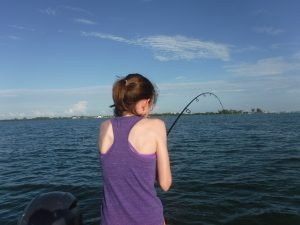 Each year is different, but generally speaking, by the first part of June the baitfish show up in big numbers. They are small at first, but grow quite rapidly. Large baits are not needed, or even preferred, for this type of fishing. As long as they are large enough to cast, the gamefish will readily devour them. Smaller baits also make good chum as the fish won't get filled up as quickly. Just about every shallow grass flat and bar near either Big Pass or New Pass will have schools of bait. Scaled sardines, AKA "pilchards" are the preferred bait, being a bit hardier, but threadfin herring can also be abundant as well and are extremely productive.
The technique of chumming with live bait over the deep grass flats is relatively simple and straight-forward and will work just about any place where large quantities of baitfish can be easily acquired and kept alive. The most important requirements are a large livewell with a good pump and the ability to throw a cast net. There are a lot of videos available online that can teach the art of casting a net, so I won't get into it here. Once the well is full of frisky baits, angling success is virtually guaranteed!
The best time to catch bait is in the morning on an incoming tide. The current tends to position the bait on the up-tide edge of a flat or bar. Often times they can be seen dimpling on the surface. When this occurs, the boat is eased up to them and then the net is cast over them. On cloudy or breezy days, the bait can be more difficult to locate. A chum mixture of cat food, canned mackerel and bread, or even tropical fish food can be used to lure the bait into range and get them knotted up in a bunch. Bait will be thick on the beach at times, but boat handling can make catching them a tricky proposition, so be careful when taking that approach. I prefer an 8' net with ¼" mesh. The mesh size is very important since our baitfish are fairly small. Using a larger mesh will result in a lot of bait getting "gilled"; in other words stuck in the net. Be careful not to over load the well, particularly when the water temperature is high.
Once the well is loaded, or "blacked out" as we say here, it is time to go fishing. Tackle requirements are very basic. A 6 ½' or 7' spinning rod with 10 lb line is an ideal outfit. I prefer monofilament line when using live bait; I believe that the stretch in the line is actually beneficial. A 24" piece of 30 lb. fluorocarbon leader is attached to the running line using either a #10 black swivel or using a double uni-knot. A #1 or #1/0 short shank live bait hook finishes off the rig. Anglers may choose a small circle hook as well. A long shank hook will help prevent cut-offs in the event that Spanish mackerel or bluefish show up in the chum.
The next decision an angler must make is where to fish. Choosing a flat where the wind and tide are moving in the same direction will generally be the most effective situation. Find such a flat that has good signs such as birds working, fish breaking, or schools of bait on the surface and chances of success will be very high. If no visual signs of fish are found, simply choose a flat that has been productive in the past. In my area in the summer, I look for clear water and lush grass in 6' to 8' of water.
There are some nuances to chumming; it is not as simple as shoveling bait out behind the boat. The idea is to attract fish and get them excited, not to fill them up. Start with just a dozen or so baits and see how the fish respond. Squeezing the baits slightly will injure the bait, making them even more attractive. The less chum that can be used to keep them behind the boat, the better. Strong currents will require more chum, slack tides less chum. Some days they just "want" a lot to keep them wound up. Some species such as mackerel and ladyfish like more aggressive chumming than trout do. Don't overlook the baits that die in the well, mangrove snapper often times respond well to it.
Casting topwater plugs for snook and tossing crabs at rolling tarpon is challenging and very exciting. But, there are times when the goal is just to go out and catch a bunch of fish. Chumming with live bait is a deadly technique that is guaranteed to put smiles on the faces of anglers!