Spring Break
Siesta Key Beach is world famous and attracts many visitors in March. In fact, it just won the prestigious award for " Best Beach". Young ladies flock to the famous white sand beaches during spring break to soak up the sun. But many come to fish, too. This time of year, families make up the majority of my charters and most of these trips include at least one female angler. Sarasota offers great family-friendly fishing for a variety of species. Vast experience is not required, just basic skills and the desire to have a good time.
Deep grass flats are very productive, offering reliable spring time fishing. Speckled trout, silver trout, pompano, Spanish mackerel, ladyfish, bluefish, jack crevelle, mangrove snapper, gag grouper, cobia, sea bass, and flounder are all regular catches. Both anchoring up and drifting are equally productive, depending on the tide and wind.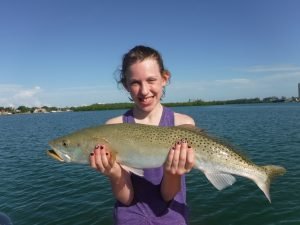 The most popular artificial lure in this area is the jig/grub combo. This is a lead head jig with a plastic tail which imitates a shrimp or bait fish. D.O.A Lures manufacture a full line of effective products; my personal favorite is the gold shad tail on a ¼ ounce white jig head. The lure is cast out in front of the boat as it drifts across the flat. It is allowed to sink several seconds then is retrieved back with a twitching motion. Most strikes come as the bait falls.
While artificial lures catch plenty of fish, live bait is the most reliable producer on my Sarasota fishing charters, especially with anglers with limited experience. Live shrimp are purchased and "whitebait" is cast-netted up on the flats. "Whitebait" is a Florida term for small white or silver baitfish, mostly pilchards and threadfin herring, that migrate into the area in the spring. A well full of either live shrimp or frisky pilchards practically guarantees success.
Marcel Hamburger lives in Houston, TX and has fished with me for several years now. He usually brings his two children Morgan and Grant. Morgan never gets out-fished. Never. She has perfected the art of drifting a live bait across the flats. She casts her bait out and lets it drift behind the boat with the rod tip held low. When a fish takes the bait, she does not jerk, which is a common mistake. Instead, she just reels up the slack while slowly raising the rod tip. Most of the time, the result is a fish in the boat.
Anchoring up on the edge of a grass flat that drops off into deeper water and fishing with live bait can be deadly. One trip from several years ago comes to mind and it is a story that I have told many times on the boat. John Brennan from Brookfield, WI visits Siesta Key regularly for vacation, and he usually treats his daughters Laura, Cari, and Theresa to a Sarasota fishing charter. I filled the well with twelve dozen shrimp and loaded up the Brennan clan. After anchoring up on the edge of a flat near Bird Key, we experienced non-stop action free lining live shrimp. I believe the final tally was 119 fish landed, not counting the ones that jumped off. Spanish mackerel, speckled trout, and ladyfish, kept rods bent the entire time. It was so hectic, poor John barely got the chance to fish!
Big Sarasota Pass lies to the north of Siesta Key. It is a fish highway that connects Sarasota Bay to the Gulf of Mexico. March is a prime month for fishing the pass. The same methods that produce on the flats will also work in the deeper water of the pass. Jigs bounced on the bottom and free lined live bait will catch pompano, Spanish mackerel, bluefish, and loads of ladyfish.
Last March the Manby family, friends of the Brennan's who also reside in Brookfield, WI had a great morning catching large mackerel in Big Pass. Maria and Jeff along with their three girls Ashleigh, Julia, and Abigail were my guests that morning. The tide was low and had just turned to come in and we were free lining live shrimp. The bite was a little slow, just a couple of ladyfish, when Julia's rod bent double and the drag started screaming. I knew right away that it was a big mackerel. Julia fought the fish like an expert and it was landed and tossed on ice, destined for dinner at Clayton's that evening. Several minutes later the same thing was repeated. Then again. What the heck? Four baits in the water, same hook, same rig, but she catches all the fish?
"I jiggle it", she stated. And the now-famous "Julia Jiggle" was born. Any time I am on a charter and the bites are slow in coming, I instruct my clients to "jiggle it". Action is sure to soon follow.
There is much more to fishing than just catching fish. The time a family spends together is priceless. I humbly feel privileged to be a part of it. Friendships have been forged and to see the kids grow up each year is exciting. Experience your own Spring Break, Sarasota style!