Thanksgiving Treat
In past years, fishing guides with clients who were looking for a fish dinner had a quandary in November. The same held true for recreational anglers. Spanish mackerel might be gone, sheepshead have not showed up, and pompano are unpredictable. Hopefully a redfish, flounder, or drum would be caught and put in the box. The recent ruling by the FWC to keep speckled trout open year round changes that. Speckled trout are now open all season with a 15" minimum length with one over 20" and a bag limit of four per person. While it is legal to keep one large fish, I strongly encourage releasing all fish over 20". These are females that we need to sustain the population. Keep a couple of "slot" fish for dinner and release the rest.
November is a transition month for many species and speckled trout fall into that category. Fish will move from the flats in North Sarasota Bay and around the passes to the more protected areas south of Stickney Pt. Rd. Passing fronts will bring strong winds which churn up the Gulf of Mexico. That "dirty" water will flood the flats near the passes. Those protected areas will not be affected and will remain relatively clear and this attracts the trout. Fishing will still be productive near the passes as long as the water quality is good.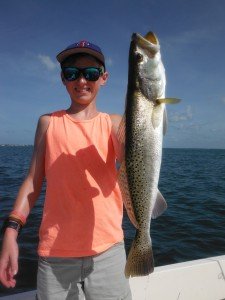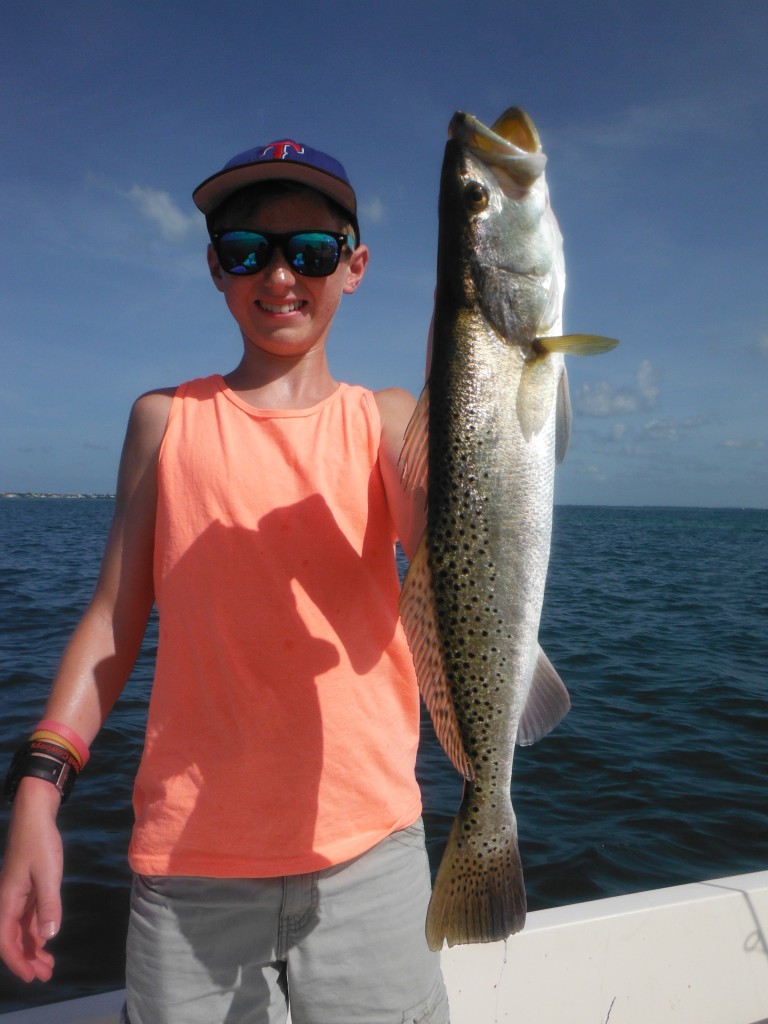 The grass flats in this area are a little more difficult to find as the water is not as clear, but most flats in four to six feet of water will have expansive grass beds. The flats south of Spanish Point to Blackburn Point are a great place to look for speckled trout. High tides are usually best and often times these tides occur in the afternoon. Ladyfish will also be plentiful and will keep rods bent. This area also has a lot of oyster bars. Any bar that drops off sharply into deeper water is a potential hot-spot for trout along with snook, reds, and other species.
The techniques that produce speckled trout and other fish in the warmer months will also work as it cools off. One advantage of the dropping water temperatures is that pinfish are much less of a problem. This means that anglers can use live shrimp without be constantly bothered by these little nibblers. A medium sized shrimp fished three feet under a noisy cork will catch a lot of fish. The best way to fish this rig is to cast it out in front of the boat as it drifts (or from a dock, shore, or wading) and give it a few seconds to settle. The rod tip is sharply "twitched", causing the cork to "pop". This noise simulates feeding game fish and will attract a hungry trout to the helpless shrimp dangling enticingly in front of it. The cork goes down and the angler reels up the slack and raises the rod tip. Artificial shrimp such as D.O.A. Shrimp (they package this rig as the "Deadly Combo") or scented baits like Gulp! Shrimp are also effective.
Artificial lures are also effective as the water temperature drops. There is less bait available and the cooler water seems to make the fish more active. The most popular lure in our area is the lead head jig/grub combo. This is a weighted jig head, usually a ¼ ounce, with a plastic grub tail. Bait shapes and colors are endless but they all work the same. Rootbeer/gold, olive, gold, and glow are effective colors. Longer 6" jerk baits can also be used. On slow or cold days the scented baits may work better. The lure is cast out and allowed to sink for several seconds then retrieved bock using short hops. As in all lure fishing, vary the retrieve and color until it starts producing.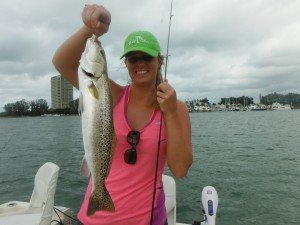 Suspending plugs can be deadly on speckled trout and will usually catch larger fish. The MirrOlure series is very popular and effective. The 52M series and the newer MirrOdine, especially in the smaller sizes, are popular. Rapala Twitchin" Raps and Glidin" Raps work the same way and are also productive baits. These plugs are cast out and allowed to sink for several seconds then gently "twitched". They suspend helplessly in the water and that is when the fish usually strikes it.
While drifting the deep grass flats will produce more numbers of trout, and some decent ones, the larger trout will be caught on the edges of oyster bars in shallow water. A hand-picked shrimp fished under a float is deadly on big trout and will catch redfish and snook, too. Topwater plugs will draw explosive strikes. The best all-round lure for working bars is a soft plastic bait on a 1/16 ounce jig head. The D.O.A. jig has a strong hook along with an angled head which helps reduce snags. Scented baits such as Gulp!, Trigger-X, and Exude work very well.
Take advantage of the "treat" that the FWC has given us this fall and enjoy a speckled trout dinner or two, just remember to let the big girls go so that we can all use the resource for years to come!