THE BEST OF BOTH WORLDS
It is June and I have a morning charter. I also have a dilemma. The water temperature is in the mid 80s and the bay is full of bait fish. Artificial lures can be effective but live bait is tough to beat. Also, the idea of using the early morning "prime time" to catch bait is not appealing. So, what to do? Simple; take advantage of the first light bite by casting lures and mid-morning when things slow down a bit, fill the well with bait and use it to get the fish cranked back up!
This is a strategy that I use all summer long. There is often so much bait on the flats, particularly those flats near the passes where I often fish, that the speckled trout and other species can be difficult to fool on a lure. The exceptions to this are the low light periods of dawn and dusk when gamefish are actively feeding. I also run a lot of family charters that include novice anglers and children. Live bait is the ticket to bent rods and smiling faces. In these instances, live shrimp can replace lures to take advantage of the early bite. At some point the pinfish will become a nuisance, requiring a change to baitfish.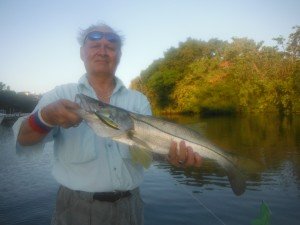 Plug, jigs, and spoons are three very effective and versatile lures. High tides first thing in the morning will find my clients casting Rapala X-Raps in the (08) size over bars and edges of grass flats. Snook will also attack them when cast around mangrove shorelines at first light. These baits dive several feet below the surface and are deadly when retrieved back in using sharp twitches with a pause in between. Topwater plugs will elicit explosive strikes! They will generally catch less fish, although often times larger ones. Some of the largest speckled trout will be landed using plugs in shallow water at dawn. Suspending plugs such as the MirrOlure are great for trout over the grass flats.
The lead head jig/plastic tail combination is a proven bait all along the Gulf Coast of Florida. D.O.A. Cal jigs are very popular in our area. They are available in a wide variety of sizes and colors. My personal favorite is the 3" shad tail on a ¼ ounce jig head. This is a great bait to use when fishing over deeper grass flats for trout, pompano, and whatever else finds it attractive. Light colors such as gold, silver, and pearl work well in clear water while rootbeer and olive are effective in darker water. Lighter jig heads can be used when fishing in shallow water.
Spoons have been around forever, and to this day are still productive lures. They are great for prospecting as they are easy to cast long distances, allowing anglers to cover a lot of water. Spoons basically come in two styles; either weedles with a single hook or with a treble hook. Gold and silver are the two most popular finishes. Weedless spoons are great for enticing redfish in very shallow water. The treble hook version is a good choice when fishing open water. Spanish mackerel are particularly vulnerable to a quickly retrieved silver spoon.
Weather and tide will play a part in my strategy for the morning. Strong tides and a little breeze will usually result in lures being productive later into the morning. Conversely, a still morning with very little water movement will mandate a switch to live bait earlier than normal. Fortunately, bait is usually pretty easy to acquire this time of year. Bird activity will give away the location of the baitfish. Shallow flats near passes are prime spots to find scaled sardines (pilchards) and threadfins. Once located, a good toss or two with a cast net should result in a well full of frisky bait. If bait fish are not visible on the surface, they can be chummed into range using canned mackerel or cat food.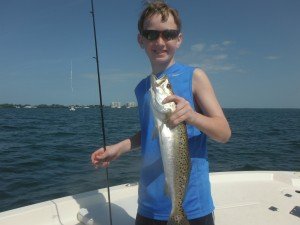 Once the bait is obtained, fishing begins. The technique is pretty simple but as with any other method, subtle nuances can make a big difference. Basically, I anchor up-current of a grass flat in four to eight feet of water. Then, I toss out a handful of bait and if fish are around it won't take long before they start "busting" the baits on the surface. Baits are pinned to a 1/0 hook and cast out; a hookup should promptly ensue. Speckled trout, Spanish mackerel, bluefish, sharks, mangrove snapper, jack crevelle, flounder, and ladyfish are all commonly caught using this technique over the deep grass. It does require a decent cast net, a large live well, and a little patience, but the payoff can be non-stop action all morning long.
Finishing up the charter trying for a snook, redfish, or big jack is also an option with a well full of bait. Anchoring near a mangrove point and chumming will lure the fish into range. I have also landed some large mangrove snapper along with the snook and reds when using this technique. This is a great option as it produces even at mid-day.