A Little Bit of Everything"
"I am not sure what it is," Candice said, the drag protesting as line peeled off the reel, "it feels like something different."
The mystery fish made several short runs with quick turns before I caught a glimpse of silver. Candice had been casting a jig and grub combo while drifting a grass flat in Sarasota Bay and already had landed several different species on that lure. Several moments later a beautiful pompano slid into the net.
One of the most enjoyable aspects of fishing in saltwater, particularly on the Gulf Coast of Florida, is the variety of fish species that an angler can catch in a day of fishing. One day my clients landed nineteen different species on a six hour charter! That was my best day as far as different species is concerned. Here on Sarasota Bay where I guide, snook, redfish, speckled and silver trout, pompano, Spanish mackerel, jack crevelle, bluefish, flounder, black sea bass, juvenile gag grouper, mangrove snapper, sheepshead, cobia, black drum, cobia, ladyfish, and more are all available at various times of the year. All of these species will take live bait and most will hit an artificial lure or fly.
Shrimp are the most available and versatile live bait that is used in this area. There are several different techniques that work well. Shrimp can be hooked in the front, under the horn, in the tail, or threaded on the hook. One of the most popular and effective ways to fish a shrimp is under a "Popping cork". This is a noisy float that helps attract fish and is deadly on speckled trout. Free lining a shrimp works very well when put out behind a drifting boat as well as around oyster bars, docks, and mangrove shorelines. Threading a shrimp on a hook and fishing it on the bottom with a little weight is a great way for anglers to catch snapper, sheepshead, drum, flounder, and other tasty bottom dwellers.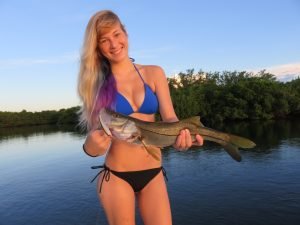 Artificial lures are also very effective and many anglers enjoy casting "fake" baits. The most popular lure all along the Gulf Coast from Florida to Texas is the jig and grub combo. A ¼ ounce jig head mated with a plastic body will catch just about everything that a shrimp will. Tails come in various sizes, shapes, and colors, but most either imitate a shrimp or a bait fish. Shad tails are very effective as they have a lot of built in action, where shrimp and paddle tails require more attention from the angler. My personal favorite is the Bass Assassin 4" Sea Shad baits. They come in a bunch of great colors and have fantastic action.
Jigs also work well in several different angling situations. Jigs are effective cast over grass flats for trout, pompano, bluefish, mackerel, and other species as the boat drifts along. A 1/16 ounce jig head will allow angler to work very shallow water for redfish and snook. Drifting passes while bouncing a jig right on the bottom will produce pompano, bluefish, mackerel, and loads of hard-fighting ladyfish.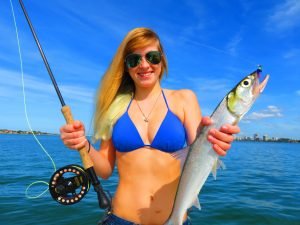 Plugs are also very productive artificial lures, which are basically a plastic or balsa wood baits that imitate a small, wounded fish. Plugs are built to vibrate and run erratically; this is the action that triggers a strike. Plugs can be cast towards likely structure for snook, redfish, and jacks, and worked over grass flats for trout and mackerel. Plugs are a great choice when fish are breaking on the surface. They can also be trolled to help locate fish when the bite is tough.
Fly fishers are not to be left out of the action, either! One of the most popular fly patterns is the Clouser Minnow, which is basically a bucktail jig. Anglers can drift the deep flats and cast a fly or wade the shallow flats in search of a tailing redfish. Nothing beats casting a fly to breaking false albacore and Spanish mackerel in the inshore Gulf of Mexico.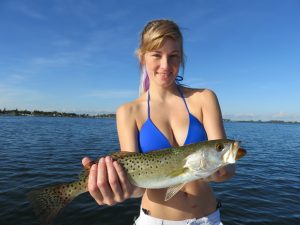 Just as an angler has many different choices when heading out on the water and needs to be versatile in order to succeed, the same can be said when it comes to choosing the right boat. Bay boats are by far the vessel of choice among serious anglers, and the reason is pretty simple; they are incredibly versatile and reasonably priced, all things considered. Most bay boats are in the 20' to 24' range, float in 15" or so of water, have ample storage and seating, along with angler-friendly options such as large bait wells, trolling motors, and more. Also, many boat owners have families and perhaps young children, requiring a boat that can also be used to ski, snorkel, go shelling, and other boating activities while being safe and comfortable. Bay boats can also venture offshore a bit on days when seas are flat.
The boat I chose is a 2180 Stottcraft, which is built to order by a small manufacturer near Ocala, Florida. It is light, with an open and uncluttered cockpit, is very simple and easy to clean and maintain. Basically, it is the perfect boat for my charter operation. There are a myriad of choices when it comes to bay boats and an angler should have no problem finding the best boat for his or her situation.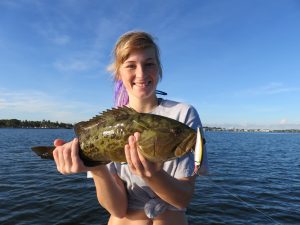 Anglers that spend a lot of time in shallow water may decide that a true flats boat is the best choice. Boat shopping fishermen that keep in mind the old saying, "Every boat is a compromise", will understand that there will be a sacrifice in ride, seating and storage in order to access the "skinny" water. But, for serious anglers that enjoy the challenge of sight casting in clear, shallow water, a flats boat is definitely the best boat to use.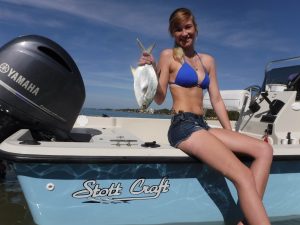 It does not matter which technique that is used, species that is targeted, or boat that is used, the most important thing is to get outside and enjoy the wonderful recreational opportunities on the water that Florida offers year-round!