About fishing Siesta Key provides anglers, both local and visitors, with the resources needed to be successful fishing here on Siesta Key. This page includes many helpful links, tools, and information to assist the avid angler. Current fishing conditions, fishing reports, monthly fishing forecasts, links to regulations, tide predictions, and weather forecasts are just some of the information that is available at Fishing Siesta Key.
Take advantage of the many years experience that Capt Jim brings to the visiting angler. Contact him at (941) 371-1390 or captklopfer@comcast.net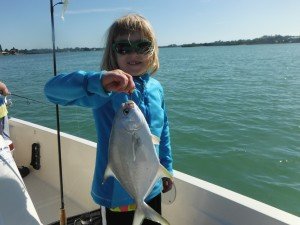 Siesta Key offers it's visitors many different angling opportunities for people of all ages and experience levels. Surf fishing off of the area beaches can be very productive at times. The back water areas are ususally best in the cooler months. Big Pass lies at the north end and provides clean waster from the Gulf of Mexico. Lush grass flats abound in this area. Further south, oyster bars and mangrove shorelines are more prevalent. Many anglers do quite well on their own fishing Siesta Key, whether from shore or renting a boat. But, your odds improve significantly when going out with a full time fishing captain.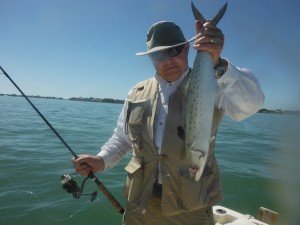 Capt Jim has also written quite a few articles for several magazines. Some are still available to be viewed digitally online. Any angler fishing Siesta Key can gain a few tips and good information that will help them catch more fish. There are also quite a few articles on this site under "tips and techniques" that cover many fishing Siesta Key situations. Shore fishing, renting a boat, and hiring a fishing charter are all options.
Links to Capt Jim's articles
Gaff Magazine:
Lighten Up and Troll; http://viewer.zmags.com/publication/c4a1a6ab#/c4a1a6ab/76
Pluggin Primer; http://viewer.zmags.com/publication/2bfd9169#/2bfd9169/38
Fly Fishing 101; http://viewer.zmags.com/publication/a915b078#/a915b078/42
Mixed Bag http://viewer.zmags.com/publication/b1f5bc2b#/b1f5bc2b/70
Beach Bonanza http://viewer.zmags.com/publication/16e9bb68#/16e9bb68/42
Inshore Structure Fishing http://viewer.zmags.com/publication/a0b9bf2b#/a0b9bf2b/30
River fishing for snook and bass http://viewer.zmags.com/publication/12fbc8ed#/12fbc8ed/46
Fishing Upper Myakka Lake http://www.myakkariver.net/index.php/fishing-myakka-upper-lake-with-capt-jim/