Beat the Heat, Summertime Strategies
All three rods were bent deep as I tried to keep the bedlam under control. Sweat was dripping from my forehead and it was only nine o'clock in the morning. The heat was one reason, the other was that I was scrambling to keep my client's hooks emptied of a fish and then re-baited. It was non-stop action as nearly every pilchard that hit the water was devoured within seconds. Welcome to summertime fishing in Florida!
Many anglers are surprised when I tell them that fishing in the heat of summer is outstanding. Some of my best days, especially when it comes to quantity, come in July and August. The reason for this is the abundance of live bait fish that flood into the bays at first light. Pilchards and threadfin herring are thick on the shallow grass flats near the Venice Inlet. A few tosses of the cast net will usually result in a well full of bait. After that, success is practically guaranteed. A few handfuls of live chum will bring speckled trout, Spanish mackerel, bluefish, mangrove snapper, ladyfish, jacks, and sharks right up to the boat. Bait fish are easiest to catch at first light, especially on a high tide. Grass flats near both passes are good spots to load up the well.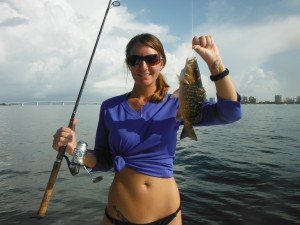 While fishing can be spectacular in the heat of summer, it does require a few tactical changes. The prime low-light periods of dawn and dusk will be very productive, as will fishing at night. Getting up early is a requirement, not an option. Get out there early, catch bait or take advantage of the early morning low light conditions to cast artificial lures. On most days the bite winds down by late morning. By then it is usually just too hot to fish, anyway.
Fishing at night is another productive option in July. Evenings are pleasant, just monitor the weather; thunderstorms are an issue this time of year. Snook in particular will be caught around the lighted docks and bridges throughout the area. Speckled trout, redfish, snapper, ladyfish, and even tarpon will also be caught at night. Plugs, jigs, flies, and live bait will produce around lighted structure. Successful anglers will quietly approach a likely spot and either anchor or use a trolling motor to work the spot. Shore bound anglers will score at the area bridges, too. The prime spot is a cast away on the up-current side just on the fringe of the lighted area. Outgoing tides are preferred, but as long as the water is moving the fish will bite.
Bass Assassin Sea Shad jigs are productive lures, as are small plugs such as the (08) size Rapala X-Rap. Live shrimp free lined in the current can also be deadly. Medium sized shrimp work best on a 1/0 short shank hook. Large hand-picked shrimp don't look natural and are usually not as effective. Spinning tackle with a 2' piece of 30 lb fluorocarbon leader is best for tossing lures and live bait. Glass minnows are a primary forage around lights and small white flies are effective imitations. A 7 or 8 weight rod with an intermediate sink tip line and 8 foot piece of 30 lb fluorocarbon leader works well.
Another productive July technique is beach fishing for snook. This is a great opportunity for anglers without a boat to experience the thrill and challenge of sight fishing. Anglers will hit the beach around 8:00 a.m., by then there is enough sunlight to spot the fish. Walking north will put the sun behind, making it easier to see the snook. Quite often, they will be right in the surf line, inches from the edge. Live bait will work but it cumbersome to carry around. Artificial lures are more convenient and catch plenty of fish. Small light colored lures are best. A delicate presentation is required so as not to spook the fish in the shallow water. A 1/8 ounce white bucktail jig works great, as do small plugs and soft plastic baits.
This is a terrific situation to catch a snook on a fly rod. White bait fish patterns are productive. The fly lands very softly in the water and will not spook the snook. Since the fish are in open water for the most part, the chance of them breaking off is greatly diminished. A seven or eight weight outfit with a floating line and eight feet of 30 lb fluorocarbon leader is the standard rig.
The large schools of tarpon will have broken up but there will still be plenty of fish out there. Although they don't "show" as well, they eat better! Point of Rocks, Grassy Point, and the Venice Pier are good spots to try. Again, get out there at first light and either cast to rolling fish or drift a pinfish out behind the boat under a float. Fish until mid-morning, then call it a day.
There are plenty of ways to catch fish in July and still beat the summertime heat!