Braden River Fishing Charter
My name is Capt. Jim Klopfer and I offer anglers a unique experience; a Braden River fishing charter! The Braden River is a small tributary about 6 miles long downstream from the dam at Lake Evers until it empties into the Manatee River. It is a fairly short drive from Sarasota and Siesta Key. I meet my clients at the boat ramp right on the Braden River at the State Road 64 bridge.
Several game fish species move up into area creeks, rivers, and residential canals in the cooler months. They do this to escape the harsh conditions on the open flats. Water temperatures can fall drastically in the wintertime in open water, especially shallow water. Snook and jack crevalle in particular exhibit this behavior. These rivers also offer anglers some sanctuary on a windy winter day in Florida.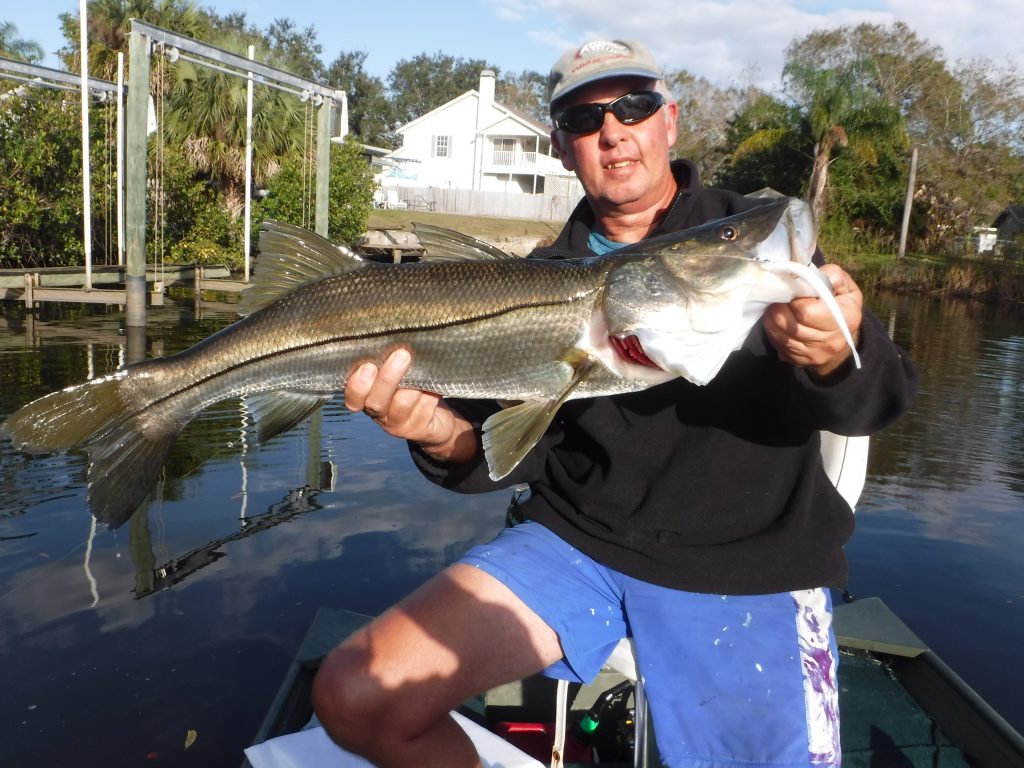 One of the benefits of this to anglers is that fish tend to be concentrated in smaller areas. The Braden River has some shallow stretches along with some deeper holes. For the most part, snook, jacks, and redfish will be found either in these deeper holes are on the edges where the shallow flat drops off. This makes it a great trip for anglers with less than perfect casting skills as long accurate casts are generally not required.
Braden River tackle and techniques
For the most part, I use medium spinning tackle on a Braden River fishing charter. For those more experienced anglers that prefer bait casting tackle, that is certainly appropriate as well. 20 pound braided line works well in either case. A shock leader of 30 pound to 40 pound fluorocarbon line a couple of feet long is used as well.
I only fish with artificial lures and generally use two different ones most of the time. These are Rapala shallow diving jerk baits and soft plastic lures on either a jig head or a swim bait hook. These two lower types allow anglers to cover the water effectively and efficiently in search of fish. Like fish everywhere, fish in the Braden River tend to move and anglers must keep trying new spots until a productive area is found.
Where possible, I like to drift with the current while using the trolling motor to keep the boat position properly. This results in the best and most natural presentation. Moving the boat against the current results in a loop which causes an unnatural drag.
I run a lot of fly fishing charters in the Braden River as well. It is an excellent option as long casts are not required and there are virtually no back casting issues. A 9wt outfit is best is there is always a chance to run into a 15 pound Jack or snook. Also, I use fairly heavy flies and the 9wt outfit with an intermediate sink tip line handles them well.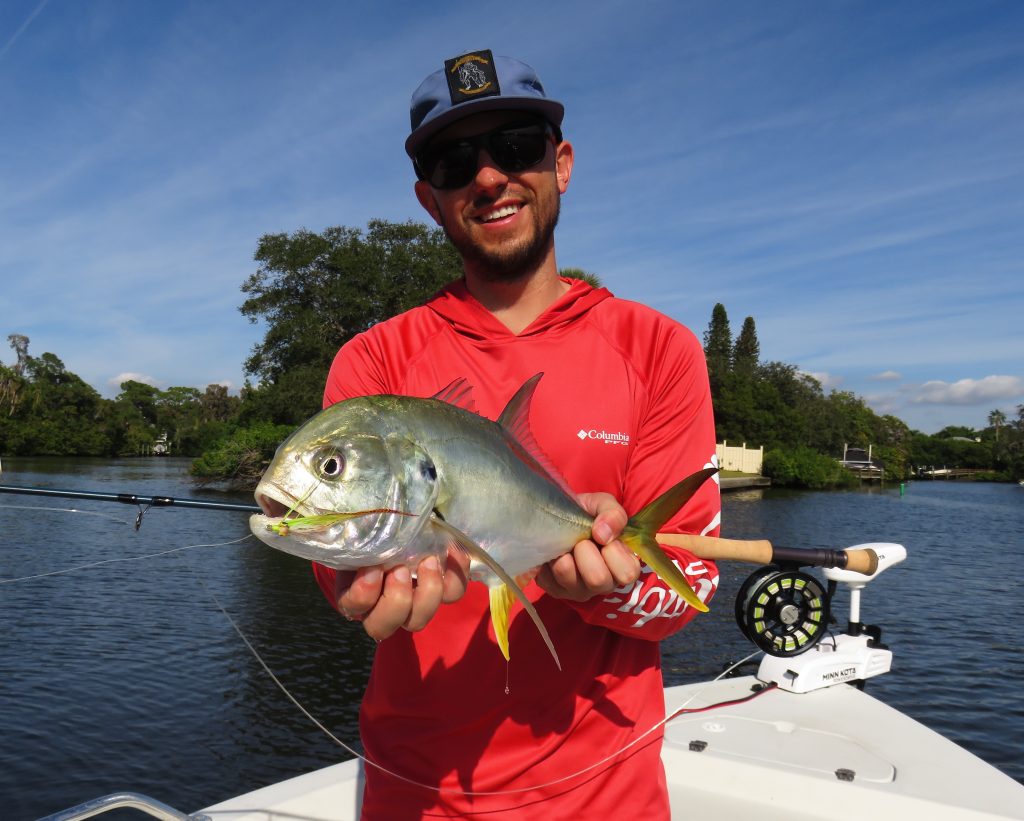 Fly selection need not be complicated. Snook are known to favor white and that is a tough color to be. White over chartreuse would be my second choice. A # 1/0 Clouser Minnow or Crystal Minnow pattern will get the job done. The presentation is pretty basic, the angler simply cast the fly out, allows it to sink a few seconds, then strips it in fairly aggressively allowing for a pause in between strips.
Braden River species
Without a doubt, the star of the Braden River are jack crevalle, some of them pushing 15 pounds! While some anglers may look down on them, there is not a hard fighting fish to be found anywhere. Jacks are aggressive, grow large, and put up an extremely determined battle. What more can an angler ask for? The fact that they are not good to eat it is not in anyway in my opinion detract from their value as a sport fish.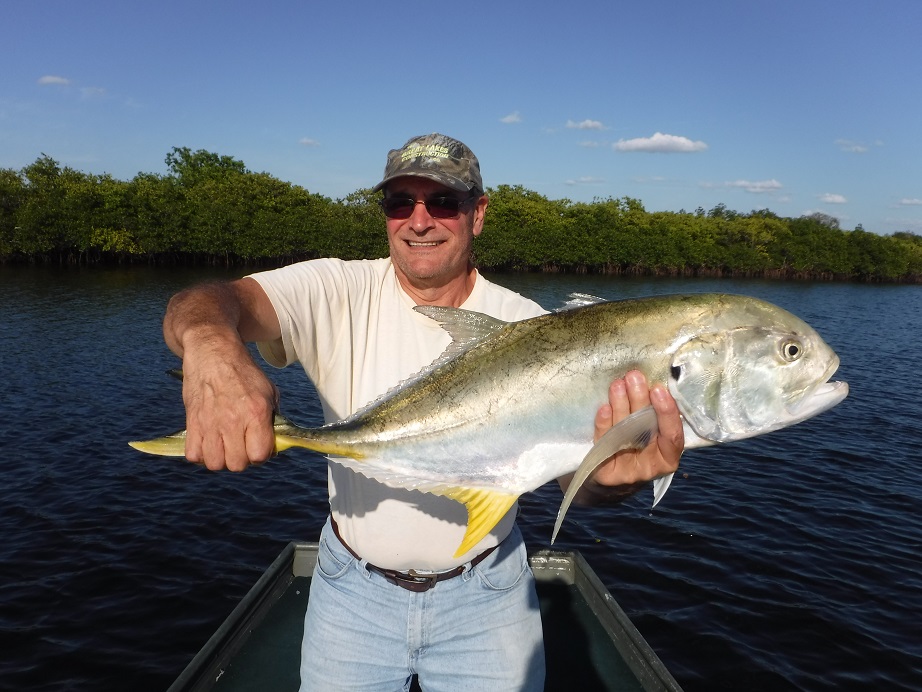 Jacks are quite often found in large schools in the river. Sometimes they will be seen feeding voraciously on the surface. In this situation just about any lure or fly will get instantly devoured. Jacks will also swim in big schools just under the surface in a sharp eye will spot the irregularities on the water surface. Schools of jacks will also be encountered blind casting as well.
Snook are definitely the premier inshore game fish species in the southern half of Florida. They are basically larger versions of largemouth bass. Snook have a largemouth to inhale their prey in a broad powerful tail. This makes them an ideal ambush predator. They are also structure oriented and will be found around docks, oyster bars, and mangrove shorelines.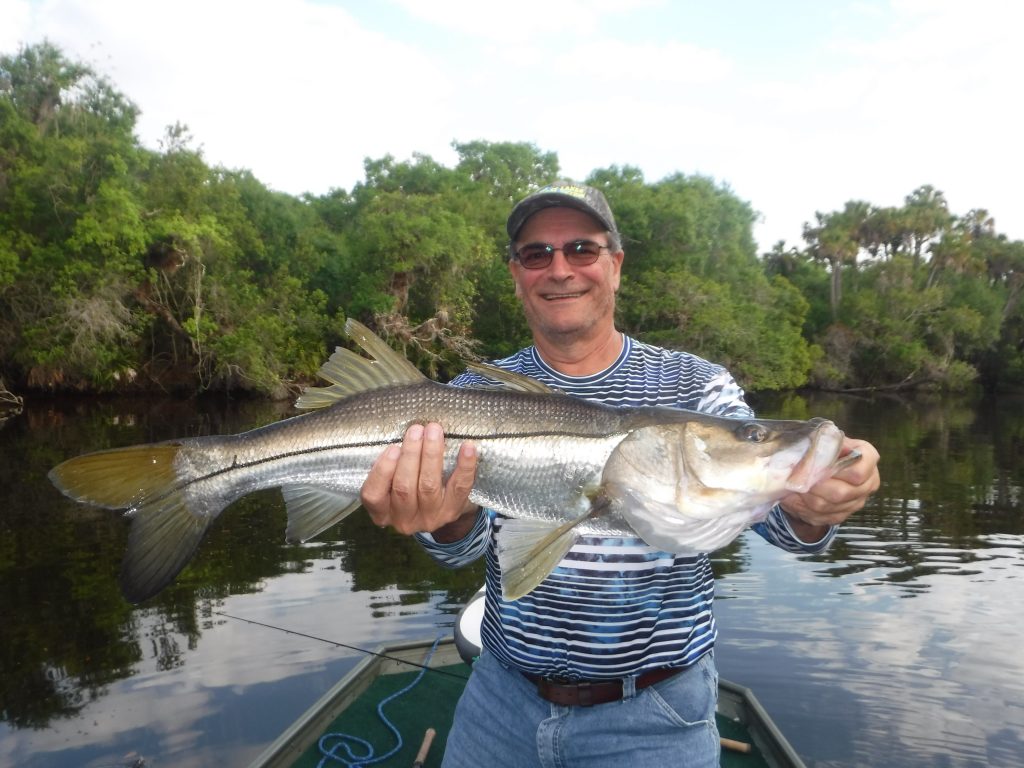 Snook in the Braden River will vary greatly in size. Anglers will encounter small ones around 10 inches long and trophy fish over 20 pounds. They put up a great fight, usually leaping high out of the water several times. While snook are fantastic eating, they are heavily regulated and all of my charters are catch and release on the Braden River.
While snook and jacks are the primary quarry, anglers will encounter other saltwater game fish species as well. Most of these are caught using the exact same tactics. Redfish are more tolerant of cold water than some other saltwater species. However, they will migrate up into the Braden River to feed on crustaceans and bait fish. Redfish are a beautiful species that put up a dogged fight with long, hard runs. Most fish landed are between 15 inches and 30 inches, which is fantastic sport on the tackle that I use.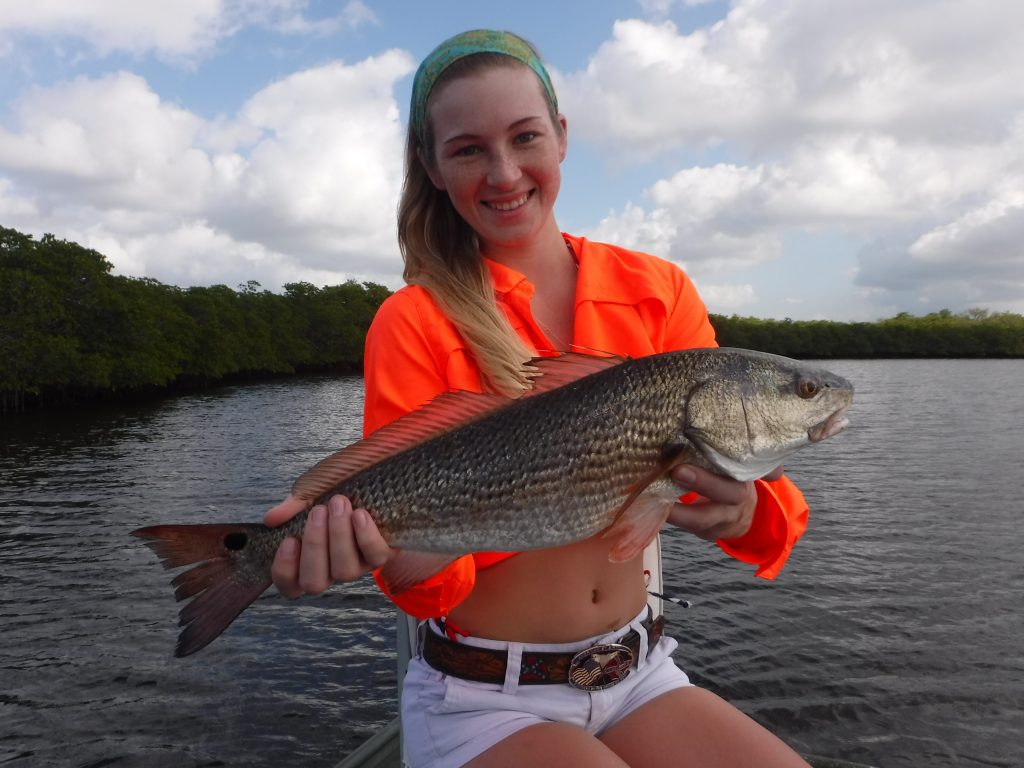 Juvenile tarpon are also caught occasionally in the Braden River. They are often seen rolling or milling on the surface. Tarpon can be notoriously difficult to get to bite and wants hooked are just as hard to land. They have a very bony mouth and leap out of the water multiple times. This is a good combination for the lure to come flying back to the boat. However, whether landed are not, jumping a tarpon is very exciting! Most of these fish are between five and 30 pounds, though the occasional mature female pushing 100 pounds will be seen as well.
Ladyfish are not typically thought of as a species that moves up into rivers, but I catch plenty of them in the Braden River. While not large, averaging a couple pounds, they are pretty fish the jump high and give a good account of themselves. They are usually found in large schools and anglers can catch a bunch of them in short order. It is a good way to get the day started get the skunk out of the boat!
There are some decent sized mangrove snapper in the river as well. While the best bet for targeting that would be to use live shrimp, they will definitely take a lure, especially a small jerk bait. These lures also tend to catch larger specimens. Mangrove snapper fight hard and are perhaps the finest eating inshore saltwater species.
Anglers bottom fishing with live or frozen shrimp and deep holes and around other structure will catch mangrove snapper, sheepshead, black drum, redfish, and other species. This is an effective technique for anglers looking to put a few fish in the box. This is not really something that I do very often on my charters, but I thought I would mention it as it is an effective technique.
And some of the other rivers such as the Manatee River and the Myakka River, freshwater species will be found as well. This is not the case with the saltwater portion of the Braden River downstream from the dam. It is just too salty for largemouth bass, panfish, or catfish to survive.
Anglers interested in pursuing true freshwater fishing can do so on the Braden River as well. There is a very nice park and boat ramp at Jigg's Landing. This is right on Lake Evers but close to the mouth of the river. The entire fishery is no wake so anglers can expect a nice comfortable day on the water.
When fishing the freshwater portion of the Braden River, I normally idle all the way up to the I 75 bridge and then worked back with the current. This results in a nice six hour charter with easy casting and nice scenery. Fish will be as large as those caught in the saltwater portion in the largemouth bass can be finicky. However, for anglers looking for this experience I more than happy to oblige.
In conclusion, this article on a Braden River fishing charter will help anglers looking for a unique experience hopefully decide to give this trip a try!