Cold Weather tactics
It was difficult to tell whether a fish was making the rod tip move or whether it was my angler shivering. That question was answered when the rod bowed over and line began peeling off of the reel. The cold certainly wasn't affecting the sheepshead that felt the sting of the hook in its mouth. After a brief tug-of-war, the fish tired and came alongside the boat for a quick photograph. All of a sudden, my happy angler was no longer cold!
Contrary to popular belief, January is winter, even in Florida, and it does get cold. In order to be successful, anglers need to adapt to the different conditions that are presented this time of year. First, let's go through the weekly weather cycle. It begins after a cold front moves through. The wind will be out of the north east and it will be chilly in the morning. The next couple of days will be pleasant and sunny with east winds. As the next front approaches, the wind will shift south with clouds and a chance of rain before the front moves through and it blows hard out of the northwest. The best days are usually the ones with south winds, just before the front moves through and the pressure is just starting to drop.
Tides are also a factor in January. Morning tides can be extremely low, especially when coupled with a northeast wind. This will congregate fish in holes and deep channels, there simply is not enough water on the flats for fish to be comfortable. Holes in creeks and canals will produce sheepshead, redfish, snook, trout, drum, and flounder on the low tide stages. Afternoons will often be more productive as the day warms and the tide rises, especially for speckled trout. Both passes and the surrounding flats will be productive several days after a front passes as the water clears, fish do not like dirty water. The area south of CB's Saltwater Outfitters at Stickney Pt. south to Blackburn Pt. is very reliable this time of year. It offers deep grass flats, oyster bars, bridges, creeks, and canals. Water quality is usually better as it is protected from dirty water that comes in for the Gulf of Mexico.
Shrimp are extremely effective baits this time of year. Cold water temperatures will result in fish being more lethargic. A live or freshly dead shrimp fished on the bottom with catch just about every species. Frozen shrimp are a good second choice. On lower tide stages, deeper areas will be more productive. Oyster bars that drop off sharply, deeper holes in creeks and canals, bridges, docks, and channel edges are all good spots to try. A #1 hook on a 2' piece of 20 lb. leader with a split shot (if necessary) is all that is needed. If the action is slow, try chopping up a shrimp or two and tossing the pieces into the water, this may get the fish going. A live shrimp fished under a popping cork will catch a lot of speckled trout when fished over grass flats on a high tide.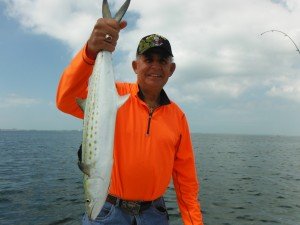 Artificial lures will also catch plenty of fish in January. A jig/grub combo is perhaps the most popular and effective lure. Bouncing a jig down channel edges and in both passes will produce pompano, trout, ladyfish, and other species. Again, in cold water a subtle retrieve will usually elicit more strikes. Sometimes tipping the jig (adding a tiny piece of shrimp) will make a big difference. Jigs will also fool speckled trout, pompano, and ladyfish on the deep grass flats. Darker colors such as olive and rootbeer are quite effective fished on a ¼ ounce jig head.
Plugs are also effective winter baits. Suspending plugs such as the MirrOlure MirrOdine and 52 Series are deadly in cooler water. The lure is cast out, allowed to sing several seconds, and twitched sharply. The bait suspends there, seemingly helpless, triggering strikes. Snook and jack crevelle will migrate up into the many creeks and canals in our area. Shallow diving plugs such as the Rapala X-Rap series are very productive lures, allowing anglers to cover a lot of water fairly quickly. Olive and gold are two very productive colors.
Take what Mother Nature gives you this month. Enjoy the warm, sunny days and fish the open flats. On cold, breezy days, don't fight it. Find a protected spot to hide and soak a shrimp on the bottom. Plenty of fish can be caught. I had a Siesta Key charter last January that sticks in my mind. The weather was awful, northwest winds at 20 + knots. I never put the boat on plane and we caught a ton of fish! We started off in the Intracoastal, catching sheepshead on live shrimp. Then, we located a school of ladyfish in a deep hole in a canal and caught one on every cast on rootbeer Cotee jigs. We finished up catching snook and jack crevelle on Rapala way up in Phillippi Creek. Be flexible and have fun this month while other less adventurous anglers stay at home.