Fantastic false albacore fishing in Sarasota!
The fishing in the Gulf of Mexico just off the Siesta Key and Lido Key beaches has been nothing short of fantastic this fall! False albacore, also know as bonito, little tunny, fat Alberts and more are plentiful and have been foraging on schools of glass minnows on the surface. This is a very visual and exciting trip as anglers chase around the breaking fish. There are also some Spanish mackerel mixed in but the albies are far more numerous. These fish put up a terrific battle on light tackle, often times taking almost all of the line on the first run. Bass Assassin Sea Shad jigs and Rapal X-Raps are my top baits. Charters are averaging a dozen fish to ten pounds hooked each morning. Clients are definitely experiencing great false albacore fishing in Sarasota!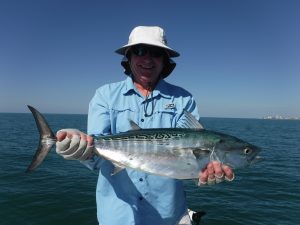 This type of fishing is as much hunting and stalking as it is fishing. Patience is very important when false albacore fishing in Sarasota. Some days the fish will pop up and stay up, making it easy to get a good cast into them. On other days they will be fussier, showing quickly then moving several hundred yards before surfacing again. Anglers just need to wait until the fish "get right". Trolling can produce a few fish on days when they are up and down. Resist the urge to "jump fish". That is when anglers run on plane to each group of fish they see. Eventually, this will put them down.
Fly anglers can certainly enjoy false albacore fishing in Sarasota as well. A 9 weight outfit with a floating or sink tip line is the best outfit. Albies can be a bit leader shy. Going with a 10 foot piece of twent pound flourocarbon works well. Any small white fly will produce, with a Clouser Minnow being tough to beat.