Fishing Charters in Big Sarasota Pass
This article will thoroughly cover fishing charters in Big Sarasota Pass. Big Sarasota Pass connects the Gulf of Mexico with Sarasota Bay. It is a terrific fishing spot! "Pass" is a term used on the Gulf Coast to describe an inlet, it is basically the same thing.
My name is Capt Jim Klopfer and I am a fishing guide in Sarasota and Siesta Key, Florida. I fish in Big Sarasota Pass on a large majority of fishing charters. The variety of structure, depth, cover, and species result in it being a good option in many situations.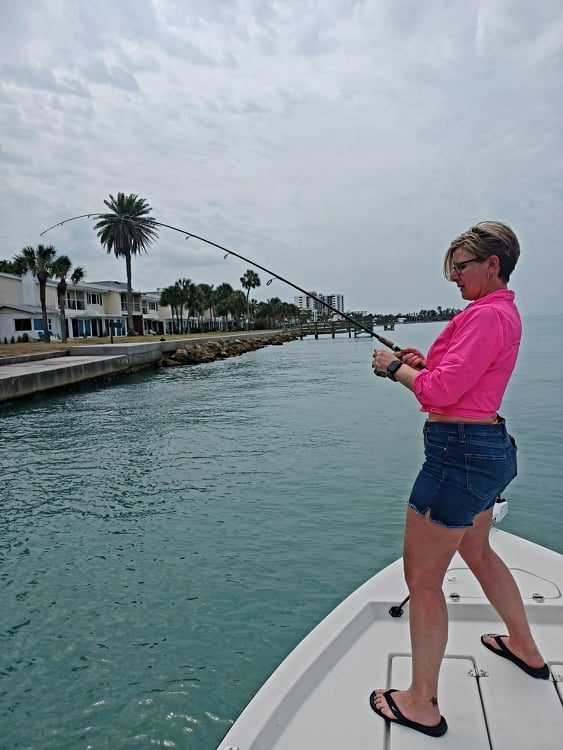 Big Sarasota Pass and the surrounding grass flats have every type of cover and environments that exist in Sarasota, all in one condensed area. The pass itself has some of the deepest water in Sarasota, up to 25 feet deep. Structure is plentiful in the form of rocks, docks, bridges, oyster bars, ledges, and more. Surrounding flats have lush grass beds. Oyster bars and mangrove shorelines hold snook. Residential canals are good in winter.
Fishing charters in Big Sarasota Pass
Anglers going out on fishing charters in Big Sarasota Pass can experience good action all year long. In the winter and early spring, sheepshead move in to the structure to spawn. In summer, snook stage in the same structures as they move out int the Gulf of Mexico. Snapper and grouper can be caught all year long.
The sandy bottom sections of Big Sarasota Pass will see pompano, Spanish mackerel, jacks, bluefish, and loads of ladyfish move through as they feed and migrate between Sarasota Bay and the Gulf of Mexico. The bars out in front of the pass are terrific in spring and fall.
Lush grass flats surround Big Sarasota Pass as well and I catch many trout and other species on my fishing charters. Drifting and casting jigs or fishing with bait will be effective. Anglers can target snook and redfish along the mangrove shorelines. Jacks and snook with be found in the canals in winter.
Techniques used on Big Sarasota Pass fishing charters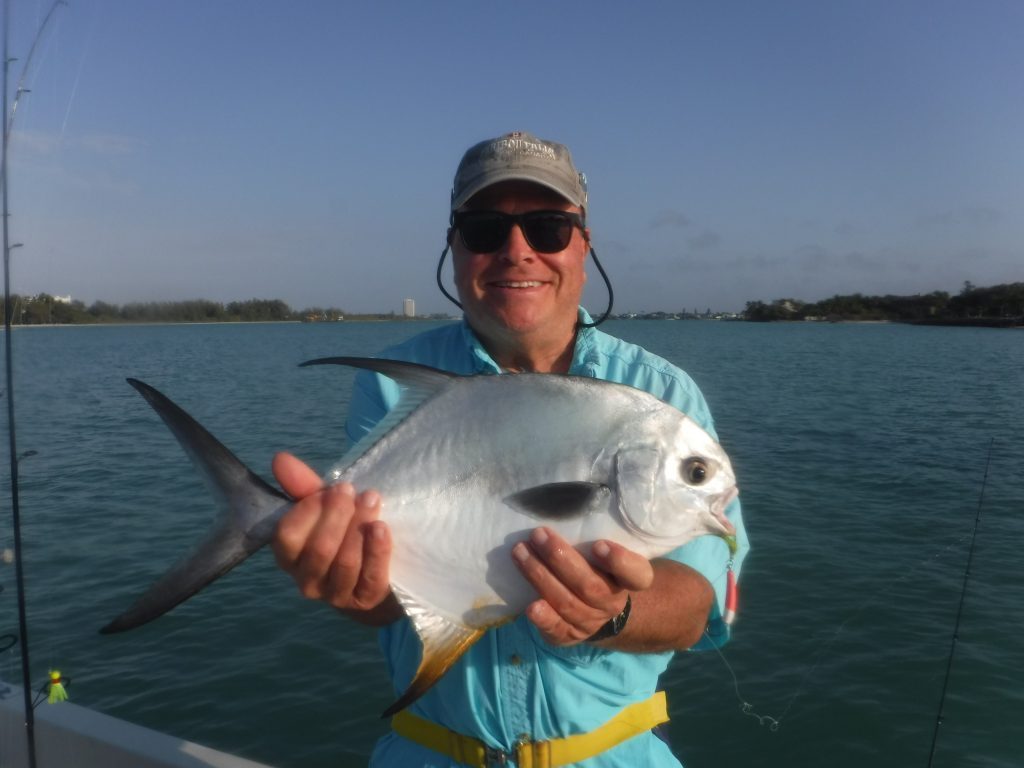 One of the great aspects of running fishing charters in Big Sarasota Pass is the diversity, both in techniques and species. When fishing the pass, I use several techniques. These include drifting the pass, bottom fishing, flats fishing, and trolling. All of these will catch a variety of species throughout the year. Tides are very important and the desired tide will depend on the technique being used.

Drift fishing in Big Sarasota Pass
The technique that I use most often on my Big Sarasota Pass fishing charters is drifting the pass. This is a simple technique, though like most aspects of fishing, there are nuances that improve the odds for success.
The basic technique involves drifting with the current and wind. Anglers bounce small jigs on the bottom as the boat moves along. This is very efficient as the jig remains in the strike zone the entire time. Also, it is a great option for kids and inexperienced anglers, no casting is required. A live shrimp can be free lined out as well, this works great for Spanish mackerel.
The best tide for drifting Big Sarasota Pass is a moderately moving one. It can be difficult to fish if the tide is really ripping through, the boat moves too fast and it can be difficult to reach the bottom. Conversely, the bite will be slow on a slack tide. The best situation is when the boat moves at a modest pace. Also, ideally the wind and tide are from the same direction.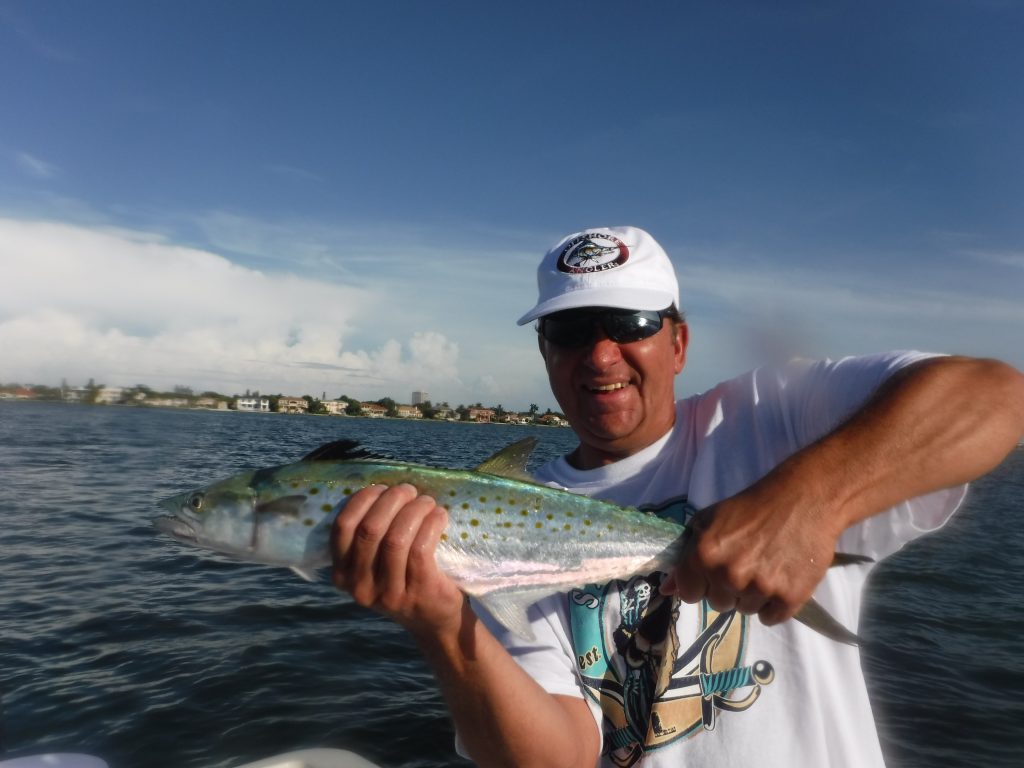 Anglers on my fishing charters in Big Sarasota Pass can expect to catch a variety of species. Ladyfish are plentiful most of the year and provide great action. Pompano fight hard and are prized for their fillets. Small permit are occasional catches. Spanish mackerel more through in spring and fall, as do bluefish. Sharks, cobia, and even tarpon are hooked once in a while!
Bottom fishing charters in Big Sarasota Pass
Bottom fishing is a productive technique that I use on the fishing charters in Big Sarasota Pass. Like drifting, it is a great technique for inexperienced anglers as great casting skill is not required. I use shrimp for the majority of my bottom fishing, though I will use live bait fish in summer.
Abundant structure exists in Big Sarasota Pass. The entire northern shoreline of Siesta Key is deep and loaded with rocks, docks, ledges, and seawalls. Docks on Bird Key hold a lot of fish as well. There are several bridges close by that hold a variety of fish. It is best to fish on a slack or slow moving tide. It can be challenging to anchor and fish in swift tides.
The technique is pretty straightforward. Anglers drop down or cast out a weighted hook with a shrimp. It won't take long to get a bite if fish are in the area. I mostly target sheepshead in the cooler months doing this. Mangrove snapper can be caught all year. In summer, I will free line live bait fish and shrimp for snook and other species.
As the pass moves east and flattens out, lush grass flats become plentiful. These are large expanses on flat areas between two and eight feet deep with submerged vegetation. This aquatic plant life attracts crustaceans such as crabs and shrimp along with small forage fish. This then attracts the game fish species, speckled trout in particular.
I use two basic techniques when fishing the deep grass; drifting and casting lures and anchoring and using live bait. Jigs produce year round. Anglers drift over the grass, casting jigs and other lures. This allows for us to cover water in search of fish. It is a fun and productive method that produces both action and variety.
I will also use live bait. I usually anchor when I do so. Shrimp are used all year and work great on the edges where the flat drops off. Live bait fish are netted up in the warmer months, and then used to chum the fish into a feeding mood. This can result in non-stop action!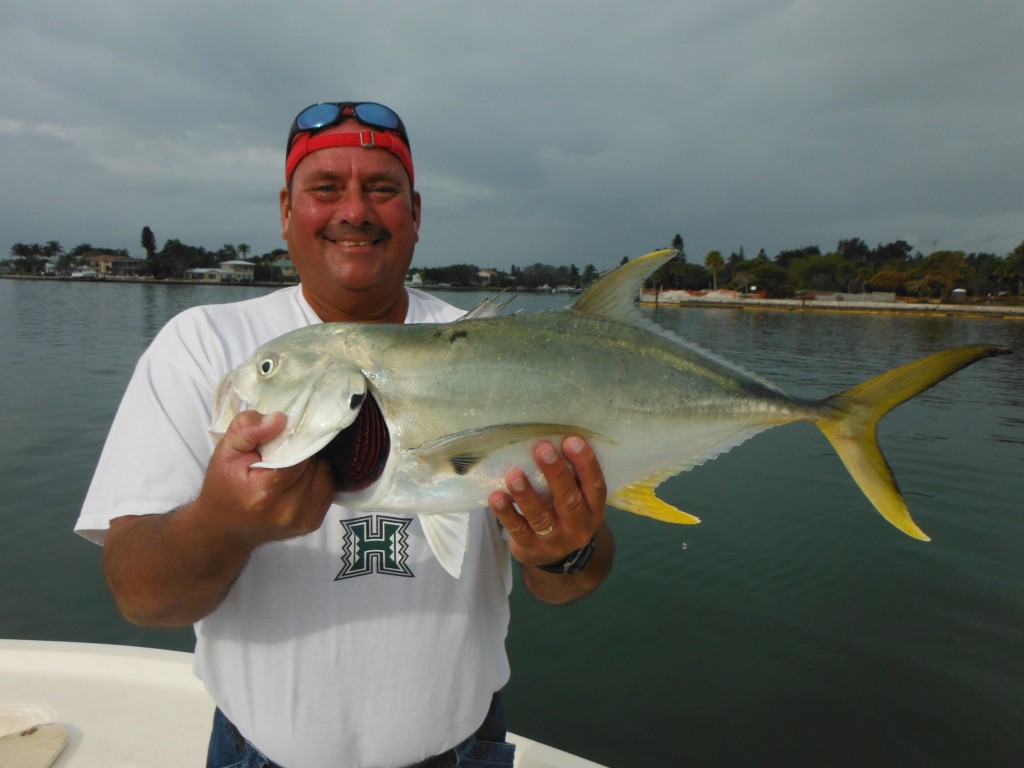 Anglers seeking more of a challenge can cast lures along the mangrove shorelines, oyster bars, and docks in search of snook, redfish, and jack crevalle. These species are more difficult to catch and anglers won't ring up the numbers, though the fish will generally be larger.
Trolling produces on fishing charters in Big Sarasota Pass
Trolling is a very effective angling technique that is used all over the world. It is very effective and efficient as it allows to for several lures to be presented and various depths in search of fish. While trolling can be complicated, that is not the case on my Big Sarasota Pass fishing charters.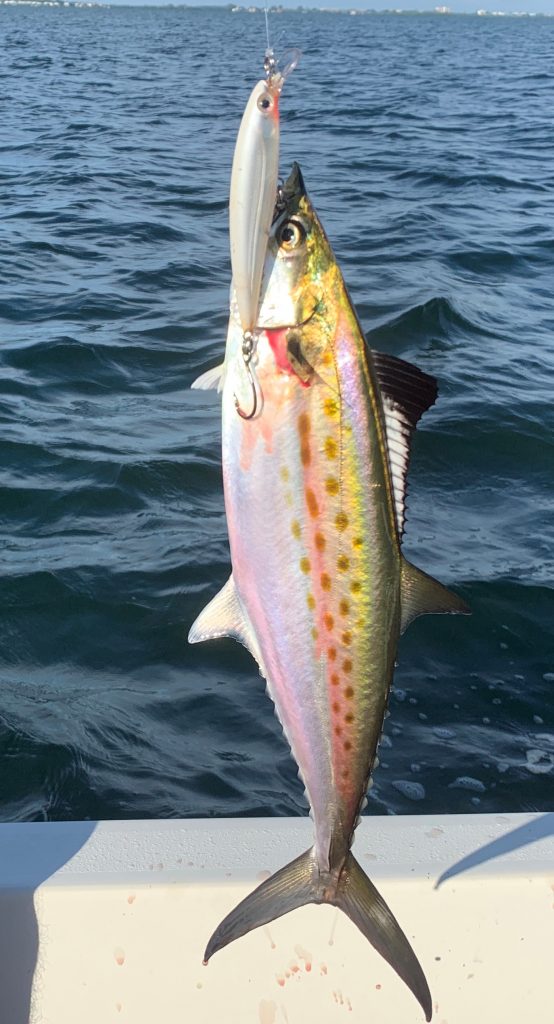 For the most part, when I troll on my fishing charters, I am targeting Spanish mackerel. Other species will be caught as well. I use the same light tackle used for all of my inshore fishing, I just simply tie on a lure. My top lure by far is a # (08) Rapala X-Rap Extreme Action Slashbait. It has great action and is the perfect size. I will also use a silver spoon.
Trolling works well when mackerel and other species are seen feeding on the surface as well as when fish are scattered out. It is more fun for the anglers when they get to hold the rod and feel the strike. I simple let the lure out 10-15 seconds behind the boat and idle around. Trolling works great in the passes, out front on the bars, and on the deeper flats.
In conclusion, this article on fishing charters in Big Sarasota Pass will help anglers understand the options available to them when fishing the Sarasota and Siesta Key area!