Fall beach fishing
Contrary to popular belief, autumn does arrive in Florida, although the changes can be fairly subtle. While still fairly warm, evening temperatures are a tad lower and the days are a little shorter. Fish are very much in tune with these changes and it affects their behavior. In Sarasota where I fish, on the west coast, the arrival of Spanish mackerel and false albacore just off the beaches in the inshore Gulf of Mexico officially signals the fall fishing season. This is great sport and it does not require a large boat or fancy gear to take advantage of this bonanza.
The reason for this fantastic fishing is simple; bait, and LOTS of it! As the water and land temperatures drop, the weather pattern changes. The sea breezes will be gone and high pressure systems will bring northeast winds both during the day and in the evening. The result will be clear, calm water along the beaches, attracting huge schools of baitfish which in turn attracts the gamefish. Saltwater fishing can be pretty basic, "Find the groceries; find the fish". Other species will also be encountered when fishing "Out on the beach". Jack crevelle, bluefish, ladyfish, king mackerel, cobia, sharks, and even tarpon will follow the forage to take advantage of the abundance of forage.
As a full-time fishing guide, I rely on live bait a majority of the time to provide action for my clients who book a Siesta Key fishing charter. In this application, artificial lures are not only extremely productive but are a lot of fun to fish! Quite often schools of "breaking" fish will be seen terrorizing the helpless baitfish on the surface. Opportunistic gulls and terns will be picking at the scraps as well. This is a sight that will stir any angler's soul and is the perfect situation to use an artificial lure. The strikes will be immediate and savage! Of course, a frisky live baitfish or shrimp will very seldom go unmolested.
My "go to" lure for fishing the inshore Gulf is #8 Rapala X-Rap slashbait. It perfectly mimics the small pilchards, glass minnows, and threadfin herring that the gamefish are feeding on. Olive is my favorite color with white being a close second. The lure is simply cast out into the bait and retrieved back with sharp twitches and a pause in between. X-Raps can also be trolled along when there is not any surface activity; they are a great "locator" bait. The venerable jig and grub combo also works well, with the 4" Bass Assassin Sea Shad being my personal favorite. Silver spoons will also produce plenty of fish. The same tackle that is used for speckled trout and redfish will work fine in this application. My preferred rig is a 10 lb spinning outfit with monofilament line, the last 5' doubled with a Spider Hitch, then 30" of 30 lb fluorocarbon leader is added using a double Uni-knot, then the lure or hook completes the rig.
Fly anglers can certainly take advantage of this situation as well. An 8wt outfit with a weight forward floating line is a good choice. The leader should be 8' of 30 lb fluorocarbon and any small white fly will produce well, with D.T. Special and Clouser Minnow patterns being the most popular.
Once rigged up and ready, it is time to go fishing! Often times the fish will be schooled up just outside the passes, particularly on an outgoing tide. Any bird or surface activity should be investigated. Sometimes just a couple of terns diving will clue an angler into the location of a school. If nothing is happening at the pass, simply cruise down the beach on plane but at as slow a speed as possible in order to completely scan the area. Once a school of actively feeding fish is located, determine whether they are mackerel or albies. Spanish will generally stay up in the same spot for a longer period of time. False albacore can be much more difficult to get on, they move fast and change directions constantly. But, there is no greater sport than catching a big albie on light tackle or fly!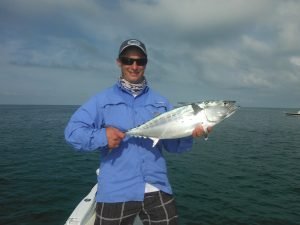 In either case, patience will pay off! Charging into the school on plane will usually shut down the bite. Instead, cut the motor up-wind of the fish and drift down on them until in casting range or use the electric trolling motor if so equipped. Trolling the edges will also work well but avoid driving through the middle of the school. Sarasota County has an extensive artificial reef program with 3 nice reefs within 2 miles of shore just off Lido Key. These are a great back-up plan (as is any reef or hard bottom area) in the event that surface activity is absent as they almost always hold bait and fish.
Later in the morning as the sun comes up, particularly if the water is clear, anglers will do well to look for bait balls. These appear as large dark spots in the water. NEVER pass up a nice, big ball of bait as there will usually be predator fish on the edges. Anglers seeking larger game will score consistently on sharks by putting out a chunk of mackerel under a cork on a larger rig with a steel leader. Free-lining a large live threadfin herring at the edges will also produce some larger fish. Do not be surprised if a cobia, king mackerel, or even a tarpon are hooked as well!
Shore bound anglers can get in on the action as well. While false albacore seldom venture in close enough to be caught from land, Spanish mackerel, jacks, bluefish, ladyfish, and more will often cruise within casting range while feasting upon the abundance of forage. The same lures, baits, flies, and techniques that produce for anglers in boats will also allow surf casters to achieve success.