Fishing in Sarasota, a complete guide!
In this article I will cover fishing in Sarasota. I have been running Sarasota fishing charters here since 1991. The article will cover the tackle, techniques, locations, species and more that will help anglers be more successful.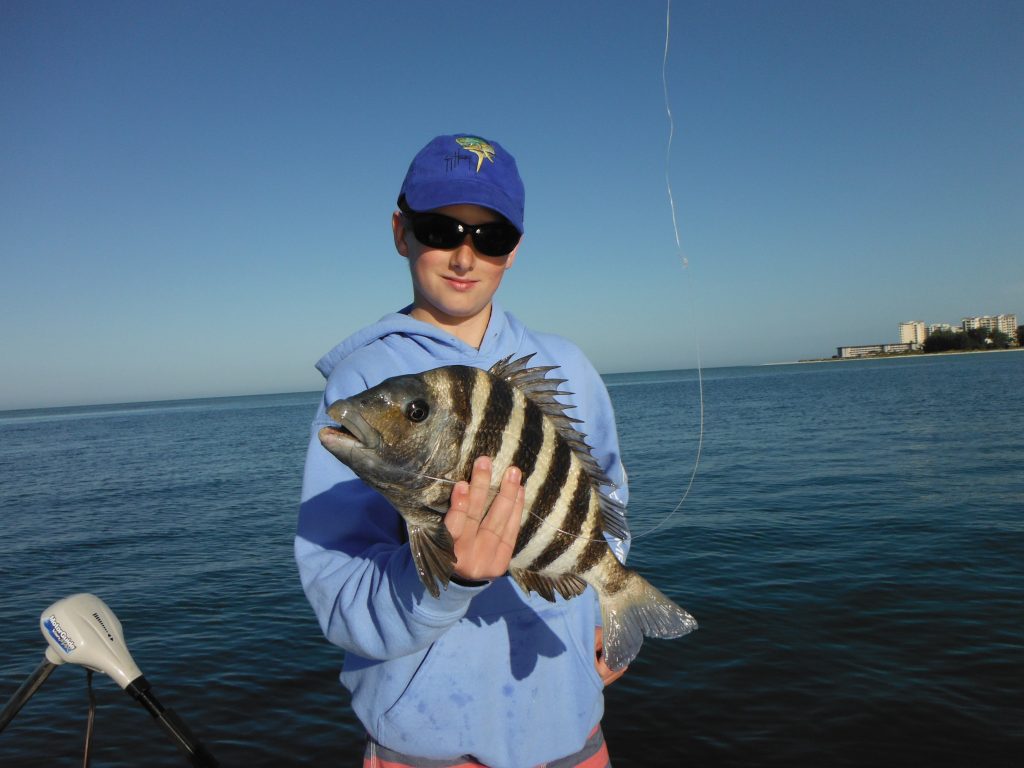 Anglers fishing in Sarasota have many different angling options. Sarasota Bay lies on the west coast of Florida, an hour south of Tampa. It is around ten miles long and three miles wide. Sarasota Bay is only ten feet deep or so in the middle. Grass flats, oyster bars, and mangrove shorelines abound. Several creeks and miles of residential canals provide refuge in the winter. Big Sarasota Pass and New Pass connect Sarasota Bay with the Gulf of Mexico. The inshore Gulf of Mexico can provide outstanding fishing when conditions are right.

Fishing in Sarasota
Florida is famous for it's angling opportunities. Anglers visiting Sarasota can take advantage of these chances to catch a wide variety of species.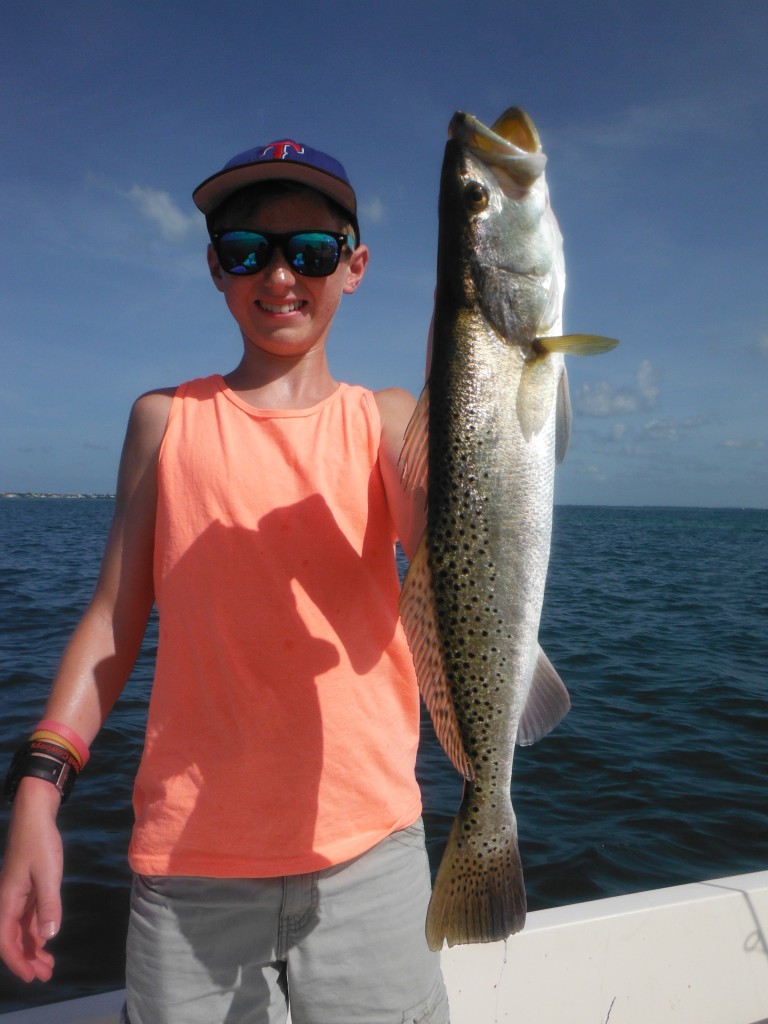 Lush grass flats abound in this area. Shallow grass flats are full of crabs, shrimp, and bait fish. This in turn attracts the game fish. Snook, speckled trout, and redfish are the most sought after species. However, Spanish mackerel, jack crevalle, flounder, bluefish, ladyfish, and other species will be encountered.
Fishing the shallow flats requires patience and attention to detail. Fish are spooky in water that is only a couple of feet deep. Anglers must be quiet and make long, accurate casts. While sight casting is exciting, blind casting a large area will usually produce more fish.
Siesta Key fishing charters video
Big trout, snook, and redfish will take up ambush stations in several spots. Potholes, edges of oyster bars, and mangrove shorelines are prime spots. Tides are crucial when fishing the skinny water. Low, incoming tides are generally preferred. Fish will move up onto flats to feed. Shorelines that have slightly deeper water will hold fish as well.
Top baits and lures for fishing the Sarasota flats
Topwater plugs are productive and great fun to fish. Nothing is quite as exciting as seeing a big snook blow up on a topwater plug! Weedless spoons can be cast a long way and cover a lot of water. They are a good locator bait. Gold is the most productive color. Soft plastic baits catch a ton of fish as well. They can be fished on an open 1/8 ounce jig hear or on a weedless swim bait hook.
Live bait can be used with success in the shallow water. Anglers can fish a large live shrimp two feet under a cork. Also, casting a free lined shrimp into pot holes will catch some nice redfish. Chumming with live pilchards produces more snook than perhaps any other fishing technique.
Chumming with live bait is a specialized technique. A LOT of bait is required, several hundred at least. The flats close to both passes are good spots to catch bait. Once procured, a spot in chosen. The boat is anchored and a few live bait fish are tossed out. Once the fish get exciting eating the "freebies", hooked baits are cast out.
Sarasota Chumming Techniques video
Fast action can be had on the deep grass flats when fishing in Sarasota Bay
Anglers seeking less of a challenge will enjoy fishing the deeper grass flats. Speckled trout, Spanish mackerel, bluefish, jack crevelle, ladyfish, flounder, sharks, grouper, snapper, and pompano are often caught over submerged grass in five to ten feet of water.
There are multiple techniques that will produce for anglers fishing in Sarasota. Drifting the flats and casting jigs is productive. It is also a good technique to locate fish. A ¼ ounce jig with a 3" to 4" grub body is popular. Colors are endless, but white, chartreuse, gold, olive, and root beer are good colors to start with.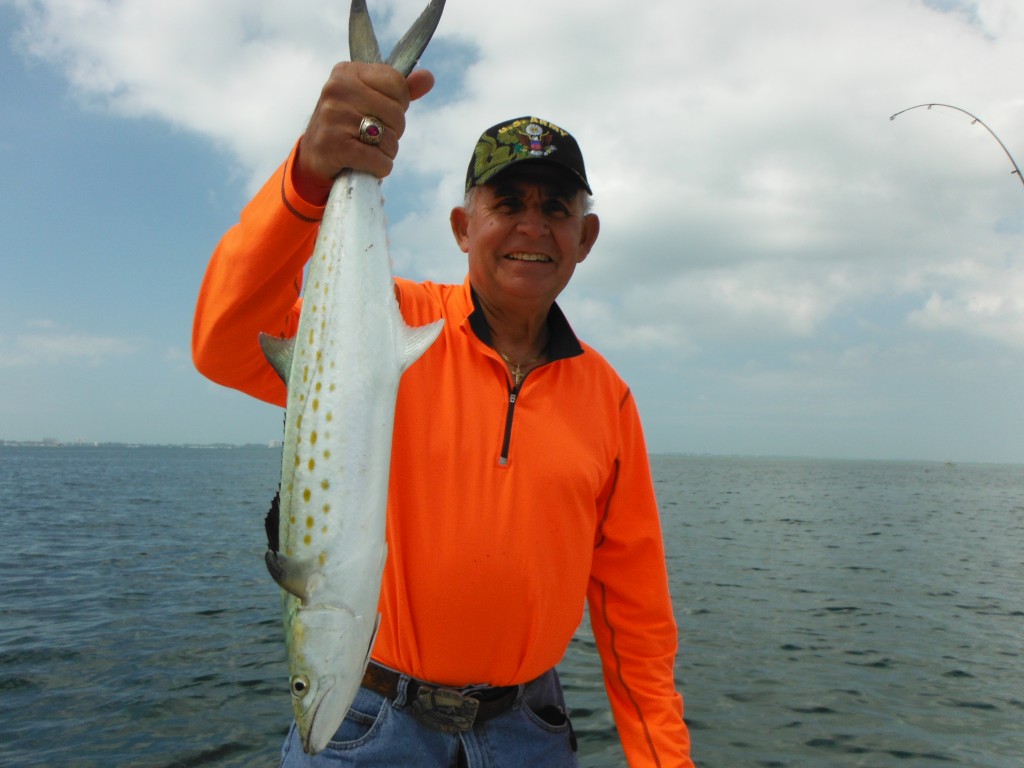 Plugs and spoons also do well on the deep flats. Topwater plugs work well early and late in the day. Suspending plugs are deadly on speckled trout. The venerable MirrOlure has been catching fish for decades. Silver spoons are also effective, especially on Spanish mackerel and bluefish.
Using bait when fishing in Sarasota
Live bait is extremely effective on all species on the deep grass flats. Live shrimp are fished three feet under a popping cork. The cork attracts fish with a sound that emulates feeding fish. Small pinfish and grunts fished under a cork work well, too. Shrimp can be free lined as well. This works great on deeper flats, allowing the shrimp to get down near the bottom.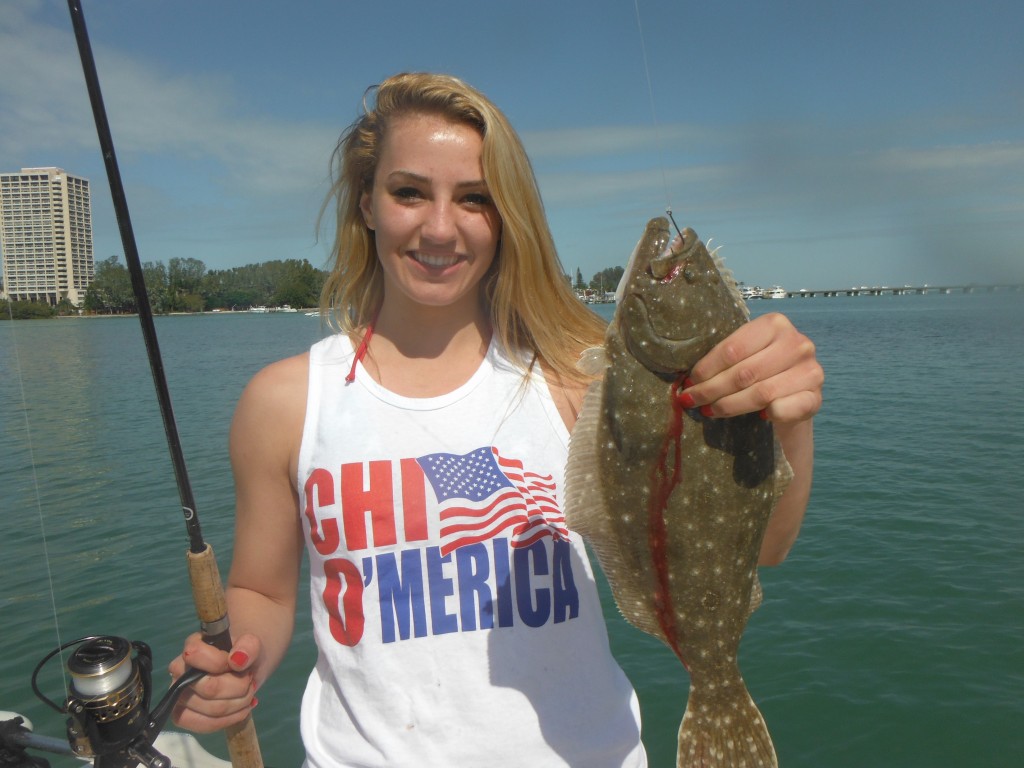 Bottom fishing can be very productive in Sarasota waters. Sheepshead, mangrove snapper, gag grouper, black sea bass, drum, and flounder will take a shrimp or other bait fished on the bottom. Bridges, docks, seawalls, and submerged reefs all provide good areas that attract bottom fish.
A sliding sinker rig works well when bottom fishing. It allows the fish to move off with the bait without detecting any resistance. ½ ounce sinkers are a good all round choice. Anglers can add or subtract weight as needed. Live or fresh shrimp is the best all-round bait for most species.
Fishing in Sarasota; tackle
Capt Jim has been a fishing guide in Sarasota, Florida since 1991. Anglers who are interested in purchasing the equipment that he uses and writes about in his articles can do so on the PRODUCTS page.
Like every hobby, equipment is required. My advice when it comes to fishing tackle is similar to other hobbies. Anglers should purchase the best equipment that they can reasonably afford. Buying the cheapest equipment possible usually does not result in money saved. What normally happens is that the angler tires of the cheap equipment and spends money on the decent equipment at a later date.
Let's start with the most important components; the rod and reel. If I had to choose one outfit to fish with in Florida, it would be a 7 foot spinning rod with a 3000 series reel. This outfit is heavy enough to fish around bridges and docs for bottom fish, while still being light enough to cast quarter ounce artificial lures. My second choice would be a 6 1/2 foot spinning rod with a 2500 series reel. These two outfits will catch just about any species of fish in the bays and the inshore Gulf of Mexico.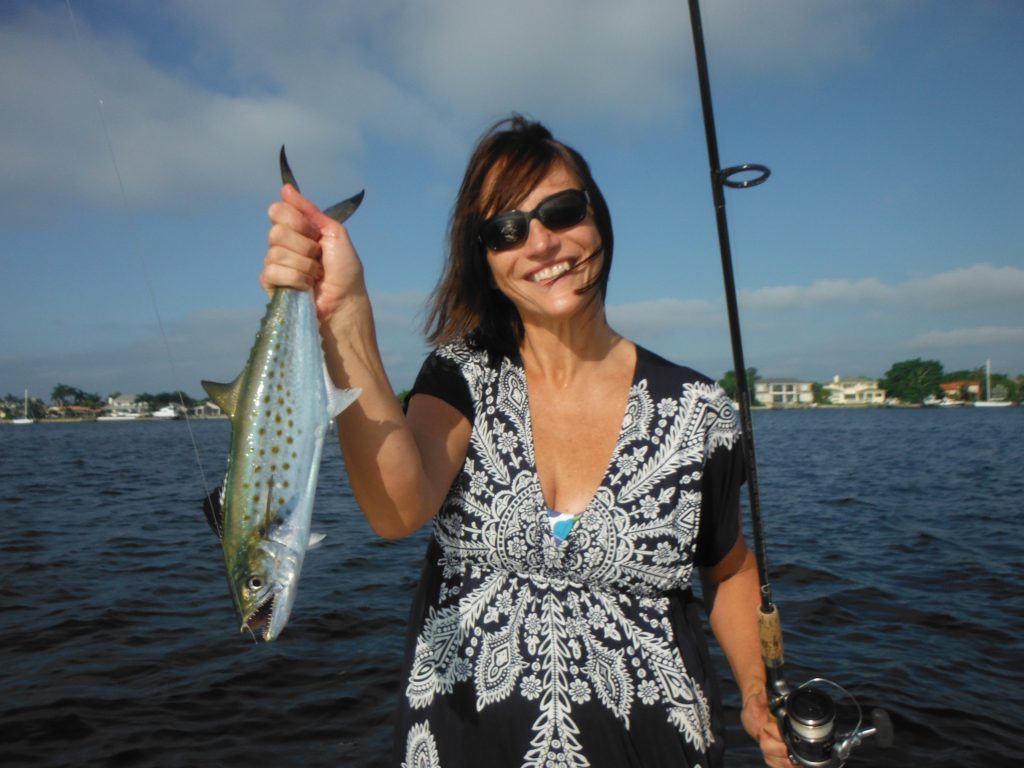 Rods come in different actions. I prefer a fast action rod. This means that the rod is stiff at the butt section and through most of the rod. However, it gets limber towards the tip. This type of rod has good backbone for setting the hook and handling a big fish. The lighter tip allows for good casting, especially with light baits and lures. A rod with the slow action is no fun to fish with, in my opinion.
Fishing reel options
Many spinning reel manufacturers have a universal sizing system. The larger the number, the larger the real. Most 3000 series reels will be a very similar size between manufacturers. I personally like reels with large handles. Spinning reels are versatile and are the best choice for most anglers fishing and saltwater.
Some northern anglers prefer bait casting reels. This is especially true among bass fisherman. They do have their place in saltwater, especially when casting heavier lures such as plugs. However, most of the time anglers are casting unweighted shrimp and lures that are fairly light. This makes spinning tackle the best choice in most circumstances. Experienced anglers may opt for bait casting tackle, and that is fine, there is no wrong choice.
There are many different brands to choose from when it comes to rods and reels. You will find that within a certain price range, the quality of the equipment is very similar. At this point it just becomes a matter of personal choice. Several manufacturers have a great reputation and saltwater. Penn, Shimano, and Quantum just to name a few. While anglers can spend a lot of money on a rod and reel, a quality outfit can be purchased for around $125.
Choosing the best fishing line
Now that we have the rod and reel, it's time to fill the spools. There are two basic line choices when it comes to line; monofilament line and braided line. Both have their advantages and disadvantages. Monofilament is much less expensive. The disadvantages are that it will twist up and it has some stretch.
Braided line is much more expensive, however will last a very long time. It also has zero stretch and great sensitivity. The downsides to braided line is that knots can be a little bit more difficult to tie. Also, backlashes are extremely difficult to remove.
On the 3000 series reels I prefer 10 pound monofilament line or 20 pound braided line, depending on angler preference. On the 2500 series reels 8 pound monofilament line and 15 pound braided line are great choices. These two outfits with corresponding line choices will give any angler the two primary pieces of equipment needed to be successful fishing and Bradenton.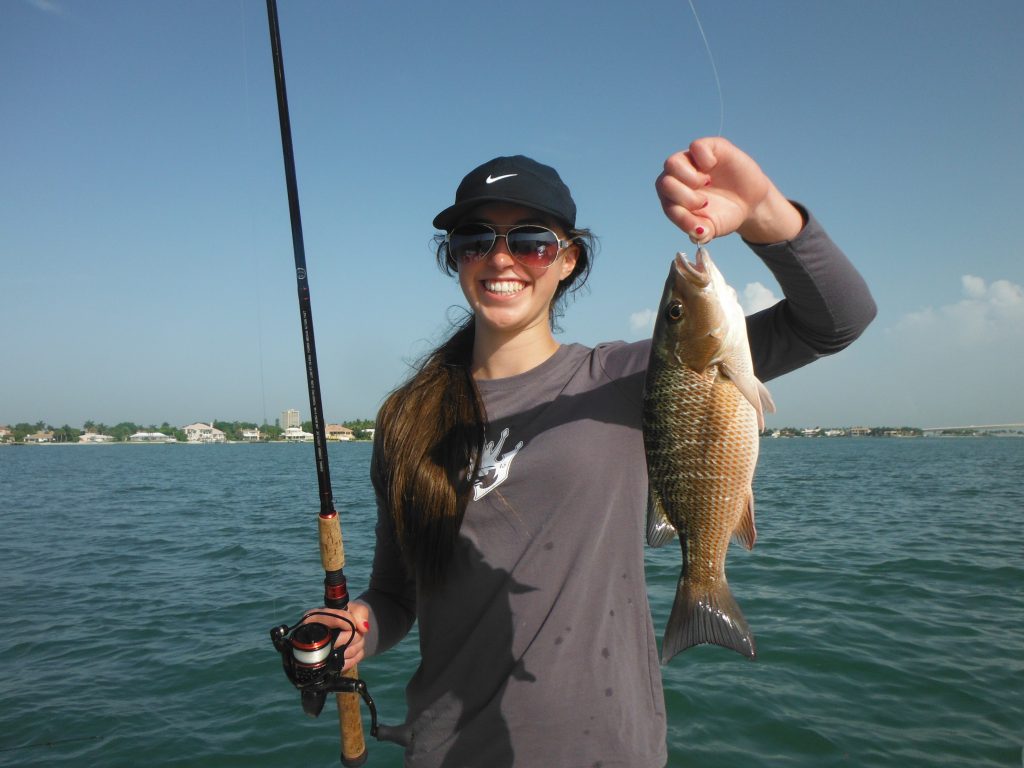 The next order of business is the terminal rig. I have a simple system that I like to use that is very efficient. A shock leader is required when fishing and saltwater. This is a short leader that is heavier than the mainline. The shock leader will greatly reduce cutoffs and rub offs from fish. Most saltwater fish species either have teeth or raspy jaws which will fray the line.
Shock leaders are used when fishing in Sarasota
So, we need to attach a 24 inch piece of fluorocarbon leader to the end of the running line. Fluorocarbon leader is a bit more expensive, but it is worth it. It is much less visible in the water then inexpensive monofilament leader.
The weight of the shock leader will be determined by water clarity and fish species being targeted. 30 pound test is a great all round choice and is what I use 90% of the time. I will bump it up when fishing for large snook or toothy Spanish mackerel. Conversely, I will drop it down when fishing for speckled trout or mangrove snapper in very clear water.
The leader is attached to the line in one of two ways. A small black swivel can be used; this is the easiest method. However, most anglers prefer to tie the leader directly to the line. I prefer to use a double uni-knot to do so.
I I do prefer to double the end of the running line with the spider hit before attaching the shock leader. This is especially important with monofilament line on the real. The double line acts as a bit of a shock absorber, helping when a large fishes boat side. It also helps reduce the weakness that is created when two monofilament lines are tied together.
Terminal tackle, hooks and sinkers
So, now we are ready to go fishing! We have our rod spooled up with the shock leader attached. Now, we just need to tie something with a hook on it at the end of the line.
The beauty of this little rigging system is the simplicity. An angler may choose to tie on a top water plug first thing in the morning to take advantage of the dawn bite. Then, when that slows he can simply remove the plug and tie on a jig, spoon, or hook. This makes changing up the rig quick and easy. After several changes, the shock leader will become too short and it will need to be replaced.
Hooks come in a myriad of sizes and styles. However, saltwater anglers only need a few to get started. Several packages of number two, number one, and number 1/0 live bait hooks will cover most angling situations. It is also a good idea to have several packages of number 1/0 long shank hooks. These work really well when anglers get into a school of fish with teeth, such as bluefish and Spanish mackerel.
Sinker choice is pretty simple. Several bags of split shot, these are very small pinch on weights, along with sliding egg sinkers is all that's required. Egg sinkers have a whole running through the middle which allows the sinker to slide on the line. This allows the fish to pick up the bait and move with it, without feeling the weight. A dozens egg sinkers and 1/4 ounce, 1/2 ounce, and 3/4 ounce is plenty.
Artificial lure choices
I could, and have, written entire articles on artificial lures. I will cover them briefly here. The most popular artificial lure in Sarasota waters is the jig and grub combo. These come in a wide variety of colors and styles, but most either imitate bait fish or shrimp. There are countless manufacturers, but all of them will produce fish. They are also quite cost-effective to fish with.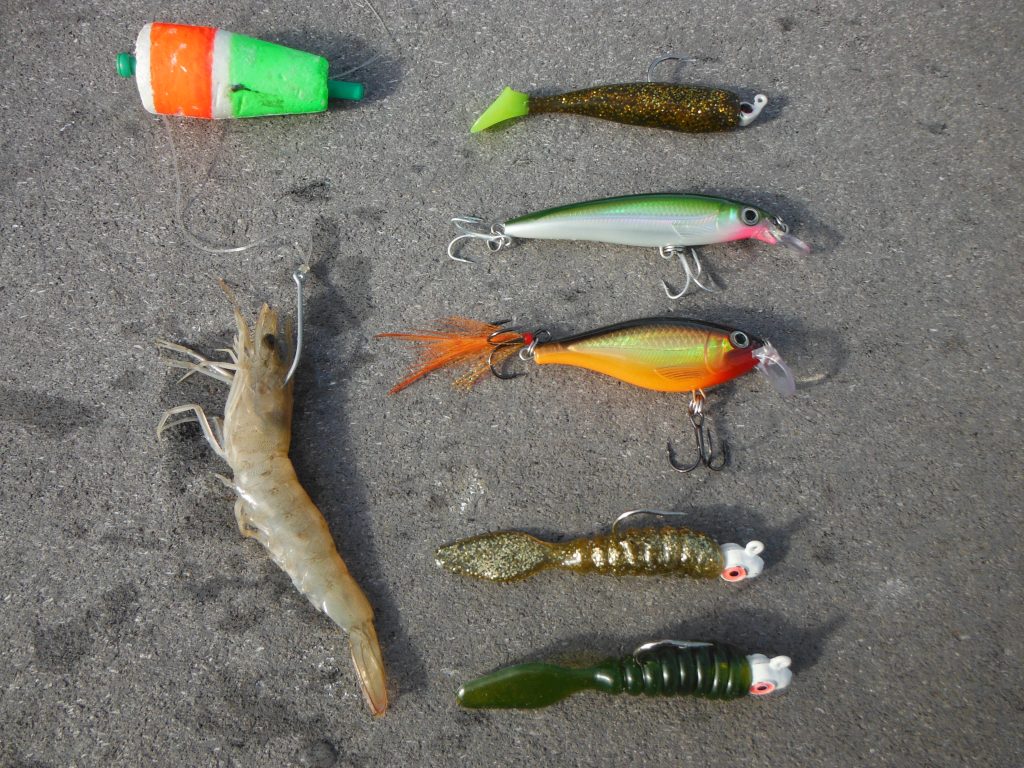 Plugs and spoons also catch plenty of fish. However they are bit more expensive, with plugs costing over $10 apiece. There is also the issue of treble hooks on these lures. Treble hooks are a bit more dangerous for inexperienced anglers to handle. It can also make releasing fish a bit more difficult.
There are a few other pieces of equipment that anglers will need. A good pair of pliers, a landing net, a release tool, and perhaps a bait bucket with aerator will finish off the list of fishing tackle that an angler needs to get started.
27 great Sarasota fishing Tips
As a charter boat captain for over 25 years, I have learned a lot. In this section I will list 27 great tips that should help other anglers be more successful when fishing in Sarasota and throughout the state of Florida.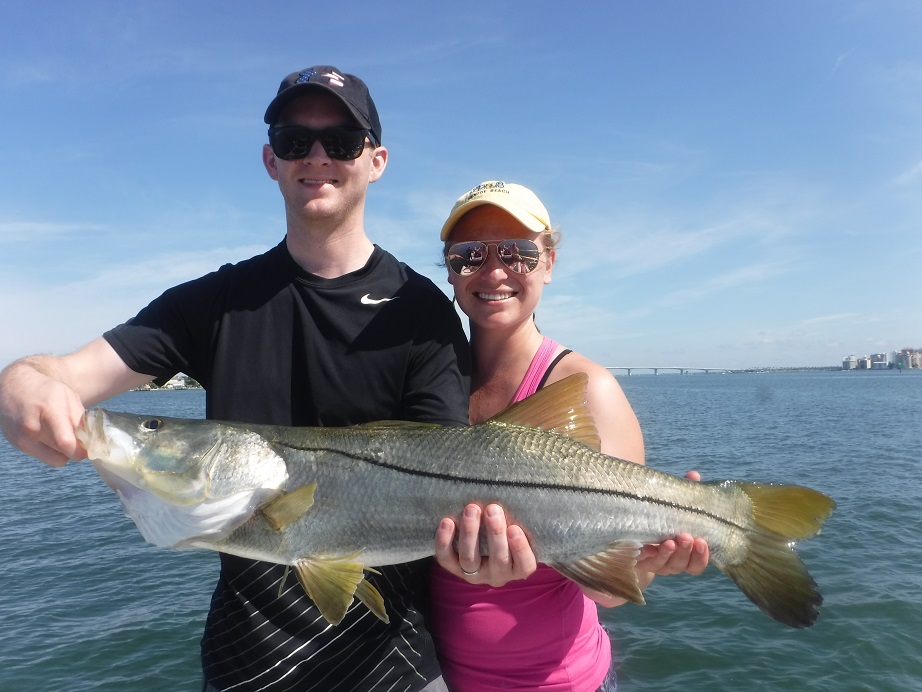 Flats fishing tips

1) The best tides to fish the deep grass flats are two hours before and after high tide. This is the best time to drift the flats for a variety of species. Speckled trout, pompano, Spanish mackerel, jacks, ladyfish, sharks, bluefish, snapper, and grouper are among the available species.
2) When drifting a flat, it is always best to choose a flat where the wind and tide are moving in the same direction. This will result in a consistent drift.
3) When using live bait, anglers should match the size of the hook to the size of the bait being used. Often times, anglers match the hook to the size of the fish being targeted. Small hooks will catch large fish.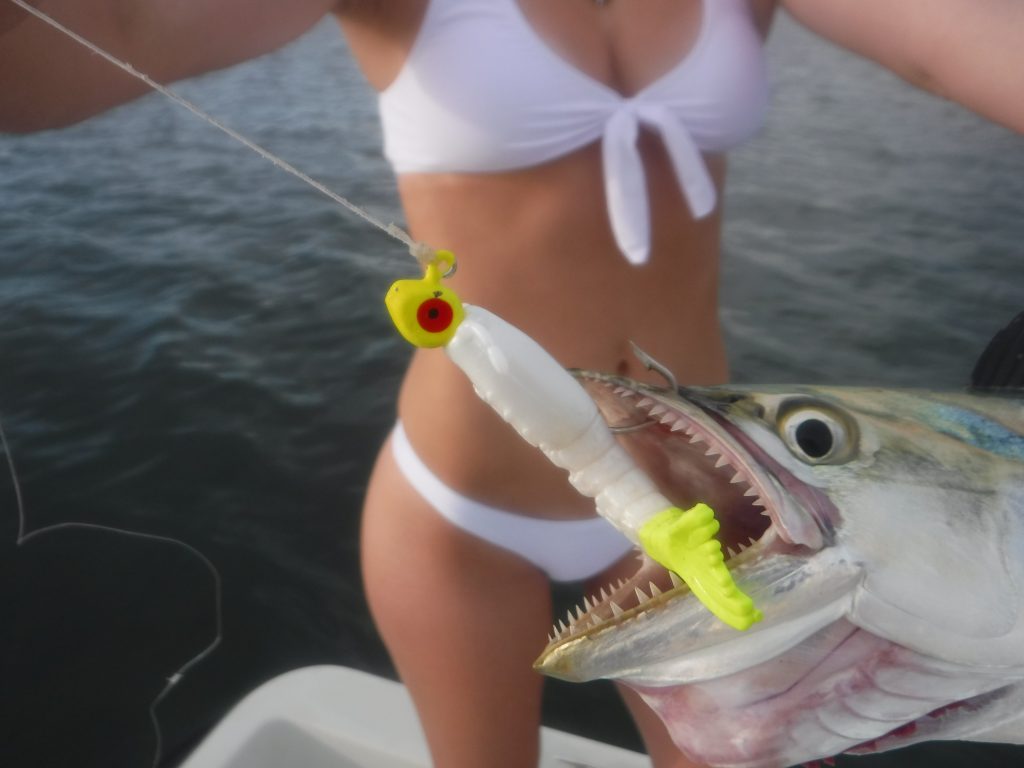 4) There are countless different colors for artificial lures. Anglers will do well using dark colored lures in dark water, light colored lures in clear water, and bright colors in dirty water.
5) On windy days, artificial lures are actually easier to use when drifting the flats. Jigs in particular are a good choice on breezy days. Heavier jigs are easier to cast but more importantly manage the slack line. It is much easier to keep in contact with the lure when it is a bit heavier. Also, a live shrimp drifting behind the boat does not look natural when the boat is drifting too fast.
6) Shock leaders are required when saltwater flats fishing. 24" is a standard leader length. The strength of the leader will depend on several variables. Water clarity, species that are available, and bait or lure being used are the primary factors.
7) The best live baits are the ones that are readily available in the water at that time. Shrimp are effective all year long. Pin fish and grunts are great baits in the warmer months. Scaled sardines and threadfin herring work best in spring and fall.
Bottom fishing tips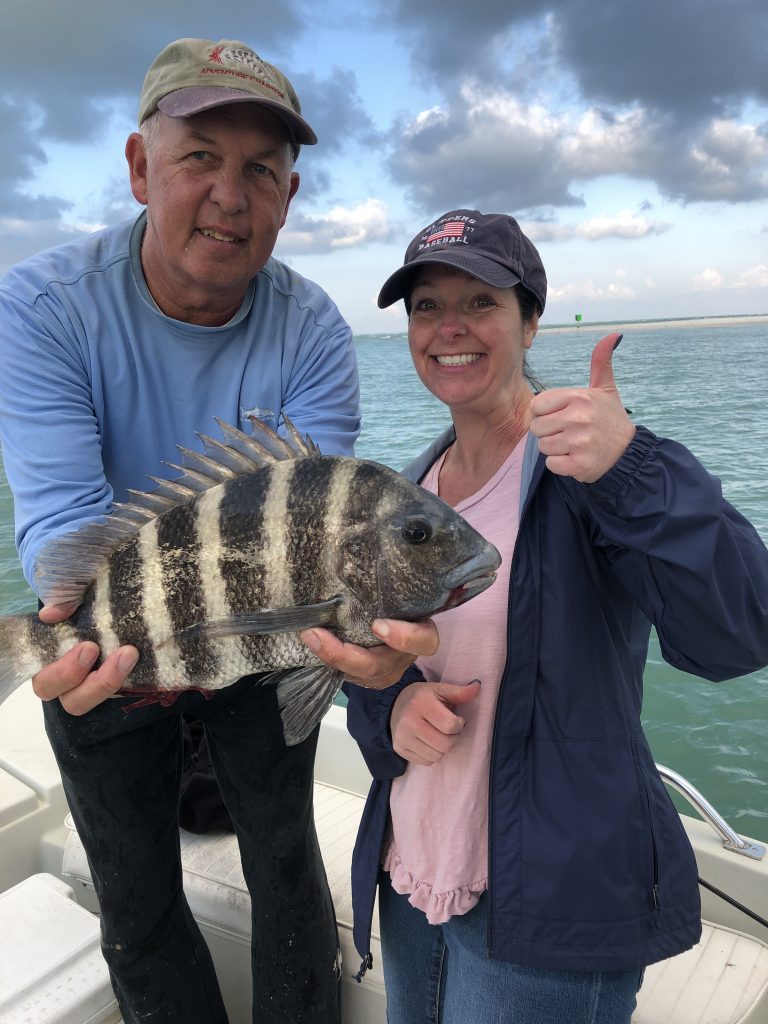 8) When bottom fishing, anglers should use the minimum amount of weight that is required to hold bottom. Current and wind conditions will vary, so should the weight of the sinker. Using the lightest weight that holds the bottom will allow for the most natural presentation.
9) Normally, the stronger the tide, the better. However, anglers bottom fishing in passes or other high flow areas will often times to better on a slack tide. It can be very difficult to anchor the boat when the water is running hard. So much weight is required to keep the bait on the bottom that it just becomes cumbersome to fish when the tide is running hard.
10) Anglers will have more success when bottom fishing by not setting the hook. The best approach when fishing with bait on the bottom is to wait for the fish to stop nibbling and move off with the bait. The angler should wait until the rod tip bends slowly and steadily, then just real the slack up and raise the rod tip. This will result in more hookups than setting the hook will. Also, if the fish is missed the bait is more likely to remain on the hook.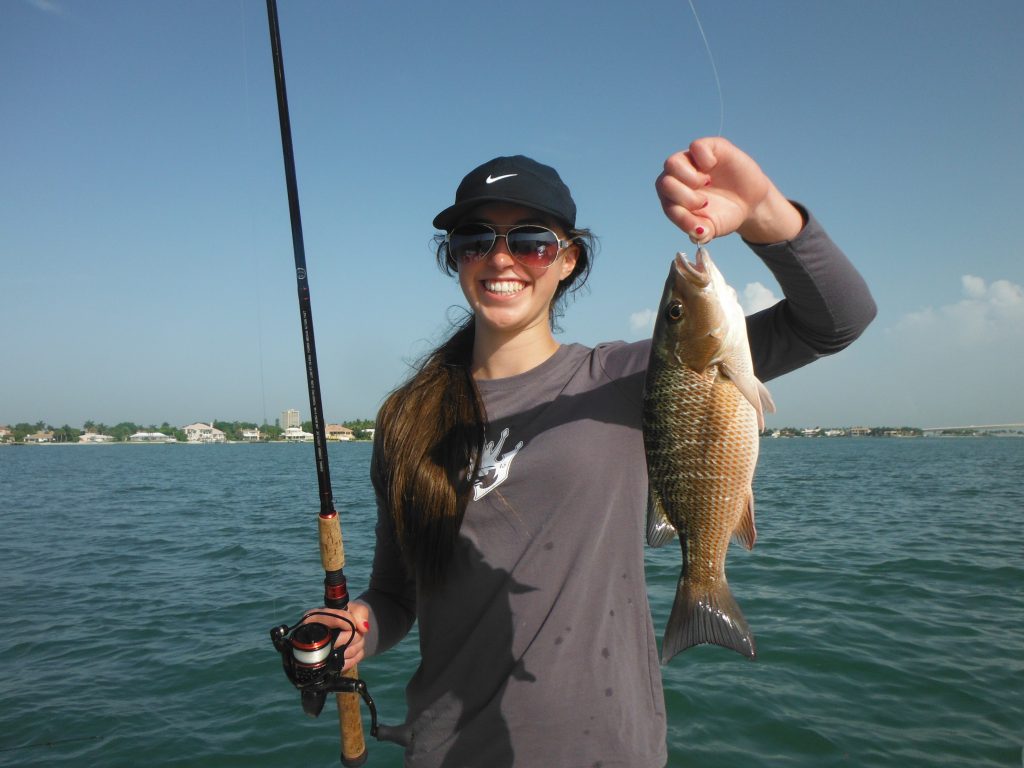 11) Most bottom fishing is done from an anchored boat. Drifting with weight on the bottom usually results in snagging up on the structure. Therefore, anchoring position is crucial. When anchoring in deep water, over 10 feet or so, the boat should be positioned just a few feet up current of the structure being fished. When fishing shallow or structure such as docks and oyster bars, it is best to anchor a decent cast up current from the structure.
Trolling tips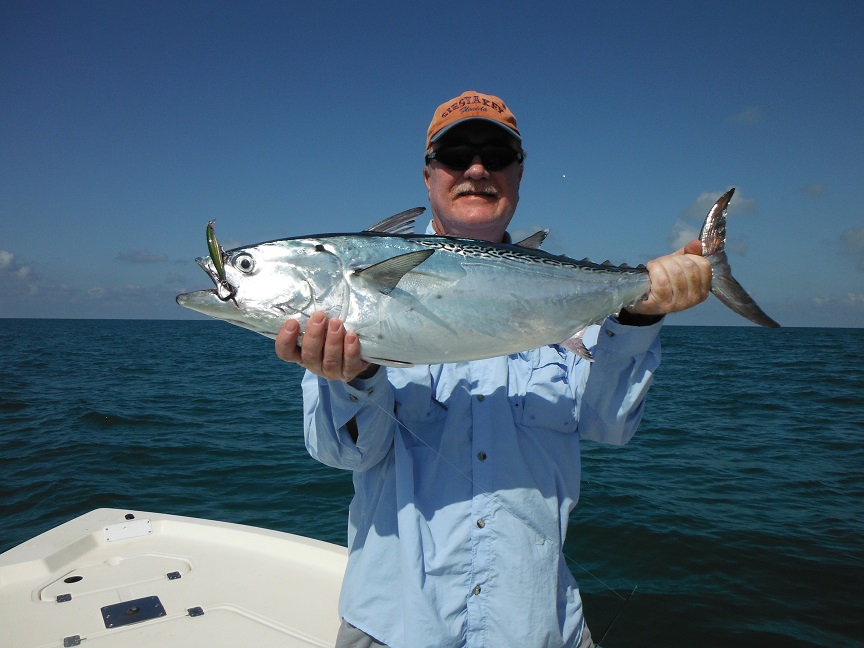 12) When trolling for Spanish mackerel, false albacore, and other species in the inshore Gulf of Mexico, it is best to drive the boat around the school and not through it. When fish are breaking on the surface the preferred technique is to motor around the edge of the school then once past it turned back towards the school. This will result in the lure running right through the fish without the boat putting them down.
13) It is important when trolling spoons to use a swivel. Some lures can be trolled without a swivel, however spoons will twist the line up in short order. In most cases, the longer the leader between the spoon and swivel the better. 6 feet is a good length to use.
14) Trolling sinkers are a good way to get the lure down in the water column. Our saltwater species require fairly fast trolling speeds, usually around 5 knots. This will bring most spoons up to the surface. Trolling sinkers will get the lure down several feet and they also have built-in swivels preventing line twist. Trolling sinkers, and either torpedo or keel shapes, both are effective.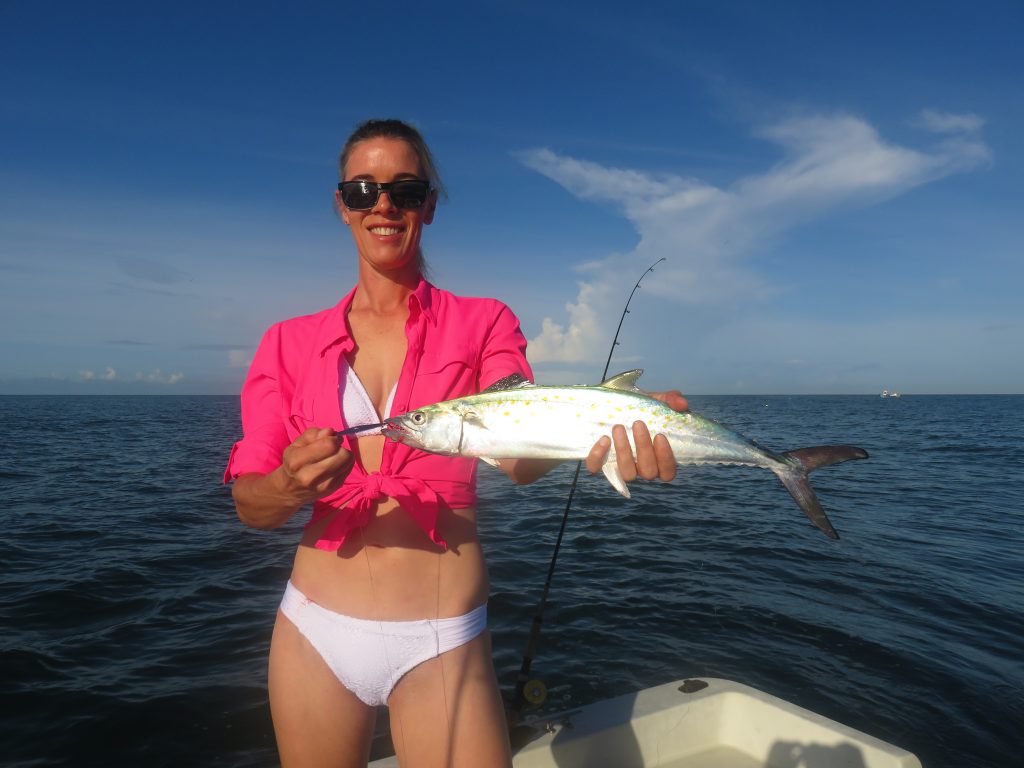 15) When trolling, it is important to match the lure to the size of the available forage, not the size of the fish being targeted. False albacore often times average 10 pounds, but are feeding on glass minnows the size of a fingernail.
16) My personal favorite trolling lure is the #8 Rapala X rap. I have had great success on mackerel and false albacore along with other species. It closely resembles the forage that is available in the inshore Gulf of Mexico. White and olive are my favorite colors.
Sarasota Trolling Techniques video
17) Diamond jigs are a fantastic trolling lure, especially when the bait fish are small. It does not look like much in the package, but has enough flash in action to attract game fish. It works very well when fish are primarily feeding on glass minnows.
18) Trolling can be an effective tactic on the flats and in the passes as well. Often times anglers drifted flat then motor back around to repeat the drift. This is a good time to troll a plug or spoon. As long as you are idling along, you might as well be fishing!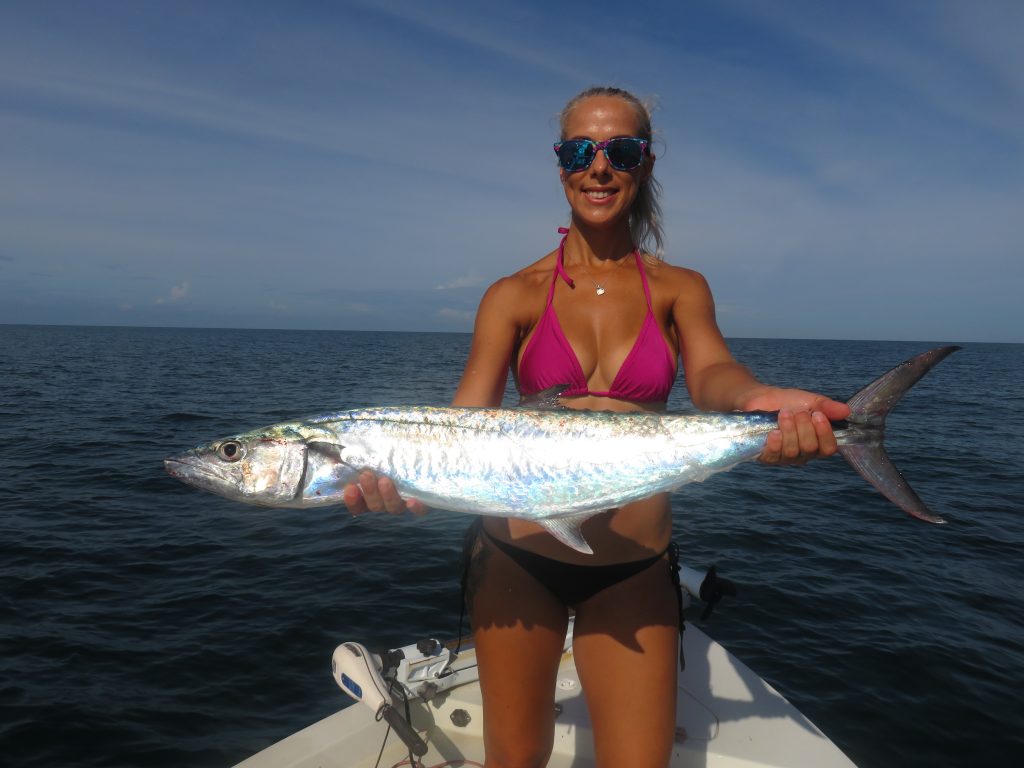 Weather and tide tips
19) Weather is a huge component when it comes to fishing. Safety should always come first! If it is too windy, either stay home or try to find a protected area to fish. Don't risk being caught out in the open and rough seas. Lightning kills a lot of people in Florida. It can strike from a long distance away. Do not take the chance when lightning is in the area.
20) Generally speaking, the best time to fish is as a cold front is approaching. That will normally result in Southwest wins and overcast skies. Conversely, fishing after of front with Northeast winds and bright skies is usually the least productive.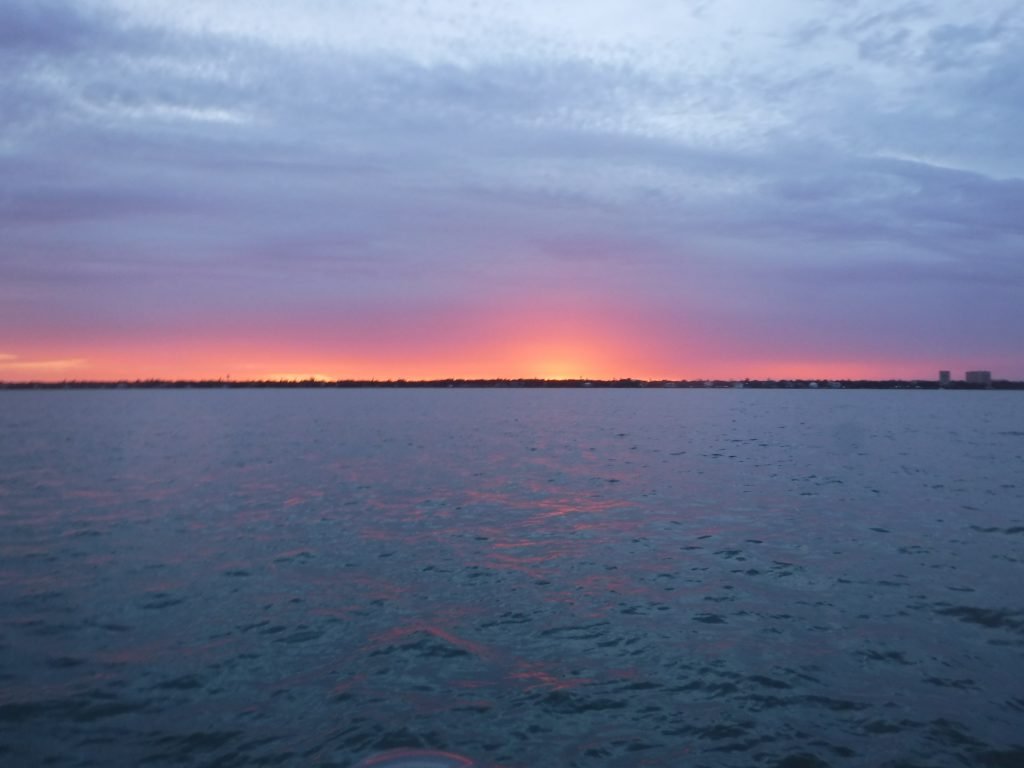 21) Tides are a very important factor when fishing and saltwater. Tides will position fish in the passes and on the flats. Fish will almost always be facing into a strong current. If they can do this while hiding behind a break in the current such as a bridge piling or other structure better yet.
22) Generally speaking, the stronger the tides, the better the fishing. The exception to this can be when fishing in the passes. The current flow can actually be too strong, making fishing difficult. Strong tides, whether incoming or outgoing, are best on the open flats.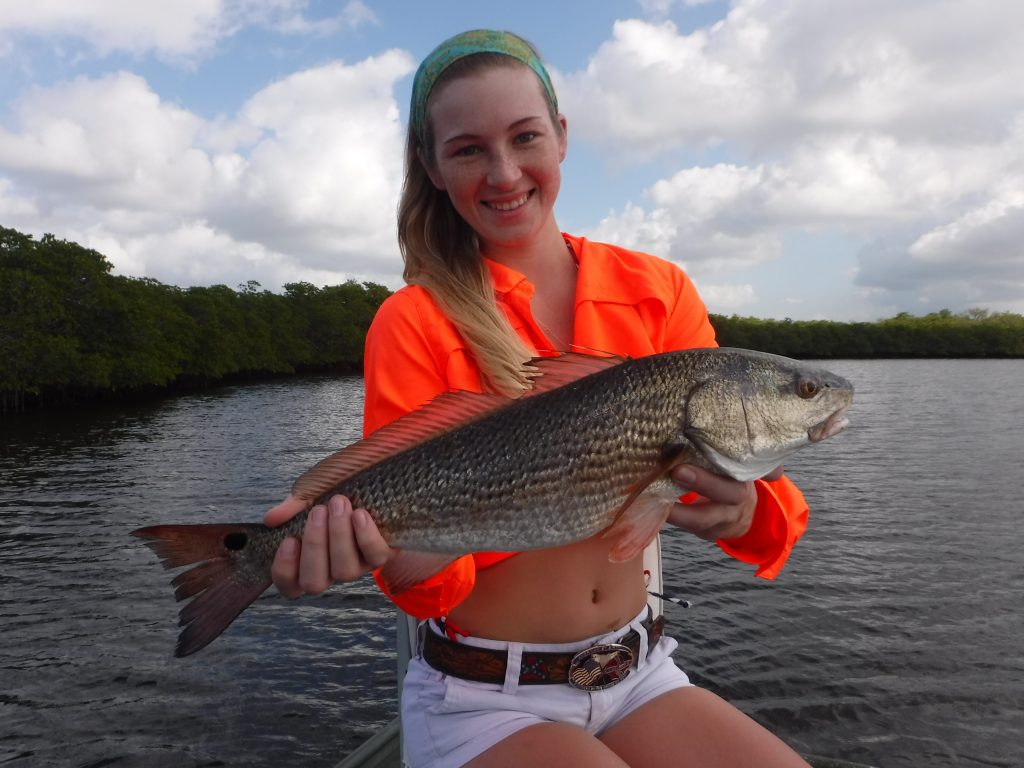 23) When looking at tide tables, it is best to look at the ones that are grass. Tide tables that just list the times of the tides can be deceiving. Without looking at the graph, it is impossible to tell the strength of the tide along with the times that it changes. The tide strength, or the amount of water the tide moves in a certain period of time, is the most important aspect.
Fish handling tips
24) While I don't mind if anglers keep a couple fish for dinner, I certainly practice catch and release. It is important to handle fish correctly when releasing them. Whenever possible, angler should avoid actually touching the fish. There are many release tools on the market which allow for this. They are basically some type of D hook her with the handle. They work very well and the angler needs not ever touch the fish.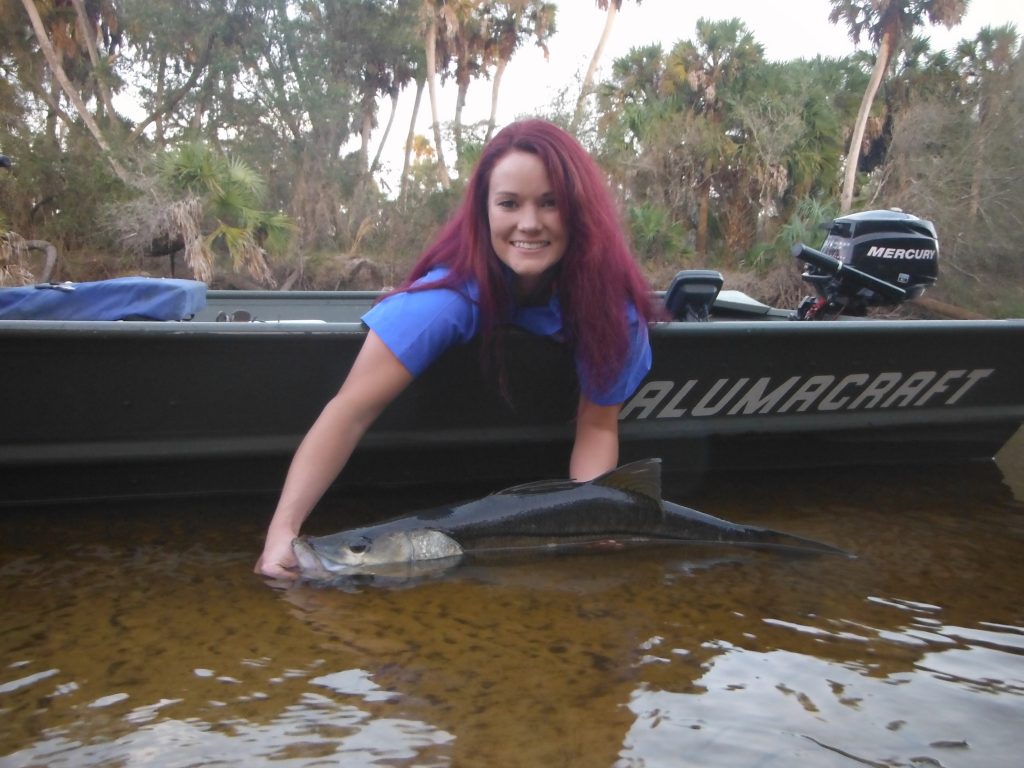 25) Fish that are going to be for dinner should be placed on ice right away. This will firm up the meat and make them fresher and easier to clean. If you are not certain, but the fish in the live well until the decision is made.
26) Larger fish should always be handled with care. Fish without teeth should be leapt using the thumb and then held horizontally with the belly of the fish supported. Snap a quick picture than get the fish back in the water as soon as possible. Never hold a fish hanging vertically from its jaw.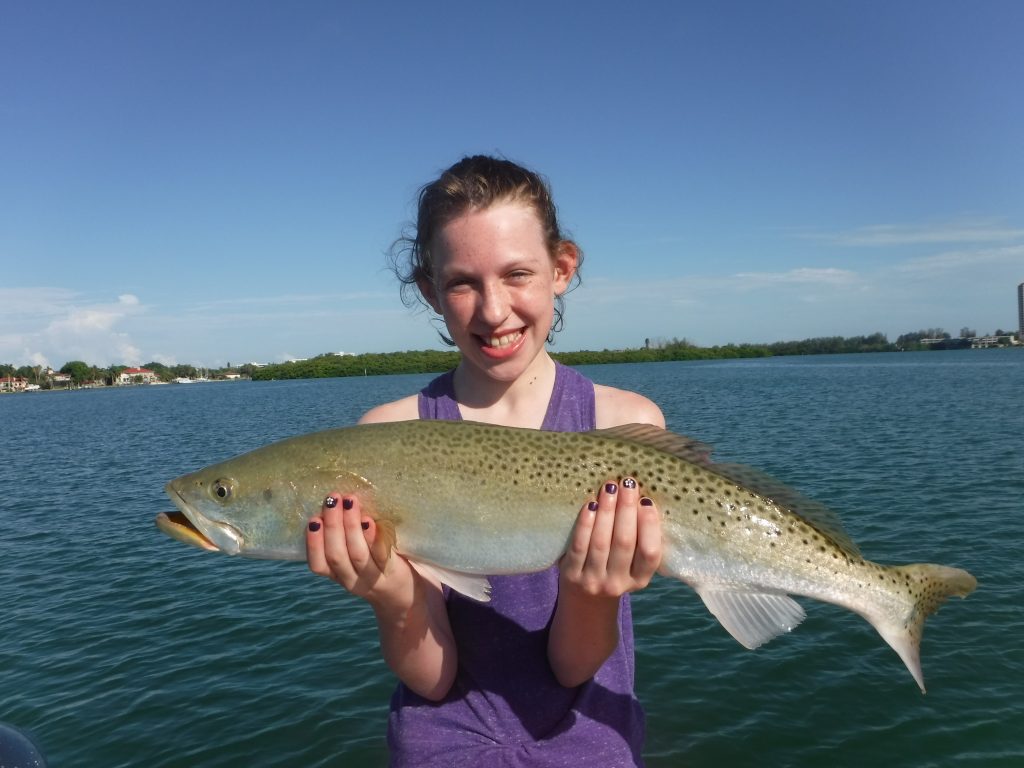 27) Florida fish regulations change constantly. It is important to be up-to-date on the current rules and regulations regarding species minimum and maximum lengths, along with seasons and bag limits. Remember, limit your kill don't kill your limit! Check current regulations on the FWC website.

Fishing in Sarasota; River Fishing
Saltwater fishing gets the bulk of the fishing attention here. However, river fishing is a unique angling opportunity very close by that offers visitors the chance to catch a trophy snook. The Manatee River, Myakka River, and Braden River are only a thirty minute drive from Sarasota area beaches.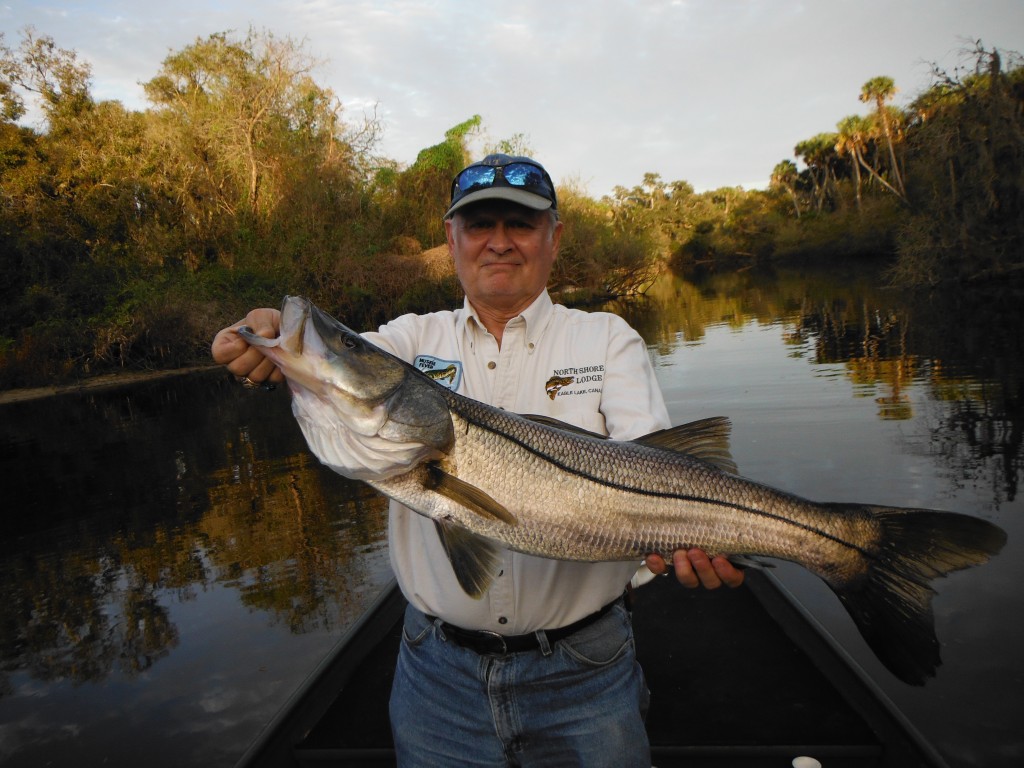 River fishing is a charter best suited to more experienced anglers. While there are trips where the action is steady, for the most part anglers are looking for "quality over quantity". In other words, big fish! Anglers drift down the river with the current, casting lures towards likely fish holding structure. Boat traffic is very low. It is a relaxing and serene trip. Anglers usually spot turtles, birds, alligators, and other wildlife.
I run my river fishing charters in the cooler months. As the shallow flats cool off, snook and other game fish will migrate into rivers, creeks, and residential canals. These areas are usually a bit deeper and darker, and therefore warmer than the exposed bay. The season basically runs from Halloween to Easter, depending on the weather.
Fishing the Myakka River
The Myakka River flows south through Manatee and Sarasota Counties. There are two dams on the river inside Myakka River State Park. It eventually flows into Charlotte Harbor. Many snook that inhabit the harbor migrate up the Myakka in the winter. It is one of the two rivers designated a "Wild and Scenic River" in Florida. The scenery is outstanding!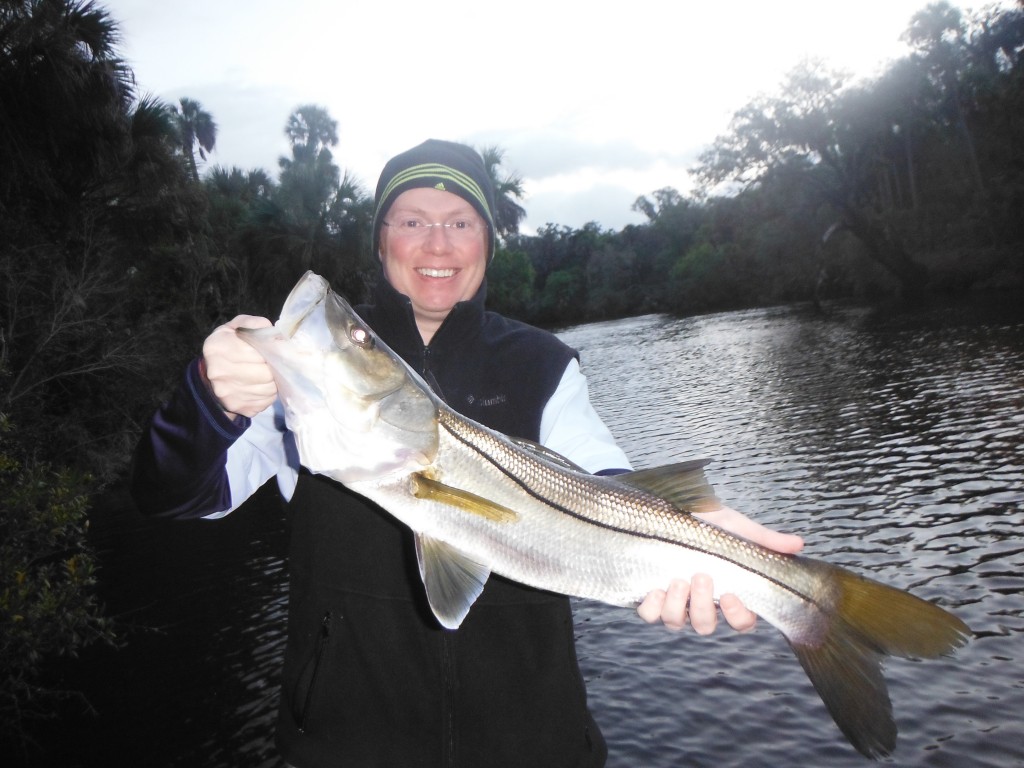 The Myakka River gives up more large snook than the other two rivers. It is fairly brackish and also holds good numbers of largemouth bass. The section of river that holds fish is long and will take a full day to cover thoroughly. The launching point is Snook Haven in Venice, Florida. A new ramp is there along with good parking and facilities.

Fishing the Manatee River
The Manatee River flows from east Manatee County, eventually dumping into Tampa Bay. It is a beautiful little stream with great scenery. A large dam on the river crates Lake Manatee. The lake and river upstream are fresh waters and hold freshwater species. Largemouth bass, bream, catfish, sunshine bass, gar, and more are caught by anglers.
The Manatee River below the dam is brackish. This means it is a mixture of fresh and salt water. This is a very fertile environment. The salinity level changes depending on tide and rainfall. The river is shallow as it flows to Rye Road, then gets a little wider and deeper. By the time the river reaches Ft. Hamer, it is pretty salty and the vast majority of species landed will be saltwater fish.
I fish this stretch of water between Rye Road and Ft. Hamer. It is pretty and offers anglers the chance to catch both saltwater and freshwater species. Snook and bass are the primary targets, but jacks, snapper, juvenile tarpon, catfish, gar, sunshine bass, redfish, and ladyfish will take lures in the river.
Both Fort Hamer Park and Ray's Canoe Hideaway offer access to the Manatee River. Ft. Hamer has a very nice ramp with parking and facilities. Ray's is a cool little spot that is reminiscent of "Old Florida". Kayaks and canoes can be launched and rented. There is a boat ramp for smaller Jon boats of no more that 16 feet. The river is a "No Wake Zone" from Ft. Hamer to the dam.
Fishing the Braden River
The Braden River is similar to the Manatee River in a couple of ways. It starts as a small stream east of I 75. A dam creates Lake Ward in Bradenton. The Braden River then flows for seven miles or so before emptying into the Manatee River. This portion of the river is salty, I do not catch freshwater species here. The Braden River is more developed than the Manatee River. However, it is more convenient, so there is a trade off.
How to catch big jacks in rivers video
A decent boat ramp lies on the river at the SR 64 bridge. This is very convenient for anglers visiting Bradenton, being just a short ride from Manatee County beaches. The Braden River offers fantastic fishing for jack crevalle. Some specimens will push ten pounds. Snook, redfish, ladyfish, and snapper are in the Braden River in decent numbers as well.
River fishing tackle
I use spinning tackle on most of my river charters. Braided line is used to help prevent big fish from getting into structure. Conventional tackle is available for clients who prefer to use that. The same goes for fly tackle, I provide Orvis outfits for fly anglers.
Snook are not the only species that are caught by anglers Bradenton river fishing. Jack crevelle will school up, particularly in the Braden River. They are often seen working bait on the surface. Anglers will also catch them blind casting. This is one instance where quite a few fish can be caught. When the jacks are thick, the action can be fast and furious!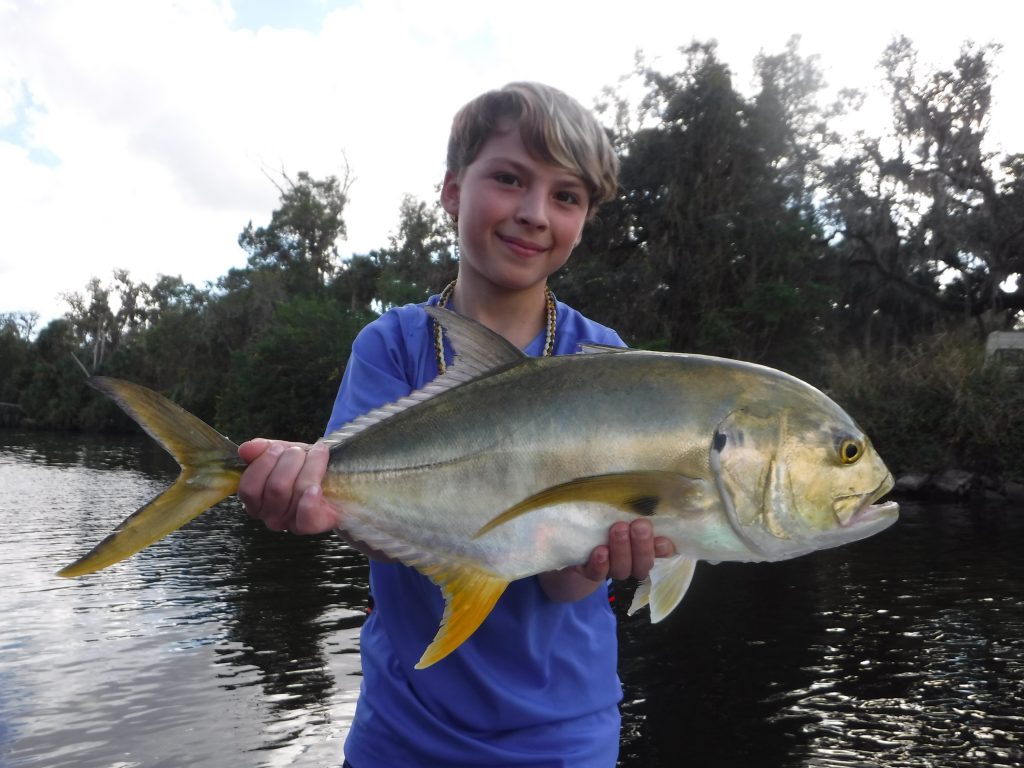 I only use artificial lures when river fishing. Lures allow anglers to cover a lot of water quickly. Seldom do fish school up in certain spots, other than jack crevalle. The more water that is covered, the better the chance of success. Also, I seldom keep fish, though this can be arranged ahead of time, depending on the circumstances.
Best lures for river fishing in Sarasota
My favorite lures are the Rapala X-Rap line of hard plastic baits. The Saltwater X-Rap in the #10 size, the BX Minnow in #10 size, and the 3.5" Jointed BX Minnow are my top baits. The two colors I use are gold and Firetiger. These plugs in the two color patterns have proven to be reliable for my clients.
Other artificial lures will produce on the rivers as well. Soft plastic baits on a jig head or weedless swim bait hook are very productive. Bass Assassin makes a great line of baits with a myriad of color patterns. The Die Dapper has great action. Colors run the gamut, but I prefer two colors; "golden bream" and white.
Tides are very important when river fishing. This is especially true in the winter when the water is low due to very little rain. Negative low tides will make getting around difficult. These rivers have many shallow sand bars. My preferred tide is a high, outgoing tide. Snook and other game fish will stage at ambush points and feed as the current brings the forage to them.
Prime river fishing spots
Outside bends in the river channel are prime river spots. These bends usually have deeper water and holes. The current flows through and carves out holes. Fish love these spots, especially if there is cover such as fallen trees. Limestone ledges are another prime area. Snook will lie on the ledges and dart out to feed.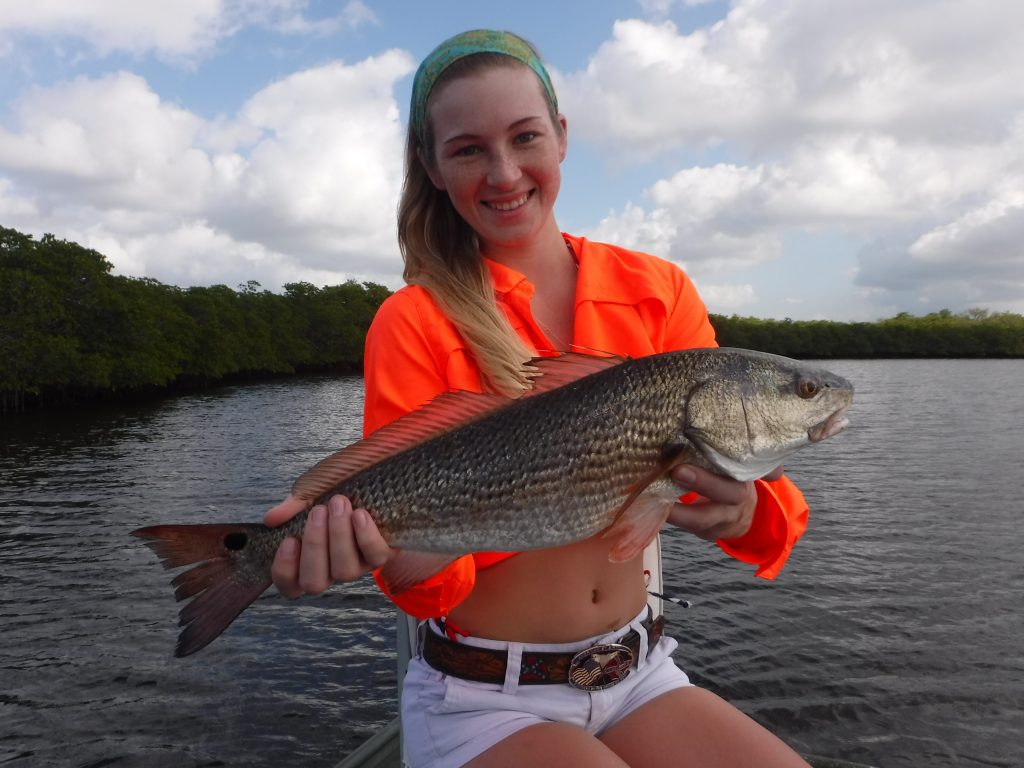 This is a great opportunity for a fly angler to catch a nice snook! There really are not many situations where a trophy snook can be taken on fly in the day time. 9 wt outfits with an intermediate sink tip line work best. Long casts are not required. Clouser Minnow fly patterns in gold and white work very well.
Fly anglers will also enjoy the fantastic battle that a large jack puts up. The Braden River has very reliable fishing for jacks in the winter. In a lot of cases, the fish will be seen foraging on the surface. This is very exciting and a take is almost a guarantee!
I am hoping this article inspires experienced visiting anglers to give Bradenton river fishing a try. This is a cool trip with awesome scenery and the chance to catch a trophy snook. It also has a "freshwater" feel to it that northern anglers will enjoy.
Snook fishing in Sarasota
There is no wonder why snook fishing is so popular among both local and visiting anglers! Snook are the premier inshore game fish of Florida. They grow large, fight hard, leap high out of the water, and take artificial lures live baits and flies. Sarasota offer some excellent snook fishing opportunities.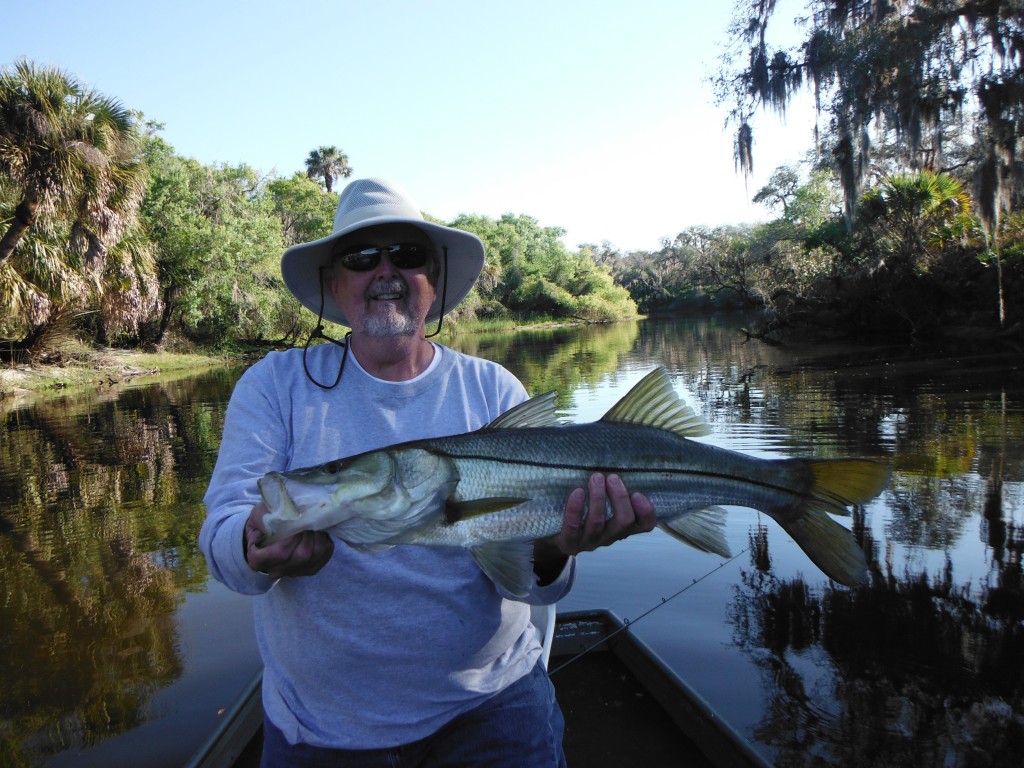 There are several different techniques which anglers can use to catch snook. I prefer casting artificial lures, especially plugs. Soft plastic baits and weedless spoons are also effective. Fly anglers do well with white bait fish imitations. Live bait catches a lot of snook. Live shrimp are the top baits in the cooler months, while white bait is the preferred summer bait.
Understanding seasonal snook migrations
Snook have a very distinct seasonal migration pattern. So, let's go through their annual movements. As the water cools off in the winter, snook will move into area rivers, creeks, and residential canals. These areas are deeper and stay warmer than the exposed open flats. Snook cannot tolerate water much colder than 55°. They will seek out these warmer winter haunts.
I primarily river fish for snook using artificial lures. My favorite baits are the #10 Rapala X-Rap Slashbait and the 3 1/2 inch BX jointed minnow. These baits cover a lot of water methodically and trigger some violence strikes. These diving plugs also tend to hang up less than jigs in the trees and other structure.
Spring and summer snook fishing
As it warms up and spring, snook will move out of these rivers creeks and canals and scatter out onto the open flats. Anglers will do well to start near the mouths of such creeks and canals and rivers then move out in search of fish. Shallow open flats with potholes will hold fish. Oyster bars and mangrove shorelines with a little depth change are prime spots. Bait fish, mullet schools, and birds are good indications of life.
By May, many of the larger snook will be in the passes and out on the beaches. Snook spawn out on the beaches and in the inshore Gulf of Mexico. The rocks at the mouth of Big Sarasota Pass is a very good snook spot. Anglers can sight cast to snook cruising in the surf line all summer long.

As summer winds down the migration reverses itself. Snook will move off of the beaches and out of the passes and into the backwater bays. They will remain there all fall and feed until it gets cold. If the water temperature dips down into the upper 50s snook will move back up into the rivers, creeks, and canals for the winter.
Snook fishing around bridges and docks
Area bridges hold snook all year long. Anglers fishing around the Ringling Bridge, Siesta Drive Bridge, Stickney Point Bridge, and Blackburn Point Bridge will do best with live bait. Lures that imitate shrimp and small bait fish will also produce. Tackle will need to be a bit heavier than that which is used on the open grass flats. Anglers will need to muscle the snook away from the heavy structure. The same techniques work around the countless docks in Sarasota. night fishing is especially productive around bridges and docks

Large live shrimp, hand sized pin fish and grunts, and large white bait work well when bridge snook fishing. Stout spinning tackle or conventional tackle with braided line and 50 pound leaders will help land a large snook in the structure. Snook can be caught any time, however outgoing tides in the evening or at night are the prime times to fish.
Snook fishing on the flats
Many anglers enjoy fishing the backwater flats for snook. Casting artificial lures or live baits up against a likely looking mangrove shorelines is a lot of fun. The challenge in these large open areas is finding productive areas quickly. There is a lot of water and it all looks good, but only a small percentage of it will be holding fish.
Tides are extremely important when fish in the shallow flats. I personally prefer a low, incoming tide. Snook will stage in the deeper water on the edges of flats waiting for the tide to rise. They will then move up with the rising water scatter out over the flat and feet. The lower water tends to concentrate them in the slightly deeper areas. Once they scatter out, they are more difficult to locate.
High tides are better times to fish the mangroves. Often times with low-water it is not deep enough up against the shoreline. The snook prefer the higher tide stages in this instance. The same can be said for oyster bars; once they flood with water the fish will get on top and feet.
Productive snook fishing lures
Top water plugs are great fun and are productive winter snook fishing. There is nothing like the explosive strike of a big snook and inhaling a top water plug! I prefer the Rapala Prop-R. However, there are many other productive top water plugs such as the Zara Spook, MirroLure Top Dog, and Chug Bug. These techniques produce redfish and jack crevalle as well.

Shallow diving plugs can be extremely productive as long as the water is deep enough. The number eight Rapala X-Rap closely resembles the size of the forged that snook feed on. It only needs about 2 feet of water to run. White and olive have been the top colors for me.
Soft plastic baits work very well in shallow water. They can be hooked on a weightless hook, a weighted rigging hook, or a light jig head. My personal preference is a weighted swim hook which allows for a very natural horizontal presentation in the water. It is also extremely weedless with a good hookup ratio.
There are countless lines of soft plastic baits, and they all catch fish. My personal favorite is the Bass assassin line of baits. They are soft and supple and come in a wide variety of sizes and colors. The 4 inch Sea Shad is a very good all-around bait for not only snook, but redfish trout and other species.
Snook fishing with white bait
White bait probably accounts for more snook in this area that all other baits combined. This is an incredibly effective fishing system. Anglers use large cast nets and catch hundreds of live bait fish. Scaled sardines and threadfin herring are most common. These baits are caught on the grass flats near the passes and out on the beach.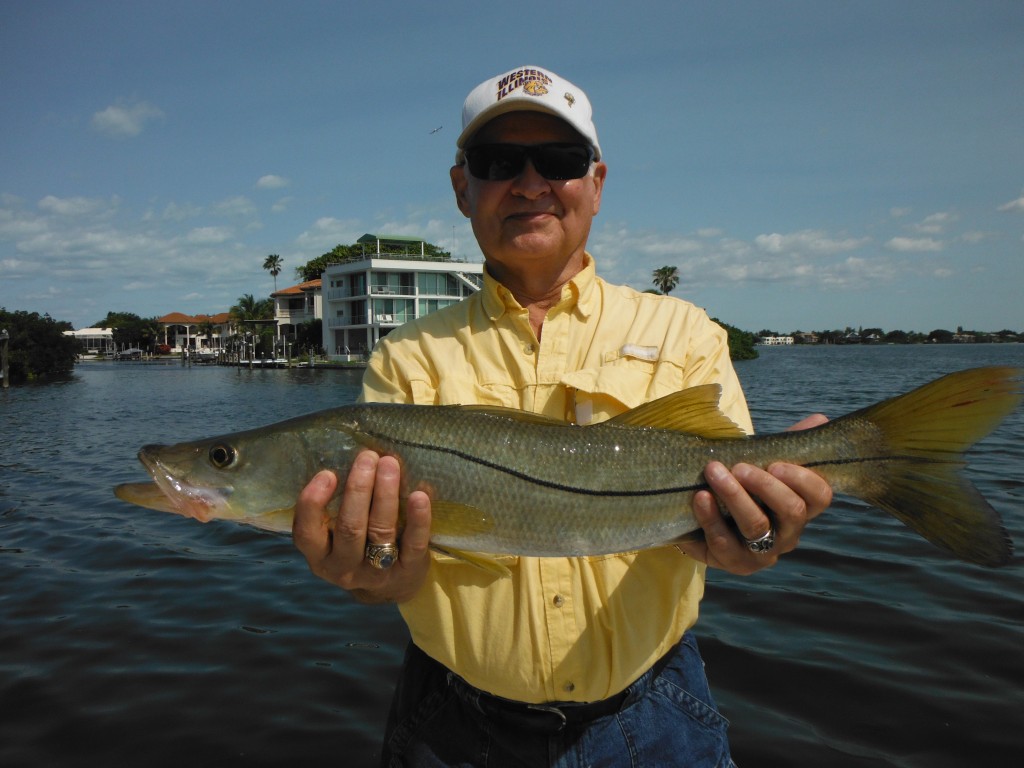 Once bait is procured, the boat is anchored up current and hopefully upwind of a likely spot. This can be a mangrove shorelines with the deeper cut, a likely flat with potholes, and oyster bar, or even a dock or bridge. A handful or two of live baits is tossed out towards the spots. Sometimes the angler will squeeze the bait before throwing it out crippling. The injured bait fish will swim erratically, attracting other fish to it.
Once snook are seen popping the chum bait, hooked baits are tossed out into the fray. It is usually not long before a fish is hooked. Once they get excited and active, anglers can catch a lot of snook in short order. This fishing will remain productive from mid spring to mid fall. These bait fish are not available in the cooler months.
Beach fishing for snook
Sight casting to snook on the Sarasota beaches is great sport. Anglers can use fairly light spinning tackle or fly tackle as there is very little structure. The technique is not very complicated. Anglers simply get out to the beach about 7:30 AM and walk along the surf line seeking snook.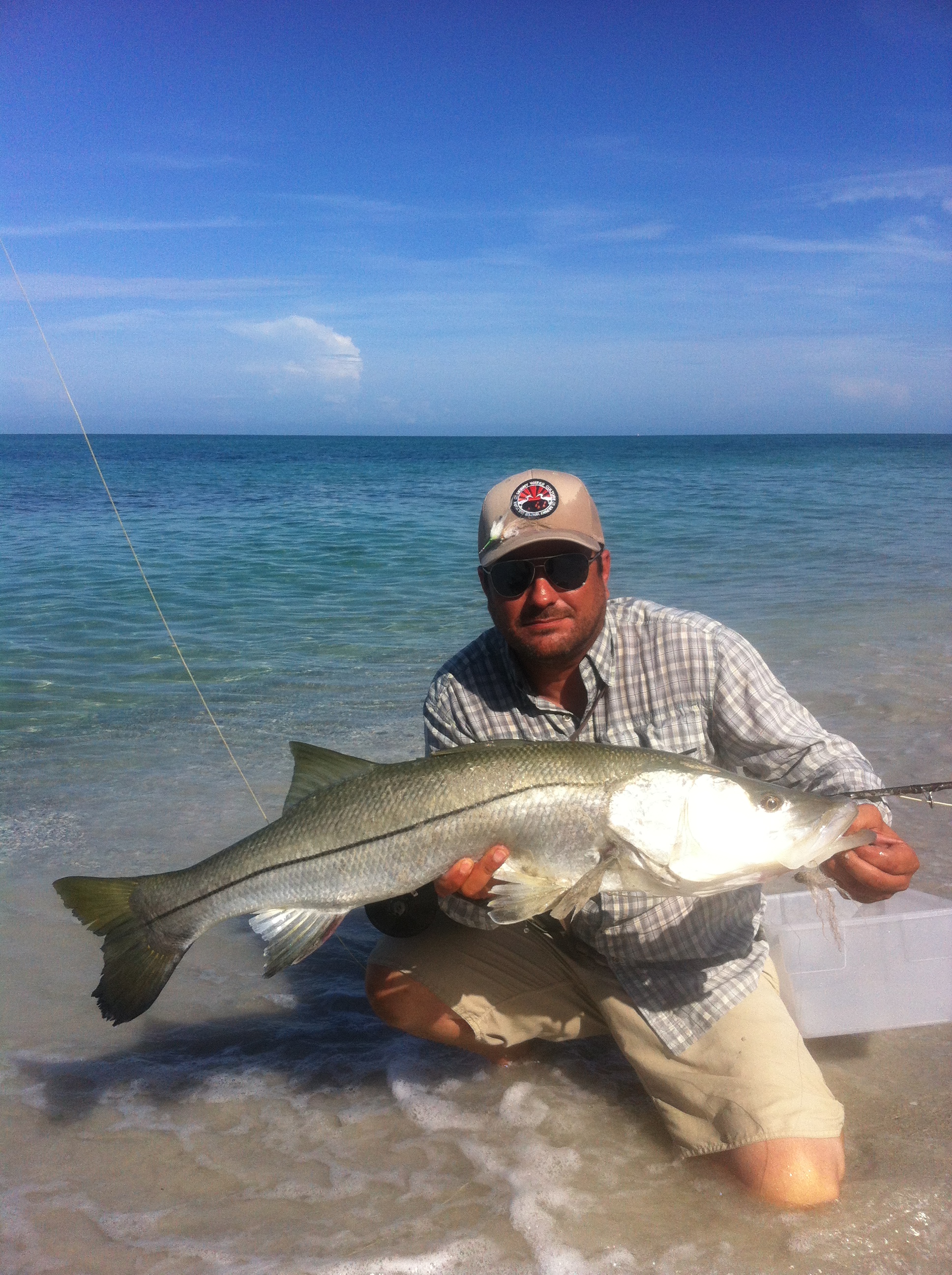 The fish will be seen cruising within a couple feet of shore. One-sighted, the lure or fly is cast out in front of them and hopefully a bite ensues. Small white lures and flies work best as it imitates the forage. Bulky lures will spook the fish and that shallow water.
Speckled trout fishing in Sarasota
Speckled trout are one of the most popular inshore game fish. Trout are available to Sarasota anglers all year long. The same baits, lures, and techniques that produce trout will also fool Spanish mackerel, bluefish, jacks, sharks, pompano, ladyfish, and more. This is a nice added bonus!

Most anglers target speckled trout on the grass flats. Lush grass beds in water from two feet deep to ten feet deep hold speckled trout on good numbers. Trout are an aggressive, beautiful fish that hit hard, put up a bit of a tussle, and taste great. That explains why they are so desired by anglers!
Sarasota speckled trout average around 16 inches. Anything over 20 inches is a nice fish and a speckled trout over 24 inches is termed a "gator trout". Anglers seeking numbers of trout will do best to target grass flats and 4 feet to 8 feet of water. This is where the majority of average sized fish will be found. These fish are generally found in fairly large schools. The larger fish are loners and can often be found in very shallow water.
Speckled trout fishing tackle
Tackle for speckled trout fishing is fairly simple. A 6 1/2 foot to 7 foot spinning rod with a matching real is a good combo. 10 pound monofilament line and 20 pound braided line are good choices. It is a good idea to use a shock leader. This is a 24 inch section of slightly heavier monofilament line. The shock leader helps reduce cutoffs. 25 pound test is good for trout fishing.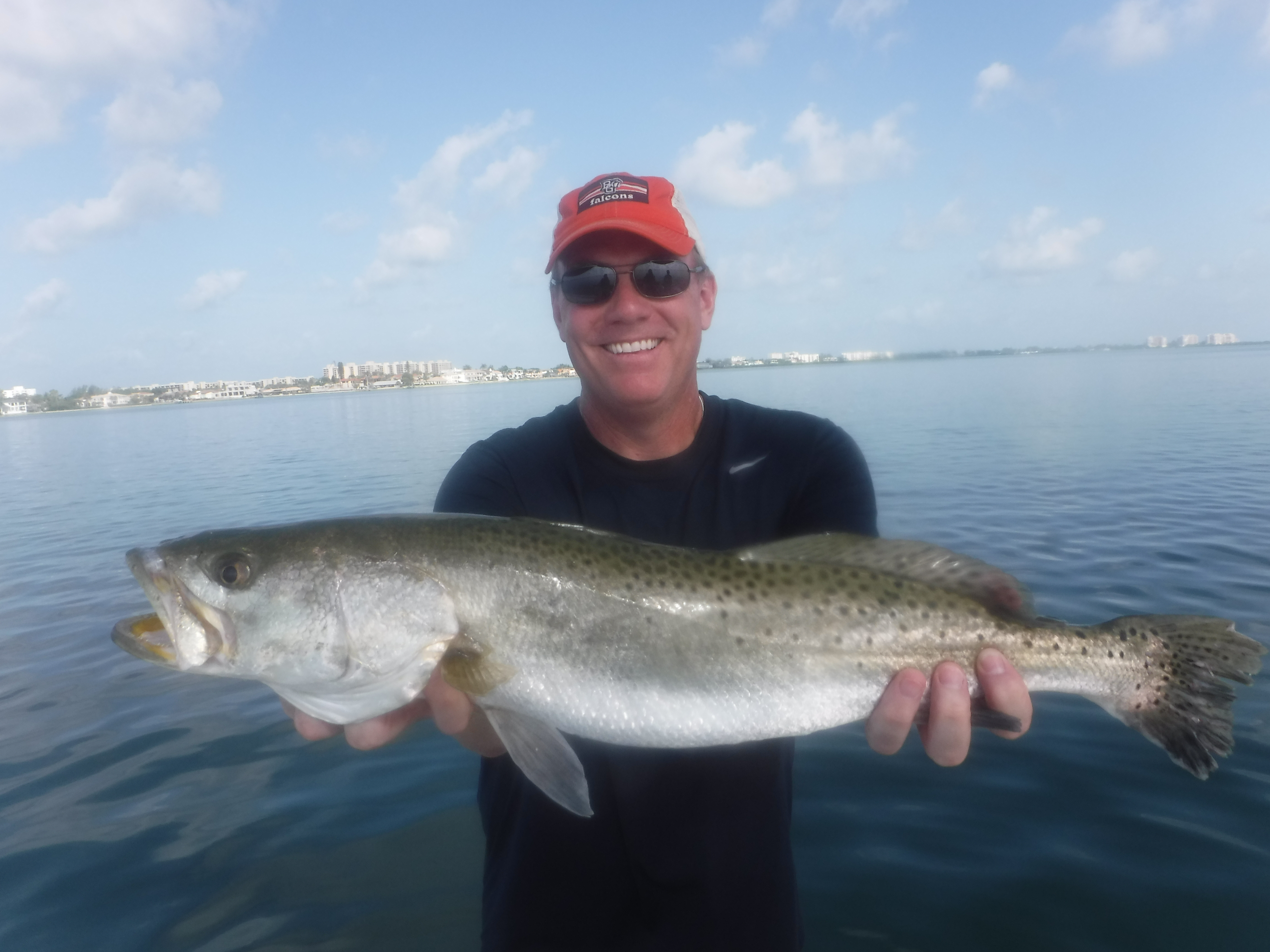 Both live bait and artificial lures produce a lot of speckled trout. It really is just a matter of the time of year and angler preference. The number one live bait is the shrimp. Live shrimp are available year-round and produce speckled trout along with just about every other inshore fish species. Shrimp are especially effective in the cooler months when pin fish and other bait stealers are less of an issue.
Live shrimp are often fished over the grass flats under a noisy float. These floats are called "popping corks". This is a very effective fishing technique. These floats are placed 3 feet above the hook. Live shrimp is in impaled on the hook. A # 1/0 live bait hook is a good all-around choice when targeting speckled trout.
Live shrimp are the top speckled trout fishing bait
The rig is cast out and allowed to settle. A sharp twitch of the rod produces a noisy "pop". This simulates feeding fish and will attract trout and other species to the shrimp. Live bait fish can be used under the cork as well.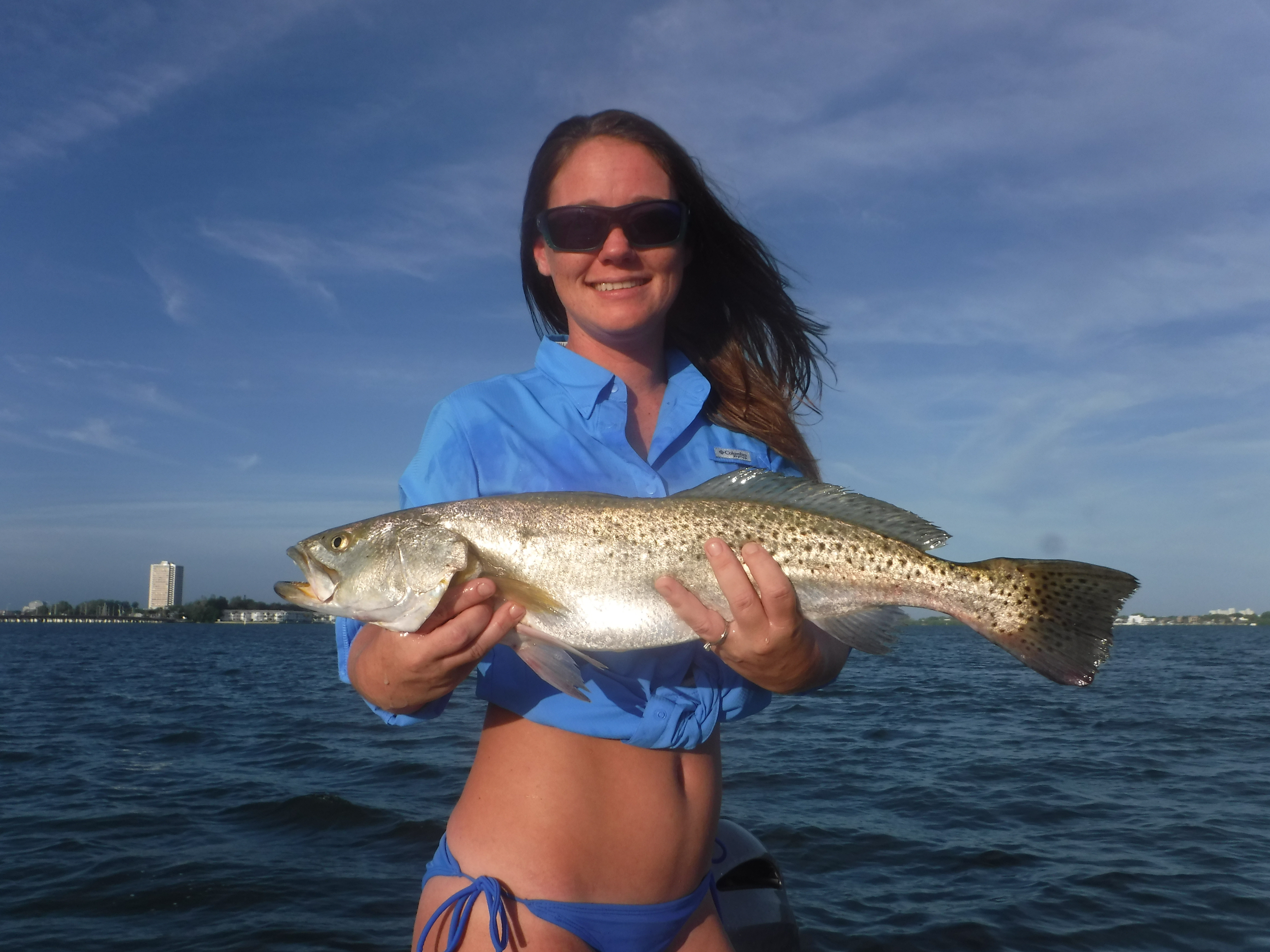 Live shrimp can also be "free lined" out behind the boat. This means the shrimp is baited on a hook with no other weight. The shrimp can then be allowed to swim naturally. This works well in deeper water, over six feet deep.
Live bait fish are extremely effective for speckled trout as well. 2 inch to 3 inch pin fish and grunts work well either free line or fished under a float. The float will keep the bait from getting down into the grass and suspend the bait at the proper depth in the water column.
Live bait chumming for speckled trout
Chumming with live bait is an extremely effective technique anglers use in the warmer months. This is a stable for captains running Sarasota fishing charters. A large cast net is used to procure several hundred scaled sardines or threadfin herring. The boat is then anchored in a likely spot and these live baits are used as chum to attract speckled trout up behind the boat.
Artificial lures fool many speckled trout. The number one artificial lure for anglers targeting speckled trout is the jig and grub combination. It is a simple yet very effective lure. The lure combination consists of a jig head and a soft plastic body. It is a very versatile lure as the tail sizes, shapes, and colors can be easily changed.
The jig head is a hook with a piece of lead molded and near the eye. This lead adds casting weight and also is what imparts action to the jig. Jig heads come in many different sizes, weights, and colors. One quarter ounce jig heads are the best all round choice for fishing water between 4 feet deep and 10 feet deep. Red, white, and chartreuse are the best colors. Jigs have one single hook which helps when releasing fish.
Jigs are soft plastic baits are effective on speckled trout
Soft plastic grubs come in a myriad of colors, shapes, and sizes. Most imitate either a shrimp or a bait fish. 3 inch to 4 inch baits are the best size for speckled trout fishing. White, pink, chartreuse, olive, and root beer are all effective colors. A good rule of thumb is to use light colors in clear water and darker colors and stained water.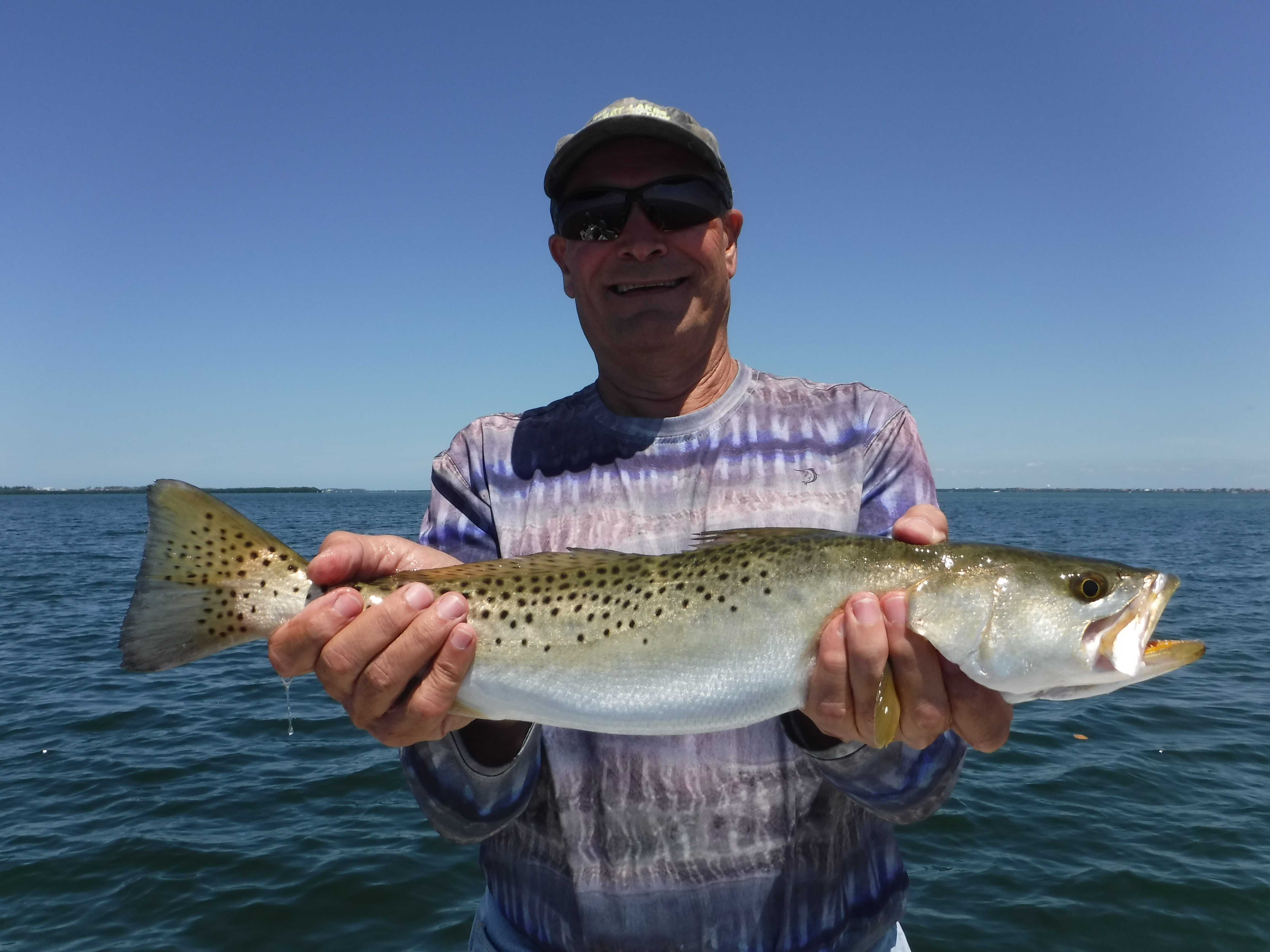 Jigs are very easy to use. The lure is cast out and allowed to sink for several seconds. With the rod tip held at 10 o'clock, the jig is brought back in using sharp upward twitches of the rod. The jig is allowed to fall for a second or two in between the twitches. Most strikes will occur as the jig falls. The simple but effective lure catch a speckled trout and just about every other flats species.
Speckled trout fishing with plugs
Plugs are also extremely effective lures for speckled trout. They tend to catch larger fish. Plugs are meant to imitate bait fish. Anglers should choose a plug that imitates the forage that the speckled trout are feeding on. Plugs that stay up on the surface are called "topwater" plugs. They produce explosive strikes and are very effective when worked in shallow water.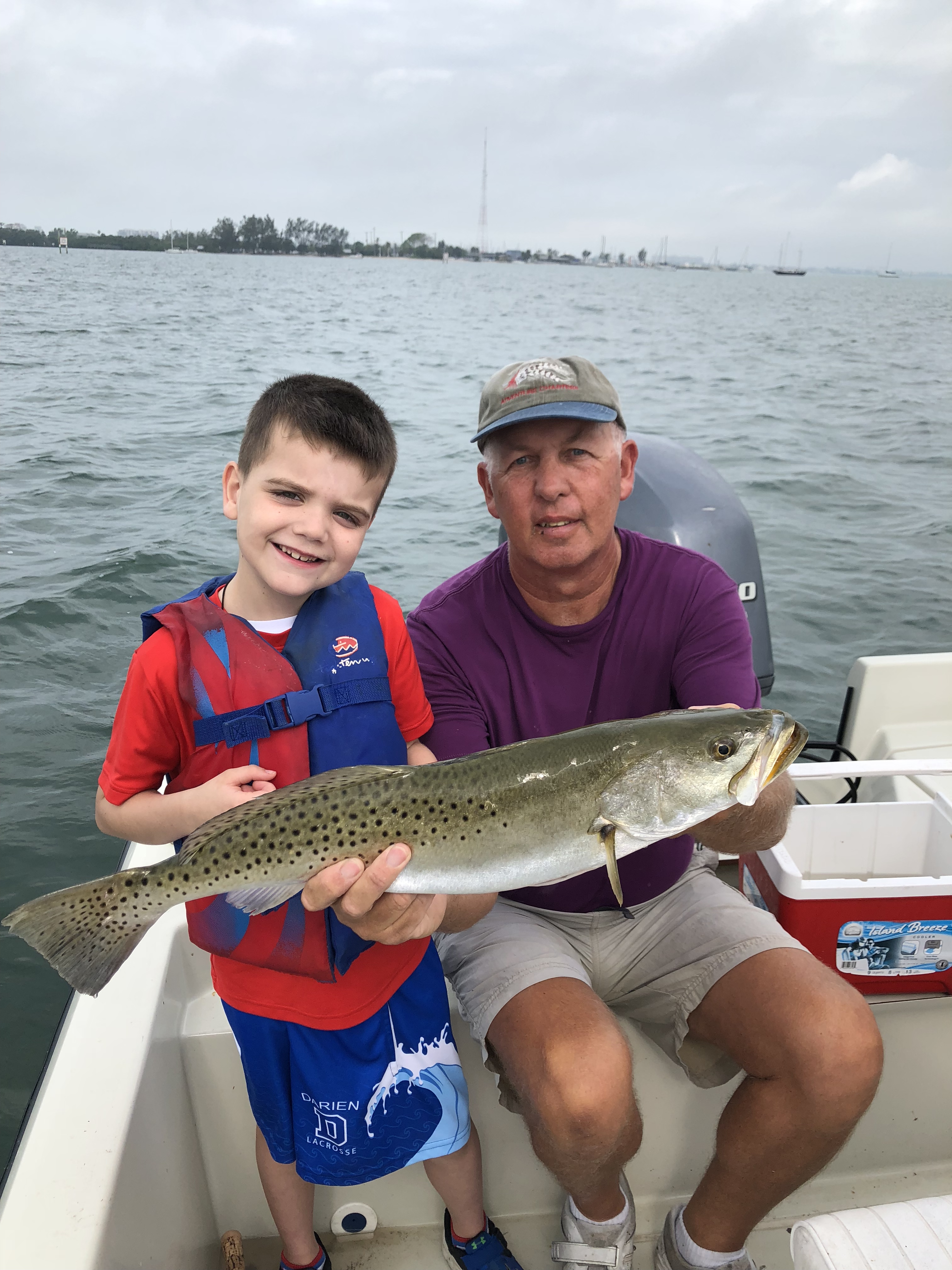 Shallow diving plugs float on the surface but dive down several feet when retrieved. These plugs work well in water deeper than two feet. Suspending plugs slowly sink and suspend in the water column. They are deadly on speckled trout. Plugs do have a couple of drawbacks. They are expensive and sport a dangerous pair of treble hooks.
Most anglers targeting speckled trout choose to drift. Most grass flats cover a fairly large area. Drifting is the most efficient way to locate fish. Anglers using both live bait and artificial lures cast out ahead of the drifting boat and work the baits back. Once a productive area is found, anglers can anchor and cover the area thoroughly or re-drift the area.
Big trout are found in shallow water
Larger speckled trout are often found in shallow water. These fish tend to be "loners" and not in schools. Potholes (small depressions in shallow flats) will hold some trophy speckled trout! The edges of oyster bars and mangrove shorelines will also produce some nice trout.
These fish can be finicky in shallow water. Then spook easily. Anglers need to be patient and stealthy. Long casts are required. Artificial lures work well as it can be difficult to use live bait in the shallow grass. Topwater plugs and soft plastic baits on 1/16 ounce jig heads work well.
Night fishing can be an extremely effective technique for speckled trout. Lighted docks and bridges attract shrimp and small bait fish. This in turn attracts the trout. Outgoing tides are generally preferred. Live and artificial shrimp work well free lined in the current.
Sarasota Spanish mackerel fishing
Spanish mackerel fishing is popular among both resident and visiting anglers. Mackerel are caught both inshore and in the Gulf of Mexico in the spring and the fall.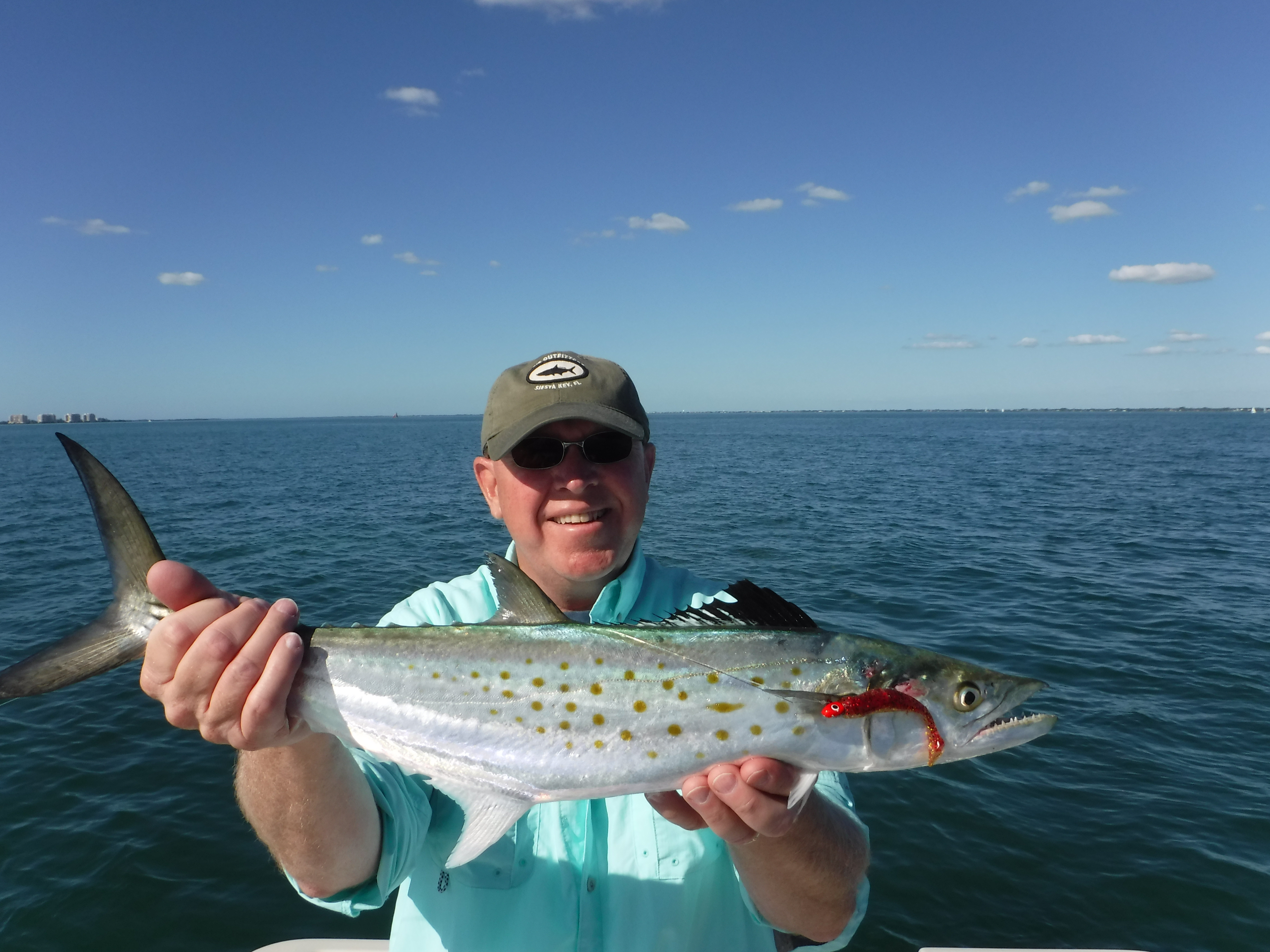 Spanish mackerel are a pelagic game fish. That means they spend the majority of their life in the middle of the water column. Mackerel feed in large schools and are present in Sarasota in good numbers when the water temperature is in the low to mid 70s. Spanish mackerel are a terrific game fish when caught on light tackle. When handled and prepared correctly, they are also excellent table fare.
Spanish mackerel are one of the fastest fish on the planet. They school heavily and normally feed in an aggressive manner. They respond very well to fast retrieve when using artificial lures. The same is true for anglers who troll for Spanish mackerel.
Most anglers use medium spinning tackle when targeting Spanish mackerel. Normal inshore tackle used for speckled trout and snook will work fine for mackerel. A 7 foot spinning rod with 10 pound monofilament line or 20 pound braided line is a great choice. The exception to this is for anglers who prefer trolling. In this application, light conventional tackle gets the nod.
Anglers will need to use some type of leader when targeting Spanish mackerel. These fish have a mouthful of razor sharp teeth. The dilemma is whether to use monofilament leader or steel leader. Most anglers opt for a 24 inch piece of 30 pound to 40 pound fluorocarbon leader. Strikes will be significantly reduced when using a steel leader in the clear Florida water.
Inshore fishing techniques for Spanish mackerel
Spanish mackerel are found in the inshore waters in the passes and over the deeper grass flats. The same lush grass beds in 6 feet of water to 10 feet of water that produce speckled trout will hold mackerel in the spring and the fall. Generally speaking, the flats closest to the open Gulf of Mexico are the most productive flats for anglers targeting Spanish mackerel.
Anglers fishing these deeper flats can drift live baits, cast artificial lures, or troll lures. Live shrimp is the top live bait as they are readily available at all local bait shops. Scaled sardines and threadfin herring can also be floated out behind the boat.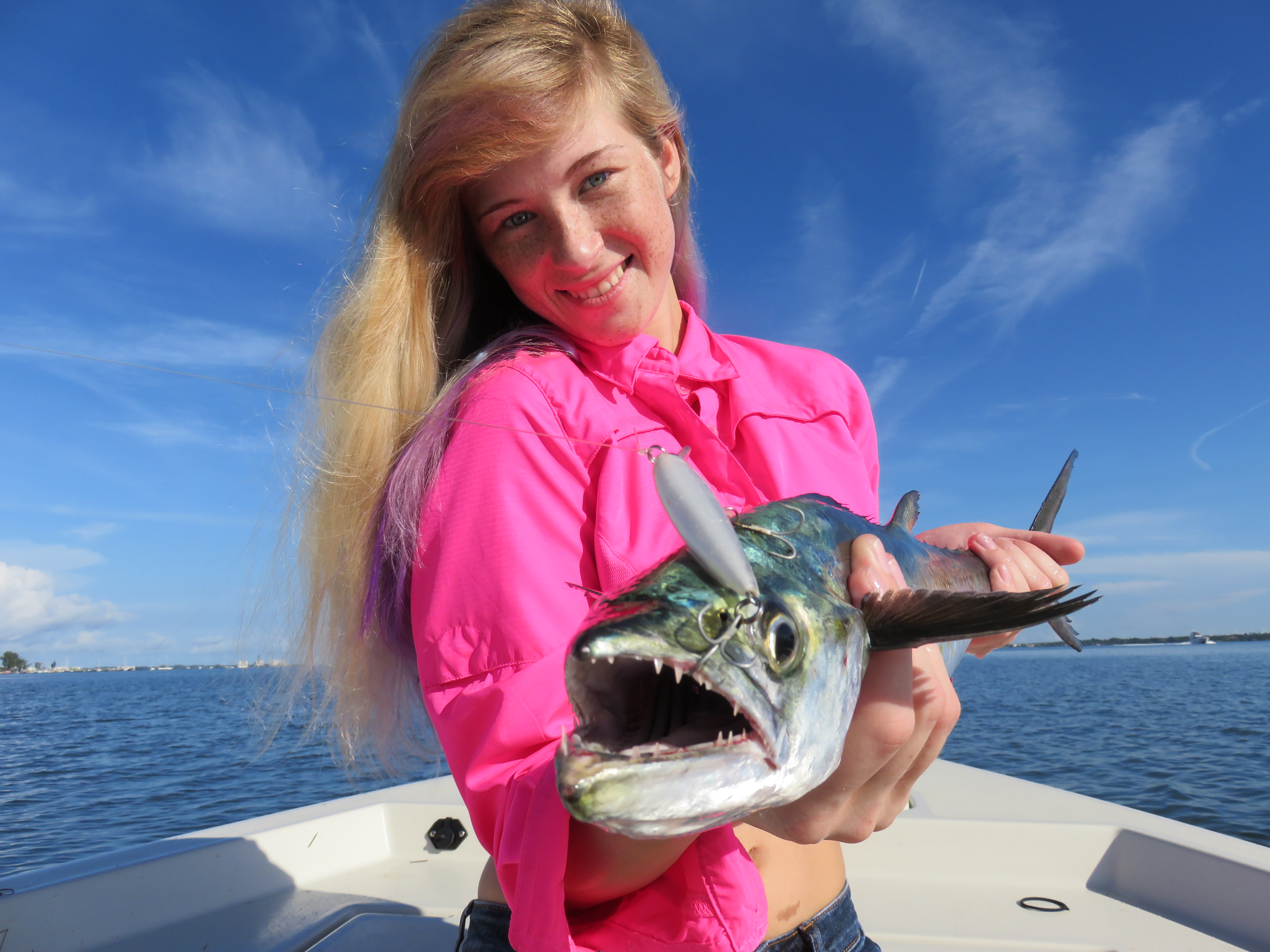 The best approach is to cast the live bait out a fair distance behind the boat and allow it to float naturally with the current. A split shot may be required at times to get the bait down in the water column. A long shank hook will help reduce cutoffs. #1/0 is a good all-around hook size.
Artificial lures produce many Spanish mackerel as well. Fast-moving lures such as a silver spoon or a shallow diving plug are effective baits. The jig and grub combo catches plenty of fish as well. Anglers using a jig will need to bump up the jig head weight to 3/8 of an ounce or even a 1/2 ounce in order to get the lure deep enough on a fast retrieve. Shad tail baits have a great action and are a good choice.
Spanish mackerel fishing in the passes
Spanish mackerel are caught in both passes as well. Passes connects the inshore bay with the Gulf of Mexico. It is a natural path that the fish use to migrate between the two bodies of water. Anglers can drift the pass while casting artificial lures. Free lining live baits works as well. A small split shot or two will probably be required in the current.
Often times, Spanish mackerel are seen working on the surface in the passes. This is great fun as almost any lure or bait in the vicinity of the breaking fish will get taken. The same behavior takes place out in the open water of the Gulf of Mexico and southern Tampa Bay.
Fishing the inshore Gulf of Mexico
Most of the Spanish mackerel caught by anglers are done so in the open waters of the Gulf of Mexico. In the spring and fall when the water is clear, bait fish are plentiful. The three artificial reefs off of Lido Key attract mackerel as well. These same areas and techniques will produce false albacore, king mackerel, sharks, cobia, and other species, too.

Spanish mackerel travel and large schools and feet in a pack mentality. They will surround schools of helpless bait fish and drive them towards the surface. The bait will be trapped on the surface and are easy prey for the speedy mackerel. Bird activity will often give the location of these schools of breaking fish away as they feed on the scraps on the surface.
Surface action is great sport
It is great fun chasing around the schools of breaking fish! Spanish mackerel tend to stay up on the surface for quite a while once they begin feeding this way. Therefore, it is usually not difficult for anglers to ease the boat within casting range. A 1/2 ounce silver spoon is a great lure as it can be cast a long way and has an effective erratic action.
Jigs and plugs will also produce for anglers casting to breaking Spanish mackerel. In reality, just about anything that flashes it moves will draw a strike. This is also a great opportunity for fly anglers to get in on some great sport. A 7wt or 8wt combination with the floating line and any type of small white bait fish pattern will get the job done.
There will be times when the fish will not be seen working on the surface. Anglers using cast nets fill their live wells with frisky live baits and then use them to chum the Spanish mackerel into range. Live bait chumming is an extremely effective technique for Spanish mackerel and many other species. The mackerel will respond to the live chum thrown out behind the boat. It is then simply a matter of casting hooked baits out. An immediate hookup should ensue.
Trolling is productive when Spanish mackerel fishing
Trolling is a great way to locate schools of Spanish mackerel when they aren't showing on the surface. Plugs work well for this is no other hardware is needed. Plugs float on the surface and have a lip that makes them dive down retrieved. The size of the lip will determine the depth that which they dive. Plugs that dive down 3 to 5 feet are effective and easy to use on light spinning tackle.
Trolling spoons are deadly on Spanish mackerel. These are designed a little bit differently than casting spoons. They are narrow and have a tight wiggling action. However, they do not weigh very much and some other devices required to get them down in the water column.
Trolling sinkers and planers are the two pieces of equipment used to get lures down in the water column. Trolling sinkers are simply pieces of lead with swivels on both ends. One end is tied to the running line. A 6 foot piece of 40 pound fluorocarbon leader is tied onto the other end of the sinker, followed by a trolling spoon.
Trolling with planers
Planers are devices used to get lures down into the water column. They can be a bit clunky and cumbersome. However, they work extremely well. The planer has a sliding ring on it which it allows it to dive down. When a fish hits, the planer "trips" and the angler can fight the fish without half into fight the planer. Planers require longer leaders, 15 to 20 feet works well. Once the planer reaches the rod tip, the fish has to be hand lined in the rest of the way.
Spanish mackerel are fantastic eating, but they do require a little special care. They need to be put on ice immediately. Also, they are best eaten that day or the next. They do not keep or freeze well. Mackerel are naturally oily, like salmon. They are best when baked, broiled, or grilled.
Sarasota sheepshead fishing
Many anglers enjoy sheepshead fishing in the cooler months. Sheepshead show up around Christmas and stay until Easter. They provide anglers with both action and good eating fillets. As an added bonus, the same baits and locations produce tasty mangrove snapper and other bottom fish as well.

Sheepshead are a member of the porgy family. They feed primarily on crustaceans and are rarely taking using artificial lures. Live shrimp and fiddler crabs are the top baits. Sheepshead fishing is best in February and March. Fish are schooled up thick around structure as this is when they spawn. Sheepshead are very good eating, but are difficult to clean.
Sheepshead will almost always relate to some type of structure. Docks, bridges, seawalls, piers, rocky ledges, and oyster bar are all structures which will attract sheepshead. They are caught on ledges and artificial reefs in the inshore Gulf of Mexico as well.
Sheepshead fishing tackle and rigs
Tackle and rigging for sheepshead is very basic. Most anglers opt for spinning outfits. The same inshore rods that are used for speckled trout and other species will work fine. 6 1/2 foot to 7 foot spinning rods matched with 3000 series reels spooled up with 12 pound monofilament or 20 pound braided line work well.
Most sheepshead are caught on or near the bottom. The basic rig consists of a 24 inch to 30 inch piece of fluorocarbon leader. 30 pound test is a good all-around strength. Some weight will be required to get the bait down to the bottom. In fairly shallow water with little current, a split shot or two will be plenty. In deeper water or with current present, a 1/2 ounce sliding egg sinker should be fine. A #1 or #1/0 live bait hook completes the rig.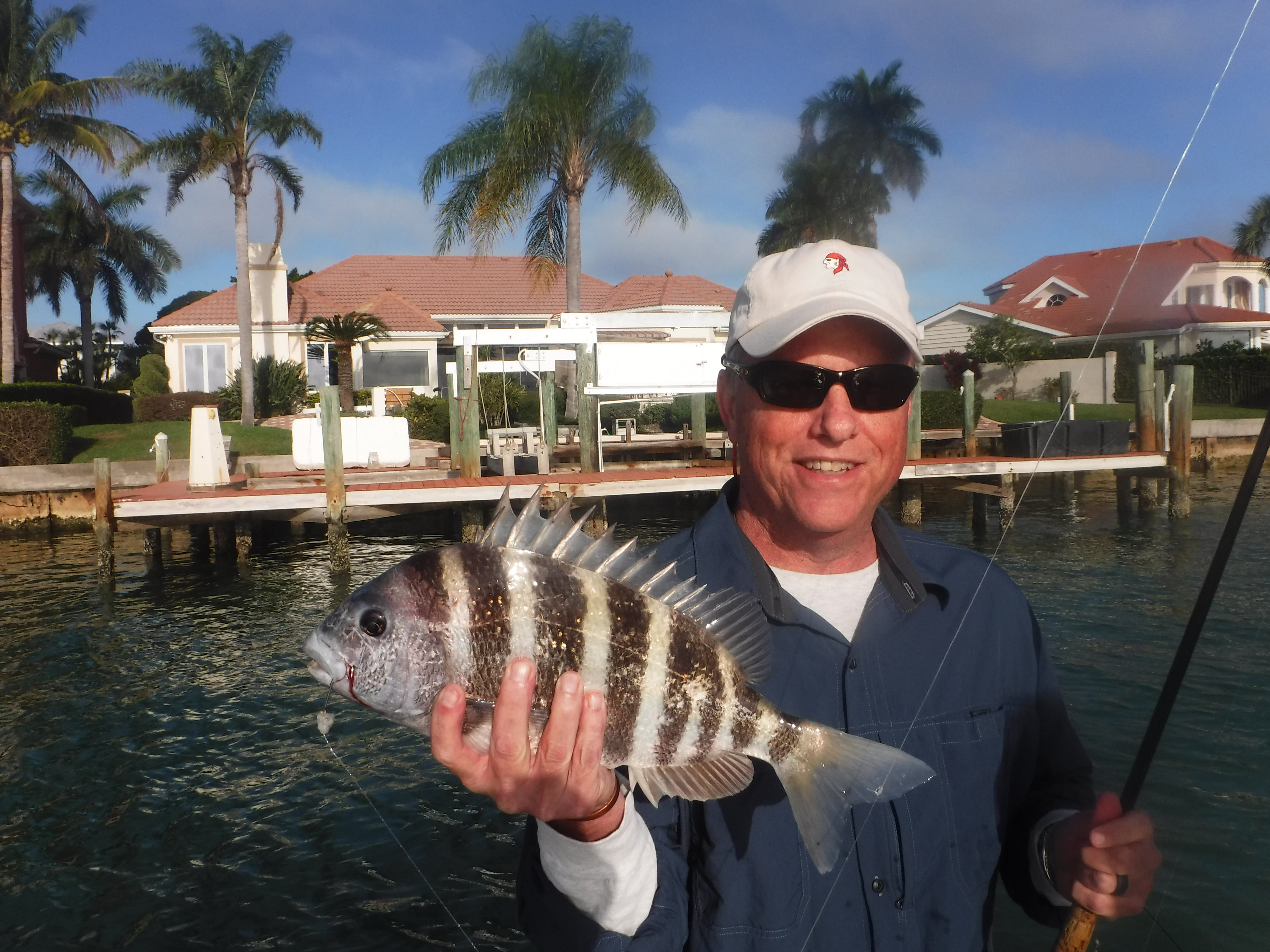 There are a couple different ways to use this sliding egg sinker. Both allow the sheepshead to move off with the bait without feeling any resistance. The first method is to slide the egg sinker on the running line. A #10 black swivel is tied between the running line and the leader. The swivel stops the sinker from sliding down while still allowing the line to slide freely through the sinker.
The second method is called a "knocker rig"and is the technique that I usually employ on my Sarasota fishing charters. With the leader attached, the end of the leader slides through the sinker and then the hook is tied on. The sinker will lie right against the eye of the hook. This rig results in the bait being right on the bottom. It tends to hang up less. The sinker being on the hook does not discourage bites.
Sheepshead fishing baits
Shrimp are by far the number one bait for sheepshead fishing. Shrimp are available at every bait and tackle shop in Florida. Live shrimp are generally preferred, however fresh dead and frozen shrimp catch plenty of sheepshead as well. Some serious sheepshead anglers prefer fiddler crabs. These are fine baits, however anglers will usually have to catch their own. The same goes for oyster crabs. Sand fleas will also produce sheepshead. A few bait shops keep these in stock.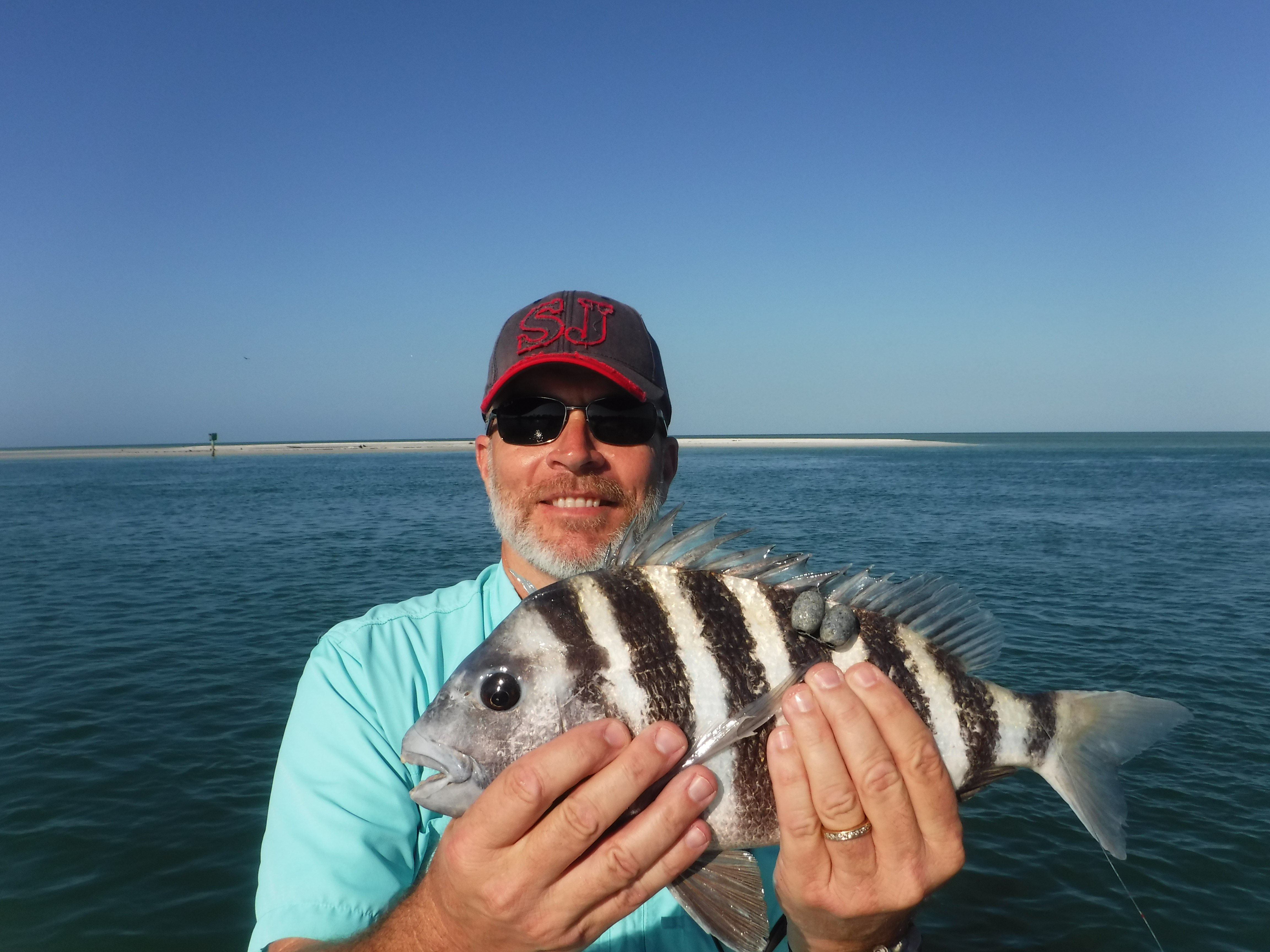 Sheepshead are notorious for being expert bait stealers. Often times anglers will only feel a slight "tap" or two and then the bait is gone. One mistake many novice sheepshead anglers make is to try to set the hook when they feel a bite. This will usually result in the fish getting away with the bait unscathed.
Best technique for hooking sheepshead
This is what I tell clients on my fishing charters. Cast the bait out and let it settle. Tighten up the line and then keep is still as possible. The first indication of a sheepshead being interested is a subtle "tap". It is very important to not move the rod tip at all! The angler needs to wait until a steady pull is felt. Often times, there will be multiple "taps" before this happens.
Once a steady pull or a little weight is felt on the line, the slack should be reeled up quickly than the rod tip slowly raised. Reeling quickly will remove all the slack and get the hook started into the sheepshead mouth. That mouth is full of hard teeth and often times the hook will not penetrate. Reeling quickly and slowly lifting the rod tip offers the best chance for success. But one thing is for certain when sheepshead fishing, more fish will be missed that will be hooked!
Best sheepshead fishing spots
Anglers sheepshead fishing will do well to target structure. Sarasota is blessed with several bridges and countless piers. These are great spots to target sheepshead. The best approach is to fish the up current side of the bridge. This is true whether fishing from a boat or from the structure itself.
Docks are also great spots to target sheepshead. The most productive docks are generally those found in water between 4 feet and 10 feet deep. Docks near the passes that have good current flow are particularly good. Again, the best approach is to anchor up tide of the dock and cast the bait back towards it.
Oyster bars are another great spot for sheepshead fishing. For whatever reason, oyster bars tend to attract larger fish. Oyster beds are generally full of crabs, which the sheepshead love to eat. Anchoring a decent cast away and using as little weight as possible is the best technique to full sheepshead on these oyster bars. They can be a bit fussy in the shallow water, especially if the water is clear.
Ledges and hard bottom areas in the inshore Gulf of Mexico will hold plenty of sheepshead in the late winter and spring. These are terrific spots to fish when the seas are calm. There are also three artificial reef just outside the passes. This is easy fishing is angler simply vertically fish, letting the bait go straight down to the bottom.
Additional species caught when sheepshead fishing
One benefit of targeting sheepshead is that often times other desirable species are landed as well. Mangrove snapper, Key West grunts, gag grouper, flounder, black drum, and even redfish and snook will take a shrimp meant for a sheepshead. Many of the species are just as good to eat and are great fun to catch.
Currently, the minimum size for sheepshead is 12 inches. However, there is not a lot of meat on a fish that size. When keeping fish for clients, I like to take fish that are between 14 inches long and 18 inches long. These fish are the easiest to clean, usually having a nice fat fillet. I like to release the larger sheepshead, as these are generally females and full of eggs. Anglers can find current Florida sheepshead fishing regulations at the FWC site.
Sarasota tarpon fishing
Tarpon are arguably one of the premier game fish in the world. Tarpon fishing offers visiting anglers the chance to catch a fish in excess of 100 pounds. There are very few opportunities to sight cast to fish of this size using fairly light tackle.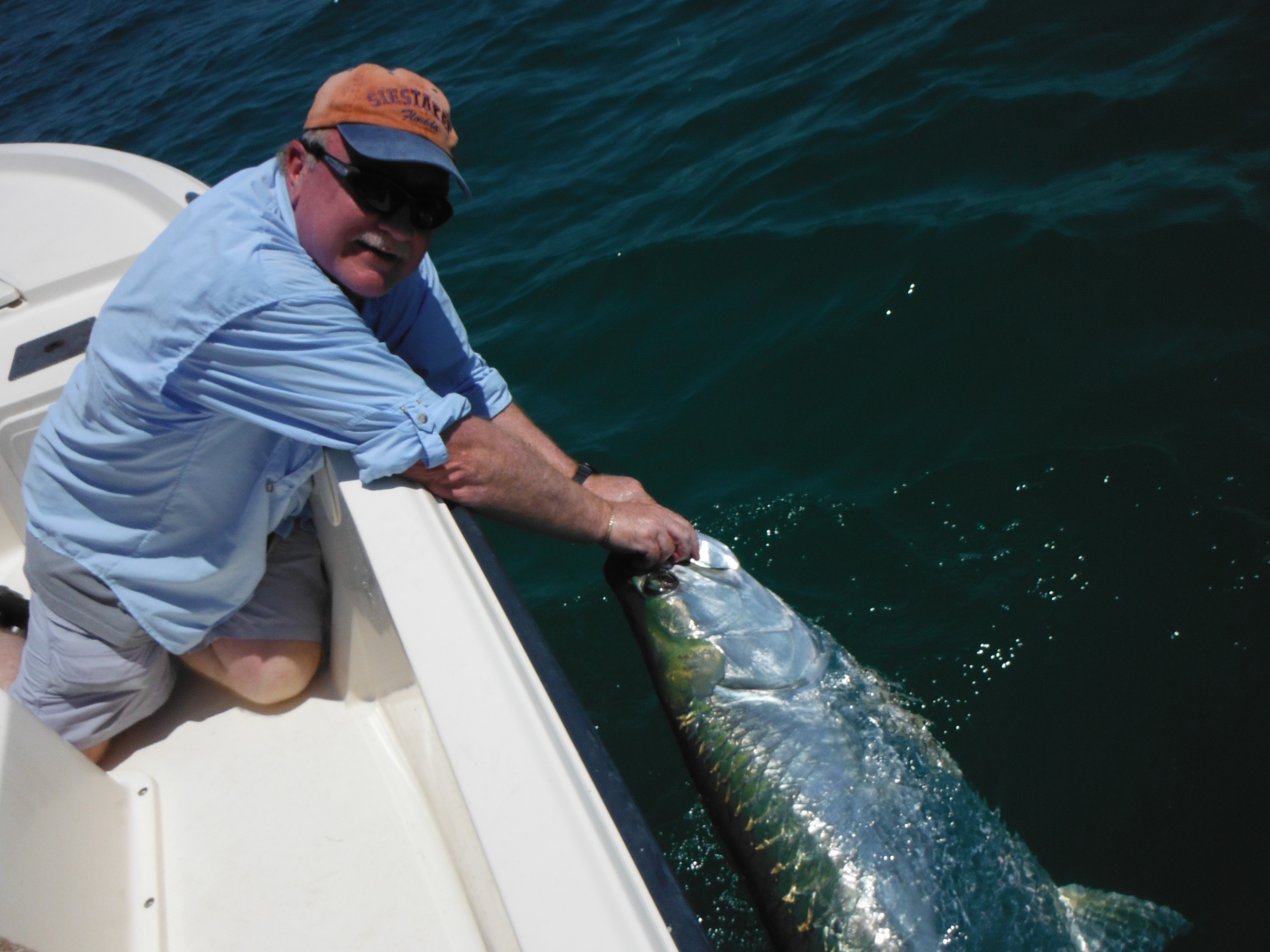 Tarpon are migratory species and they show up off of the Sarasota beaches in early May. These fish are here to spawn. Early in the season, the fish are in large groups. On each full moon, they move offshore 50 to 100 miles to spawn. They then come back inshore along the beaches. By July, the big schools have broken up and there are a lot of individual fish along with smaller pods.
Tarpon fishing on the is not for everyone. It is fairly expensive, and there will be days when you don't get a bite. It truly is big-game fishing, and in that circumstance success is less likely than other forms of fishing. However, when it does all come together, it is incredible!
Tarpon fishing tackle
Tackle for tarpon fishing is similar to other types of fishing, only a tad heavier. 7 foot spinning rods 6500 series reels and either 25 pound monofilament line or 50 pound braided line is used. This allows anglers to cast a fairly light crab or bait fish the distance required. Conventional tackle can be used, especially in situations when anglers are bottom fishing or drifting lines out behind the boat.
Beach tarpon fishing is a lot like fish hunting. It really is more like deer hunting than most forms of fishing. Anglers sit patiently off the beach 100 yards or so offshore, waiting for a school of tarpon to appear. The boat is then positioned in front of the moving school. If everything comes together, the angler will have a chance to cast in front of the fish.
Live baits are most often used when tarpon fishing off of the beaches. The top bait in our area is a 3 inch live blue crab. These can be caught or purchased locally at bait shops. They are pricey at four dollars apiece, however they live a long time. The crab is hooked near the point of the shell. Hook size is dependent on the crab size, but a 4/0 "J" hook is a good all-around size. Anglers using circle hooks will do well with an eight ought hook.
Live bait fish such as pin fish, threadfin herring, grunts, blue runners, cigar minnows, and scaled sardines will catch tarpon as well. Live bait fish are great choice for anglers drifting out behind the boat. Bait fish can also be more productive later in the morning at times.
Tarpon fishing tactics
The technique is actually pretty simple. Anglers leave the dock in the dark and show up on station just before first light. They sit there quietly intently looking for signs of fish. One-sided, the trolling motor is used to quietly position the boat into casting range. Early in the season, most fish will be moving from north to south. This will change later in the year as fish will be seen moving in both directions.
Each school of tarpon is different. Some fish will be moving fast and showing often, we call these Greyhound in fish. While they will occasionally by, most seasoned anglers let them go by. Other fish will be moving more slowly, but not showing as frequently. These fish can be caught by patient anglers. The key is to set up on them and anticipate their movements.
Some anglers prefer to anchor up and fish for tarpon. This can be productive, especially on days when the fish do not show as well. The boat is anchored on the large sand bar at Bean Point. Multiple lines are put out with both live and cut bait. This covers the water column, increasing the chances for a bite.
Bottom fishing for tarpon
Heavier tackle can be used for this technique. Long casts using light baits are not required. Conventional tackle in the 50 lb class allow anglers to put maximum pressure on the fish. This will result in more fish landed. Also, more lines and baits can be put out, increased chances for a hook-up.
Fresh threadfin herring, either alive or dead, is the preferred bait. These baits are caught under the Skyway Bridge easily in the summer. Crabs, pinfish, blue runners, scaled sardines, and mullet are all good baits, both live and cut bait.
Probably the most consistent tarpon bite in Bradenton is to catch a strong outgoing tide. Locals call these "Hill tides", in deference to what happens fifty miles south in world famous Boca Grande Pass. Strong tides flush pass crabs out of Tampa Bay. These crabs are helpless in the strong current. They are easy pickings for tarpon!
The technique is quite straight forward. Anglers dip net crabs off of the surface. They are then hooked up and cast out. The boat and baited hooks drift along with the tide, waiting for a bite. Crabs can be free lined or fished six feet under a float. This action can continue into the night, which is very exciting.
Fly fishing for tarpon
Fly anglers can try their hand at tarpon fishing while visiting nearby Bradenton. Needless to say, this is an extremely challenging method to use to try and catch a tarpon. Fly fishermen are aware of this. In fact, the difficulty is part of the allure. 12 wt outfits are used as fish over 150 pounds can be hooked.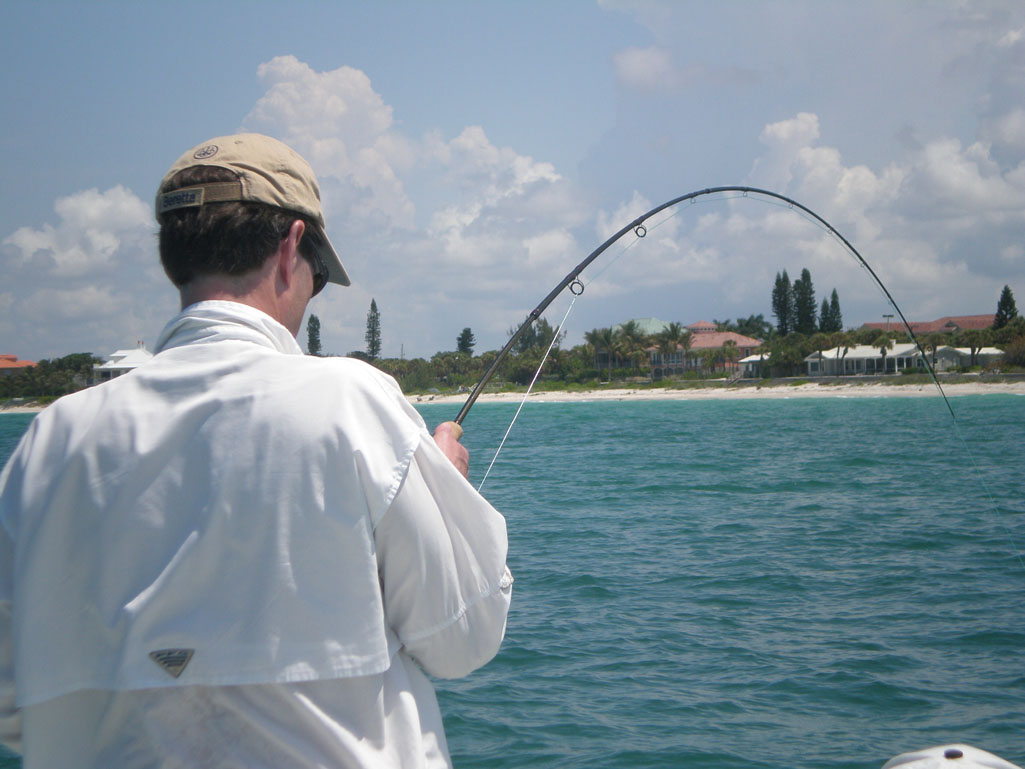 Beach tarpon that are schooled up can be hooked on a fly. It takes the right kind of fish to do so. The school need to be moving slowly and milling near the surface. Any fish that move fast or stay deep are very difficult to get a fly in front of. Bars out in front of passes are prime spots to look for a tarpon on fly. They respond better to a fly in four feet to ten feet of water.
Any angler desiring to kill a tarpon needs to purchase a tag in advance. However, very few tarpon are killed these days. There really is no reason to do so. Any angler that lands a trophy tarpon can get a mount. Mounted fish are just about all fiberglass reproductions anymore.
So, if you are looking for the ultimate angling challenge, give tarpon fishing a try. It is difficult, but worth it!
Sarasota Fishing Charters for Siesta Key Anglers!

Visiting anglers often choose Sarasota fishing charters as a vacation activity. Anglers of all ages and experience levels are welcome aboard!
Capt Jim Klopfer offers Sarasota fishing charters to anglers visiting the Sarasota and Siesta Key area. There are a wide variety of species that are available, depending on the season. Several different techniques are used as well. Capt Jim will cater the fishing charter to the experience level and expectations of the client. Sarasota has fishing opportunities for both novice and experienced anglers.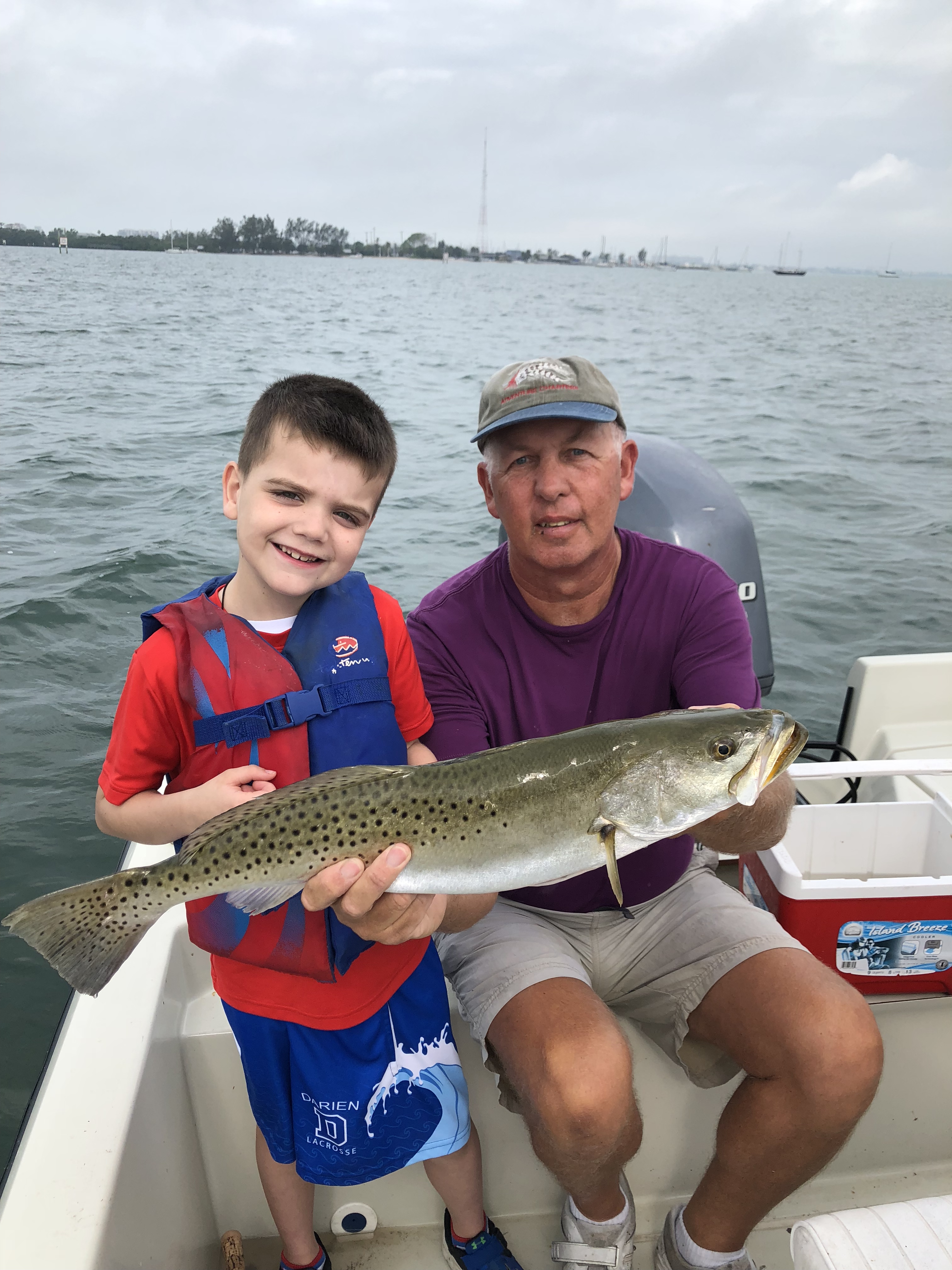 Sarasota is a resort town on the west coast of Florida. It lies an hour south of Tampa Bay. Despite the development and pressure, Sarasota offers excellent fishing all year long. Species do change with the seasons, but there is always some type of fish that will cooperate. Like all fishing, weather is also a factor.
Fishing the deep grass flats on Sarasota fishing charters

One technique that produces a lot of fish on Sarasota fishing charters is drifting the deep grass flats. These are submerged grass beds in water that ranges from 4′ deep to 10′ deep. Crabs, shrimp, and bait fish hide in these weed beds. This in turn attracts the game fish. Speckled trout, Pompano, Spanish mackerel, bluefish, ladyfish, catfish, jacks, and more are caught daily by clients.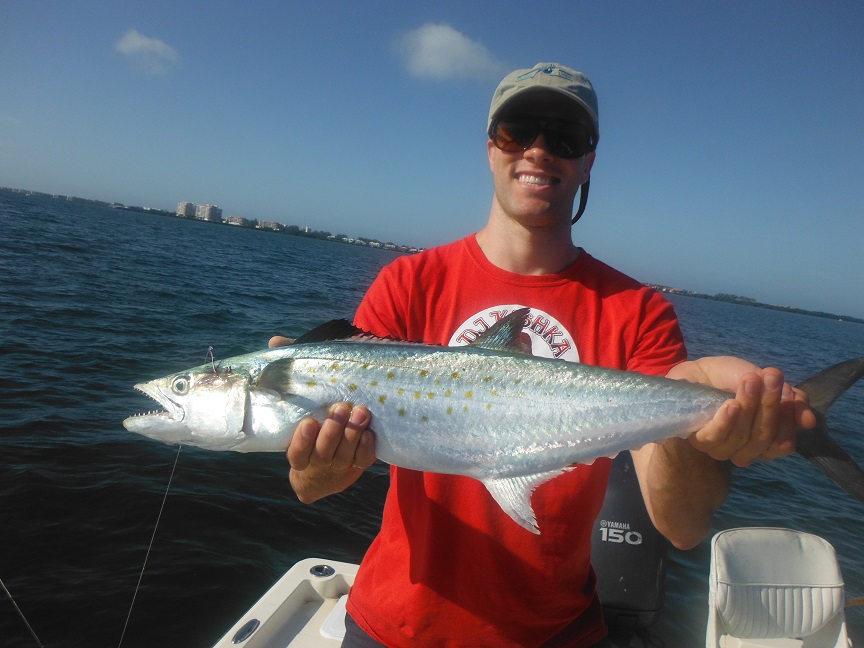 Artificial lures are effective on the deep grass flats on Sarasota fishing charters

Artificial lures are very effective when fishing the deep grass flats. This technique is easy to do. As the boat drifts along, anglers cast artificial lures out ahead of the boat. The best lure is a ¼ ounce jig with a grub tail. This lure is very simple and easy to use. The jig is cast out, allowed to sink, and then retrieved back in using a series of "hops". Most strikes occur as the lure falls. Even inexperienced anglers can master this technique quickly. On tough days, going to scented tails or even tipping the jig with a tiny piece of shrimp.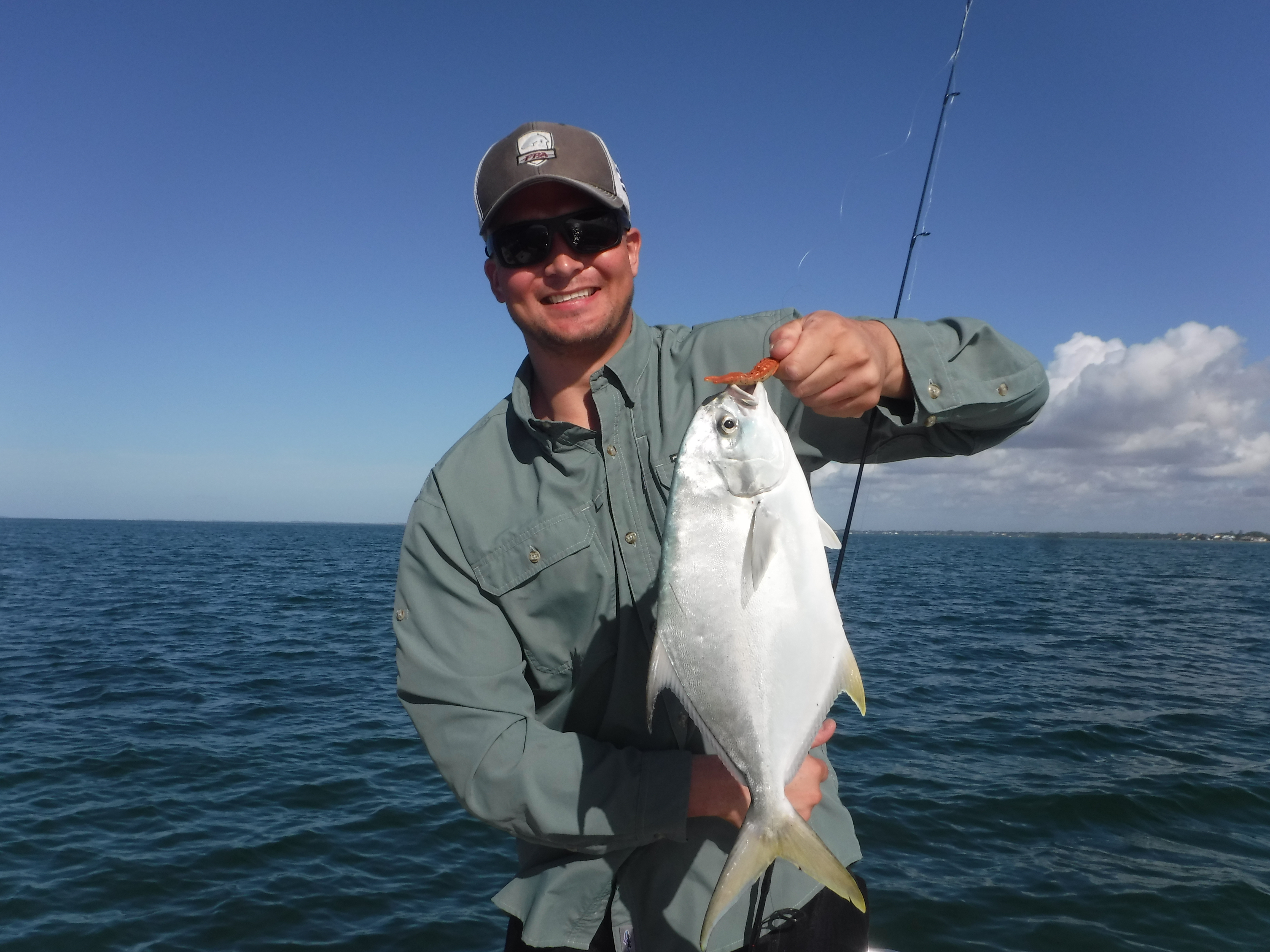 Spoons and plugs are other very effective artificial lures. They mimic bait fish and flash erratically when retrieved. This action simulates a wounded fish and will draw some exciting strikes. They are particularly effective when fish are seen feeding on the surface. Both can be trolled as well. It is important to use a swivel when fishing with spoons to reduce line twist.
Live bait produces on the Sarasota deep flats
Live bait certainly catches a lot of fish for anglers drifting the deep grass flats. The top live bait is a shrimp. Live shrimp are available all year long at local bait shops. They are versatile and every inshore species will take one. Shrimp are often a great choice for children.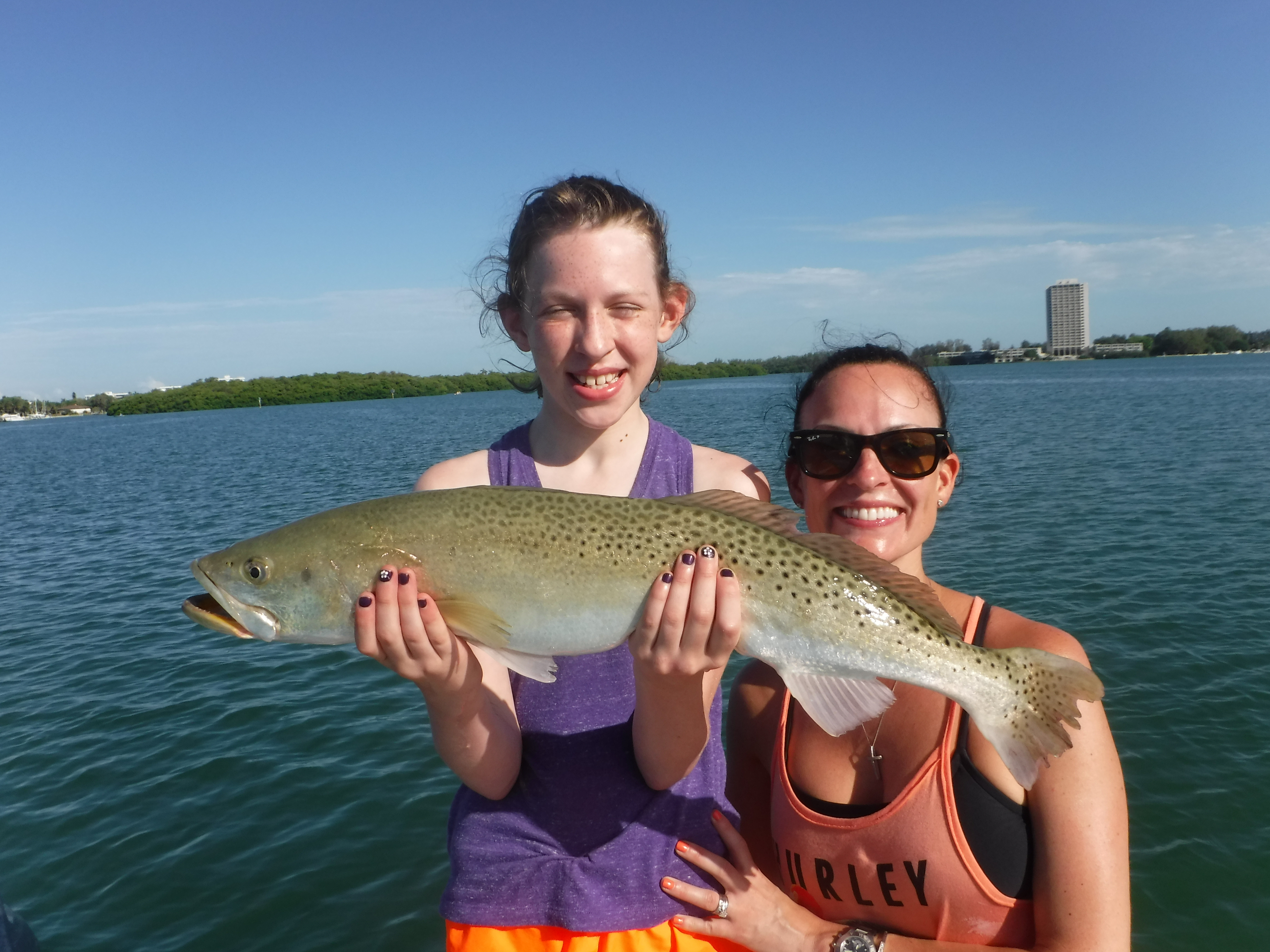 Shrimp can be fished either under a noisy float (we call them "popping corks") or free lined behind the boat with no weight. Floats work best in shallower water while free lining is a better choice in water 7′ or deeper. Live pinfish or grunts can be used as well.
One incredibly effective technique used on the deep grass flats is live bait chumming. Capt Jim uses his cast net and loads up the bait well with live bait. A LOT of bait is required! Shiny fish such as scaled sardines and herring are used. Then, the boat is anchored and handfuls of live fish are tossed out behind the boat. This will quickly attract game fish.
Snook, Redfish, and jacks on Sarasota Fishing Charters
More experienced anglers may choose to target more challenging fish. The top inshore game fish in Florida is the Snook. It is very similar to largemouth bass in habits. They are ambush predators and prefer structure of some sort. Oyster bars, mangrove shorelines, and docks are prime spots.
Capt Jim will work these spots using his electric trolling motor. Anglers will cast lures such as jigs, plugs, and spoons to likely spots. This type of fishing does require some casting skill. It also does not produce as many fish, but they will almost certainly be larger.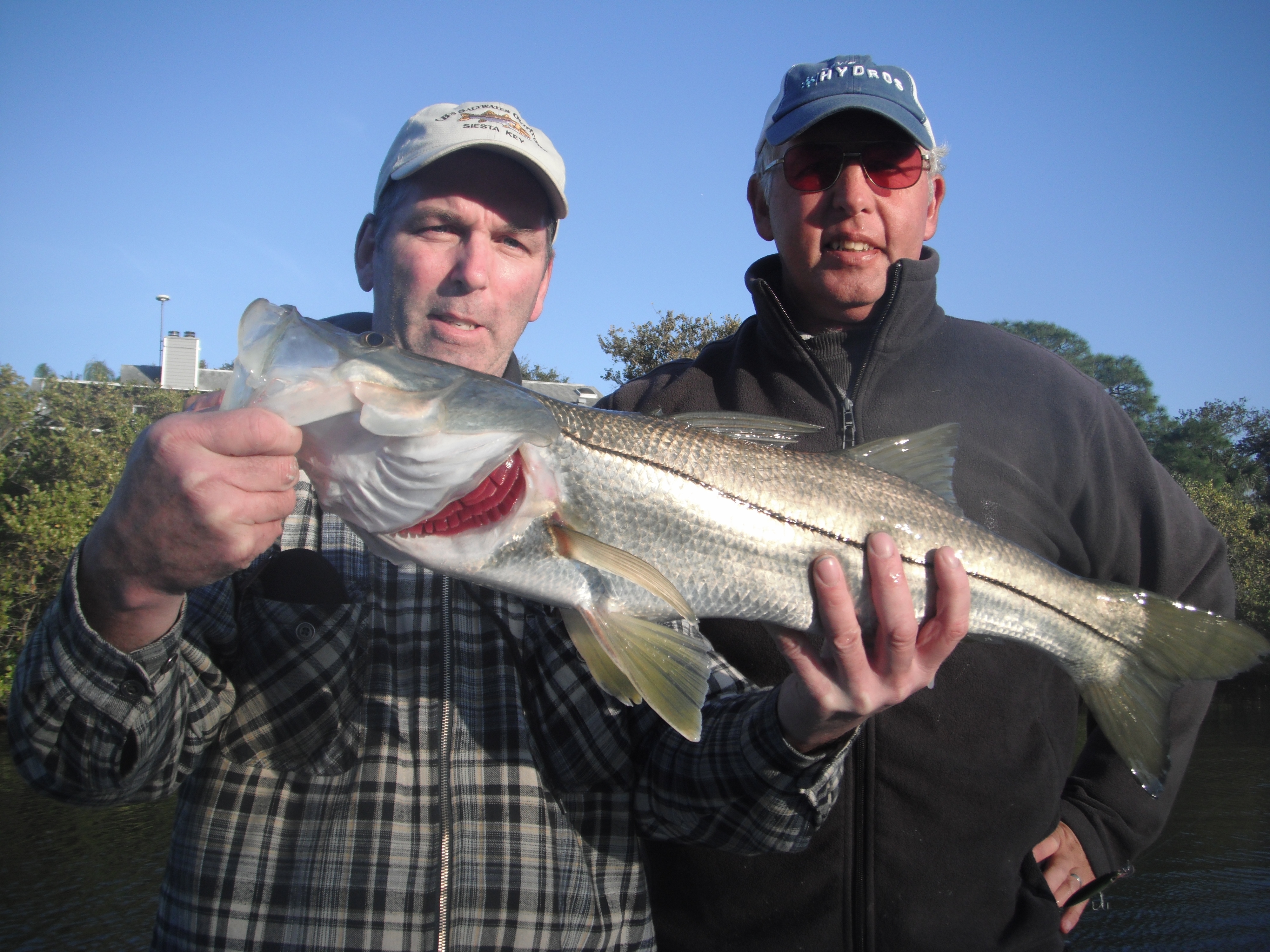 Snook tactics catch other species as well on Sarasota fishing charters

Redfish and jack crevalle will also be taken while seeking out a snook. Jacks have broad sides and pull incredibly hard. They can also be quite aggressive. Redfish are a very popular inshore species, perhaps only second to the mighty snook.
Live bait can be used as well. A large, live shrimp will catch all of these species, especially in the cooler months. Chumming with large pilchards will produce some big snook in the warmer months. This is a great way for a novice angler to catch a big fish! It really does not require a ton of casting skill.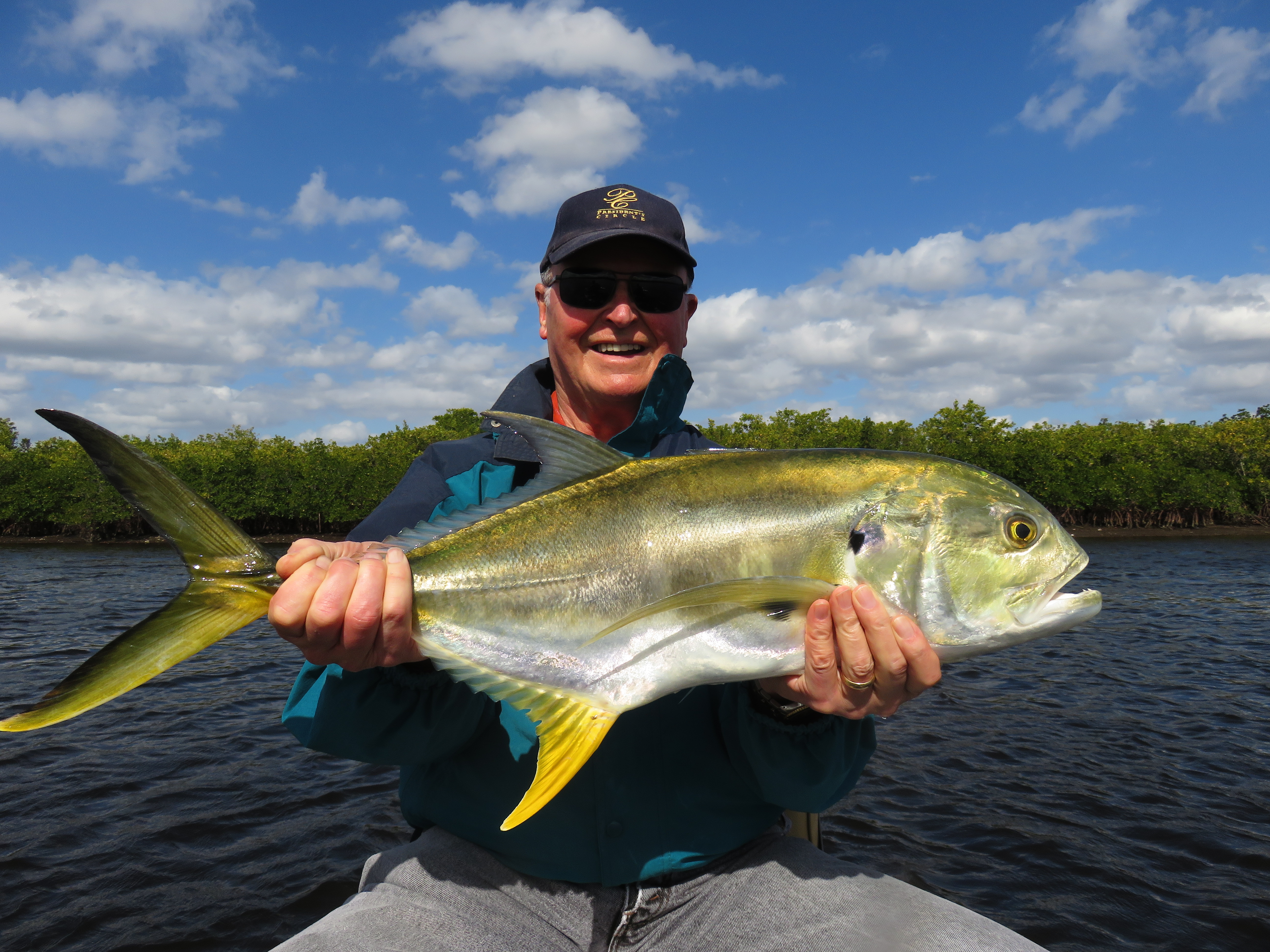 Fishing Sarasota passes
Passes connect the Gulf of Mexico and Sarasota Bay. A "pass" is basically an inlet. That is the term used along the Gulf Coast. These passes are used by fish to migrate between the bodies of water. They are "fish highways" of sorts. Therefore, these are excellent spots to fish!
Both Big Sarasota Pass and New Pass offer excellent fishing opportunities. The passes have the deepest water inshore, up to 25 feet deep. Strong currents have gouged out these deeper channels. Also, structure is abundant. Submerged rocks, docks, bridges, and sea walls all attract fish.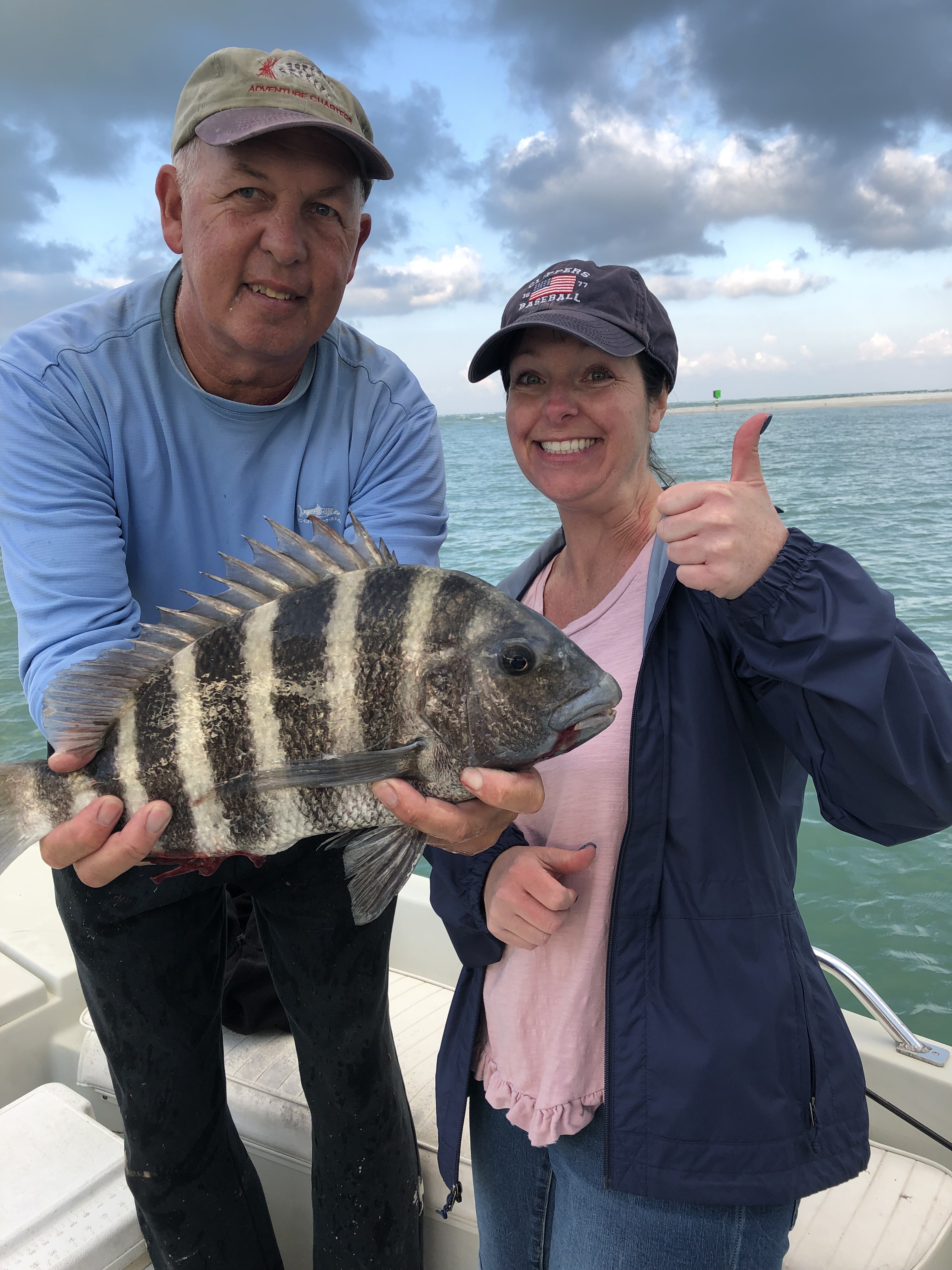 In the cooler months, this structure is thick with Sheepshead. These tasty saltwater pan fish are members of the porgy family. They school up in large numbers from January through April. They will readily hit a shrimp fished on the bottom. Snapper, grouper, drum, and grunts will be caught alongside them. Snook school up in these same areas in the summertime.
Fish are also caught on the sandy bottom in the middle of the passes. Bars that drop off into deeper water are top spots. Pompano, bluefish, mackerel, jacks, and loads of ladyfish can be caught in the passes. Vertically fishing jigs from a drifting boat works very well in the deeper water. Live shrimp work as well.
Fishing the inshore Gulf of Mexico on Sarasota fishing charters

Fishing action in the Gulf of Mexico can be terrific just off of the Sarasota beaches. Migratory species such as Spanish mackerel, false albacore, king mackerel, cobia, and sharks move north in the spring. They return again in the fall. The key is the large schools of bait fish that provides forage for the game fish.
One cool aspect of this type of fishing is that much of it is visual. Schools of fish can be seen feeding actively on the surface. Capt Jim will ease the boat into casting position. When the fish are this excited, a strike is almost certain. Spanish mackerel are the primary target. False albacore can be a bit more difficult. However, they put up an incredible fight!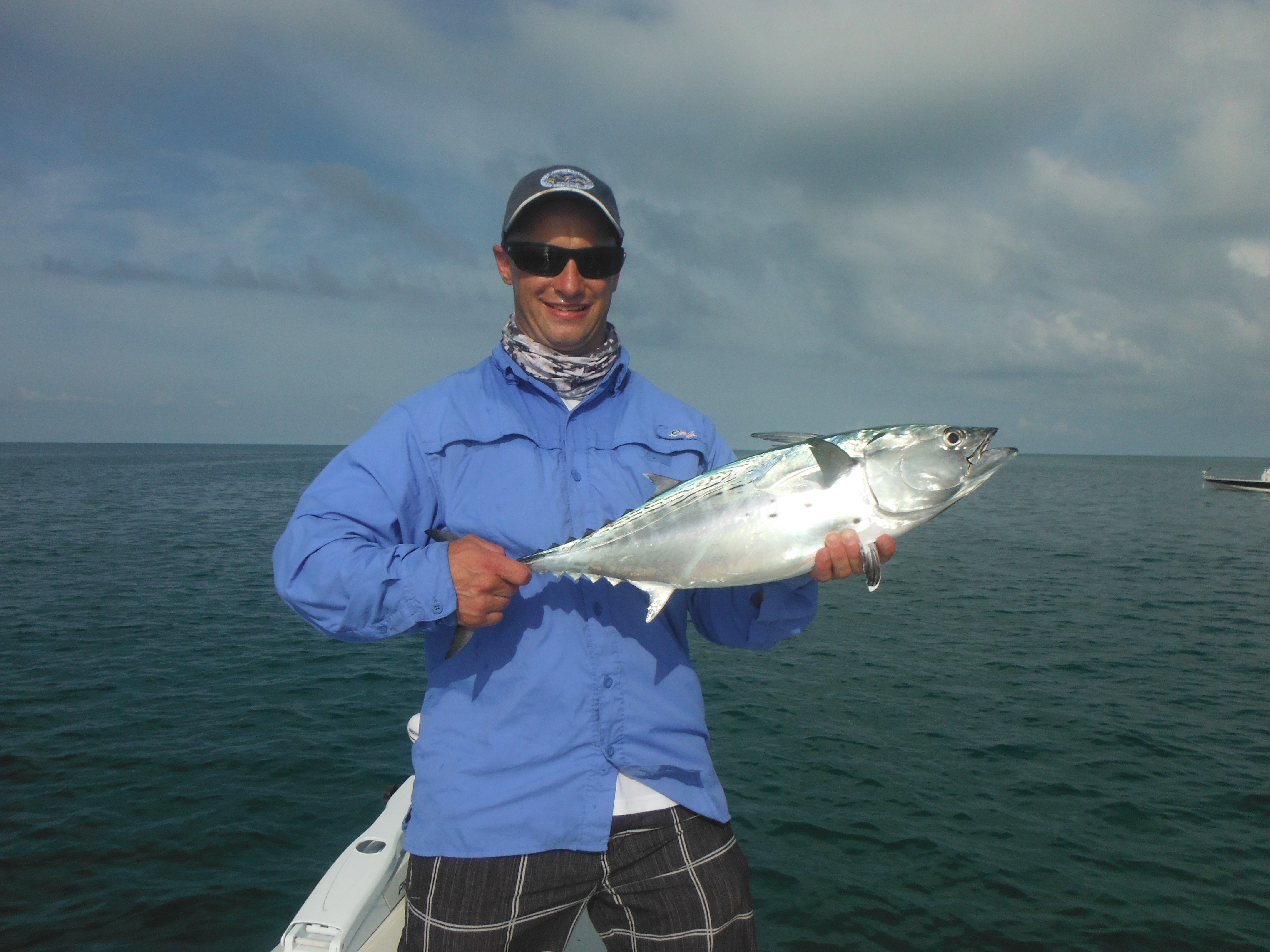 Several artificial reefs were build a couple miles offshore. These offer sanctuary for many species., Bottom fish such as snapper, grouper, sheepshead, grunts, and flounder will be caught on shrimp. Spanish and king mackerel will hold over the reefs as well. Trolling near the reefs is a great option on days that the fish do not show on the surface.
Winter creek and river fishing Sarasota fishing charters


While winters in Sarasota are mild, fish do react to the seasonal changes. Cool water will push fish to deeper water. This is especially true of snook and jack crevalle. Several area creeks will attract snook and jacks, as will residential canals. This is a great opportunity as they become concentrated in a small area.
The most productive technique is to move with the current and cast plugs to shoreline cover. Docks are prime cover, as are mangrove shorelines. Trolling can be a very effective method. It allows anglers to cover a lot of water in search of fish.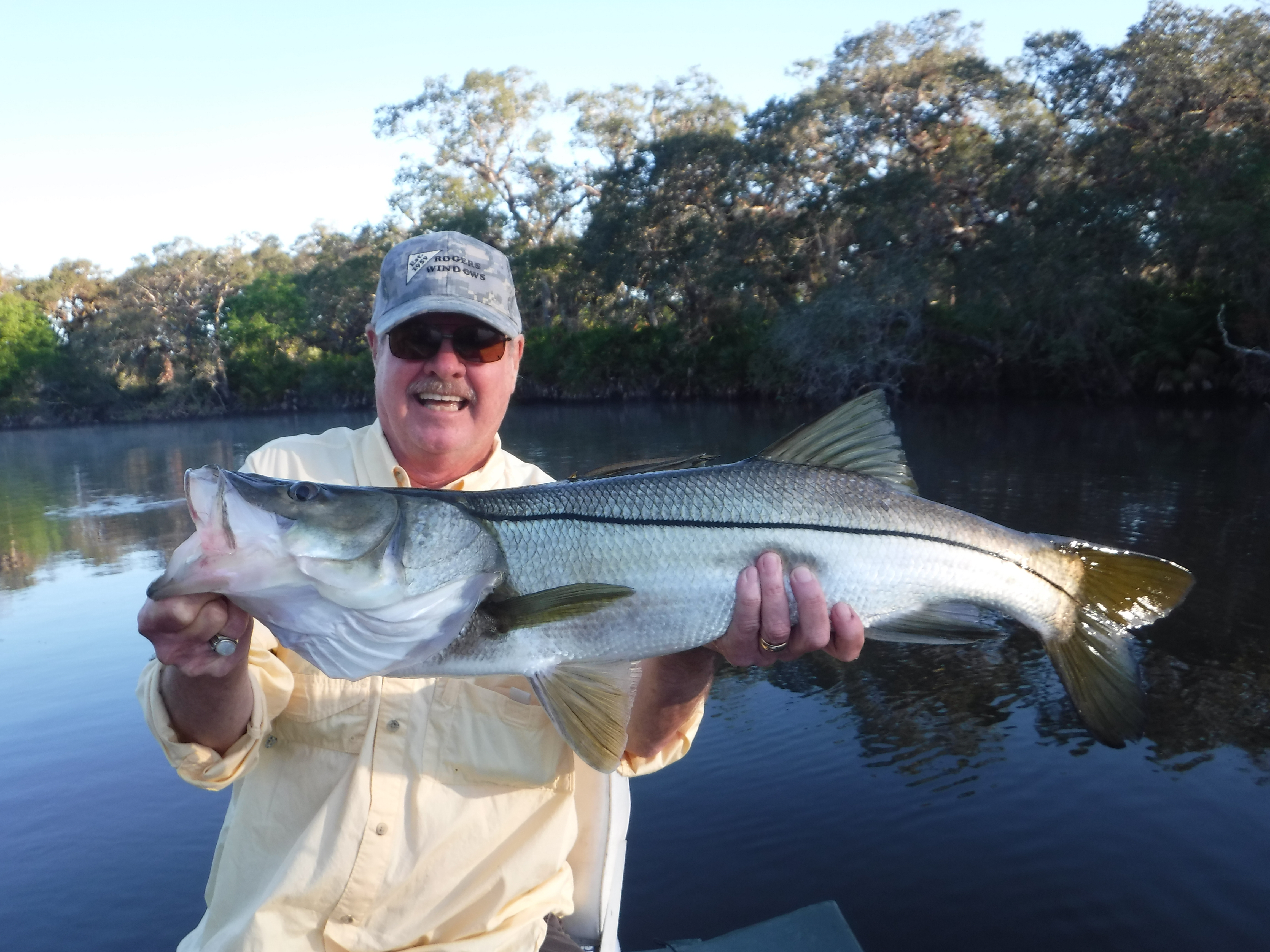 Capt Jim offers anglers a unique fishing charter opportunity; river fishing. Several area rivers have good populations of snook, jacks, and other species in the winter. The Myakka River, Manatee River, and Braden River are all withing 45 minutes of Sarasota and can offer some great winter fishing for big snook. Juvenile tarpon, snapper, and even freshwater fish such as bass, gar, and catfish are caught.
More information on Sarasota fishing charters
Capt Jim runs his saltwater charters out of a 22′ Stott Craft Bay boat. It is roomy, stable, comfortable, and has plenty of storage. He uses his 14′ Alumacraft Jon boat for river fishing, where a light weight shallow draft boat is required.
Spinning tackle is used on most charters, it is the most versatile equipment. Bait casting and fly tackle will be furnished upon request for more experienced anglers. Guests are certainly welcome to bring along their favorite rods, as long as they are suitable for the fishing.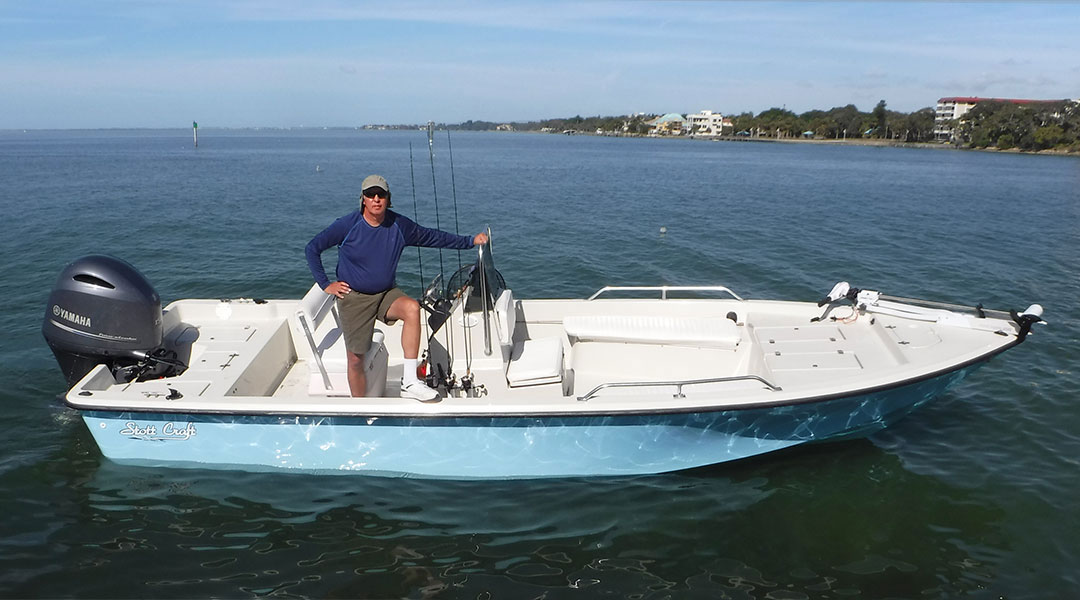 A cooler with ice is kept on board. Fishing licenses are also provided. While catch and release is encouraged, Capt Jim will fillet a bag up the fish that are kept for a meal.
The meeting places will vary. On most Sarasota fishing charters, clients will meet at the boat ramp at Centennial park in downtown Sarasota. This is strategically located near both passes and right in the middle of the best fishing grounds. Capt Jim likes to talk with the client the afternoon or early evening before to finalize the details of the trip.
Top 16 fish species on Sarasota fishing charters

As stated earlier, one of the great draws to fishing in Sarasota is the wide variety of species that are available to anglers. Some saltwater species are caught year round, while others are seasonal. Locations vary as well, as fish migrate throughout the year. This is a rundown of the most commonly caught game fish in Sarasota. Anglers can find current Florida fishing regulations on the FWC website.
1) Snook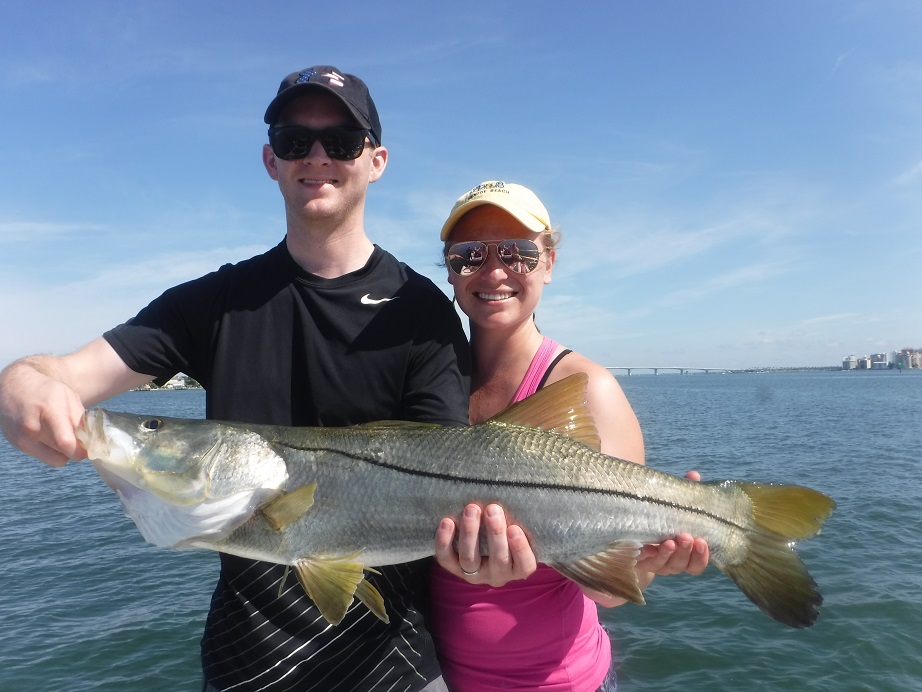 Snook are the premier inshore game fish in the southern half of Florida. They grow large, fight hard, hit lures and live baits, and can be quite fussy at times. Snook are caught all year long. However, they do have a distinct seasonal migration.
Winter will find snook up in creeks, rivers, and canals. As it warms up, they will move out into Sarasota Bay. By May, most mature snook will be in the passes and out on the beaches. After the spawn, the pattern will reverse itself.
Snook hit lures and live baits. Large shrimp and bait fish are the top live baits. Plugs and soft plastic baits are the most productive artificial lures. Snook leap high out of the water when hooked and put up a strong fight. They are a terrific all-round game fish!
2) Redfish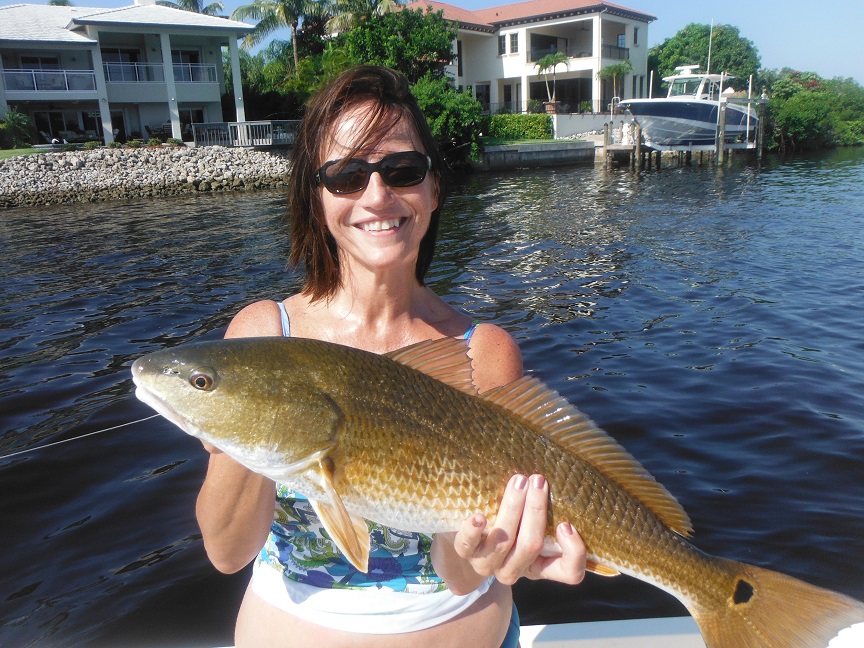 Redfish are a very popular species found in the inshore saltwater areas from Virginia to Texas. They scatter out in the cooler months and school in large numbers in late summer. However, schools of redfish can be found all year long.
Here in Sarasota, most reds are caught under docks and on the shallow flats. Docks throughout the area will hold redfish. The best docks are in 3′ to 8′ of water. A live shrimp is a great bait. Reds on the shallow flats hit weedless spoons and soft plastic baits.
3) Spotted sea trout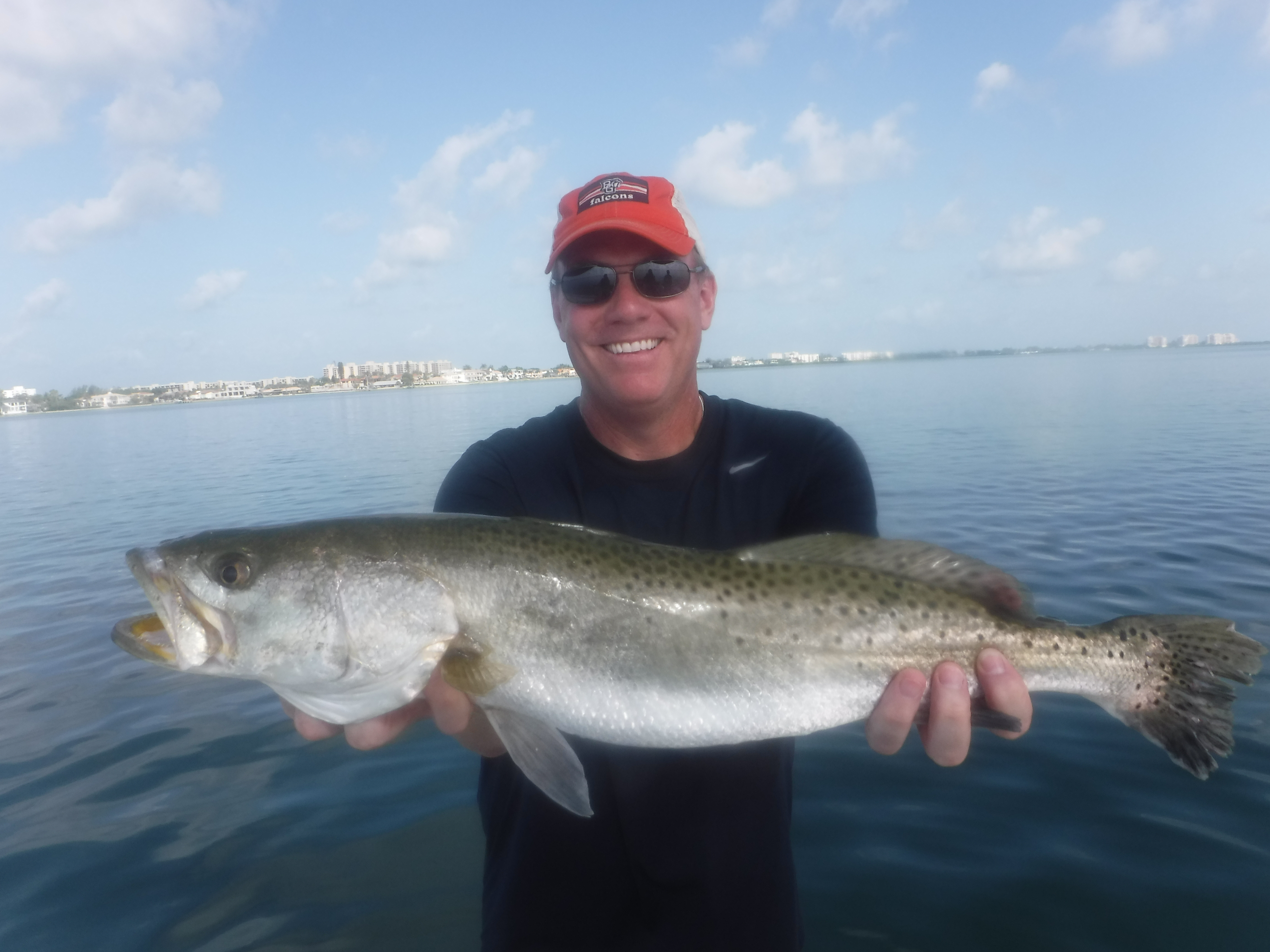 Spotted sea trout, or "speckled trout" as they are known locally, are a very popular inshore species. They are caught in Sarasota all year long, mostly over submerged grass beds. Trout school up loosely, and when one is caught, more are usually around. They are a beautiful fish and great eating.
Anglers targeting speckled trout drift the grass flats. A live shrimp fished under a noisy float works very well in shallow water. In deeper water, free lining bait works better. The jig and grub combination is by far the number one artificial lure. It is extremely effective on trout and many other species.
4) Tarpon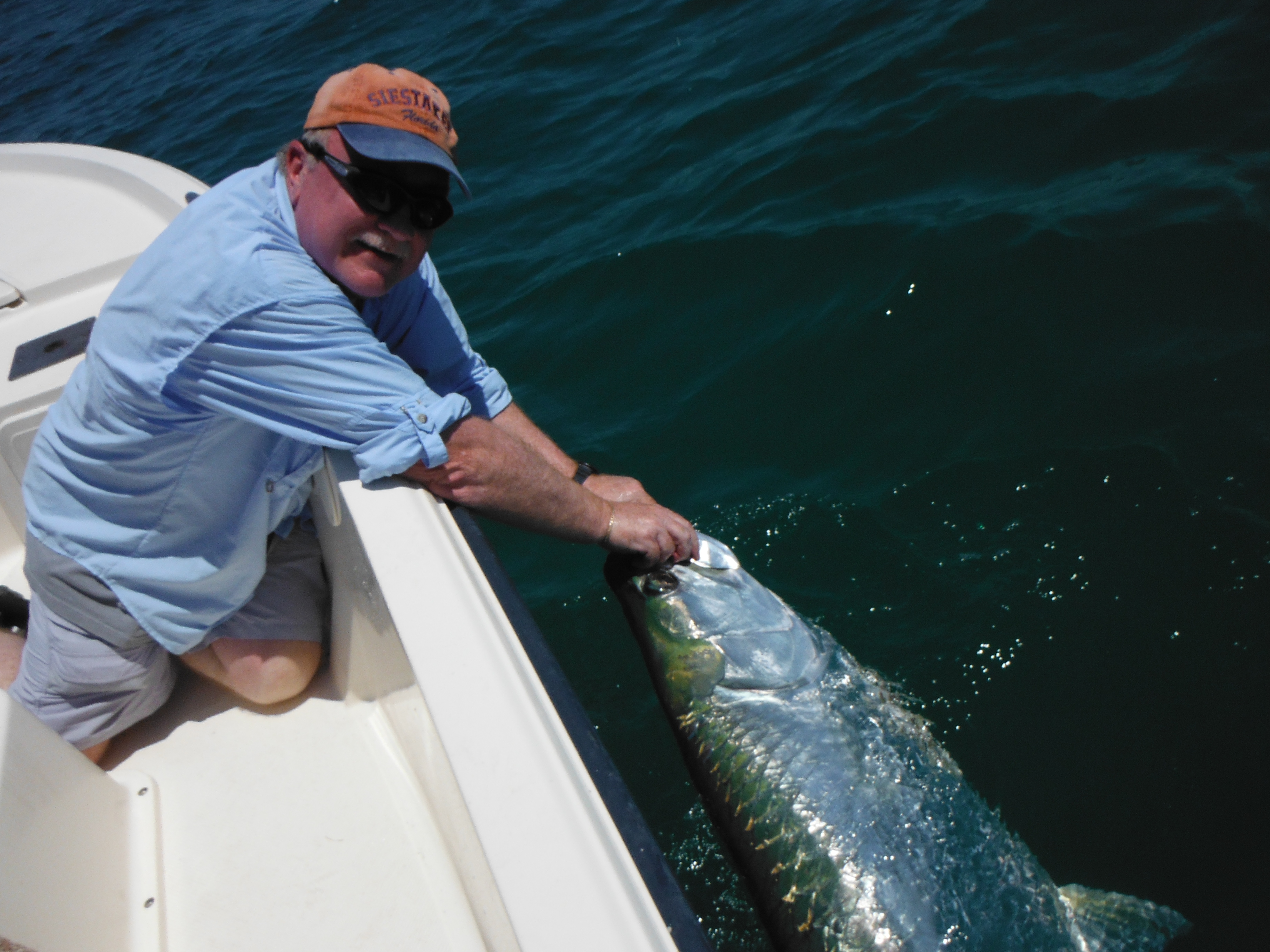 Tarpon are nicknamed "the silver king", and for good reason. There are few places on the planet where anglers can sight cast to fish weighing over 100 pounds using spinning tackle. Tarpon show up in early May and stay around until August, though most anglers quit fishing for them around July 4th. Most tarpon are caught by anglers casting live crabs and bait fish.
5) Spanish mackerel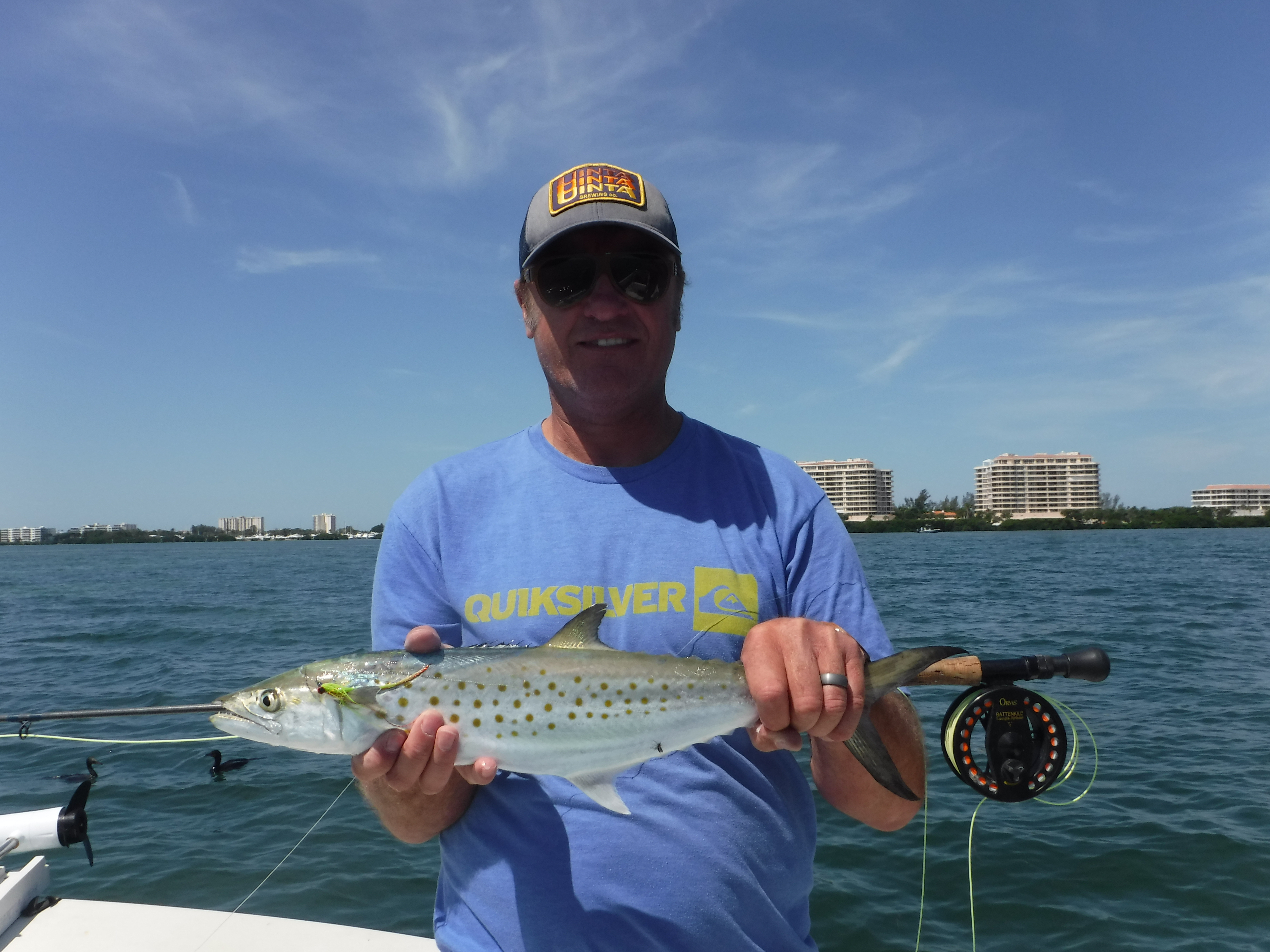 Spanish mackerel are a terrific inshore game fish. They are very fast and larger fish make a blistering run. Mackerel are found in large schools in the Gulf of Mexico. In Sarasota Bay, they can be found in schools or caught individually. Mackerel are a beautiful fish. They are mostly caught in spring and fall, but can be caught most any time.
Spanish mackerel can be caught on both lures and live bait. Fast moving, flashy lures such as spoons and plugs work well. Trolling is an extremely effective technique. Live bait such as shrimp and small sardines will catch them as well.
6) Jack crevalle
Jack crevalle are one of the best inshore game fish in salt water. They grow large and use their broad sides to put up a great battle on light tackle. Jacks will be found in large schools. They are often seen foraging on the surface. When these fish are encountered, they will hit almost anything.
Jack crevalle are found in the passes and inshore waters. They are often encountered in very shallow water. In the winter, jacks migrate up into creeks, rivers, and residential canals. This is a great time of year to target them as they are concentrated into smaller areas.
7) Bluefish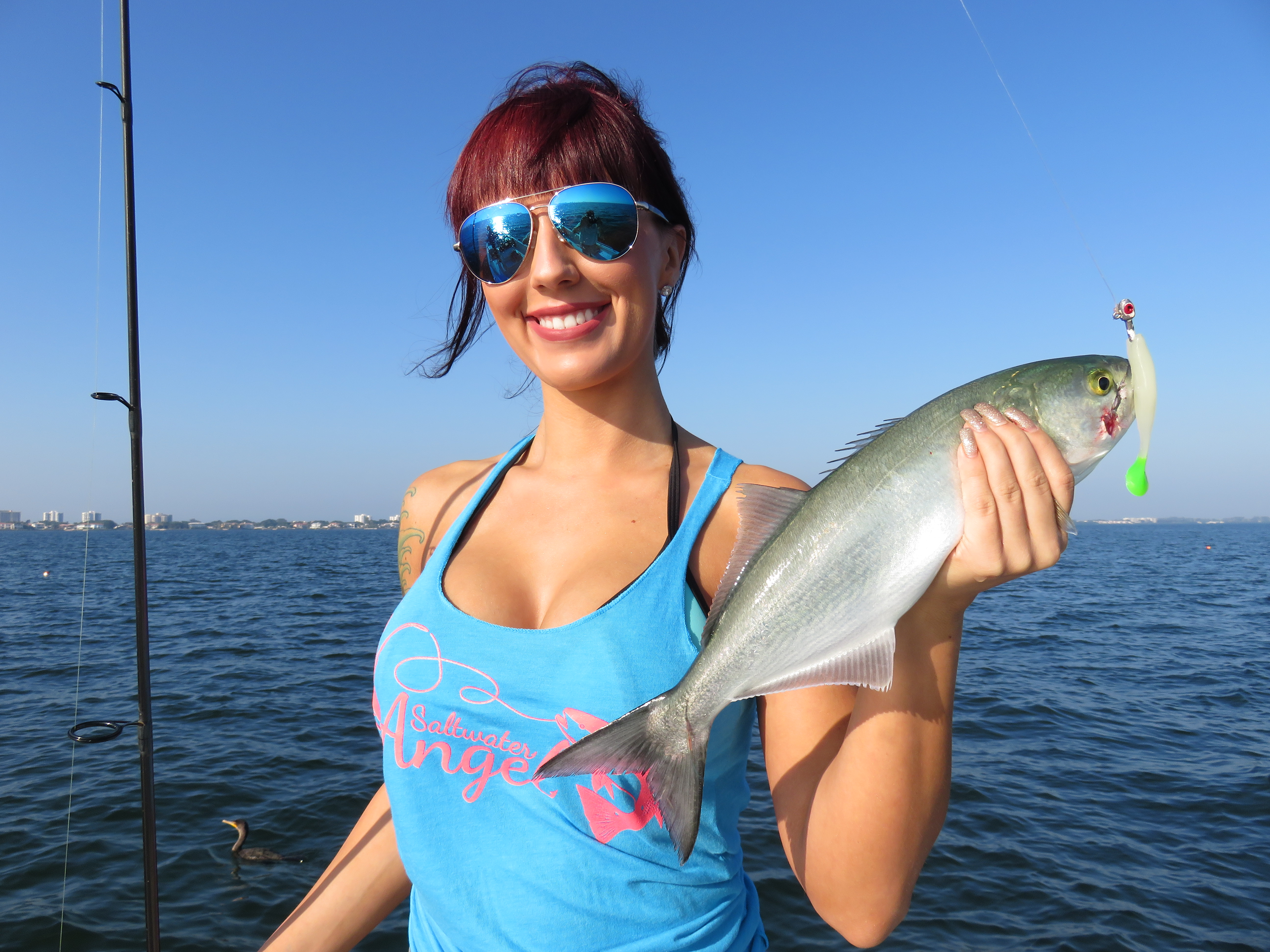 Many anglers from the Northeastern states are familiar with bluefish. They are a tough, hard-fighting fish that are very aggressive. Bluefish are usually found in schools. In Sarasota, most anglers catch bluefish while targeting trout and other species. Bluefish are found on the deep grass flats, in the passes, and out on the beach.
8) Pompano
Pompano are one of the most desired inshore species. While these smaller cousins to the permit put up a great fight, pompano are prized for their incredible fillets. Pompano are fantastic eating! Pompano feed on crustaceans such as crabs and shrimp. They are caught by anglers using small jigs and live shrimp in the surf, passes, and inshore flats.
9) Sheepshead
Sheepshead are a staple for winter anglers on Sarasota fishing charters. They fill in a gap when other flats species become harder to catch. Sheepshead are rarely caught on lures. Shrimp are the most widely used bait, though serious sheepshead anglers will catch their own little crabs.
Sheepshead will be found around some type of structure. Docks, bridges, submerged rocks, ledges, reefs, and oyster bars are all good spots. Both passes hold a lot of fish in February and March. Anglers catch them bottom fishing with live or frozen bait. They are great eating, though difficult to clean.
10) Mangrove snapper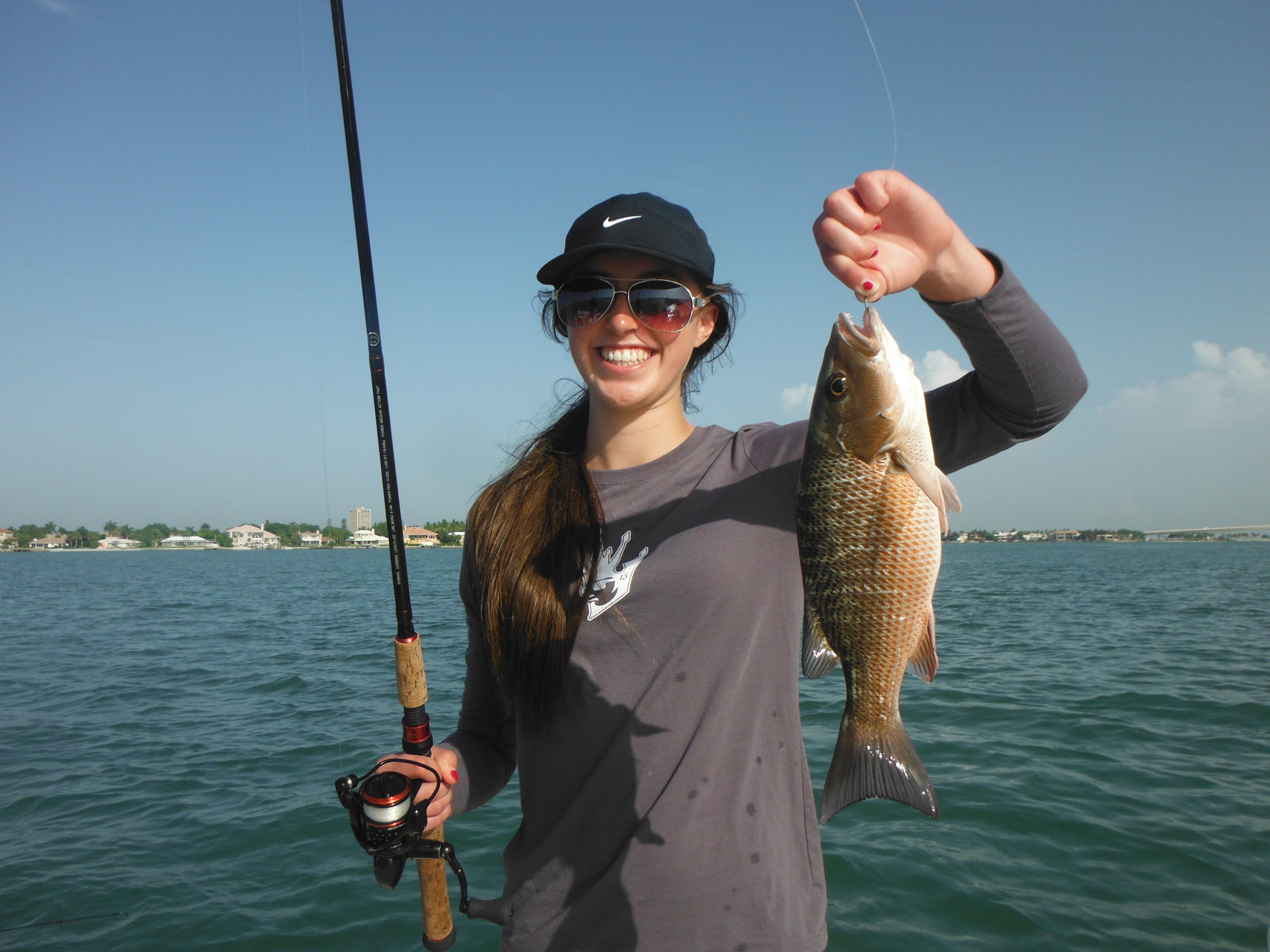 Mangrove snapper are another very good eating species. They are found near structure all season. In the summer, large mangrove snapper are caught when chumming with live bait on the deeper grass flats. Snapper pull hard for their size. They can be wary and difficult to catch in clear water.
11) False albacore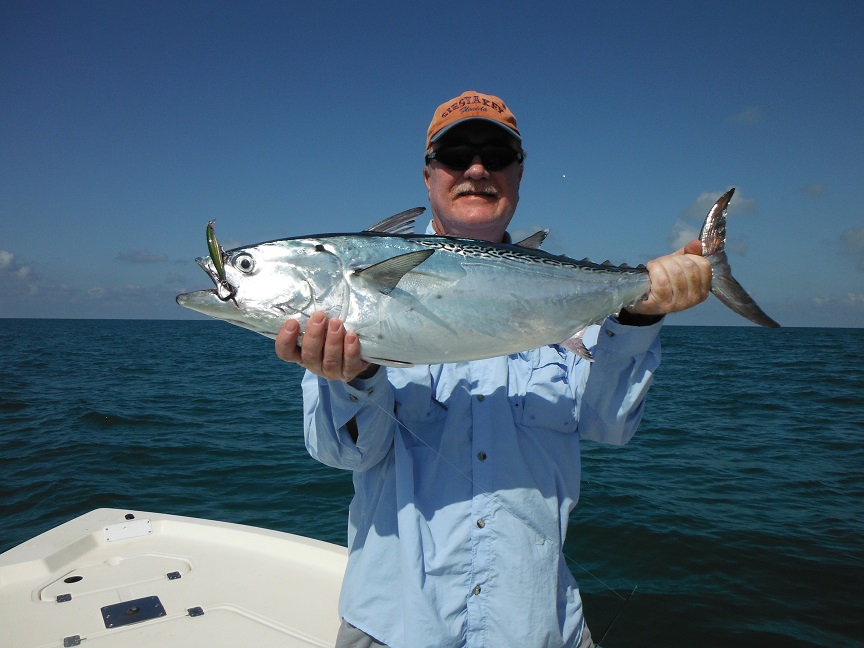 False albacore are fantastic game fish!They are found in the Gulf of Mexico, rarely coming into the bay. Much like mackerel, they are seen feeding ferociously on the surface as they terrorize tiny bait fish. False albacore are like a small tuna fish and are incredibly fast. They make a long initial run when hooked. False albacore are not good to eat but are great sport!
12) King mackerel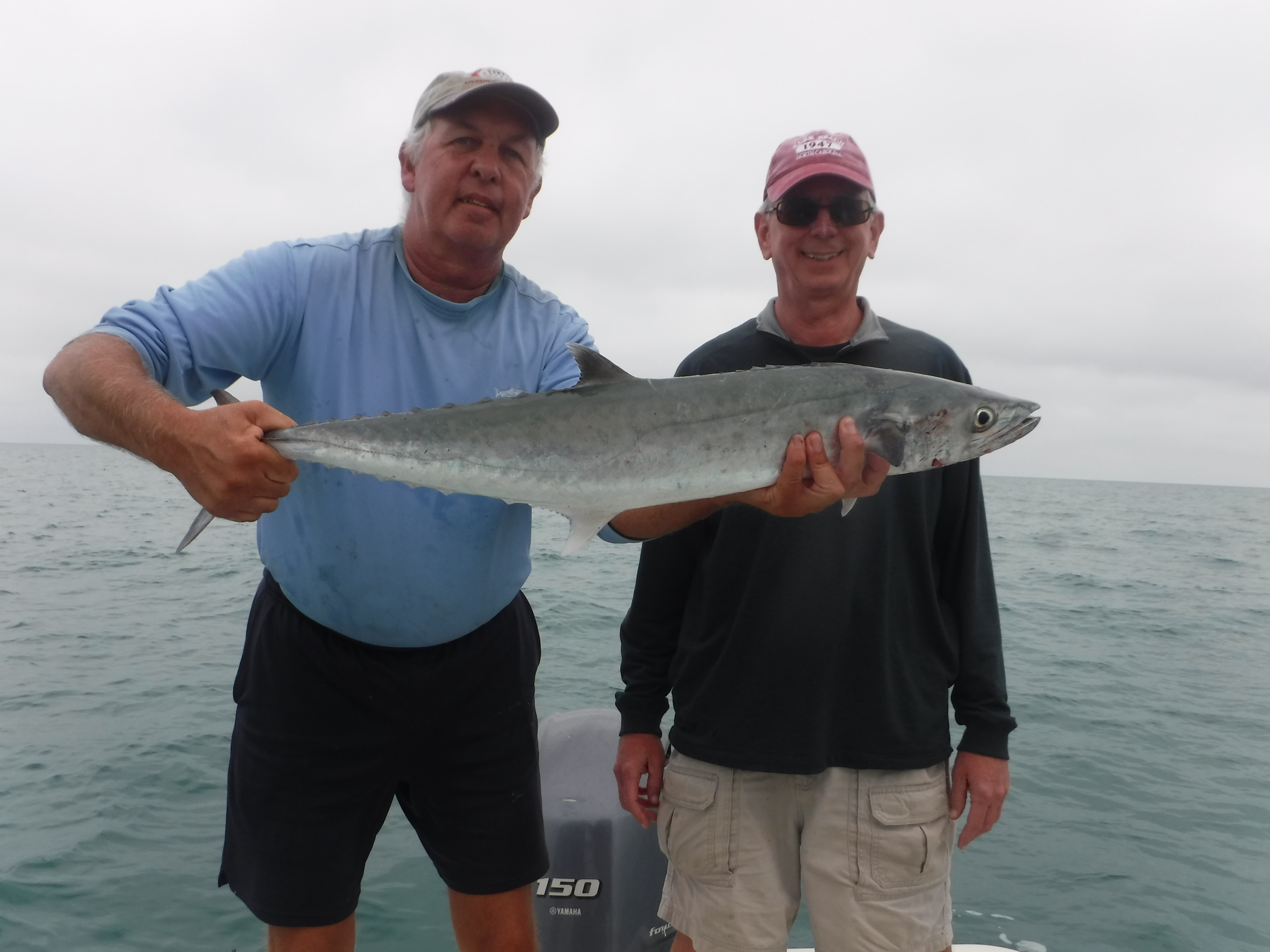 King mackerel will come in very close to the Sarasota beaches at times. They will follow the schools of bait fish. Kings are most often caught by anglers trolling lures or slow trolling live baits. They can occasionally be caught by anglers drifting bait over the inshore artificial reefs
13) Cobia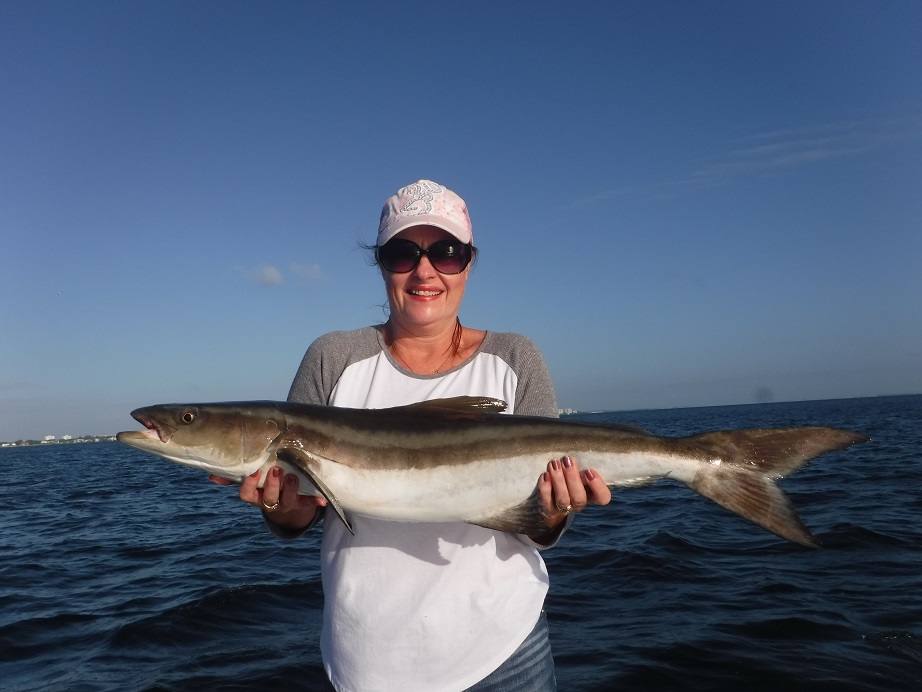 Cobia are most often found in the Gulf of Mexico. They grow very large, over 100 pounds. They do wander into Sarasota Bay. Anglers hooking one on light spinning tackle will have their hands full! Live bait fish work well, but lures will fool them, too. Artificial reefs and ledges will hold fish, as will navigation markers. Cobia are terrific eating but need to be 33″ at the fork to keep.
14) Grouper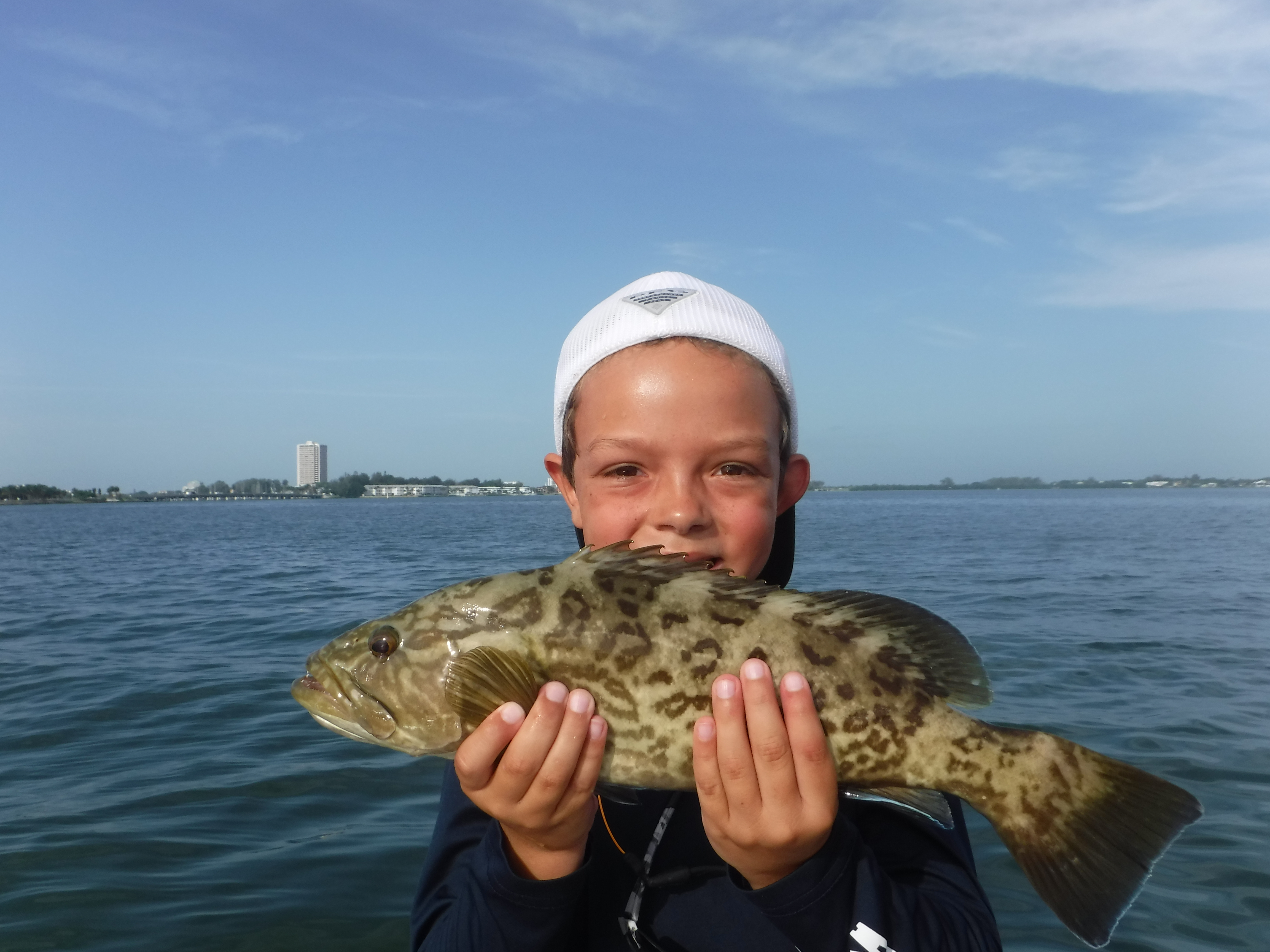 Grouper are most often caught by anglers bottom fishing offshore on ledges and reefs in the Gulf of Mexico. However, gag grouper are caught in Sarasota Bay as well. They are structure oriented and will usually be found close to some type of structure. However, in the summer anglers on Sarasota fishing charters catch them on the deep grass flats.
15) Sharks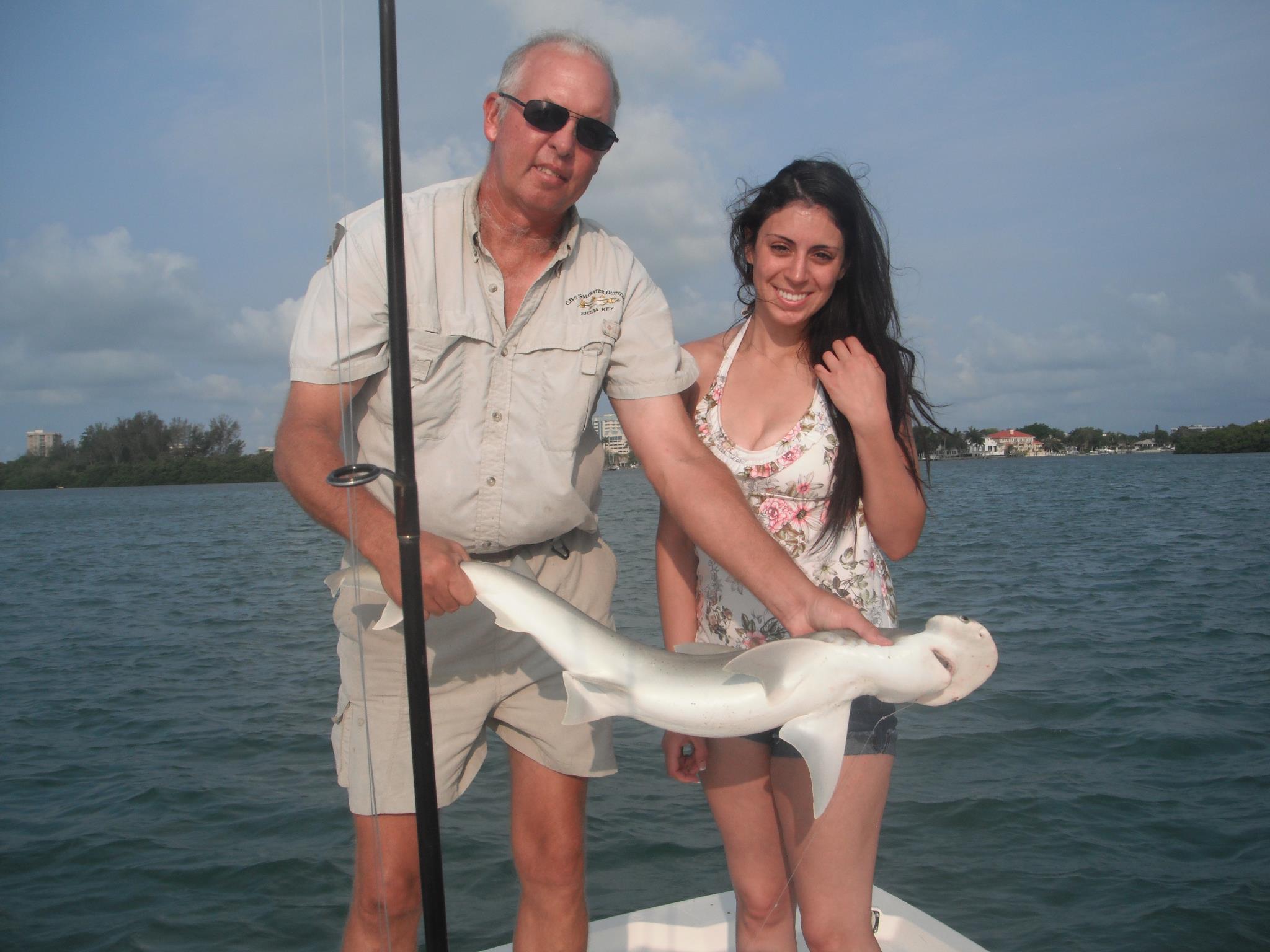 Sharks are always a crowd favorite! Sarasota has decent populations of sharks in the warmer months. Blacktip and bonnet head sharks are most common. They average between ten and forty pounds. Some sharks are caught by accident. However, most are landed by anglers targeting them using cut bait such as ladyfish and jacks.
16) Ladyfish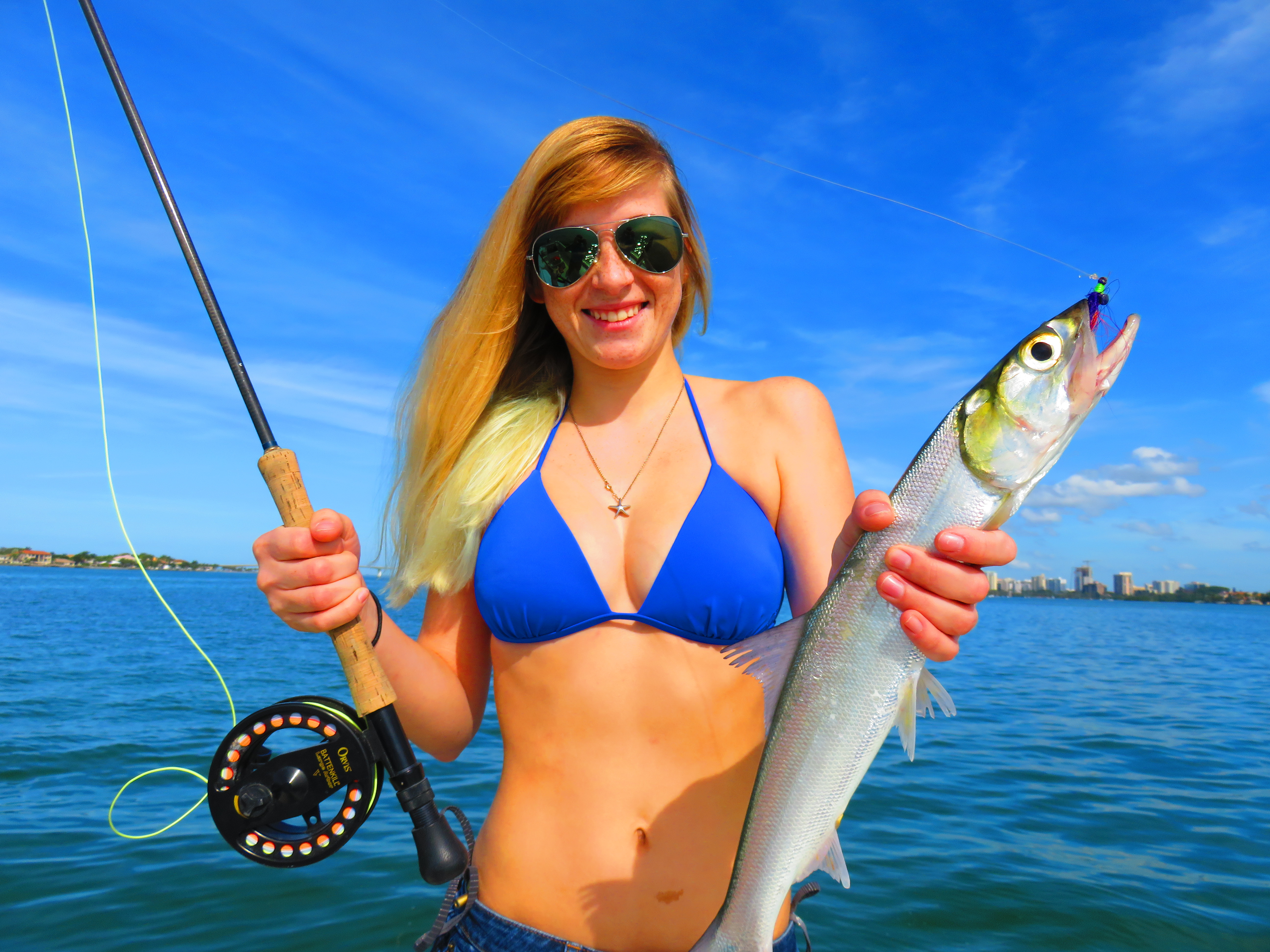 Ladyfish are great fun! They are plentiful on the flats and in the passes. They can be found off the beaches as well. Ladyfish fight hard and most leap high out of the water. Jigs are a very productive lure. Live shrimp and bait fish work well, too. Ladyfish are great practice for kids to learn how to fight a fish.
In conclusion, I hope this article on fishing in Sarasota will help anglers catch more fish. Of course, all are welcome to go out on a fishing charter with me to learn on the water!

.