Fantastic false albacore fishing in Sarasota
This article will cover false albacore fishing in Sarasota. The fishing in the Gulf of Mexico just off the Siesta Key and Lido Key beaches can be nothing short of fantastic in the fall!  False albacore, also known as bonito, little tunny, fat Alberts and more are plentiful and have been foraging on schools of glass minnows on the surface.  This is a very visual and exciting trip as anglers chase around the "breaking" fish.  There are also some Spanish mackerel mixed in. However, the false albacore are far more sporting.
These fish put up a terrific battle on light tackle, often times taking almost all of the line on the first run.  Bass Assassin Sea Shad jigs and Rapala X-Raps are my top baits.  Siesta Key fishing charters average a 6-10 fish to ten pounds hooked each morning on a good day.  Clients are definitely experiencing great false albacore fishing in Sarasota!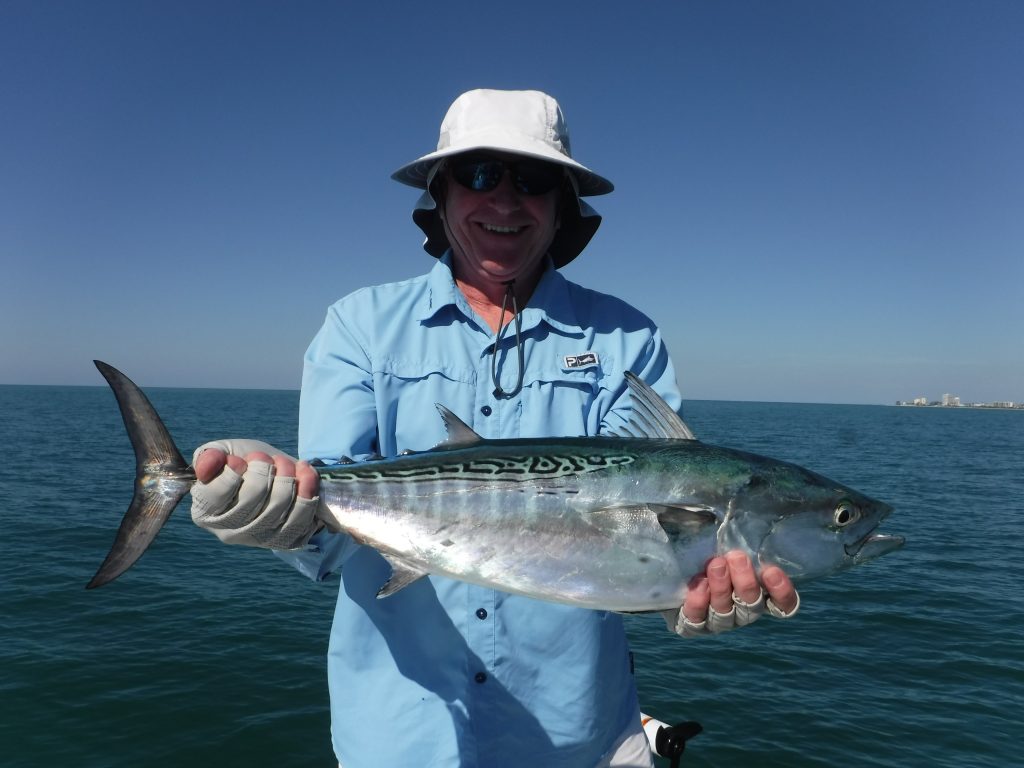 Capt Jim has been a fishing guide in Sarasota, Florida since 1991. Anglers who are interested in purchasing the equipment that he uses and writes about in his articles can do so HERE on the PRODUCTS page.
False albacore fishing techniques
This type of fishing is as much hunting and stalking as it is fishing.  Patience is very important when false albacore fishing in Sarasota.  Some days the fish will pop up and stay up, making it easy to get a good cast into them.  On other days they will be fussier, showing quickly then moving several hundred yards before surfacing again.  Anglers just need to wait until the fish "get right".  Trolling can produce a few fish on days when they are up and down.  Resist the urge to "jump fish".  That is when anglers run on plane to each group of fish they see.  Eventually, this will put them down.
Sarasota False Albacore fishing video
Fly anglers can certainly enjoy false albacore fishing in Sarasota as well.  A 9 weight outfit with a floating or sink tip line is the best outfit.  Albies can be a bit leader shy.  Going with a 10 foot piece of twenty pound flourocarbon works well.  Any small white fly will produce, with a Clouser Minnow being tough to beat.
The optimum conditions are calm, flat seas and plenty of sunshine.  This allows anglers to spot fish and birds working from a long way off.  Sunlight will get the bait fish up on or near the surface.  Game fish will herd then helpless bait up, trapped on the top.  The resulting feeding frenzy is awesome to experience!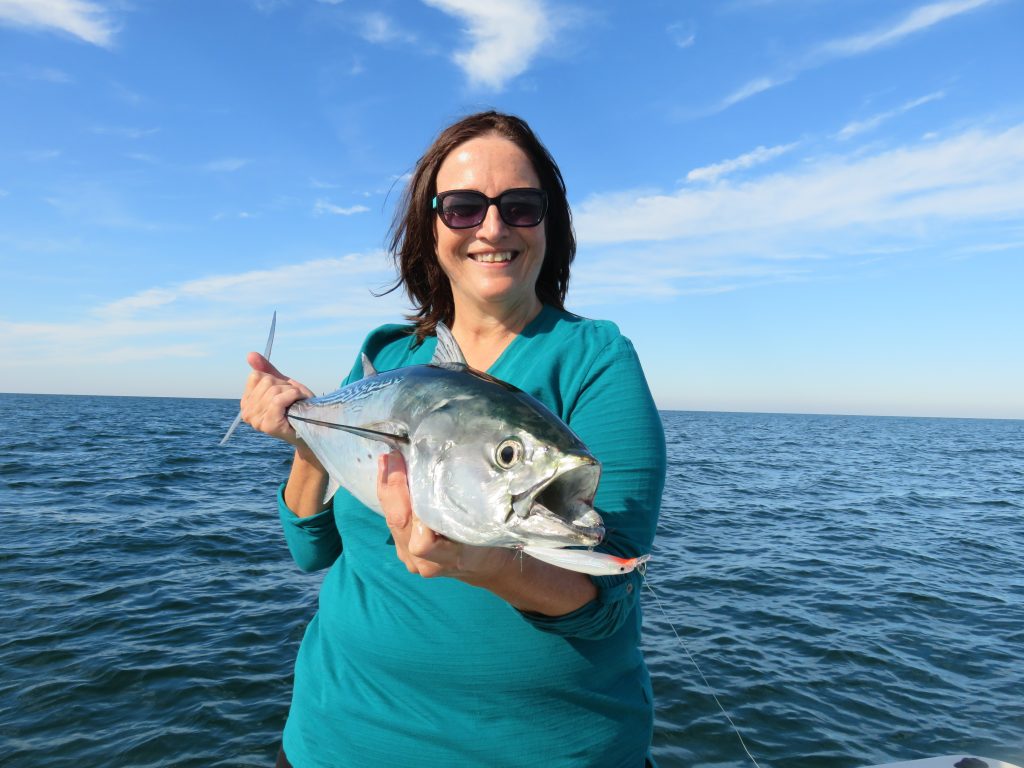 Patience is important when fishing for false albacore in Sarasota
False albacore will often times move quickly and change directions in a split second.  When the fish are only up for a few seconds and moving fast, they are difficult to get a bead on.  Fish that stay up longer and move less are much easier to fish.  The best approach is to set up on the fish upwind of them and ahead of the direction that they are moving.  Lures cast out just ahead of the fish and worked aggressively will usually draw a strike.  It is important that the lure matches the bait fish in size, if possible.  False albacore can be very fussy at times.  This can be tough when they are dialed in to tiny glass minnows.
There are times when the false albacore do not show on the surface, or they do so sporadically where it is next to impossible to get on them. Anglers will need to change tactics to be successful. Trolling is one proven method that allows anglers to cover a lot of water. Perhaps the best approach is to anchor on one of the inshore Gulf reefs and chum with either live bait fish or frozen chum. Chumming with live sardines can really fire the fish up and get the bite going.
In conclusion, this article on false albacore fishing off of Sarasota and Siesta Key will encourage anglers to give it a try!