How to Catch Jack Crevalle – Tips from a Florida Guide!
In this article, Capt. Jim will share some great tips and techniques on how to catch jack crevalle. Capt. Jim has been a full-time fishing guide in Siesta Key, Florida for over 30 years. Jack crevalle are one of his favorite species to catch for both spent and fly anglers.
Jack crevalle are found throughout the world in tropical and subtropical waters. In the United States, they are most commonly caught in the southeast part of the country and along the Gulf Coast to Texas. They are plentiful throughout the Caribbean and other parts of the world where the water is warm enough. Jacks grow quite large and put up a terrific fight.
One of the best aspects of fishing for jack crevalle is there aggressive nature. Jacks are just downright mean and nasty most of the time! Also, jack crevalle are most often encountered in large schools. The competition alone increases the aggressive nature of this species. While they can be fussy at times, for the most part, to locate jack crevalle is to catch them.
Some anglers look down on jack crevalle, but Capt. Jim certainly does not! Part of the reason for this is that jack crevalle are not considered great table fare. However, neither are tarpon or bone fish and they are prized as game fish species. Jacks hit lures and flies with reckless abandon and put up a determined fight, usually making long powerful runs. What more can an angler ask for?
How to catch jack crevalle
In the following sections, Capt Jim will cover the tackle, rigging, and techniques that anglers will need to know in order to be more successful when fishing for jack crevalle. Many saltwater anglers already have the tackle and lures needed, as much of the equipment used when chasing other species will work fine.
Jack crevalle fishing tackle
The tackle requirements for fishing for jack crevalle will very. The main determining factor is the size of the fish that an angler is likely to encounter. The average sized jack crevalle is around 5 pounds. Therefore, the same inshore spinning tackle that is used for redfish, spotted sea trout, and other species will work just fine. A 7 foot medium action rod with a matching 2500 or 3000 series reel works great in most situations.
Anglers tackling larger jack crevalle will need to beef up the tackle, sometimes significantly. Jacks to 30 pounds can be encountered in inshore waters. It's tough to beat stout conventional tackle for this application. Conventional, or bait casting reels have excellent drags and will hold up better to these large, powerful fish, while still offering the ability to cast heavier lures and baits.
Jack crevalle fishing techniques
As mentioned earlier, the most difficult aspect of fishing for jack crevalle is simply locating them. In many instances, jacks are encountered while fishing for other species. Just about any seasoned angler fishing from Texas to Florida has had a school of jack crevalle come through while fishing for speckled trout or other species.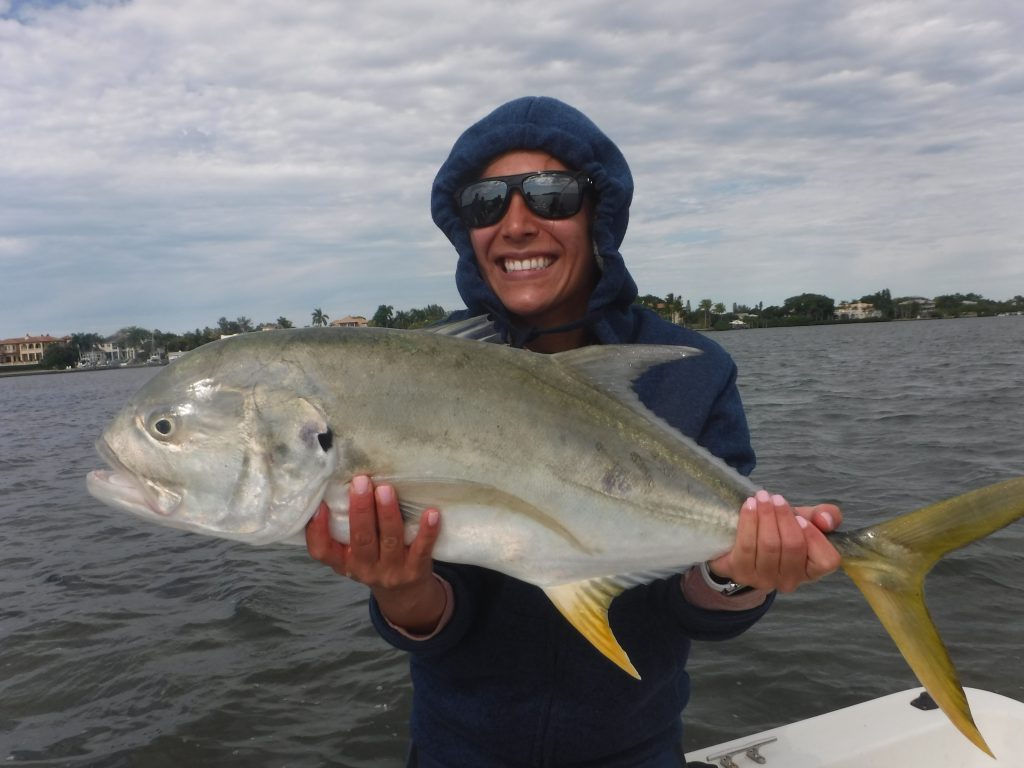 Anglers are purposely targeting jack crevalle have a couple different options. The most exciting way to catch jack crevalle is to find them foraging on the surface. On a call day, this is easily seen as the water will literally be frothing. As always, diving birds are a great indication as well. This behavior can occur in water as shallow as 18 inches or as deep as 100 feet.
Anglers also catch plenty of jack crevalle by blind casting as well. Again, jacks are often an interloper for anglers chasing redfish and other species. While jack crevalle are often found in open water, like most game fish species, jacks will often be found around some type of structure. This can include docks, rocks, jetties, bridges, mangrove shorelines, and more.
Rigging up for jack crevalle fishing
Anglers rigging up for jack crevalle will use the same set up as they would for other inshore fishing applications. A shock leader is almost always used to prevent jack crevalle from fraying the line. While jacks do not have teeth, they do have raspy jaws and Gill plates which will quickly cut through the running line.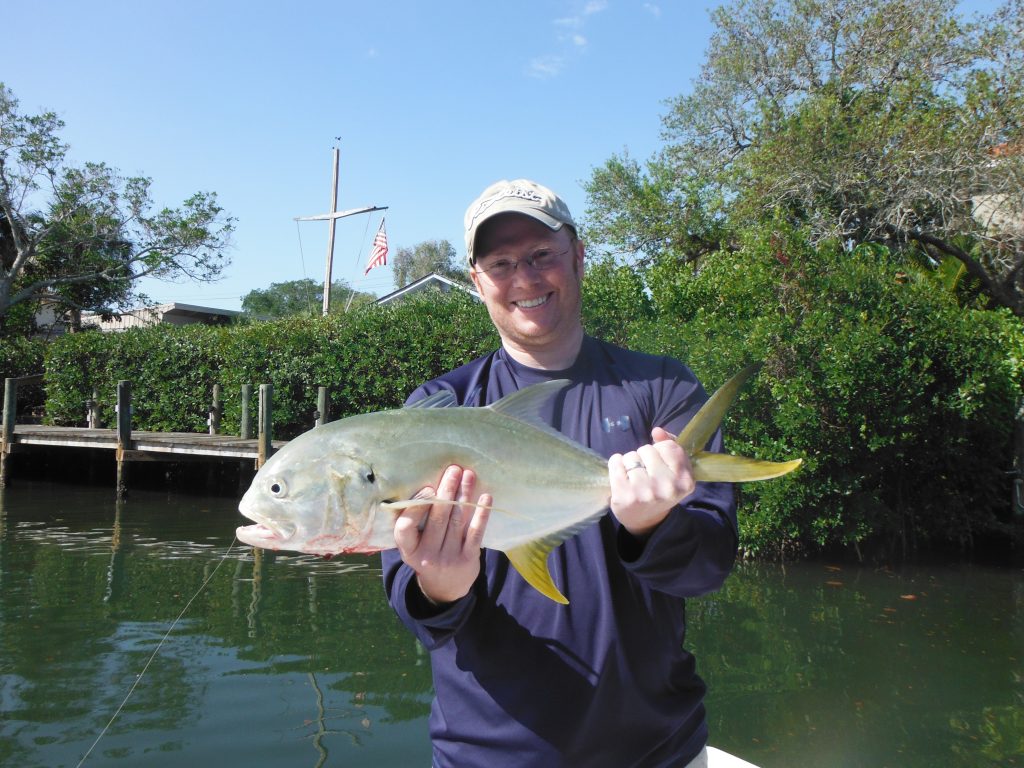 In most instances, a 24 inch piece of 30 pound to 40 pound fluorocarbon leader works fine. Anglers chasing larger jacks, especially around heavier cover, will need to bump the leader size up to 50 pound or 60 pound leader. Anglers can use a swivel to connect the leader to the running line. However, Capt. Jim prefers to double the running line using a spider hitch and then use a double Uni knot to connect the shock leader.
While jack crevalle can be caught by anglers using live bait, and plenty of them are, jacks are the perfect species for anglers who prefer to cast artificial lures and flies. Lures allow anglers to cover a lot of water in search of fish when they are not seen feeding on the surface. Also, lures are just great fun to fish as they produce crushing strikes from angry jack crevalle.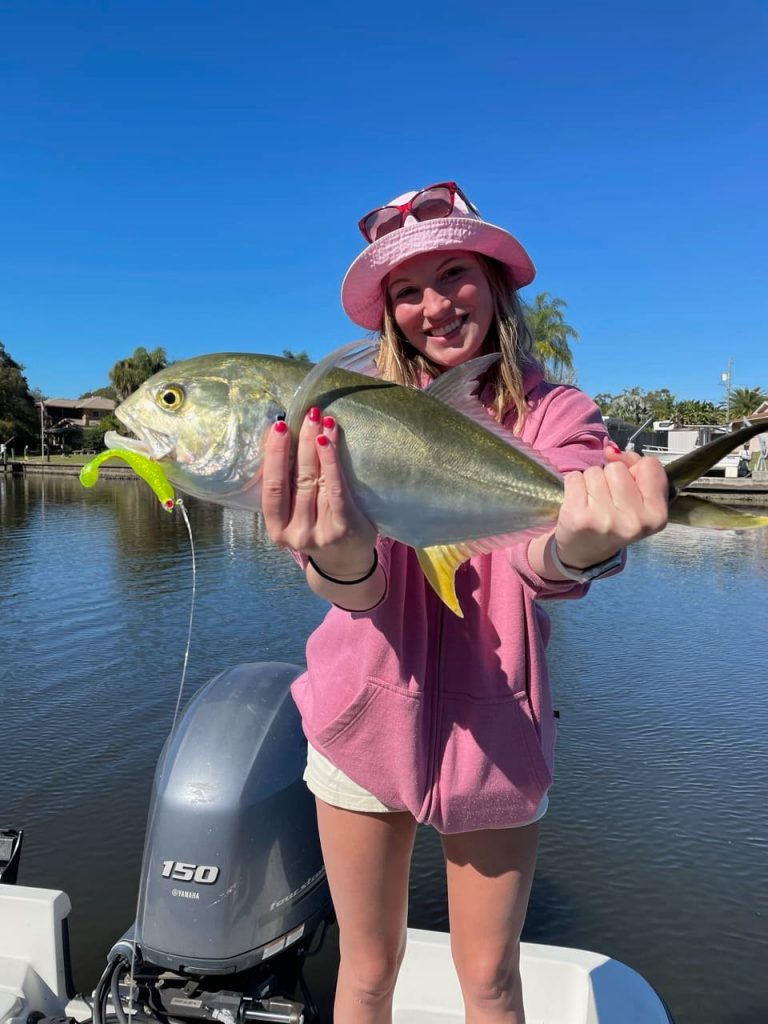 The same inshore saltwater lures that produce other game fish species will work fine when fishing for jack crevalle as well. Tops on the list is the jig and grub combo. This is a versatile, economical, and productive fishing lure. Anglers targeting jack crevalle will need to use a jig head with a stout hook, as larger fish will actually straighten the hook out.
Plugs are excellent jack crevalle fishing lures as well. Capt. Jim prefers the Rapala X-Rap jerkbaits. They dive just a few feet below the surface and the erratic action will usually trigger a strike. They are also extremely effective trolling lures that are used in the cooler months when jack crevalle move into area rivers and residential canals. Top water plugs are also great fun and will produce some explosive strikes!
Spoons are also excellent jack crevalle fishing lures. They cast a long distance and are terrific search baits when trying to locate schools of fish. Spoons are the top bait of anglers surf fishing in many situations. A weedless gold spoon is not only a fantastic redfish lure, but it will fool jack crevalle when they are cruising in shallow water as well.
Fishing for jack crevalle using live bait
Some anglers just prefer fishing with live and natural bait, and there's nothing wrong with this. Plenty of jack crevalle have fallen prey to a live shrimp or bait fish, whether meant for jacks or other species. Shrimp and bait fish are really the top two live baits used by anglers fishing for jack crevalle. As when fishing with artificial lures, a stout hook is required.
Live shrimp are by far the top live bait used by anglers all along the Gulf Coast and up to the Carolinas. Just about every fish that swims eats shrimp. Also, they are readily available at every coastal bait shop and are relatively easy to keep alive and use. Fresh dead shrimp will catch fish as well, though they are not quite as effective. A live shrimp can be fished under a float in shallow water or free lined with a split shot when fishing in deeper water.
Jacks definitely feed on live bait fish as well. The type of bait will vary depending on the region. Scaled sardines, threadfin herring, pin fish, grunts, croakers, and finger mullet are all productive baits for anglers fishing for jack crevalle. In many cases, the angler can catch the bait themselves using cast nets or traps. Some bait shops sell them as well. Baitfish are very productive, though a bit more trouble to procure and keep alive. However, many anglers have the ultimate confidence when using live bait.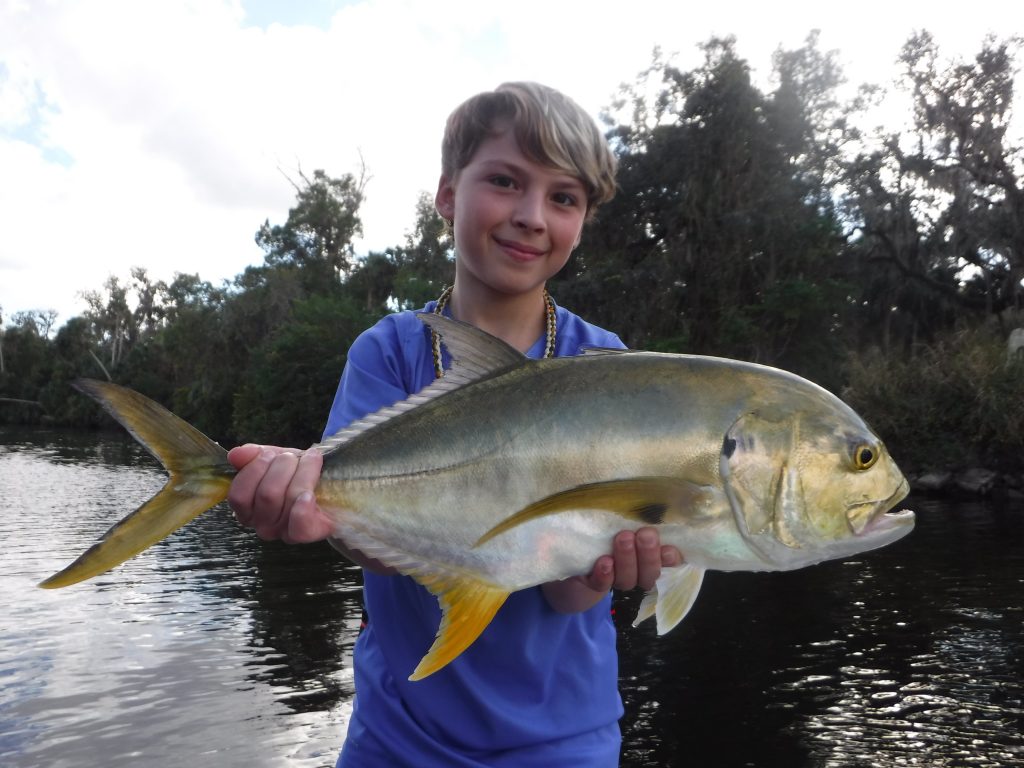 Live and cut bait is also the choice of anglers surf fishing and other shore fishing situations. This is a natural decision as often anglers fishing without a boat need to wait for fish to come to them. Any fresh caught fish that is legal to use as bait can be cut up and used to catch jack crevalle and other species.

Fly fishing for jack crevalle
Anglers who enjoy saltwater fly fishing cherish jack crevalle! Capt. Jim targets them a lot, especially in the cooler months. Jacks move into area rivers, creeks, and residential canals to escape the harsh extremes of the open flats in the winter. This makes them much easier to locate and in many instances to catch. Obviously, when jacks are encountered feeding on the surface, fly fishing for them is great fun!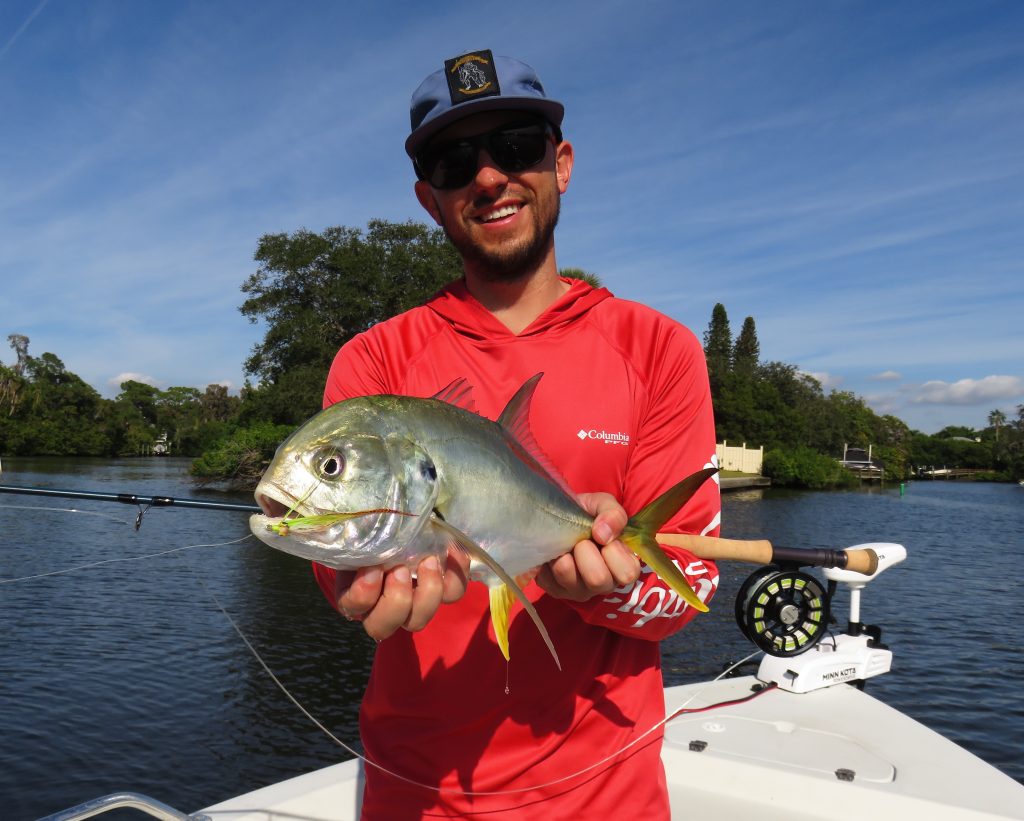 As with the other types of tackle used when fishing for jack crevalle, anglers fly fishing for them will choose the proper tackle based on the fish being caught in the area. A 9wt outfit is a good all-around rig for most types of jack crevalle fishing. However, if smaller jacks are more likely, anglers can drop down to a 7wt or 8wt. Conversely, if large fish are a possibility, a 10wt is probably a better choice.
Leaders do not need to be complicated when fly fishing for jack crevalle. A standard tapered leader with a 30 pound bite tippet works fine. Fly selection is also fairly simple; a Clouser Minnow, Deceiver, or any other bait fish pattern will produce, especially if jack crevalle are encountered in a feeding situation.
In conclusion, this article on how to catch jack crevalle will encourage anglers to better appreciate these underrated game fish and enjoy the flight despite the fact that they are not desirable to eat.