Inshore Fishing Charters in Siesta Key!
The topic of this article will be inshore fishing charters in Siesta Key. Sarasota is a very popular resort destination. Many come to enjoy the world famous beaches of Siesta Key. There are restaurants and activities to enjoy. However, anglers can experience some excellent saltwater fishing for a variety of species!
There are several reasons why anglers choose inshore fishing charters in Siesta Key. The inland water are generally calm and comfortable. This experience is much better suited to children and novice anglers. The light tackle is comfortable and easy to use. Several techniques can be used to catch a wide variety of species.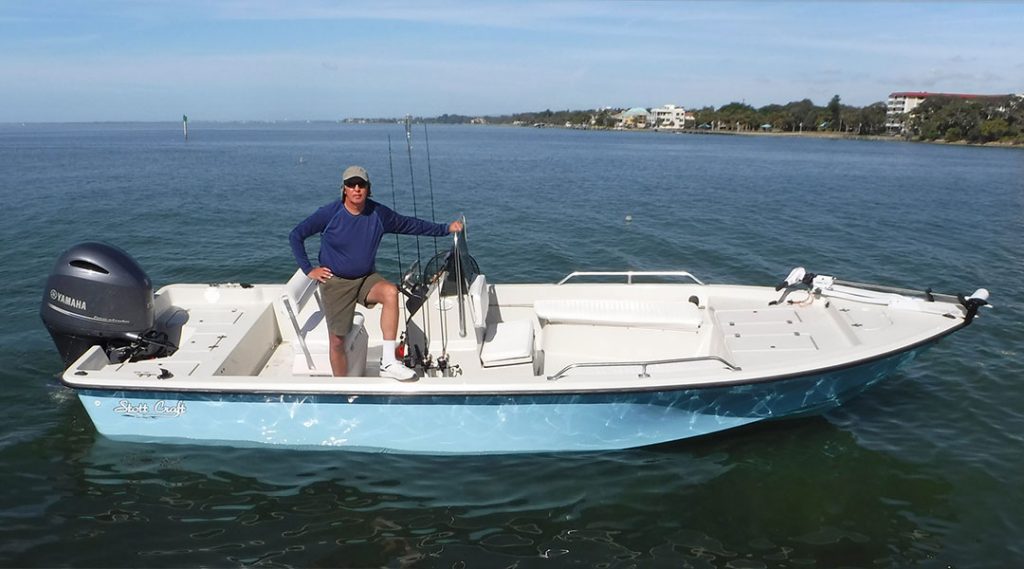 My name is Capt Jim Klopfer and I run inshore fishing charters in Sarasota, Florida. I have been doing it since 1991. I really enjoy the wide variety of species that are available. Also, no matter what the experience level of the client is, there is some type of fishing that they will enjoy experiencing.
Inshore fishing charters in Siesta Key

Anglers going out with me on an inshore fishing charter in Sarasota have a few decisions to make. We can go for action and variety, "eating" fish, trophy fish, or target a particular species. Of course, conditions are always the deciding factor. These include weather, tide, and time of year along with what the current bite is.
I run my charters on a 22′ Stott Craft Bay boat. No one boat is great at everything. However, this boat floats shallow, has a roomy cockpit, plenty of storage, and comfortable seating. It works very well for inshore fishing charters in Sarasota. I limit my trips to 3 adults, 4 anglers if children are involved.
Techniques used on inshore fishing charters

One of the things I enjoy so much about running inshore fishing charters in my area is that I can fish in a variety of ways. In some locations, fish are caught using only one technique; not so here in Sarasota. We can drift the flats, fish the passes, bottom fish, fish the back country, troll, sight cast in the Gulf, and even fly fish!
Flats fishing in Siesta key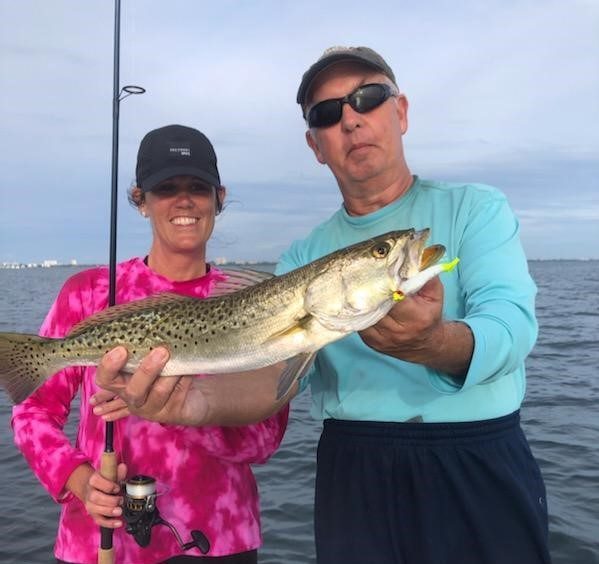 One technique that I probably use more than all others combined on my Siesta Key fishing charters is fishing the flats. Florida is flat. That results in much of the water being fairly shallow, less than ten feet deep. Grass grown in much of this, providing forage for the game fish species. There really is very little other structure, other than man made structure such as docks and bridges. Therefore, this grass attracts a lot of fish!
Anglers drifting the deep flats cast lures such as a jig and grub out in front of the boat. Live shrimp can be drifted behind or even fished under a float. This fishing technique produces a lot of action and variety. Spotted sea trout are a prime target. Ladyfish, Spanish mackerel, pompano, bluefish, jacks, sharks, catfish, grouper, snapper, flounder, and even cobia are encountered. In most cases, flats in water between four and ten feet deep are best.
Anglers chasing larger fish will do so in the shallow water. It sounds counter intuitive, but the bigger fish are often caught on the very shallow grass flats. These fish are much spookier and more difficult to fool. Long casts and patience are required. However, the result can be a trophy trout, snook, or redfish.

Fishing the passes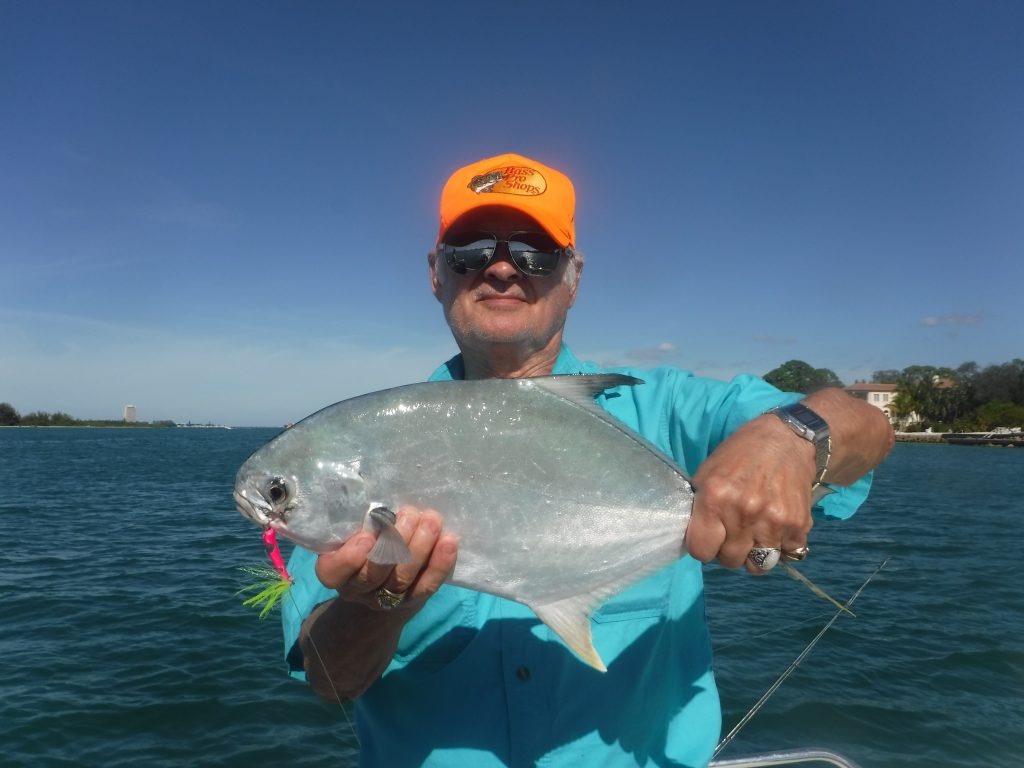 Drifting the passes is another very effective technique that I use quite often on my inshore fishing charters in Siesta Key. Sarasota has two passes, New Pass and Big Sarasota Pass. It is most effective in spring and fall when migratory species are moving through. It is the main method used to catch the tasty and desirable pompano. Ladyfish can be thick. Spanish mackerel, bluefish, sharks, jacks, and other species can be caught as well.
Vertically jigging from a drifting boat works very well when fishing the passes. It keeps the lure in the strike zone the entire time. At times, I will tip the jig with a piece of shrimp. Live shrimp can be free lines out when the tide is moderate. Spanish mackerel will be seen feeding on the surface and will take a jig or spoon.
The passes also have a lot of structure. This, along with deep water and strong tides results in a terrific fishing spot! Snook school up in the passes in summer. Live bait is the best choice. Some very large fish can be caught. Sheepshead are thick in winter. Mangrove snapper and other bottom fish are available year round.

Bottom fishing in Siesta Key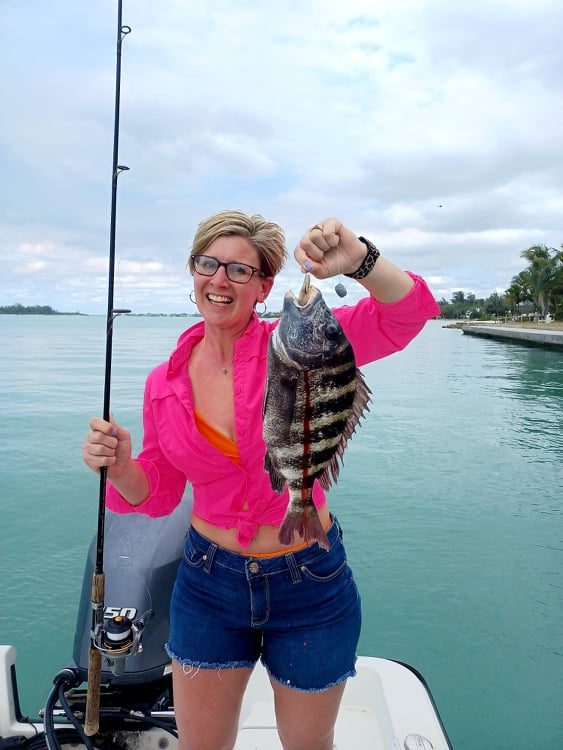 Bottom fishing is perhaps the oldest fishing technique. It is something I do on my Sarasota inshore fishing charters, particularly in the cooler months. Dropping a shrimp or bait fish to the bottom or around structure can produce a variety of species, many of them being good to eat. Sheepshead are prime targets from December to late March. Snapper can be caught all year. Black drum grow large and are taken as well.
Anglers can fish a variety of structure. Docks are plentiful and hold a variety of fish. Bridges are fish magnets, providing shade and cover. Oyster bare are tops in shallow water. In the inshore Gulf of Mexico, natural ledges and man made artificial reefs will attract snapper, grouper, grunts, sheepshead, and other bottom species.

Back country fishing in Sarasota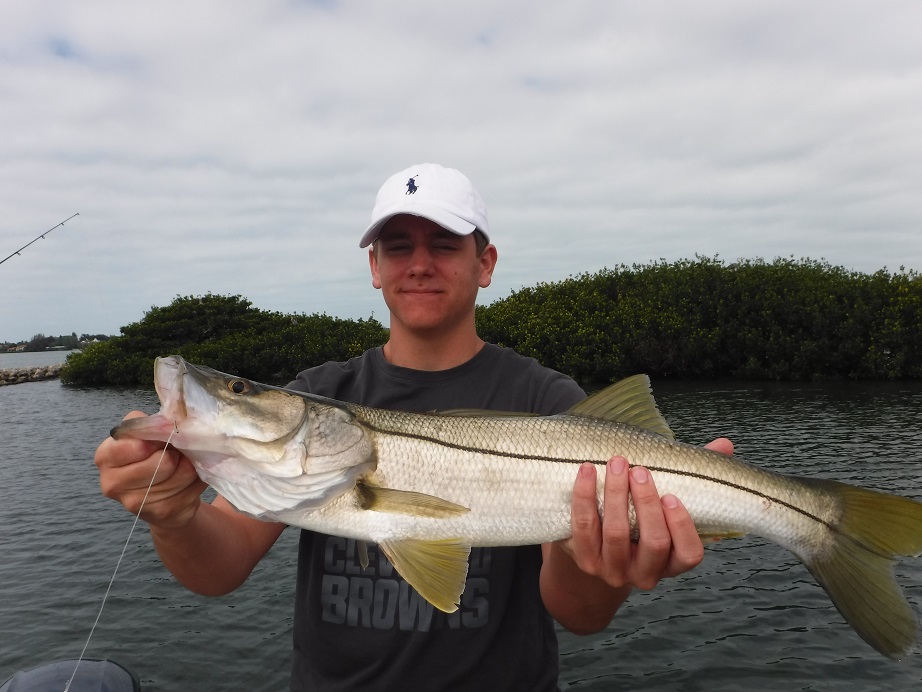 Experienced anglers going out on an inshore fishing charter in Sarasota Bay often mention trying for snook and redfish. These are out two most "glamorous" species, perhaps other than tarpon. Snook and reds are caught similar to bass fishing in freshwater. Anglers work shoreline cover and other structure in search of fish.
This type of fishing is less reliable than other techniques that I use. However, it can also be more rewarding, with anglers catching larger fish at times. Artificial lures are mostly used, though I will fish docks and mangrove shorelines using live bait fish and shrimp. Plugs are effective and allow anglers to cover a lot of water. Soft plastic baits on a jig head are productive as well.
Tides are very important when chasing snook and redfish in these back country areas. A low, incoming tide is great for reds while a high, outgoing tide is preferred for snook. The tide will position fish. Extreme low tides will concentrate reds and trout in potholes in winter. Extreme high tides will push fish under the mangroves, making them very difficult to catch.

Trolling off Siesta Key beaches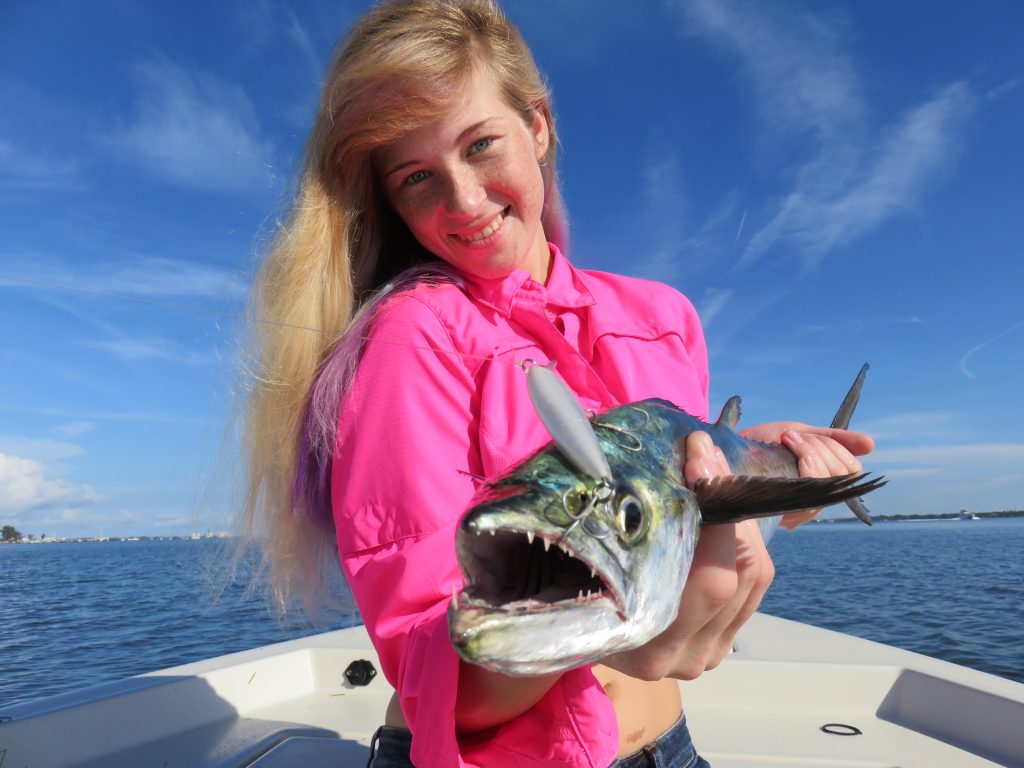 Trolling is a very productive angling technique. It is very efficient, allowing for multiple baits to be presented at several depths in search of fish. A lot of water can be covered. Also, trolling is very easy; anyone who can hold a rod can catch a fish!
I mostly troll for Spanish mackerel on my inshore fishing charters. A Rapala X-Rap is my top lure, with a silver spoon being the second choice. The lure is simply let out a distance behind the boat and then pulled around. Ladyfish, bluefish, and other species will be caught as well. I will also troll with slightly heavier tackle in the inshore Gulf of Mexico when conditions are right.
Fishing the inshore Gulf of Mexico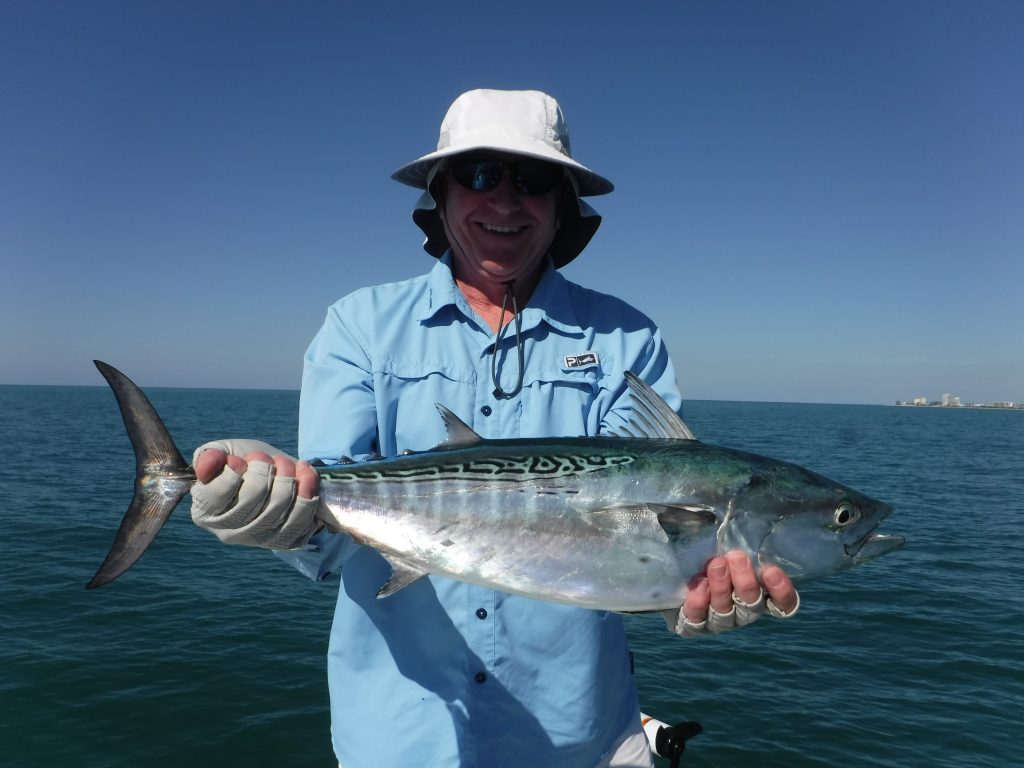 When conditions are right, fishing just off the beaches in the Gulf of Mexico can be nothing short of world class! False albacore can be caught sight casting. Spanish mackerel will be seen busting baits on the surface. Trolling spoons and plugs produces king mackerel. Cobia and sharks lurk near the bait schools. Giant tarpon are caught may through August.
These trips are among the most exciting opportunities on my inshore fishing charters. Conditions have to be right, which means clear water, calm seas, and a lot of bait and fish. Spanish mackerel and false albacore will terrorize bait fish on the surface. Anglers can cast lures and flies to them.
Large schools of bait will be present during these times. Anglers can catch them using special rigs, them hook one a free line it out. King mackerel, sharks, and other species will be landed doing this. Trolling live baits along with lures will produce king mackerel as well.
In summer, giant tarpon move in. These fish average 75 pounds and grow well over 200 pounds! This charter is only for experienced anglers. Success is far from guaranteed. However, if everything comes together, anglers can sight cast to the fish of a lifetime!
Fishing creeks and rivers in winter
In the winter, several species move into area creeks, rivers, and residential canals. They do this to escape the temperature extremes that can occur on the shallow flats. Snook and jack crevalle in particular exhibit this behavior. The fish are concentrated in these areas, making them much easier to locate.
Casting and trolling lures is the technique that I use when fishing these areas. Shallow diving plugs and soft plastic lures are my top choices. This is not a numbers game and is best for experienced anglers. Several nearby rivers such as the Myakka and Manatee Rivers offer the chance for freshwater species such as bass and gar as well. I am the only guide offering these river snook fishing charters in Sarasota.

Siesta Key fly fishing
Anglers looking for an inshore fishing charter when visiting Siesta Key can certainly do some fly fishing as well. Just about any fish that will take a lure can be caught on fly as well. Speckled trout, mackerel, bluefish, ladyfish and other species will take a fly on the deep flats. Anglers casting along mangrove shorelines may fool a snook or jack. Mackerel can be easy targets in the inshore Gulf.
In conclusion, this article on inshore fishing charters in Sarasota will clarify for anglers the fishing charter options that are available to those visiting the area!