Light Tackle Fishing Charters in Siesta Key!
This article will cover light tackle fishing charters in Siesta Key, Florida. Sarasota, Florida is a resort town on the West Coast of Florida, just south of Tampa. It is world famous for its beaches on Siesta Key. Visiting anglers will find many options when it comes to doing some light tackle fishing.
My name is Capt. Jim Klopfer and I've been a fishing guide in Siesta Key Florida since 1991. I have been offering light tackle fishing charters that entire time. I prefer this type of fishing and it is what I do on 99% of my fishing charters.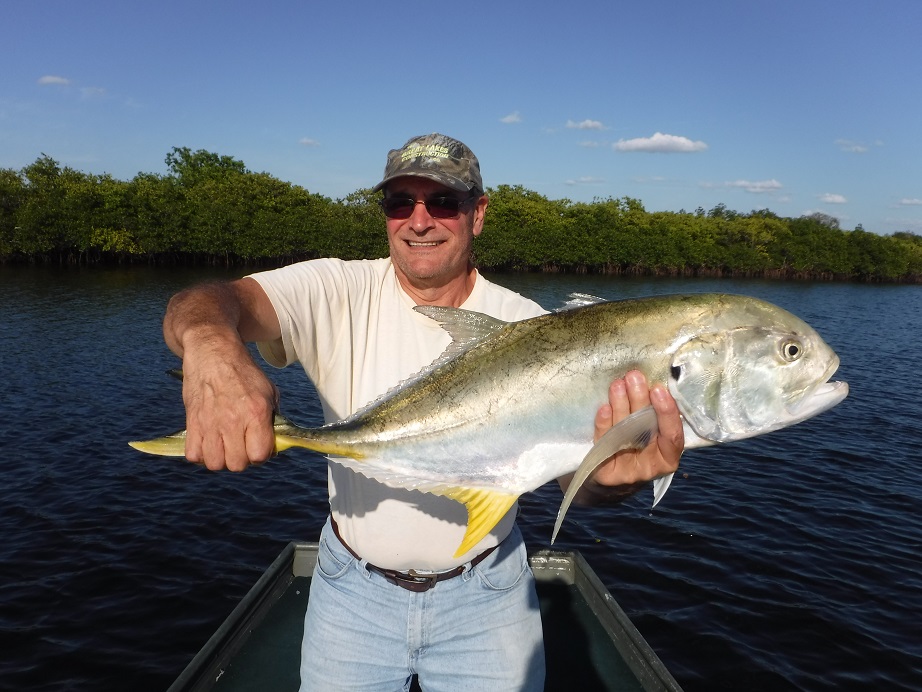 Light tackle has several advantages for anglers fishing in Sarasota and Siesta Key. The main advantage of using light tackle is that even smaller fish can put up a reasonable battle. Most of the fish we catch on Sarasota fishing charters are between 1 pound and 3 pounds. Therefore, light spinning tackle is the best choice and gives most fish the chance to give a reasonable account of itself.
Anglers going out on light tackle fishing charters in Siesta Key often bring children along. Lighter rods are obviously easier for kids to handle. Also, on many of my charters I have my anglers casting lures the entire time. Light tackle is much more conducive to this, especially for anglers who do not employ this method often and are not used to this casting motion.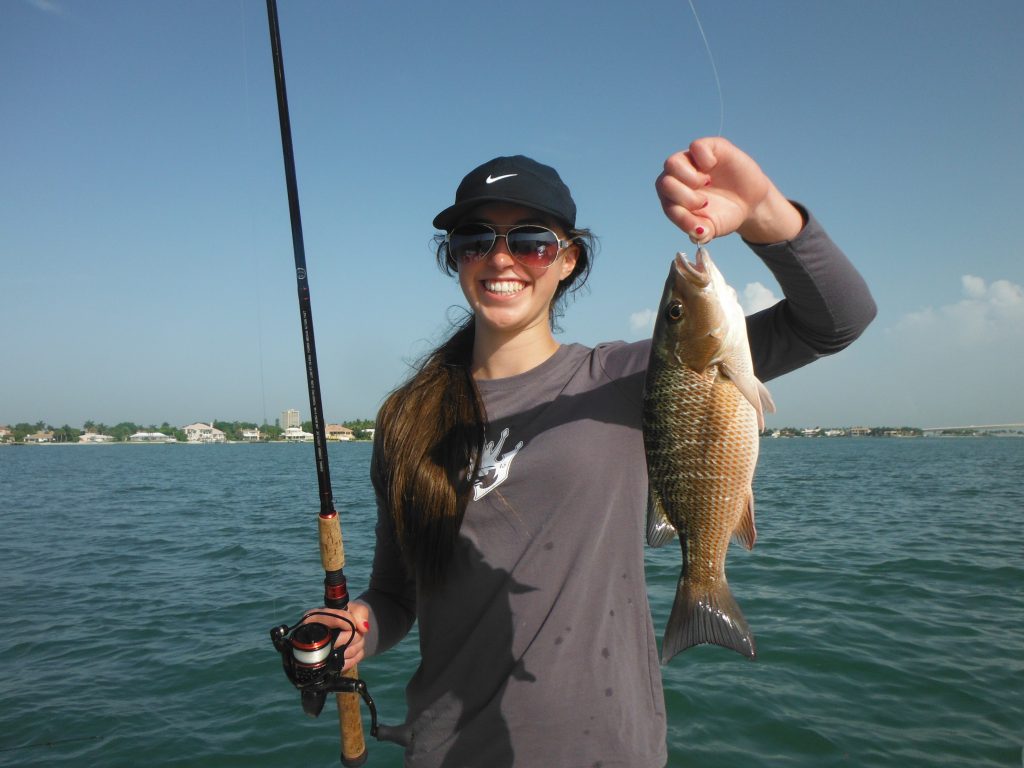 Light tackle fishing charters in Siesta Key

I recently changed over to the St. Croix Triumph line of inshore saltwater fishing rods. They are 7 feet long, are light, and have the fast action that I prefer. By fast action, it refers to the way the rod is built. It is stout at the butt section and gives anglers the chance to power away larger fish while being limber in the last one quarter of the rod. This is the best overall combination for inshore saltwater fishing.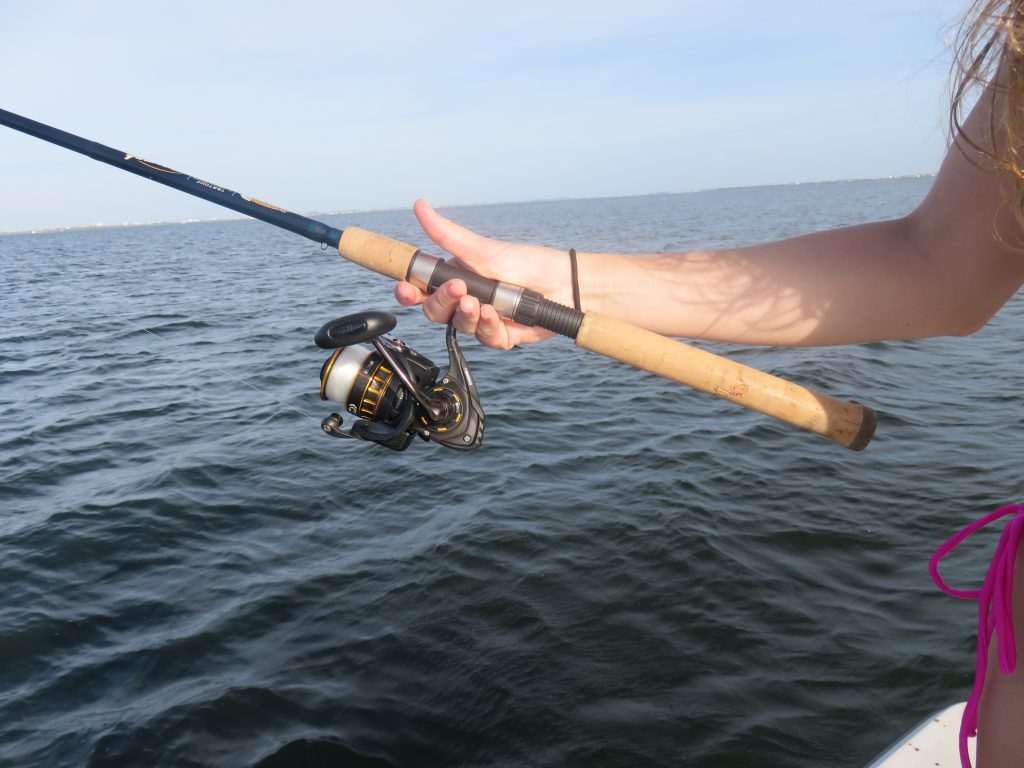 I match these rods with a 2500 series reel. I am using two different reels right now, the Daiwa Black Gold and Penn Fierce reels. Both work well, with the Penn reels being a bit more durable. I spool them up with 20 pound braided line or 10 pound monofilament line, depending on the anglers experience in the type of fishing that I am doing.
Light tackle fishing techniques

Sarasota offers anglers quite a few options when it comes to fishing techniques. In most of these, light tackle is the best option. Anglers can cast artificial lures, use live bait, bottom fish, vertically jig, and troll while out on a Siesta Key light tackle fishing charter.

Light tackle fishing with lures
I really enjoy fishing with artificial lures! Lures have several advantages over live bait. Clients are often surprised to learn that artificial lures will often out produce live bait. There are several advantages for this. Lures allow anglers to cover a lot of water in search of fish. They also elicit strikes from fish that are not hungry. Lures are also convenient and there's no time wasted purchasing or catching bait.
The number one lure by far that I use on my light tackle fishing charters in Siesta Key is the jig and grub combo. This is an extremely effective artificial lure that will catch just about every saltwater species all over the world. The jig and grub is easy to cast and to learn to use, even for novice anglers.
The lure consists of a lead head jig. This is basically a hook with a piece of lead molded up near the eye. In most instances, I use a 1/4 ounce jig. The lead head not only provides wait for casting, it also gives the lure its action. Some type of soft plastic grub is then threaded onto the jig head. The grub body can mimic a bait fish or a crustacean. Many colors and combinations can be effective.
The technique used when fishing with a jig and grub is fairly simple. I place the boat upwind of a grass flat that I want to fish. As the boat drifts along, anglers cast down wind, allow the lure to sink a few seconds, then retrieve it back using sharp hops. In most instances, the fish will take the jig as it falls. This is a very productive technique for speckled trout, Spanish mackerel, pompano, bluefish, ladyfish, jacks, and more!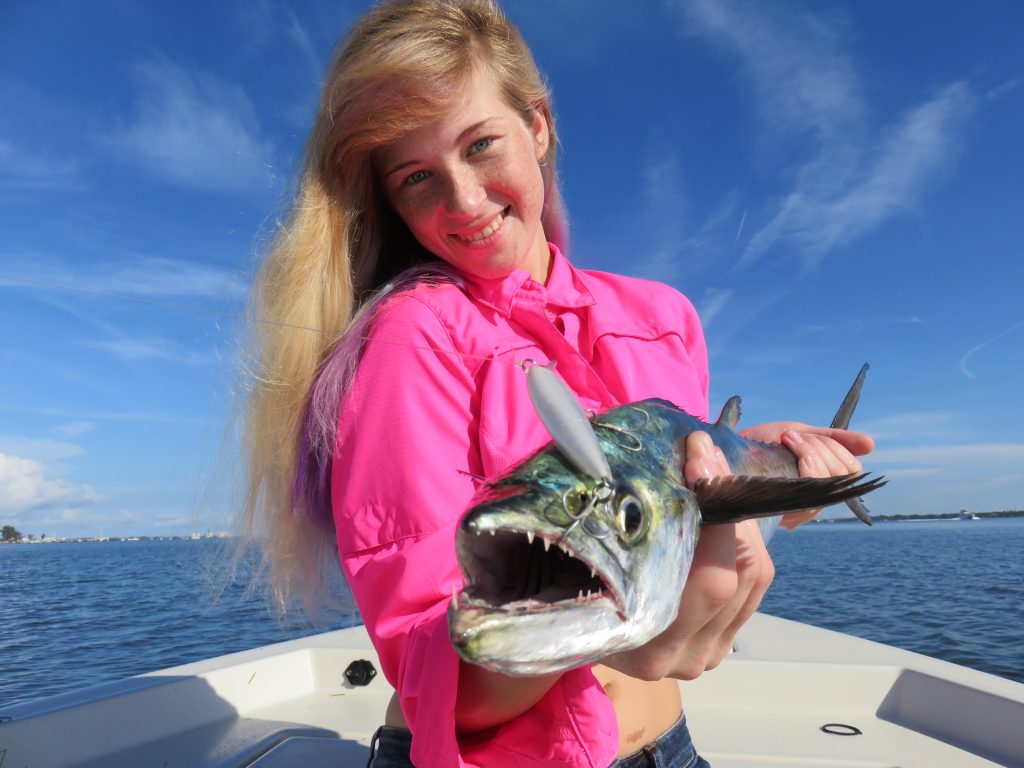 There are other lures that anglers can cast as well when going out on light tackle fishing charters. My second favorite lure is the Rapala X-Rap Extreme Action Slashbait. This is in the family known as jerk baits. It is a long slender plastic plug that has a very erratic action. It works well when both cast and trolled. I use this lure extensively when fishing for snook and jacks in the back country and creeks.
Spoons are the third family of lures that I will use on my light tackle fishing charters in Sarasota. Spoons cast a long way and have a lot of built in action. They are an excellent lure for novice anglers to use. The aggressive, erratic, fast action especially appeals to Spanish mackerel, bluefish, and ladyfish. They are a great choice when fish are seen breaking on the surface.
Fishing with live bait using light tackle

While casting artificial lures is fun and exciting, there are times when live bait is a better choice. This is especially true with kids and novice anglers. A live shrimp free lined out behind the boat will catch just about every species in Sarasota Bay and is an easy technique for anyone to use. Since the shrimp weigh very little, light tackle is by far the best choice.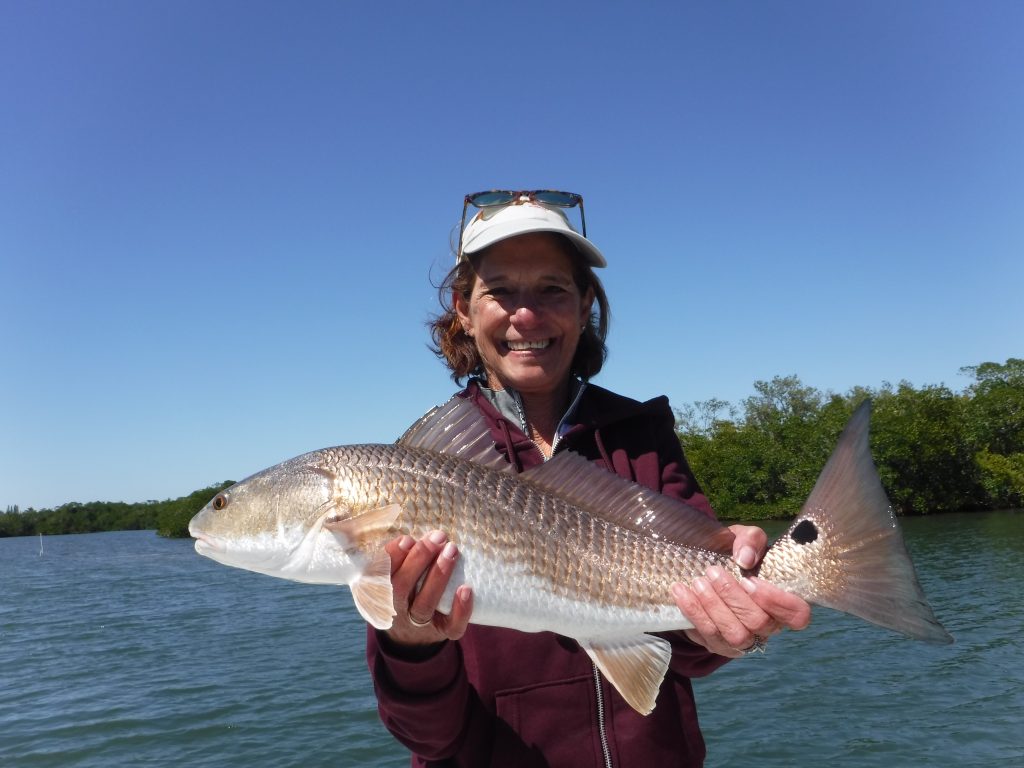 In the summer time, I will use my cast net to capture small silvery fish known as white bait. These are scaled sardines and threadfin herring for the most part. After catching bait, I will anchor up on a flat and use some of the bait to chum game fish up behind the boat. It is a simply a matter at this point to hook a bait, cast it out, and catch a fish. Anglers on light tackle fishing charters in Sarasota can experience some incredible action using this technique.
Bottom fishing is another technique that is easy for any angler to employ. It is something that I do on my light tackle fishing charters in Sarasota, especially in the winter and early spring. My main quarry at this point is sheepshead, which are a member of the porgy family. These tasty bottom fish move into structure in and near the passes and provide not only good action but a tasty meal or two.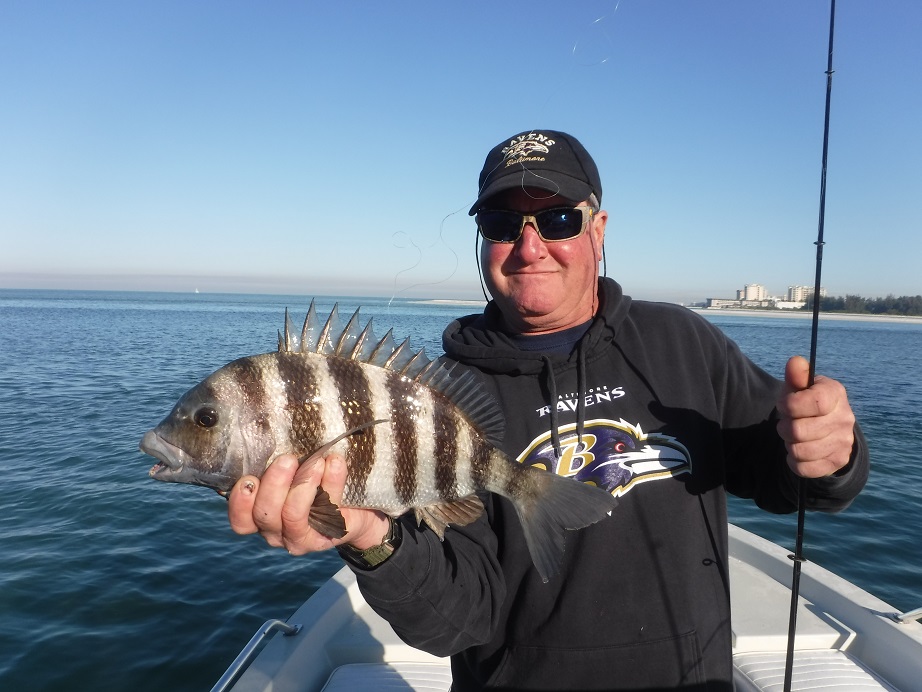 For the most part, I use live or frozen shrimp for most of my bottom fishing in Siesta Key. Just about any structure including docks, bridges, seawalls, wrecks, reefs, and oyster bars can hold bottom fish. Along with sheepshead, anglers can catch mangrove snapper, grouper, flounder, and drum. The occasional snook or redfish may be encountered as well.
Vertical jigging produces in the passes
There are two large flats that connect the Gulf of Mexico with Sarasota Bay in Sarasota. These inlets are called the passes along the Gulf Coast. Big Sarasota Pass and New Pass can be outstanding fishing spots when conditions are right. One of the best ways to fish the passes is vertical jigging. This is a very easy and productive technique that I often use on light tackle fishing charters in Sarasota.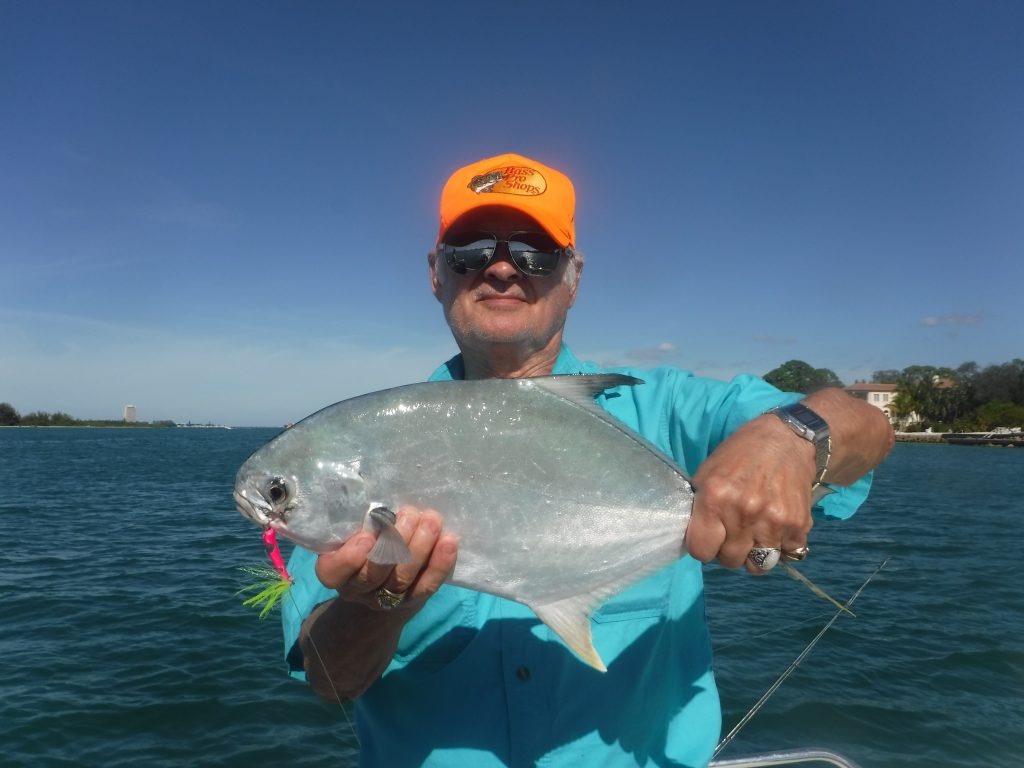 For this technique I use a slightly different. The jig and grub combo is a little too bulky and does not sink fast enough. Therefore, I will use a smaller, denser jig that will get down to the bottom. These are locally known as pompano jigs and will certainly produce these terrific fish. However there are also extremely effective on a variety of other game fish ladyfish, mackerel, jacks, and bluefish.
This is a very easy way to fish as no casting is required. The jig is simply let down to the bottom and then as the boat drifts with the tide the lure is bounced erratically up and down. Each time it hits the sand it kicks up a little puff of sand, simulating a fleeing crustacean. The aspect that makes this so productive is that the lure spends almost all of its time in the strike zone. These jigs are usually a quarter ounce or less, making light tackle the obvious choice when using this technique.
Trolling is another technique that I use on my light tackle fishing charters. Many anglers associate trolling with heavier tackle, and this can be true for larger game fish such as king mackerel. However, I employee trolling quite often on my trips. It is a very effective way to catch a variety of game fish on the flats, passes, out in the open Gulf of Mexico, and even in creeks.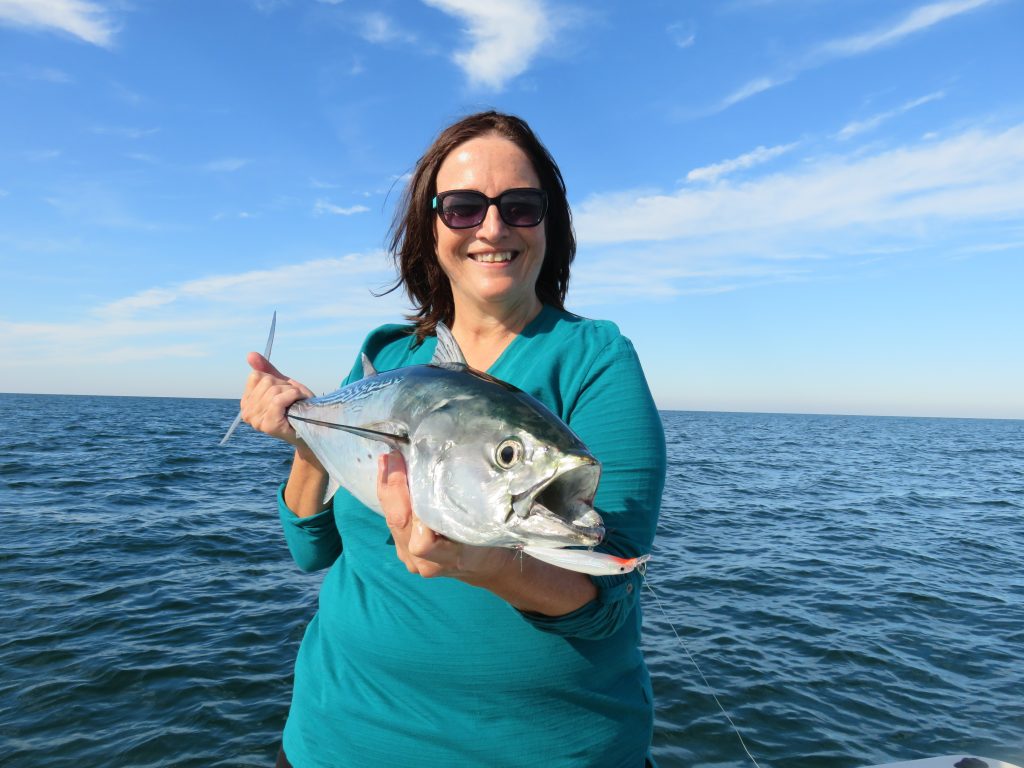 I use the same Rapala X-Rap for trolling that I do for casting. It is an outstanding lure with terrific action. Anglers simply let the lure out 10 to 15 seconds behind the boat that hold on as I idle around. This works very well when Spanish mackerel are scattered about. It will also produce bluefish, trout, and ladyfish on the deep grass flats and out in the inshore Gulf of Mexico. Trolling in creeks in the winter is an extremely effective technique, especially for snook and jack crevalle in Sarasota rivers.
In conclusion, this article on light tackle fishing charters in Sarasota will help anglers understand the wide variety of fishing options that this area offers!