Live bait fishing Siesta Key
Live bait fishing Siesta Key will produce the most action for the majority of novice anglers on Siesta Key fishing charters. The two predominant baits used here on the West Coast of Florida are shrimp and bait fish. Shrimp can be purchased at most bait shops and are the "nightcrawler of saltwater", they catch everything!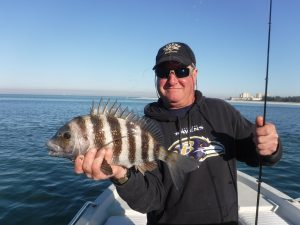 Anglers fishing from shore will need a bait bucket to keep them alive. Most buckets have holes in them so that the bucket can be lowered into the water, insuring a supply of fresh water to the shrimp. Small battery operated air pumps can be purchased to keep them frisky in a five gallon bucket. Most fishing boats have an aerated baitwell.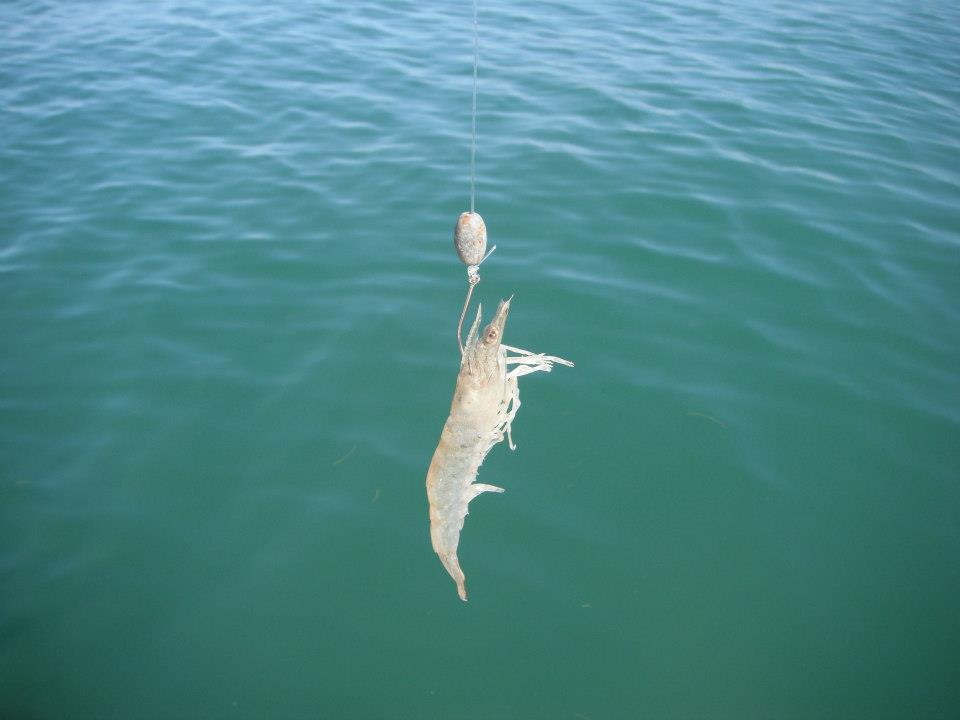 Capt Jim has been a fishing guide in Sarasota, Florida since 1991. Anglers who are interested in purchasing the equipment that he uses and writes about in his articles can do so on the PRODUCTS page.
Bait fish come in all shapes and sizes; big fish have been eating small fish for a long time. The two basic types are "whitebait" such as scaled sardines (pilchards), threadfin herring, and sardines and "fin fish" including pinfish and grunts. All are productive when live bait fishing Siesta Key.  Fishing with bait fish is more complicated; they must be caught by the angler in most cases and are more difficult to keep alive. Whitebait in particular need the water changed constantly. Pinfish and grunts can be kept alive in a bucket for a while.
Siesta Key fishing charters video
Most clients really enjoy being a part of the bait catching process. Young children in particular are enthralled when the net comes back with hundreds of little squirming minnows! It is great fun scooping up the stray baits that fall out of the net. Also, other marine life such as starfish and sea horses are occasionaly caught.
Live bait fishing Siesta Key techniques
The rig for live bait fishing Siesta Key is fairly simple. A #10 black swivel is tied onto the end of the main line and 24" of 30 pound fluorocarbon leader is tied onto the other end of the swivel. A hook finishes off the rig. Hook choice is determined by the size of the bait being used. In most cases, a #1/0 short shank live bait hook is a good choice. Shrimp are hooked either under the horn just behind the eyes or in the tail.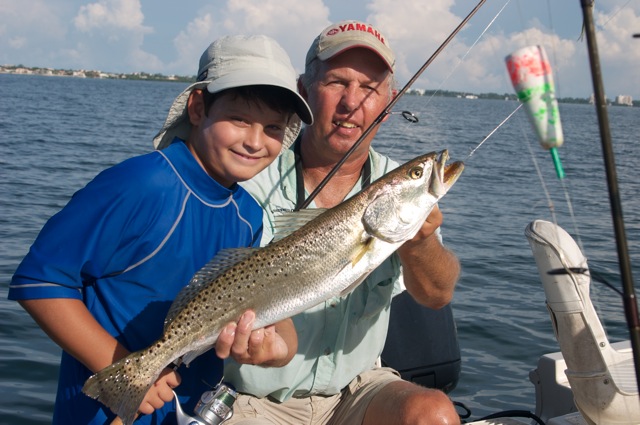 Baitfish can be hooked under the dorsal fin or through the lips or nose. A float can be used to suspend the bait from the bottom and weights can be added to both get the bait down to the bottom along with adding distance to the cast. Baits can also be "free-lined" which means just hooked on with no other weight and allowed to swim naturally in the current.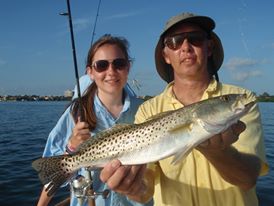 It is probably safe to say that over the years more trout and other species have been caught live bait fishing Siesta Key with a shrimp under a popping cork than any other method. A popping cork is a float that has a concave face with a weight at the bottom. The float sits up-right in the water and when the rod tip it "twitched" sharply, the float makes a "pop" which imitates fish feeding on the surface and attracts game fish to the bait. In recent years noisy "clacker" type floats have become popular. These are effective but one drawback if that the depth cannot be changed as easily since the leader is tied on versus the popping cork which slides onto the line.
Popping corks and other tactics
Using the popping cork rig is quite easy. The cork is attached 3-4 feet above the hook, which is baited with a live shrimp. If a lot of current or wind exists, adding a small split shot a foot above the hook may be required to keep the bait down. A 7' rod works best as the rig is "lobbed" out using an easy swinging motion. Once the bait settles, reel up the slack and twitch the rod sharply. The cork will "pop" and the shrimp will jump up, and then slowly settle back down.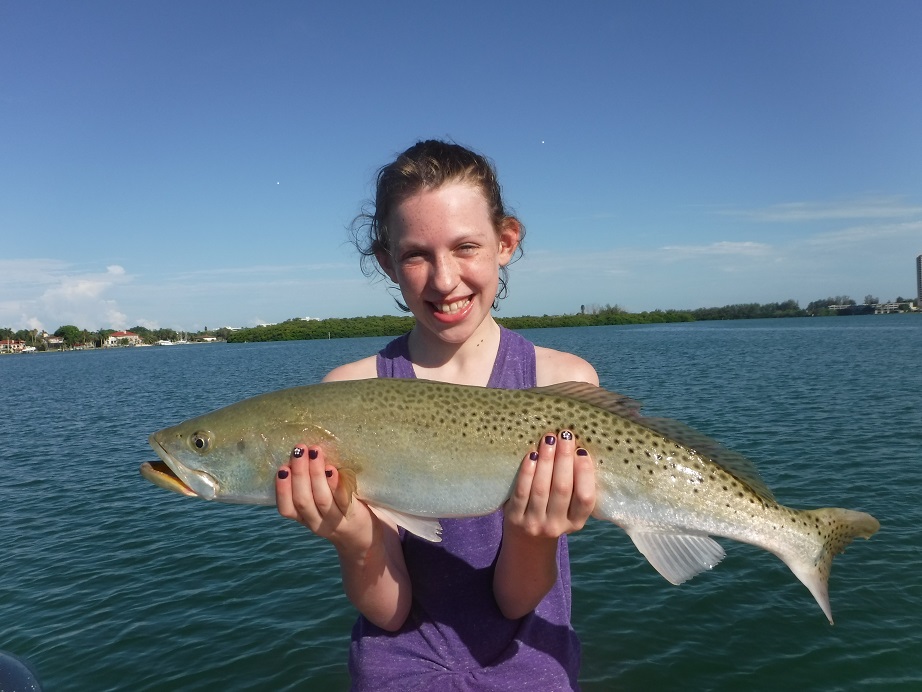 Fish find this difficult to resist! Wait 30 seconds or so and repeat. Do this several times then reel it in and cast out to a different spot. When the float disappears, reel the slack up and set the hook. This works well from both the shore and from a drifting boat when live bait fishing Siesta Key. A bait fish can also be used in place of a shrimp.
Both live shrimp and bait fish can be "free-lined". This simply consists of hooking the bait, casting it out to a likely spot, and waiting for it to get eaten. This works best over deeper grass flats, off the beach, and near structure such as docks and bridges. It will not be effective in shallow water as the bait will go down into the bottom to hide.
Bottom fishing techniques

Bottom fishing is another popular method when using live bait. This is usually done from shore or from an anchored boat. The amount of weight needed will be determined by the depth of the water and the strength of the current. The rule of thumb is to use only enough weight to hold the bottom. If the bait moves too much it will eventually snag on the bottom. In shallow water a split shot or two will often times be enough.
In deeper water or if current is present, a sliding egg sinker should be used. The sinker can be added on the main line above the swivel, this is called a "fish finder" rig. It allows the fish to pick up the bait and move without feeling the weight. Another method is the "knocker" rig which puts the weight right on the eye of the hook. This works well and will not hang up as often. Frozen bait and fresh cut bait can also be used effectively when bottom fishing.
Fishing has been steady so far.  My late spring Siesta Key fishing report reflects the action on my trips. Conditions have not been perfect as the water has been a bit dinghy with areas of that thick mossy-type grass, perhaps due to the wind and rain. Finding patches of clean water has been important on the deep grass flats.
Baitfish are starting to show up on the flats and bars near the passes, though most of it is too small to net right now. Snook are fairly plentiful in both passes and starting to show up in good numbers out on the beaches. As the surf clears and settles, the beach snook fishing will improve. Tarpon fishing has been sub par this year, mostly due to long periods of west wind.
Siesta Key fishing with live bait

I spent most of my time on charters fishing the deep grass flats as most of my clients included families with children and novice anglers. Drifting the flats and casting Bass Assassin jigs and live shrimp was productive for a variety of species. Speckled trout were the most commonly caught fish, but Spanish mackerel, bluefish, jacks, gag grouper, mangrove snapper, pompano, ladyfish, sharks, cobia, and catfish were landed as well.  This is a normal spring Siesta Key fishing report.
Snook school up in both Big Sarasota Pass and New Pass and this is a great time for less experienced anglers to catch them. Chumming with white bait will produce a lot of fish. A free lined large live shrimp is also a very effective bait for snook. Docks, bridges, rocky structure, and even sand beaches in and near the passes will hold snook. Afternoon outgoing tides can be a great time to fish. Snapper, grouper, flounder, and other species will be landed as well.
Spring Siesta Key fishing reports includes that redfish were landed in Robert's Bay and in creeks and canals throughout the area.  A live hand-picked shrimp is tough to beat.  Snapper, snook, drum, sheepshead, flounder, and more will take a shrimp as well.  As we get into summer the reds shouls school up on the flats, especially up in norh Sarasota Bay.
Live bait produces on family fishing charters
It is mid-June here in Florida and most of my Siesta Key fishing charters involve families and children. The kids are out of school for the summer and many families choose to visit Sarasota and Siesta Key and Lido Key and Siesta Key summer fishing is in full swing. Fishing has been steady, although the water is quite warm, in the upper 80's. This warmer water temperature resulted in the fish being less aggressive and so a change in tactics was required. Jigging became less effective, so it was to get out the cast net.
I switched over to catching live bait fish this week. This is a very effective technique when Siesta Key summer fishing.  Schools of pilchards and sardines showed up in decent size and numbers, so each morning I netted up a bunch and used them as chum and bait. Getting out there early, at first light, was very important as it gets very warm by late morning. The early bite was also the best action.
Deep grass flats are very productive
The grass flats in 6′ to 8′ of water near the passes at Bird Key, Radio Tower, and Middlegrounds produced decent action and variety. Speckled trout, Spanish mackerel, bluefish, jack crevelle, mangrove snapper, gag grouper, ladyfish, catfish, and more were attracted to the chum and fed behind the boat.
Sarasota Bay is still a bit off color, for whatever reason. There is also quite a bit of thick, mossy weed that can make fishing a bit frustrating as it gets attached to the hooks and lines. Our daily afternoon storms should start any day now, which will result in lower water temperatures and will really help improve the fishing.  While live bait is very reliable, artificial lures can be used successfully, especially first thing in the morning.  Combining both techniques can work well when Siesta Key summer fishing.
In conclusion, this article on live bait fishing Siesta Key will help visiting anglers catch more fish!