Fishing for Siesta Key redfish
Redfish fishing is another challenging and highly sought species in Sarasota waters.  They are known in other parts of the country as "red drum" and "channel bass".  Reds are caught all year long in the shallow water of the inshore bays, under docks, and around oyster bars.  Siesta Key has quite a bit of this fish-holding habitat.  In late summer they school up in large numbers and move out into the Gulf of Mexico to spawn.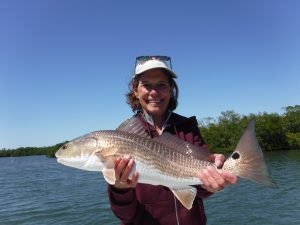 Capt Jim has been a fishing guide in Sarasota, Florida since 1991. Anglers who are interested in purchasing the equipment that he uses and writes about in his articles can do so HERE on the PRODUCTS page.
A large, live shrimp is a tough bait to beat, but pinfish, pilchards, and other baitfish will work, too.  Redfish are taken under docks and around structure, often times they will take a shrimp or bait fish meant for other species.  Redfish fishing can be difficult as ther can be tough to locate.  Artificial lures such as jigs and spoons allow anglers to cover water quickly in search of a school of fish.  Redfish are excellent table fare and have come back from severe over-fishing in the late 80's.
Many redfish are caught in very shallow water
Redfish fishing is done on the very shallow flats.  It seems to be contradictory, but the larger fish can often times be in the shallowest water.  Redfish will feed on crabs and shrimp in water as shallow as six inches.  These fish are very spooky and not at all easy to catch.  A gold weedless spoon will fool them, as will a light bucktail or soft plastic jig.  They will even take a top water plug.
Redfish can tolerate cold water better than some other species, though they will move off of the flats and drop down into deeper holes.  Residential canals and creeks are good spots.  Phillippi Creek is right across from Siesta Key and is a great spot for redfish fishing in the winter.  Fish will congregate in the deeper holes on the low tide stages.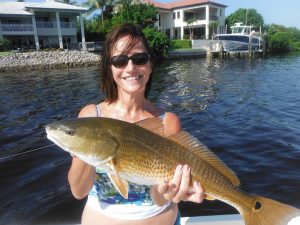 Redfish are great fun for anglers going out on a Siesta Key fishing charter.  Current regulations can be found HERE.