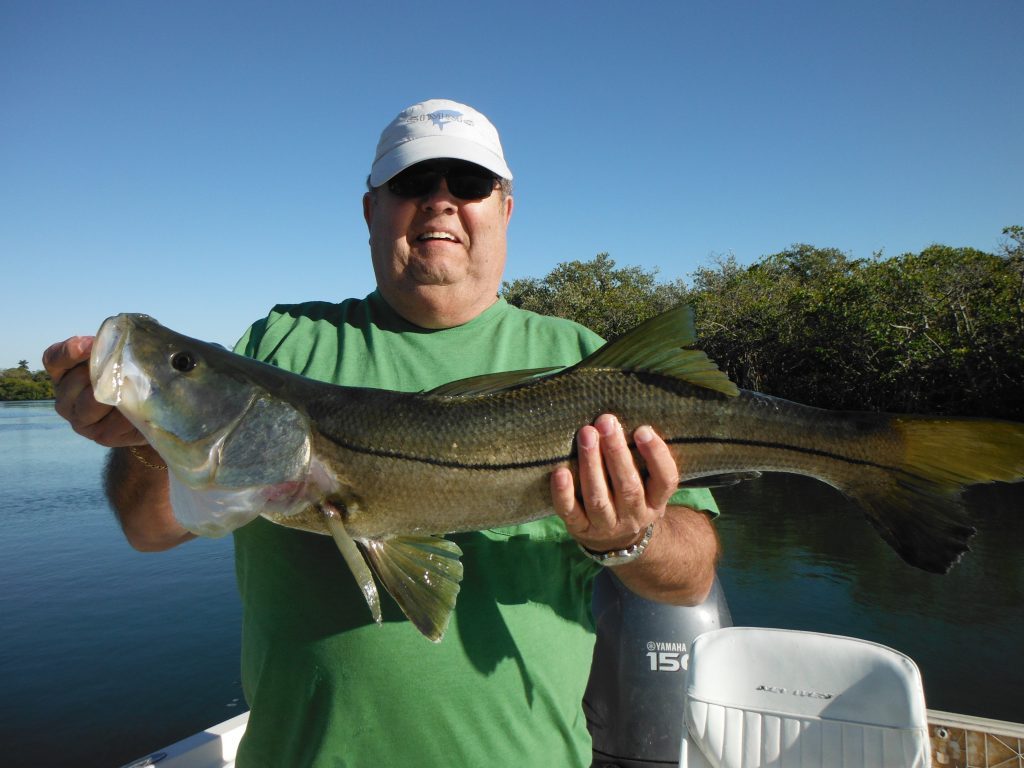 Sarasota Bay Fishing Charters with Capt Jim
My name is Capt Jim Klopfer and I run Sarasota Bay fishing charters. Sarasota Bay is roughly ten miles long and three miles wide at it's widest point. It is shallow, with a maximum depth of ten feet or so. Sarasota Bay has acres of lush grass beds, which are the key to it's health and productivity. Two passes, Big Sarasota Pass and New Pass connect Sarasota Bay with the Gulf of Mexico.

For the purposes of this article, I will call Sarasota Bay from Long Bar to the north to the Siesta Drive bridge on the south end. This is the area that I fish on my Sarasota Bay fishing charters. There is a variety of structure including submerged grass beds, oyster bars, docks, bridges, reefs, and rocks.
I use a variety of techniques as well on my Sarasota Bay fishing charters. Drifting the deep grass and casting lures and bait is very productive. The passes are excellent spots to both drift and bottom fish. Anglers seeking snook and redfish can try to shallow flats and mangrove shorelines.
Sarasota Bay fishing charters
Sarasota Bay offers anglers some good fishing opportunities, especially considering the level of development in the area. Sarasota is a very fast growing city and the water resources get a lot of traffic and pressure. Fortunately, clients on Sarasota Bay fishing charters have both resident and migratory species to catch.
Sarasota fishing charter video
One of the cool aspects that anglers going out on Sarasota Bay fishing charters enjoy is the variety of species available. On my best charter, we landed 23 different species in six hours! On an average trip, my clients land 6-8 species. Most are released, but if my clients want to keep a couple to eat, that is fine.
I also use a variety of lures, baits, and techniques on my Sarasota Bay fishing charters. I prefer using artificial lures when I can. They allow anglers to cover a lot of water and are fun to fish. However, I will certainly use live bait when needed. Shrimp and bait fish are the top live baits.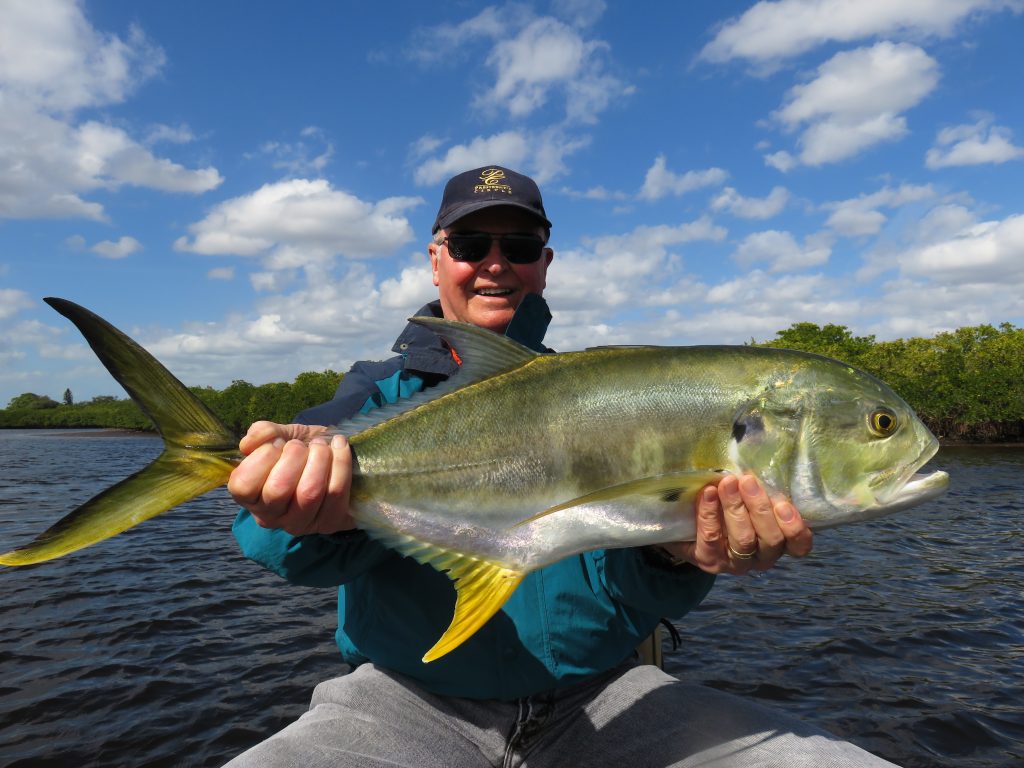 Techniques used on Sarasota Bay fishing charters
I use several techniques on my Sarasota Bay fishing charters. These include casting lures, casting live bait, bottom fishing, vertical jigging, trolling, and fly fishing. Each of these will be covered in more detail below.
Casting lures on Sarasota Bay fishing charters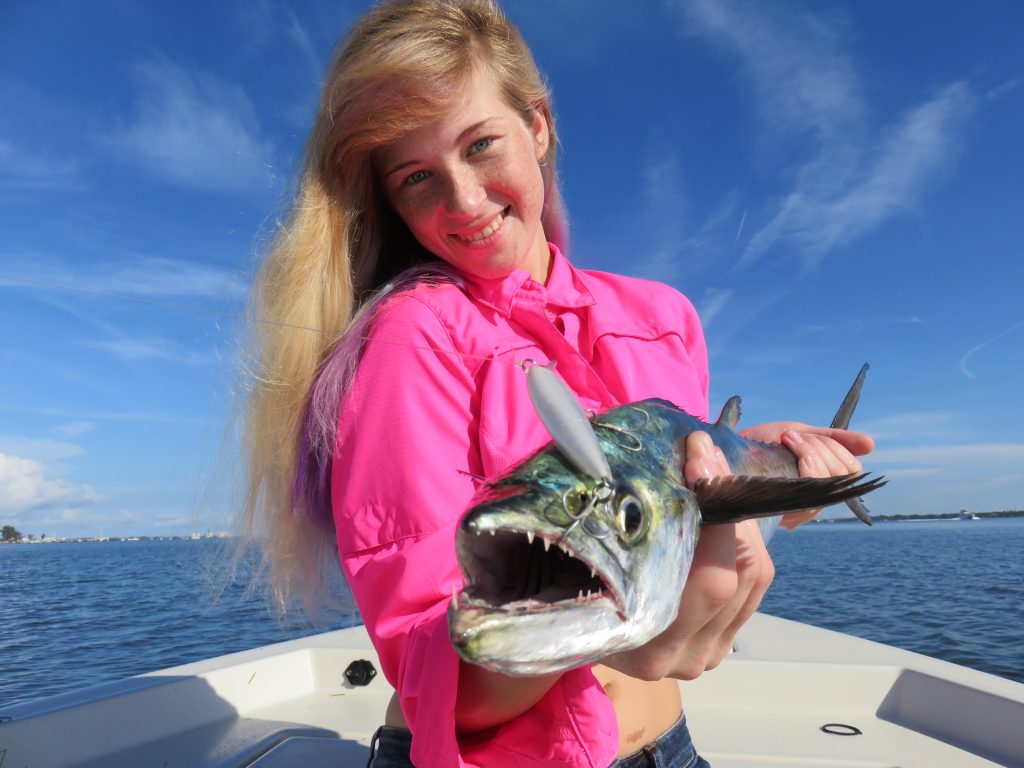 I really enjoy fishing with artificial lures on my Sarasota Bay fishing charters. There are a couple of lures that I use the majority of the time. These are jigs and plugs. Both of these lures catch a variety of species and can be used in multiple ways.
Casting a jig and grub while drifting the deep grass flats (submerged vegetation in water between 5 feet and ten feet deep) produces a lot of fish for my clients. It is fun, easy, and productive. As the boat drifts with the wind, anglers cast the jigs out ahead of the boat. Speckled trout, bluefish, Spanish mackerel, bluefish, ladyfish, pompano, and other species are daily catches.
I will also use a jig with a soft plastic bait when fishing for snook, redfish, and jacks. They are very effective when worked along a mangrove shoreline or oyster bar. Generally, I opt for larger baits such as a 5" fluke style bait. Small compact jigs are extremely effective when vertically jigged in the passes
Plugs are very effective artificial lures as well. I use them more with experienced anglers due to the treble hooks. They work well when fishing shore lines as they dive a few feet and won't snag on the bottom. Trolling with plugs is also very effective, whether it be in creeks, passes, or in the open bay.
Fishing with live bait on Sarasota Bay fishing charters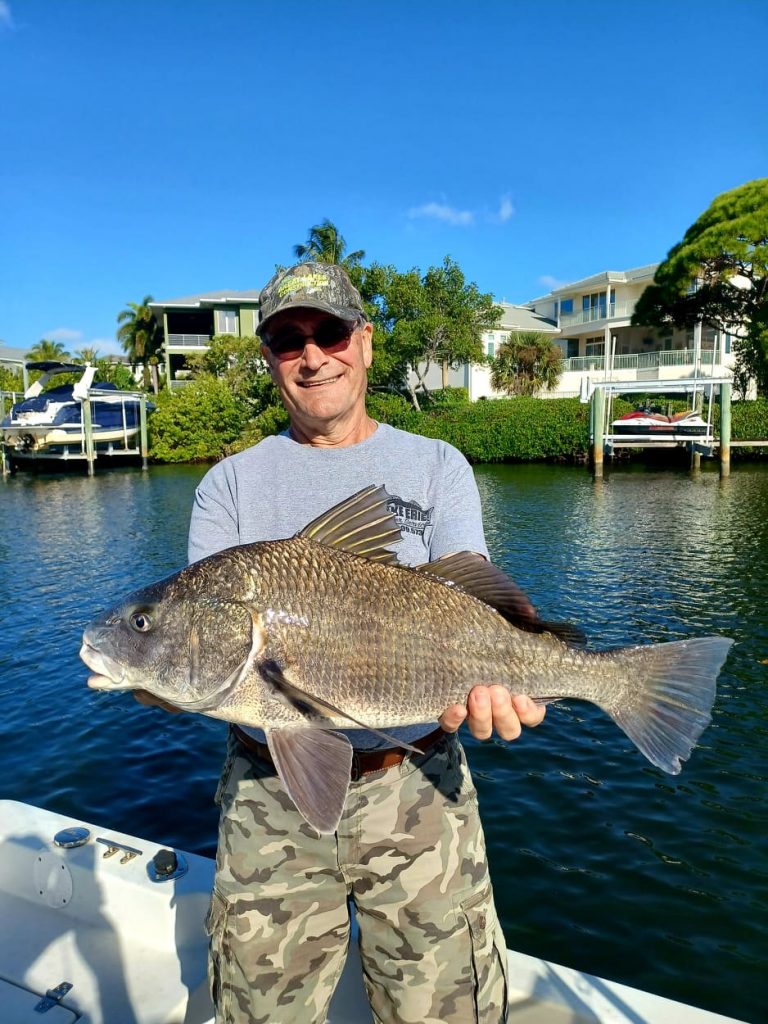 There can be no doubt that live bait produces fish. It was perhaps the first method used to catch them with a line and hook. I use live bait on my Sarasota Bay fishing charters often, especially with children and novice anglers. Live shrimp are the top bait, followed by small bait fish.
Live shrimp are the top bait in Florida. They are available all year long at every bait shop that caters to saltwater anglers. Shrimp are versatile and be be fished in a variety of ways. Just about every saltwater species feeds on live shrimp.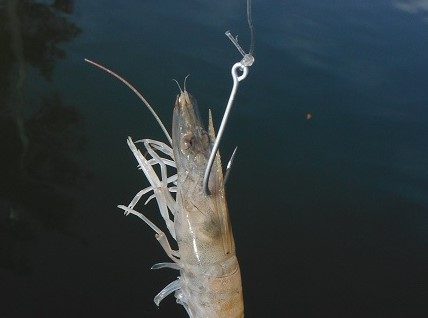 I normally free line a shrimp. This means just using a hook and leader, no weight, and allow the shrimp to swim naturally. This is a very effective presentation! It works on the open grass flats and around structure such as mangroves, oyster bars, and docks. Live shrimp can also be fished under a float to keep it out of the grass.
Big fish have been eating little fish forever. Therefore, small bait fish are effective at catching larger game fish. In the summer, I use sardines and herring on my Sarasota Bay fishing charters. I catch a bunch and use some for chum while hooking baits to catch the fish. I usually free line the bait but will fish it under a float in shallow water. Pinfish, grunts, finger mullet and other small fish can be used as well.
Bottom fishing on Sarasota Bay fishing charters.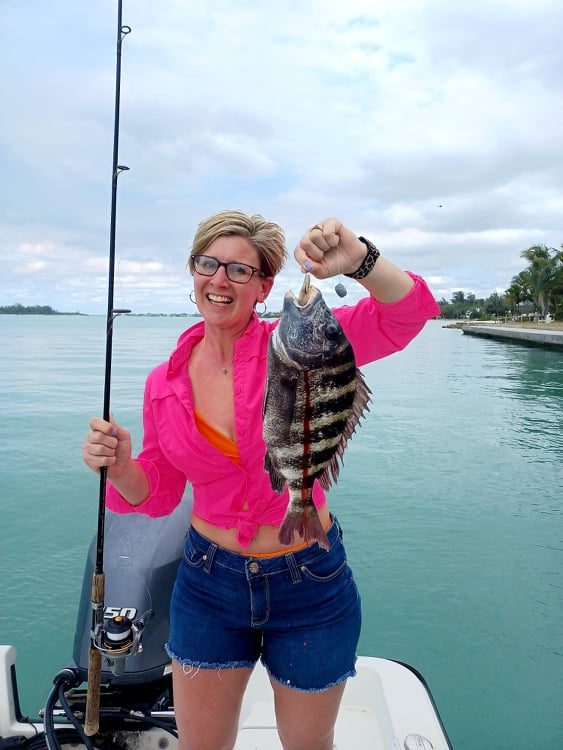 Bottom fishing is another standard saltwater angling technique that I use on my Sarasota Bay fishing charters. It is differentiated from fishing with live bait in that the bait can be dead or frozen and is fished, usually with weight, right on the bottom. This is usually done around structure of some sort, such as ledges, rocks, reefs, docks, and bridges.
The vast majority of the bottom fishing that I do in Sarasota Bay is using shrimp, live, dead, or frozen, for sheepshead in late winter and early spring. Sheepshead move into the passes in big numbers to spawn. They feed on crustaceans and are rarely caught on lures. Mangrove snapper and other species are caught as well.
In some areas, anglers bottom fish using live bait. The problem with this in Sarasota Bay is that the result will likely be undesirable species such as catfish and rays. It can produce some quality fish, but more of the other. I do bottom fish with cut bait on my Gulf of Mexico fishing charters.
Vertical jigging on Sarasota Bay fishing charters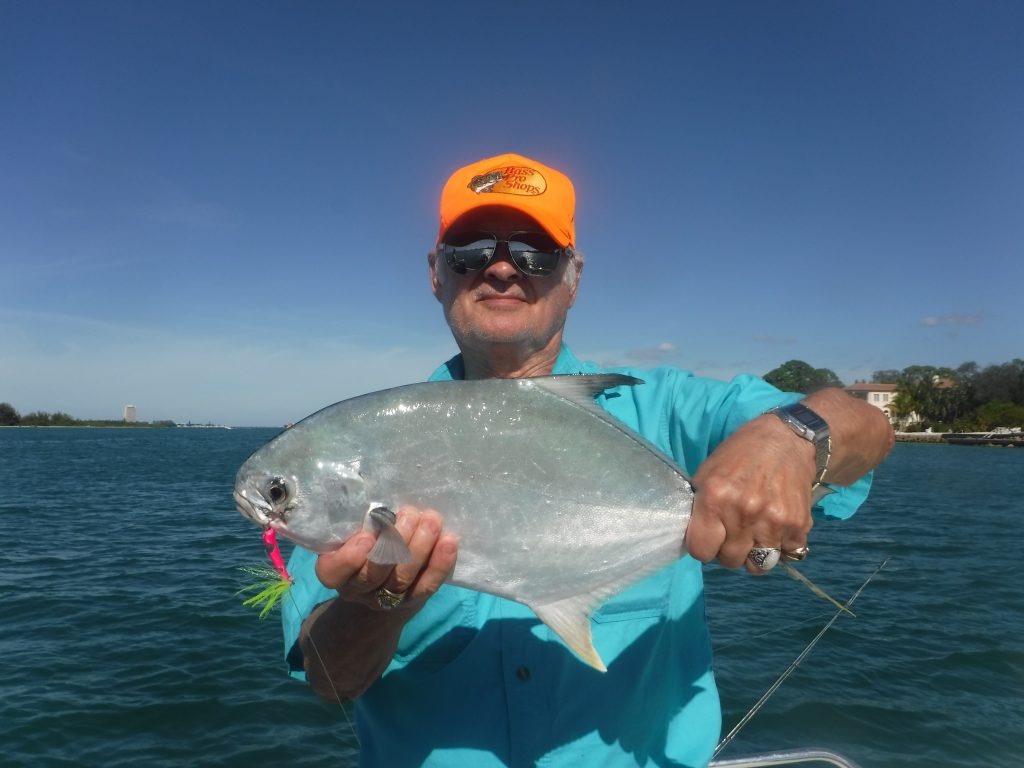 Vertical jigging is a very effective fishing technique. It use it quite often on my Sarasota Bay fishing charters. I mostly do it in the passes, but will also drift deeper holes in the bay as well. Vertical jigging is very easy and it a great option for novice anglers. It will produce a variety of fish including pompano, ladyfish, mackerel, jacks, bluefish, whiting, and more.
Vertical jigging is a very efficient angling technique. The jig stays in the strike zone (on or just off the bottom) the entire time. No real casting is required, making it a great choice for kids, novice anglers, and those that must sit and can't move around. A dense, heavy jig is used to get to the bottom, usually ½ ounce. A small piece of shrimp can be added to the jig as well.
Trolling on Sarasota Bay fishing charters
Trolling is another very effective and efficient fishing technique. I use it on my fishing charters to locate fish when they are spread out are difficult to locate. Also, as I idle back across a flat to re-drift it, might as well drag a bait behind. I mostly troll in creeks, passes, and on the deeper flats.
The lure I use when trolling is almost always a #08 Rapala X-Rap. It is a shallow diving plugs and Spanish mackerel in particular love them. Bluefish, trout, ladyfish and more will hit them. Snook and jacks will be caught trolling in creeks and canals in winter. Again, it is a very easy technique that anyone can do!
Fly fishing in Sarasota Bay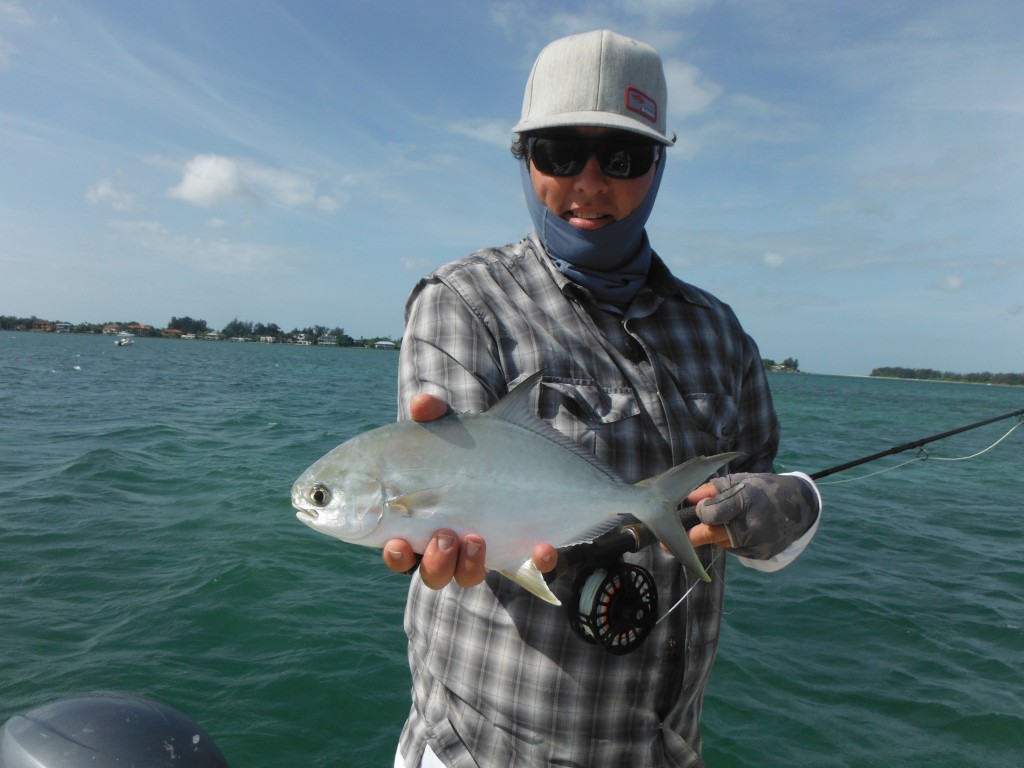 I am doing more and more fly fishing charters in Sarasota Bay. Just about any fish that can be caught on a lire will take a well presented fly. Flies mimic bait fish and crustaceans, which is what most fish feed on.
A 7wt or 8wt outfit with an intermediate sink tip line works well in most situations. The sinking line is very important to get the fly down. I fish the flats in warmer months and the creeks and canals for snook and jacks in the winter.
In conclusion, this article on Sarasota Bay fishing charters will help anglers understand the techniques and species that are available on a fishing trip!