Sarasota Fishing Charters for Siesta Key Anglers!
Sarasota Fishing Charters for Siesta Key Anglers!

Visiting anglers often choose Sarasota fishing charters as a vacation activity. Anglers of all ages and experience levels are welcome aboard!
Capt Jim Klopfer offers Sarasota fishing charters to anglers visiting the Sarasota and Siesta Key area. There are a wide variety of species that are available, depending on the season. Several different techniques are used as well. Capt Jim will cater the fishing charter to the experience level and expectations of the client. Sarasota has fishing opportunities for both novice and experienced anglers.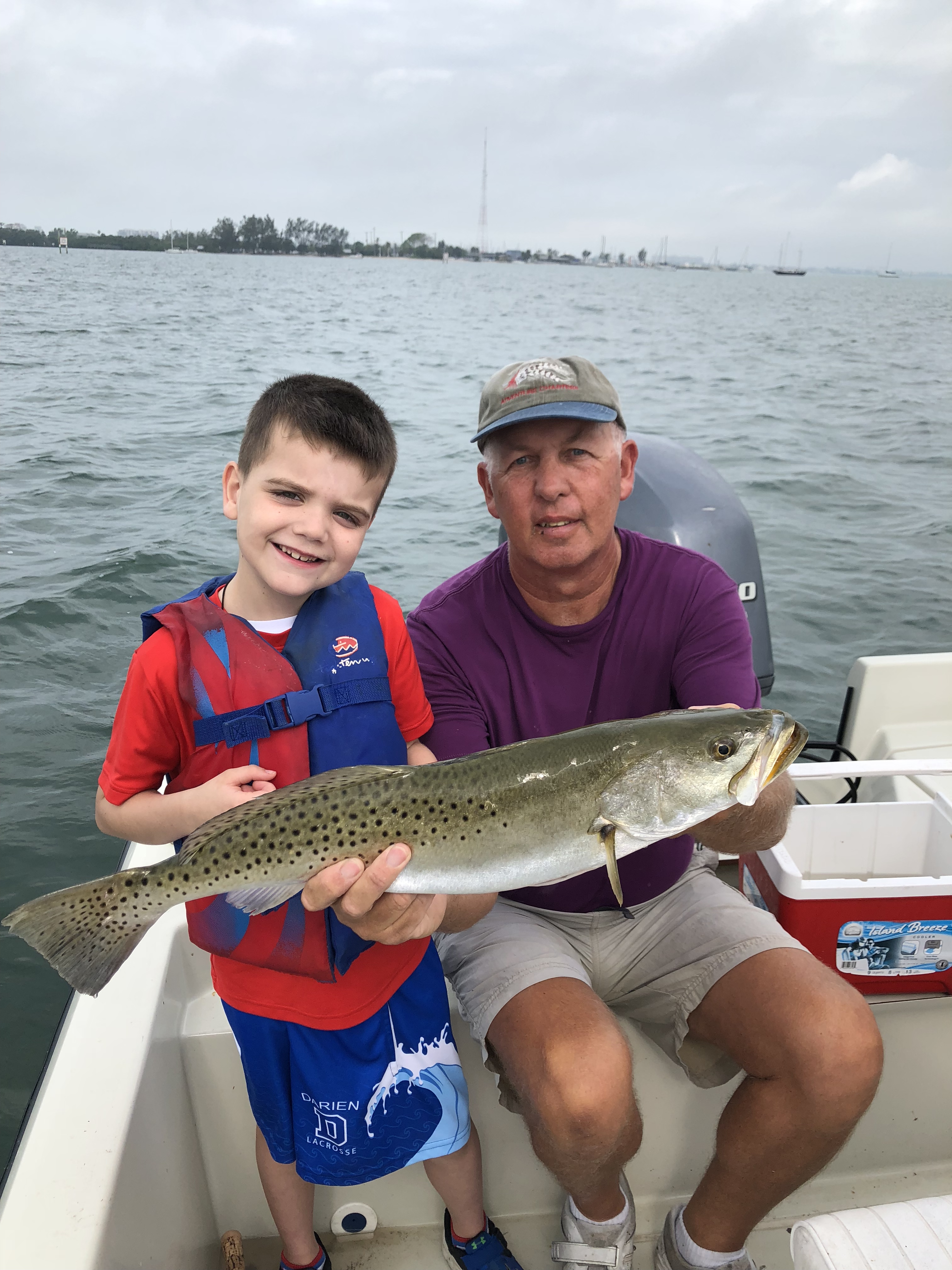 Sarasota is a resort town on the west coast of Florida. It lies an hour south of Tampa Bay. Despite the development and pressure, Sarasota offers excellent fishing all year long. Species do change with the seasons, but there is always some type of fish that will cooperate. Like all fishing, weather is also a factor.
Capt Jim has been a fishing guide in Sarasota, Florida since 1991. Anglers who are interested in purchasing the equipment that he uses and writes about in his articles can do so HERE on the PRODUCTS page.
Fishing the deep grass flats on Sarasota fishing charters

One technique that produces a lot of fish on Sarasota fishing charters is drifting the deep grass flats. These are submerged grass beds in water that ranges from 4′ deep to 10′ deep. Crabs, shrimp, and bait fish hide in these weed beds. This in turn attracts the game fish. Speckled trout, Pompano, Spanish mackerel, bluefish, ladyfish, catfish, jacks, and more are caught daily by clients.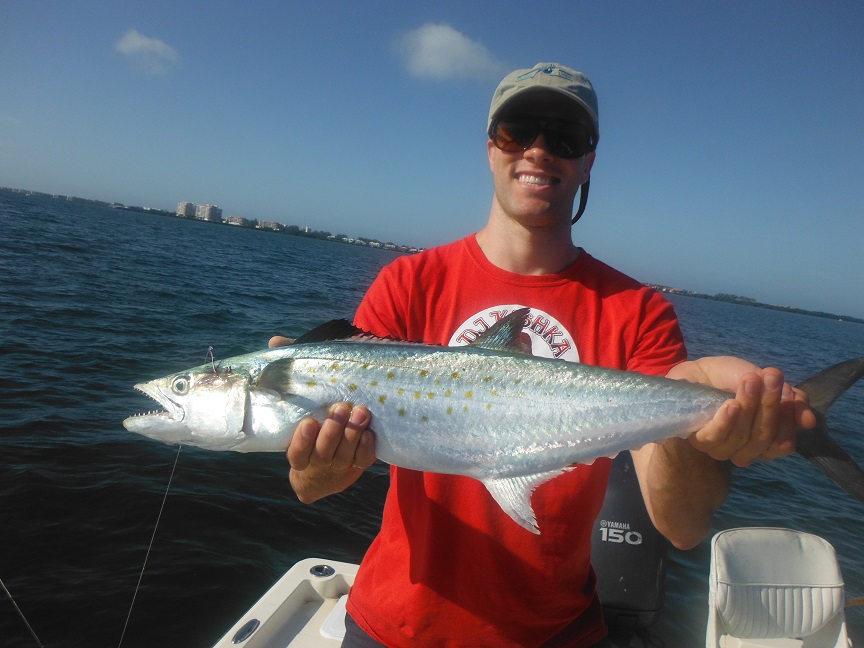 Artificial lures are effective on the deep grass flats on Sarasota fishing charters

This technique is easy to do. As the boat drifts along, anglers cast artificial lures out ahead of the boat. The best lure is a ¼ ounce jig with a grub trailer. This lure is very simple and easy to use. The jig is cast out, allowed to sink, and then retrieved back in using a series of "hops". Most strikes occur as the lure falls. Even inexperienced anglers can master this technique quickly.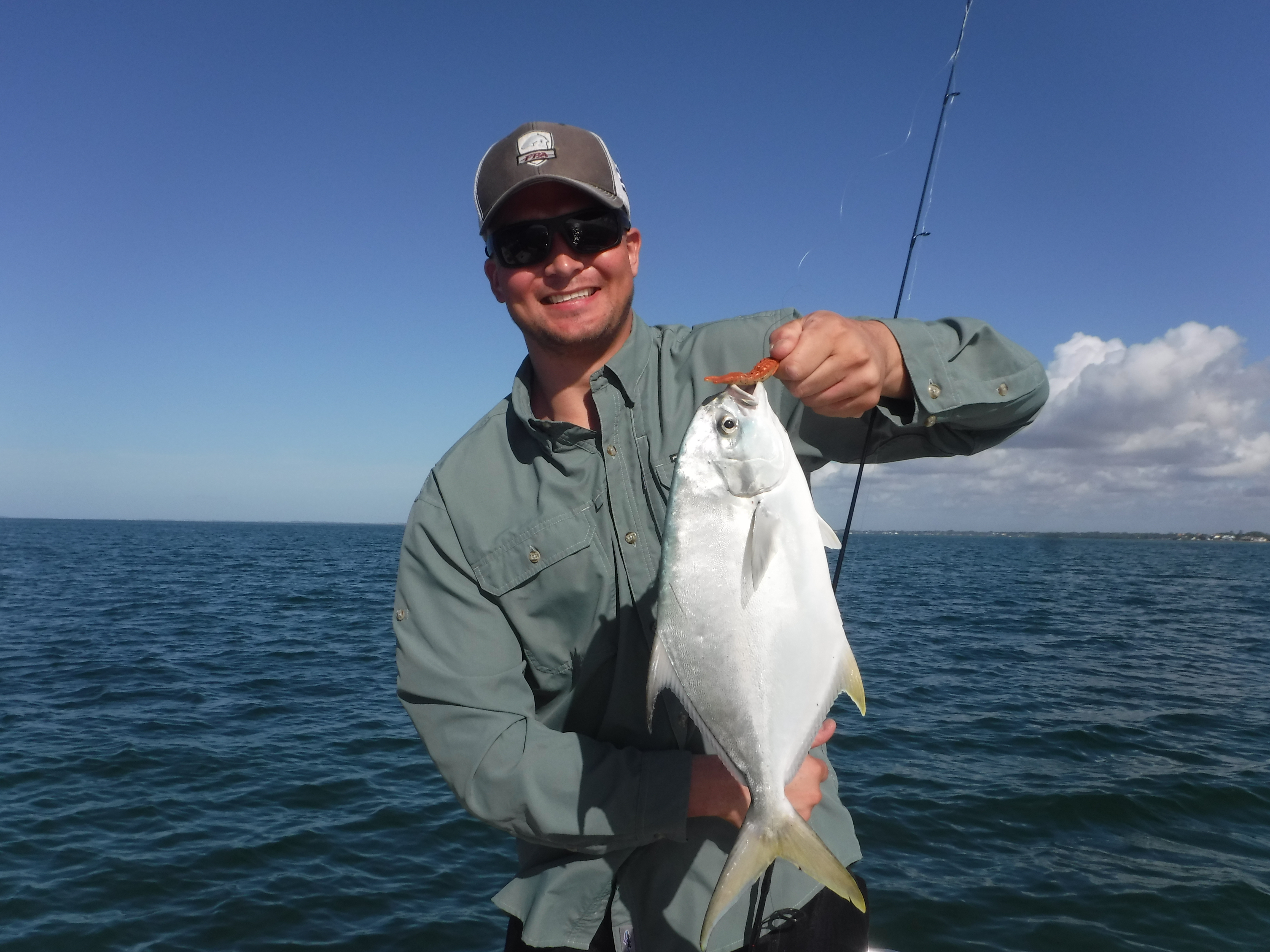 Spoons and plugs are other very effective artificial lures. They mimic bait fish and flash erratically when retrieved. This action simulates a wounded fish and will draw some exciting strikes. They are particularly effective when fish are seen feeding on the surface. Both can be trolled as well.
Live bait produces on the Sarasota deep flats
Live bait certainly catches a lot of fish for anglers drifting the deep grass flats. The top live bait is a shrimp. Live shrimp are available all year long at local bait shops. They are versatile and every inshore species will take one. Shrimp are often a great choice for children.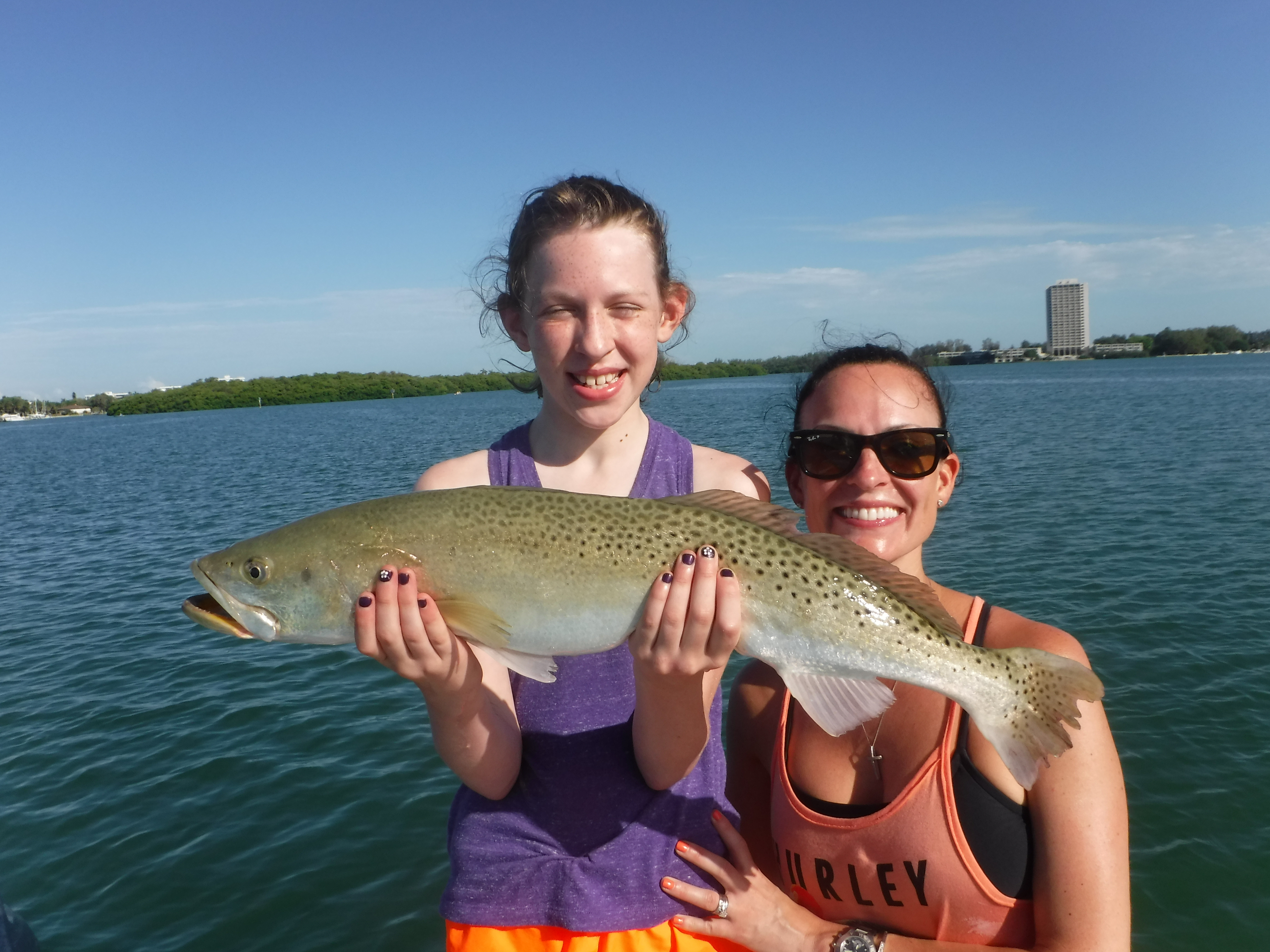 Shrimp can be fished either under a noisy float (we call them "popping corks") or free lined behind the boat with no weight. Floats work best in shallower water while free lining is a better choice in water 7′ or deeper. Live pinfish or grunts can be used as well.
One incredibly effective technique used on the deep grass flats is live bait chumming. Capt Jim uses his cast net and loads up the bait well with live bait. A LOT of bait is required! Shiny fish such as scaled sardines and herring are used. Then, the boat is anchored and handfuls of live fish are tossed out behind the boat. This will quickly attract game fish.
Snook, Redfish, and jacks on Sarasota Fishing Charters
More experienced anglers may choose to target more challenging fish. The top inshore game fish in Florida is the Snook. It is very similar to largemouth bass in habits. They are ambush predators and prefer structure of some sort. Oyster bars, mangrove shorelines, and docks are prime spots.
Capt Jim will work these spots using his electric trolling motor. Anglers will cast lures such as jigs, plugs, and spoons to likely spots. This type of fishing does require some casting skill. It also does not produce as many fish, but they will almost certainly be larger.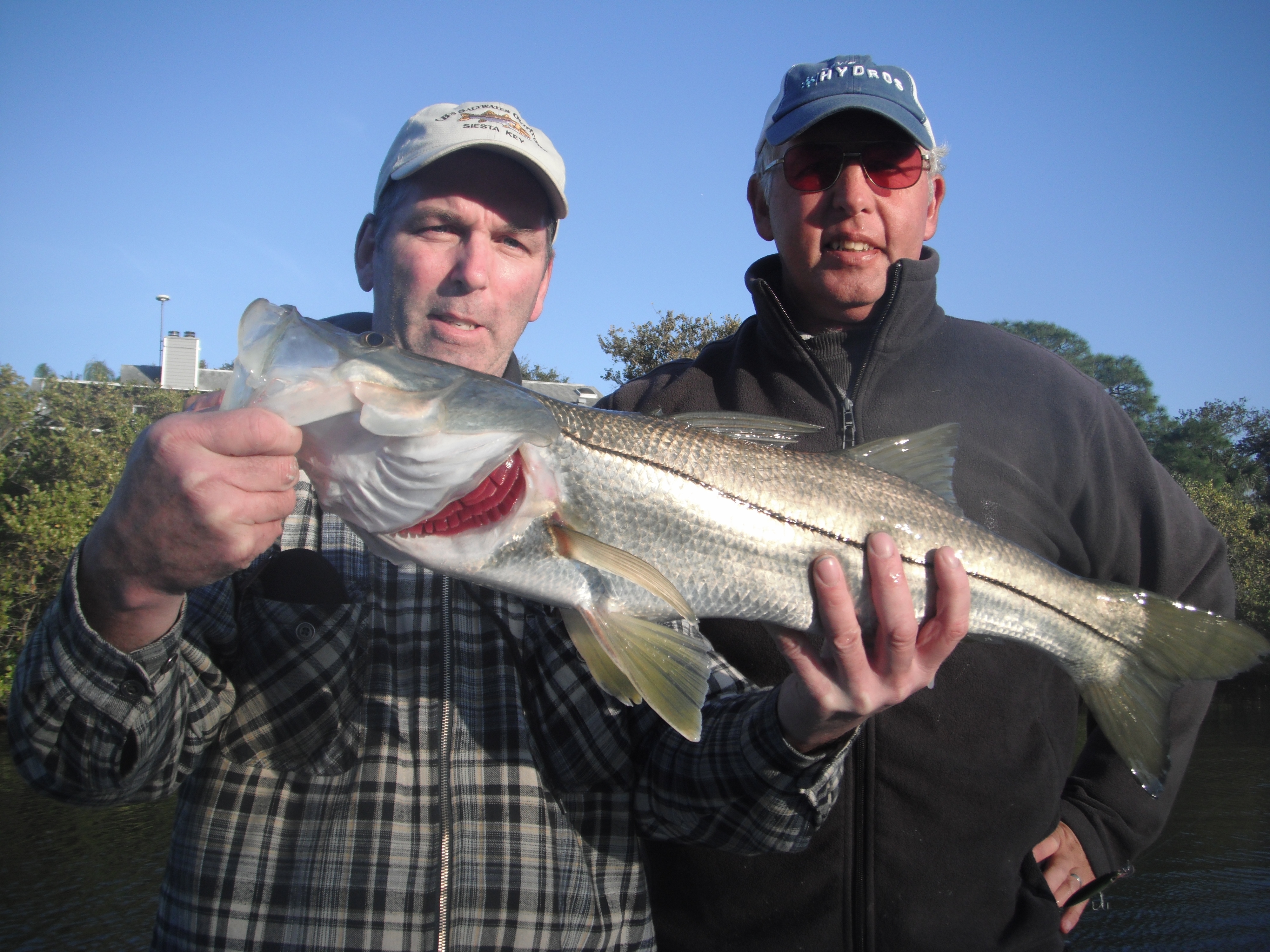 Snook tactics catch other species as well on Sarasota fishing charters

Redfish and jack crevalle will also be taken while seeking out a snook. Jacks have broad sides and pull incredibly hard. They can also be quite aggressive. Redfish are a very popular inshore species, perhaps only second to the mighty snook.
Live bait can be used as well. A large, live shrimp will catch all of these species, especially in the cooler months. Chumming with large pilchards will produce some big snook in the warmer months. This is a great way for a novice angler to catch a big fish! It really does not require a ton of casting skill.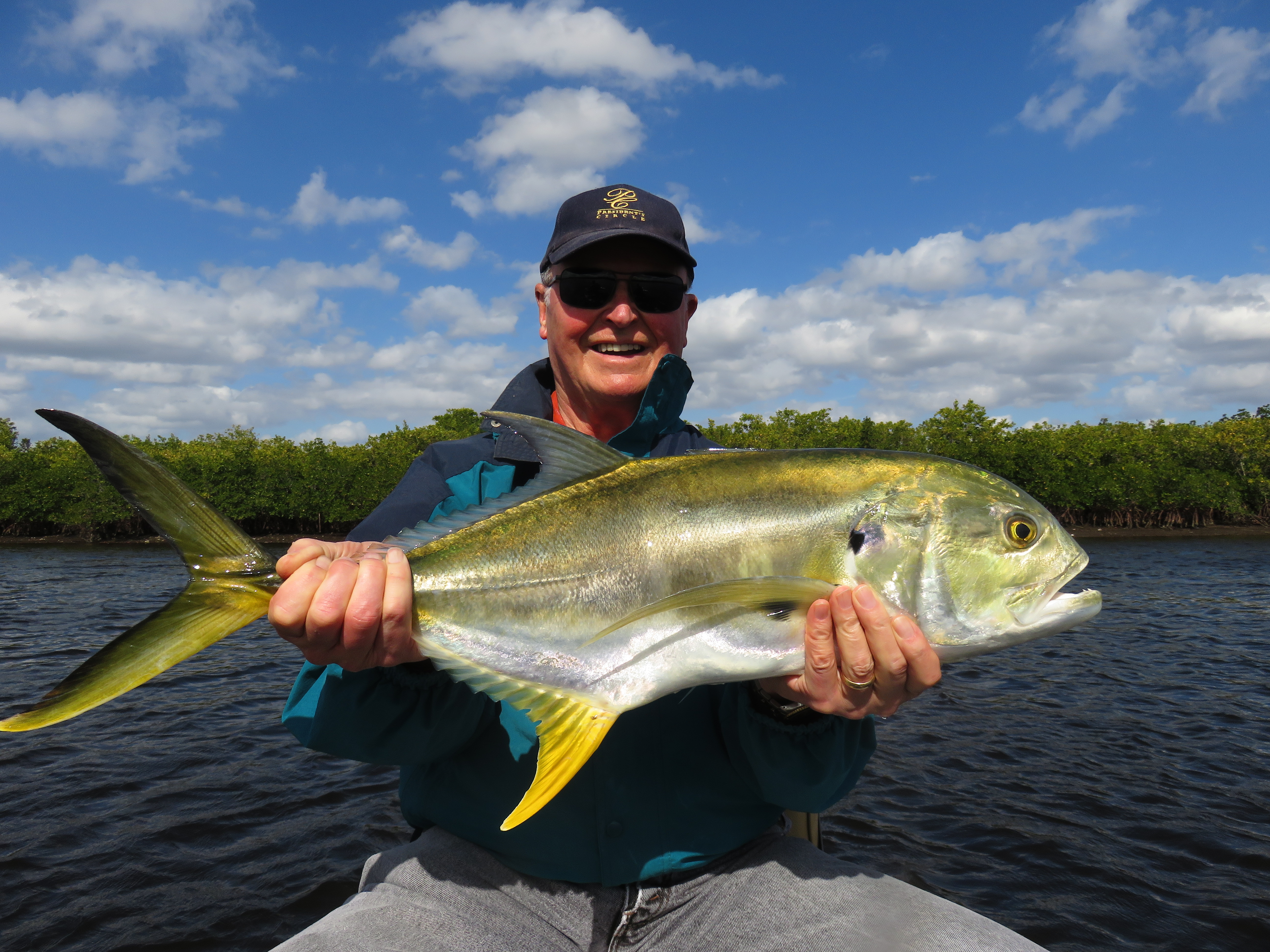 Fishing Sarasota passes
Passes connect the Gulf of Mexico and Sarasota Bay. A "pass" is basically an inlet. That is the term used along the Gulf Coast. These passes are used by fish to migrate between the bodies of water. They are "fish highways" of sorts. Therefore, these are excellent spots to fish!
Both Big Sarasota Pass and New Pass offer excellent fishing opportunities. The passes have the deepest water inshore, up to 25 feet deep. Strong currents have gouged out these deeper channels. Also, structure is abundant. Submerged rocks, docks, bridges, and sea walls all attract fish.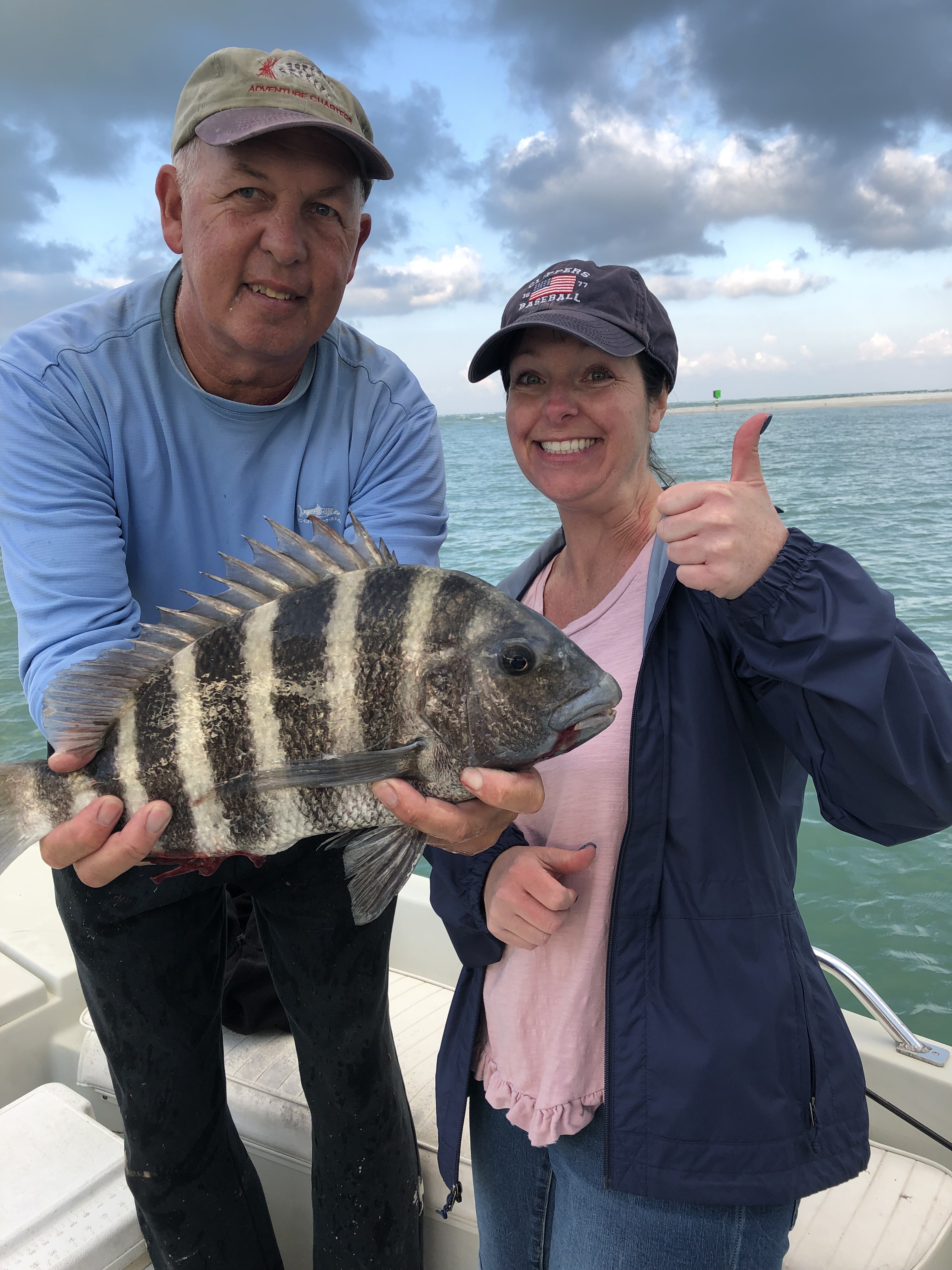 In the cooler months, this structure is thick with Sheepshead. These tasty saltwater pan fish are members of the porgy family. They school up in large numbers from January through April. They will readily hit a shrimp fished on the bottom. Snapper, grouper, drum, and grunts will be caught alongside them. Snook school up in these same areas in the summertime.
Fish are also caught on the sandy bottom in the middle of the passes. Bars that drop off into deeper water are top spots. Pompano, bluefish, mackerel, jacks, and loads of ladyfish can be caught in the passes. Vertically fishing jigs from a drifting boat works very well in the deeper water. Live shrimp work as well.
Fishing the inshore Gulf of Mexico on Sarasota fishing charters

Fishing action in the Gulf of Mexico can be terrific just off of the Sarasota beaches. Migratory species such as Spanish mackerel, false albacore, king mackerel, cobia, and sharks move north in the spring. They return again in the fall. The key is the large schools of bait fish that provides forage for the game fish.
One cool aspect of this type of fishing is that much of it is visual. Schools of fish can be seen feeding actively on the surface. Capt Jim will ease the boat into casting position. When the fish are this excited, a strike is almost certain. Spanish mackerel are the primary target. False albacore can be a bit more difficult. However, they put up an incredible fight!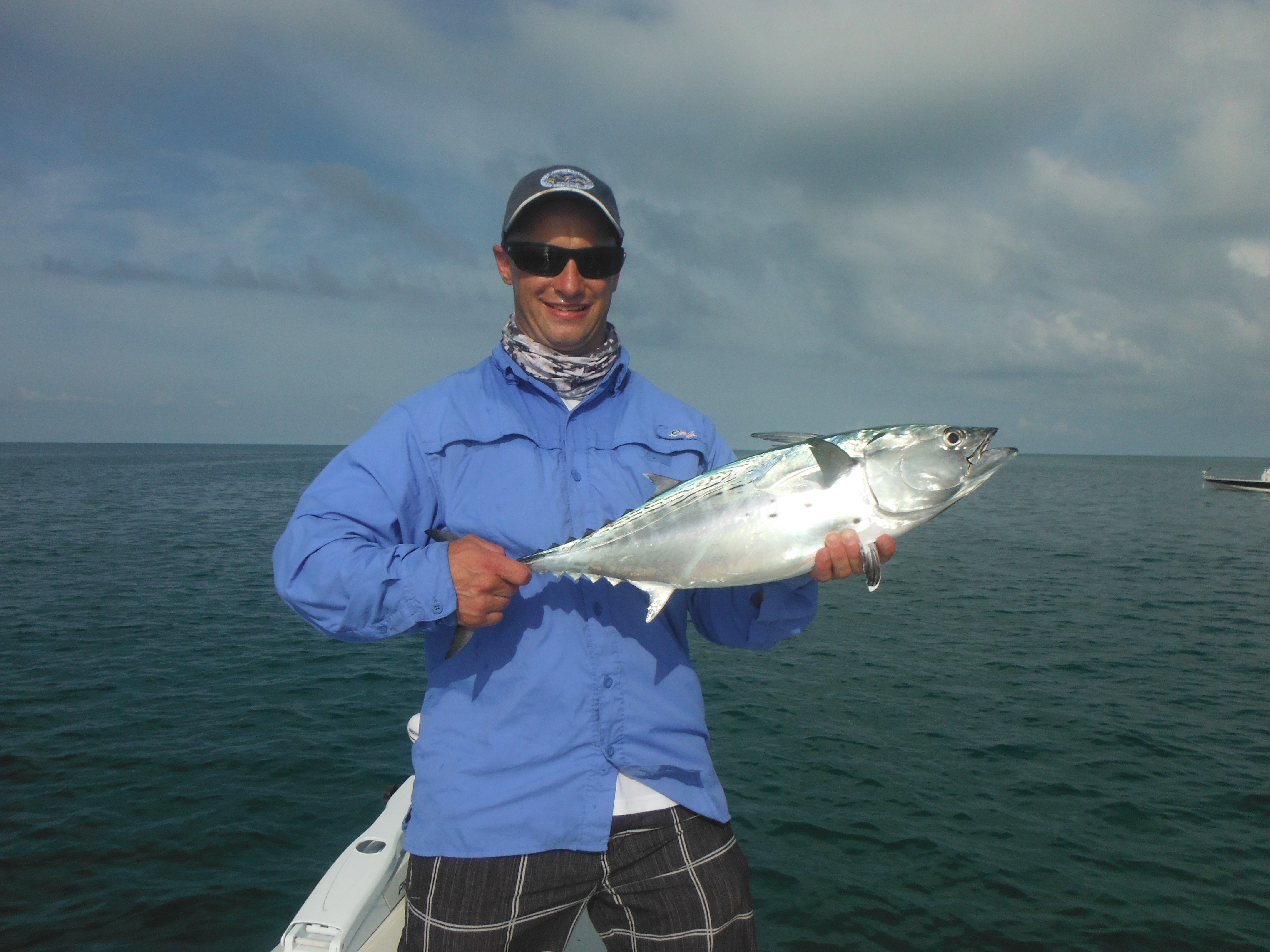 Several artificial reefs were build a couple miles offshore. These offer sanctuary for many species., Bottom fish such as snapper, grouper, sheepshead, grunts, and flounder will be caught on shrimp. Spanish and king mackerel will hold over the reefs as well. Trolling near the reefs is a great option on days that the fish do not show on the surface.
Winter creek and river fishing Sarasota fishing charters


While winters in Sarasota are mild, fish do react to the seasonal changes. Cool water will push fish to deeper water. This is especially true of snook and jack crevalle. Several area creeks will attract snook and jacks, as will residential canals. This is a great opportunity as they become concentrated in a small area.
The most productive technique is to move with the current and cast plugs to shoreline cover. Docks are prime cover, as are mangrove shorelines. Trolling can be a very effective method. It allows anglers to cover a lot of water in search of fish.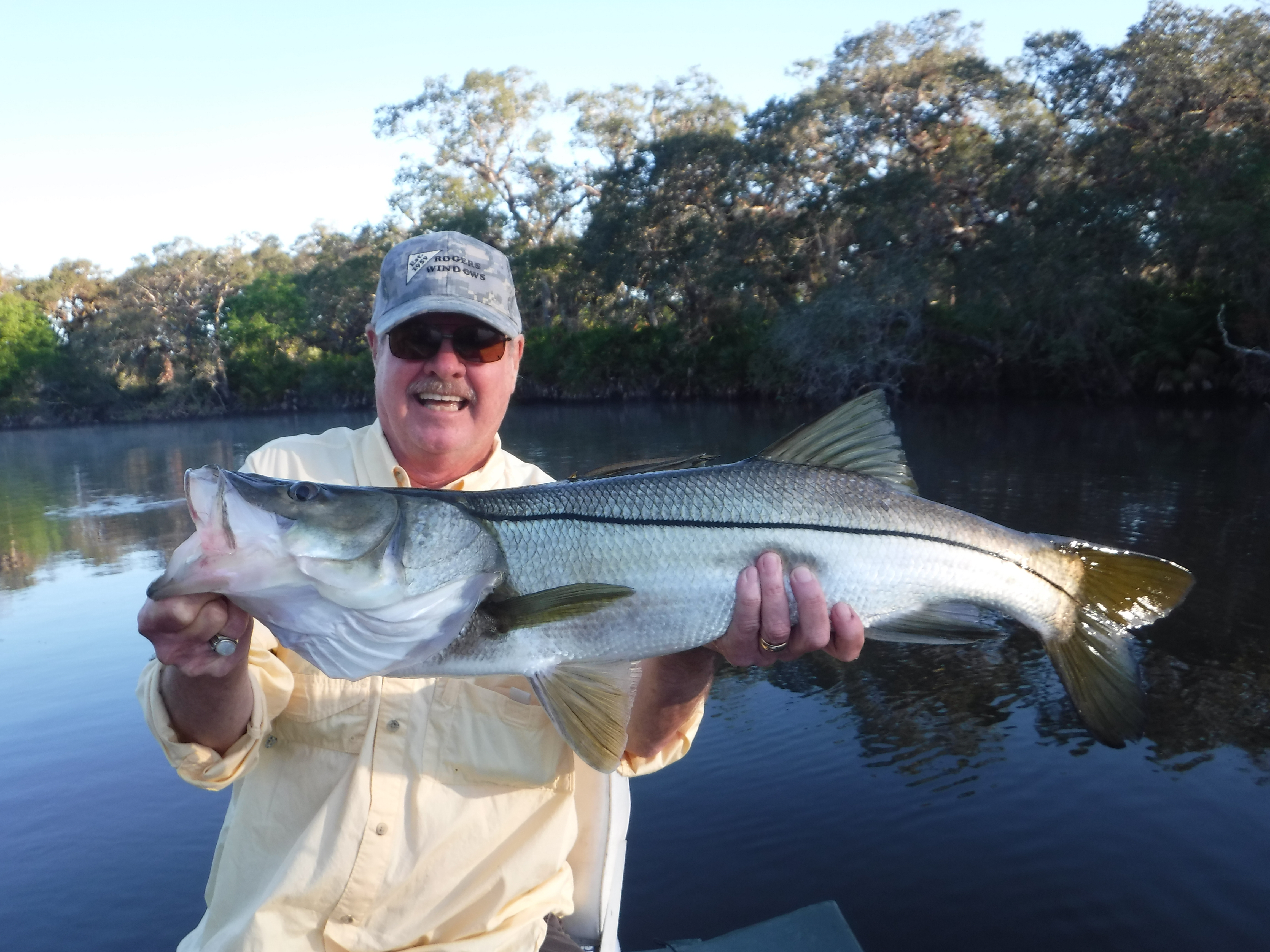 Capt Jim offers anglers a unique fishing charter opportunity; river fishing. Several area rivers have good populations of snook, jacks, and other species in the winter. The Myakka River, Manatee River, and Braden River are all withing 45 minutes of Sarasota and can offer some great winter fishing for big snook. Juvenile tarpon, snapper, and even freshwater fish such as bass, gar, and catfish are caught.
More information on Sarasota fishing charters
Capt Jim runs his saltwater charters out of a 22′ Stott Craft Bay boat. It is roomy, stable, comfortable, and has plenty of storage. He uses his 14′ Alumacraft Jon boat for river fishing, where a light weight shallow draft boat is required.
Spinning tackle is used on most charters, it is the most versatile equipment. Bait casting and fly tackle will be furnished upon request for more experienced anglers. Guests are certainly welcome to bring along their favorite rods, as long as they are suitable for the fishing.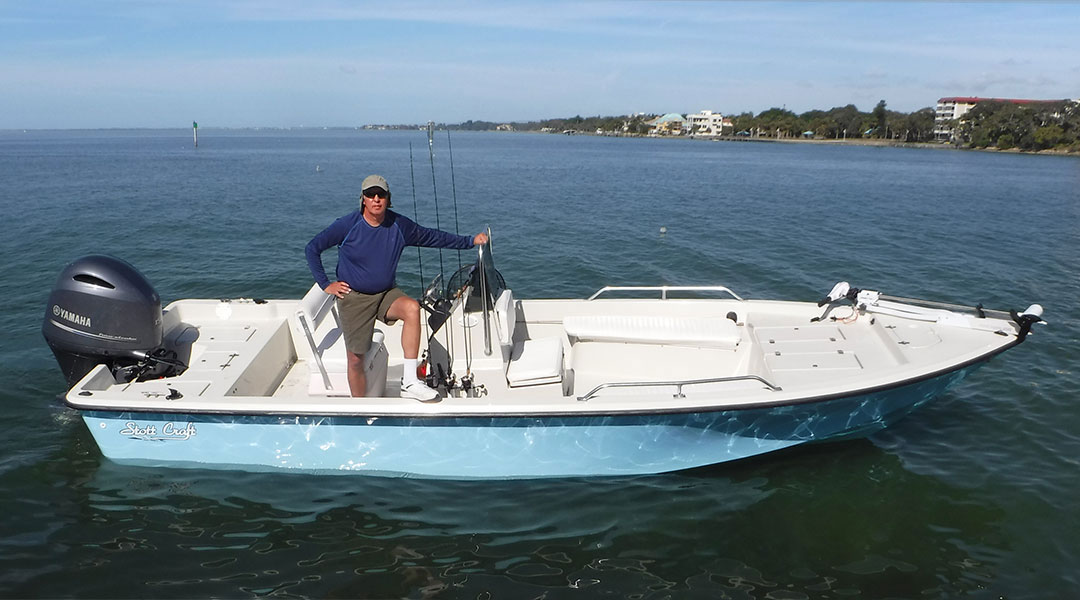 A cooler with ice is kept on board. Fishing licenses are also provided. While catch and release is encouraged, Capt Jim will fillet a bag up the fish that are kept for a meal.
The meeting places will vary. On most Sarasota fishing charters, clients will meet at the boat ramp at Centennial park in downtown Sarasota. This is strategically located near both passes and right in the middle of the best fishing grounds. Capt Jim likes to talk with the client the afternoon or early evening before to finalize the details of the trip.
Top 16 fish species on Sarasota fishing charters

As stated earlier, one of the great draws to fishing in Sarasota is the wide variety of species that are available to anglers. Some species are caught year round, while others are seasonal. Locations vary as well, as fish migrate throughout the year. This is a rundown of the most commonly caught game fish in Sarasota. Anglers can find current Florida fishing regulations on the FWC website.
1) Snook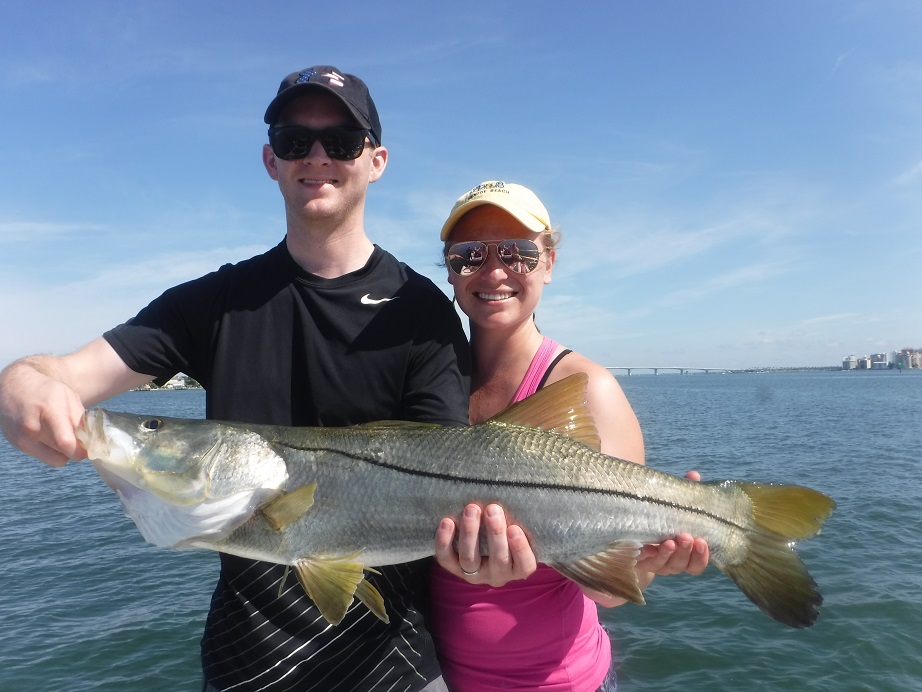 Snook are the premier inshore game fish in the southern half of Florida. They grow large, fight hard, hit lures and live baits, and can be quite fussy at times. Snook are caught all year long. However, they do have a distinct seasonal migration.
Winter will find snook up in creeks, rivers, and canals. As it warms up, they will move out into Sarasota Bay. By May, most mature snook will be in the passes and out on the beaches. After the spawn, the pattern will reverse itself.
Snook hit lures and live baits. Large shrimp and bait fish are the top live baits. Plugs and soft plastic baits are the most productive artificial lures. Snook leap high out of the water when hooked and put up a strong fight. They are a terrific all-round game fish!
2) Redfish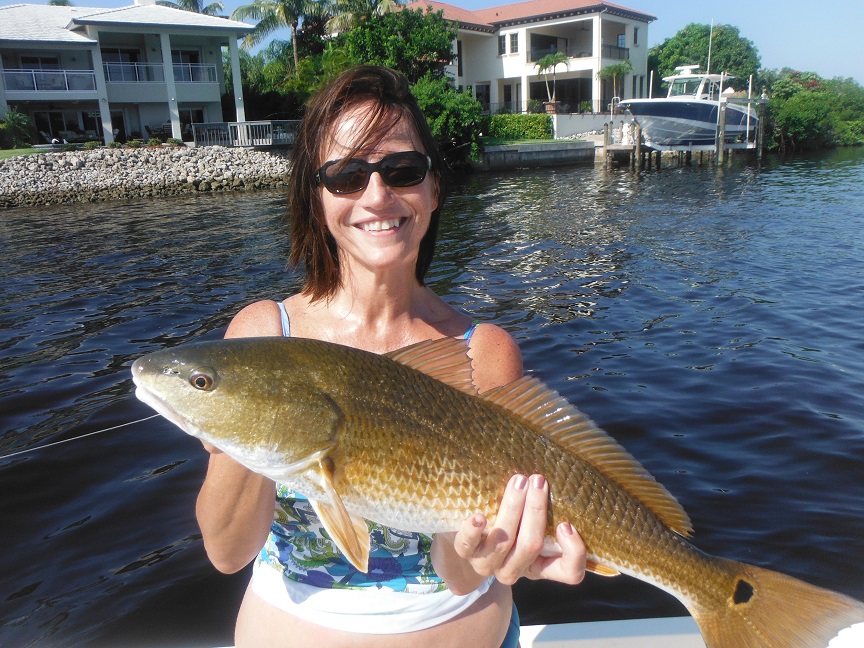 Redfish are a very popular species found in the inshore saltwater areas from Virginia to Texas. They scatter out in the cooler months and school in large numbers in late summer. However, schools of redfish can be found all year long.
Here in Sarasota, most reds are caught under docks and on the shallow flats. Docks throughout the area will hold redfish. The best docks are in 3′ to 8′ of water. A live shrimp is a great bait. Reds on the shallow flats hit weedless spoons and soft plastic baits.
3) Spotted sea trout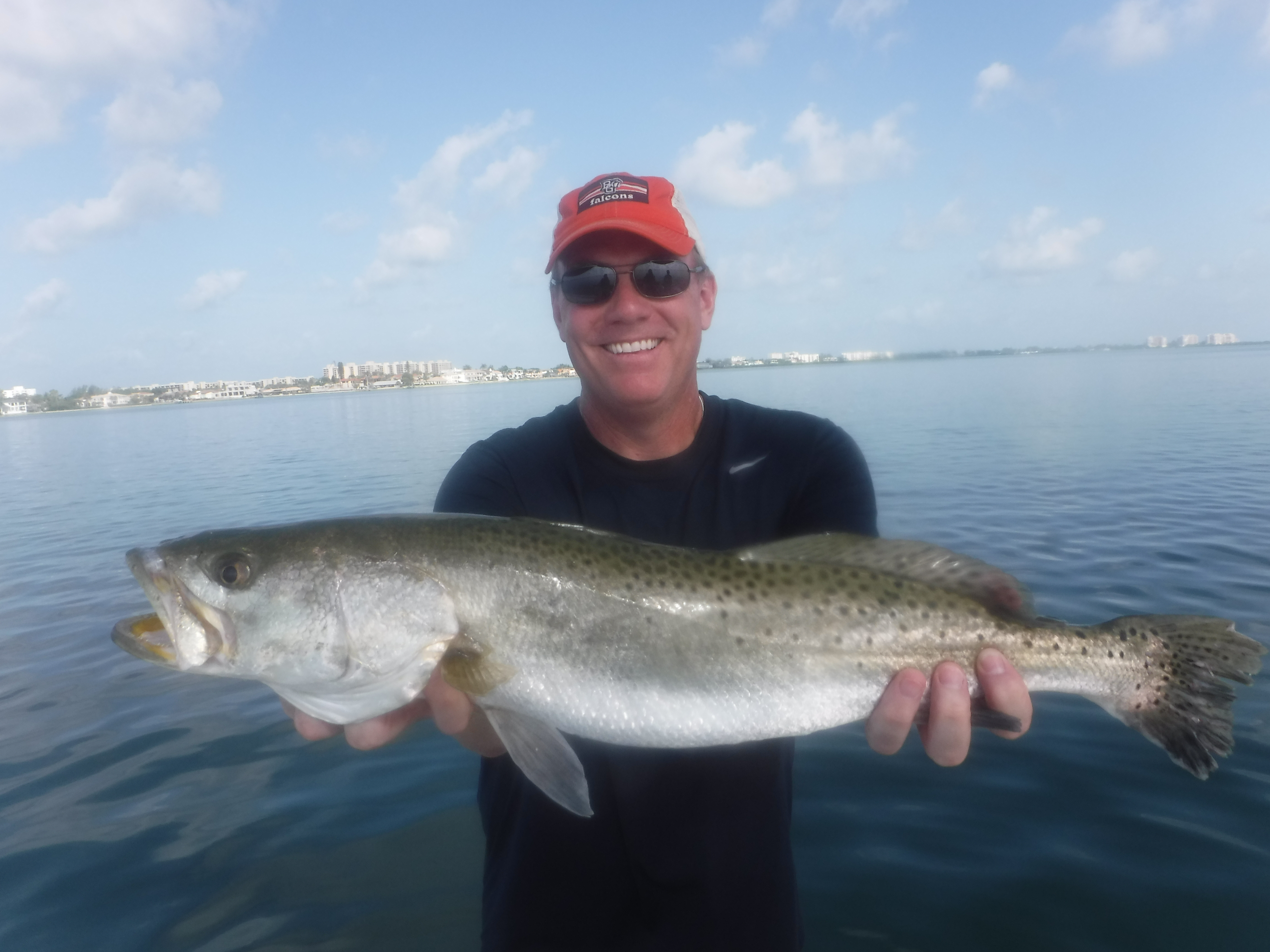 Spotted sea trout, or "speckled trout" as they are known locally, are a very popular inshore species. They are caught in Sarasota all year long, mostly over submerged grass beds. Trout school up loosely, and when one is caught, more are usually around. They are a beautiful fish and great eating.
Anglers targeting speckled trout drift the grass flats. A live shrimp fished under a noisy float works very well in shallow water. In deeper water, free lining bait works better. The jig and grub combination is by far the number one artificial lure. It is extremely effective on trout and many other species.
4) Tarpon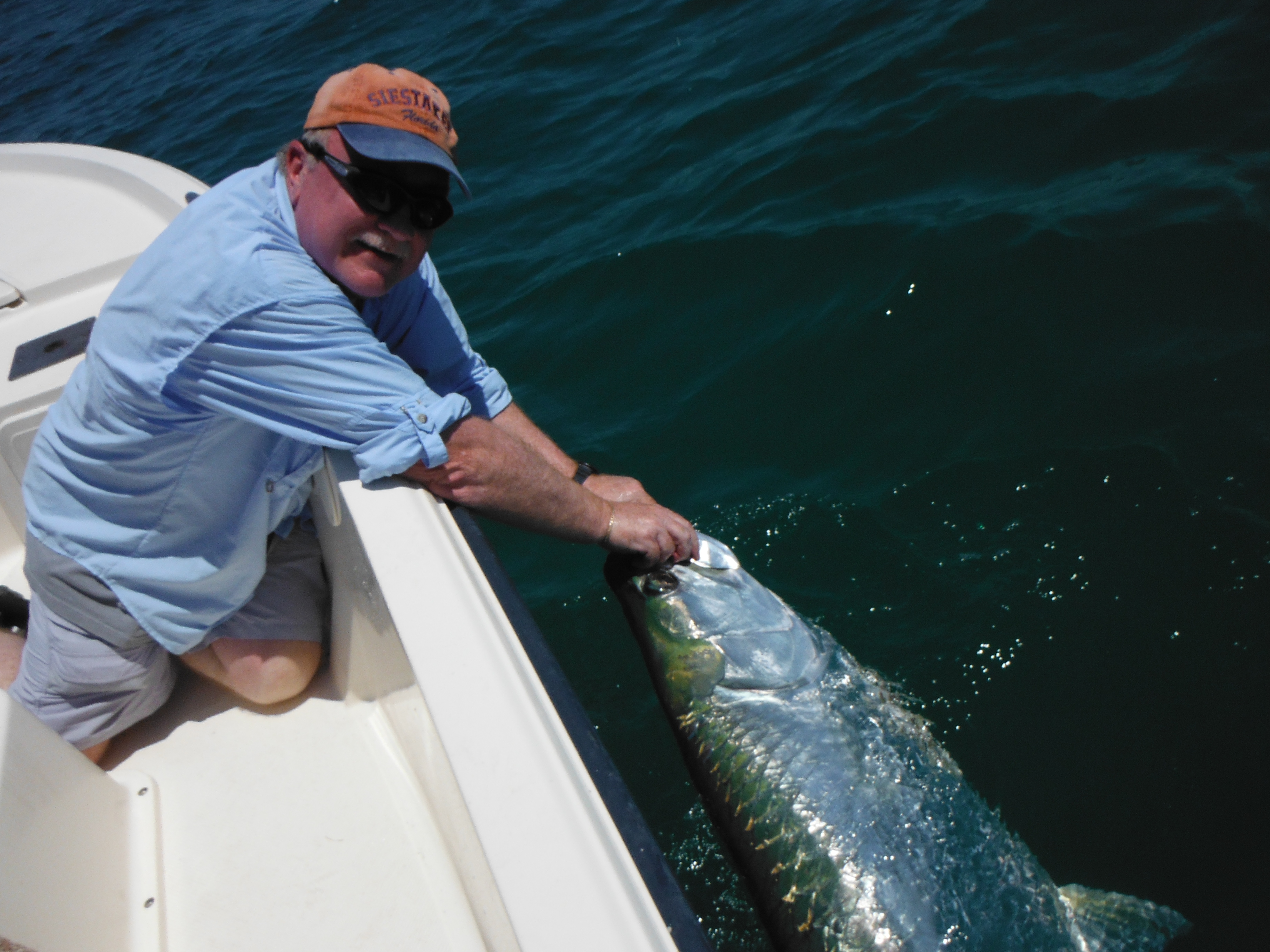 Tarpon are nicknamed "the silver king", and for good reason. There are few places on the planet where anglers can sight cast to fish weighing over 100 pounds using spinning tackle. Tarpon show up in early May and stay around until August, though most anglers quit fishing for them around July 4th. Most tarpon are caught by anglers casting live crabs and bait fish.
5) Spanish mackerel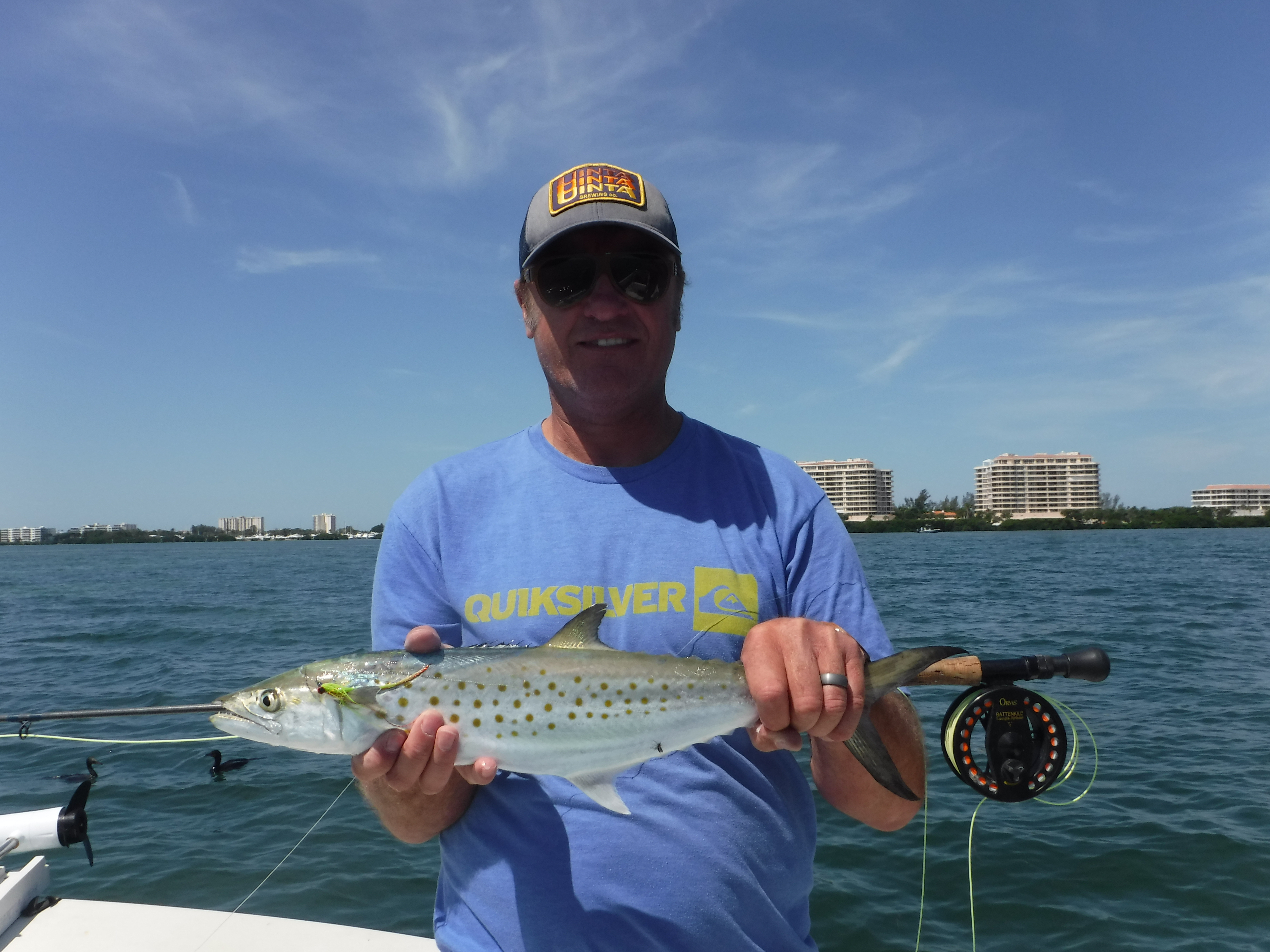 Spanish mackerel are a terrific inshore game fish. They are very fast and larger fish make a blistering run. Mackerel are found in large schools in the Gulf of Mexico. In Sarasota Bay, they can be found in schools or caught individually. Mackerel are a beautiful fish. They are mostly caught in spring and fall, but can be caught most any time.
Spanish mackerel can be caught on both lures and live bait. Fast moving, flashy lures such as spoons and plugs work well. Trolling is an extremely effective technique. Live bait such as shrimp and small sardines will catch them as well.
6) Jack crevalle
Jack crevalle are one of the best inshore game fish in salt water. They grow large and use their broad sides to put up a great battle on light tackle. Jacks will be found in large schools. They are often seen foraging on the surface. When these fish are encountered, they will hit almost anything.
Jack crevalle are found in the passes and inshore waters. They are often encountered in very shallow water. In the winter, jacks migrate up into creeks, rivers, and residential canals. This is a great time of year to target them as they are concentrated into smaller areas.
7) Bluefish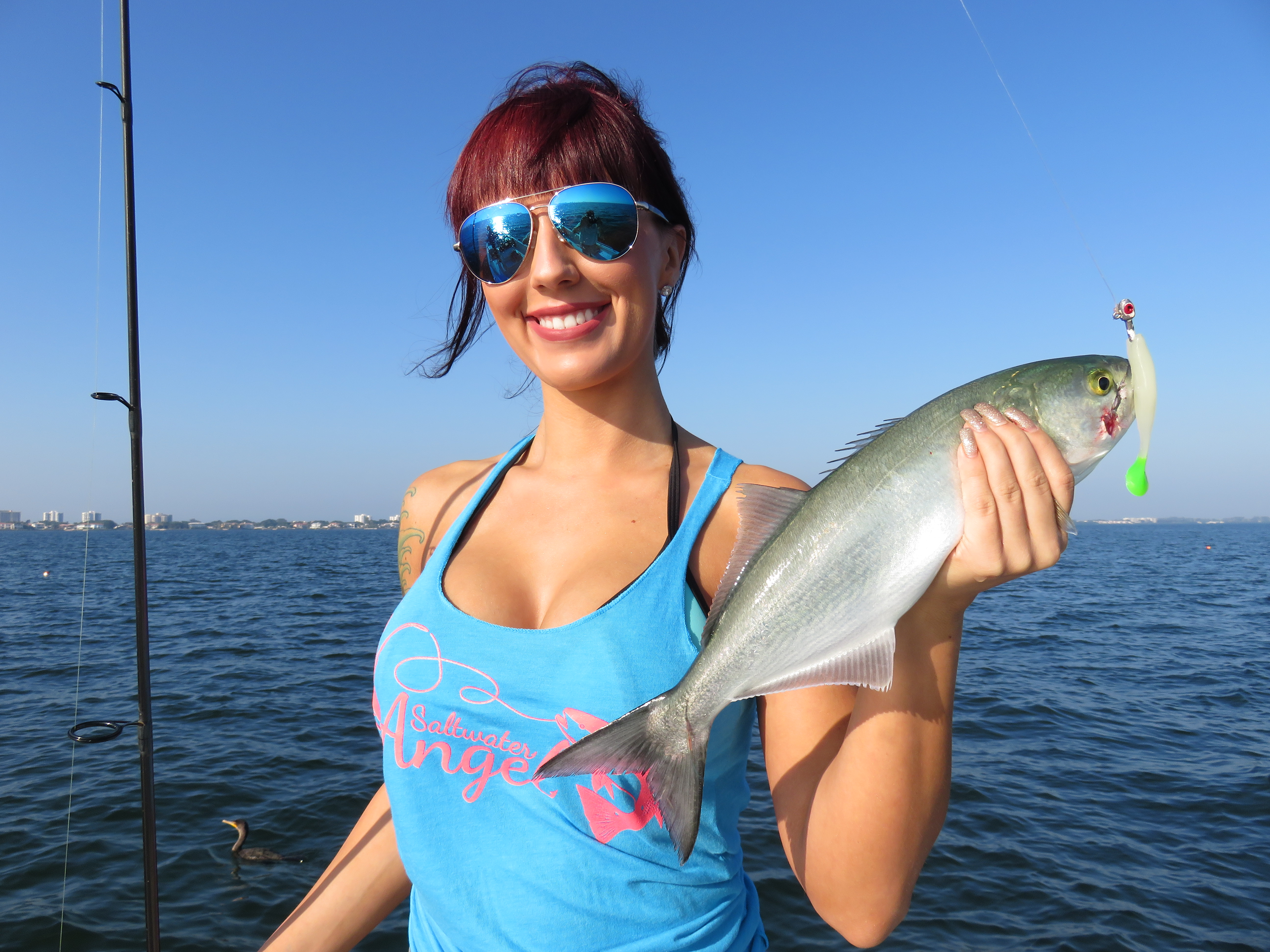 Many anglers from the Northeastern states are familiar with bluefish. They are a tough, hard-fighting fish that are very aggressive. Bluefish are usually found in schools. In Sarasota, most anglers catch bluefish while targeting trout and other species. Bluefish are found on the deep grass flats, in the passes, and out on the beach.
8) Pompano
Pompano are one of the most desired inshore species. While these smaller cousins to the permit put up a great fight, pompano are prized for their incredible fillets. Pompano are fantastic eating! Pompano feed on crustaceans such as crabs and shrimp. They are caught by anglers using small jigs and live shrimp in the surf, passes, and inshore flats.
9) Sheepshead
Sheepshead are a staple for winter anglers on Sarasota fishing charters. They fill in a gap when other flats species become harder to catch. Sheepshead are rarely caught on lures. Shrimp are the most widely used bait, though serious sheepshead anglers will catch their own little crabs.
Sheepshead will be found around some type of structure. Docks, bridges, submerged rocks, ledges, reefs, and oyster bars are all good spots. Both passes hold a lot of fish in February and March. Anglers catch them bottom fishing with live or frozen bait. They are great eating, though difficult to clean.
10) Mangrove snapper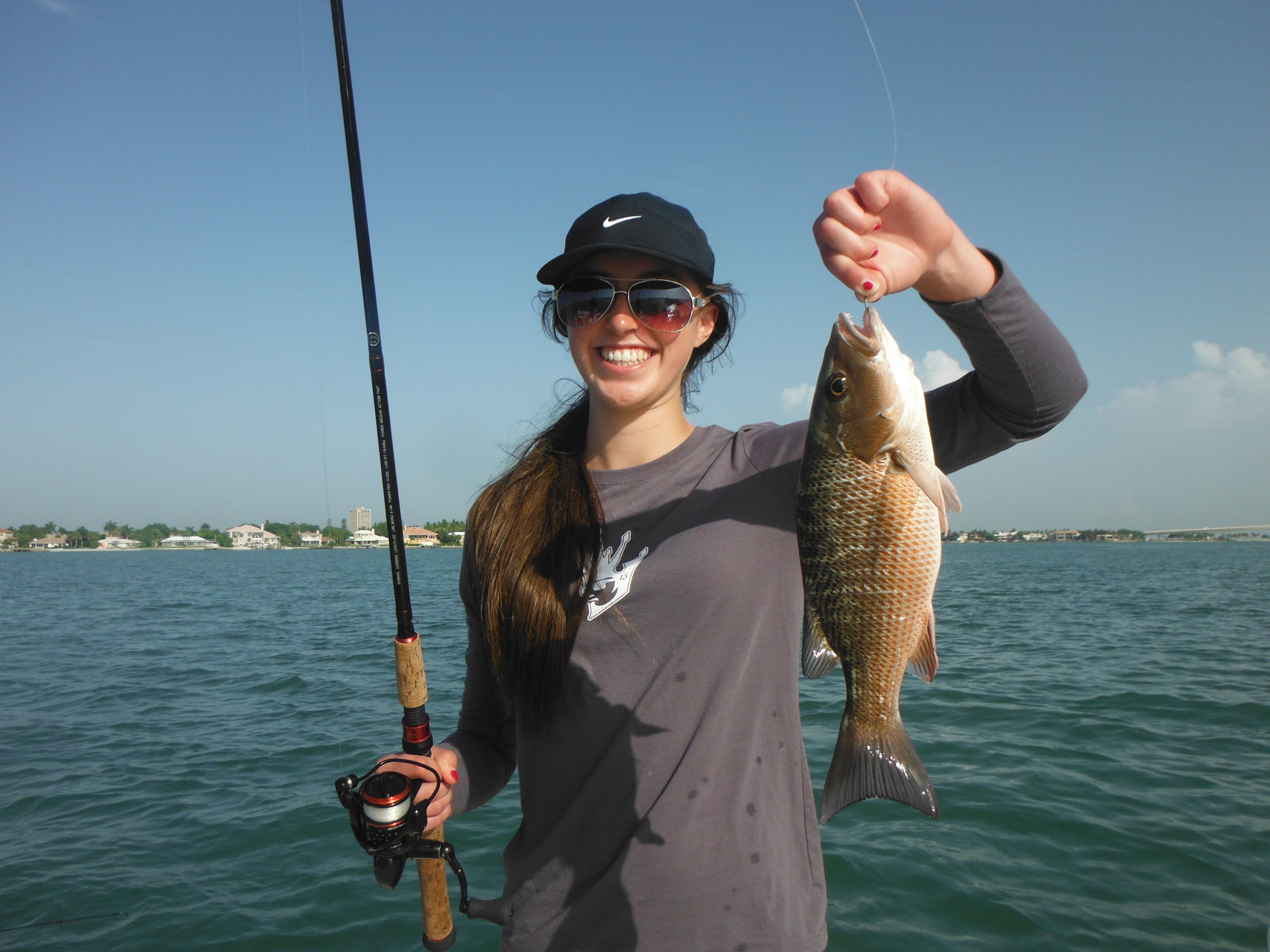 Mangrove snapper are another very good eating species. They are found near structure all season. In the summer, large mangrove snapper are caught when chumming with live bait on the deeper grass flats. Snapper pull hard for their size. They can be wary and difficult to catch in clear water.
11) False albacore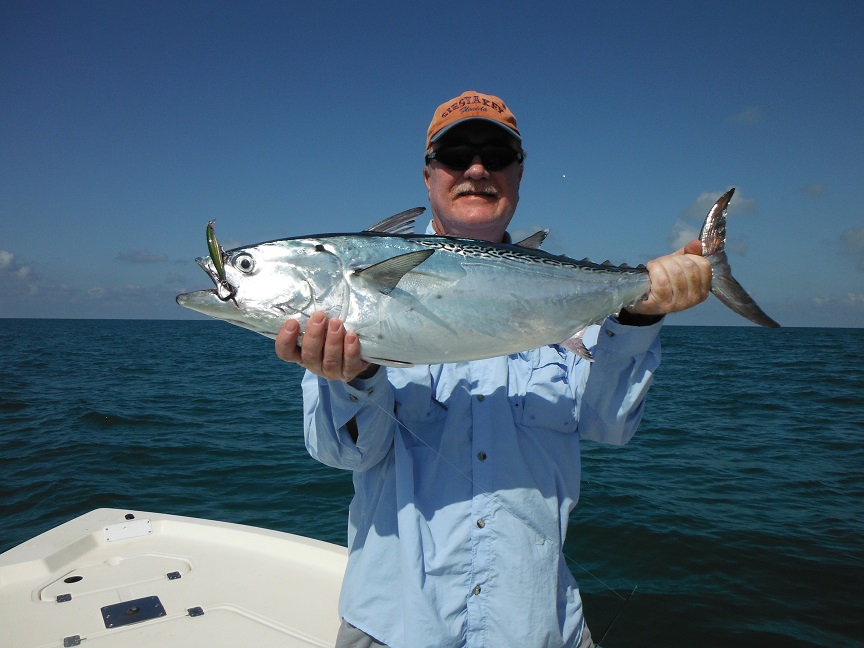 False albacore are fantastic game fish!They are found in the Gulf of Mexico, rarely coming into the bay. Much like mackerel, they are seen feeding ferociously on the surface as they terrorize tiny bait fish. False albacore are like a small tuna fish and are incredibly fast. They make a long initial run when hooked. False albacore are not good to eat but are great sport!
12) King mackerel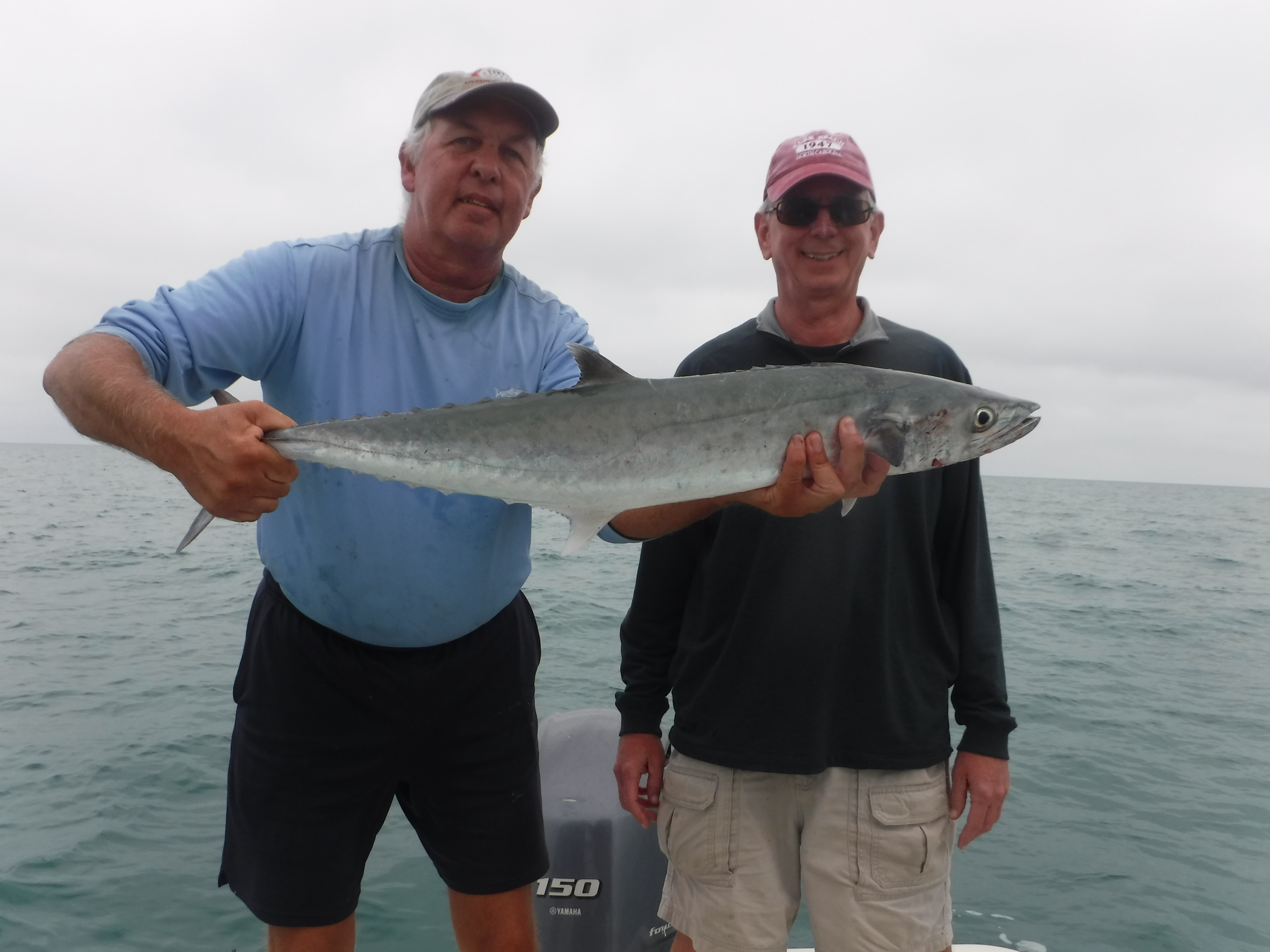 King mackerel will come in very close to the Sarasota beaches at times. They will follow the schools of bait fish. Kings are most often caught by anglers trolling lures or slow trolling live baits. They can occasionally be caught by anglers drifting bait over the inshore artificial reefs
13) Cobia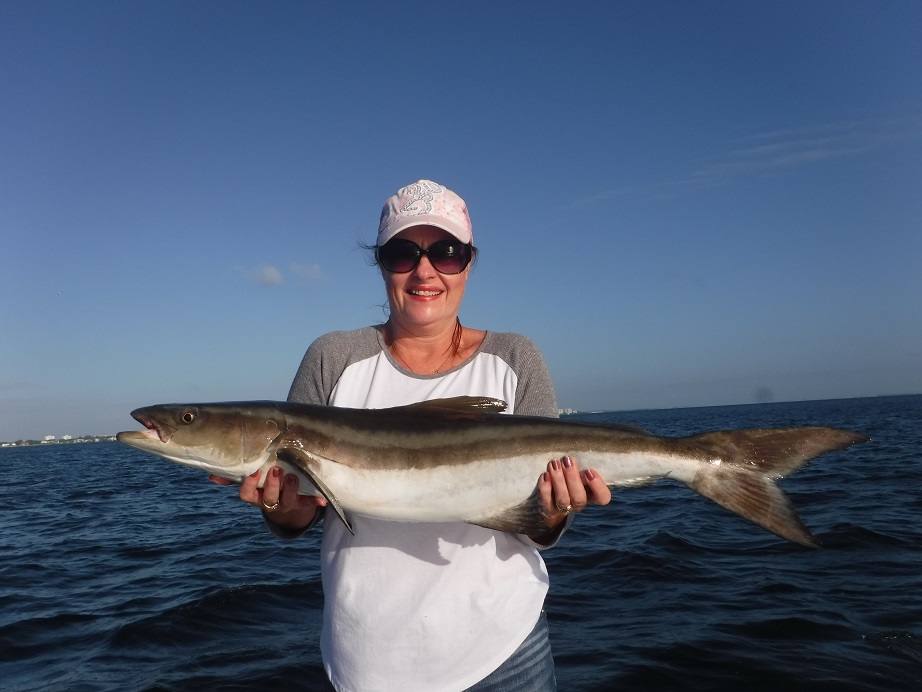 Cobia are most often found in the Gulf of Mexico. They grow very large, over 100 pounds. They do wander into Sarasota Bay. Anglers hooking one on light spinning tackle will have their hands full! Live bait fish work well, but lures will fool them, too. Artificial reefs and ledges will hold fish, as will navigation markers. Cobia are terrific eating but need to be 33″ at the fork to keep.
14) Grouper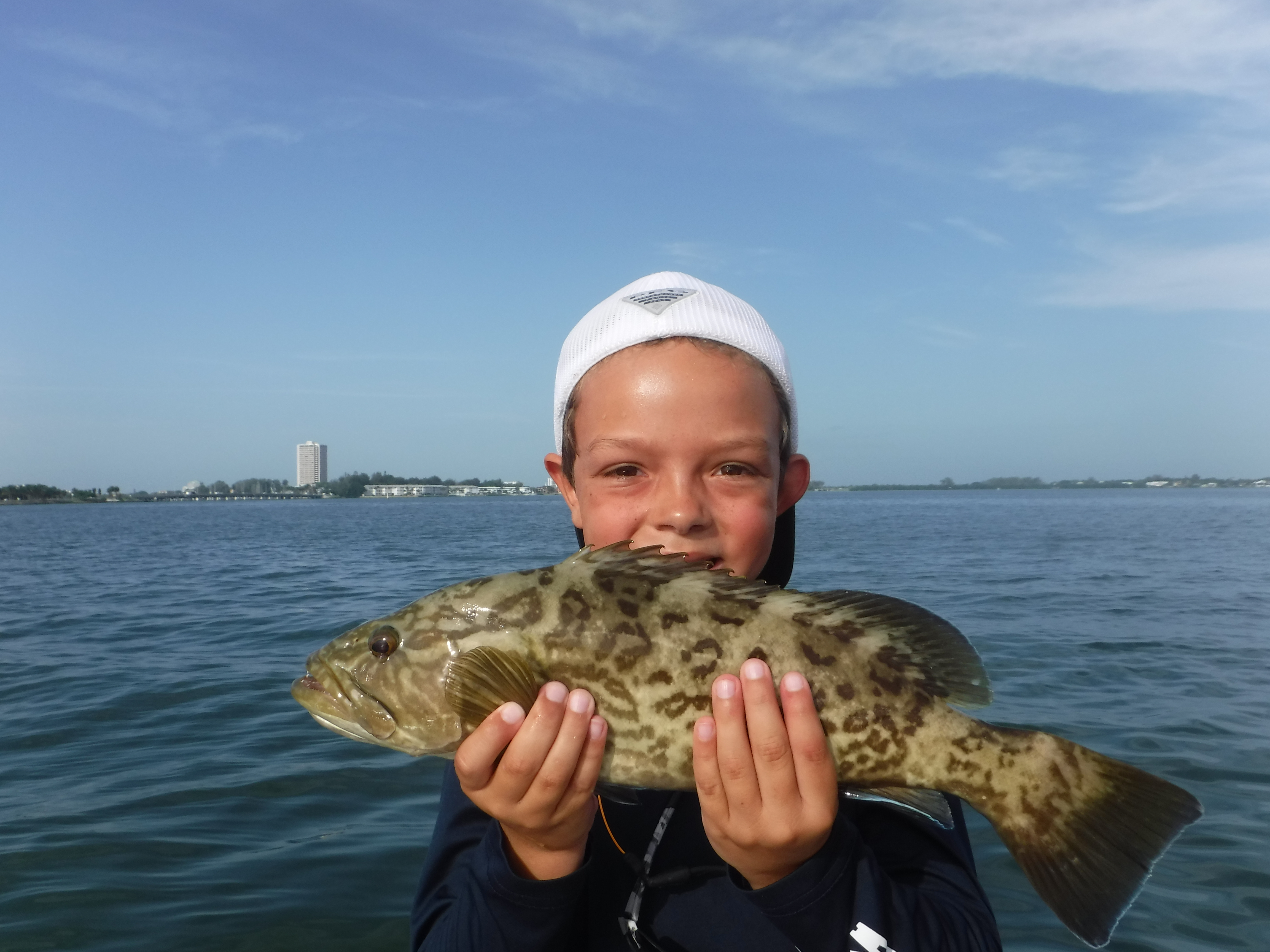 Grouper are most often caught by anglers bottom fishing on ledges and reefs in the Gulf of Mexico. However, gag grouper are caught in Sarasota Bay as well. They are structure oriented and will usually be found close to some type of structure. However, in the summer anglers on Sarasota fishing charters catch them on the deep grass flats.
15) Sharks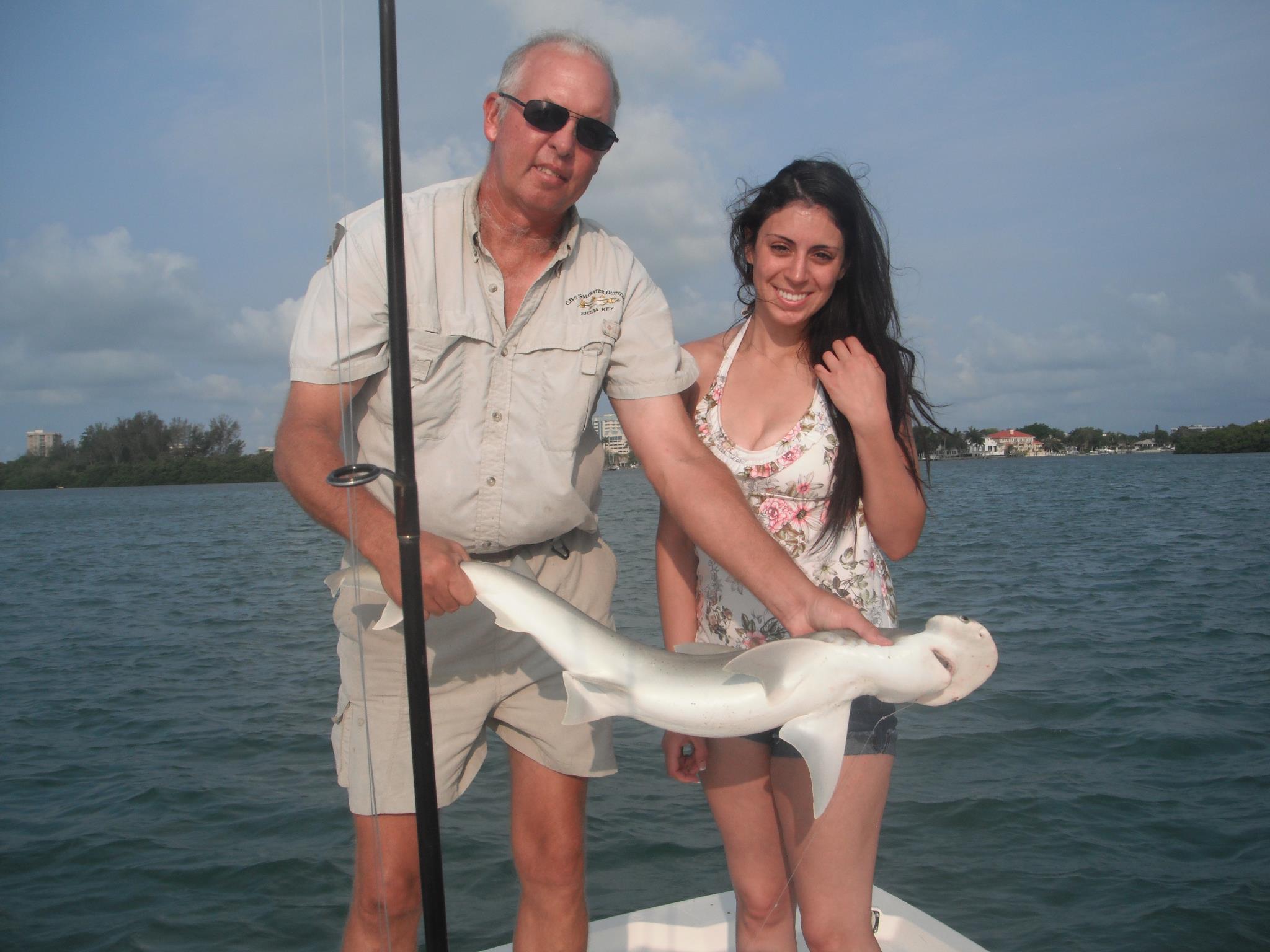 Sharks are always a crowd favorite! Sarasota has decent populations of sharks in the warmer months. Blacktip and bonnet head sharks are most common. They average between ten and forty pounds. Some sharks are caught by accident. However, most are landed by anglers targeting them using cut bait such as ladyfish and jacks.
16) Ladyfish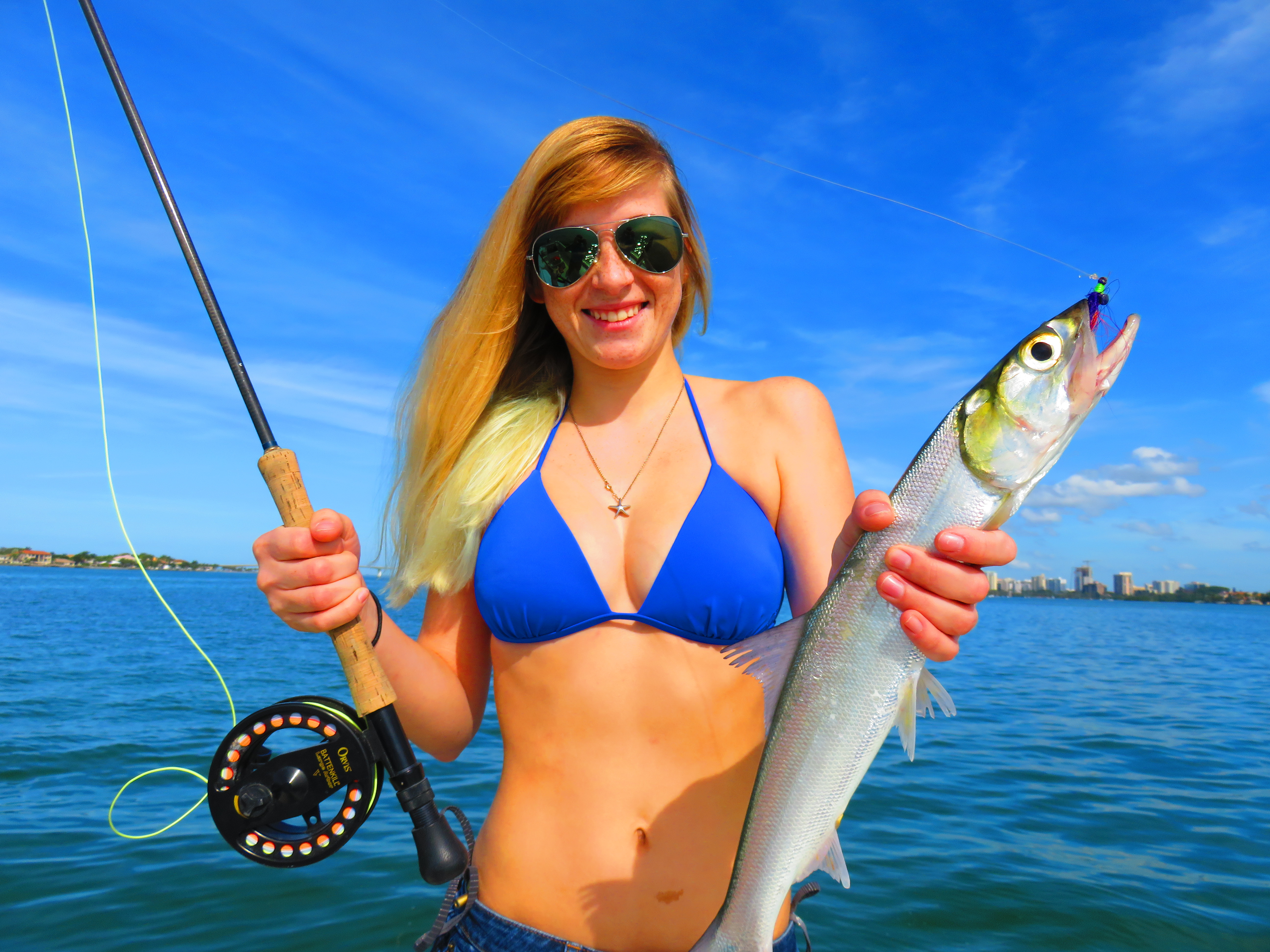 Ladyfish are great fun! They are plentiful on the flats and in the passes. They can be found off the beaches as well. Ladyfish fight hard and most leap high out of the water. Jigs are a very productive lure. Live shrimp and bait fish work well, too. Ladyfish are great practice for kids to learn how to fight a fish.
In Conclusion, this post will help anglers decides if Sarasota fishing charters is for them!
Please follow and like us: