Sarasota Florida Fishing Charters – Capt. Jim Klopfer
Captain Jim Klopfer offers Sarasota Florida fishing charters to visiting anglers. He has been guiding full time since 1991. His knowledge of Sarasota Bay and its fish species will help you catch more fish. Capt. Jim runs his charters on a 22" Stott Craft bay boat.
Sarasota is a great place for anglers to come visit and go fishing. Sarasota Bay and the Gulf of Mexico hold many different species. On most Sarasota Florida fishing charters, anglers catch 6 to 8 species. However, it is not uncommon to catch 10 species are more on a four hour fishing trip. Anglers use a variety of techniques to catch speckled trout, snook, redfish, Spanish mackerel, pompano, bluefish, snapper, grouper, sheepshead, flounder, drum, sea bass, cobia, sharks, and more.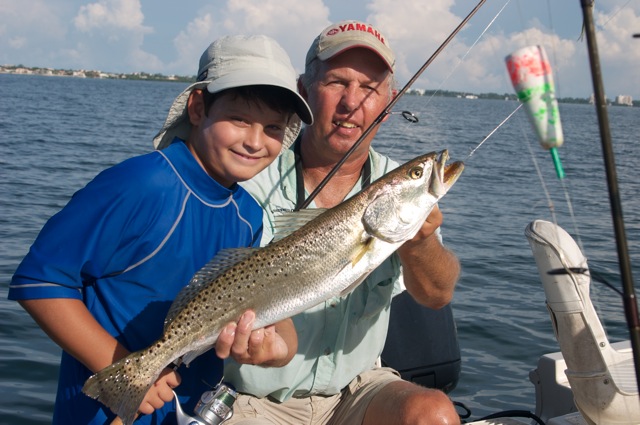 Capt. Jim provides all the tackle, bait, and licenses on his Sarasota Florida fishing charters. Spinning tackle is used the vast majority of the time. It is the best choice for most anglers, and is easy for novices to learn to use. Fly tackle will be provided upon request. A cooler with ice is kept on board for drinks and snacks.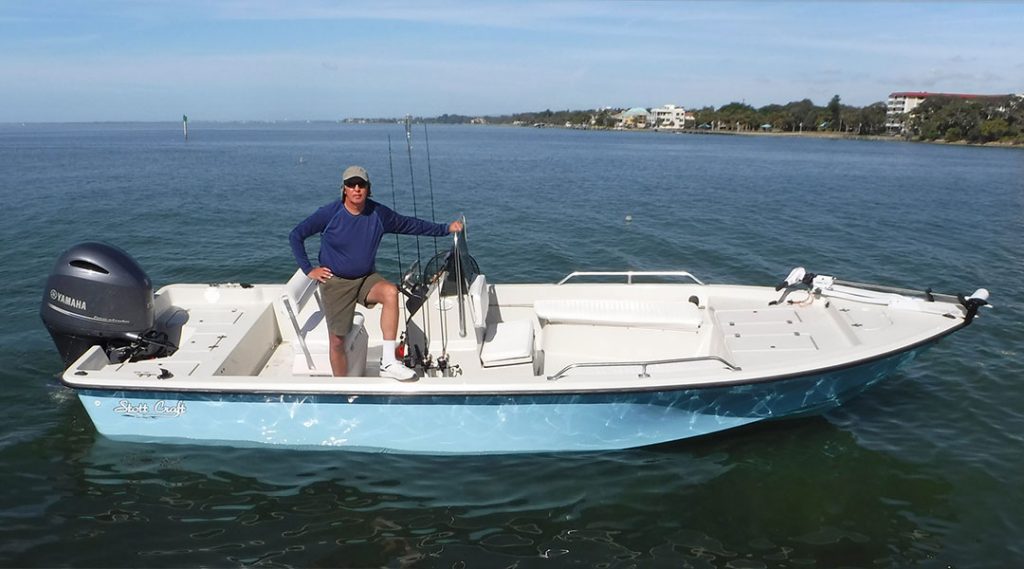 Many different fishing techniques are used on charters as well. This is advantageous as the trip can then be catered to the angler skill level and experience. Bottom fishing with live shrimp is simple and easy I can be very productive. Drifting live shrimp or live bait fish over the flats produces a lot a fish as well. Both of these techniques can be learned in short order even by the most novice angler.
More advanced fishermen may choose to cast artificial lures as the boat drifts along. Jigs are the primary lure that is used on Sarasota Florida fishing charters. It is simple but effective, and catches a lot of fish! Anglers seeking even more of a challenge can cast jigs and plugs along mangrove shorelines in search of snook, redfish, and jacks.
Sarasota fishing charters video
The inshore Gulf of Mexico can provide fantastic action as well. When conditions are right, which means calm seas in clear water, Spanish mackerel, false albacore, sharks, cobia, and a wide assortment of bottom fish are all available within a couple miles offshore. Several area rivers provide advanced anglers the opportunity to catch a trophy snook in the wintertime.
Sarasota Florida fishing charters
Anglers have different options depending on the season. A variety of techniques are used to catch quite a few different species throughout the year.
Winter Sarasota Florida fishing charters
Winter fishing is all about the weather. Weather in the winter can vary from gorgeous to downright nasty. On pleasant days, anglers can drift the flats for speckled trout, bluefish, pompano, and ladyfish. Jigs are a great bait as the fish are active in the cooler water. A live shrimp drifting behind the boat will certainly produce as well.
Bottom fishing with live shrimp under docks, bridges and around structure is very popular on winter Sarasota Florida fishing charters. This is a great option on breezy days as many of the docks are in protected canals. Big pass is on the lee side of Siesta Key on a hard south wind. Sheepshead, snapper, grouper, flounder, and black drum will take a live or frozen shrimp fished on the bottom near some type of structure.
Snook and jack crevelle will migrate up into residential canals, creeks, and area rivers. This results in the fish being concentrated in a relatively small area, and thus are easier to locate and catch. Capt. Jim offers River fishing charters to the Myakka River, Manatee River, and Braden River. He is the only one offering these types of Sarasota Florida fishing charters. This trip is best for experienced anglers.
Spring Sarasota Florida fishing charters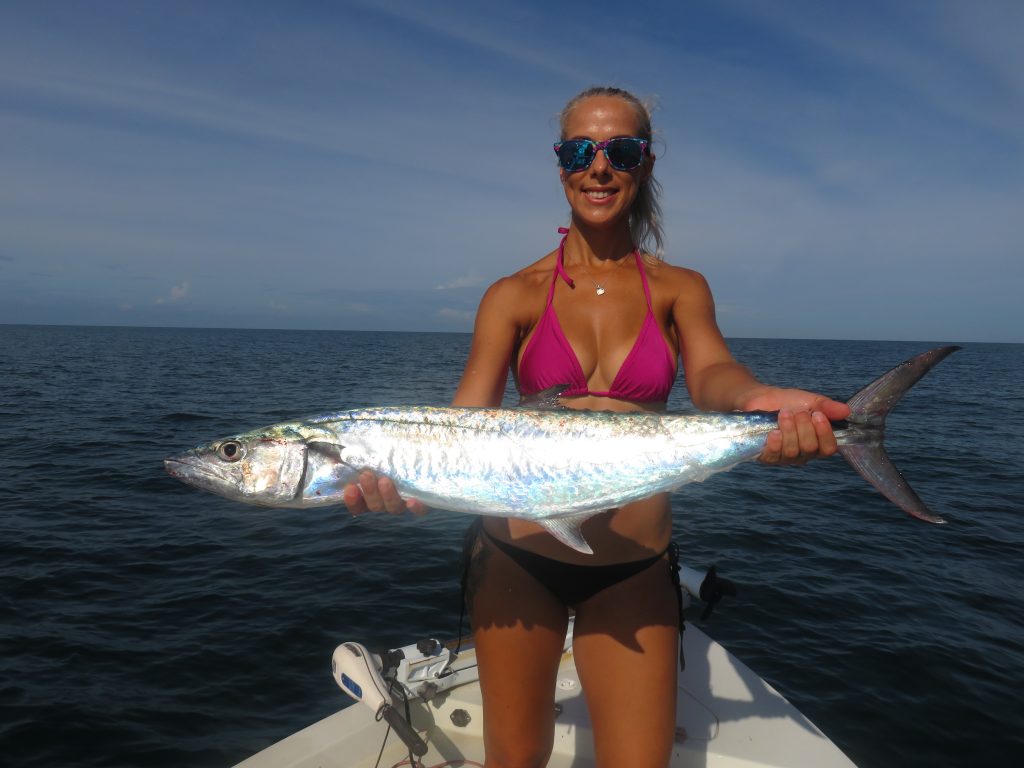 Like most fisheries, spring is an excellent time to go fishing. Rising water temperatures have the fish moving out of deep water and up onto the flats to feed. Many fish spawn in spring and feed heavily before they do so. Spring also brings migratory species such as Spanish mackerel, false albacore, cobia, and pompano to the area.
The deep grass flats of Sarasota Bay will be very productive in the spring. Lush submerged vegetation will hold shrimp and bait fish, which in turn will attract the game fish. Speckled trout fishing is at its peak in late spring. Live shrimp and jigs are equally productive. Spanish mackerel, bluefish, pompano, ladyfish, jacks, cobia, and other species will be taken on the grass flats as well.
The two passes connecting Sarasota Bay with the Gulf of Mexico can be teeming with fish and spring. Big Sarasota Pass and New Pass offer great fishing at times. These passes are migration routes for fish moving in and out of Sarasota Bay. Ladyfish are generally very plentiful in the passes. Pompano, Spanish mackerel, bluefish, and other species are caught as well. A jig bounced along the bottom from a drifting boat is very productive.
Snook, redfish, and jacks will be targeted by experienced anglers on the shallow flats. Grass flats, oyster bars, and mangrove shorelines and water from 2 feet deep to 5 feet deep will hold these game fish. Jigs and live shrimp work best for redfish. Plugs are a great artificial lure to use to locate snook and jacks on a large flat.
Summer Sarasota Florida fishing charters
Summer is a great time to fish in Sarasota! Anglers are often surprised to find out that summer offers the fastest action of the year in terms of number and variety. The key to this great summer fishing on Sarasota Florida fishing charters is the abundance of live bait. Hordes of small shiny baitfish cover the shallow flats, especially those near the passes.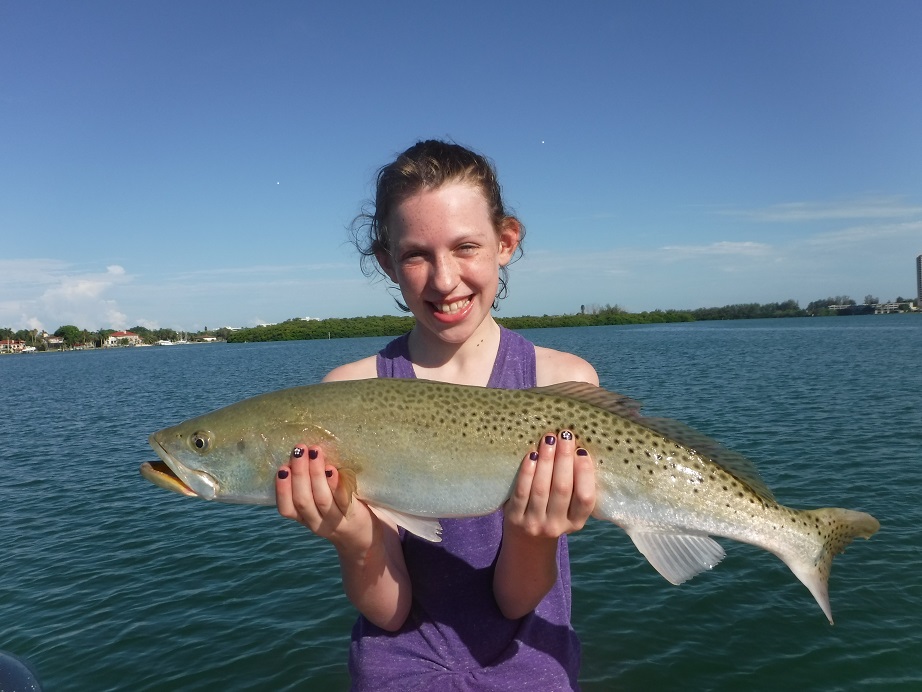 Charter boat captains use a special technique this time of year called "live bait chumming". It requires a lot of live bait. A cast net is used to procure 500 or so frisky live baits. They are put in a large well with a recirculating pump. The boat is then anchored on a likely flat and a few handfuls of live bait fish are tossed off the stern.
If game fish are around, it won't be long before there taking advantage of the free meal. Hooked baits are then cast in and it is "game on"! However, it is very hot so this is an early-morning game. Clients meet at the docket first light and are usually back home by late morning.
Sarasota tarpon fishing charters
Summer also offers visiting anglers a special thrill, the chance to catch a giant tarpon! These fish move into the area in mid May and stay until mid July. Tarpon average 75 pounds and fish to 150 pounds are not uncommon. This is big-game fishing and is an unpredictable. There will be days when no fish are hooked. This is definitely a charter for more experienced hunters and fishermen.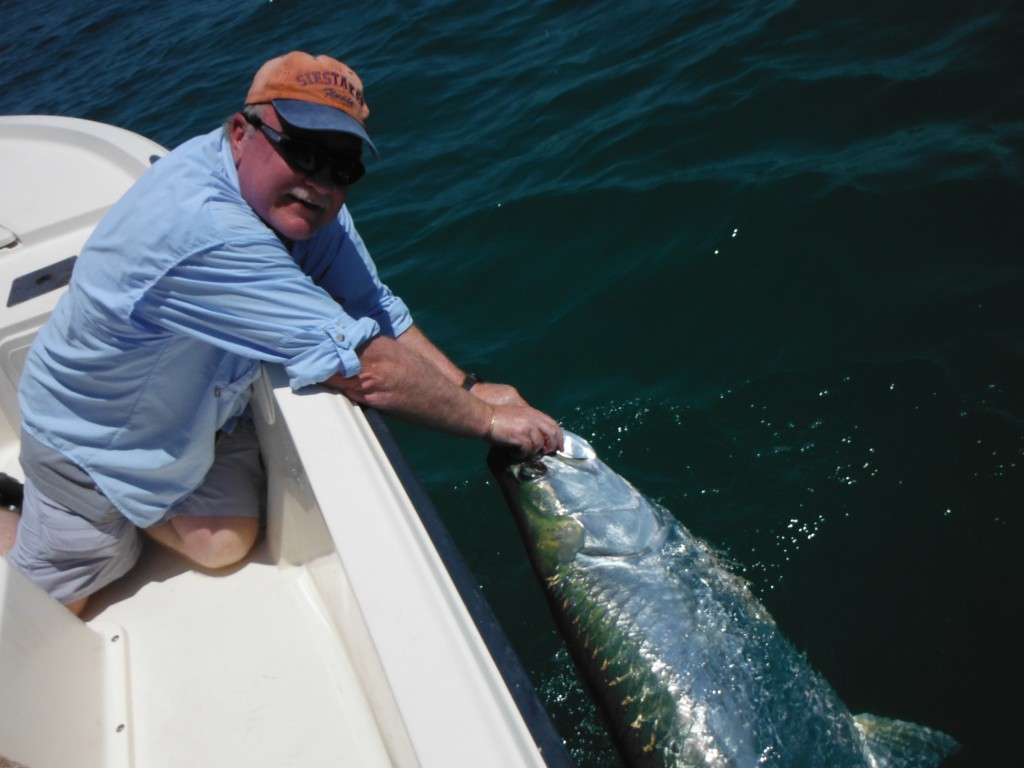 Snook will school up in the passes and out on the beaches in the summer as well. The rocks in Big Sarasota Pass on the north end of Siesta Key are a particularly good summer time snook spot. Live bait works best in this situation. However, artificial lures and flies are the baits of choice when site fishing for snuck on the area beaches.
Fall Sarasota Florida fishing charters
Fall is a great time to visit Sarasota, Florida. By mid October it has started to cool off a bit. Shorter days and falling water temperatures get the fish moving as a are transitioning into their fall and winter patterns. By this time, chances for a tropical storm are low in the weather is usually very reliable. Also, tourist traffic is light, which means hotels and restaurants are not crowded.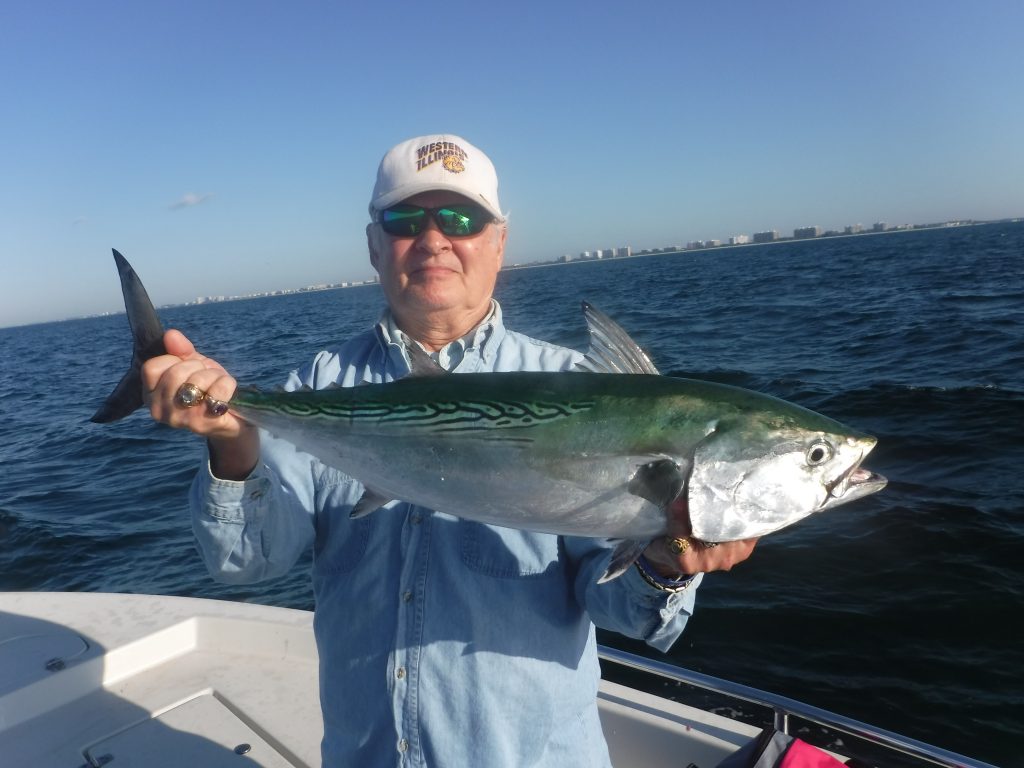 When conditions are right and the bite is on, I spent a lot of time in the inshore Gulf of Mexico and the fall. Site casting to schools of breaking false albacore is fantastic sport on light spinning tackle or on fly. These diminutive tuna fish make long, fast runs and will test the tackle. Spanish mackerel, sharks, cobia and other species are mixed in as well.
Sarasota Bay offers visiting anglers excellent action and the fall as well. Snook have moved from the beaches in the passes back inside. They are found in the normal spots, docks, mangrove shorelines, oyster bars, and flats. Outgoing tides early and late in the day our prime times to catch them. Jacks and redfish will be taken as well.
Both the passes and deep grass flats should provide steady action for clients on Sarasota Florida fishing charters as well. Grass flats in from 6 feet of water to 10 feet of water will hold the majority of species. Speckled trout, Spanish mackerel, bluefish, Pompano, ladyfish and other species will be taken. Pompano are targeted in the passes on the outgoing tides in the fall.
Techniques used on Sarasota Florida fishing charters

Sarasota deep grass flats
The majority of fish caught on Sarasota Florida fishing charters are taken on the deep grass flats in Sarasota Bay. These are submerged weed beds in water between 5 feet deep and 10 feet deep. These are fertile environments which hold bait fish, shrimp, and other crustaceans. The abundance of forage attracts the game fish.
The deep grass flats are fished in two ways; drifting in anchoring. Drifting is the preferred technique when anglers are searching for schools of fish. Jigs are cast ahead of the drifting boat while a live shrimp or bait fish is free lined behind the boat. Often times, both methods are employed at once. This is a very effective strategy.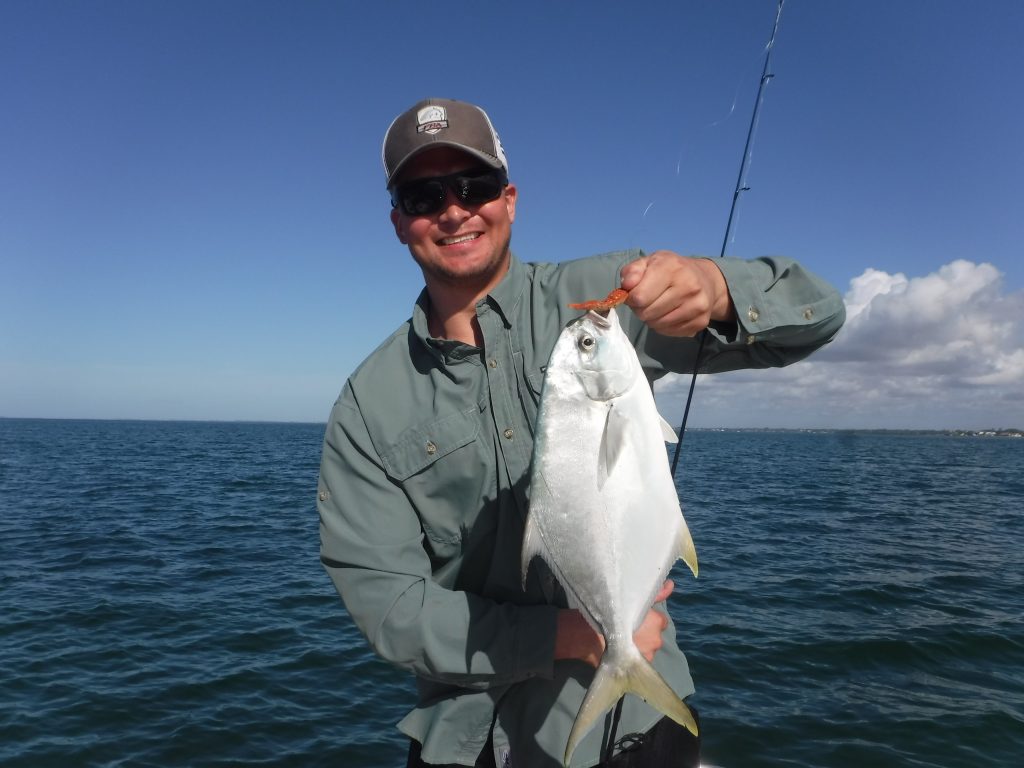 Once fish are located, the boat can be anchored. Anglers can then thoroughly work the area, maximizing the bite. Once the bite slows, the anchor is picked up and the drift is resumed. Another option is to continue the drift then motor back around slowly and re-drift the productive area again.
Anchoring can also be very effective on the deep grass flats. This is done when live bait chumming and also when anchoring on the edge of a flat. Chumming will draw the fish up behind the boat so there is no need to drift. Fish often relate to edges. Therefore, anchoring on the edge of a flat where it drops off into deeper water can be very productive. For the most part, anglers anchoring on the grass flats will use live bait.
Sarasota shallow flats fishing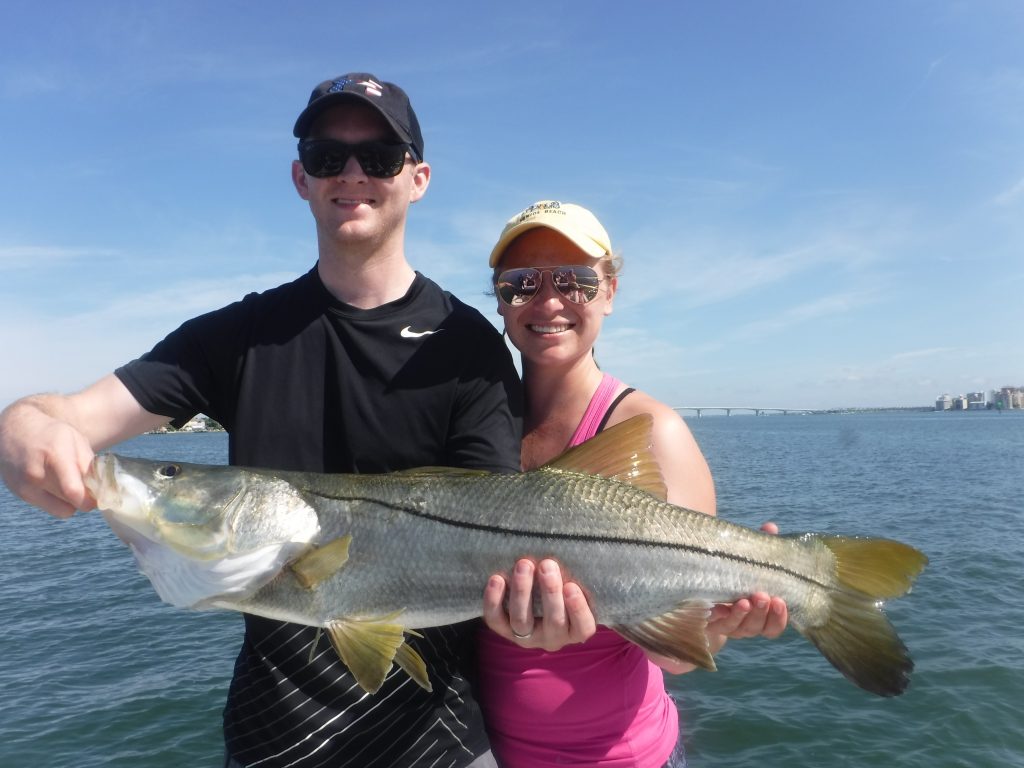 Anglers fishing the shallow grass flats will often catch the largest fish. This may seem backwards, however, the larger fish are loners and will often be found in water that is to feet deep to 4 feet deep. Redfish school up in these shallow waters. Large speckled trout will take up residence along and oyster bar or in the deeper hole. Snook will be found along the edges of bars and mangrove shorelines.
For the most part, anglers fishing the shallow flats are giving up numbers in search of quality. Patience is required as there is often a lot of water to be covered in order to find the fish. Many times the fish are loners or scattered out as opposed to encountering schools. Artificial lures are usually chosen as they allow anglers to cover the water effectively. Plugs, spoons, and jigs are all good choices.
Fishing Sarasota passes
As mentioned earlier, passes connect Sarasota Bay with the Gulf of Mexico. A pass is an inlet, it is just the term used in the Gulf of Mexico as opposed to the Atlantic Ocean. Big Sarasota Pass and New Pass are the two passes in Sarasota. Longboat Pass to the north separates Longboat Key and Anna Maria Island.
Big Pass is a great fishing spot that will hold fish all year long. There is a plethora of structure on the entire north side of Siesta Key in Big Pass. Concrete seawalls, riprap, docks, and submerged rocks and ledges hold large numbers of sheepshead in the late winter and spring. Mangrove snapper and gag grouper can be found all year long. Snook will hold in the structure in the summer time as well. The key to the spot is the abundance of structure along with the deeper water, up to 25 feet deep.
Plenty of fish will be caught in the pass itself, particularly ladyfish. These hard fighting rascals are great fun on light tackle and are a perfect fish for novice anglers to practice up on. They are very cooperative and aggressive. They leap high up out of the air when hooked. Pompano, bluefish, jacks, and Spanish mackerel will also be taken regularly.
Vertical jigging is a productive fishing technique
Vertically jigging from a drifting boat is an excellent technique when fishing the passes. It is also very simple and easy for novice anglers to do. The jig is simply let down to the bottom, then the bail on the reel is closed. As the boat drifts along, the jig is hopped sharply up off the bottom a foot or so. Then, is allowed to fall back to the bottom. This action closely mimics a fleeing crab or shrimp and is very effective. Anglers can drift with live bait as well.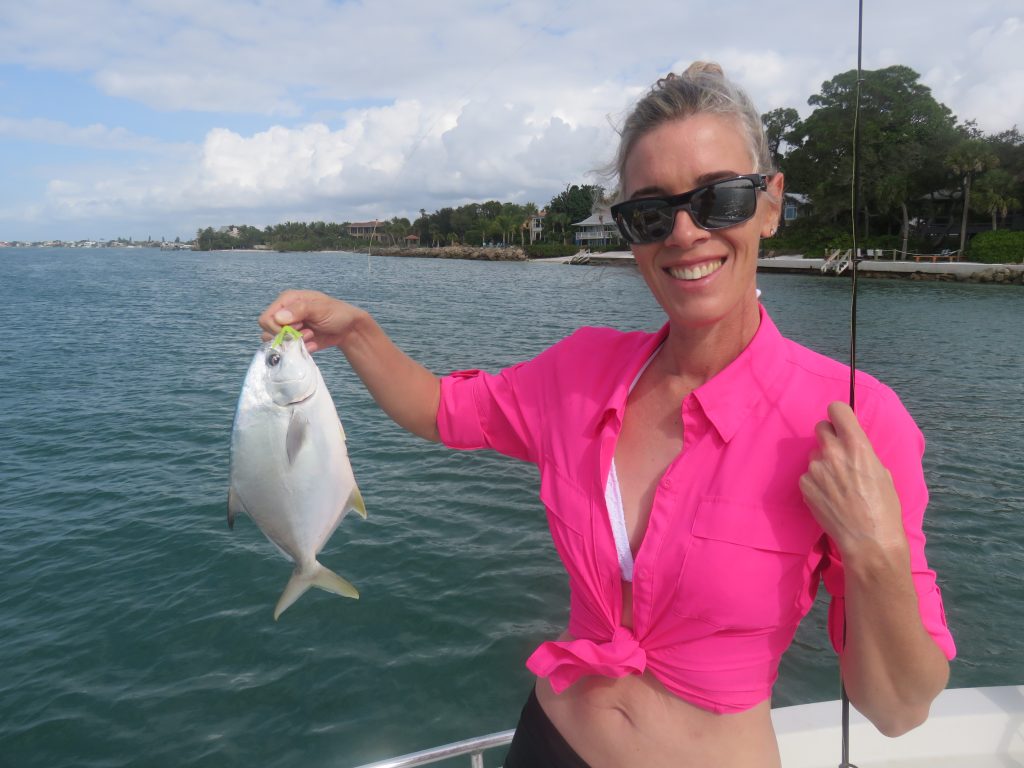 Breaking fish will often be seen in the passes. Bird activity will often give their location away. Once the angler gets closer, it is easy to see the fish feeding aggressively on the surface. This is great fun as just about lure or bait that remotely resembles the prey will get eaten. Jigs, spoons, and plugs are all productive lures.
Fishing Sarasota docks and bridges
Docks and bridges are fish magnets. They provide shade, structure, and hold forage. These are all the things a fish needs. There are many docks in the area, and not all will be productive. Capt. Jim has learned which once produce on his Sarasota Florida fishing charters.
Live bait is most often used when targeting fish under docks and around bridges. Live shrimp are used most of the year and are an extremely effective bait for a variety of species. In the summer time, a switch to live bait fish is more productive. Pin fish can be sick in the summer time and are a nuisance, nibbling the shrimp off of the hook.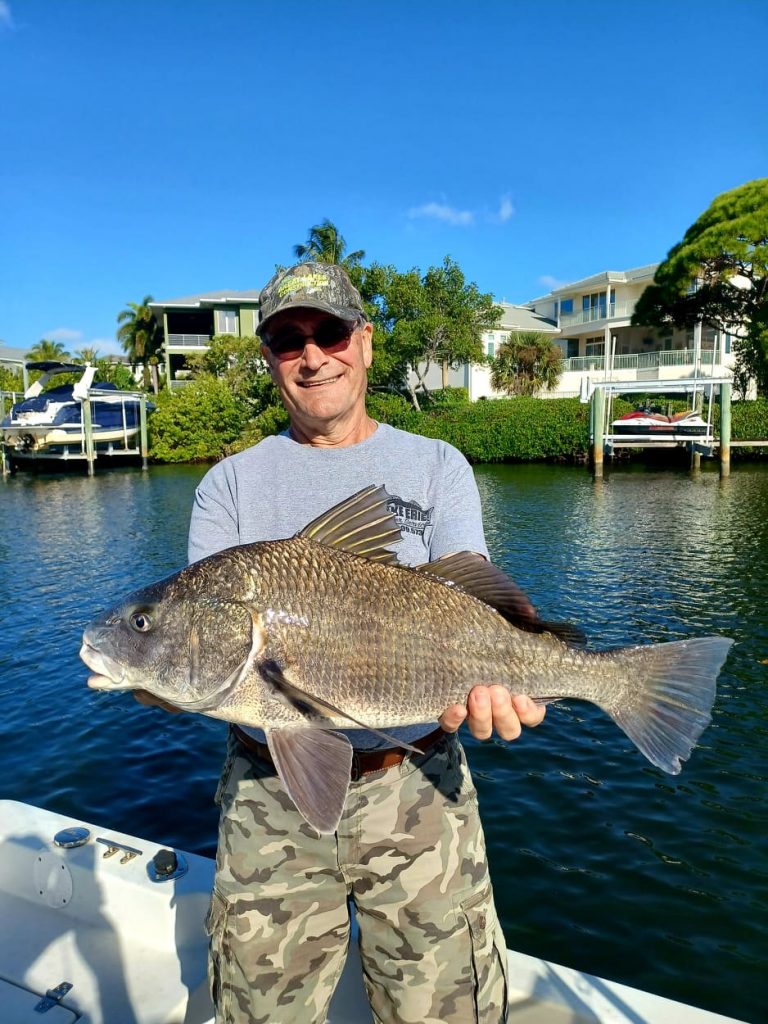 Anglers can also fish docks using artificial lures. Plugs are a great choice as I don't hang up on the bottom and allow anglers to cover a lot of water in a relatively short amount of time. These plugs will fool snook, jacks, redfish, snapper, and more.
Fishing lighted docks and bridges at night is a very productive technique for catching snook. The lights attract plankton which then attracts small a bait fish and shrimp. The snook and other game fish are then attracted to the bait. Anglers fish the shadowy area where the light turns to dark. An outgoing tide is considered best. This is a great way to beat the heat in summer time. Trout, snapper, bluefish, and ladyfish will be caught as well.
Fishing the inshore Gulf of Mexico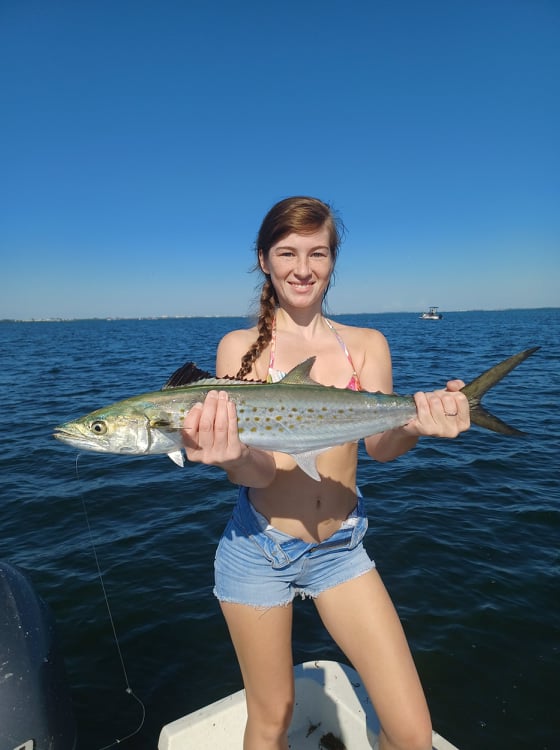 Clients fishing the inshore Gulf of Mexico can experience some world-class fishing in the spring and again in the fall. Pelagic species such as Spanish mackerel, king mackerel, and false albacore migrate up the coast in the spring and back down the coast in the fall. They migrate with the schools of glass minnows and other bait fish. They are often seen aggressively foraging on the surface. We call this "breaking fish"and it is very exciting! Jigs, spoons, small plugs, and flies are all very effective. Live bait will work, but there generally is no need to use them with lures being so effective.
Most of this action will take place from several hundred yards offshore to 2 miles or so. Anglers simply cruise around looking for signs of fish. There are three artificial reefs right off of Lido Key. On days when surface activity is difficult the fine, these can be excellent backup spots.
Those artificial reefs also offer anglers excellent bottom fishing all year long. Large sheepshead will be caught in late spring. Mangrove snapper and gag grouper are present all year long. Flounder are taken sometimes in the winter. Grunts can provide action at any time. Live or cut bait fish on the bottom will produce the bottom species for anglers looking for a fresh fish dinner.
Trolling can be a very effective technique in the inshore Gulf of Mexico as well as in Sarasota Bay. Trolling is very well suited for the open Gulf. While casting to breaking fish is preferred, there are times when the fish just do not show. This is when trolling can save the day as it takes the lures down to where the fish are.
Trolling also allows Capt. Jim to cover a lot of water in a short amount of time on his Sarasota Florida fishing charters. Trolling works very well for Spanish mackerel and king mackerel in particular, but will catch false albacore and other species as well.
Fly fishing in Sarasota

Fly fishing is something many visiting anglers enjoy. Saltwater fly fishing is a bit different from fishing in freshwater trout streams. The primary difference is that saltwater fly anglers need to be able to cast about 40 feet or so in order to regularly catch fish. However, this is fairly easy to do with modern fly equipment.
Any fish that will take a jig or other artificial lure can be caught on fly. The number one fly in this area, as it is in many other areas, is the Clouser Minnow. This fly will sink down on the deeper flats and closely resembles a shrimp or small bait fish. Speckled trout, ladyfish, bluefish, mackerel, jacks, and more are caught on the deep flats.
Spanish mackerel and false albacore will most certainly take a fly out on the beach. When these fish are actively feeding, they will readily take a well presented fly. On some days, flies will actually out produce lures. False albacore in particular can be very fussy when they're focused on tiny glass minnows. A fly is a better invitation for these than any lure.
River snook fishing charters
Anglers seeking a different experience may like a River snook trip. Snook migrate up into residential canals, creeks, but most of all area rivers in the winter. They do this to escape the extreme temperature changes on the shallow flats. The Manatee River, Braden River, and Myakka River all hold good populations of snook in the winter. Jack crevelle, redfish, juvenile tarpon, and other species will be caught in these locations as well.
These are brackish rivers. This means that they are tidally influenced but have a low salinity level. Largemouth bass, catfish, and other freshwater species will inhabit the same areas as the snook will. The combination of the scenery, species available, and the opportunity to land a trophy snook make this a unique angling experience.
Rapala plugs are used on the vast majority of Sarasota river charters. These lures allow anglers to cover a lot of water while inducing reaction strikes. This results in the fish coming out of the cover to attack the bait, giving anglers a better chance to land the fish. Strikes are often times ferocious and sometimes right at the boat! This trip does require patience and decent casting skills. It is best for experienced anglers.
Sarasota Florida fishing charters species
Sarasota snook
Snook are the premier inshore game fish in Florida. Sarasota has a decent population of snook. They are basically a saltwater version of the largemouth bass. Snook are ambush predators. They have a largemouth in a wide, broad tail. They are built for short bursts of speed to either attack a bait or elude a predator.
Snook have a distinct seasonal migration. They winter in creeks, canals and rivers. As it warms up, they move out to the open flats and scatter out and feed. By summer time they have moved into the passes and out on the beaches to spawn. As fall arrives, the migration pattern reverses itself in the fish move back into Sarasota Bay and eventually back into the creeks and canals by winter.
Snook can be taken by just about every angling technique. Live bait such as shrimp, pin fish, grunts, and pilchards are extremely productive. Snook will also take artificial lures such as plugs, jigs, spoons, and flies. Snook are nocturnal and anglers seeking fast action will fish the lighted docs and bridges at night. Anglers can view current fishing regulations on the FWC site.

Sarasota speckled trout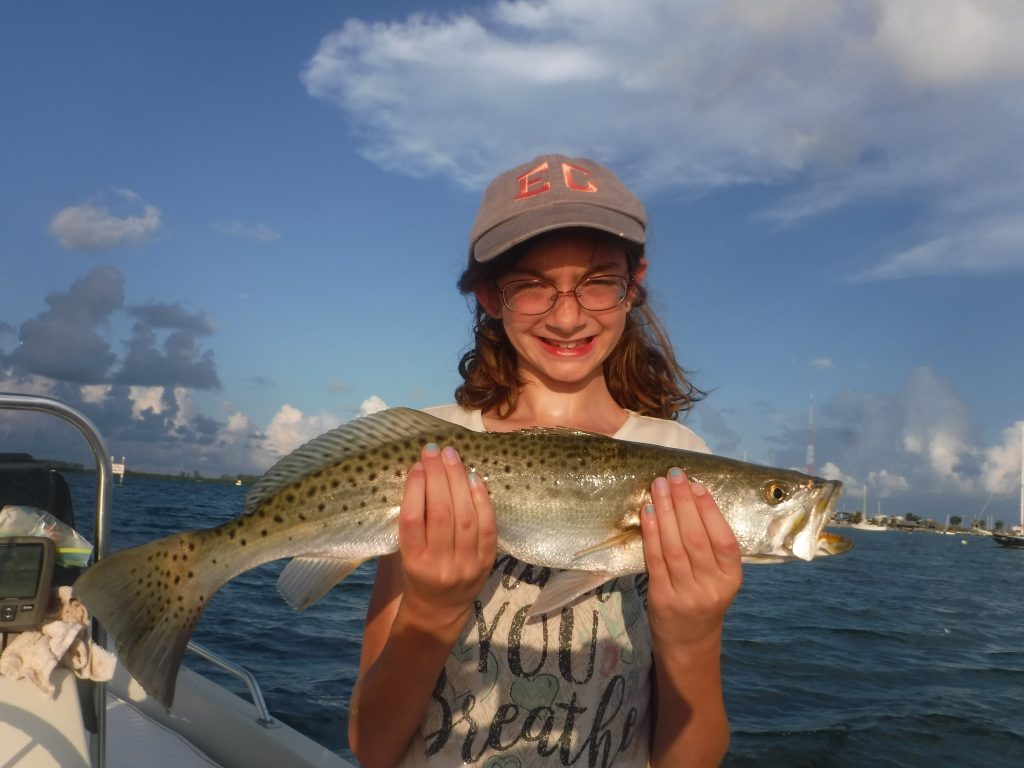 Speckled trout are probably the most popular inshore game species in Sarasota and the entire Gulf Coast. Speckled trout are numerous, aggressive, take lures and live baits, and taste great. They are the perfect charter fish! While not the greatest fighters in the sea, they put up a decent tussle on light tackle.
Anglers seeking numbers of fish will do well to target the deep grass flats. Submerge grass beds and 4 feet of water to 10 feet of water will hold good numbers of speckled trout. Fish generally school up by size. Once anglers start catching fish, most of them will be of a similar size. If a school of smaller fish is located, it is best to move on. At some point, patient anglers will find some decent sized fish.
It would be easy to argue that a live shrimp under a popping cork has resulted in more speckled trout being caught than all other live baits and lures combined. It is an extremely effective technique for catching trout and other species. A special cork is used. It has a concave face on the top. When twitched, it causes a "popping"noise. This simulates feeding fish and will draw trout and other species to the helpless shrimp. Bait fish and artificial shrimp can be used under a popping cork as well.
The jig and grub combo has resulted and many speckled trout for Sarasota anglers. Capt. Jim uses the jig and grub combo extensively on his Sarasota Florida fishing charters. They are very effective and it is an easy bait for novice anglers to learn to use. The jig casts well in the Shad tail has a good built in action. Jigs worked over the deep grass flats will produce ladyfish, bluefish, Spanish mackerel, Pompano, grouper, snapper, and other species.
Sarasota redfish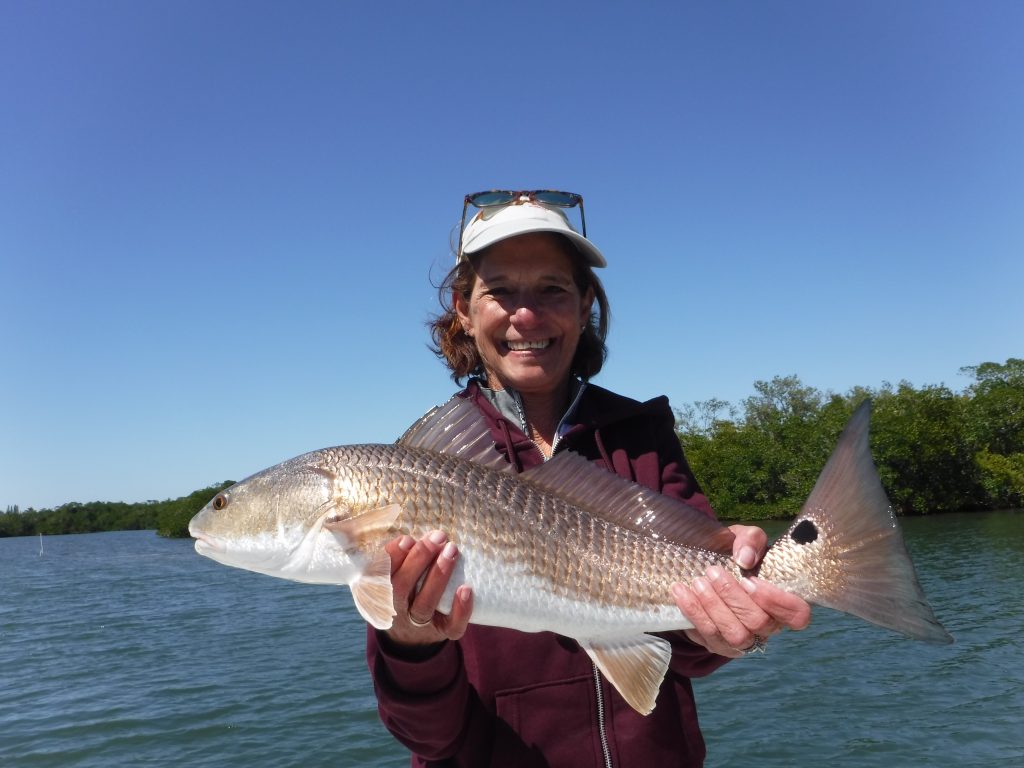 Redfish are extremely popular all along the southeast part of the United States. Fishing tournaments that target redfish occur in all southern states. While Sarasota Bay does have some redfish, the numbers aren't as great as Tampa Bay to the north and Charlotte Harbor to the south. Both of those areas have much larger areas of expansive shallow grass flats.
Redfish in Sarasota are caught two different ways, under docks and on the shallow flats. Many redfish are caught by accident by anglers targeting other species using live shrimp under docks and along mangrove shorelines. This is especially true in the cooler months. Redfish will be caught in the same locations as sheepshead, black drum, snook, and other species.
Many anglers prefer the challenge of site casting to redfish in shallow water. This requires stealth, patience, and determination. Redfish in shallow water are very spooky. It can be quite frustrating to cast over and over to fish that will not take the bait. But, as that is part of the challenge, it is also part of the reward when a fish is caught. Most anglers use artificial lures such as we list spoons and soft plastic baits. They allow anglers to cover a lot of water in search of redfish.
Sarasota Spanish mackerel
Spanish mackerel are a terrific and underrated game fish! Mackerel fight hard, make blistering runs, hit artificial lures, flies, and live baits with reckless abandon, and when eaten fresh are terrific eating. Some years Spanish mackerel can be caught all season long. But, generally speaking, spring and fall are the best times to catch them.
Spanish mackerel will be caught and both passes and on the deeper grass flats near those passes. Mackerel will oftentimes be encountered in water slightly deeper than trout and other species. Grass flats and 8 foot to 10 or 12 foot of water are prime spots. Spanish mackerel will often be seen working on the surface. This is true on both the flats and in the passes.
The best Spanish mackerel action in Sarasota usually occurs in the inshore Gulf of Mexico. Clients on Sarasota Florida fishing charters experience fantastic action when conditions are right. When the water is calm and clear, bait fish will be thick several hundred yards off the beaches. This in turn will attract Spanish mackerel, false albacore, ladyfish, and other species. Anglers casting lures, flies, and baits into the schools of bait or to schools of breaking fish will have success. Trolling works well on days when the fish are not seen on the surface.
Sarasota pompano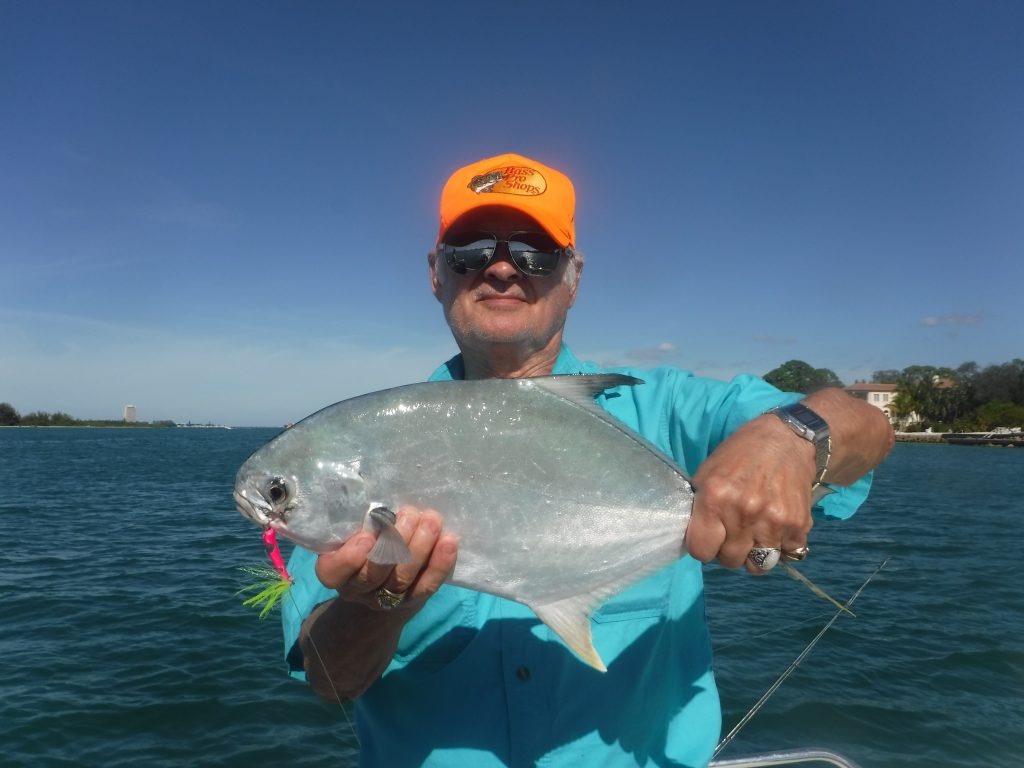 Pompano are a hard fighting and very desirable little fish that resembles the permit. Pompano are found in Sarasota Bay, though they are an intermittent catch. They put up a tremendous fight for their size, however they are prized for their delicious flesh. Pompano are one of the finest eating fish that swims.
Pompano are caught in the passes, on the deep flats, and off the beaches. Anglers targeting pompano use special jigs called "pompano jigs". These are small, compact little lures that mimic the small crabs that Pompano feed on. They have a smaller hook and shorter dressing than the larger jigs used for trout on the deep flats. Anglers cast them while drifting over the grass flats or vertically jig them while drifting in the passes. Surf anglers catch them casting jigs and using live shrimp and sand fleas.
Sarasota jack crevalle
Jack crevalle, or "jacks" for short are one of the hardest fighting fish in Sarasota. Jacks are the bar room brawlers of inshore fishing. They are mean and nasty! Jacks user broadsides and large Fort tails to pull incredibly hard. Jacks readily take artificial lures and flies along with live bait. They are not good to eat.
Jacks oftentimes school up in large numbers. This is a factor in their aggressiveness, as competition among the other fish takes hold. Jacks will be seen foraging on the surface. Anglers will sometimes find them milling just below the surface as well. Anglers blind casting for snook regularly hook jack crevelle.
Capt. Jim loves throwing plugs when targeting jacks. The take can almost jerked the rod out of the anglers hand! Shallow diving plugs work very well when targeting jacks and rivers and canals. The jig and grub combo falls plenty of jacks on the open flats as well is when they feeding aggressively on the surface. Some of the largest jacks caught on Sarasota Florida fishing charters are done so on River snook trips.
Sarasota bluefish
Northern anglers are quite familiar with bluefish. They inhabit the entire East Coast from Maine down to Florida and around to Texas. The bluefish that we have in Sarasota Bay average 2 pounds and a 5 pound bluefish is a nice one. However, they are great sport on light tackle. Blues are very aggressive and pull extremely hard for their size. Smaller ones are decent eating when bled out, immediately put on ice, and eaten that day.
Most of the bluefish caught by Sarasota anglers are done so accidentally while targeting other species. Like pompano, bluefish tend to favor the deeper grass flats. Submerged grass and 10 feet of water is ideal. Jigs are effective bait for catching bluefish as a can be cast a long way and will sink down in that depth of water. Most bluefish are taken by anglers casting artificial lures, though they will certainly take a live bait as well. The deep flats near the passes and the passes themselves are the prime spots.
Sarasota ladyfish
Ladyfish are disparaged by some anglers because they are not good to eat. This is a shame, as ladyfish put up a great fight on light tackle. They are aggressive, pretty, take lures flies and baits, and leap high into the air when hooked. Ladyfish are often targeted on Sarasota Florida fishing charters when children and novice anglers are on board.
Ladyfish school up, often times in huge numbers. It is not uncommon when encountering a school of ladyfish to have every angler hooked up at once. It gets a bit exciting when for anglers are fighting for fish at the same time! The deep grass flats throughout Sarasota Bay along with both Big Sarasota Pass and New Pass are prime spots. Ladyfish will often be found schooling out on the beach as well.
Sarasota sheepshead
Sheepshead are a member of the porgy family. They are a structure oriented species that is found under docks, on rocky bottom, around seawalls, and on oyster bars. They are rarely taken on artificial lures. Sheepshead are crustacean feeders and are caught by anglers using live shrimp, fiddler crabs, oyster crabs, and sand fleas. These saltwater panfish are very good eating but the large rib cage can make them difficult to clean.
Sheepshead show up in Sarasota Bay around Thanksgiving. However, their numbers increased dramatically around the end of January, when they begin their spawning run. They are generally sick in the passes, on the inshore artificial reefs, and around docs and bridges near the passes until late March.
Sheepshead are great fun and provide both action and meals for clients on Sarasota Florida fishing charters. One great aspect of this fishery is that anglers do not need to be great casters in order to achieve success. This is particularly true when they are schooled up in the passes. A hook baited with a shrimp and drop to the bottom will fool them.
Sarasota mangrove snapper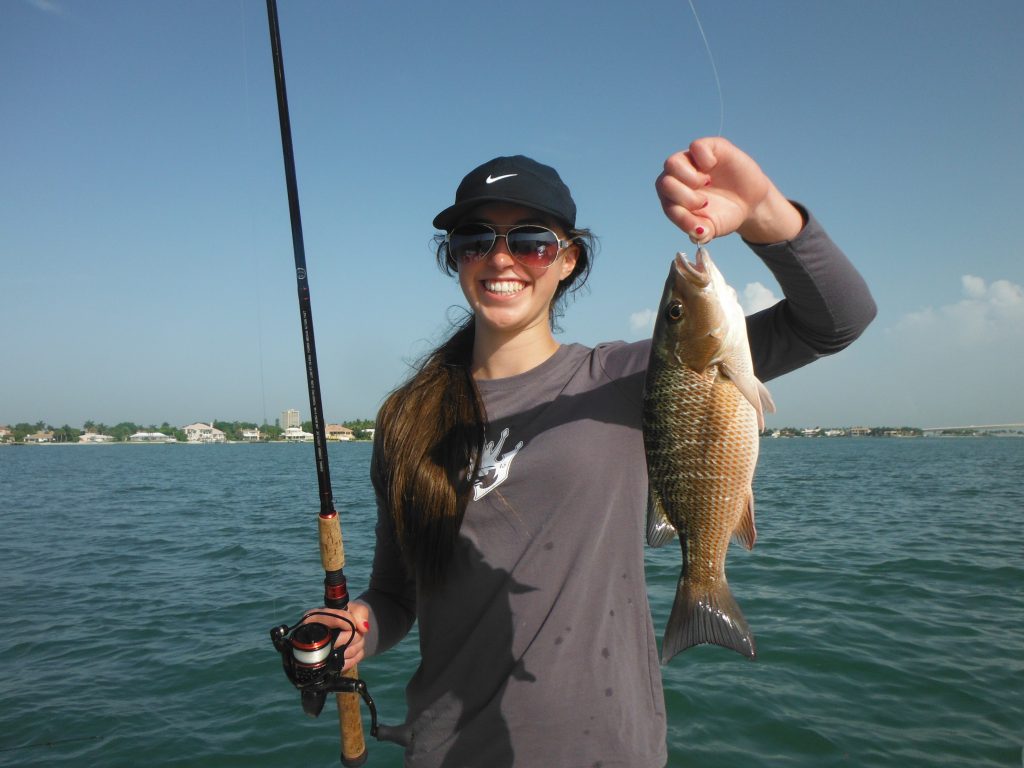 Mangrove snapper are often considered and offshore species. However, they are plentiful in Sarasota Bay and on the inshore artificial reefs. Snapper are taken all year long. Mangrove snapper are delicious eating and are prized by both local and visiting anglers. Most the snapper are taken by anglers using live bait or frozen bait. However, anglers fishing with Capt. Jim have caught many snappers casting artificial lures as well.
Mangrove snapper are caught around structure in Sarasota Bay all year long docs, bridges, oyster bars, and other structures will attract and hold them. Mangrove snapper also school up on the deep grass flats in the summer. They respond well to live bait chumming. Some of the snapper caught on the open flats are very nice ones, up to 18 inches. July and August are the top times to catch the flats snappers.
Ledges and areas of hard bottom in the inshore Gulf of Mexico hold a lot a snappers as well. This includes the artificial reefs just off of Lido Key. There is an area of coral bottom to miles off of old Midnight Pass as well. Anglers using light tackle, light leaders, lightweights, and small hooks will have more success is mangrove snapper can oftentimes be line shy.
Sarasota grouper
Grouper are another species most anglers associate with offshore fishing. However, quite a few gag grouper are caught inshore as well. Red grouper are less common inshore. Gag grouper are caught in the cooler months by anglers fishing for sheepshead. It is not unusual to hook a large grouper that the angler cannot control. Structure such as seawalls, docks, and bridges will hold gag grouper inshore. Most grouper in the cooler months are caught by anglers using live bait.
Gag grouper are caught on the open grass flats as well in the late summer. This is part of an annual migration as grouper in the 10 inch to 16 inch range migrate into the Gulf of Mexico. These fish can be caught quite plentiful on the grass flats near the passes. They are caught on live bait but will readily take a jig and grub as well as other artificial lures.
Sarasota tarpon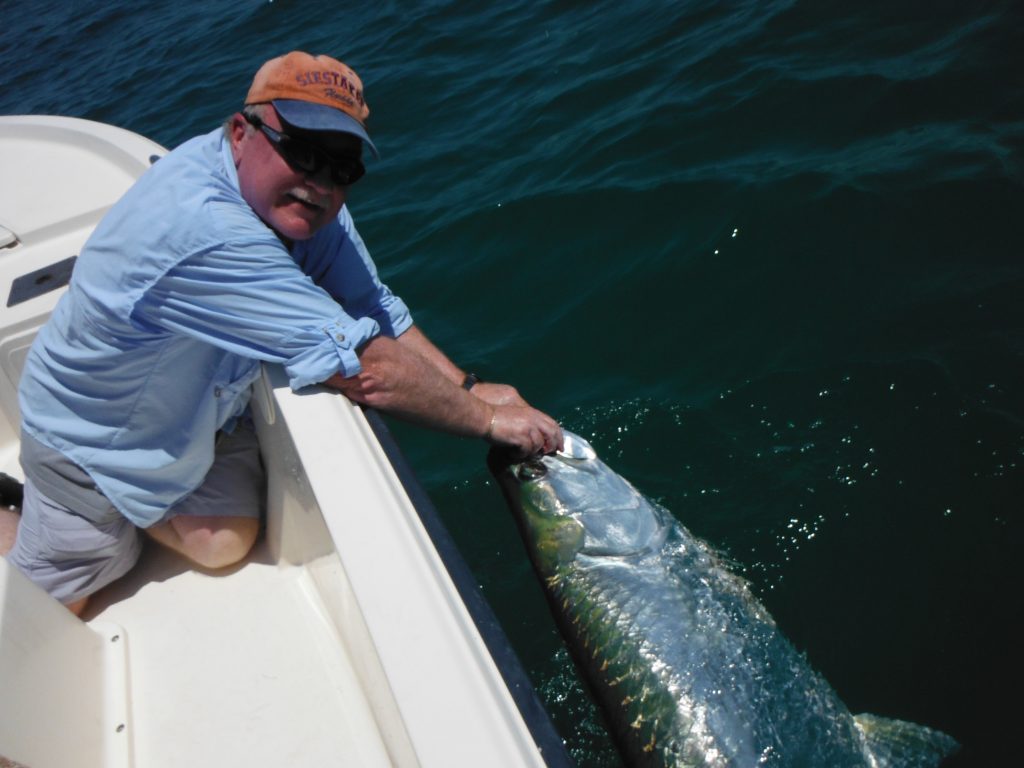 Tarpon, also known as the Silver King, are the ultimate game fish. Anglers have very few opportunities in the entire world to sight cast to fish of 150 pounds using spinning tackle or fly rods. Most fish of that size are caught by anglers trolling or bottom fishing with heavy tackle. Experienced anglers are best to target tarpon on Sarasota Florida fishing charters.
The run of giant tarpon begins in Sarasota in early May and peaks in mid June. Tarpon will be around until late July, though angling pressure thins out dramatically after the Fourth of July weekend. By that point it is also awfully hot. The week before the full moon in May and the full moon in June are the peak times to target tarpon.
This is not a game for the faint of heart. Tarpon will test both the tackle and the angler. Anglers sit several hundred yards off the beach and scan the water for signs of fish. Tarpon will be seen in groups rolling and milling about on the surface. The direction and speed of the fish are judged and hopefully the boat is put in position for an opportunity. This is as much hunting as it is fishing. It is not easy as everything must come together.
Sarasota false albacore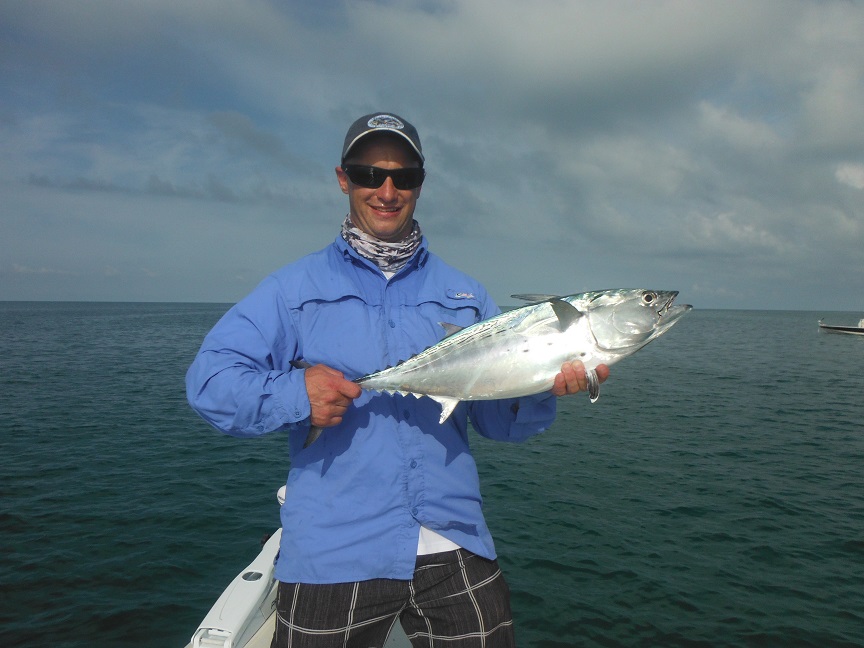 False albacore are a pelagic species that are found off of the Sarasota beaches in the spring and again in the fall. They are a terrific game fish! They are basically small tuna fish and are extremely fast. False albacore will make a long initial run. Often times, anglers will need to fire the boat up and chase it down.
One of the most exciting aspects of false albacore fishing is that so often it is visual. The fish are targeted as they forage aggressively on the surface. Small plugs, jigs, and flies cast into the melee will fool them. False albacore can be fussy at times, patience is required. They are not considered good to eat.
Sarasota cobia
Cobia are a migratory species that cruise the coast lines. Anglers can often sight fish them in clear, calm water. They will also congregate over artificial reefs and ledges. Cobia to come into Sarasota Bay and will put up a great fish on light tackle. Cobia grow very large, up to 100 pounds. They are fantastic eating.
Most cobia landed in Sarasota Bay are accidental catches. Jigs produce plenty of cobia, but they will certainly take a live shrimp or bait fish. Pinfish in particular are great baits. Anglers targeting them in the inshore Gulf catch them trolling and bottom fishing with live bait.
Sarasota flounder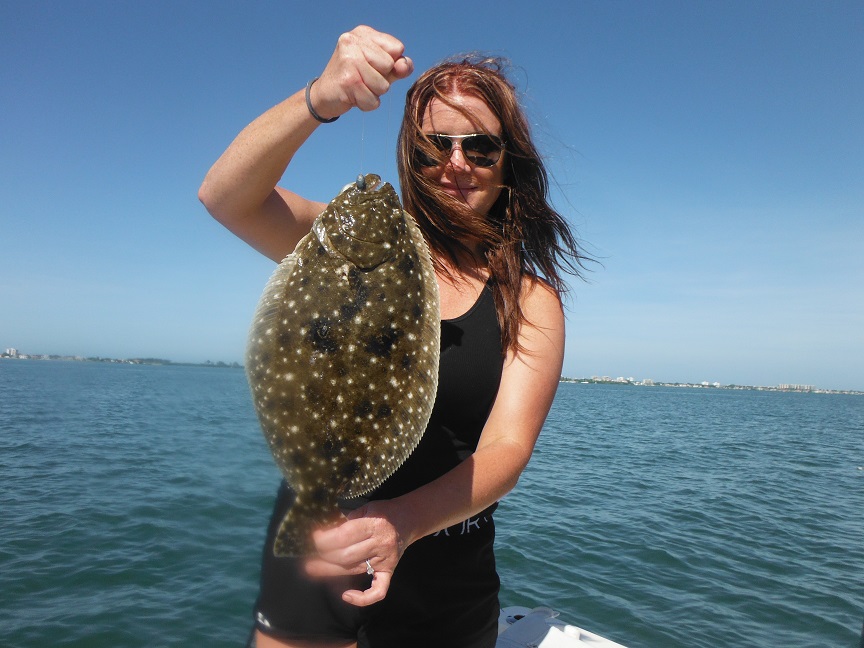 Flounder are in incidental catch for most anglers on Sarasota Florida fishing charters. They are caught near structure such as docks, bridges, bars, and ledges. In these locations, most fish are caught by anglers using live bait. Flounder are caught on jigs when drifting the flats as well. Flounder are fantastic eating!
in conclusion, anglers thinking about taking out Sarasota Florida fishing charters can expect action, variety, and a great day out on the water with Capt Jim Klopfer!