Sarasota Inshore Fishing Charters
Many visitors to the Siesta Key area choose to go out on Sarasota inshore fishing charters. There are several reasons for this.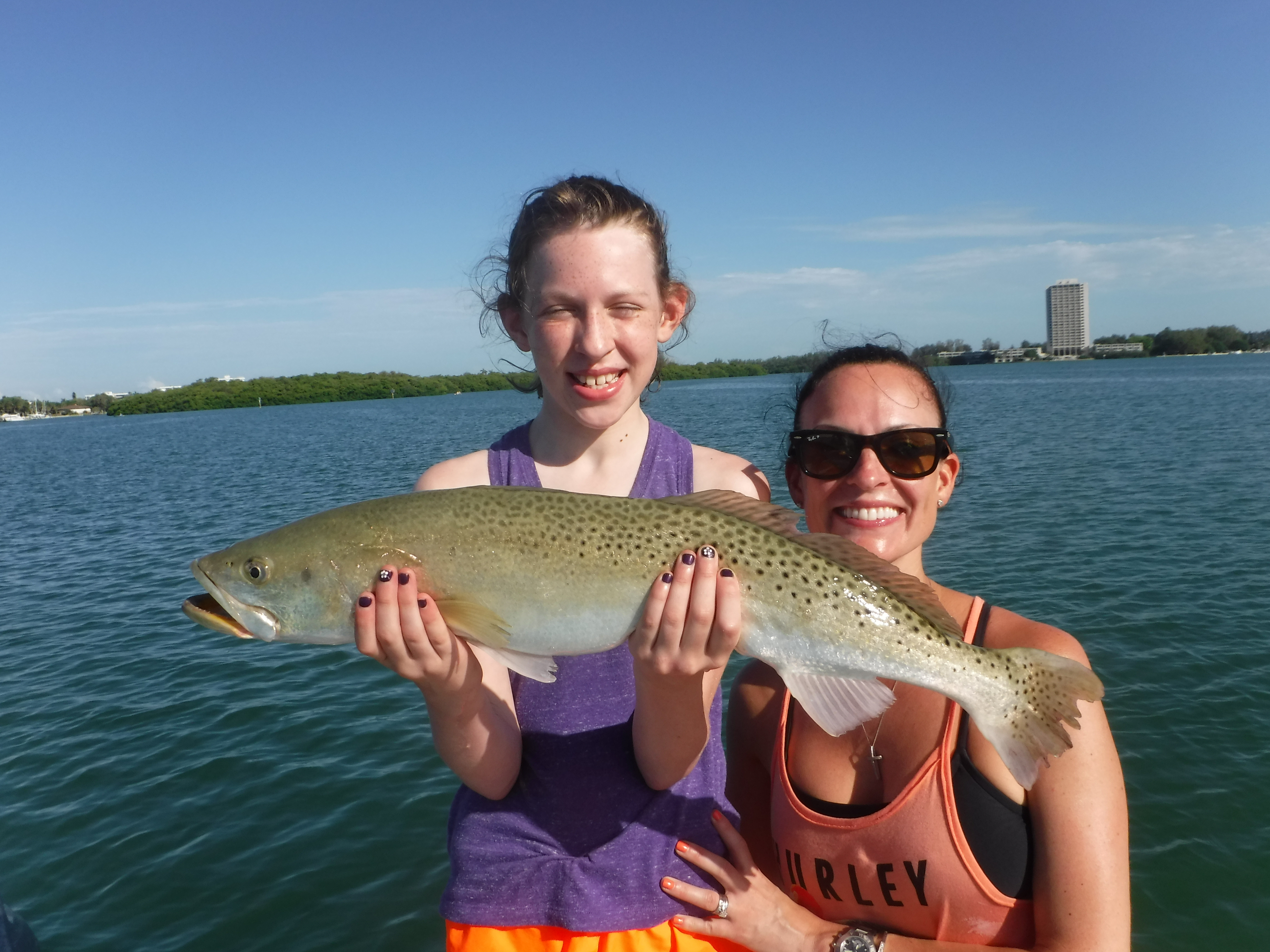 Inshore charters offer clients the opportunity to catch a wide variety of game fish in a comfortable setting. Inshore waters are smooth and calm. Anglers can fish in comfort. Game fish such as snook, redfish, speckled trout, Spanish mackerel, jack crevalle, bluefish, snapper, grouper, sheepshead, drum, flounder, cobia, ladyfish, sharks, and more are caught. Experience is not needed to catch many of these fish and enjoy a memorable day out on the water with family and friends.
What do visitors need to bring on Sarasota inshore fishing charters?
Capt Jim Klopfer provides anglers with all of the equipment needed on a Sarasota inshore fishing charter. Rods and reels, bait, lures, and fishing licenses are provided. Capt Jim also has a cooler with waters and ice on board. Guests only need to bring comfortable clothing, hats, sunglasses and sunscreen, and whatever other drinks and snacks they want.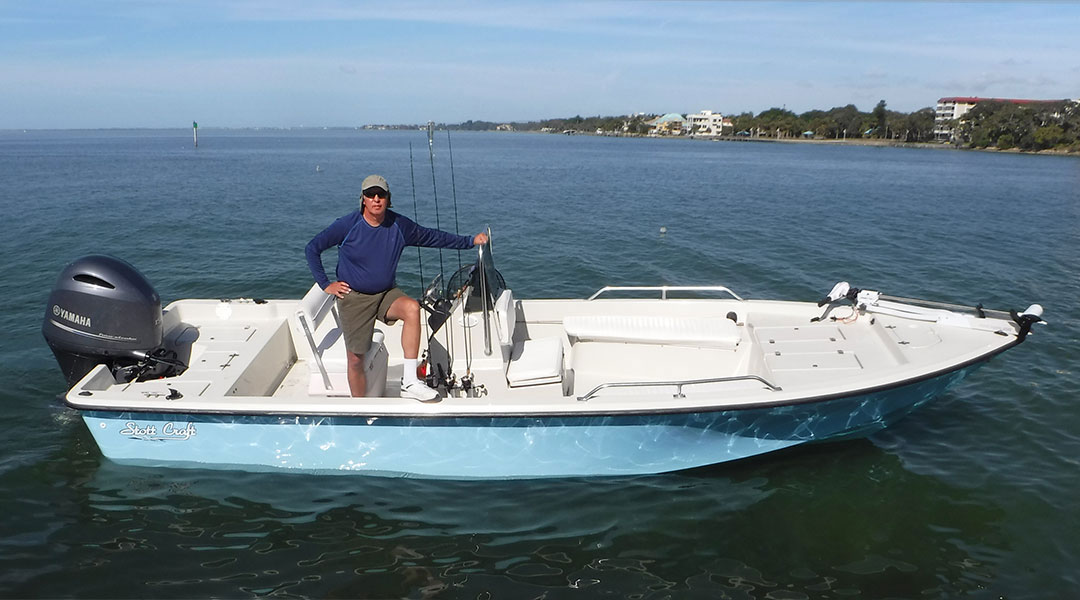 While catch and release is encouraged, it is fine for clients to take home a couple of fish to eat. Capt Jim will fillet the fish and put them in a Zip lock baggie. It is always best to talk the afternoon or evening before the charter to discuss details. Angler ages, experience levels, and expectations will dictate the fishing strategy for the trip. The same goes for whether "eating" fish are desired on the fishing charter.
Spinning tackle is used on the majority of fishing charters. It is easy for novice anglers to learn to use and well-suited to casting light lures and baits. Fly tackle and bait casting tackle can be supplied upon request. Anglers are certainly welcome to bring along their favorite rod and reel, as long as it is suitable for the fishing.
Capt Jim has been a fishing guide in Sarasota, Florida since 1991. Anglers who are interested in purchasing the equipment that he uses and writes about in his articles can do so HERE on the PRODUCTS page.
Where do anglers fish on Sarasota inshore fishing charters?
Sarasota Bay is roughly ten miles long and several miles wide. There are multiple islands that break up the bay and offer protection from the wind. Robert's Bay lies to the south of Sarasota Bay and is on the east side of Siesta Key. Sarasota Bay offers an opportunity for many different species throughout the season. Robert's Bay is better for snook, jacks, and redfish.
There are two inlets that connect Sarasota Bay with the Gulf of Mexico. On the Gulf Coast, these are called "passes". Big Sarasota Pass separates Siesta Key from Lido Key. New Pass separates Lido Key and Longboat Key. Both passes have deep water, abundant structure, and good current flow. These are prime conditions that offer good fishing all year long. Sheepshead school up in large numbers in late winter and spring. Mackerel run through in the spring and fall. Ladyfish are available all year long. Snook stage there in the summer as they move out to spawn.

The inshore Gulf of Mexico can offer great fishing as well. East winds will result in the Gulf being smooth and calm. In the spring and fall migratory species will move through the area. Spanish mackerel, king mackerel, false albacore, cobia, sharks, and more will be caught. Giant tarpon arrive in May and stay all summer. Artificial reefs off of Lido Beach provide good bottom fishing for sheepshead and snapper.
When is the best time of year to book Sarasota inshore fishing charters?
Fishing can be good all year when conditions are right. Winter fishing can be great, though weather is a factor. Spring is an excellent time to fish in Sarasota, but the pressure is high as it is prime season. Summer fishing is very good, but it is hot and anglers need to get an early start. Fall is a fantastic time to fish in Sarasota as the crowds are gone and the weather is nice.
Sarasota winter fishing
Fishing can be very good in Sarasota in the winter. However, anglers need to be adaptable and take advantage of the "windows" in the weather. Severe fronts will move through weekly. They bring strong northwest winds. This is a tough time to fish. It will settle down and warm up and fishing will improve.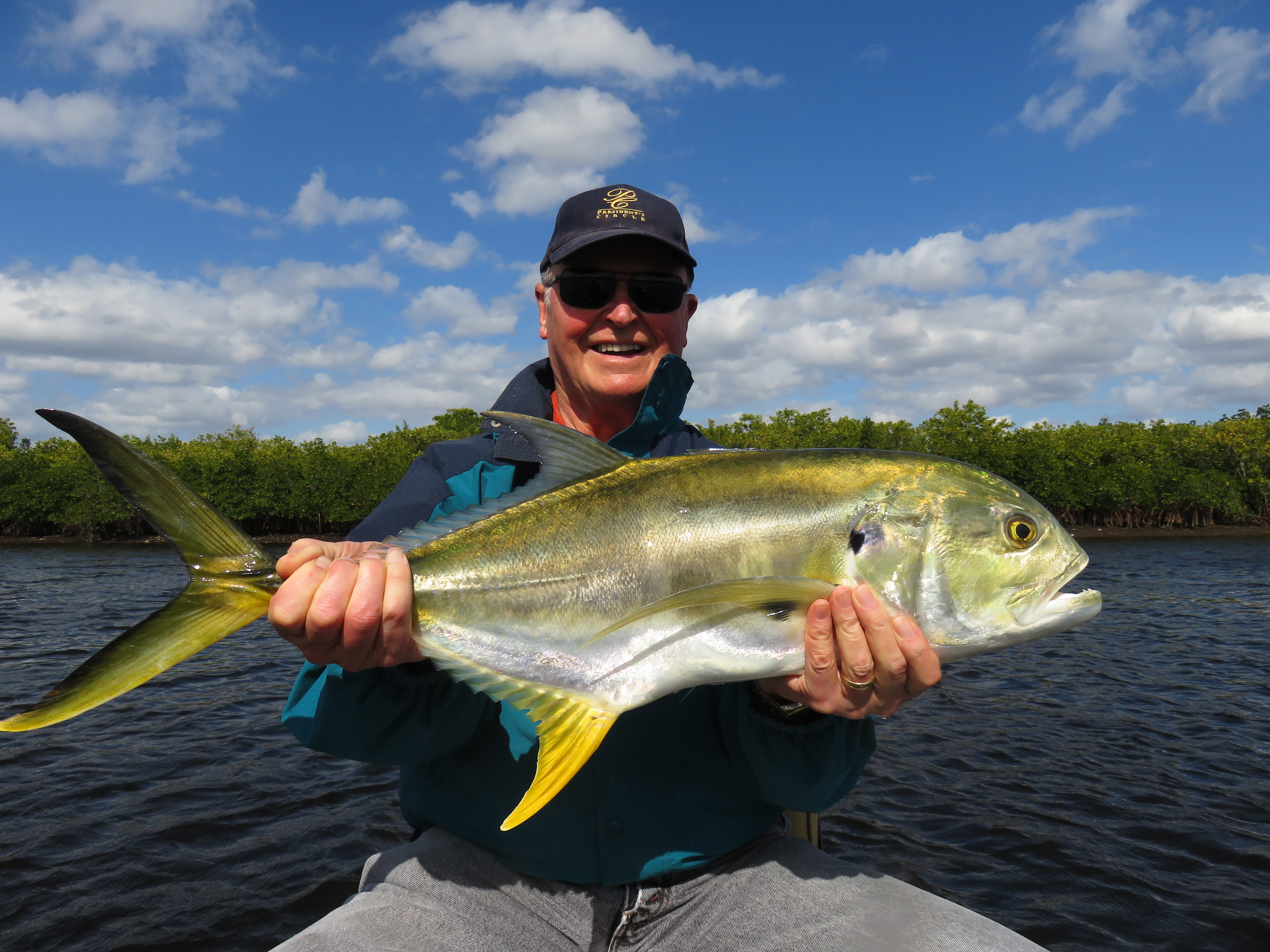 Fish will change locations and habits in winter. Deeper areas such as residential canals and the passes will hold sheepshead, drum, redfish, and other species. The water temperature on the flats will often dip into the 50's, which is a bit chilly for Florida fish species. The protected creeks and canals will be warmer while offering cover. Live shrimp are often used.
Snook and jack crevalle migrate up into area creeks on rivers in winter. This concentrates them and is an excellent opportunity to catch a trophy snook. This type of fishing requires decent casting skills and some patience. It is not a numbers game, more "quality over quantity". However, those anglers can be rewarded with a trophy fish caught in a unique setting.
Spring fishing on Sarasota inshore fishing charters

Fishing is usually very good in spring in Sarasota. Weather can be an issue, but fronts will be less severe and less frequent. Warming water will have the fish moving from their winter haunts to the flats. Many fish will be caught on the deep flats and passes as well as the backwater flats.
Drifting the deep grass flats will produce speckled trout, Spanish mackerel, pompano, bluefish, ladyfish, jacks, catfish, and other species. Live shrimp fished under a cork or free lined out behind the boat will catch fish. Anglers casting jigs will do well, also. Lures allow anglers to cover water quickly in search of fish. Big Pass will be a good spot to fish for sheepshead as their spawning run will be in full swing.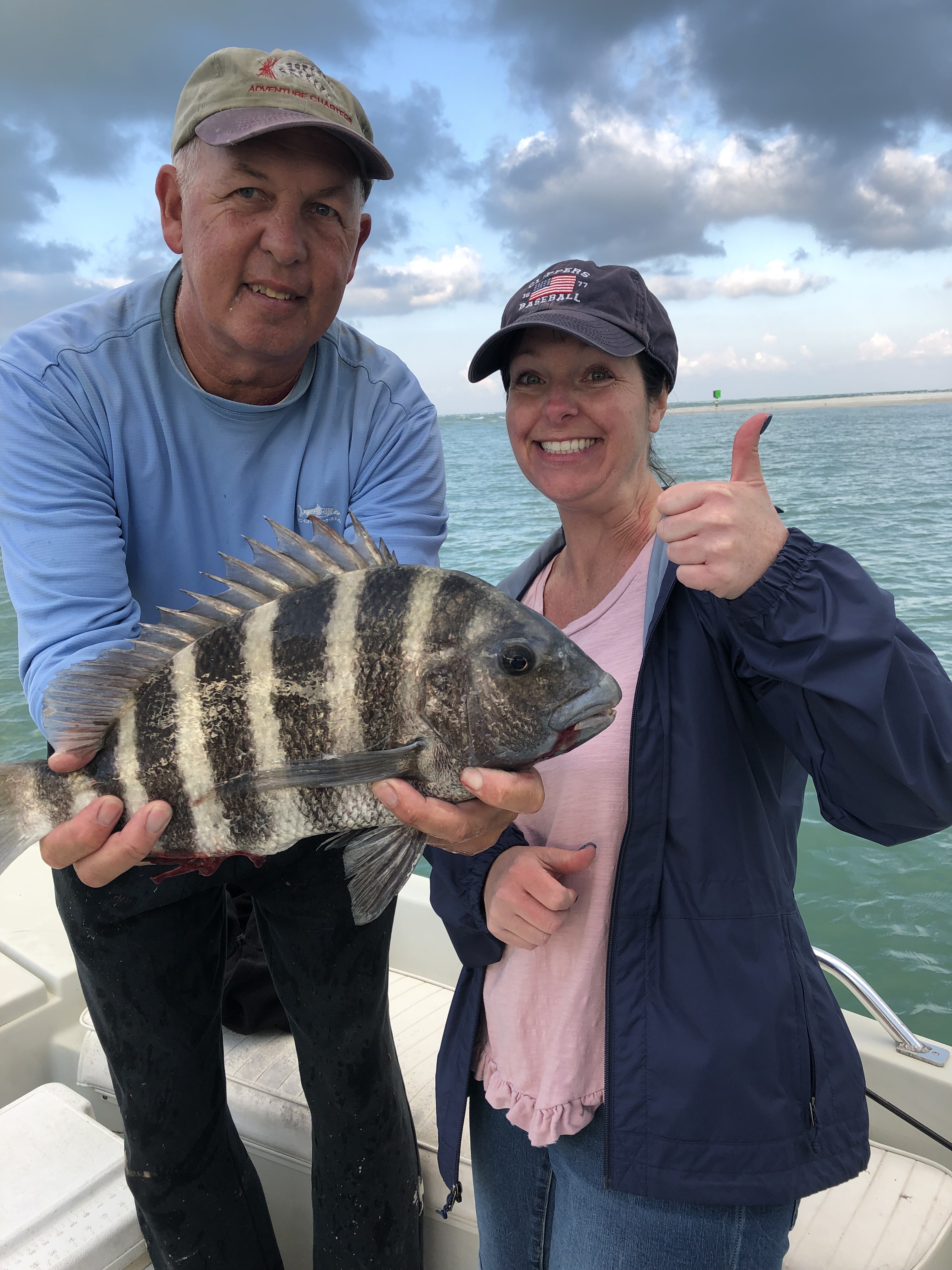 Anglers seeking a bit more of a challenge can choose to target snook, redfish, and jack crevalle along the mangrove shorelines and oyster bars. Lures are generally used as anglers can cover more shoreline cover. Plugs and jigs are the top producing baits. This is an exciting type of fishing that is best for more experienced clients.
Sarasota summer fishing
Fishing can be fantastic in summer! However, it is very hot and an early start is required. Anglers will get out at first light and be done by 11:00 or so. Night fishing is another option to beat the heat. Most of the action will be on the deeper flats as the water will be warm.
The key to summer fishing is bait. Sarasota Bay will be full of small bait fish. This in turn attracts the game fish. One technique that works very well is "live bait chumming". Capt Jim will cast net hundreds of baits, then use them to chum fish behind the boat. Once excited, they are easily caught on hooked baits. Anglers can cast lures for the first hour or so and catch fish, but that will slow as the sun comes up.
Snook will be schooled up in the passes and out on the beaches. Live pilchards and shrimp works great when cast towards structure in the passes. Lures are productive out on the beach as the mimic the small fish and crustaceans that the snook are feeding on. Anglers seeking the ultimate challenge can target tarpon. This is "big game" fishing and is not for everyone. However, it can produce the fish of a lifetime!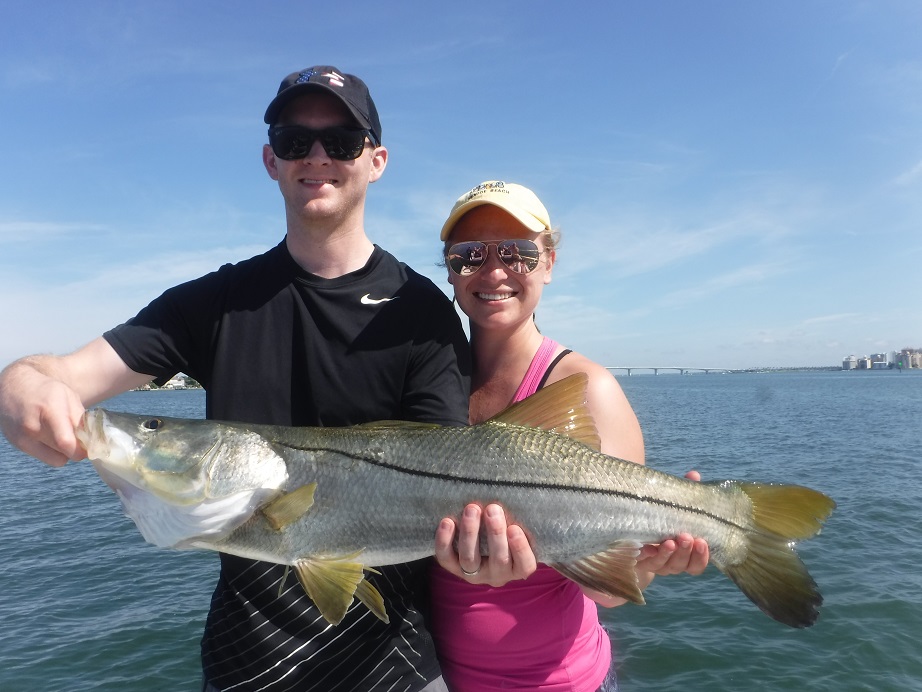 Fall fishing in Sarasota
Fall is a great time to be fishing in Sarasota! Cooling weather and sparse crowds make for a very comfortable experience. Cooling water has the game fish in a feeding mood. Fish are found on all of the flats and out on the beaches.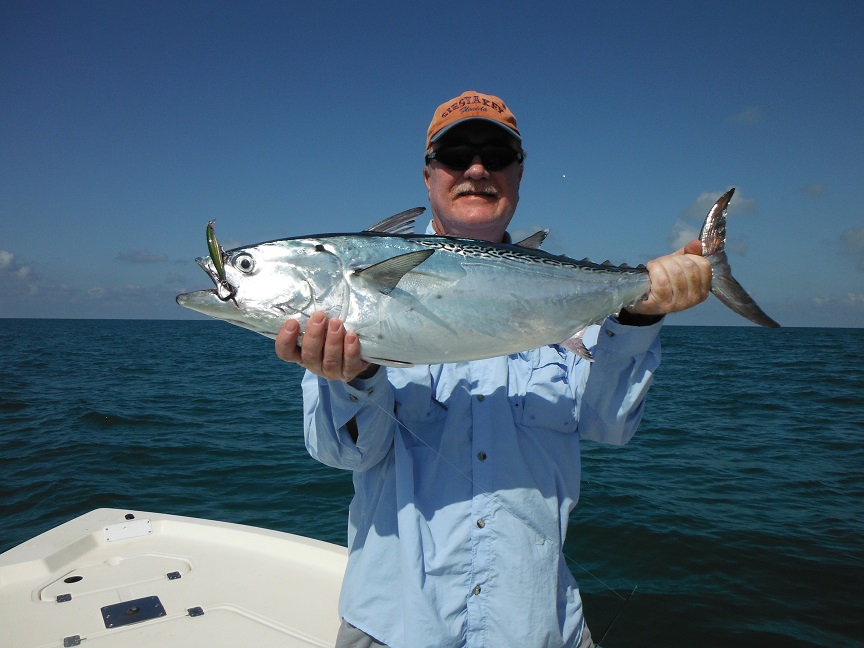 Live bait chumming will still be effective as the bait stays around until Thanksgiving or so. The deeper flats will produce the same species as in spring. This same technique will produce snook, reds, and jacks in Robert's Bay and other back water spots. This is a great time of year for inexperienced anglers to catch a nice snook.
The fishing in the inshore Gulf of Mexico can be fantastic in fall when conditions are right. High pressure will result in days of east winds. This will have the water close to shore calm and clear. Anglers will sight cast to ravaging schools of Spanish mackerel and false albacore. King mackerel, sharks, cobia, and even a stray tarpon will be encountered as well.
What types of fish are caught on Sarasota inshore fishing charters?
The list of species that are available to Sarasota anglers is fairly long. The top species caught on Sarasota inshore fishing charters are snook, speckled trout, redfish, Spanish mackerel, pompano, bluefish, jack crevalle, sharks, ladyfish, sheepshead, black drum, mangrove snapper, gag grouper, flounder, and more.
Snook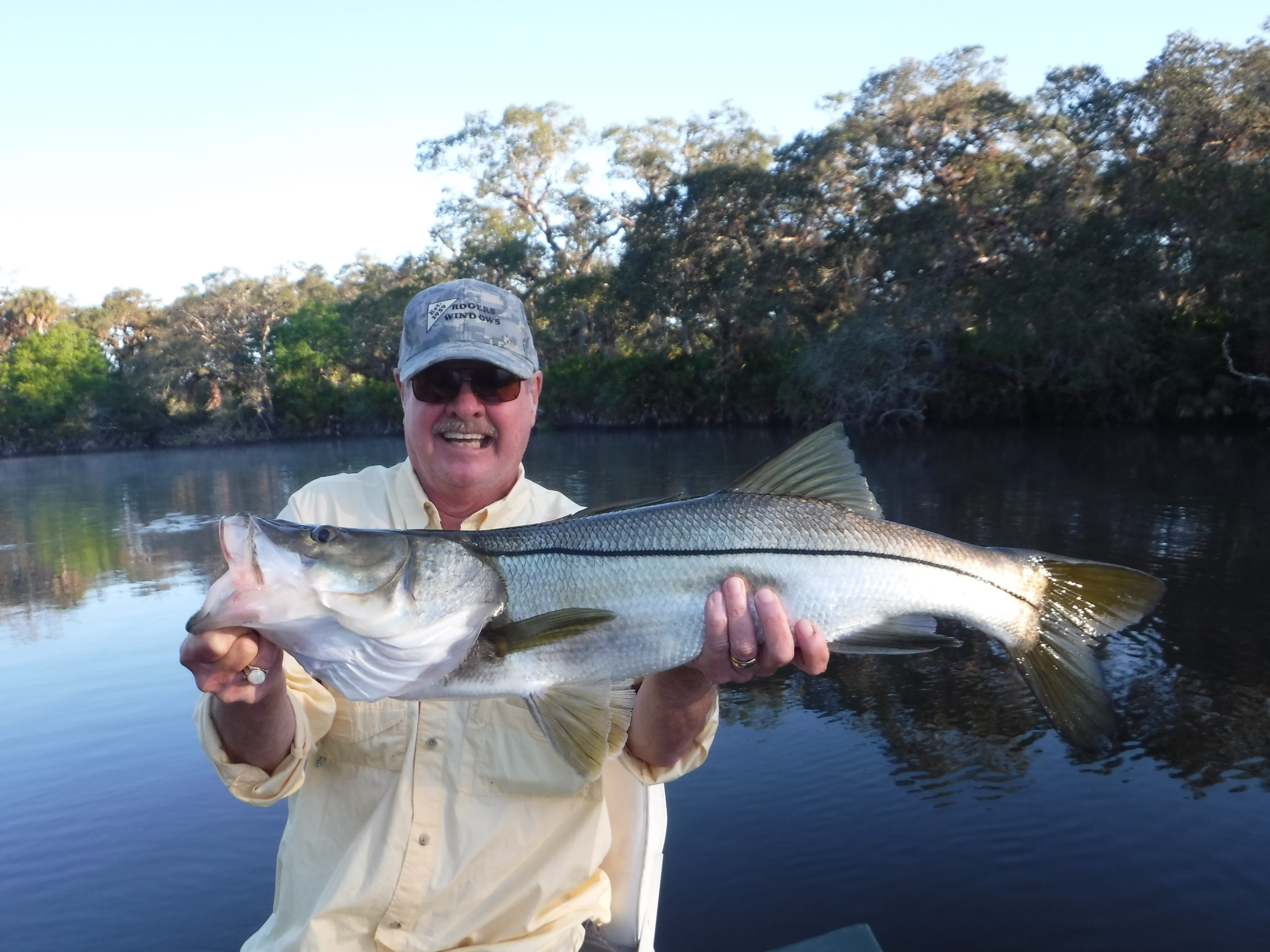 Snook are the premier inshore game fish in Florida. They grow large, over 40 pounds. They are apex predators that have large mouths and can inhale big prey. Snook feed on bait fish and crustaceans. Anglers catch them using both live and artificial baits. Many of the top snook lures were originally designed for largemouth bass. Snook are actually similar to bass in habits.
Speckled trout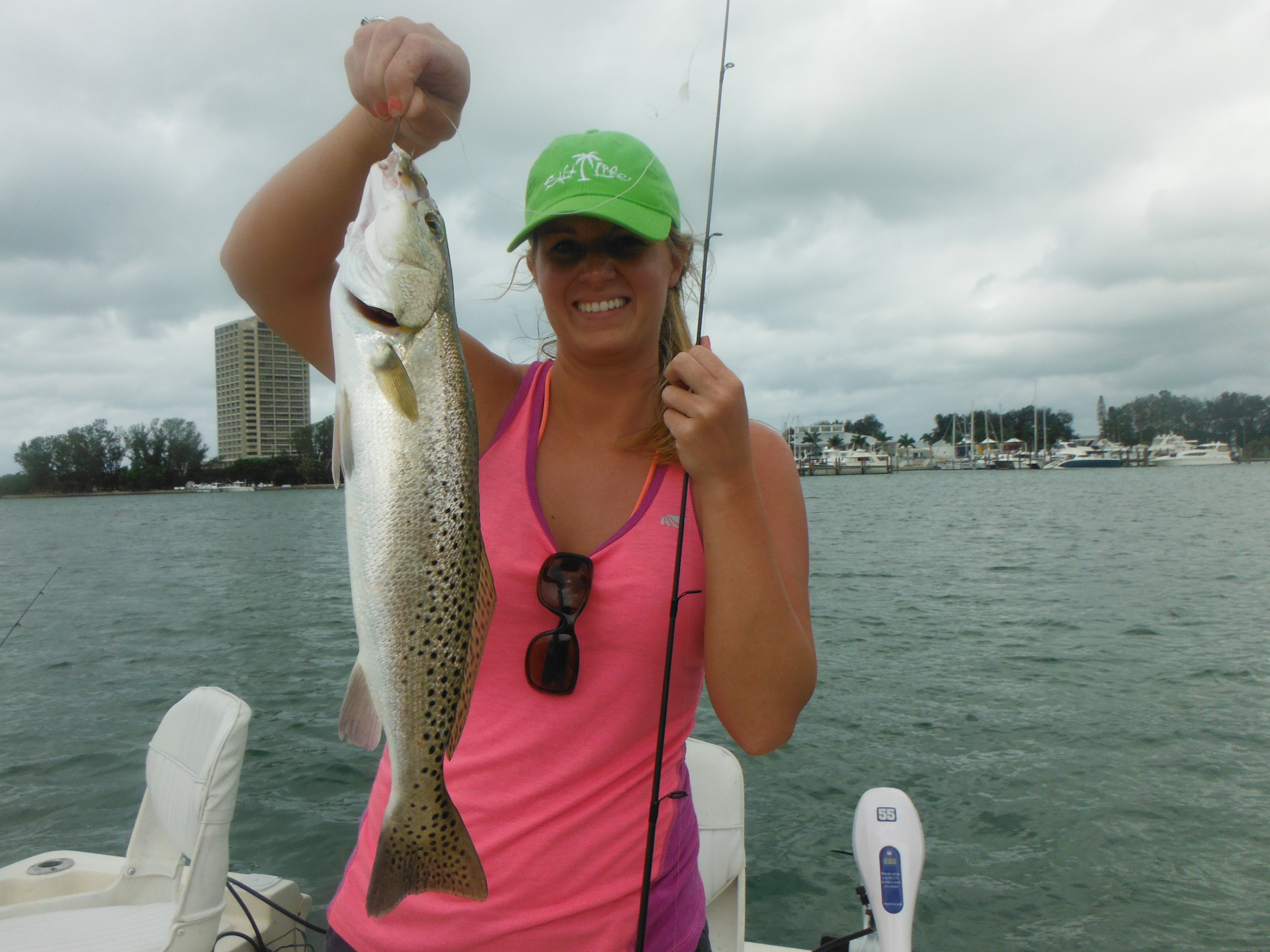 Speckled trout, or spotted sea trout, are the most popular saltwater inshore game fish in the southeast United States. They are a prized catch by Sarasota anglers as well. Trout are caught on the grass flats and are usually found in schools. A live shrimp is the top bait. Anglers can drift and cast lures or live bait. Anchoring works well on smaller patches of grass. Some of the largest trout are caught in shallow water over grass and around oyster bars.
Redfish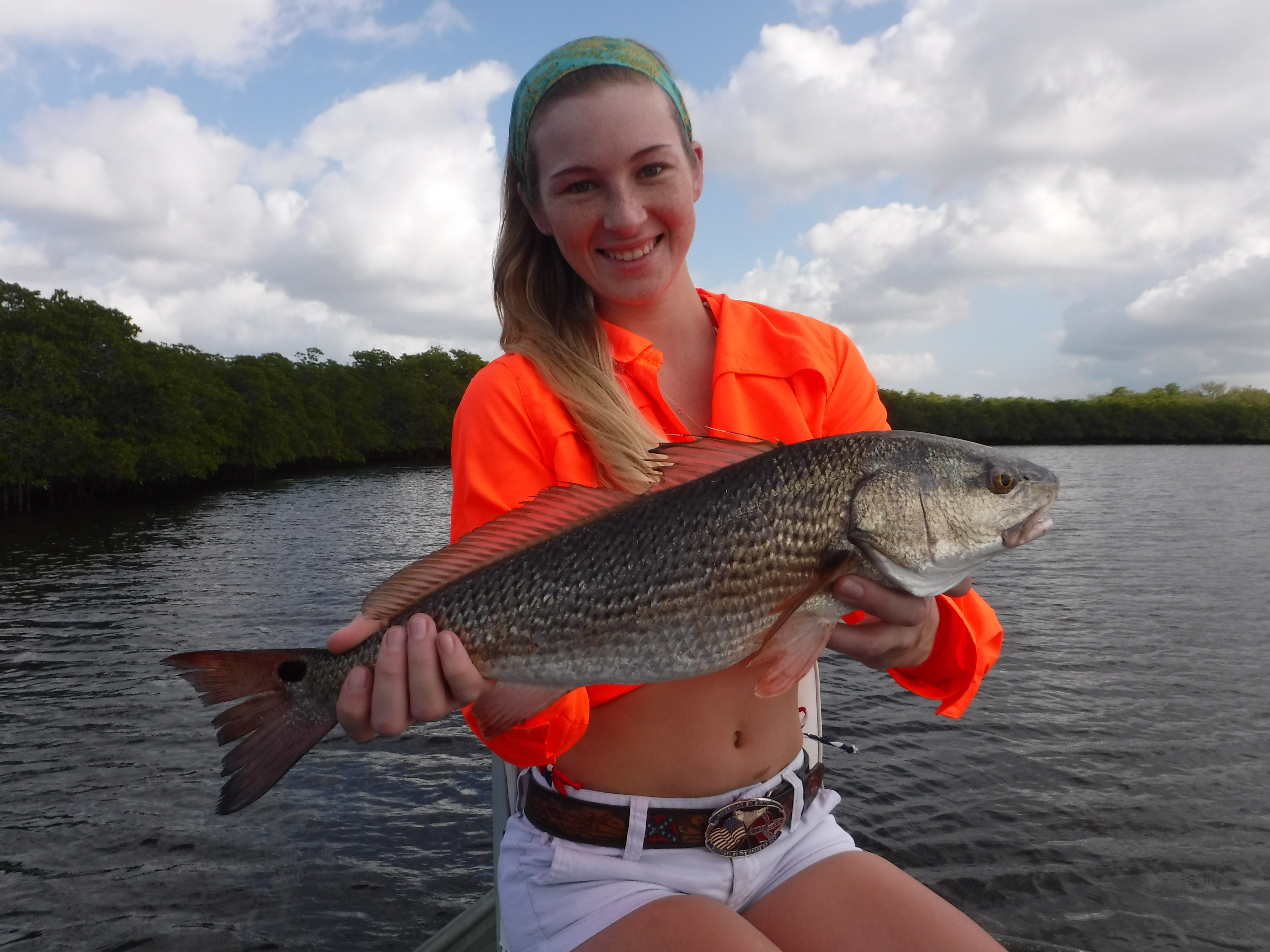 Redfish are another very popular inshore saltwater species. In Sarasota, they are found on the shallow grass flats and under docks. In the late summer, reds school up in large numbers on the shallow flats. Anglers can sight fish these large schools, they are easy to see on a calm day. A large shrimp works very well when cast up under a dock in the cooler months.
Spanish mackerel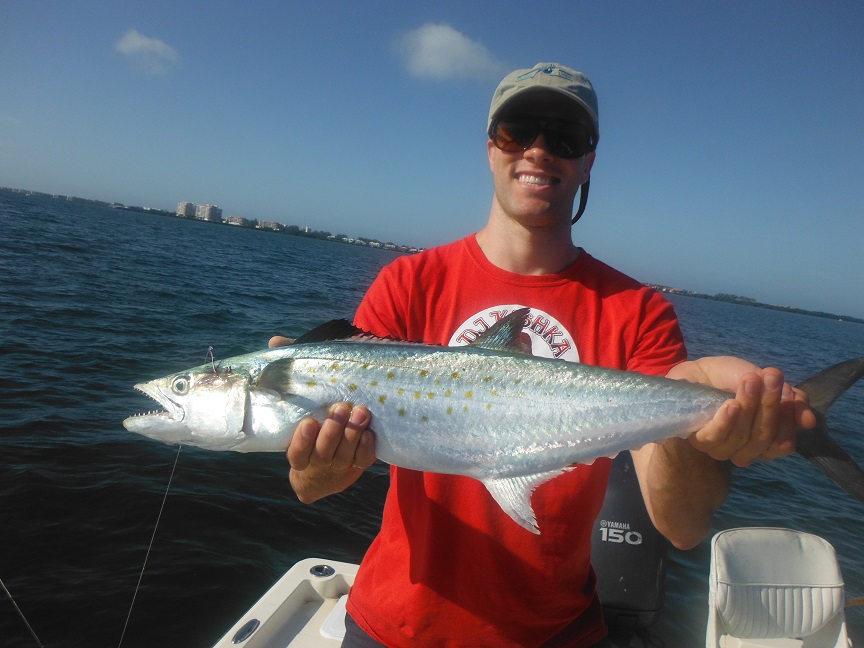 Spanish mackerel are a terrific game fish. They are normally found in fairly large schools. Mackerel are caught in the bay, inshore Gulf of Mexico, and the passes. Often times, they can be seen feeding aggressively on the surface. Fast moving, flashy lures such as spoons and plugs work very well. Live bait will certainly produce mackerel, too. Trolling is a very productive technique when fish are not seen on the surface.
Pompano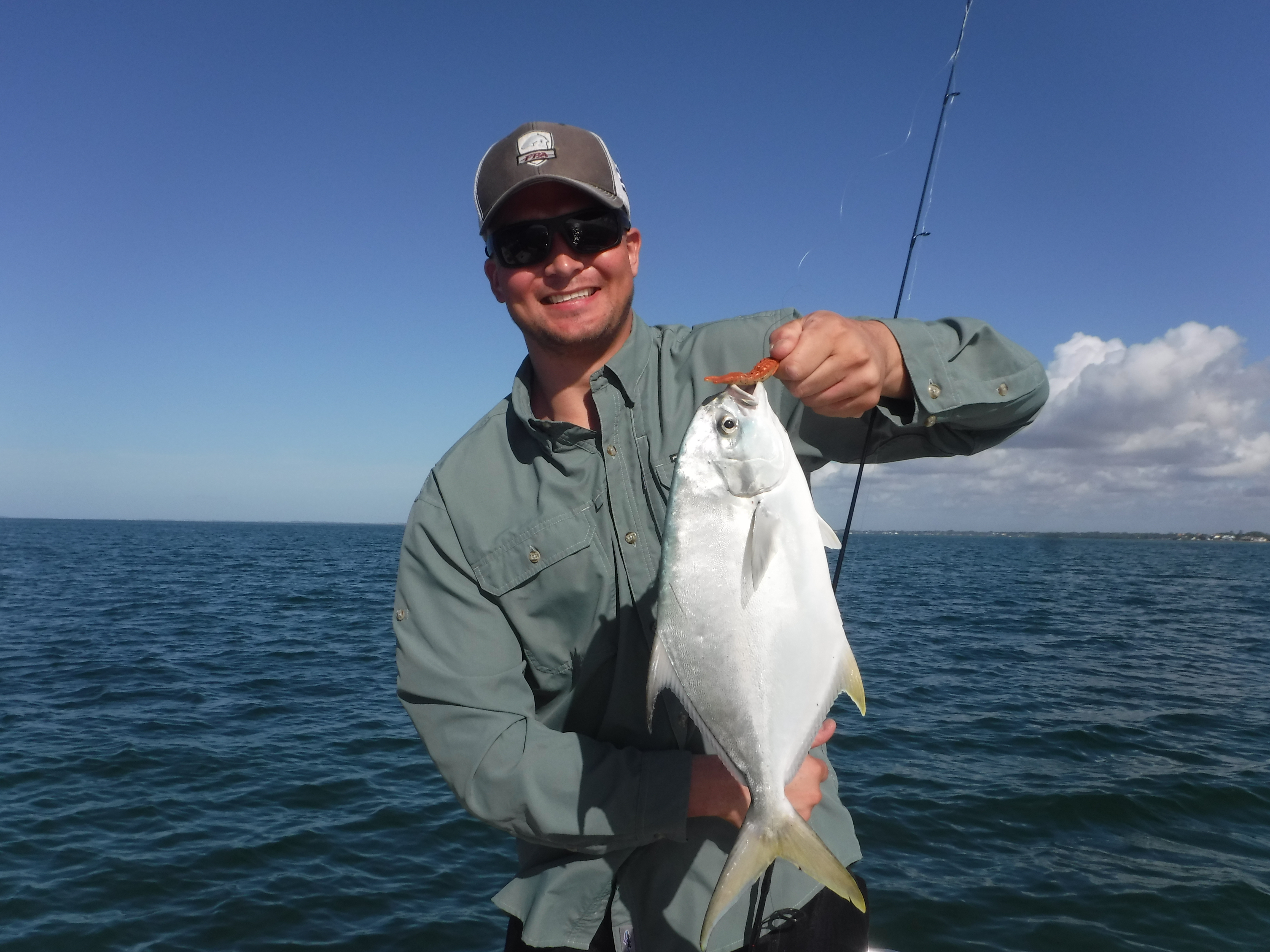 These smaller cousins to the permit put up a terrific fight on light tackle. Pompano feed mostly on crustaceans. Small jigs that imitate this forage works very well when fished near the bottom. Live shrimp are good baits as well. Surf fishermen do well with sand fleas that they catch on the beach. Pompano are one of the finest eating fish that swims. They are found in the bays, passes, and in the surf.
Bluefish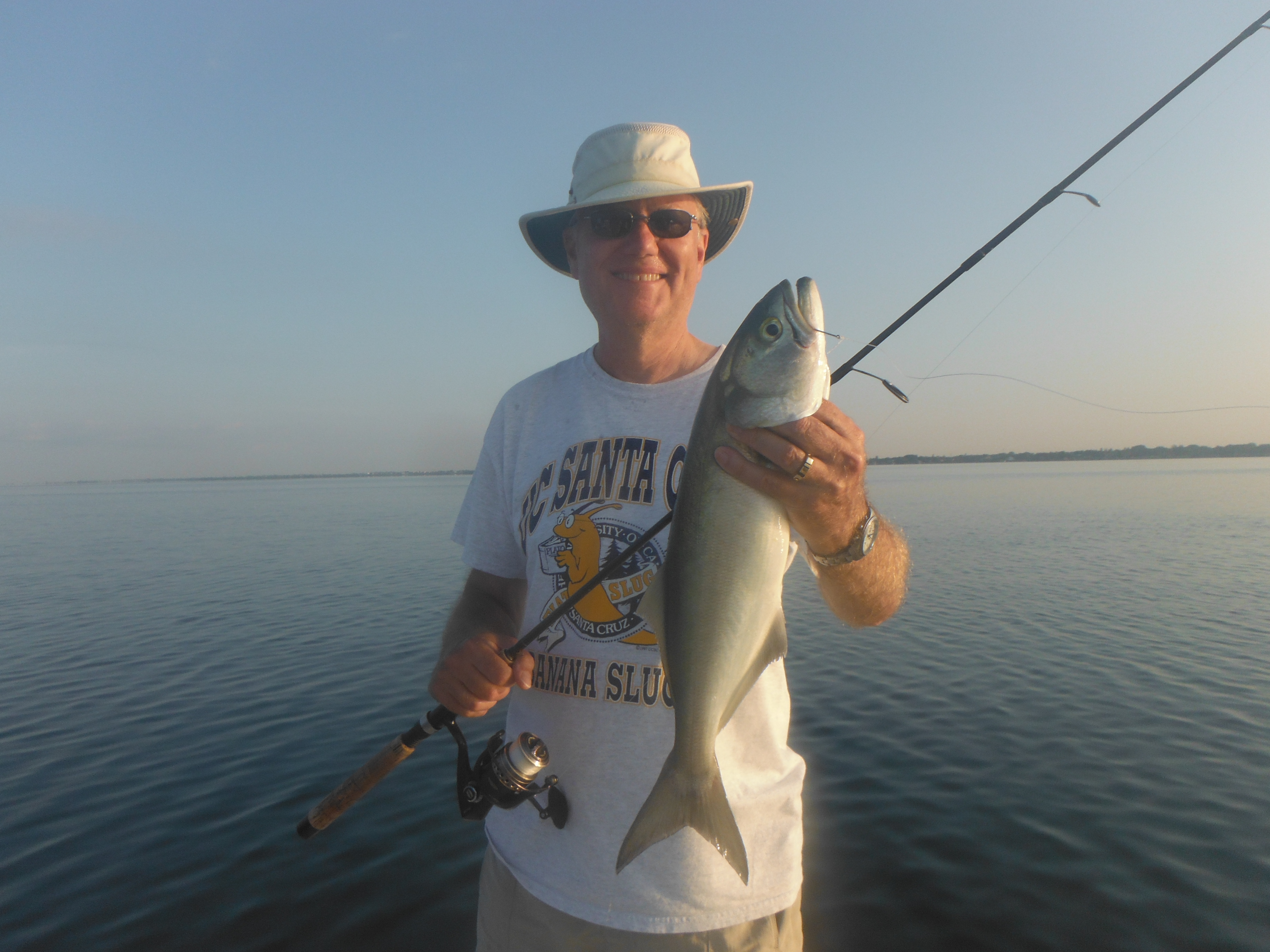 Bluefish are no stranger to anglers from the northeastern states. They put up a strong fight for their size. Sarasota bluefish average a few pounds, but most are caught by anglers using light tackle. Most bluefish are landed by clients casting lures while drifting the deeper grass flats and passes. Blues are very aggressive fish that attach lures with reckless abandon.
Jack crevalle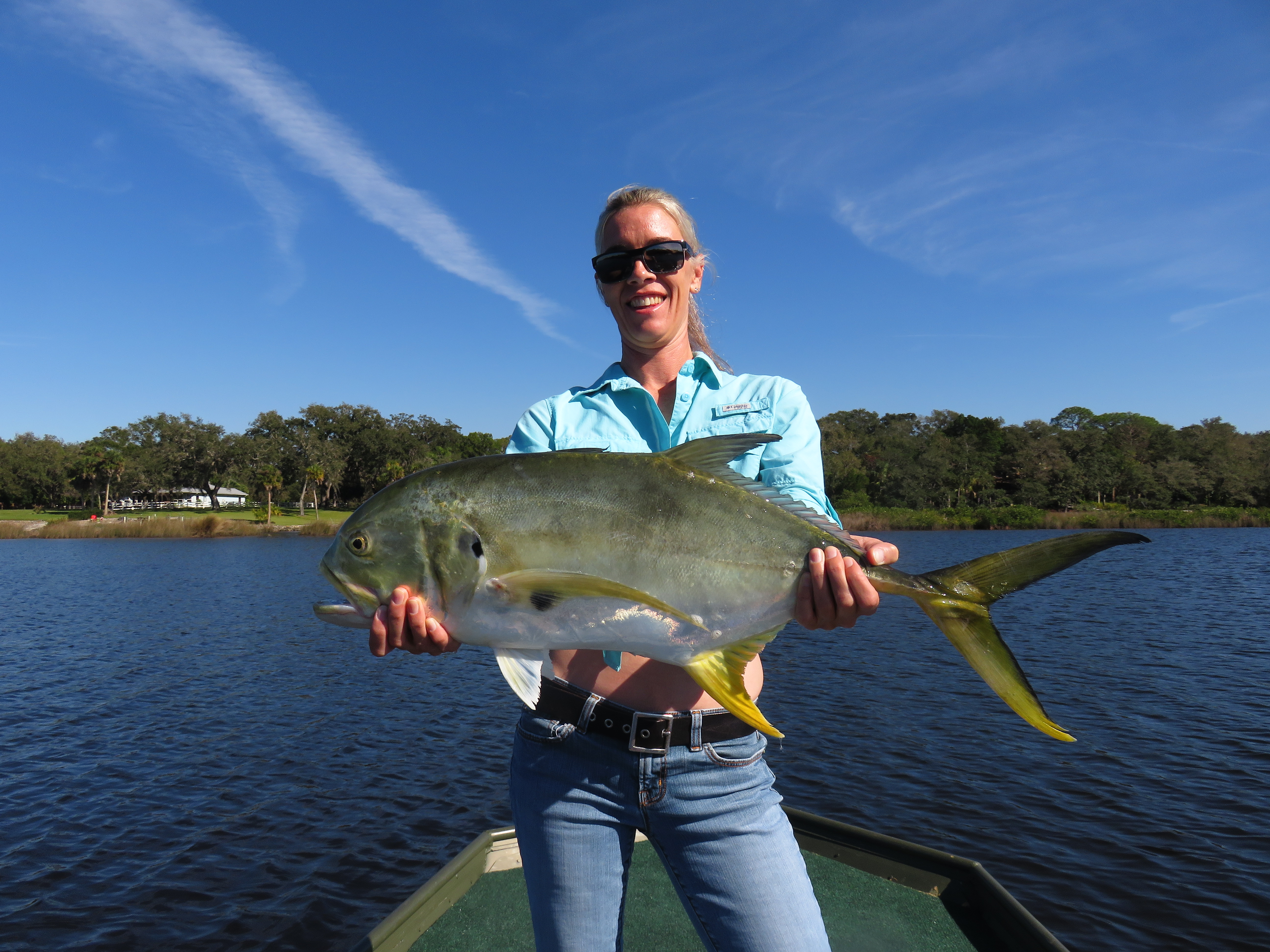 Jack cravalle are probably the toughest inshore saltwater species. They put up a tremendous fight on light tackle! Jacks have broad sides which they use to their advantage. Jack crevalle are voracious feeders, often times being seem as they terrorize bait fish on the surface. They can be found just about anywhere and are known to move around a lot.
Sheepshead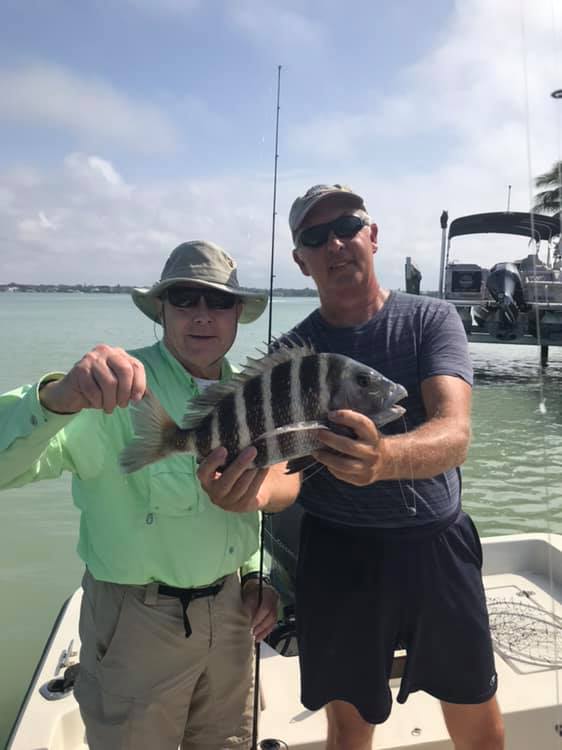 Sheepshead are a bottom species that hold close to structure. They are members of the porgy family. Sheepshead show up in Sarasota around Christmas and stay around until Easter. They school up heavily in Big Sarasota Pass and nearby docks. They rarely hit artificial lure. Most sheepshead are caught by anglers bottom fishing with shrimp. They are very good eating.
Where do clients meet Capt Jim for Sarasota inshore fishing charters?
There are several places that Capt Jim meets his clients. For most Sarasota fishing charters, the ramp in downtown Sarasota at Centennial Park is the best spot. It puts clients close to all of the top fishing spots, without going through a bunch of slow speed zones.
Clients going out on Siesta Key fishing charters usually meet Capt Jim at the North Siesta Bridge Park. This is also known as Nora Patterson Bay Island Park. There is a sea wall on the southwest corner that is a good spot to pick up clients. It also offers protection on a northwest wind. Finally, it saves anglers from dealing with traffic as they stay on Siesta Key.
In conclusion, this article on Sarasota inshore fishing charters will help visiting anglers decide if this type of fishing charter is best for them.
Please follow and like us: