Sarasota river snook fishing
Fishing for snook in Sarasota area rivers

It was nearing dusk as I eased my jon boat around a sharp bend in the river. A dead oak tree was lying in the water; a very likely fish-holding spot. Bonnie cast out her plug, twitched it twice, and a huge boil appeared where the lure used to be. The drag screamed as the snook headed back to the sanctuary of the fallen timber. I put the electric trolling motor on high and tried to drag the fish into open water. Fortunately, we had a little room to maneuver. Bonnie played the fish like a pro, patiently letting it make several short runs before I slid the net under it and held it up for a quick photo before releasing it back to please another angler in the future. Another successful Sarasota river snook fishing charter!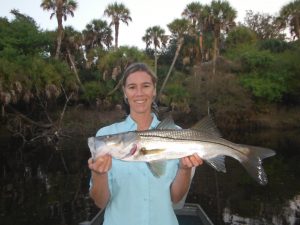 We are blessed in Florida with a wide variety of angling options, but river fishing for snook is my personal favorite. The solitude, scenery, and wildlife are worth the trip alone, and the chance to land trophy fish casting artificial lures on fairly light tackle is just icing on the cake. Best of all, this method is pretty simple and straight-forward for anglers willing to put in a little time and effort. The Manatee River, Braden River, and Myakka River are the top spots.
The west coast of Florida from mid-state south has a myriad of rivers, creeks, and canals that hold snook. These can be productive all year, but I focus on them in the cooler months. Snook will migrate into these areas in the winter to escape the harsh conditions on the flats. Most rivers have deep holes, warmer water, and plenty of forage. As an added bonus, largemouth bass are fairly numerous and will be caught using the same lures and techniques. Juvenile tarpon, jack crevelle, catfish, and gar are also common catches.
There are several advantages to fishing rivers. Unlike vast open waters of bays and lakes, the fish are relatively confined into a smaller space. They will migrate up and down river, and only time on the water will give anglers the experience that is required to score on a consistent basis. Another advantage, and one that I have used as a fishing guide, is that rivers offer protection from high winds that frequently occur in the winter. In fact, these are often the most productive days to fish. Lastly, fishing pressure is usually very light.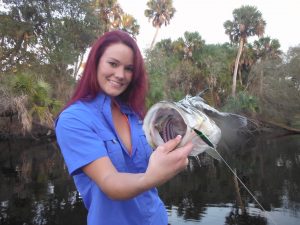 I choose to fish with shallow diving plugs in rivers, they cover a lot of water, hang up infrequently, and the hook-up ratio is good. In the tannin waters, I have found gold/black and Firetiger to be the most consistent producers. Often times the fish will hit on the pause as the bait just hangs there motionless, seemingly helpless. I like a 7' Medium action rod, a quality spinning reel with a good drag spooled with 40 lb braided line with a 24" piece of 40 lb fluorocarbon leader.
The best spots in most rivers will be the outside bends. Choose a stretch of river that has twists and bends; that will generally be better than those with long straight sections. Current flow will gouge a deep hole and concentrate fish. Add in some cover such as fallen trees and the result is perfect structure to hold a trophy fish. Depth is critical in river fishing. Most Florida rivers will "undulate". Two stretches of bank may look the same, but if one has 18" of water and the other has 6', the latter will produce much more consistently. This depth change will usually not be apparent from the surface, so a bottom machine will help in locating the more productive stretches.