Sheepshead fishing terrific on Siesta Key
Every year is a bit different when it comes to fish migrations and numbers. A couple of years ago the area was flooded with silver trout, then the next year, nothing. Ditto for sea bass and flounder. But, during the last three years, the sheepshead bite has varied from steady to unbelievable! Docks, rocks, and other structure on the north end of Siesta Key in Big Pass have held good numbers of these tasty saltwater panfish.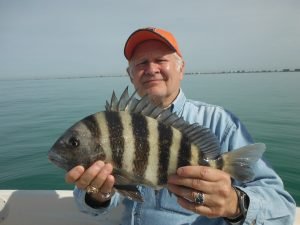 This is really a fairly simple and straight-forward situation. I get a lot of children and novices on my fishing charters, so I need to keep it simple and fun. All it takes is to cast a live shrimp near a piling, jetty, rock pile, or oyster bar and then wait for a bite. It usually does not take very long to get some action if the fish are there. One mistake many anglers make is setting the hook. Many more fish will be hooked, and more importantly landed, if the client will just reel fast while raising the rod tip.
Get in on the bite!!