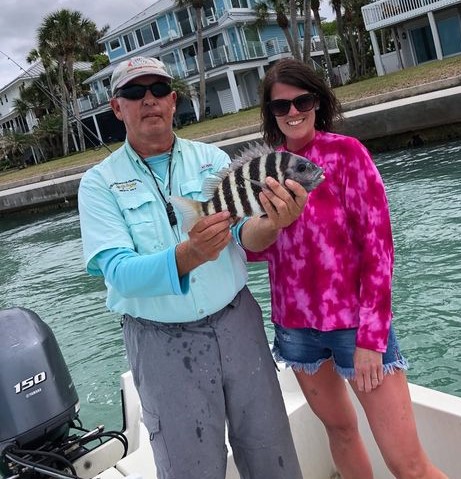 Bottom Fishing Charters in Sarasota
This article will thoroughly cover Siesta Key bottom fishing charters in Sarasota. Bottom fishing is perhaps the oldest form of angling. It remains effective to this day. In its most basic form, bottom fishing is simply bating a hook and using a weight of some sort to get it to the bottom where fish feed.
My name is Capt. Jim Klopfer. As a fishing charter captain in Sarasota and Siesta Key, one of my main jobs is to cater my fishing charter to the experience and expectations of my clients. Sarasota is a resort city and gets a lot of families and casual anglers. To some degree, this limits the types of fishing that I can do.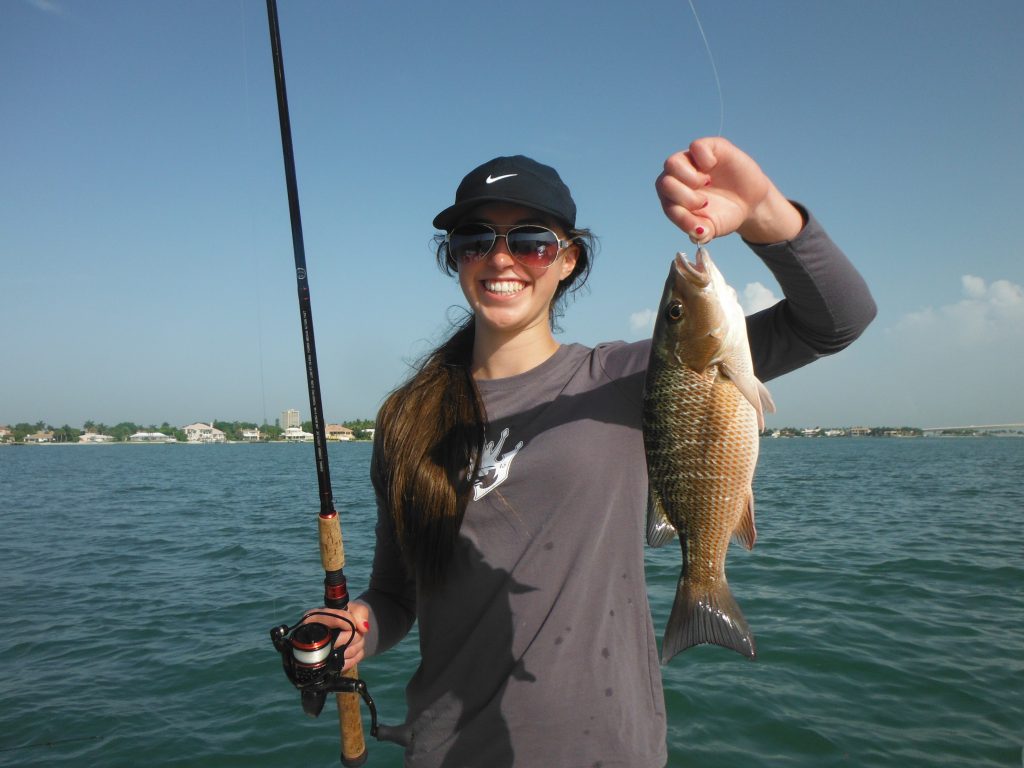 Bottom fishing is an excellent technique for novice anglers and children. There are several reasons for this. The primary reason that I often run bottom fishing charters in Siesta Key is that no casting is required most of the time. I bait the hook and anglers simply drop it to the bottom and wait for a bite. Also, there is no need to manipulate and artificial lure, the natural bait does all the work.
Siesta Key Bottom Fishing Charters

Bottom fishing charters can be productive throughout the year. We are fortunate enough here to have a variety of species to pursue. Some of these are available year-round while others are seasonal. I do employ the bottom fishing technique more in the cooler months. This is primarily due to the run of sheepshead that we have in Sarasota. They are the quintessential bottom fish and provide action and a few fillets for my clients.
Best rigs for Siesta Key bottom fishing charters

I use several different rigs on my Siesta Key bottom fishing charters. My favorite rig is called the "knocker rig". It is a bit of a variation on the Carolina rig. With this rig, the sinker, almost always an egg sinker, slides on the leader and rest right on the eye of the hook. Clients often question whether the sinker right on the eye of the hook will deter the fish from biting, but that doubt is usually quickly eliminated.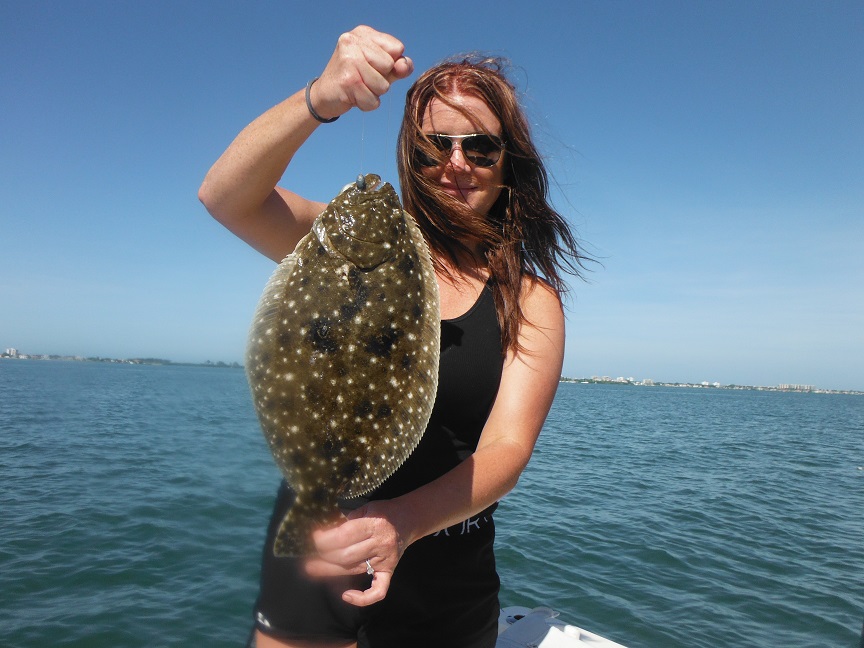 The beauty of the knocker rig is that when the sinker is on the bottom, the bait is on the bottom as well. Other rigs that use long leaders may have the sinker on the bottom but the bait can be several feet above. Also, with the knocker rig when the hook snags on the bottom, a jerk of the rod tip will cause the weight to slide up the line and then back down, knocking the hook loose. This is how it got its name.
I also use a simple rig called a chicken rig. This rig has the sinker at the bottom of the leader and the hook tied off on a loop a foot or so above the sinker. The beauty of this rig is that it suspends the bait just a bit above the bottom. There are times when fish prefer this presentation over the knocker rig. I use these two rigs aren't virtually all of my Siesta Key bottom fishing charters.
The final way that I will present a bait on the bottom is to simply add a shrimp or piece of shrimp to a jig head. Many of my fishing charters involve drifting the deep grass flats and casting plastic grub's on a lead head jig. From a rigging standpoint, it is very simple to remove the plastic tail and bait the hook. The jig head provides both the hook and wait. I use this jig head and bait method more when fishing shallow docks where casting is required.
Best bottom fishing baits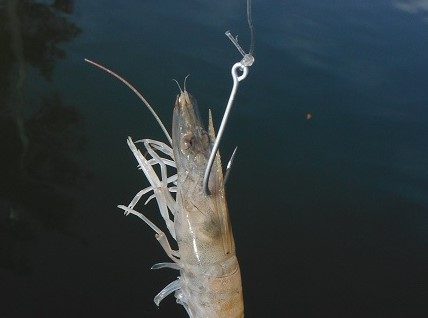 Anglers bottom fishing in Sarasota have quite a few options when it comes to bait. However, the bait that I use on virtually all of my bottom fishing charters is shrimp, either live or dead. There are several reasons for this. First, and most important, every saltwater fish that swims in our area will feed on shrimp. They are basically the nightcrawlers of saltwater.
Another factor that plays in the decision is availability. Shrimp are available at local bait shops all year long. There are times when live shrimp are not available, usually due to weather conditions where the shrimp boats can't get out. In this instance, frozen shrimp works fine. In fact, there are some situations where fish actually respond better to frozen shrimp. Either way, the bait is hooked and fished the same.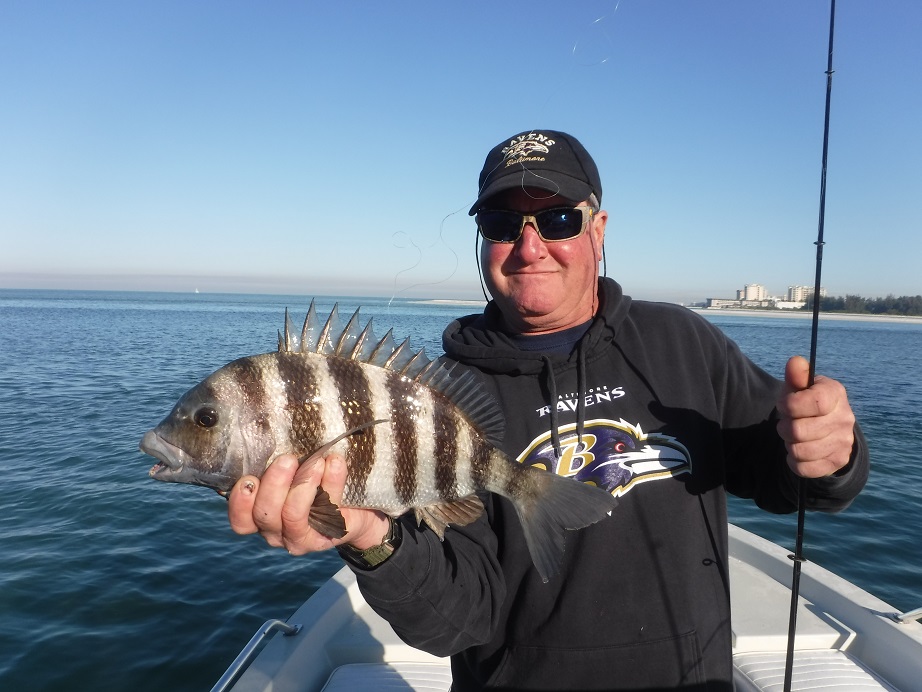 Live bait fish can be used when bottom fishing in Siesta Key as well. I will do this occasionally in the summer time using scaled sardines or threadfin herring in the deep waters of the passes. My primary target is mangrove snapper, though grouper, redfish, and even snook will be caught doing this as well. However, since most of my bottom fishing in Sarasota is done in the cooler months, I use live bait fish much less often than shrimp.
Cut bait can be used as well when bottom fishing, though this is something I seldom do. The primary reason for that is that cut bait will tend to attract less desirable species such as catfish and rays. The exception to this is when I fish the artificial reefs and ledges in the Gulf of Mexico a few miles off of the Sarasota and Siesta Key beaches. Grunts in particular respond well to cut sardines, fresh cut bait, and squid. Grouper, snapper, Sea bass and other species will be taken as well.
Spots to fish on Siesta Key bottom fishing charters
The vast majority of bottom fishing, whether here in Sarasota or any other place, is done on or near some type of structure. Rarely will open sand or muddy bottom areas hold fish. Structure will attract crabs and other crustaceans as well as bait fish. This in turn attracts the creditor species.
This structure takes many forms. Natural hard bottom ledges of limestone and rock are prime spots in there are a few of these in Sarasota Bay as well is in the inshore Gulf of Mexico. Much of the structure that I fish is man made. This includes docks, bridges, seawalls, riprap, wrecks, and artificial reefs. Most of it occurs in water between 5 feet deep and 30 feet deep, at least in the areas where I fish. Anglers running offshore will fish structure and water that is hundreds of feet deep.
I probably do the vast majority of my bottom fishing charters in Sarasota in the area of Big Sarasota Pass. Big Pass is a terrific fishing spot! The entire north end of Siesta Key is littered with docks, riprap, seawalls, and submerged rocks which hold fish throughout the year. Some of the deepest water in the area exists in a spot, up to 30 feet deep. It is also protected from a hard south wind. Finally, docks near the pass all along Bird Key hold sheepshead and snapper.
Species caught on bottom fishing charters
There are a variety of species that my anglers catch on Sarasota bottom fishing charters. As stated above, many of these are most plentiful in the cooler months. However, some type of action can be had by anglers bottom fishing in the area year-round.
Sheepshead
Sheepshead are without a doubt the species that I target more than any other on my Siesta Key bottom fishing charters. They move into the area around Christmas and stay until early spring. They are a great fish for charter boat captains as they are cooperative when the water is cold or dirty and other species won't bite. Sheepshead fight hard, are cool looking, and are very good eating. Anglers of all ages and skill levels can be successful when fishing for sheepshead here in Sarasota.
Mangrove snapper
Mangrove snapper are a prized bottom fish throughout Florida and the Gulf states. They are plentiful in the inshore waters as well is out in the open Gulf of Mexico and Atlantic Ocean. The larger species are caught out in the open, deeper waters. Mangrove snapper fight hard and are terrific eating. They can be difficult to hook and line shy, though once fired up and excited the bite can be fast and furious. Most are caught by my anglers using live shrimp, however they will take a smaller live bait fish in the to inch range as well. Mangrove snapper are available in Sarasota all year long.
Gag Grouper
Gag grouper are mostly thought of as in offshore species. There is good reason for this as the vast majority of keeper gag grouper are caught by anglers fishing well offshore. However, unlike many other grouper species, they do migrate quite shallow and can be caught in the inshore waters of Sarasota Bay as well as the shallow waters close to shore in the Gulf of Mexico. They can be caught on a variety of baits, but prefer a live bait fish, especially a pin fish. Many grouper are lost by my anglers fishing docks as the light tackle used for sheepshead and other species cannot handle a big fish around heavy structure.
Flounder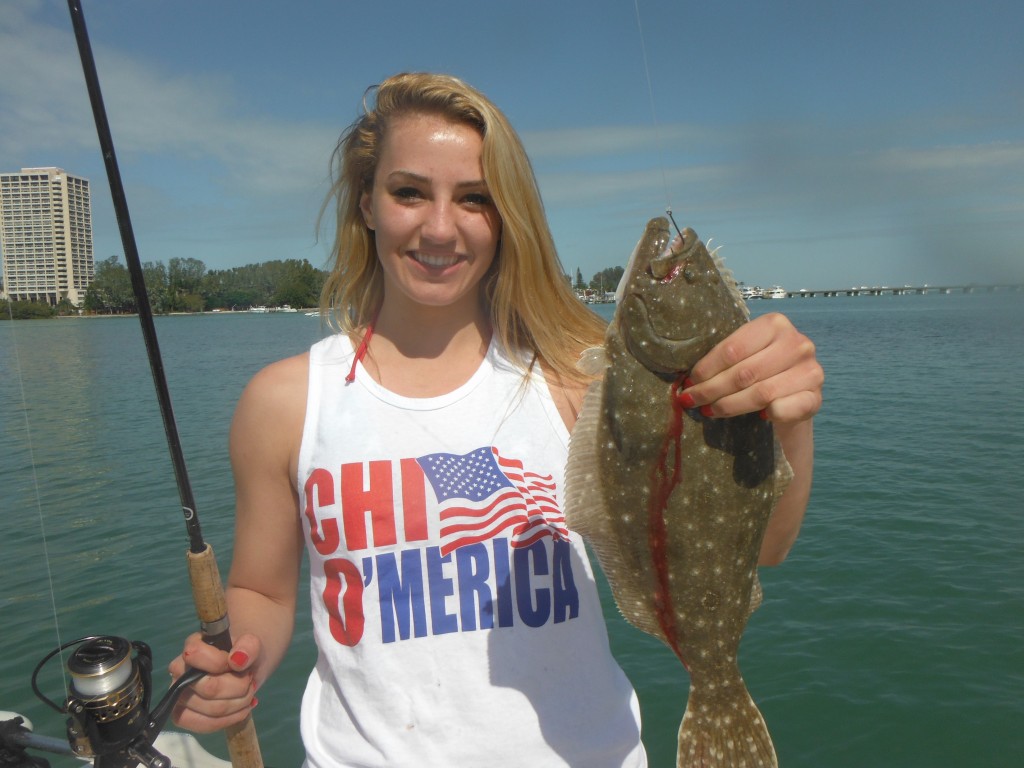 Flounder are another very desirable bottom fish that are found throughout the United States. Anglers in the Northeast refer to them as fluke. Here in Sarasota we have the southern golf flounder. They are a fish that will vary in the sand and weight to ambush unsuspecting prey. Our flounder fishing is inconsistent. Some years we experience decent numbers of them and then other years they are noticeably absent. My clients catch them on live shrimp and small bait fish.
Sea Bass
Black sea bass are another tasty little fish that anglers catch on my Sarasota bottom fishing charters. They average 10 to 12 inches and put up a nice little fight on light tackle. Like flounder, the fishing is inconsistent and numbers of fish come and go. Generally speaking, from late summer through winter are the best times. They are an aggressive fish and we often catch them casting jigs on the open deep grass flats as well. Some years they are mixed in pretty thick with the sheepshead. They are not at all fussy and will take just about any live or cut bait.
Black Drum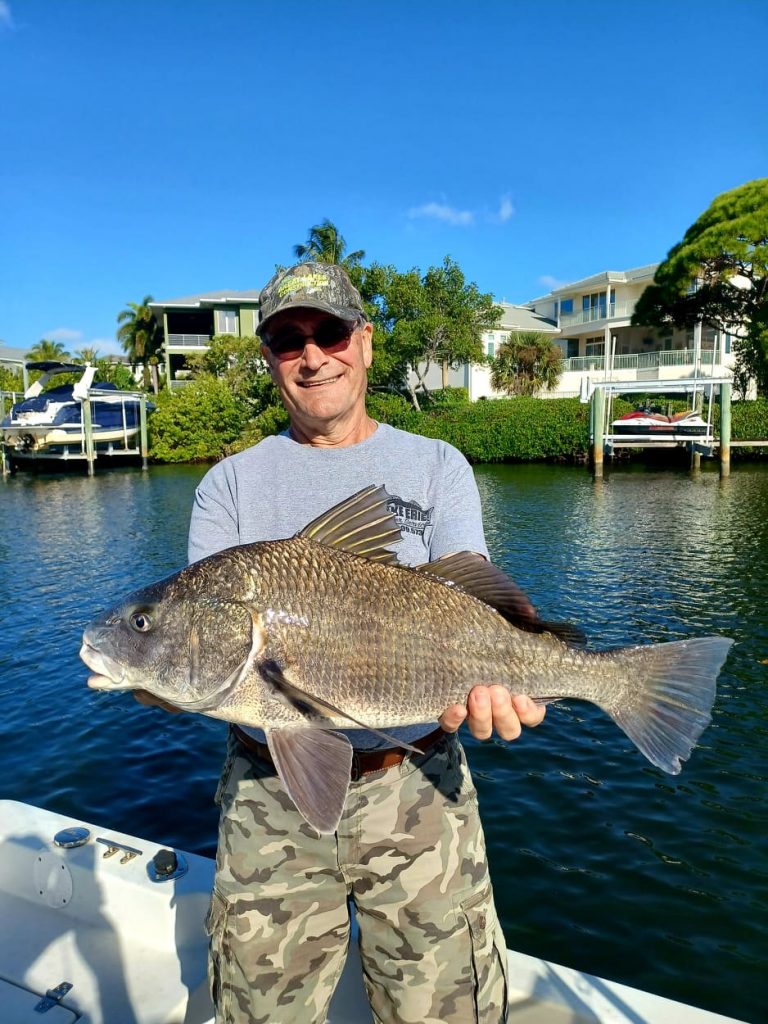 Black drum are cousins to the redfish or red drum, though they look more like a sheepshead. However, black drum are more elongated than the sheepshead. They grow larger than many of our other species, well over 20 pounds. Despite their size, black drum can be notoriously light biters. They feed on crustaceans and all of the black drum I catch on my charters are done so by anglers using live or frozen shrimp. Smaller black drum are good to eat, though the larger ones tend to have worms.
In conclusion, this article on Siesta Key bottom fishing charters will help anglers understand the options available to them when visiting the Siesta Key and Sarasota area.