Siesta Key Fall Fishing

I had a Siesta Key fall fishing charter.  My clients were experiencing hot action as we were anchored up-tide of a large grass flat in 6′ of water in Sarasota Bay. I had the fish chummed up with live pilchards and just about every bait that hit the water got inhaled. Spanish mackerel, trout, jacks, snapper and more kept the rods bent. Then, Chelsey hooked something that put up a more determined battle, staying deep and keeping the identity a mystery. After several moments the mystery was solved a large speckled trout came to the net.  This is what autumn fishing charters is all about!
Sarasota Spanish mackerel fishing video
As a Sarasota fishing guide, I love this time of year! Despite the still quite warm weather, fall does arrive and the fish respond accordingly, however, the changes are subtle. The days are a bit shorter, the water temperature slowly drops, and the first mild cold fronts move through. Game fish will begin to change habits and the successful angler will change tactics as well. It is time to move in and fish the shallow flats when Siesta Key fall fishing.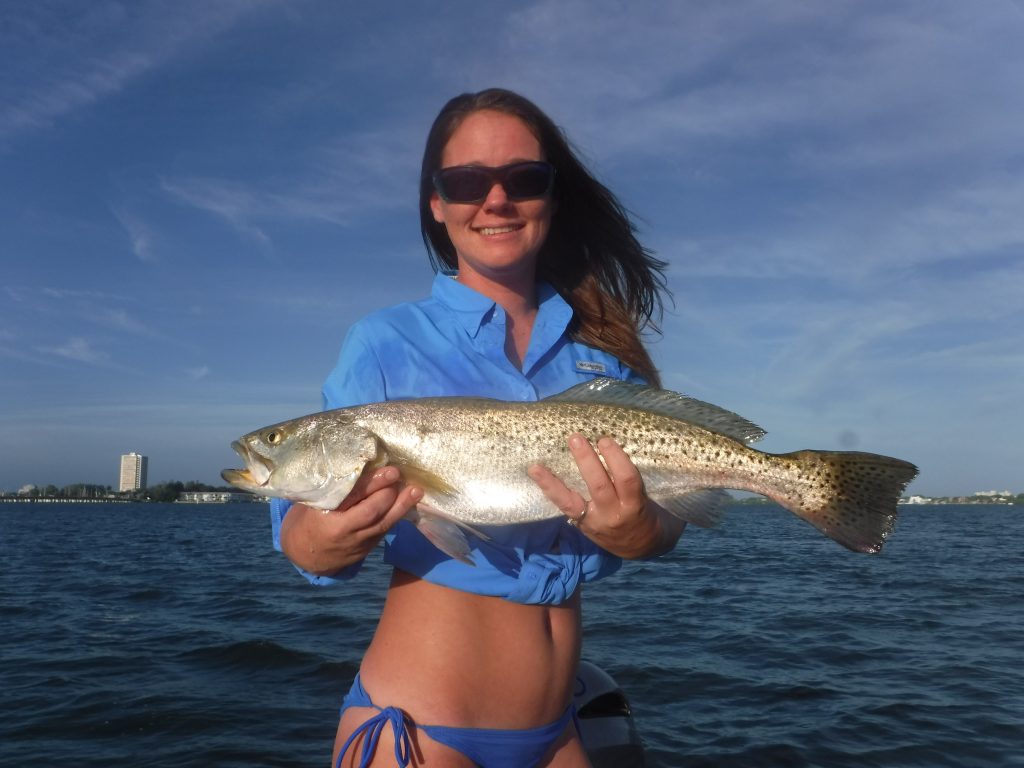 The shallow waters inshore will be very productive in early autumn as the water cools off. Speckled trout will move from deeper grass in 6′ to 10′ of water to the bars, potholes, and over grass flats in water between 2′ and 4′ deep. They will feed on the schools of bait fish that will concentrate in these locations. Snook will also begin their fall migration, moving from the passes to the same type on inshore spots.
Live bait when fall fishing Siesta Key
Live bait is tough to beat when it comes to catching numbers of fish and several techniques work well. The easiest is the time-proven live shrimp under a popping cork. The depth should be set so that the shrimp floats a few feet above the submerged grass. The rig is cast out, allowed to sit a few moments, then the rod tip is twitched sharply, resulting in a "pop", which attracts the game fish to the helpless shrimp.
Chumming with live pilchards or threadfin herring is extremely effective, especially for snook. It is more involved as a LOT of bait is required, along with a large recirculating livewell and a good pump. Potholes, bars, mangrove shorelines, and even docks are likely spots to try for snook, while lush grass flats with holes are prime spots for trout and other species. Anglers will anchor near the target and toss out a few baits to attract the snook and get them excited and in the mood to feed.
Artificial lures are effective as well and are a lot of fun to fish when Siesta Key fall fishing. They also allow anglers to cover a lot of water quickly. My two favorite lures are a soft plastic bait on a jig head and shallow diving plugs. Shad and shrimp tail baits in natural colors such as new penny, olive, white, and chartreuse work well on a 1/8 ounce jig head with a stout hook. Small plugs in olive and white that float on the surface and dive a couple of fish when retrieved are very productive.
Siesta Key fall fishing, deep grass flats
Capt Jim has been a fishing guide in Sarasota, Florida since 1991. Anglers who are interested in purchasing the equipment that he uses and writes about in his articles can do so on the PRODUCTS page.
There are several approaches that can be successfully employed when fishing Sarasota grass flats of Sarasota Bay on my Siesta Key fishing charters. The first choice to make is whether to anchor or drift the flats. Large expanses are most efficiently fished by drifting while smaller patches or edges are best fished from an anchored boat. Working the edge of a shallow flat that drops off sharply into deeper water is a deadly technique that is particularly effective on low tides. The fish will tend to stage on the edge as there isn't enough water up on top of the flat. While artificial lures can be used this is a situation that is best suited for live bait. A live shrimp or small baitfish free-lined over the edge is simple and very effective.
Drifting the flat while casting lures is an extremely popular and effective technique. One benefit of using artificial lures when fishing Sarasota grass flats is that anglers can cover a lot of water fairly quickly. This is important on the larger expanses of grass; the sooner the fish are located, the better! The primary lure used on the Gulf Coast of Florida is the lead head jig and grub combo. This versatile and inexpensive bait will catch anything that swims and has resulted in many a tasty fish dinner.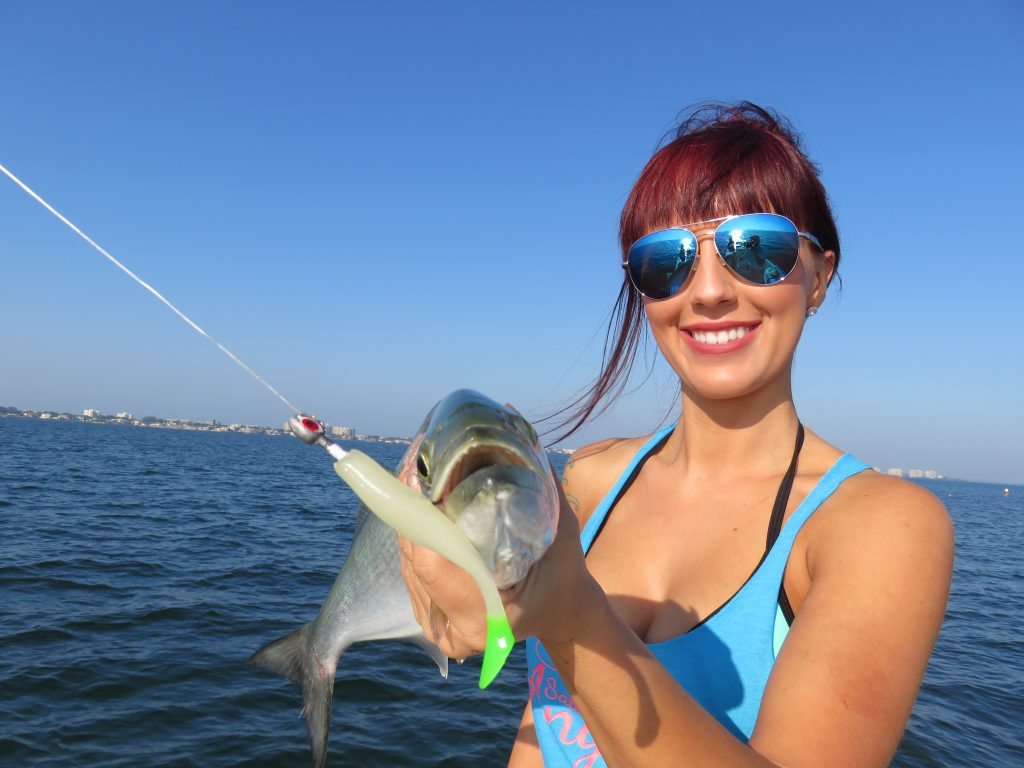 Jigs are productive on the deep flats in the fall

Jigs come in a variety of sizes and colors but ¼ ounce heads in white or red are all that is required. Plastic bodies also come in a myriad of shapes and colors but again it does not need to be complicated. A selection of gold, pearl, olive, rootbeer, and charteuse bodies in both the shad tail and flat grub tail will cover most situations. Scented soft plastics such as Gulp! Shrimp can make the difference if the bite is slow.
Hard plugs also catch a lot of fish. The venerable suspending MirrOlure baits have been a staple in tackle boxes for decades. They slowly sink and when twitched suspend motionless in the water. Speckled trout in particular find them irresistible. Shallow diving plugs such as the Rapala X-Rap also work well when retrieved erratically. They are a great choice when surface activity is present and are also effective when trolled while fishing Sarasota grass flats.
Chumming the deep grass flats in the fall
Mangrove snapper will definitely respond to chum.  Anglers snapper fishing Siesta Key flats will enjoy the most success by loading up on live pilchards and threadfin herring for bait.  Next, a deep flat with good tide flow is chosen and the boat is anchored.  Live baitfish are tossed out behind the boat a handful at a time.  This attracts the gamefish such as trout, mackerel, bluefish, and ladyfish.  Snapper generally show up after a bit, when the chum has had a chance to spread out.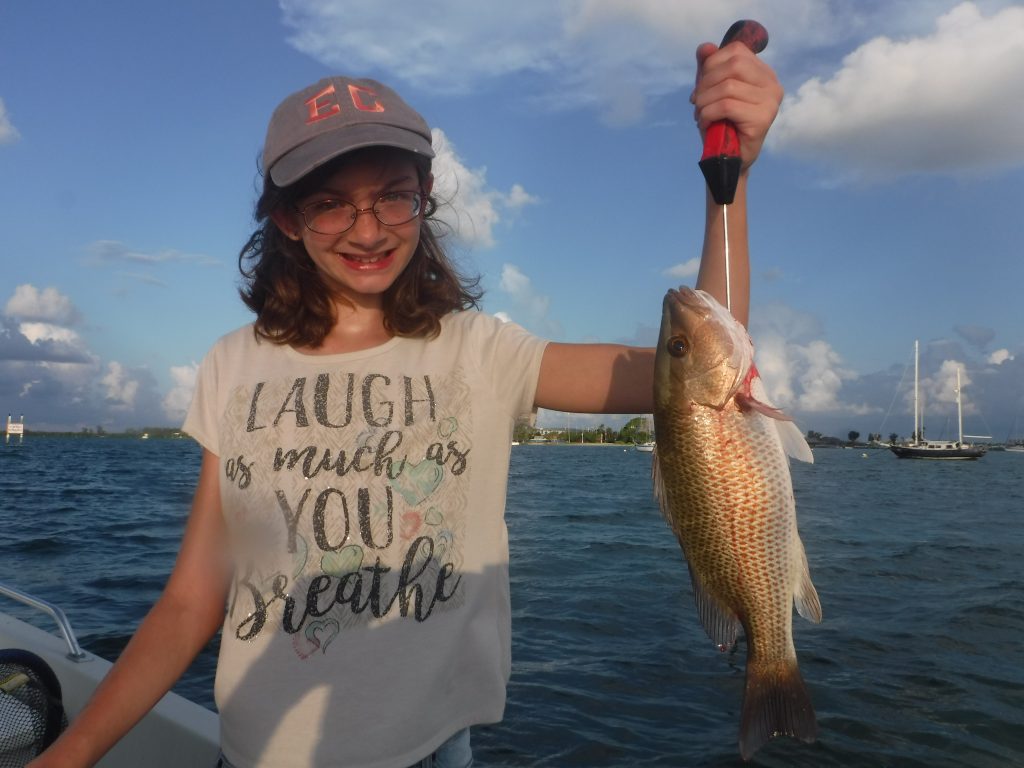 Dead chum can be extremely effective when used to attract snappers.  Also, at times they will prefer a dead piece of bait on the hook, so try both live and deads baits.  These fish are usually a tad deeper, so a split shot is often required to get the bait down in the water column.  Mangs can also be a bit leader shy.  A 24″ piece of 20 pound flourocarbon leader and a #1 live bait hook works well.
While most anglers snapper fishing Siesta Key flats use live bait, these fish can be aggressive and will certainly take an artificial bait.  Scented soft plastic baits such as the Gulp Shrimp work well.  Many snapper have been caught on my Siesta Key fishing charters casting small Rapala X-Raps.  However, the majority of snapper landed will be taken on live baits.  If cast netting bait is not an option, a live shrimp will seldom be refused.
Fishing the inshore Gulf of Mexico in fall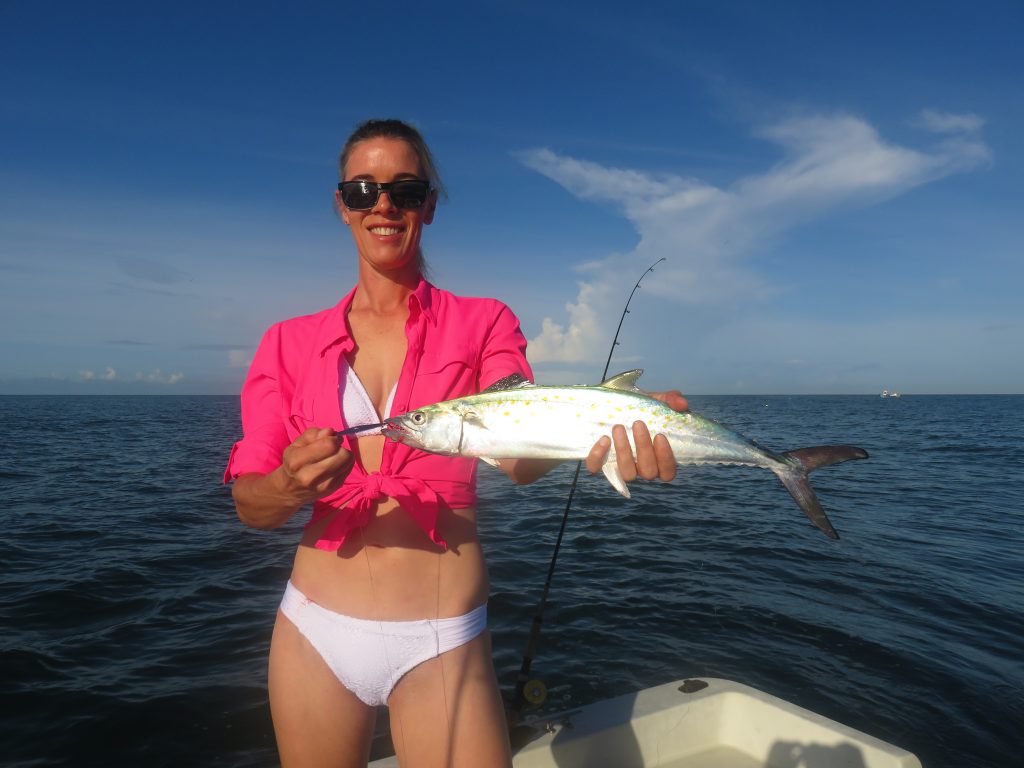 When conditions are right, the action in the inshore Gulf of Mexico just off of the Siesta Key beaches can be fantastic. Huge schools of bait fish will move in, attracting the predator species. Spanish mackerel, king mackerel, false albacore, sharks, tarpon, and other species will be caught. One cool aspect of thios type of fishing is that much of it is visual. This is especially true for mackerel and false albacore as they will often be seen feeding on the surface. This is easy pickings as the fish are in a feeding frenzy! Trolling will produce when the fish are not seen on the surface.
Siesta Key fall fishing strategies
Live bait can certainly be used while drifting as well when fishing Sarasota grass flats. In fact, it is a fair bet that more speckled trout have been put on ice using a live shrimp under a popping cork than any other method. This is simply a #1/0 live bait hook with a "popping cork" placed on the line three feet or so above the hook. A live shrimp is hooked under the horn and the rig is cast out in front of the boat as it drifts along. The cork has a concave face that "pops" when twitched sharply. This simulates the sound of feeding fish and will attract trout and other species to the shrimp which is dangling there helplessly.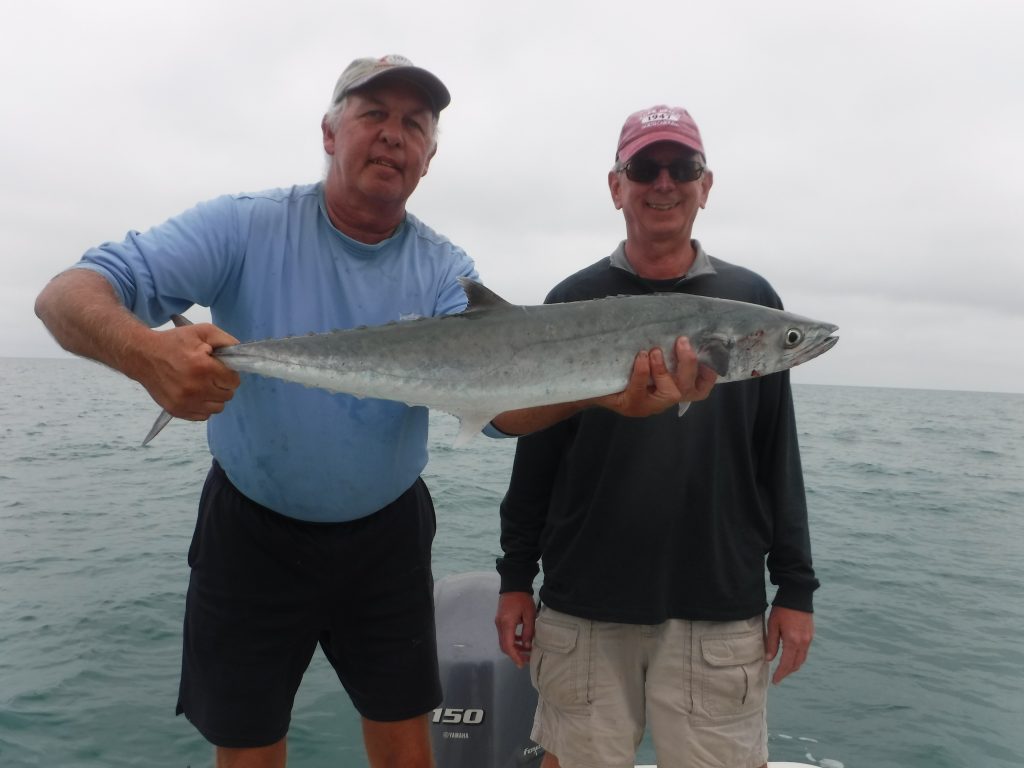 There are also several manufacturers of noisy floats such as the Cajun Thunder float. These are very noisy and can be cast a long way. The cork is tied on to the running line and then a leader connects the cork to the hook. Popping corks work great in water depths of six feet or less when fishing Sarasota grass flats. A live shrimp can even be replaced with a light jig or artificial shrimp. Live baits can also be drifted out behind the boat. This works well in deeper water and under breezy conditions.
Live baitfish are another terrific producer on the flats. Pinfish and grunts can be purchased at local bait shops or caught out on the flats and are best fished under a float to keep them from getting in the grass. "Whitebait" is a local term used to describe the schools of small silver bait fish that cover the flats in the warmer months. Scaled sardines (also known as pilchards) and threadfins (greenies) are the two most prolific species.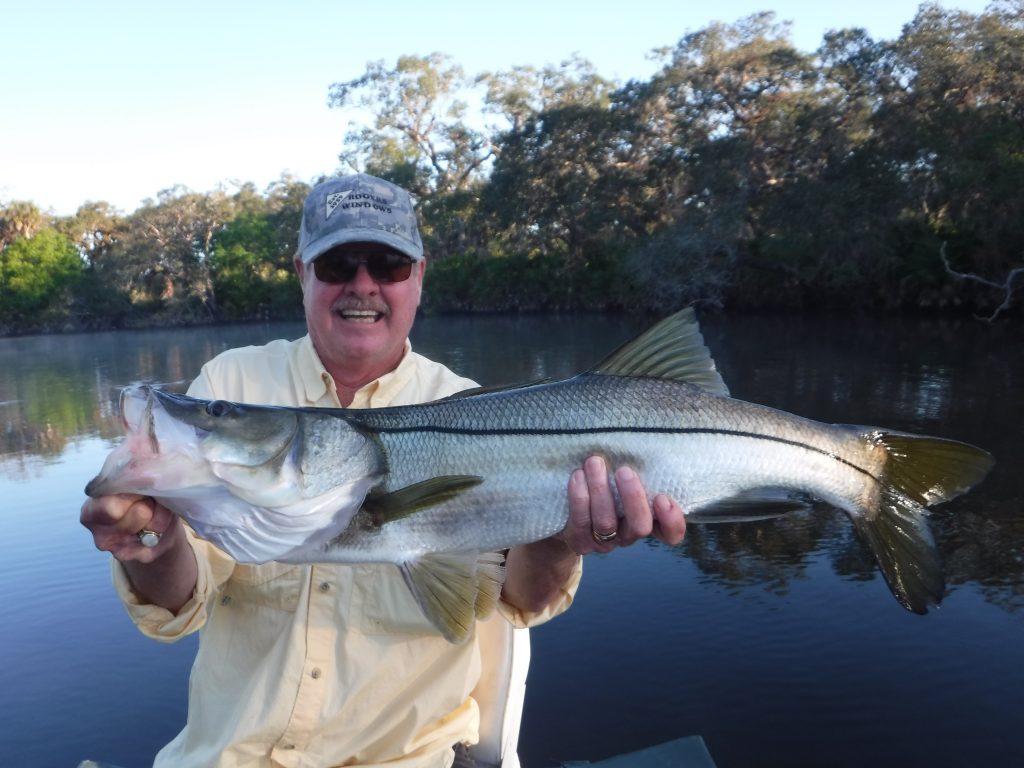 Pilchards are the preferred bait as they are much hardier than the threadies, but both are equally effective. Baitfish are sighted on the grass or chummed into range and then cast netted and quickly put into a large, well aerated baitwell. Jack mackerel or canned cat food mixed with bread is a popular chum as well as bulk tropical fish food.
Catching live bait fish on Siesta Key in the fall

In the summer and fall these baitfish are thick on the shallow grass near the passes. Loading up the live well with bait practically guarantees success for anglers fishing the Sarasota grass flats. Once the bait is acquired, anchor up-current of a flat and toss out a handful of bait. Repeat this every few minutes and if the fish are there they will show up in short order. Once the action heats up, slow down the chum flow; use just enough to keep them excited. I average one hundred fish mornings all summer long using this method.
As with all fishing techniques there are subtle nuances which will increase success. Here are some tips that will help your trips be more successful:
1) Choose a flat that has the wind and current moving in the same direction. Boat positioning and bait presentation will be better. This holds true both when drifting and anchoring.
2) When drifting, keep an anchor with 20' of line tied off. Once fish are located, quietly slide the anchor in and work that area thoroughly. When the action slows, pull the anchor and continue the drift.
3) Try and set up a drift that covers different depths on the flat. Drifting from eight feet of water into four feet of water is better than drifting at one depth.
4) Keep the noise down. Have the landing net out and keep the bait well lid open. Slamming hatches will shut down the fish!
5) Florida fishing regulations can be viewed on the FWC site.
In conclusion, this article on Siesta Key fall fishing will help anglers catch more fish!