Siesta Key fishing charters in the Summer Time
Fishing can be nothing short of fantastic during the hot summer months for clients fishing near Siesta Key. Tactics are different from other times of year, however. Live bait is the key to angling success when the water temperature climbs up into the mod to high 80's. Baitfish flood the flats, especially near the passes, and fooling fish on artificiual lures becomes much more difficult. Also, an early start is imperitive as the bite is usually over by late morning.
Here is the drill; get out there at first light and catch a bunch of bait. Here on the gulf coast, the primary baits are pilchards (scaled sardines) and threadfin herring. The pilchards are preferred as they are hardier and stay alive longer. Then, I run the boat to a productive flat where the wind and tide are moving in the same direction. I anchor the boat up-tide of the flat in 6' to 8' of water and begin tossing handfuls of baitfish out behind the boat. It usually does not take long to attract the gamefish to the easy meals!
One benefit to this technique is that very little experience or skill is required for clients of all ages to be successful. CVasts are usually onle 20' or so, and accuracy is not inportant. Basically, get the bait in the water and it should get eaten! Speckled trout are the primary species taken, but mangrove snapper, jack crevelle, Spanish mackerel, bluefish, black sea bass, juvenile gag grouper, flounder, sharks, ladyfish, and catfish are commonly caught. Most four hor charters average 20 fish per person, but that number can go up significantly on a very good day.
Light spinning tackle with 10 lb test line is used. It is light enough to make the smaller fish fun but still giving anglers a chance is something larger is hooked. Clients occassionally hook giant tarpon, which are NOT landed on this tackle!!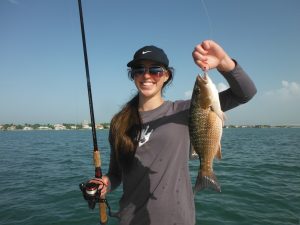 So, the next time you are in West Central Florida and want to go fishing but think it might be too hot, you are correct, the fishing is VERY hot!! Capt Jim