Siesta Key Fishing Report
This page will have my current Siesta Key fishing report.  I will update the reports with pictures every week or two.
April 13 Siesta Key fishing report
Fishing was good in Big Pass on the north end of Siesta Key this week.  Ladyfish were thick in the pass and on the bars at the mouth, feeding aggressively on small bait fish.  Spanish mackerel and bluefish were mixed in as well.  Bass Assassin jigs, trolled spoons, and Rapala plugs worked well.  Sheepshead are thinning out in the structure.  Nearby grass flats were also productive for anglers using live shrimp and jigs.  Speckled trout, mackerel, bluefish, and ladyfish were caught.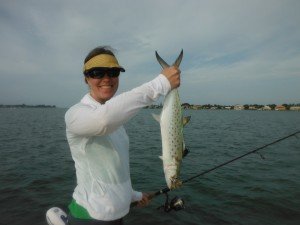 April 6 Siesta Key fishing report
Fishing was a bit up and down this week for clients on Siesta Key fishing charters.  Weather was an issue as it was fairly breezy on several days.  However, persistent anglers were rewarded with some decent action.  Fish of the week goes to Brian, who pulled a nice upper slot redfish out from underneath a Siesta Key dock.  The flats near Marina Jack, Bird Key, and Field Club produced a good number of ladyfish along with speckled trout to 18″, Spanish mackerel and bluefish to 2 pounds.  Live shrimp and small threadies, jigs, and flies produced the fish. Big Pass produced ladyfish on jigs and a good sheepshead bite on Wednesday morning on live shrimp.
March 30 Siesta Key fishing report
Fishing was steady once again over the last two weeks.  The sheepshead bite has been very good, with most of the fish being over 12″.  Live shrimp fished on the bottom around submerged structure on the north side of Siesta Key worked well.  Ladyfish were plentiful on the flats near Marina Jack and the Field Club.  They hit Bass Assassin jigs and live shrimp.  Spanish mackerel hit trolled spoons in the inshore Gulf of Mexico on days that the breeze let up.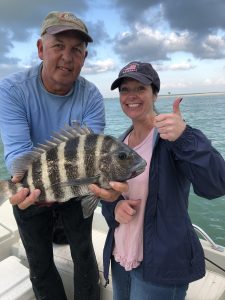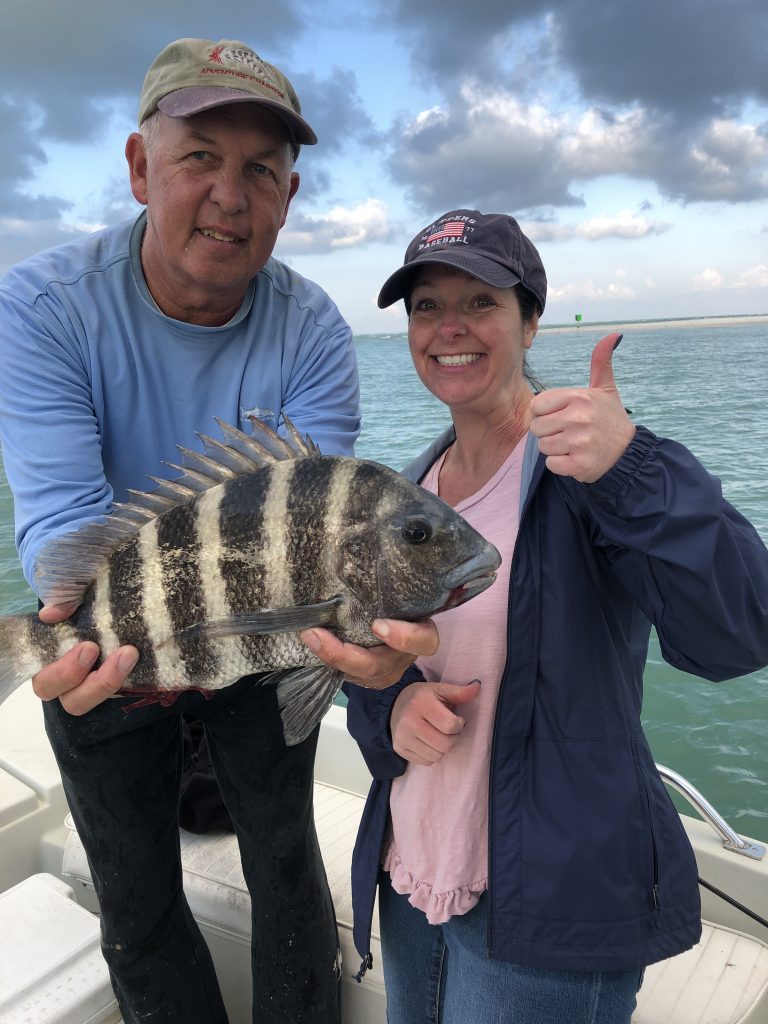 March 16 Siesta Key fishing report
The sheepshead fishing remains very good, with the structure in Big Sarasota Pass on the north end of Siesta Key being the top spot.  The fish are schooled up in good numbers and averaging 2 pounds.  Live and frozen shrimp were productive, with a few snapper and grouper being caught as well.  Ladyfish hit jigs and shrimp on the flats.  Spanish and king mackerel showed up in the Gulf of Mexico near the inshore artificial reefs just a couple miles offshore.  Trolled spoons and plugs caught them.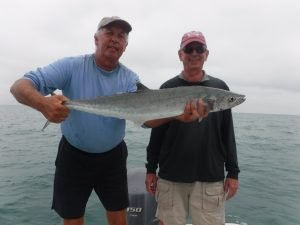 February 23 Siesta Key fishing report
Action really picked up this week in Sarasota Bay! Water temperatures were in the mid 70's and small fry bait is plentiful on the flats. Anglers casting jigs experienced fast action on large ladyfish and a couple of speckled trout. Snook and jack crevelle hit live shrimp and Rapala plugs in creeks and residential canals. The sheepshead bite remains strong. Very few of the fish are under the 12″ minimum. Some decent mangrove snapper were landed as well. Live shrimp worked well fished on the bottom.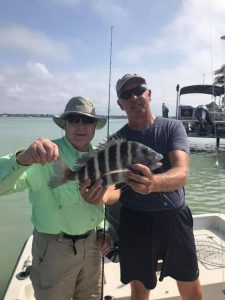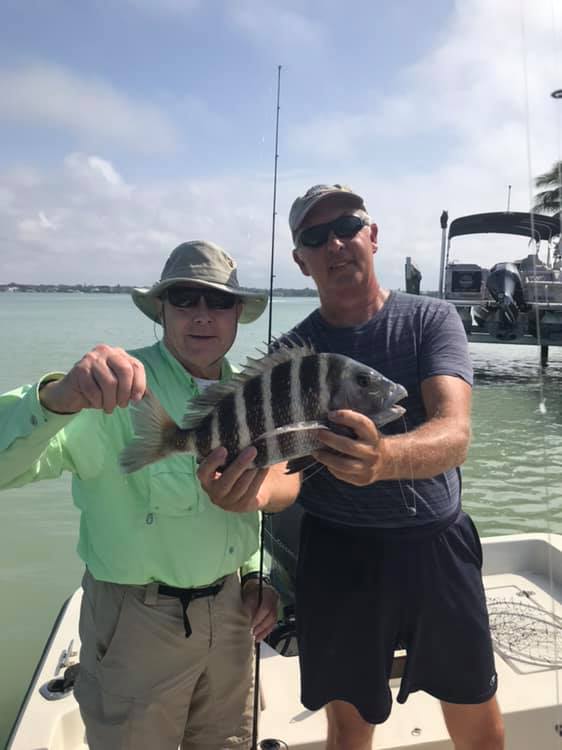 February 16 Siesta Key fishing report
Sheepshead have showed up in decent numbers in the passes and nearby docks.  Live or fresh shrimp fished on the bottom produced sheepshead and snapper.  Bait is starting to show up in the passes and should spread out onto the flats.  A few snook and jacks were caught in creeks and canals.  Hopefully, this will get the bite on the flats going.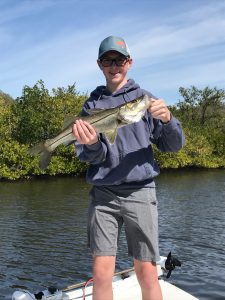 January 31 Siesta Key Fishing Report
A week of quite cold weather slowed down the bite a bit this last week.  Previously, clients were catching some VERY large jacke crevelle along with snook and redfish in area rivers.  Jigs and plugs fooled them.  In Sarasota Bay, sheepshead numbers are increasing daily as these fish move in to spawn.  Live shrimp fished near structure will catch them.  Snook and jacks are up in creeks and residential canals.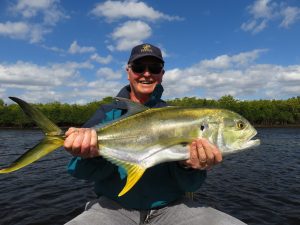 January 16 Siesta Key fishing report
Fishing has been tough of late, to be perfectly honest. Anglers casting jigs on the deep flats and in the channels caught a few ladyfish and jacks. The best action has been fishing docks, bridges, and other structure for sheepshead and black drum, but it has been hit-or-miss.  There are a few snook and jacks up in creeks and canals.  River fishing in the Myakka River has been tough this year, for whatever reason.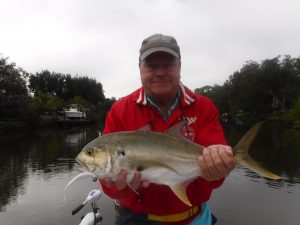 Jan 1 Siesta Key fishing report
Fishing has been fair over the Christmas holiday. The area south of Siesta Drive to Blackburn Pt has been the best area. Sheepshead are around docks and other structure, along with black drum. They took live and frozen shrimp. Ladyfish hit jigs in deeper water around the flats and in the channels on low tide. Jack took lures and flies in Robert's Bay and the Grand Canal. Jacks and snook are in the canals and creeks.
December 16 Siesta Key fishing report
Weather has been a bit of an issue, causing me to cancel quite a few trips.  It has been breezy.  I have been running a l;ot of river fishing charters in the Myakka River and the Braden River.  Snook and jack crevelle hit Rapala plugs and jerk baits on a jig head.  In Sarasota Bay, sheepshead are showing up under docks.  Snook are moving up into creeks and canals along with jack crevelle.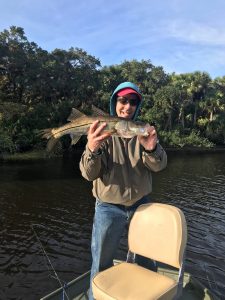 November 18 fishing report
Red tide is still a bit persistent in Sarasota Bay.  However, the area spouth of Siesta Drive down to Blackburn Point continues to provide the fish with a bit of a refuge area as the water is much better.  Snook and jack crevelle are being caught on live bait and Rapala plugs.  Mangrove snapper, mostly small, are plentiful under docks and in residential canals.  Ladyfish were abundant, busting bait on the surface throughout the area.  River trips were fair, producing snook and jacks, but it really needs to cool off to get the fish moving up.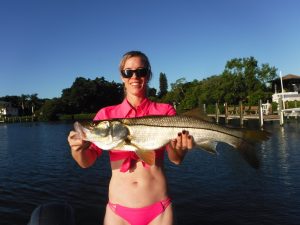 November 3 Siesta Key fishing report
Action in the area rivers produced some good snook this week.  Fish to 35 inches were landed and a couple larger ones were lost.  Rapala plugs fooled the fish.  Largemouth bass and jack crevelle were also landed.  Spotty red tide resulted in fair action in Sarasota bay.  Jacks and snapper took live pilchards in Robert's Bay.  There were a few breaking ladyfish near Marina Jacks and the Middlegrounds.
October 20 fishing report, great snook bite!
Snook fishing was fantastic this week!  Clients on Siesta Key fishing charters caught snook to 35″ and lost some larger fish.  Rapala plugs fooled a few fish early, including trout, jacks, ladyfish, snapper, and snook.  Once the morning bite was over, I netted up bait and used them to chum the fish up.  Snook, jacks to 4 pounds, snapper to 15″, and redfish to 25″ were landed under Siesta Key docks and in creek and canal mouths.  A mild cold front is approaching and hopefully that will bring in some mackerel.  The hot snook fishing should continue.
October 13 fishing report, good snook and jack action
I got out a couple of times this week after Hurricane Michael moved through.  We really did not see any affects, other that a bit of wind and rain.  The red tide had concentrated snook, jack crevelle, and mangrove snapper in the area south of Siesta Drive.  This area was pretty much unaffected by the red tide.  The fish have stayed there and the bite is good, especially for anglers using live bait fish.  We had outgoing tides in the morning and creeks and canal mouths were good spots.  Docks were also productive.  Anglers casting Rapala X-Raps early caught a few fish, but most came by chumming with pilchards. Bait is on a bunch of flats near both passes, a great sign!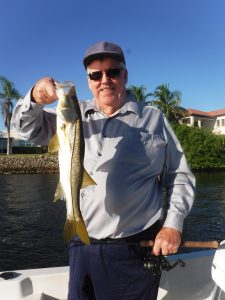 Oct 2, back from vacation
Our long road trip to Maine and back is over.  Fishing reports will resume shortly!
Siesta Key fishing report September 1
After a couple weeks of severe red tide, the red tide situation improved of late.  We did experience some fish kills, but many of them were small bait fish and mullet.  The water has cleared up in many spots along Siesta Key, Lido Key, and in Sarasota Bay.
Red tide strategies
The key to achieving success when red tide is present is to find unaffected water.  This can be difficult as it changes daily with wind and tide.  Early in the week the water was good south of Siesta Drive in Robert's Bay and south.  Clients experienced good action on snook, jack crevelle, and mangrove snapper casting Rapala X-Raps.  We caught the tide just right, as it was bottoming out mid-morning.  The mouth of Phillippi Creek was very good, as was the creek itself up to the 41 bridge.  On the incoming tide, the grass flat edges in Robert's Bay produced speckled trout and mangrove snapper.
The most productive lure was the Rapala X-Rap Slashbait in the #08 size.  Ghost (white) was the best color.  These lures have proven to be very effective for me as a charter boat captain.  They closely mimic the small finger mullet and other bait fish that are found in our waters.  They catch many different species.
Freshwater fishing
Mangrove snapper were plentiful on the edges of the Intracostal Waterway channel near the mouth of Phillippi Creek.  Live and frozen shrimp fished on the bottom will catch these tasty saltwater panfish.  Speaking of panfish, I did a little freshwater fishing this week.  Sme nice crappie and bluegill hit black Beetlespins and chartreuse Road Runner jigs in local lakes.  Bluegill fishing will slow down, but crappie fishing will only get better as it cools off.  Myakka, Manatee, Ward, and Benderson Lakes are the top spots in Sarasota and Bradenton for bream and specks.
I will be off all of September, heading up to New Hampshire and Maine to cool off and catch some different fish species.  Look for my next report the first week of October.
August 8 Siesta Key fishing report
My Sarasota fishing report August 8 includes some decent fishing on the deep grass flats in the middle of north Sarasota Bay.  Unfortunately, red tide moved into the area, shutting down both Big Sarasota Pass and New Pass.  The best water was north of New Pass.
Clients on Siesta Key fishing charters had success on grass flats in five feet to ten feet of water.  The areas with the "cleanest" water and devoid of red tide were up north in the middle of Sarasota Bay.  Bishop's Pt., Buttonwood, Long Bar, and Stephen's Pt. were the top spots.  Speckled trout were numerous, along with ladyfish.  Bluefish and decent sized jack crevelle were found busting baits on the surface.  Mangrove snapper, Key West grunts, and black drum were caught on the flats and near structure.  Gulp Shrimp and live shrimp were the most productive baits.
Red tide fishing
Red tide does throw a monkey wrench into the fishing.  The biggest issue is dealing with the daily changes.  This week was a good example of this.  On Monday, we has fast action at a spot, basically spending the entire charter there.  On Tuesday, red tide had creeped in and the bite was much slower.  A move north resulted in better action and cleaner water.  Jigs are good for locating fish under these conditions.  Casting jigs and other artificial lures allows anglers to cover as much water as possible to find some fish.
Another strategy that can prove to be productive is fishing canals and creeks that are kind of out of the way.  These more remote areas can be less affected by red tide.  Snapper, drum, grunts, catfish, and other species were caught this week by anglers.  Shrimp fished on the bottom with a small hook and a small split shot woked well.  A change in wind direction will also affect the red tide and fishing.  The key is just to keep moving and keep fishing!  This concludes my fishing report August 8.
August 1 Siesta Key fishing report
Speckled trout were the highlight of my August 1 fishing report for Sarasota and Siesta Key.  Speckled trout to 23″ were landed by clients on Siesta Key fishing charters.  The deep grass flats near New Pass were the top spots.  The Middlegrounds, Country Club Shores, Radio Tower, and Bishop's Pt. produced a lot of fish.
Clients casting Bass Assassin jigs and Gulp Shrimp on a 1/4 ounce jig head and chumming with live bait produced on the deep grass flats this week.  Speckled trout, bluefish, Spanish mackerel, ladyfish, jack crevelle, gag grouper, mangrove snapper, and other species were landed.  The grass flats in 6 feet to 8 feet of water near New Pass were the most productive spots.  Clients on Siesta Key fishing charters also caught small snook and nice mangrove snapper in the rocks at the north end of Siesta Key using live shrimp.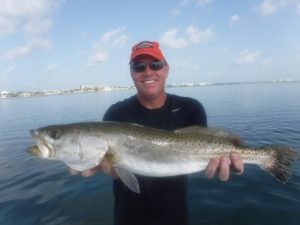 Weather was once again an issue for anglers fishing Siesta Key this week.  Morning storms cancelled a couple of trips and breezy conditions make things a bit tough on a couple of other charters.  Still, persistent anglers found success fishing the deep grass flats.  We started off most trips by casting jigs to take advantage of the first light bite.  Gulp Shrimp worked the best.  As the fishing slowed, swithching over to live bait worked well.  I caught bait on the bars near New Pass.  Though the bait was on the small side, it was just large enough to catch and cast.
Snook in the passes
Both Big Sarasota Pass and New Pass are holding good numbers of snook.  They bite very well at night under the lighted docks and New Pass Bridge.  They can also be caught in the morning and afternoon on live and artificial baits.  Some decent mangrove snapper are in there as well.
July 25 Siesta Key fishing report
Weather was a bit of an issue this week for clients on Siesta Key fishing charters.  Morning storms forced me to cancel a couple of trips.  Still, my July 25 Siesta Key fishing report is a positive one!
Speckled trout, Spanish mackerel, bluefish, flounder, sea bass, mangrove snapper, gag grouper, jack crevelle, ladyfish, and catfish were landed on the deep grass flats.  Clients did equally well casting jig heads with a Gulp Shrimp and chumming with live bait.  Middlegrounds and Bishop's Pt were the top spots.  Small snook took shrimp under docks in New Pass.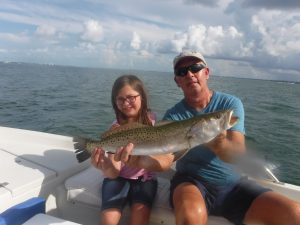 Weather influences
The weather was certainly a bit different this week for anglers going out on a fishing charter.  We were greeted at first light with fairly breezy and stormy conditions.  The wind was out of the southwest, which allowed us to work the west side of Sarasota Bay.  These are actually great conditions under which to cast jigs.  A ten knot breeze is perfect to move the boat across the flats.  It also puts a bit of a chop on the surface.  This is just enough to break up the light, without being rough for clients.  The cloud cover also helps, and it keeps anglers from getting too hot.
However, clouds and wind results in making bait much more difficult to catch.  I was able to find a protected flat where the bait was bunched up pretty good.  It was still small, but large enough to not get "gilled" in the net.  Chumming was very producting, luring in some nice trout and mangrove snapper, along with other species.
Snook fishing
Snook are still schooled up in both Big Sarasota Pass on the north side of Siesta Key and New Pass between Lido Key and Longboat Key.  Any structure is likely to hold snook.  Large live pilchards are the best bait, but have been difficult to catch.  A large, live shrimp worked well.  Artificial lures such ass Rapala plugs can be productive first thing in the morning.  That concludes my July 25 Siesta Key fishing report.
Sarasota is a hidden gem that lies on the west coast of Florida, most known for world class beaches and fine arts.  But Sarasota has a rich fishing heritage and offers visitors a wide variety of angling opportunities.  The best way to enjoy this experience is to go out on Sarasota fishing charters with a seasoned guide.  All bait, tackle, and licenses are provided, as well as a cooler with ice and water.  While catch-and-release is encouraged, any fish kept will be cleaned and bagged up.
Sarasota fishing charters
One of the most appealing aspects of Sarasota fishing charters in the variety of species that clients have the opportunity to catch.  Also, very little experience is needed to achieve success.  While that is true, Sarasota does offer the more experienced angler challenges such as snook, redfish, and tarpon.
The best Sarasota fishing charter for most clients, especially casual anglers or those with children is a four hour inshore charter in Sarasota Bay.  Most trips produce good action and variety, with multiple species being caught daily.  Snook, redfish, speckled trout, Spanish mackerel, bluefish, pompano, mangrove snapper, gag grouper, sheepshead, jack crevelle, sea bass, ladyfish, and more are commonly caught species.  Live bait produces a lot of fish and is used with novice anglers.  Artificial lures are also very productive for those with more experience.
The inshore Gulf of Mexico can provide world-class angling when conditions are right.  Pelagic species such as king and Spanish mackerel, false albacore, cobia, and sharks move through the area in spring and again in the fall.  When winds are light and seas are calm these fish will feed on the surface and the action can be fantastic!  Giant tarpon also move through in May, June, and July and are the ultimate challenge for the seasoned fishermen out on Sarasota fishing charters.  Anglers can fish for snook in area rivers in the winter.
Tourists from all over the country come to Sarasota to go fishing, whether on their own or out on a fishing charter.  The first thing any angler needs to start enjoying the sport of fishing is Siesta Key fishing tackle. This is true of most hobbies and fishing is no exception. This basically consists of rods, reels, line, and terminal tackle as well as a few tools and other accessories.
Rods and reels
Spinning tackle is the best choice for the majority of fishing situations than an angler will encounter while fishing in Sarasota Bay and all of the inshore waters of Florida. It is easy to use and a quality outfit can be purchased for around $150. Spincast gear (many of us started out with this, catching bluegill in ponds) just does not hold up in saltwater. Conventional or baitcasting tackle certainly has a place in saltwater fishing, particularly when using heavier lures and terminal tackle. But for most anglers, particularly those just getting into the sport, spinning equipment is the preferred Siesta Key fishing tackle.
Walking into a tackle store can be intimidating and overwhelming. But, it really isn't that complicated. A local bait and tackle shop will give an angler better advice and service than most "box" stores will on the proper Siesta Key fishing tackle that is needed. They will also have a good selection of tackle and lures that works well for that local area. The best all-around choice is a 7' medium action rod with a matching reel. There are many brands to choose from along with a wide range of prices. A $60 rod and $75 reel will work well for years with decent care. A 7' rod will allow and angler to fish structure such as bridges and docks and still be light enough to fish small lures and baits. My second choice would be a 6 ½' rod with a matching reel. This lighter outfit is better for casting jigs and smaller live baits. These two outfits will cover just about any inshore fishing situation.
Lines
There are many line choices out on the market, all have advantages and disadvantages. Monofilament line is the least expensive and the easiest for a novice angler to use. It has been used for many years and is a fine choice. Braided line has become very popular in recent years. It is more expensive but lasts a long time. Braid has almost no stretch and greater sensitivity, however line management is critical; snarls are difficult to remove. Also, knots are a little harder to tie with braid. In between are hybrid and fluorocarbon lines. These are kind of the best of both worlds and are also excellent choices, though a bit pricey. 10 to 12 pound monofilament or 20 pound braid would be the best choices of Siesta Key fishing tackle.
TERMINAL TACKLE
Terminal tackle consists of the hook or lure that is tied onto the end of the line, along with any leader, weight, or swivels that might be used.
Hooks and Lures
Hooks come in many shapes, sizes and designs. For the vast majority of live and frozen bait situations, a 1/0 live bait hook will work quite well. If larger or smaller baits are used, the hook size should be changed accordingly. Anglers should match the hook to the size of the bait being used more than the size of the fish being targeted. A small hook will catch a large fish! Cut-offs from Spanish mackerel, bluefish, or other toothy critters will require a switch to a long shank hook. Some anglers prefer "circle hooks" and these are required for fishing the offshore reefs. Sizing is a bit different and when using then, the hook is not "set" but instead the line is just reeled tight while the rod tip is raised and the fish will hook itself.
There is probably nothing more confusing than artificial lures when it comes to fishing and choosing Siesta Key fishing tackle. There are endless choices of colors, sizes, and styles, but it can be simplified to some degree. Many anglers assume that live bait will always out-fish "fake" bait, but this is not always the case. There are situations where lures will out-produce live bait. The three basic types of lures used often here on the Suncoast are jigs, spoons, and plugs.
A jig is a simple lure that consists of a hook with a piece of lead molded into it. Some type of "tail" is then added and when worked properly imitates a baitfish or crustacean. Tails can be bucktail or synthetic hair or a plastic body. The plastic baits are very popular as they are relatively inexpensive and they can be easily changed. Jig heads in 1/8 ounce and 1/4 ounce are most popular. Gold, Glow, pearl, olive, red/copper, and chartreuse are all effective colors.
A spoon is a curved piece of metal with a hook in it; pretty simple but they catch fish! Silver and gold are the two most effective colors. Silver works best in clear water and gold is more productive in stained water. These lures can be cast a long way and are very easy to use. Weedless spoons are very effective in shallow water.
Plugs are plastic or wood lures that usually resemble a baitfish. They are very effective however they have a couple of drawbacks; they are fairly expensive and usually sport a pair of treble hooks making them potentially dangerous and also resulting in more damage to a fish that is to be released. There are very effective cast or trolled and account for some very large fish!
LEADERS
In most angling situations a leader will be required. This is sometimes called a "shock leader". Many of the species encountered in our area have sharp teeth and/or raspy gill plates. Tying the hook or lure directly to the line with result in a lot of lost fish. So, a short piece (18"-24") of leader is used. 30 pound is a good all-round choice but can be bumped up to 40 or 50 pound if larger fish are around or in stained water. Conversely, if the water is very clear, a move to 20 pound leader may be required. Flourocarbon leader is the best choice but inexpensive monofilament leader can also be used. Anglers should purchase several spools of different strengths. As a convenience, most shops offer pre-made rigs with hooks, swivels, and leader all tied up and ready to go.
SWIVELS AND WEIGHTS
The final pieces of terminal tackle are swivels and weights. A swivel can be used between the leader and main line and will greatly reduce line twist. It is crucial when using a spoon. Weights come in a variety of sized and shapes. Split shot are small weights which are pinched onto the line. Sliding sinkers knows as "egg sinkers" are popular and easy to use.
TOOLS and ACCESSORIES
Lastly, there are tools and accessories. Every angler will need a pair of pliers. Nail clippers can be handy for trimming knots. A landing net, bait bucket, filet knife, and a release tool (A MUST in my opinion) are other options. That concludes the list of Siesta Key fishing tackle requirements.  Now, let's go fishing!