Siesta Key Offshore Fishing – (941) 371-1390
Fishing Siesta Key offers anglers Siesta Key offshore fishing charters as well. Capt Jim refers these trips to his friend Capt Adria. She operates a safe and comfortable 22′ Grady White with a cuddy cabin and can take up to 4 anglers. Capt Adria runs her trips out of Venice, Florida, which is 20 minutes south of Siesta Key.
There are several reasons why trips out of Venice are more advantageous. Siesta Key has a lot of "slow speed zones". These eat up a lot of fishing time. Also, pick-up points are limited and crowded. The Venice Inlet is deep and much safer to run through if there is any chop, Sarasota passes are shallow and bumpy. Finally, there is good bottom much closer to shore. For all these reasons, it really is worth the short drive.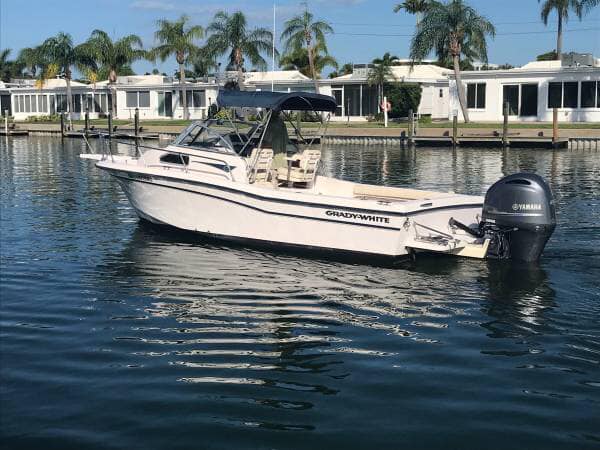 Capt Adria caters to families. These are fun trips that do not require a lot of skill or experience in order to be successful. Anglers taking Siesta Key offshore fishing charters will normally be bottom fishing for a variety of species. These include gag grouper, red grouper, scamp grouper, mangrove snapper, lane snapper, yellowtail snapper, grunts, and porgies.
Trolling is also an option, especially in the spring and fall. This is a great technique when the king mackerel, Spanish mackerel, and false albacore show up. In many cases, action can be had quite close to shore, making it a good choice on breezy days.
Siesta Key offshore fishing charter trip lengths
Capt Adria offers anglers 4 hour, 6 hour, and 8 hour Siesta Key offshore fishing charters. The trip length will be determined by the anglers expectations, the fishing options, and the weather. Longer trips allow Adria to run further (she has her Gulf Reef Permits) for the prized larger grouper. At times, she can be flexible and add some extra time if the bite is on.
4 hour Siesta Key offshore fishing charter – $700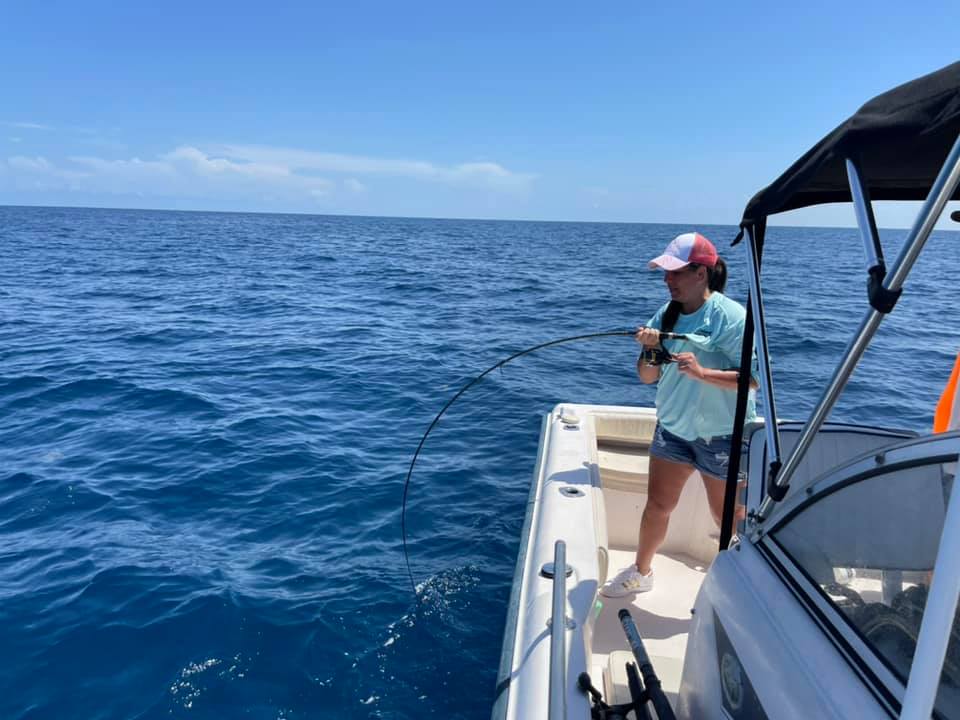 A 4 hour Siesta Key offshore fishing charter will limit the distance that she can run. However, plenty of fish are caught on these trips, though usually not the larger grouper. It is an excellent option for families with children as an introduction to offshore fishing. Light tackle is mostly used, which is easier to handle.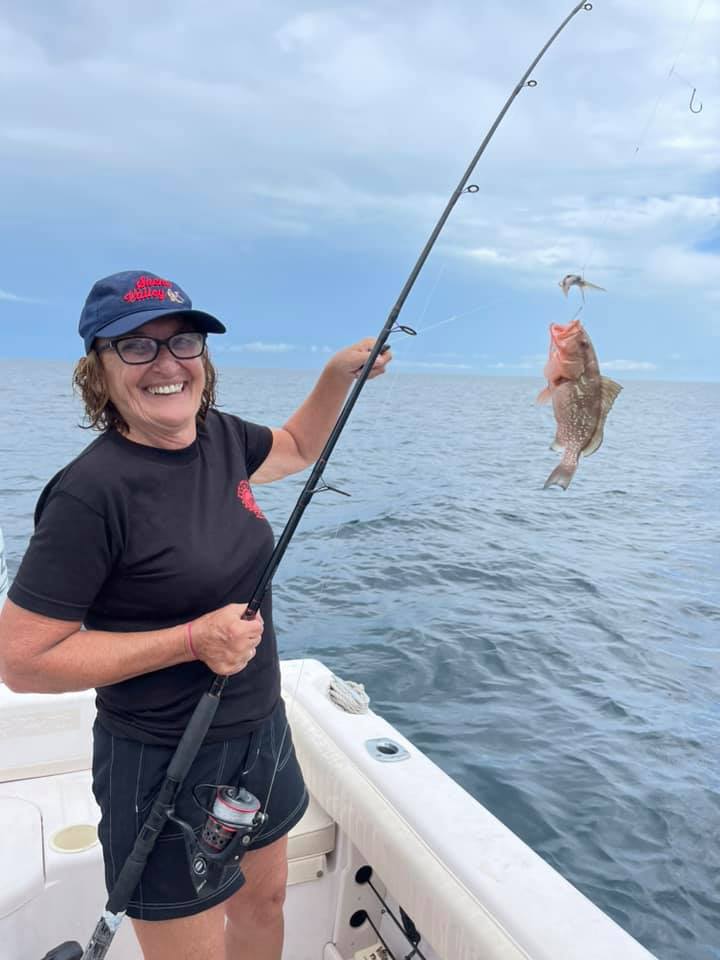 Bottom fishing is done on almost all of these trips. Key West grunts, lane snapper, mangrove snapper, and smaller grouper are the normal catches. However, larger fish such as big grouper, cobia, and king mackerel are a possibility. Trolling will produce plenty of Spanish mackerel and maybe some false albacore when conditions are right.
6 hour Siesta Key offshore fishing charter – $900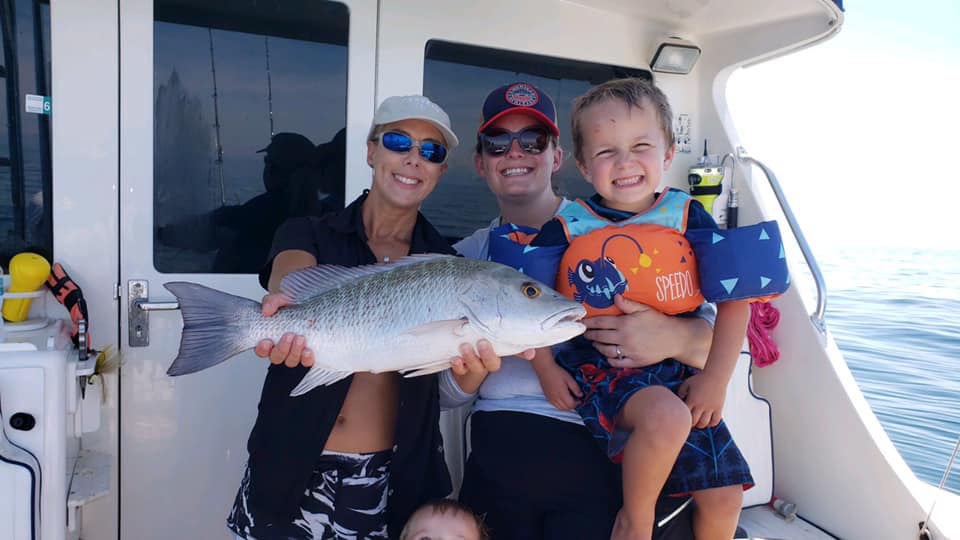 A six hour trip is Capt Adria's preferred charter length. It allows her to run out a bit deeper and hit multiple spots without using up the entire day. She can even do a little trolling between spots to pick up a nice king mackerel or two.
Keeper grouper become more of a realistic possibility on a 6 hour Siesta Key offshore fishing charter. The extra time will allow for more time to run and to fish. Grouper species are the most highly desired and they get a lot of pressure. They are actually heavily regulated, so if grouper is the goal, inquire to see what is in season. Most grouper are caught bottom fishing using fairly heavy tackle.
Plenty of snapper are caught on a 6 hour charter as well. Mangrove, lane, and yellowtail snapper are caught along with grunts, porgies, and whatever else bites. The variety definitely adds to the fun! Anglers can also do a bit of trolling for king and Spanish mackerel.

8 hour Siesta Key offshore fishing charter – $1200
An 8 hour charter is for the serious anglers looking to catch good sized grouper and snapper. These trips are almost all bottom fishing with fairly heavy tackle. Gag grouper and red grouper are the prizes. When in season, red snapper provide great action and delicious fillets. Big mangrove snapper are an option as well.
On occasion, other species can be encountered on these longer trips. These include dophin (mahi-mahi), blackfin tuna, Africal pomano, cobia, amberjack, and more! The deep wrecks hold all types of resident and pelagic gamefish!
Siesta Key offshore fishing techniques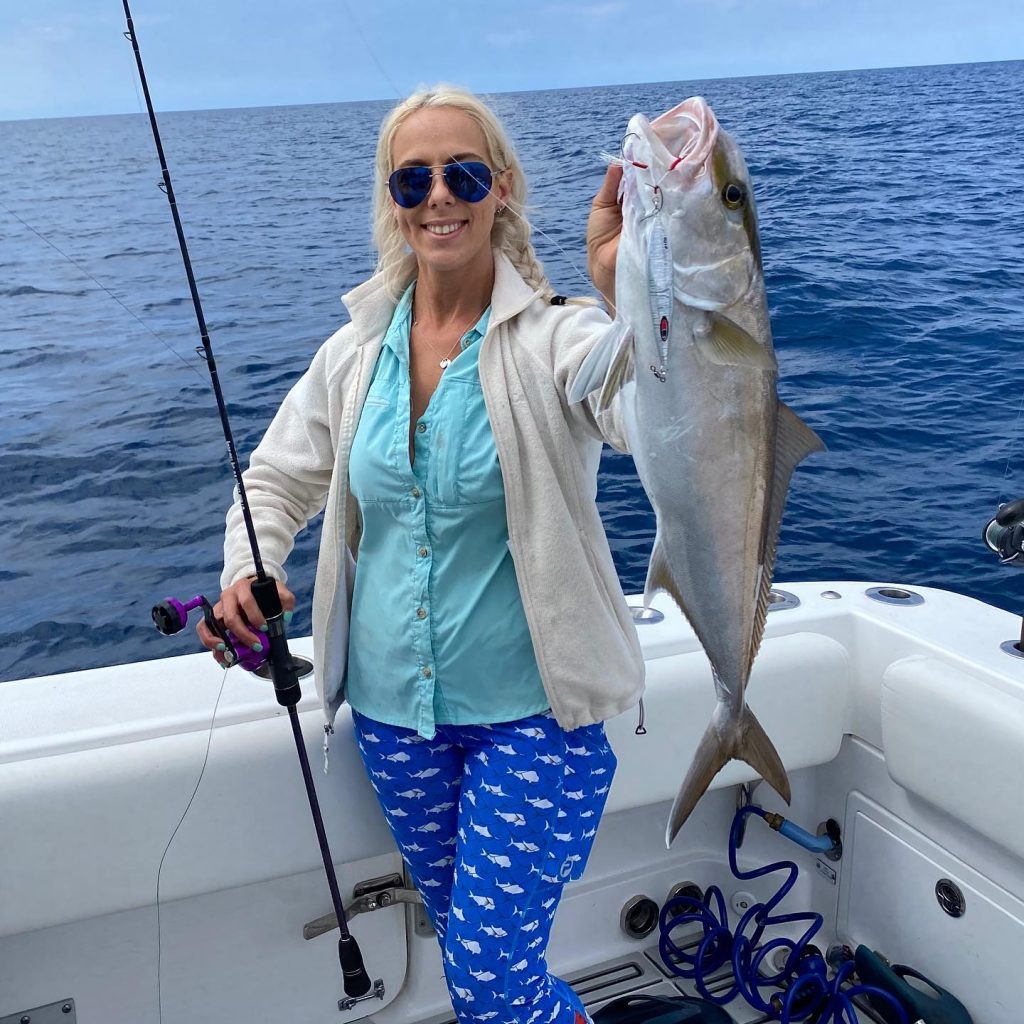 There are two basic techniques used when fishing offshore; bottom fishing and trolling. Adria mostly prefers to bottom fish. She enjoys the action and variety. It is also easy for anglers of all ages to do. No casting is required, a baited hook or hooks is simply lowered to the bottom.
When a fish takes, the rod will bow up. It is now up to the angler to quickly come tight and lift the rod. Can't let that prize grouper get back into the rocks! Even smaller fish such as grunts pull surprisingly hard, especially on light tackle. As the size of the fish being pursued increases, so does the size of the tackle.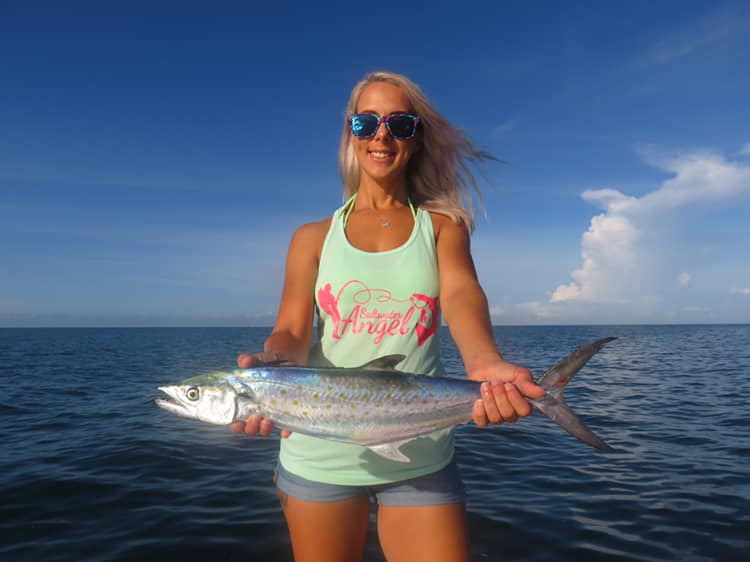 Trolling is the act of driving around while pulling lures out behind the boat. It can be extremely productive when conditions are right, especially when mackerel and other species are seen feeding on the surface. Prime targets are king mackerel, Spanish mackerel, and false albacore. Trolling way offshore will produce dolphin and blackfin tuna.
Species available on offshore charters in Siesta Key
Anglers fishing the offshore waters of Siesta Key can expect to catch quite a few different species, depending on the time of year and current conditions. Most of these saltwater game fish species can be caught bottom fishing and a few will be landed trolling.
Gag grouper
Grouper are king when it comes to offshore fishing in the Sarasota and Siesta Key region. There are two major grouper species, red and gag. Scamp grouper are caught as well. Gag grouper fight the hardest and some anglers consider them to be the best eating. Gag grouper will also move closer to shore than other grouper species.
Red grouper
Red grouper are more widespread than gag grouper. They fight hard and are fantastic eating. Red grouper are not really fussy and will readily take cut bait. They are often found in areas of hard bottom known as "swiss cheese" and coral as opposed to wrecks, which the gag grouper prefer.
Scamp grouper
Scamp grouper are the smallest of the three groupers, but are fantastic to eat. They are caught in the same areas as other bottom fish, normally out in deeper water on the longer charters.
Mangrove snapper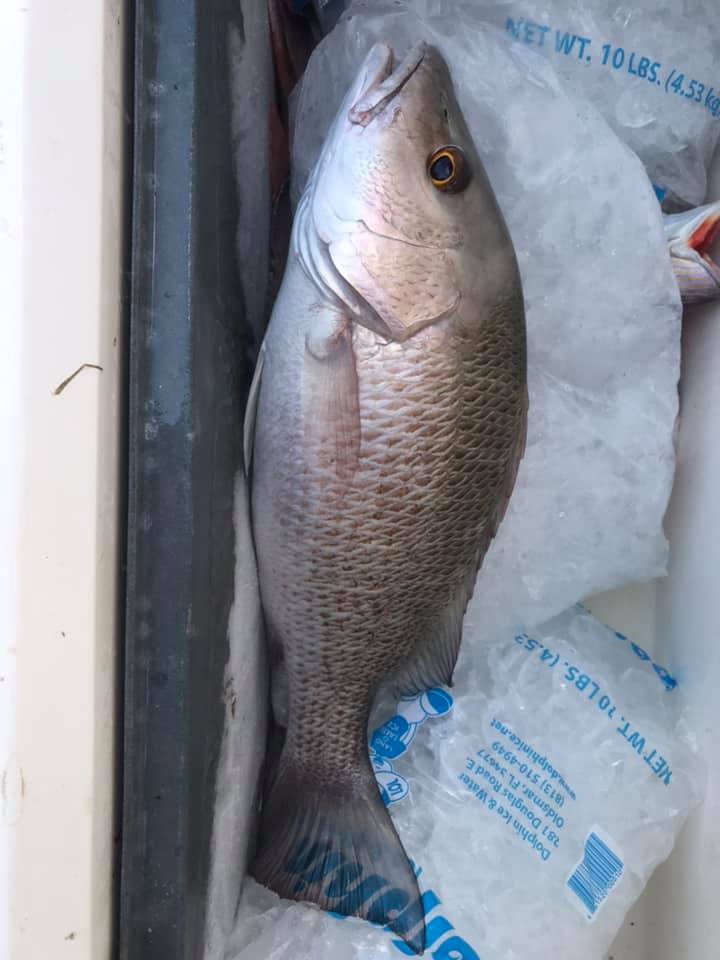 Mangrove snapper are the most plentiful of the snapper species throughout the state. They are caught inshore as well as offshore, near structure of all sorts. Ledges, reefs, and wrecks will hold them. Mangrove snapper can be fussy and difficult to fool, so lighter lines are often required. They are fantastic eating!
Lane snapper

Lane snapper are the smallest of the snapper species that are caught on Siesta Key offshore fishing charters. However, they are a beautiful fish that are fun to catch, cooperative, and great to eat. They are perfect for younger anglers to experience some bottom fishing fun.
Yellowtail snapper
Yellowtail snapper are more known for being in the Florida Keys, but their numbers have been increasing in the waters off of Sarasota and Siesta Key. They respond to chum and will often come to the surface where they can be caught on lighter tackle. Yellowtail snapper are a gorgeous fish that fights hard and tastes great.
Red snapper
Red snapper are the largest of the snapper species, by far. They are caught out deep on the longer Siesta Key offshore fishing charters. They are VERY heavily regulated, the season is often only a few weeks long. Red snapper are aggressive and fairly easy to catch, once located. Obviously, they are fantastic to eat.
King mackerel
King mackerel run through the area in the string and again in the fall. They grow quite large, with 30 pound fish being commonly caught. Anglers can find them from right on the beach to deep offshore. Most are caught trolling, but they will hit cut bait fished on the bottom as well. They fight hard, making long powerful runs and are good when eaten fresh.
Spanish mackerel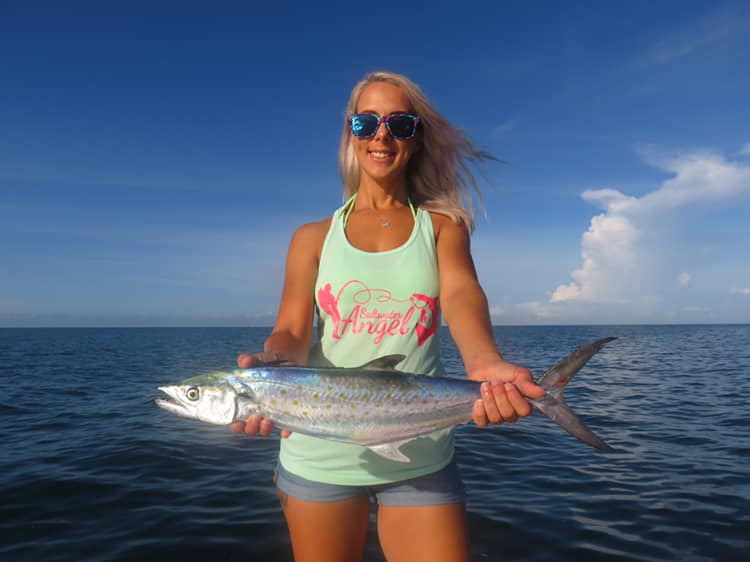 Spanish mackerel are smaller versions of king mackerel. They are often encountered close to the beach, ferociously feeding on the surface. Anglers can cast lures to them, chum them up, or troll.
They are a great fish for children. Spanish mackerel are pretty, fight hard, and are great broiled or grilled when freshly caught.
False albacore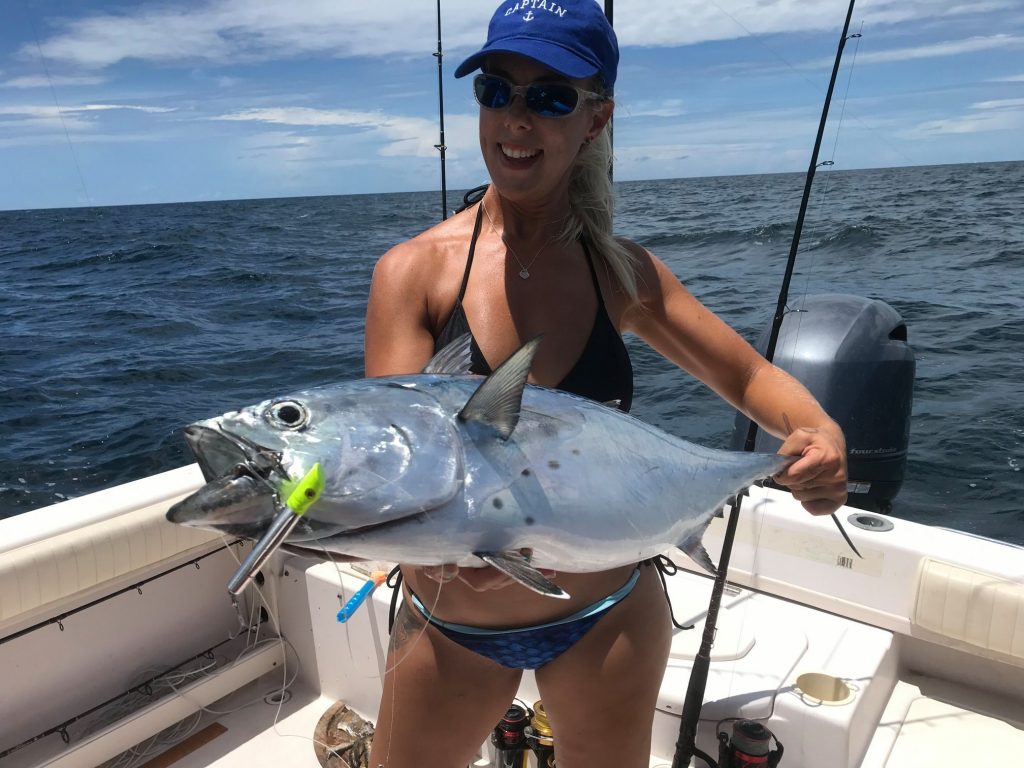 False albacore are a fantastic game fish! These small members of the tuna family make blistering runs. They are often sight cast to as they feed on the surface, which only adds to the excitement. They run through in the spring and fall. They are not considered good to eat, but make excellent cut bait.
Cobia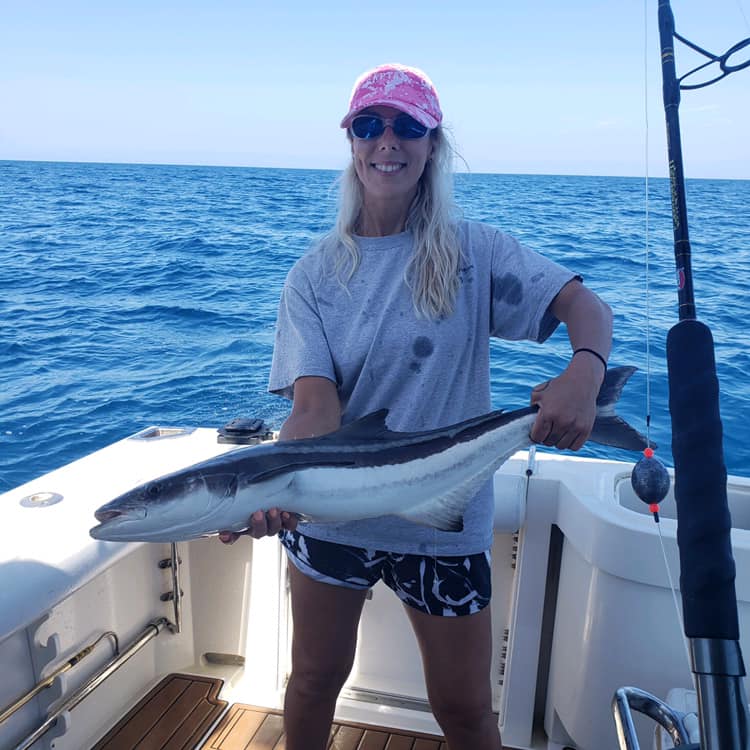 Cobia are a terrific game fish that can be found anywhere, from shallow flats to deep wrecks. They grow to over 100 pounds. Most cobia are caught while fishing for other species, mostly around wrecks. They can also be spotted cruising just under the surface. There very good to eat, one of the best of all species!

Triggerfish

Triggerfish are an odd looking fish that are caught bottom fishing near structure. They have a small mouth, making them difficult to hook. They fight hard and though difficult to clean, have snow white fillets, similar to sea bass. They are fairly heavily regulated.
Key West grunt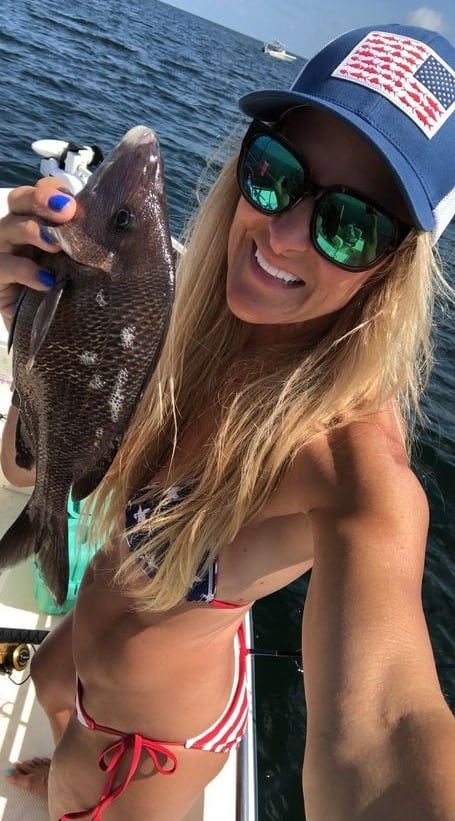 Key West grunts are not glamorous, but they have saved the day for many skippers running fishing charters on the west coast of Florida. A "grunt hunt" is a great trip for kids and families as well. They fight surprisingly hard on light tackle and are fine eating. Grits and grunts is a southern delicacy.
Sheepshead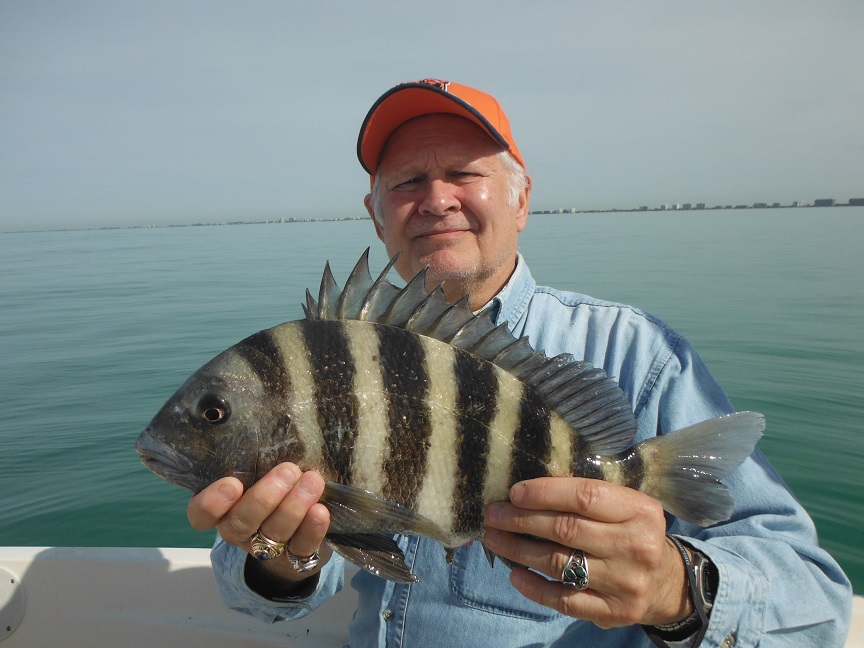 Sheepshead are often thought of as an inshore species. However, they school up on the ledges and reefs a few miles from shore during their late winter spawning run. Sheepshead are a member of the porgy family. They hit shrimp for the most part, and are delicate nibblers. They are good eating, but difficult to clean.
Amberjack
Amberjack are not for the feint of heart! They did not earn their nick-name "reef donkey" by accident. They are mostly found in deep water around the larger wrecks and will take live and cut bait along with lures. They have a bad reputation as table fare bur are actually very good to eat.
Dolphin (mahi-mahi)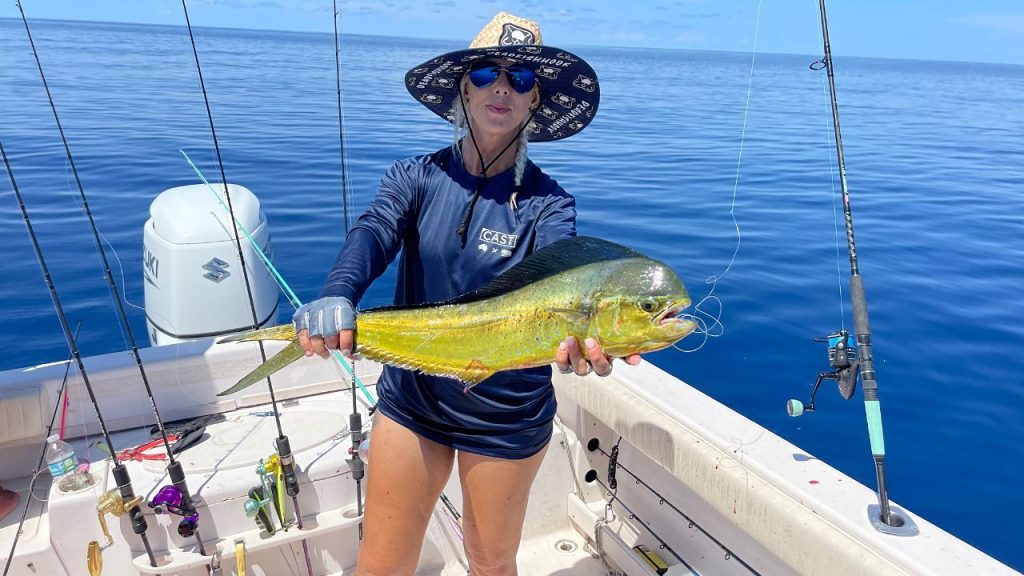 Dolphin, also known as mahi mahi, are encountered occasionally on the deeper offshore charts in the summer. They will be found over structure and along weed lines and color changes. Trolling will catch them but it is more fun to chum them up behind the boat.
African pompano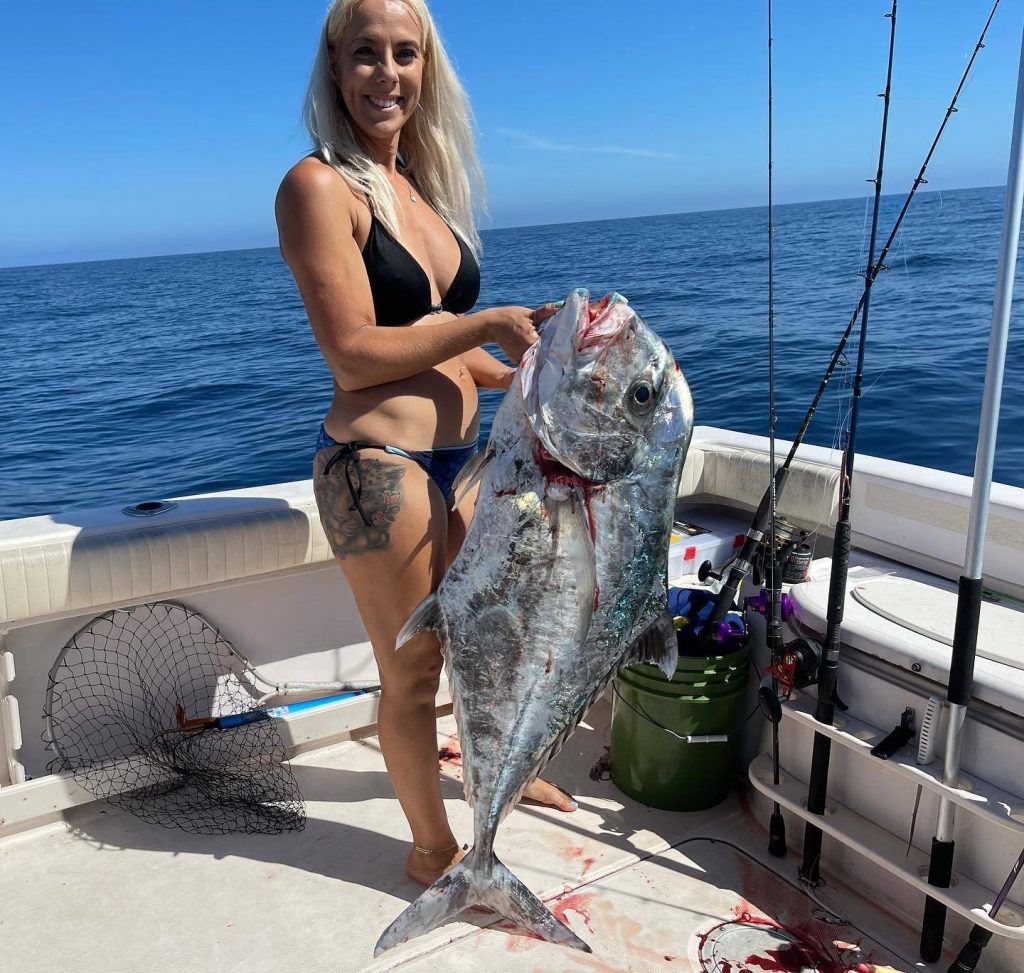 African pompano are a very occasional catch that are caught on the deeper wrecks. They grow large and put up an incredible battle. They are often caught jigging, but will hit cut baits as well.
In conclusion, this page on Siesta Key offshore fishing charters will help visiting anglers choose the best trip for their party!