Siesta Key River Fishing Charters – Snook and More!
The topic of this article is Siesta Key river fishing charters. There are several rivers within a short drive of Sarasota and Siesta Key. They offer anglers a unique experience; fishing for snook and other species in brackish rivers. The scenery is spectacular as anglers experience the true Florida while having the chance to catch a trophy snook, bass, or juvenile tarpon!
How to catch big jack crevalle in rivers video
I am a fishing guide in Siesta Key. The majority of my charters are in Sarasota Bay for the normal inshore saltwater species. However, I also run river fishing charters in the cooler months. This is a trip for experienced anglers. Decent casting skills are required, along with patience.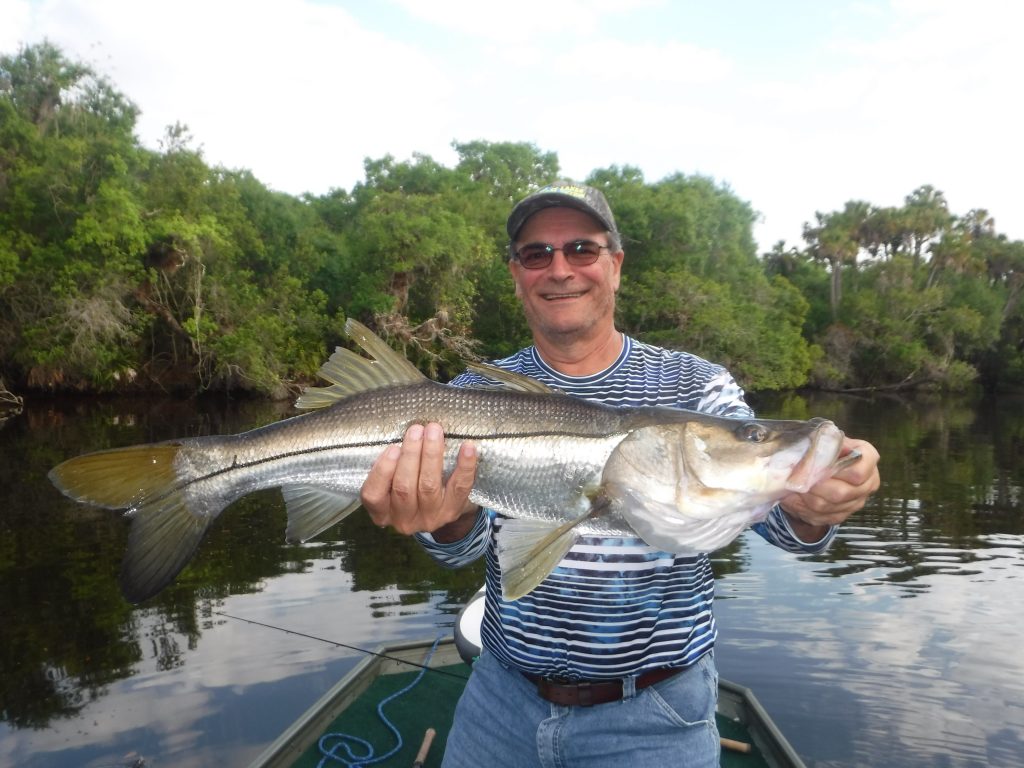 These rivers waters are often shallow, particularly in the winter during our dry season. Also, the ramps can be challenging. Therefore, I can't use my 22" bay boat, instead opting for a smaller skiff. I have been using a 14" Alumacraft Jon boat, but have a 15′ fiberglass skiff on order.
Siesta Key river fishing charters
My Siesta Key river fishing charters are basically float trips. Depending on the wind and tide, we drift along casting lures towards shore line cover. This is a relaxing and serene fishing experience, at least until a big snook, tarpon or jack is hooked! All of the rivers that I fish are "No Wake", which results in a nice experience. This is a great option for older anglers who desire not to deal with waves.
I only use artificial lures and flies on my river fishing charters, no live bait. The water is too salty for freshwater shiners and too fresh for shrimp. Also, lures allow my anglers to cover a lot of water as they drift along. This is an efficient way to fish. Also, trolling lures will produce as well. I do this often when making a long idling run.
While a variety of artificial lures will produce, I use two types of lures almost exclusively. My top lure is a Rapala X-Rap Extreme Action Slashbait. I use the 08 and 10 sizes, in white, gold, or pilchard. The Extreme Shallow plug produces as well. I also use a 5" Gulp Jerk Shad in while on a 1/8 ounce jig head or swimbait hook. Anglers can choose either spinning or baitcasting tackle, I can provide either.
The Rapala plugs are excellent for casting and moving quickly, covering as much water and cover as possible. They are also very effective when trolled. The Gulp Jerk Shad is a great choice when the water is cold and the fish are less active. Also, they work well in deeper holes when fish are concentrated.
Fly fishing on Siesta Key river fishing charters
Anglers can choose to go fly fishing on area rivers as well. Every fish that will take a lure will also eat a well-presented fly. For the most part, this is fairly easy casting and offers fly anglers the opportunity to catch a large fish. Jacks in particular are quite cooperative. Trophy snook are caught regularly as well.
I use an 8wt or a 9wt rod with an intermediate sinking line. The fly does need to get down to the fish. Brightly colored Clouser patterns that mimic bream and tilapia have proven to be effective. Darker colors will also produce at times.
Species caught on river fishing charters
One appealing aspect of my Siesta Key river fishing charters is that anglers can catch a variety of species, both fresh and salt. It is not uncommon to catch snook and bass close together. Jack crevalle, tarpon, snapper, ladyfish, gar, catfish, and panfish are also landed.
Snook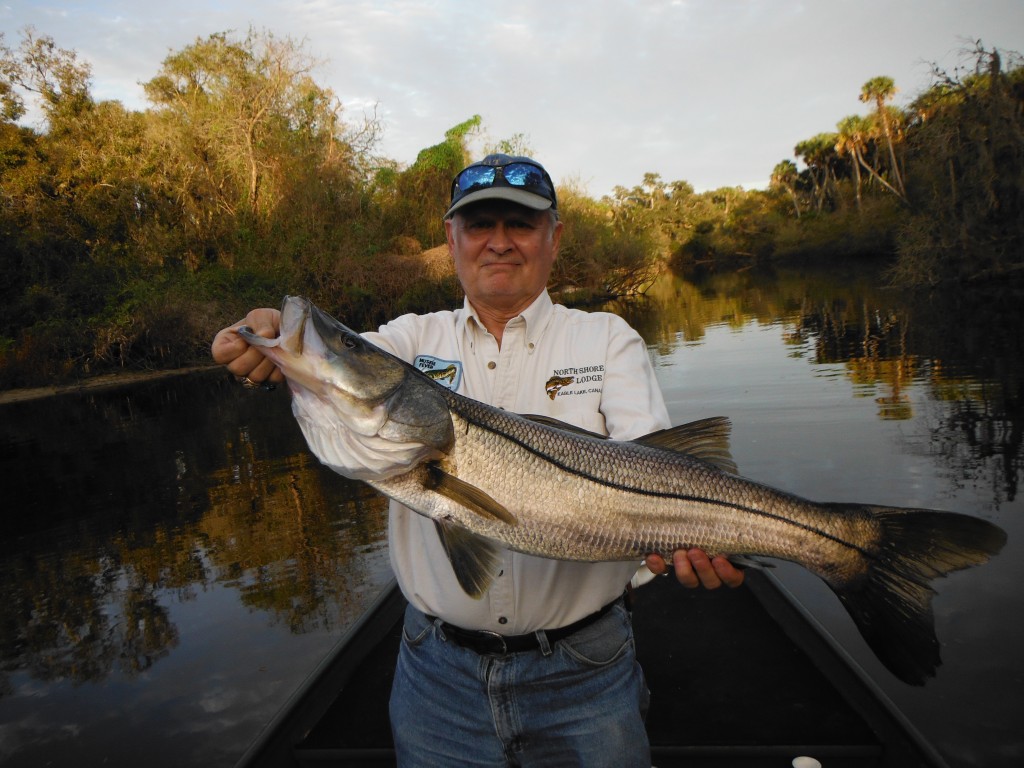 Snook are without a doubt the number one target for anglers choosing a Sarasota river fishing charter. Snook migrate up into are rivers in the winter to escape the shallow flats. They will migrate a fair distance up-river. Snook can live and thrive in absolute fresh water as well as salt.
The rivers naturally concentrate snook. There simply is less area to search for them. This is particularly true during times of low water. The colder the winter, the further upstream the fish will move. Smaller snook will live in the rivers all year long. Most of the snook my clients catch fall for Rapala plugs.
Largemouth bass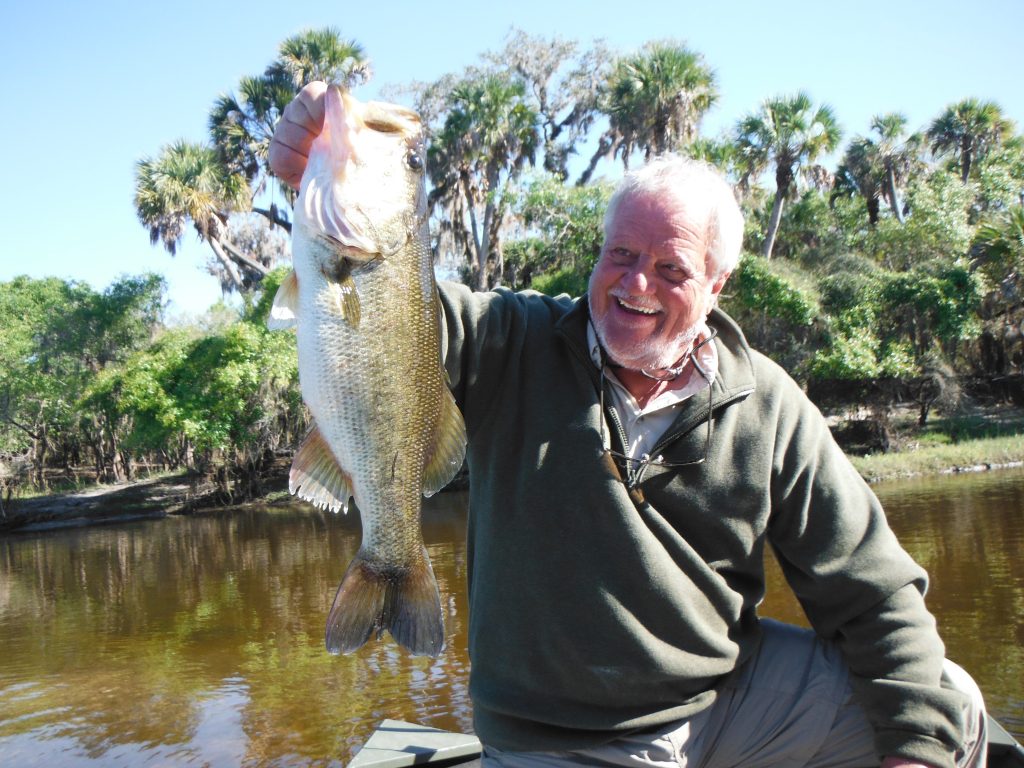 Largemouth bass are arguable the most popular game fish in the country. While I don't really target them, plenty are caught by anglers casting lures for snook and other species. The reality is that I probably fish too fast for bass (this is what snook and other species want) and if I slowed down, more would be caught.
While many visiting anglers associate Florida with giant bass, the largemouth bass that I catch in the rivers average a couple of pounds. They are chunky and healthy and are fun on the fairly light tackle that I use on my Sarasota river fishing charters.
Juvenile tarpon
No game fish fights harder, leaps higher, or is more beautiful than tarpon. They are the premier saltwater game fish. Smaller tarpon are caught on my river fishing charters. While it is difficult to target them, they are definitely a most welcome interloper in our snook fishing. Sometimes they will be seen rolling on the surface and anglers can cast to them.
Jack crevalle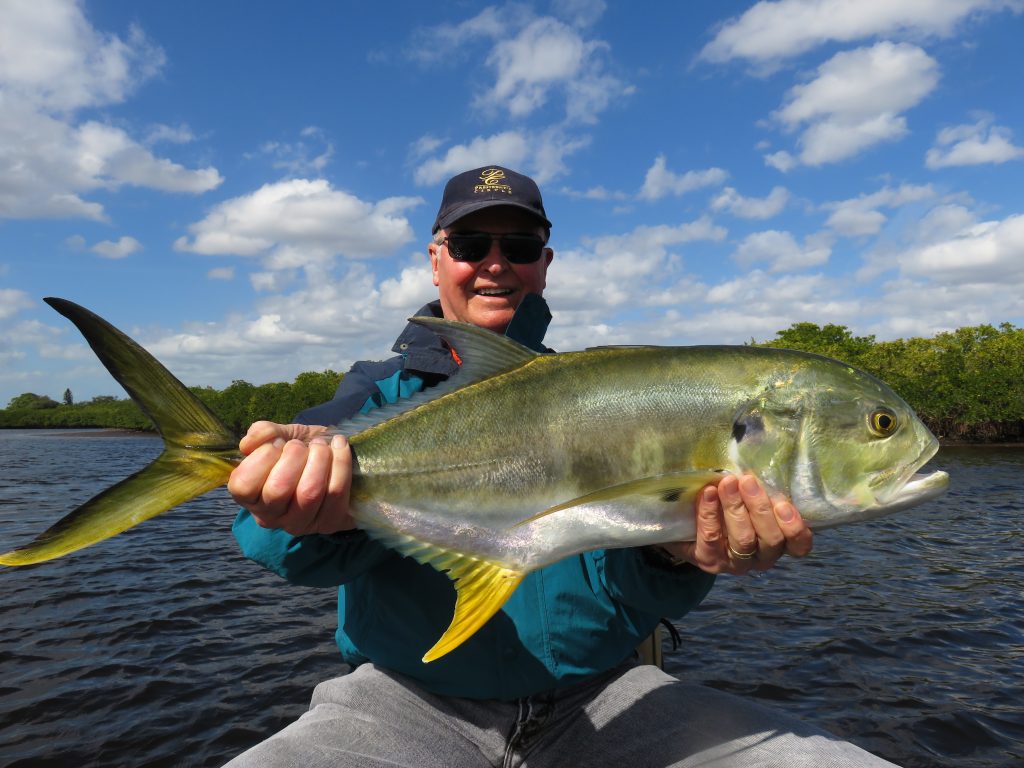 Jack crevalle, also known as "jacks", are the bar room brawlers of the inshore waters. They are broad and powerful, with a large forked tail. Clients regularly land them over ten pounds in weight. Jacks are aggressive and are a staple among anglers chasing fish in Sarasota rivers.
Jacks are often found feeding on the surface. This makes them a great fish to target on fly. They will also take the other lures that I use. In reality, finding them is most important, once located they are fairly easy to catch.
Gar
Some anglers consider gar to be a nuisance when fishing for snook and bass. However, they have saved the day for me and my clients on more than one occasion. Gar fight hard and most are 4-5 feet long. The biggest issue is handling and releasing them, they have a bunch of teeth! Gar will take lures and flies readily.
Ladyfish
Ladyfish are well known to saltwater anglers. They school up in decent numbers, are aggressive, fight hard, and leap high. They are a bit more sensitive to fresh water and are usually caught closer to the mouths of the rivers. They are great fun on light fly or spinning tackle.
Rivers fished on Sarasota river fishing charters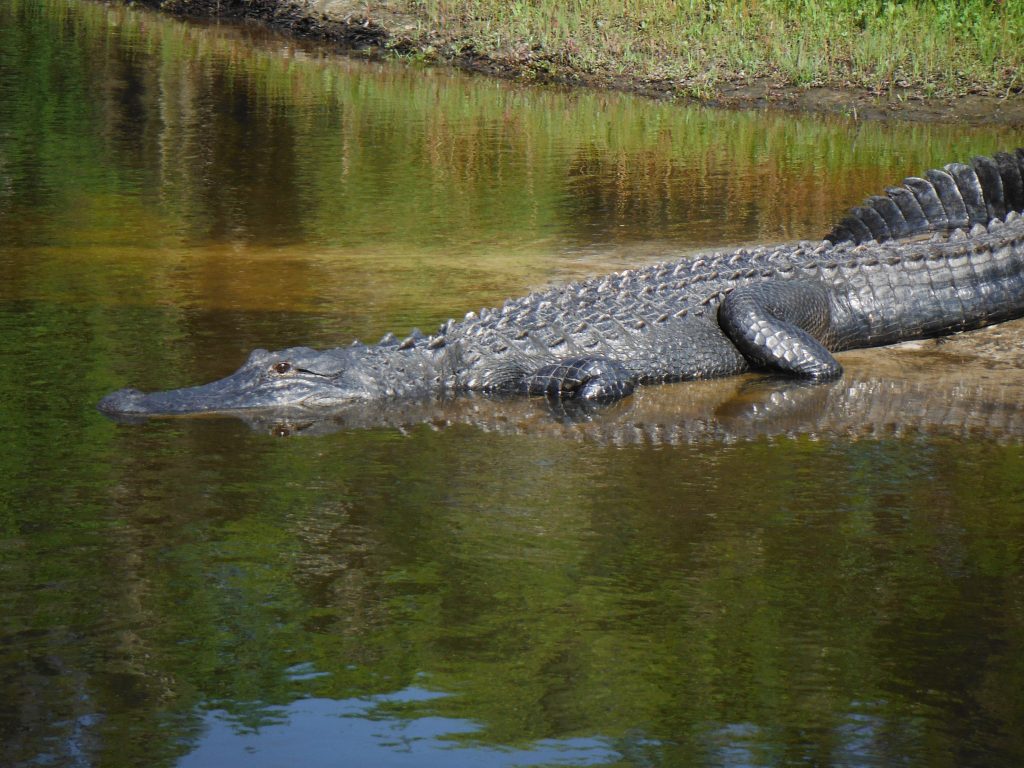 I fish three different rivers on my Sarasota river fishing charters. These are the Myakka River, Manatee River, and Braden River. Each is similar but has a different personality along with better fishing for particular species.
Myakka River
The Myakka River is my personal favorite, but not really for the fishing. It does offer the best chance for a really big snook. However, it is a bit more fickle than the other rivers. However, anglers seeking the true Florida river fishing experience will love the scenery and solitude.
The Myakka River is a wild and scenic river, only one of two with that designation in the state. It is only 30 minutes from Siesta Key. The best (and really only) launching spot is the park at Snook Haven. It puts anglers in the perfect section of the river for snook fishing.
Manatee River
The Manatee River lies to the north and offers anglers the best chance for variety. It is shorter, so the fish are a bit more condensed. Freshwater species are more plentiful, including the chance for sunshine bass, a hybrid. Unfortunately, due to the growth and development of our area, it is becoming more crowded, especially on weekends. There is a nice park at the new bridge at Ft. Hamer, which is where I usually launch.
The Braden River is the most developed of the three rivers that I fish on my river fishing charters. It is also the most convenient, being west of the interstate. It feeds the Manatee River and is about 5 miles long. There are no freshwater species, but it offers the best chance for redfish along with snook. Ladyfish can be plentiful. It is by far the best river for jack crevalle.
In conclusion, this article on Siesta Key river fishing charters will help experienced anglers understand the fishing opportunities that they might not have been aware of!