Siesta Key summertime fishing charters
There is a little secret here on Siesta Key, on Florida's west coast; fishing is fantastic in the summertime! Many anglers think that the heat slows down the fishing, but nothing could be further from the truth. Yes, it is quite warm and getting up early is a requirement, but clients who take a fishing charter with Capt Jim Klopfer can expect fast action on a variety of species.
The key to this great fishing is the influx of live bait that comes in from the Gulf of Mexico. Big Pass flows between Siesta Key and Lido Key and floods the nearby grass flats with scaled sardines and threadfin herring, and this results in a fishing frenzy. Fish are not complicated; these huge bait schools will attract snook, trout, mackerel, cobia, ladyfish, mangrove snapper, jacks, bluefish, sharks, and more!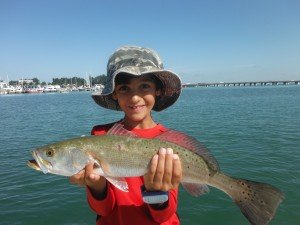 The technique to cashing in on this is fairly simple, but does require a bit of specialized gear, namely a large baitwell and a cast net. Once the bait is located, it is captured with a cast net and kept alive in a large bait well. Then, the boat is anchored up current of a likely flat and handfuls of live bait are tossed out behind the boat. It usually only takes a few minutes before the game fish arrive to take advantage of an easy meal. Then, hooked baits are tossed out and a hookup is virtually guaranteed!
So, the next time you are visiting Siesta Key, Florida, think about going out on a fishing charter with Capt Jim Klopfer, you won't be disappointed!