Siesta Key Summertime Snappers
The rod bent double and line peeled off of the reel as the drag screamed in protest. The fish then turned to a different approach, digging deep and shaking it's head in an effort to shake the hook. But, everything held and the fish came alongside the boat. Jack? Catfish? Blue? Big trout? Nope, instead it was a 15" mangrove snapper! An unexpected, but most welcome catch!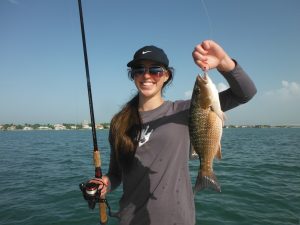 Over the last several summers, the mangrove snapper fishing has been very good in Sarasota, FL, and this year I have seem more fish of good size than ever before. I am not sure why, but who cares? The odd thing is that clients are catching these tasty fish over grass flats that we fish for speckled trout and other species. "Grovers" are known more for being structure-oriented.
The technique is pretty simple and begins with loading up on live bait. Here in Sarasota, on the west coast of Florida, that means pilchards, also known as scaled sardines. Threadfin herring are also used but are not nearly as hardy as the pilchards. With 500 baits in the well, the "catching" can begin.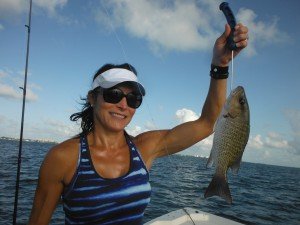 After that, it is simply a matter of anchoring the boat up-wind and up-current of a good flat that is around 6' deep with a lot of grass. Chumming with the bait will bring them in behind the boat. I use a 1/0 live bait hook on a 24" piece of 30 lb leader and a small split shot if the current is strong. Hooking the baits through the throat will kill them, but in most cases they are not living very long anyway!
The nice thing about this technique from a charter fishing standpoint is that anyone, regardless of their experience and skill level can catch a bunch of fish and have a lot of fun. Speckled trout, Spanish mackerel, bluefish, gag grouper, flounder, jack crevelle, ladyfish, sharks, and other species are also caught daily. The best bite this time of year is usually early in the morning before it warms up.