Snapper fishing Siesta Key flats
Clients snapper fishing Siesta Key flats on my fishing charters are starting to catch mangrove snapper. These tasty saltwater panfish have been showing up in July the last several seasons. Normally, snapper are targeted around some type of structure. Docks, bridges, rock piles, oyster bars, and seawalls all will hold snapper. But, we are now catching snapper on the deep grass flats in July, August, and September. The key is the bait, it shows up in big numbers and that attracts the snapper, grouper, and other gamefish.
Chum for success

Mangrove snapper will definitely respond to chum. Anglers snapper fishing Siesta Key flats will enjoy the most success by loading up on live pilchards and threadfin herring for bait. Next, a deep flat with good tide flow is chosen and the boat is anchored. Live baitfish are tossed out behind the boat a handful at a time. This attracts the gamefish such as trout, mackerel, bluefish, and ladyfish. Snapper generally show up after a bit, when the chum has had a chance to spread out.
Dead chum can be extremely effective when used to attract snappers. Also, at times they will prefer a dead piece of bait on the hook, so try both live and deads baits. These fish are usually a tad deeper, so a split shot is often required to get the bait down in the water column. Mangs can also be a bit leader shy. A 24" piece of 20 pound flourocarbon leader and a #1 live bait hook works well.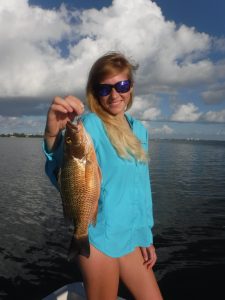 While most anglers snapper fishing Siesta Key flats use live bait, these fish can be aggressive and will certainly take an artificial bait. Scented soft plastic baits such as the Gulp Shrimp work well. Many snapper have been caught on my Siesta Key fishing charters casting small Rapala X-Raps. However, the majority of snapper landed will be taken on live baits. If cast netting bait is not an option, a live shrimp will seldom be refused.