Summertime Specks
"Couple of more casts, guys, then we'll call it a morning" I told my clients. It was around 11:00 in mid-July and getting quite warm. Right at that moment Lilly's rod bowed over from the weight of a nice fish. It stayed down deep, keeping us in suspense until it came along the boat. It turned out to be a huge speckled trout, pushing 6 pounds! We took it out of the water briefly for a photo; releasing it unharmed. What a great way to end a Sarasota fishing charter!
I catch most of my big speckled trout in the warmer months, from May through September. I believe the reason for this is the abundance of bait that is present on the grass flats, especially those near the passes. Schools of "whitebait" such as pilchards, threadfins, and Spanish sardines are thick on the shallow grass and pinfish and grunts are abundant in deeper water.
The most productive technique is to load up the bait well with live white bait and use them to chum the fish up behind the boat. Large bait wells with rounded corners and good pumps are required to keep the bait frisky. Bait is normally easy to catch in the morning as the schools are seen "dimpling" on the surface. If conditions such as clouds or a breeze make finding bait difficult, they can be chummed into casting range using canned mackerel or tropical fish food.
Once a bunch of bait is acquired, the boat is anchored up-tide of a grass flat in 6" to 8" of water and a few live baitfish are tossed out behind the boat. This is repeated a few moments later, and lines are baited up and cast out into the chum. The rig is very basic, consisting of a 1/0 live bait or 3/0 circle hook tied on a 24" piece of 30 lb fluorocarbon leader. If current is present or birds become a problem, a small split shot can be used to get the bait down deeper. This technique is deadly and will produce a lot of nice trout, along with other species such as mangrove snapper, Spanish mackerel, jack crevelle, bluefish, gag grouper, ladyfish, and sharks.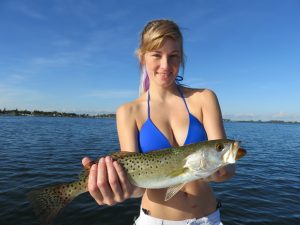 Another technique that can be productive is to use artificial lures at first light, when trout and other species are more likely to be fooled by a lure. Shallow diving plugs are very effective when cast into schools of bait on shallow bars and flats, especially on a high tide. The jig and grub combo is an effective bait when fishing in deeper water. Often times I will employ both techniques on Sarasota fishing charters, casting lures early then switching to live bait a bit later in the morning.
I can't stress enough how important it is to handle large trout gently and carefully and to release them as they are our breeder stock and very important for the health of the fishery. Keep a couple slot fish for a meal and let those big girls go!