The Magical Myakka
Doug's fly landed inches from the shoreline cover.  He was Myakka River fishing. Doug allowed the fly to sink for several seconds and began to retrieve the bait fish pattern back to the boat.  On the third strip, the line became tight and he raised the rod tip sharply.  Valiantly, the fish fought for its freedom, determined to get into the branches and escape.  But, despite its best efforts, the battle is lost and the fish comes to the side of the boat.  After admiring it for a moment Doug removes the fly and releases the fish back into the water to fight another day.  Snook?  Largemouth bass?  Redfish?  Nope.  Instead, one of the most popular and pound-for-pound hardest fighting fish out there; the bluegill.
Mention Sarasota and most anglers think of saltwater fishing, and for good reason.  But, Sarasota is blessed with terrific freshwater fishing, too.  There are several lakes and countless farm ponds in our area, but I have always been drawn to rivers and the Myakka is my favorite.  Human anglers are scarce, but osprey and countless other bird species, otters, and some of the largest gators in Florida all call these rich fisheries their home.  The scenery is spectacular with very little development.  In fact, the Myakka was designated a "Wild and Scenic" river, one of only two in the state of Florida.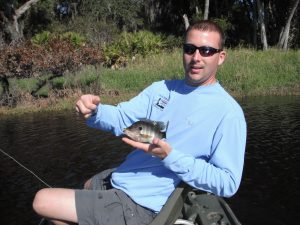 Capt Jim has been a fishing guide in Sarasota, Florida since 1991. Anglers who are interested in purchasing the equipment that he uses and writes about in his articles can do so HERE on the PRODUCTS page.
River fish are easier to locate
One advantage that rivers have over lakes is that fish are easier to locate and catch.  There simply is less water to search for them.  This is particularly true during low water conditions, fish will concentrate in deeper areas.  Outside bends in the river channel are prime spots, especially if cover is present.  During periods of high water, the little coves off to the side and out of the strong current flow will be more productive.  Keep an eye out for any surface activity.  I have seen schooling bluegill terrorizing bait in water so shallow that their backs were sticking out!  Bass will usually be seen very close to the weed edges, busting minnows on top.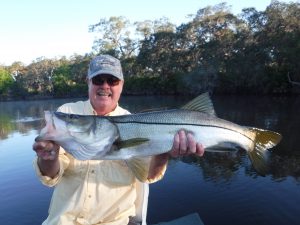 This is a perfect situation for a beginner fly fisher.  A 4 weight rod with a weight forward floating line with a 9' 5X leader is perfect.  Short, easy casts are the norm.  Fly selection is easy, use a small popper or foam spider on top and tiny baitfish patterns or "buggy" patterns when the fish won't take a surface fly.  The popper/dropper rig is deadly on panfish and bass.  Tie on a # 10 popper and a #8 or #10 black wet fly or bead head nymph 18" below the popper.
Bait fish patterns tied on a #8 hook perfectly imitates the tiny baitfish found in the Myakka River.  Gold and chartreuse flies are extremely effective in the tannin-stained water.  I have had great success with tiny Deceivers and epoxy minnow flies.  Black Wooly Buggers tied on a short shank hook will also elicit strikes.  As with all fishing, vary the retrieve and depth, though short strips generally produce the best results.  I mostly target panfish, but largemouth bass, crappie, channel catfish, gar, and exotic species will also hit small flies.  A 2 pound bass is a handful on a light fly rod!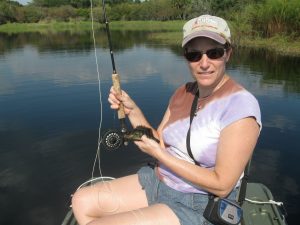 Myakka River State Park provides access to the part of the river that I fish most often.  Any canoe, kayak, or small Jon boat is suitable.  The water can get very shallow, this is no place for a large boat. Upper Myakka Lake can be accessed from the park, there is a surfaced boat ramp.  Snook Haven in east Venice has a ramp that provides anglers access to the tidal portion of the Myakka, the best panfish action is north, upstream.  There are launches for canoes and kayaks at Border Rd. and at the east end of Laurel Rd.