Top 19 Siesta Key Game Fish for Anglers Fishing Siesta Key
This is a list of the top 19 Siesta Key inshore saltwater game fish. Anglers fishing Siesta Key have a wide variety of species available to them.
The water surrounding Siesta Key offer anglers a diverse array of fishing opportunities. The shallow backwater areas hold snook, jacks, and redfish. The deep grass flats are home to speckled trout, Spanish mackerel, ladyfish, bluefish, and more. Big Sarasota Pass on the north end of Siesta Key holds sheepshead, snapper, pompano, and ladyfish. The inshore Gulf of Mexico provide fantastic action for king and Spanish mackerel, false albacore, and the mighty tarpon!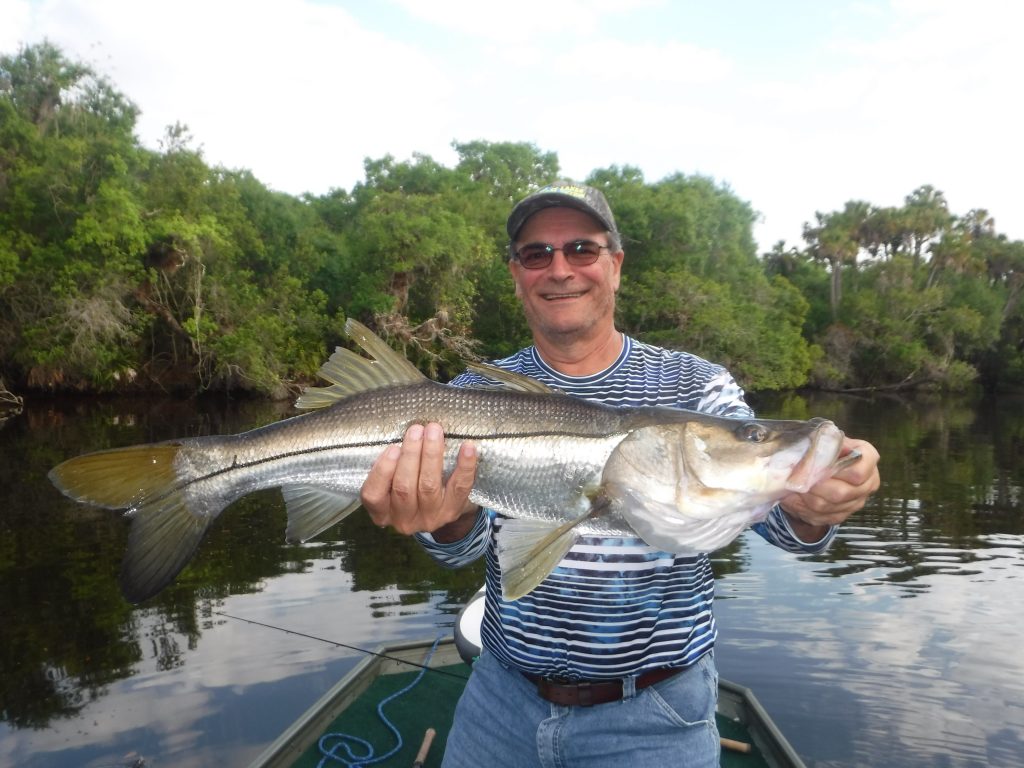 Variety is one of the main attractions for anglers fishing Siesta Key. This applies to both species and techniques. Also, anglers with little or no experience can do quite well. There are several techniques that produce plenty of fish and do not require great angling skill. Drifting both the pass and the deep grass flats provides good action and variety.
Capt Jim has been a fishing guide in Sarasota, Florida since 1991. Anglers who are interested in purchasing the equipment that he uses and writes about in his articles can do so on the PRODUCTS page.
Siesta Key game fish; back country species
1) Snook

Snook are the premier inshore game fish in Florida. They are prized by Siesta Key anglers. Snook are very much like a saltwater version of the largemouth bass. They are ambush predators that prefer some type of structure. This includes docks, oyster bars, bridges, submerged rocks, seawalls, and mangrove shorelines. Snook have a large mouth and flare their gills to inhale their prey.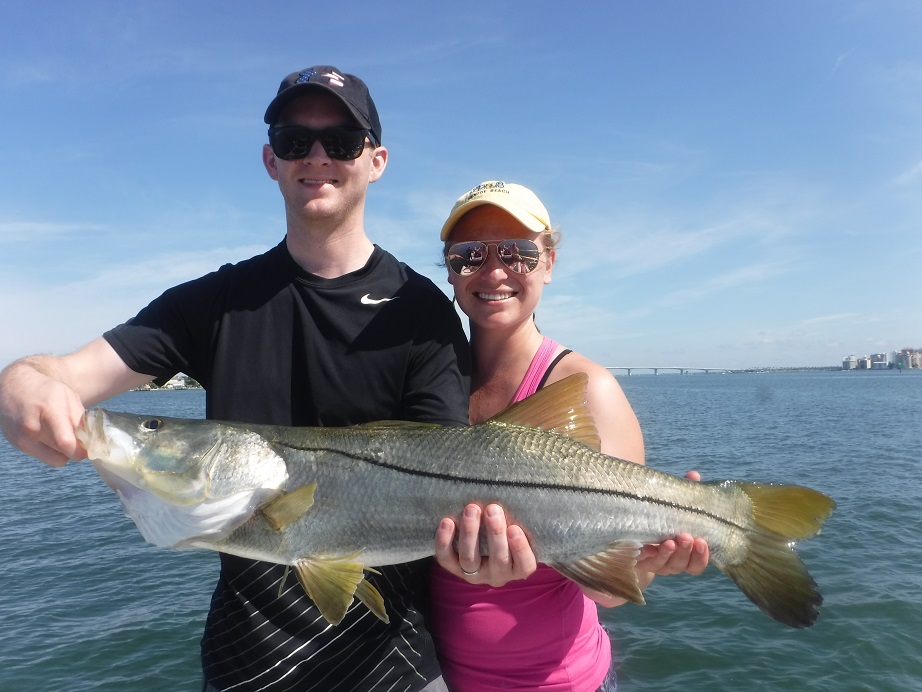 Snook have a distinct seasonal migration. They spend their winters in deeper residential canals along with creeks and rivers. These areas are warmer and offer protection from the cold. Snook are a tropical species and are very temperature sensitive. As it warms up, fish move out of these areas and onto the flats. By summer time, most snook are in the passes and out on the beaches. This is where they spawn. By early fall, the pattern reverses itself.
Siesta Key Snook fishing video
Snook can be taken by anglers using both artificial and live baits. Top live baits include live shrimp and small bait fish. In the warmer months, chumming with live sardines is an incredibly productive technique. Anglers casting plugs, jigs, and spoons catch plenty of fish as well.
2) Redfish
Redfish, or reds for short, are another very popular inshore game fish. Reds can be taken by Siesta Key anglers all year long. The best time to target them is late Summer and early fall when they school up into large numbers. Schools of redfish can be sight fished on the shallow flats this time of year. However, they are very spooky and anglers need to be patient and quiet when stalking them.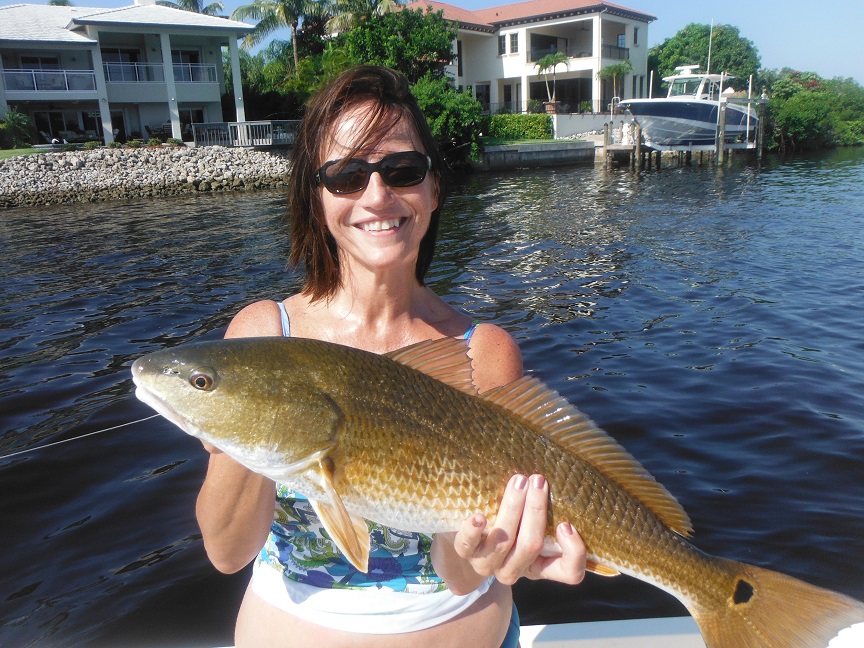 Redfish are caught primarily into areas; shallow flats and under docks. They can be found on the shallow flats in large schools or as solitary fish. Reds will stage up in potholes on the lower tide stages. Then, they will move up onto the flats to feed as the tide rises. Mangrove shorelines and oyster bars are great spots to target redfish and other species.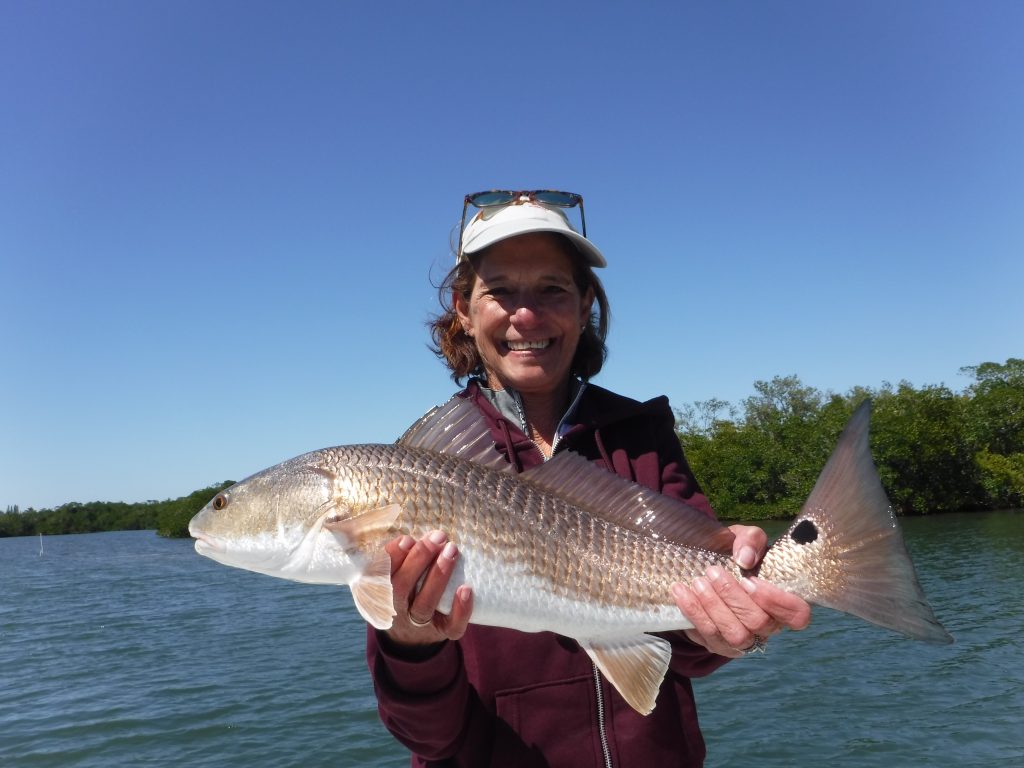 Live shrimp fished under docks is a great technique in the cooler months. Live pin fish and sardines are great choice in the warmer months. Anglers choosing to fish for redfish using artificial lures do well with weedless gold spoons and soft plastic baits.
3) Jack crevalle
Jack crevalle, or jacks for short, are the brawlers of the inshore waters. They are fast, wide, aggressive, and mean! They also grow fairly large, reaching weights of 15 pounds are more in the Siesta Key waters. Jacks can often times be seen as a feed ferociously on the surface. They will herd up small bait fish into a tight ball that devour the helpless fish. Anglers locating these feeding schools are guaranteed to hookup. Jacks are not considered good to eat.
Artificial lures are great choice for anglers targeting jack crevalle. Due to their aggressive nature, lures such as shallow diving plugs, spoons, and jigs will allow anglers to cover more water and elicit more strikes. Trolling is very effective in rivers and canals in the winter. Jacks will certainly take a live bait as well. These include live shrimp and small live bait fish.
Siesta Key game fish; Grass Flats and Passes
4) Speckled trout
Speckled trout are one of the most popular game fish in the southeastern United States. They are beautiful, fun to catch, aggressive, and taste great. Speckled trout are a primary target year-round for captains offering Siesta Key fishing charters. They are relatively plentiful and not overly challenging. This makes them the perfect species for children and inexperienced anglers.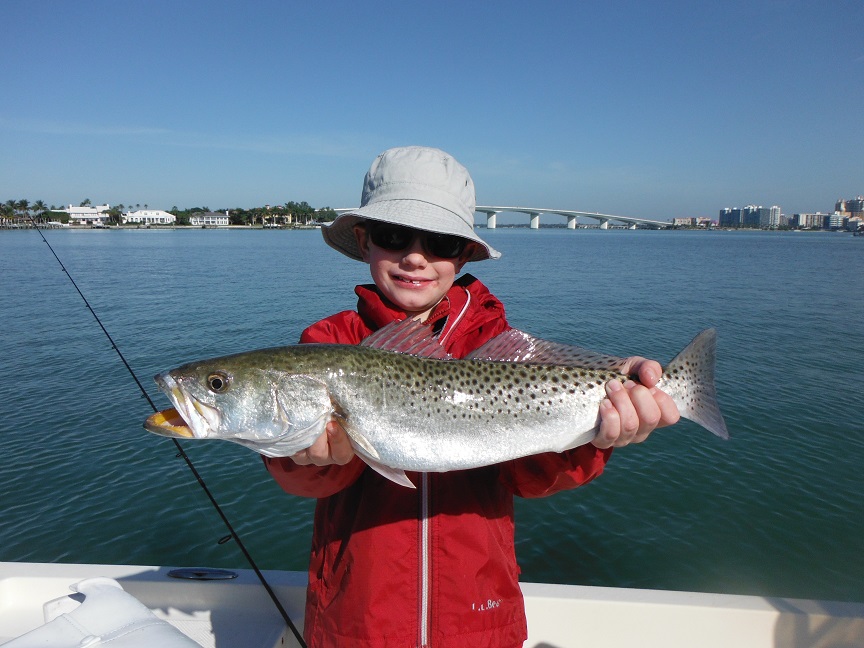 The vast majority of speckled trout caught by anglers fishing Siesta Key are done so on the deeper grass flats. These are large areas of submerged grass and water that is between 4 feet deep and 10 feet deep. Schools of trout roam these flats in search of food. The grass not only camouflages the sea trout, it harbors the shrimp and bait fish that the speckled trout feeds on.
A live shrimp under a popping cork is one of the most effective techniques used to catch speckled trout. The noisy float provides casting weight, indicates when a strike occurs, and attracts fish to the bait. Live bait fish can also be used under a cork as well. The top artificial lure by far is the lead head jig and grub combo. A soft plastic tail that is 3 inches to 4 inches long on a 1/4 ounce jig head will catch a lot of speckled trout for Siesta Key anglers.
5) Spanish mackerel
Spanish mackerel are a migratory species. They move through the Siesta Key and Sarasota area in the spring and return again in the fall. Some fish will stay around all summer long. Spanish mackerel are found on the deeper grass flats as well is in the passes and out on the beaches. Often times, especially out on the beaches, they will be found in large schools feeding on the surface. This is a very exciting fishing opportunity as just about any lure or bait will draw a strike.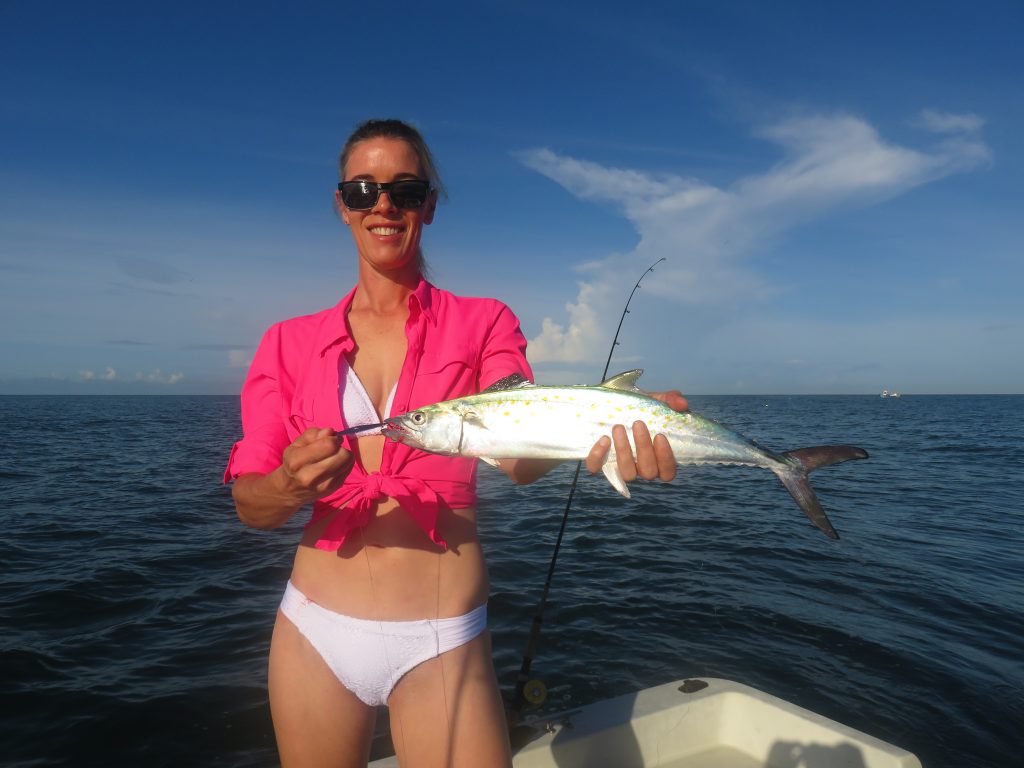 Spanish mackerel are one of the faster swimming fish species. Therefore, they often prefer a fast-moving baits. For this reason, artificial lures can be deadly. Silver spoons, plugs, and jigs that can be worked fast and a radically will often trigger a strike. Live bait certainly catches plenty of Spanish mackerel as well. Shrimp and sardines are the top two live baits.
6) Pompano

Pompano are a smaller cousin to the permit. These fish average around 2 pounds but put up a terrific fight for their size. Spring and fall are generally the best times to catch them. Big Sarasota pass, the adjacent grass flats, in the Siesta Key beaches are the prime spots. Pompano are one of the finest tasting fish that swims. This is certainly one of the reasons for their popularity!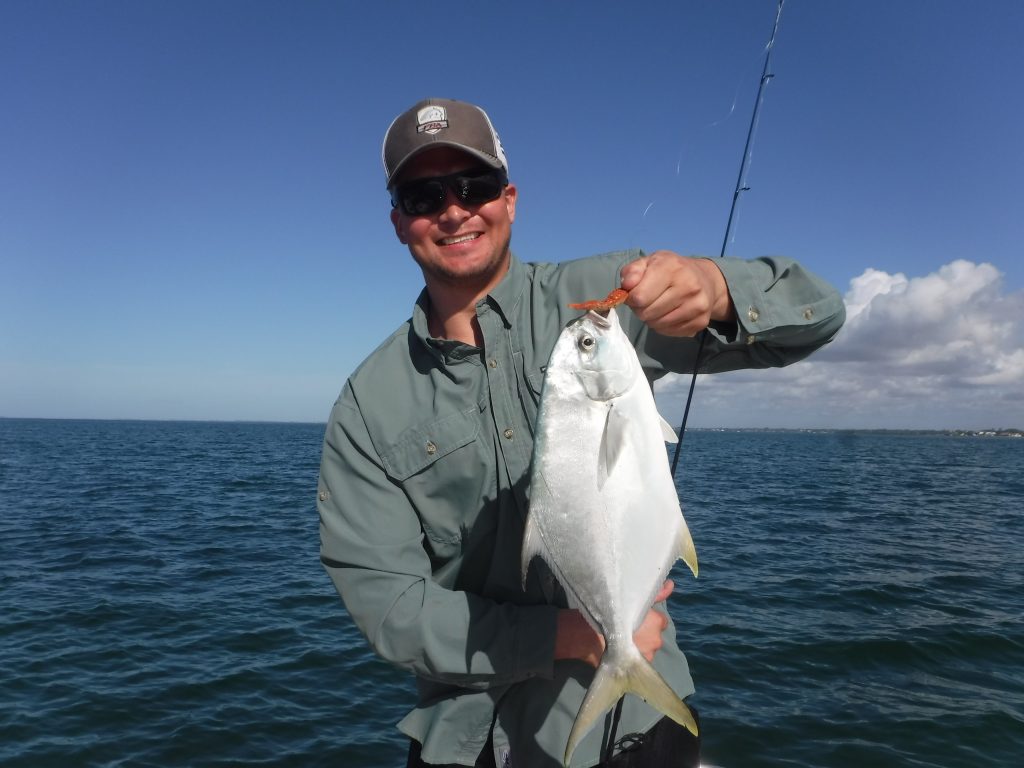 Pompano have small mouths. Successful anglers scale down their offerings and increase success. Small jigs, sometimes tipped with a piece of shrimp, are deadly baits for pompano. Live shrimp will fool them as well. Serious pompano anglers take the time to catch sand fleas and the surf. These little baits are irresistible to pompano.
7) Sheepshead
Sheepshead are a member of the Porgy family. They are a bottom dwelling species that move into the Siesta Key area around Christmas and stay until Easter. Sheepshead school up in big numbers and the rocky structure on the north end of Siesta Key in big Sarasota pass. The deeper water and abundant structure along with the current flow makes for perfect spawning grounds. Sheepshead fight hard and taste great, though they are bit difficult to clean.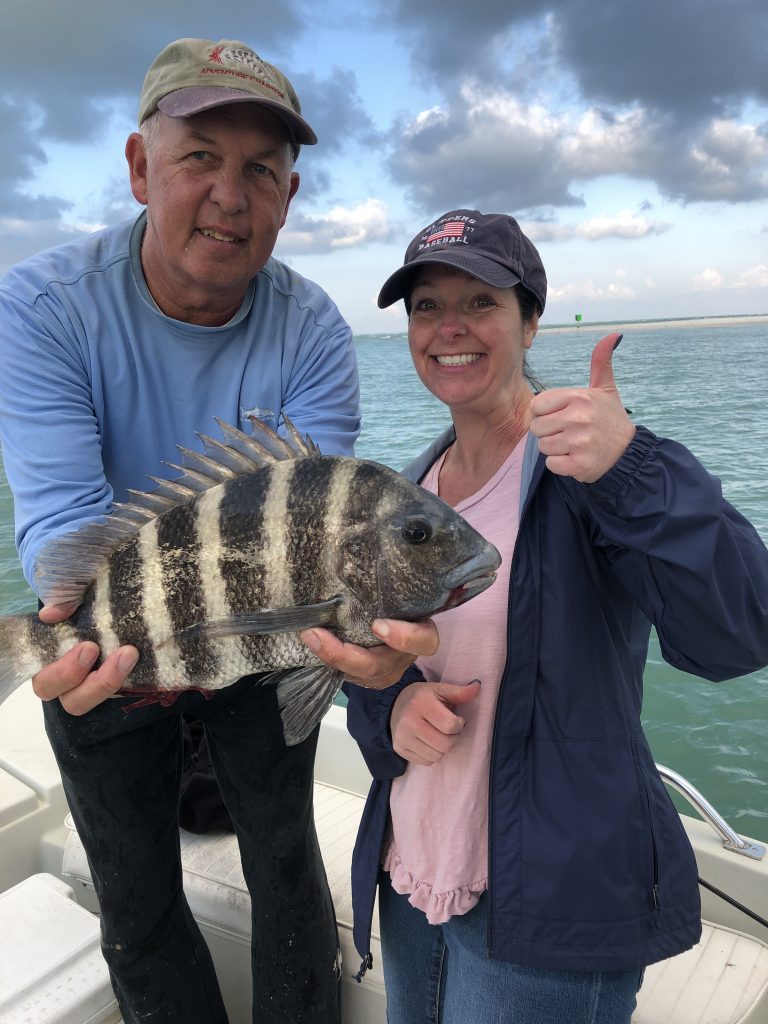 Very few sheepshead are caught by anglers casting artificial lures. They primarily feed on crustaceans such as crabs and shrimp. Therefore, a live shrimp or crab is tough to beat. Live shrimp are readily available at all tackle shops and are the bait of choice. Anglers fish them right on the bottom near some type of structure such as rocks, docks, bridges, seawalls, and wrecks. They bite very delicately, so anglers need to intently watch their lines for the subtle bite.
8) Bluefish
Bluefish are very much well known to northern anglers. While bluefish that are caught in the waters near Siesta Key are smaller than the northern counterparts, they are great fun as most often they are hooked by anglers using light tackle. Siesta Key bluefish average 2 pounds to 4 pounds and are caught in Big Sarasota Pass and on the grass flats. Anglers debate their food quality. Smaller bluefish that are put on ice immediately and eaten that day are quite tasty.
Bluefish are very aggressive. Therefore, they often fall prey to artificial lures. Anglers drifting the deep grass flats and casting the jig and grub combo hook many bluefish while targeting speckled trout and other species. Silver spoons and small plugs are effective baits as well. A free lined live shrimp or scaled sardine will produce bluefish, too.
9) Grouper
While grouper are mainly thought of as an offshore species, they are encountered by Siesta Key anglers fishing inshore as well. Grouper, like sheepshead, prefer some type of structure. Submerged rocks, docks, and bridges in water that is 10 feet or deeper will hold some grouper. Most of the grouper caught by inshore anglers are gag grouper, though occasionally a red grouper will be landed as well.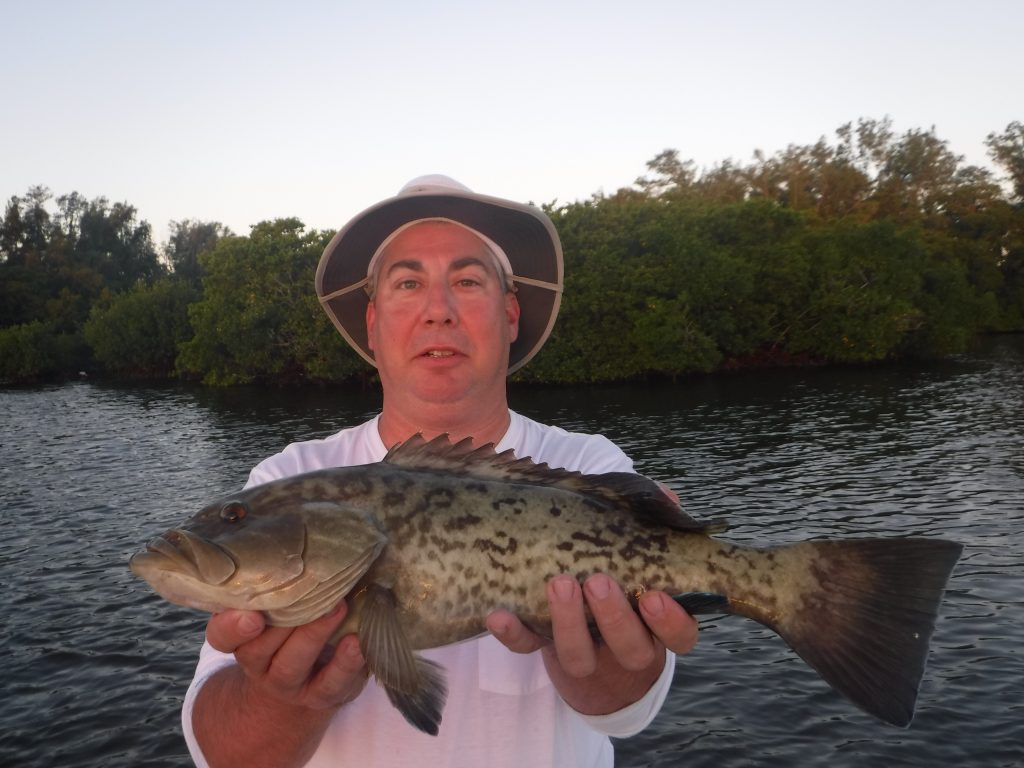 Grouper can be caught by anglers using both live and artificial baits. Many a large grouper has busted up the tackle of an angler fishing for snapper with light line. Anglers casting plugs for snook will catch the occasional grouper as well. In the summer time, grouper can actually be plentiful on the deep grass flats. They stage in these areas to feed before moving out into the Gulf of Mexico to mature.
10) Mangrove snapper
Mangrove snapper, or mangs, are a very desirable inshore game fish. While they are a pretty fish that put up a great fight, they are truly valued for their incredible flesh. Mangrove snapper are fantastic eating! They prefer structure and are usually found in schools, especially in deeper water. Once a school is located, the action can be fast and furious.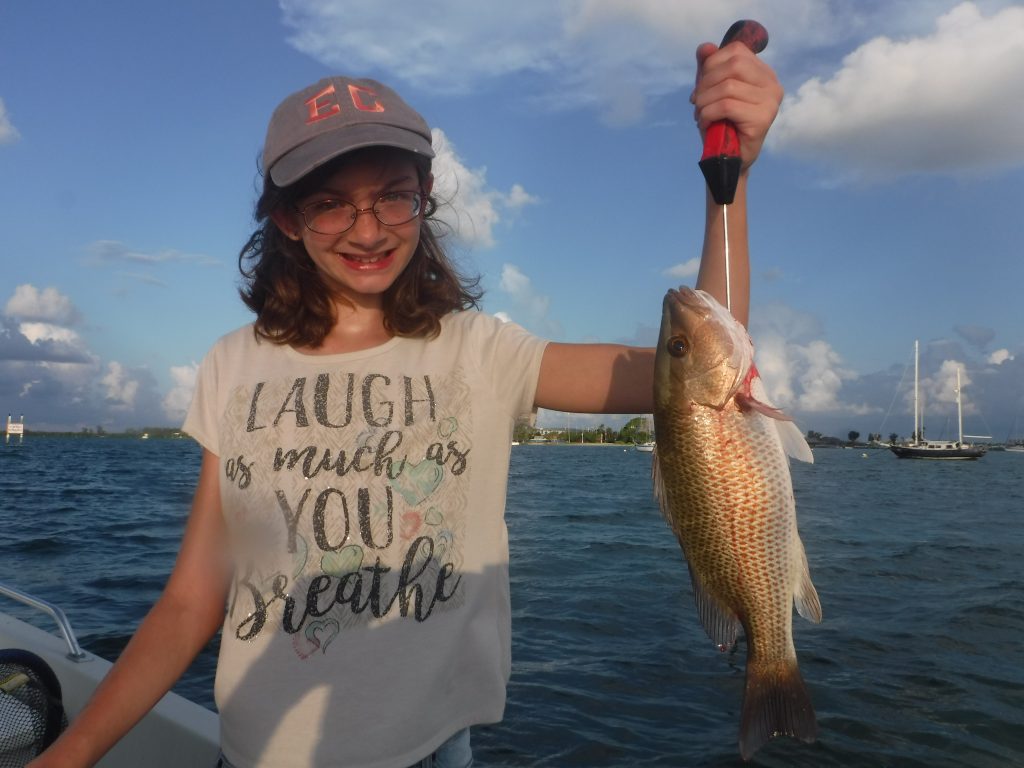 Most mangrove snapper are caught by anglers using live shrimp or live bait fish. They can be fussy and leader shy at times. Successful anglers will scale down the leader to 20 pound test and the hook to a #1. This usually results in more bites. Like grouper, snapper often times will school up on the deeper grass flats in the summer. Anglers casting artificial lures such as shallow diving plugs and jigs will catch a few nice mangrove snapper when snook fishing as well.
11) Ladyfish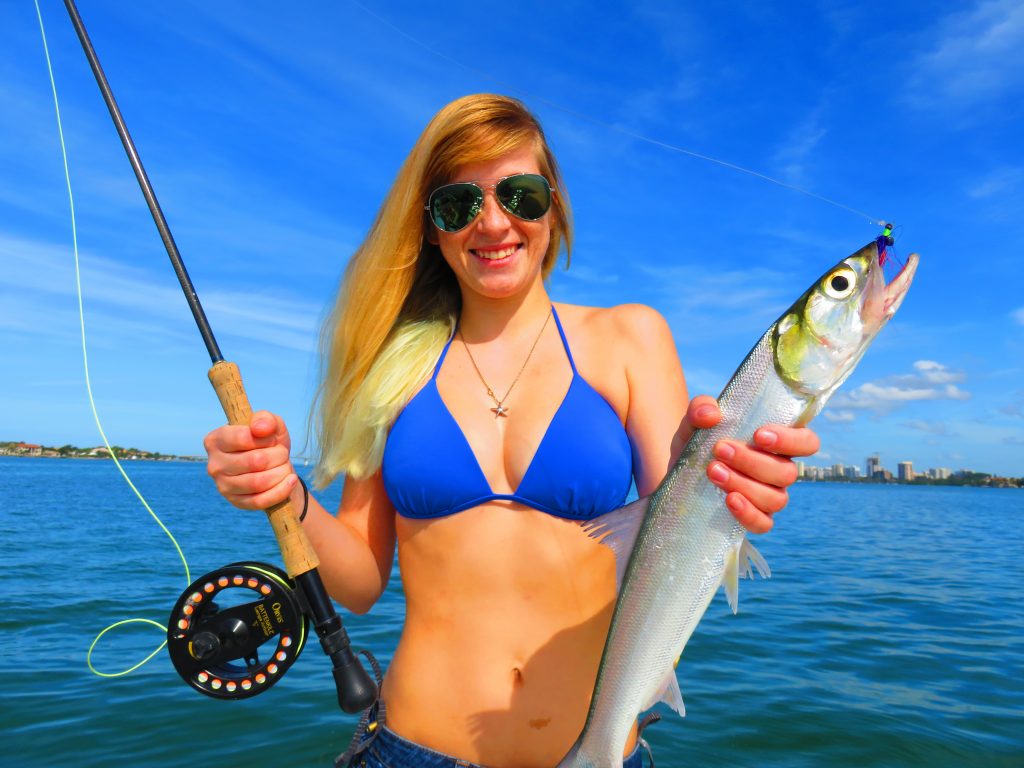 Ladyfish are a very plentiful and hard-fighting species in the Siesta Key area. They average a pound or two, but fight very hard for their size. Ladyfish provide great action for anglers seeking a bent rod. They are aggressive and school up in large numbers. Ladyfish are found on the flats, in the passes, and out on the beaches. Jigs are a very effective artificial lure as ladyfish are attracted to erratic retrieves. Live shrimp work very well, too.
12) Black drum
Black drum are cousins to the redfish. Redfish are actually red drum. Rarely will a black drum be hooked by anglers using artificial lures. They primarily feed on crustaceans. Therefore crabs and shrimp are the top baits. Black drum are most often caught by Siesta Key anglers in the winter. They are found in the same areas as sheepshead, and actually look a bit similar. Smaller black drum are excellent eating!
13) Flounder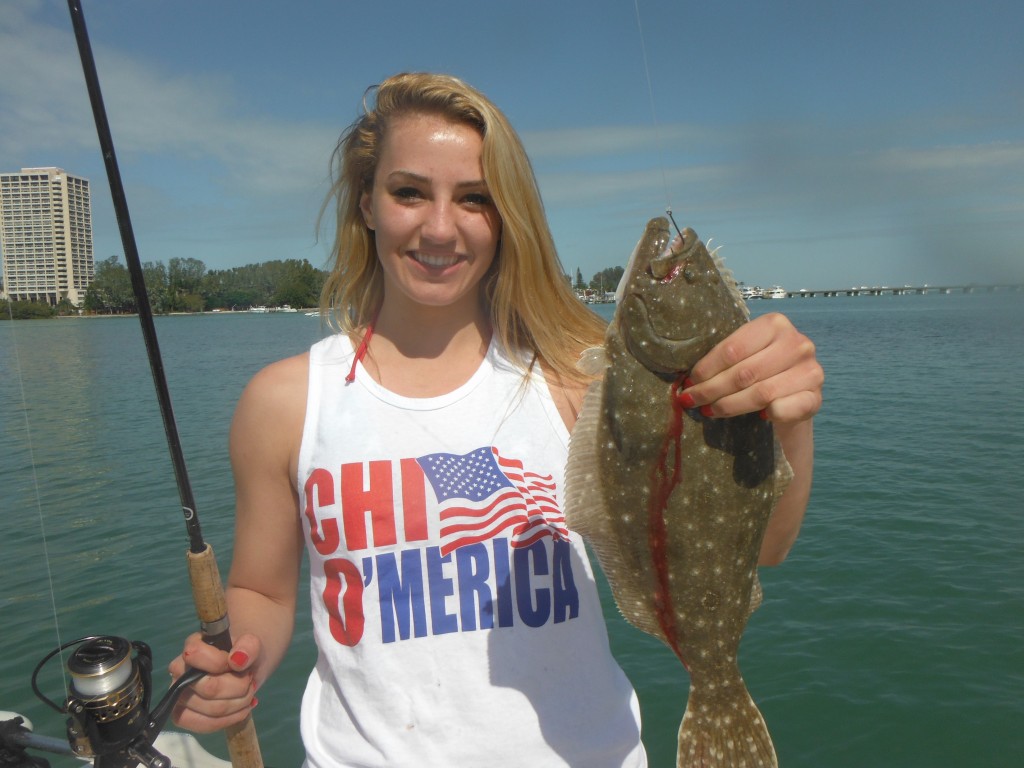 Flounder are available to Siesta Key anglers at times. However, they have been in inconsistent catch over the last few years. Flounder are usually caught by anglers targeting other species. They are found around structure such as docs as well as in the open grass flats. Both live baits and artificial lures will fool them, as long as they are fishing on or near the bottom.
Siesta Key game fish; Inshore Gulf of Mexico
14) False albacore
False albacore, known locally as Bonito, are one of the top Siesta Key game fish! They are found in the inshore waters of the Gulf of Mexico. Rarely do they venture into the passes or bays. Like several other species, they are often times sight fished as they are feeding on the surface. However, they can be much fussier than Spanish mackerel and other species. They are not considered good to eat.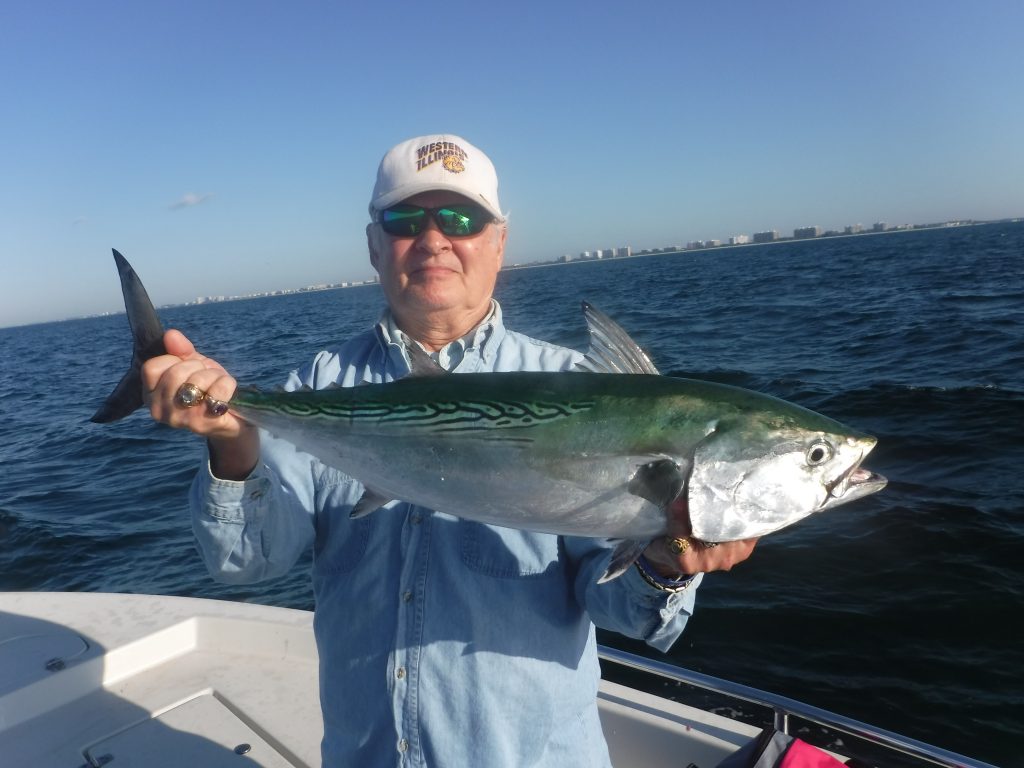 Patience is required when targeting false albacore. There will be days when they will surface and stay up on top long enough for anglers to get in position and present a lure. However, there will be days when they pop up here and there and are impossible to get in front of. These days can be frustrating. However, most patient anglers will get a few opportunities if they stick it out. Small lures such as spoons, jigs, and plugs that imitate the tiny bait fish are effective. Fly fishing is incredible sport!
15) King mackerel
King mackerel are another species that are most often associated with offshore fishing. However, when conditions are right, they will move in quite close to shore. East winds will result in clear water and schools of bait fish within a couple miles of Siesta Key beaches. This will attract the king mackerel to feed. Spring and fall are the prime times to target king mackerel.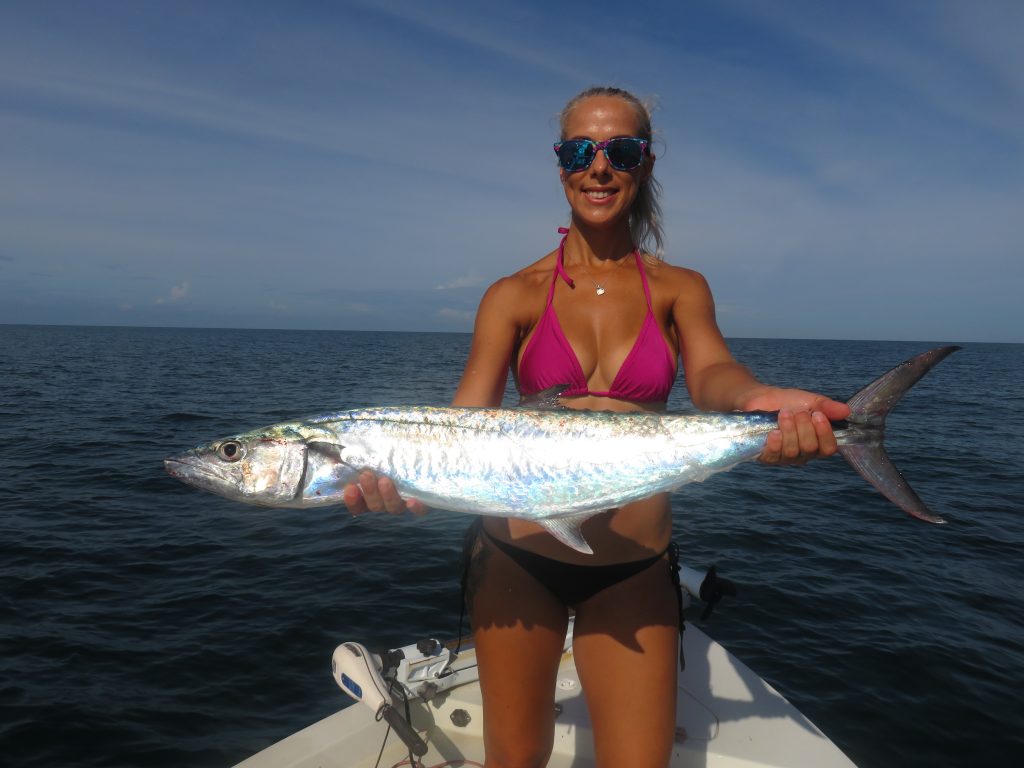 Trolling is the preferred method for anglers targeting Siesta Key king mackerel. Large spoons on planers are very effective. Shallow diving plugs catch plenty of kings as well. Anglers seeking a trophy king mackerel will slow troll a large live bait such as a blue runner or cigar minnow. Anglers can also anchor over ledges and artificial reefs and free line live baits to catch kings.
16) Sharks
Sharks are always a crowd please or on Siesta Key fishing charters. Small sharks such as black tip and bonnet head sharks are found in the Sarasota area from spring through fall. Most of the sharks caught are in the 15 pound to 40 pound range. This is the perfect size for anglers using medium spinning tackle. They are big enough to be fun, but not too large to be a problem.
Shark fishing is pretty basic. Anglers use a fresh fish caught that morning as bait. Spanish mackerel, ladyfish, jacks and any other oily fish are all top baits. The fish can be used as chunks or fillets. Anglers in the inshore Gulf of Mexico often times drift a bait behind the boat while looking for Spanish mackerel and false albacore. Sharks are also caught on fairly shallow flats in Sarasota Bay in the summer time.
17) Cobia
Cobia are a species that are typically caught offshore. However, they will wander into the inshore waters of the Gulf of Mexico as well as into Sarasota Bay. Cobia grow quite large, reaching weights of over 100 pounds. Most cobia caught by Siesta Key anglers are in the 10 pound to 20 pound range. They often times are found in small pods of fish numbering between three and eight.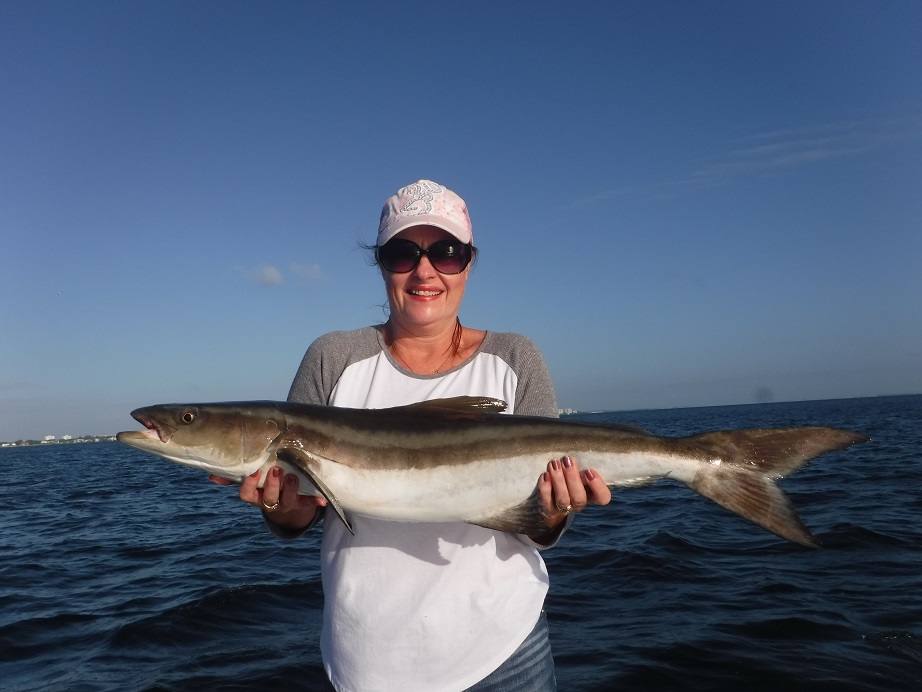 Anglers targeting cobia will often times fish the artificial reefs off of Lido Key. These structures will attract bait fish and thus the cobia. Cobia have an odd habit of swimming right on the surface. Anglers seeing this opportunity will cast a lure or bait in front of the fish. Most times, a well presented bait will draw a strike. Anglers hooking a big cobia using speckled trout tackle will have their hands full!
18) Tarpon Fishing on Siesta Key

Tarpon invade Siesta Key every year in early May. They migrate up from the south on their annual spawning run. They are caught by anglers just off of the Siesta Key beaches. Schools of tarpon are found between 100 feet and several hundred yards offshore. Anglers see the schools than try to position the boat in front of them in hopes of presenting a bait in drawing a strike.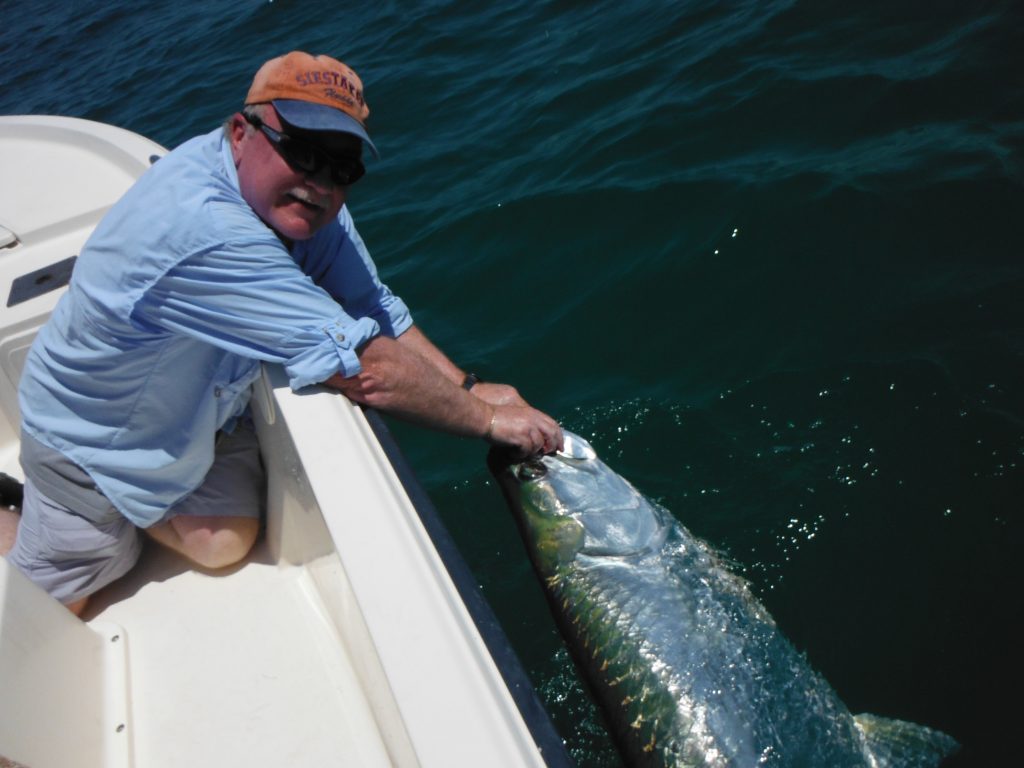 Tarpon fishing is big-game fishing. The success rate is much lower than that of other forms of fishing. However, for many anglers it is the ultimate challenge that can result in the fish of a lifetime. Tarpon average 75 pounds and fish to 200 pounds are hooked annually. Anglers can cast live bait such as crabs or bait fish in front of the tarpon. Some anglers even try to land them on a fly rod.
19) Tripletail
Tripletail are an interesting species. They get their name from the two caudal fins that are quite pronounced. It almost looks like they have three tales. Also, they have a very unusual behavior. Tripletail will lie on their side at the surface behind markers and crab pots. The thinking is that they are pretending to be a clump of grass and that bait fish will go to them seeking sanctuary. When they do so, they are eaten. Anglers targeting tripletail often cruise lines of crab pots out in the inshore Gulf of Mexico. They can be found inshore as well.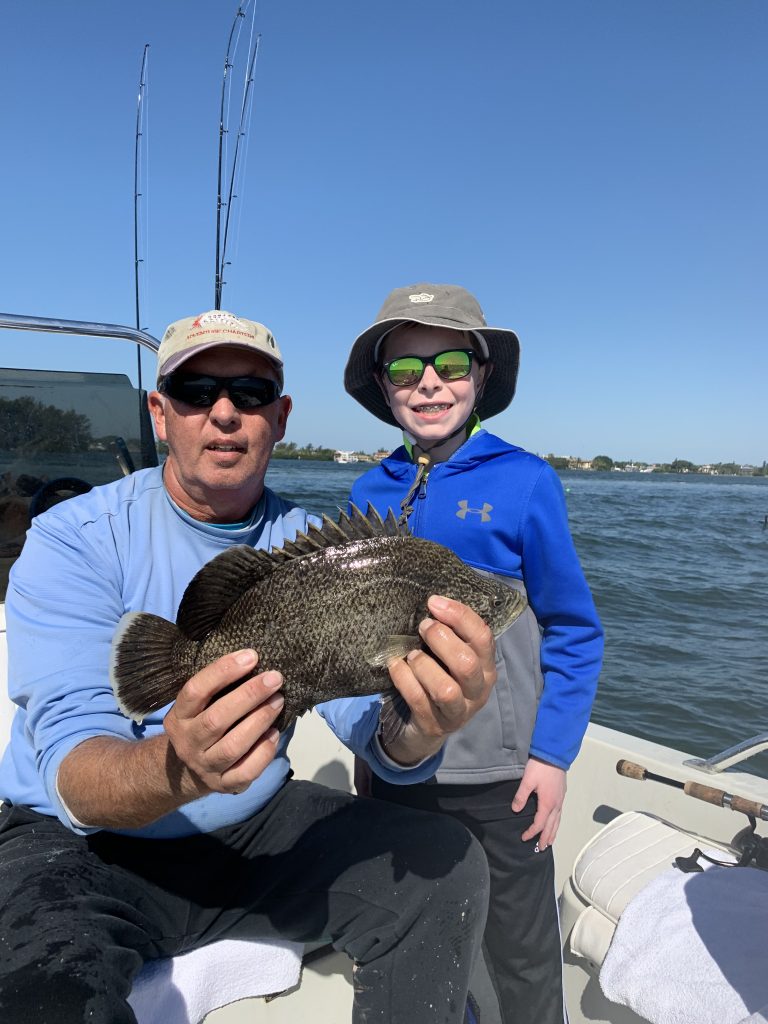 In conclusion this post on the top 19 Siesta Key inshore game fish should help anglers identify and catch more of the species. Anglers should always check the regulations on the FWC site.  What is your favorite Siesta Key inshore game fish?