My clients were enjoying the scenery as I idled the boat along, keeping an eye on the bottom machine, looking for fish or structure. I often troll to locate gamefish. Moments later Erinn's rod bowed deeply and line peeled off her reel.
"Fish on!" she shouted with excitement, "It feels like a nice one"
I quickly spun the boat around, trying to get a good angle on the fish; it had taken out a lot of line! Several tense moments passed as Erinn regained most of the line, surviving one last run as the fish frantically tried to escape into the safety of the nearby structure. But, the run was stopped short and a gorgeous Myakka River snook came to the net, was gently handled while the hooks were removed, held up for a quick photo, then released unharmed, save for a sore lip and a bruised ego.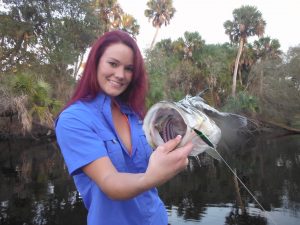 Trolling is a technique that has proven to be extremely effective in saltwater fishing for a very long time. Most anglers envision a large sportfishing boat out on the open ocean, trolling for tuna and marlin. But trolling can also be deadly using fairly light tackle on inland waters, too. I am a fishing guide in Sarasota, and on charters in Sarasota Bay, the Myakka River, and Lake Manatee one week recently, trolling saved the day. During the cooler months, rivers, creeks, and residential canals offer anglers the chance to catch snook, jack crevelle, tarpon, and other species. Flats and passes can be productive all year long. Crappie, bream, and bass will hit trolled lures in freshwater lakes and rivers. Trolling is a great technique to both locate and catch quality fish.
Rivers, creeks, and residential canals abound all throughout the state of Florida and provide good fishing at one time or another. As the flats cool off, fish will migrate into these areas as they offer protection from the elements. The best rivers and canals will provide fish the sanctuary of deep water as well as abundant structure. The entire coastline of Florida offers these opportunities for anglers.
Snook took a big hit in the winter of 2010 as a prolonged cold snap dropped the water temperature into the upper forties. I believe that if it wasn't for the deep holes in the rivers where snook spend their winters, the damage would have been MUCH worse. Numbers of smaller snook are on the increase while larger fish are regularly landed. These are great signs and while snook were opened to a limited harvest, I still release all of them, even if a slot fish is landed in season. Snook are magnificent gamefish, it would break my heart to kill one. There are plenty of other good-eating fish to target, let those big girls go!
Anglers have been catching snook by trolling for many years. Back in the 50s the Spoonplug was the hot bait, and it still produces to this day. I enjoy trolling shallow diving plugs and Rapalas are my personal favorite. Rapala X-Rap Slasbaits in sizes #8 and #10 in, depending on the depth of the water and the size of the available forage, and Jointed BX Minnows work very well trolled as well as cast. Firetiger, Gold Shiner, and gold are proven colors. These lures have a great built-in action and strong, sharp hooks. Most fish caught trolling will be hooked in the mouth, resulting in most being released unharmed. Another advantage with these plugs is that they float, therefore when the boat is stopped they rise to the surface instead of sinking and getting hung up on the bottom.
Tackle and rigging is pretty straightforward. I use the same rods and rigging for trolling as I do when casting the same baits. A 7' spinning or baitcasting rod and reel with 40 lb braid and 30" of 40 lb fluorocarbon leader is all that is required. Then it is simply a matter of letting back a hundred feet of line and driving up the river or canal at idle speed or a touch above. Florida rivers tend to undulate; the depth will change quite often. Many times the fish will lie on these breaks or edges, waiting to ambush bait; fish-holding structure is not always visible. It is surprising how many big fish will bust a plug right out in the middle, giving the angler a good chance to land it.
I have my clients hold the rod when trolling, for several reasons. First off and most important, it is more enjoyable as they get to feel the strike. Also, the lures I use don't dive very deep, so having the client keep the rod near the surface maximizes the depth that the plug will run. These plugs "vibrate" and if a piece of debris is picked up the angler can usually feel it and then clear the bait. And finally, it can be a bit tricky removing a rod from the holder when the boat is moving and the rod is bent double!
Trolling with light tackle also produces very well inshore. I do a lot of drifting on my charters, both in the passes and over deep expanses of grass. There are usually other anglers fishing, so courtesy dictates a slow idle back around to make another drift. Since we will just be easing along, why not drag a bait behind? My go-to lure is a #8 X-Rap in olive or glass ghost (white), it has been very productive as it matches the bait we have in our area. Once the treble hooks get beat up, I remove them and add a single 1/0 hook on the rear. The hook-up ratio remains good and it makes releasing fish MUCH easier.
Again, just let out about half the spool and move at idle speed or just above. Many times clients catch more fish doing this than they do when drifting and casting. Spanish mackerel in particular find it difficult to resist a fast moving plug, but bluefish, ladyfish, jacks, trout, and other species will also fall prey to this method.
This is also a good technique to employ when fish are scattered about over a large area. The best approach is to move into the tide or wind and when a fish is hooked the boat is stopped. Anglers can then cast jigs, plugs, or spoons as the boat drifts back over the school. As action drops off, resume trolling again until another bunch of fish is found. One benefit to this is that the same lures that are great trolling baits are also equally effective cast out and retrieved back in; there is no need to have separate trolling and casting outfits.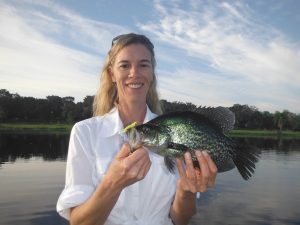 Speckled perch (crappie, to our northern friends) are a favorite of Florida anglers and trolling for them has become a very popular. The basics are the same, but the technique is a bit different. As in other applications, trolling allows an angler to cover a lot of water in a short amount of time. Jigs are most often used, but Beetlespins are also effective. The Blakemore Roadrunner is a very productive bait that combines both a spinner and a jig in one lure. Some anglers use spider rigs and other elaborate set-ups to get as many lines in the water as possible. I prefer to keep it simple; once again having my client hold the road and enjoy feeling the strike.
On deeper lakes with distinct contour changes, the best approach is to very slowly troll back and forth over edges where the bottom changes depth, crappie will often hold in these locations. On shallower lakes, just drive around, skirting the edges of weedlines or over submerged vegetation until the fish are located.
So, the next time you are idling along on your favorite lake, river, or inland bay, try dragging a lure out behind the boat. You never know what might eat it!