Siesta Key Fishing Charters, fishing Siesta Key
4 hour fishing charter $400
Capt Jim Klopfer offers charters to guests visiting and fishing Siesta Key and Sarasota, Florida. Siesta Key is a barrier island near Sarasota, Florida in the Gulf of Mexico, an hour south of Tampa. While famous for it's white sand beaches, Siesta Key offers visitors fantastic angling opportunities all year long. The best way to experience this action is to go out with a professional captain. Captain Jim Klopfer is out on the water over 200 days a year and has been guiding anglers in Sarasota since 1991. Clients going out on fishing charters do very well on a variety of species using multiple techniques.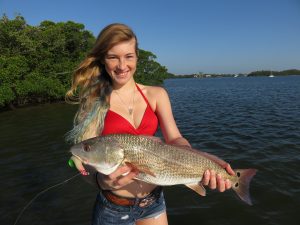 Most of the anglers fishing Siesta Key use light spinning tackle. The grass flats surrounding Siesta Key are shallow and open; the use of heavy tackle is not required. Live shrimp and small bait fish account for a lot of fish for clients. Artificial lures such as jigs and plugs also fool a bunch of fish. The simple lead head jig with a soft plastic trailer work very well most of the year, especially when the water is cooler. Live bait does perform well in the summer. Catching a well full of live bait and using them as chum to attract fish to the boat is a proven technique in Sarasota Bay. Fly anglers are not to be left out, as any species that will hit a jig will also take a well presented fly.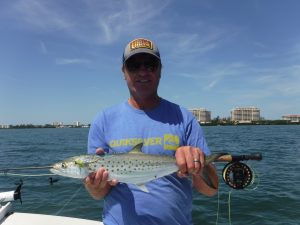 Big Sarasota Pass borders Siesta Key to the north and holds mackerel, bluefish, pompano, and ladyfish. Drifting the pass with live bait and artificial lures is a productive technique that is a great option for anglers fishing Siesta Key. Clients drop a jig down to the bottom and bounce it sharply as the boat drifts over the sand. Live shrimp are fed out behind the boat. Fish school up in large numbers at times and provide fast fishing! Structure in Big Sarasota Pass holds sheepshead and snapper; both being both great sport and table fare. I live shrimp fished on the bottom near the rocky structure will fool them.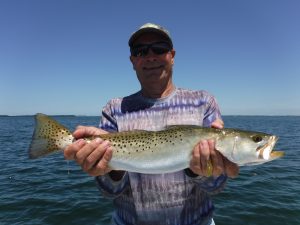 Lush grass flats surround Siesta Key and offer great fishing! Speckled trout are very popular, but Spanish mackerel, pompano, cobia, bluefish, jack crevelle, sea bass, grouper, snapper, flounder, ladyfish, and more are common catches throughout the year. Drifting the grass flats in 5' to 10' of water and casting jigs or live bait is by far the technique that is employed on the majority of Siesta Key fishing charters. It produced both action and variety for clients and is easy for novice anglers to do as well as the more experienced ones.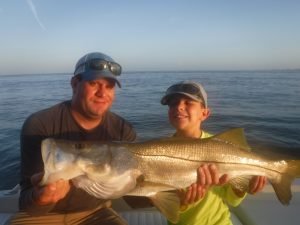 Oyster bars and mangrove shorelines dominate the backcountry portions of Robert's Bay and Little Sarasota Bay. Snook, redfish, trout, and jack crevelle thrive in this habitat and readily take a live or artificial bait. Snook in particular are a highly sought-after species; it is the premier inshore gamefish in Florida. Snook are similar to largemouth bass, they are "ambush predators" and take up station in a spot that will allow them to easily catch their prey. Mangrove points, bars, docks, and other structures hold snook. Refish, large trout, jacks, snapper, and other species will be encountered in the same areas for visitors fishing Siesta Key.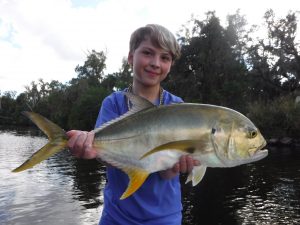 The beaches along Siesta Key provide great action as well. Surf casters do well on whiting and pompano using live or frozen shrimp fishing Siesta Key. Jigs, spoons, and plugs will also catch fish. Spanish mackerel, false albacore, sharks, and other species move through in the spring and again in the fall. These "pelagic" species are great sport on both light spinning tackle and on fly. When the winds are light and the bait fish move in close, the fishing can be nothing short of fantastic! If that is not enough, giant tarpon migrate through the area in summer and offer world class angling to those willing to take on the challenge!