Siesta Key Fishing Charters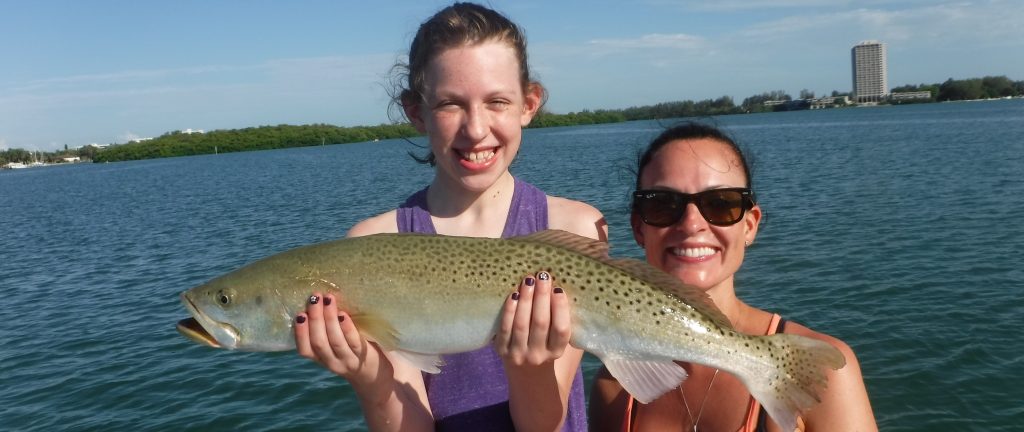 This site is all about fishing Siesta Key! Anglers looking to book Siesta Key fishing charters have come to the right place. Anglers can search the site for dozens of helpful articles for those who want to give fishing a try on their own. Capt Jim Klopfer has been serving anglers in the Siesta Key and Sarasota areas since 1991.
Call Capt Jim at (941) 371-1390 or e-mail captklopfer@comcast.net
Cost is $500 for 4 hours for 3 anglers, we can take the 4th angler, if a couple are children

Siesta Key fishing charters
Anglers visiting and seeking a Siesta Key fishing charter can expect to have a lot of fishing options, depending on the season. Drifting the deep flats produces action and variety. Mackerel and false albacore school off the beaches. Sheepshead and snapper are caught bottom fishing. Snook, redfish, and jack crevally are caught by anglers casting lures along mangrove shorelines.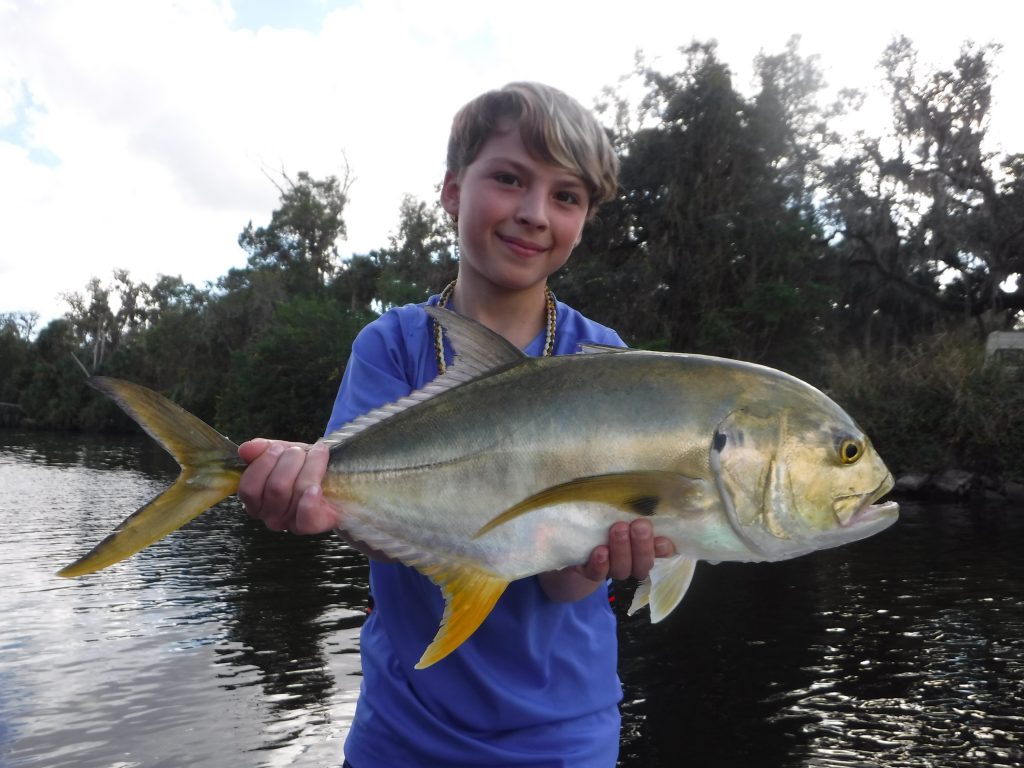 Fishing the Siesta Key deep grass flats
Lush grass flats surround Siesta Key and offer great fishing!  Speckled trout are very popular, but Spanish mackerel, pompano, cobia, bluefish, jack crevalle, sea bass, grouper, snapper, flounder, ladyfish, and more are common catches throughout the year.  Drifting the grass flats in 5′ to 10′ of water and casting jigs or live bait is by far the technique that is employed on the majority of Siesta Key fishing charters.  It produced both action and variety for clients and is easy for novice anglers to do as well as the more experienced ones.  There are many days when artificial lures produce more fish than live bait does.  This is particularly true in the cooler months.  Chumming with live bait fish is very effective in summer.  Live shrimp produce all year.
Siesta Key fishing charters video
Sarasota and Siesta Key offer anglers a wide variety of fishing options, depending on the season. For many, drifting the deep grass flats is the perfect Siesta Key fishing charter. These trips provide both action and variety, making them a great choice for all ages and experience levels.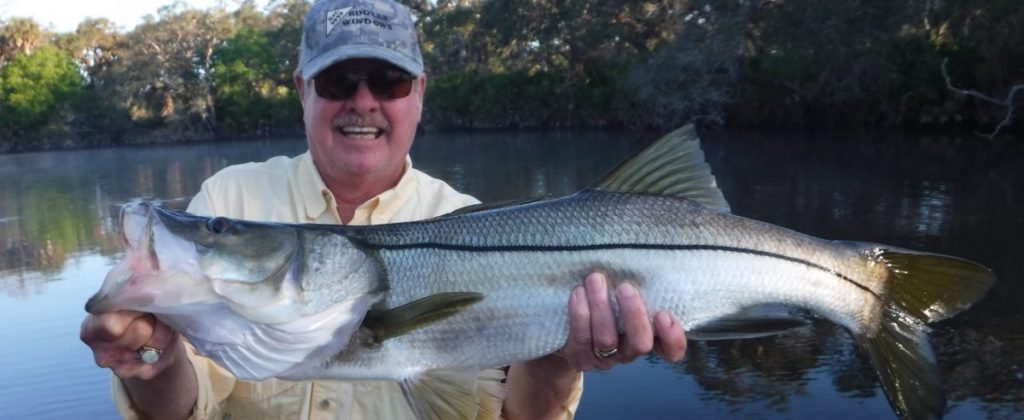 More experienced anglers may opt to target more challenging species such as snook, redfish, jack crevalle, false albacore, and king mackerel. These fish are larger and require more effort to catch, but it can certainly be worth it! Anglers choosing this option are looking for "quality over quantity" but will usually catch larger fish than those fishing the passes and deep flats.

Anglers can read Capt Jim's Siesta Key Fishing Forecast to get an idea of what to expect depending on the season!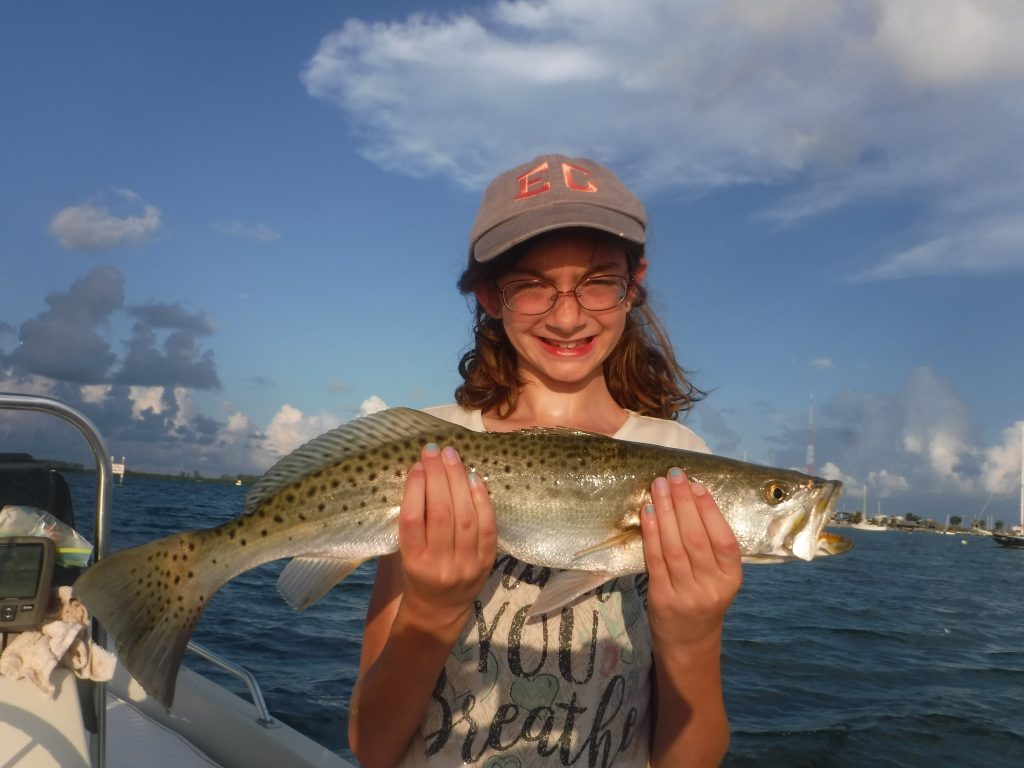 One great thing about the fishing in Siesta Key is the variety that it offers. This is especially true as the seasons change. Spring and fall will have us out on the beach chasing mackerel and false albacore.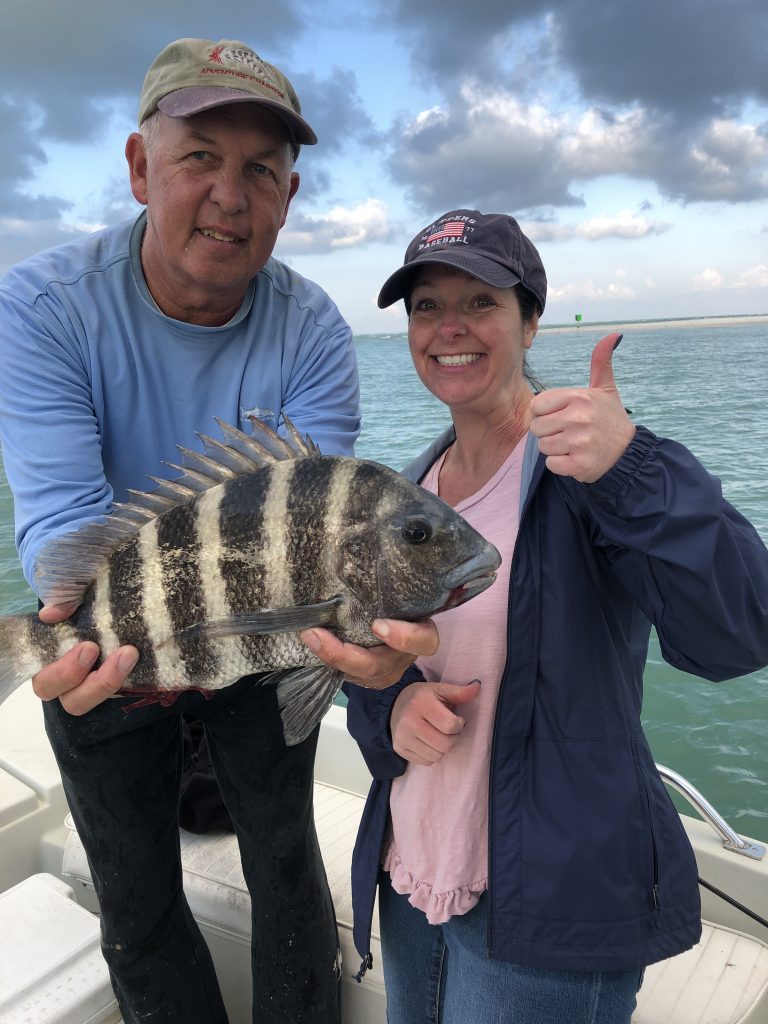 Sheepshead are a very reliable species in the winter. They fight hard and are terrific eating for anglers in search of a meal. This is easy fishing and a great option for families with children as well as novice anglers. This is basic bottom fishing with shrimp and anyone can do it.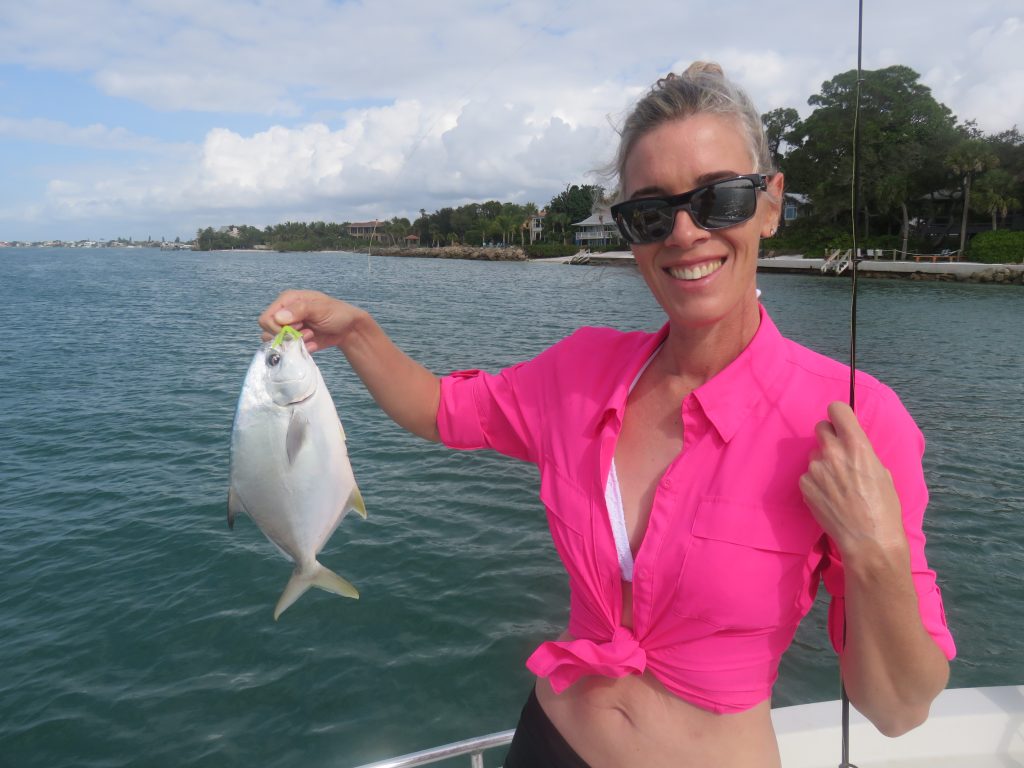 Drifting the passes is another great choice for novice anglers as it really does not require a lot of experience or skill. Jigs and shrimp are bounced along the bottom as the boat drifts with the tide. Anglers catch a variety of species including pompano, jacks, ladyfish, and Spanish mackerel.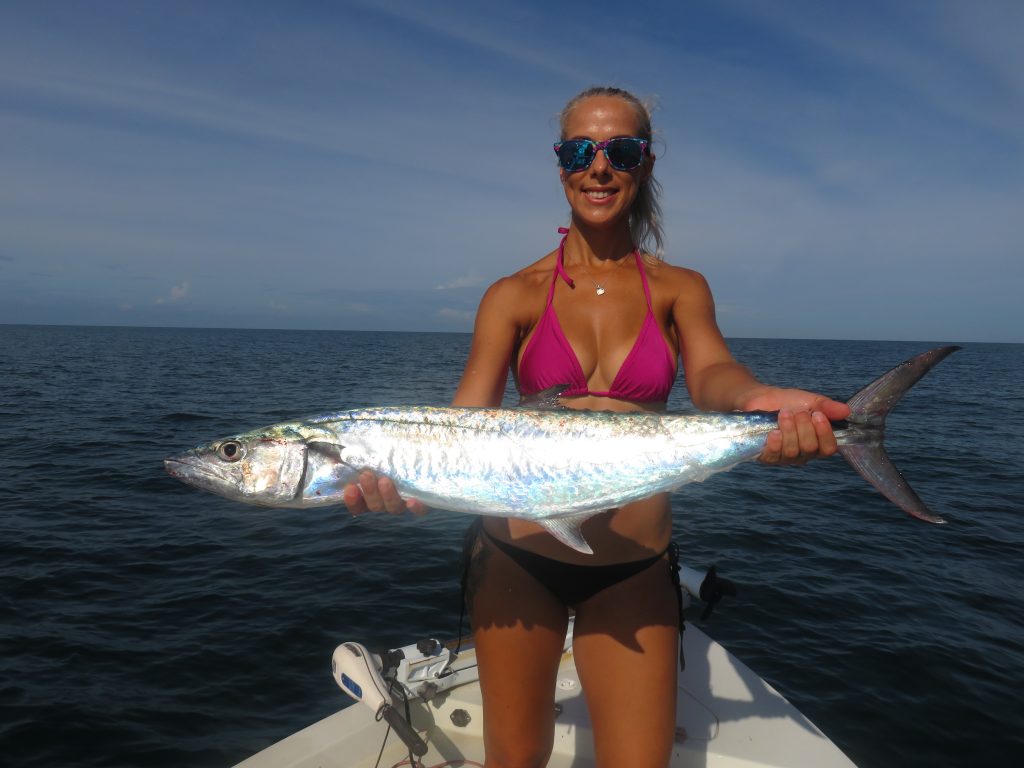 When conditions are right, king mackerel and false albacore move in close to the beach. This usually happens in spring and fall. This is terrific sport and mostly done on fairly light tackle, given the size of the fish. Anglers who like to troll will enjoy this experience.
Anglers can purchase Capt Jim's E-book, "Sarasota Fishing Secrets" for $6 by clicking the link.
Frequently Asked Questions
Q:  Do visiting anglers fishing Siesta Key need a fishing license?
A:  Most out of state anglers fishing from shore, bridges, or boats do need to purchase a fishing license.  The exception to this is when fishermen visiting Florida go out on a fishing charter.  The state of Florida required all charter boat captains to purchase a license which covers their clients.  This is a very convenient, saving anglers the time and expense of buying a license in the morning before a fishing trip.  Anglers who would like to review Florida fishing regulations and/or purchase a license can do so at the FWC site.
Q:  Where are the best spots when fishing Siesta Key?
A:  Siesta Key offers both anglers from shore and those with a boat the opportunity to catch fish.  All of the Siesta Key beaches can be productive at one time or another.  Both bridges going to Siesta Key hold fish all year long.  Anglers with boats do well in Big Sarasota Pass and on the grass flats throughout the area.  Docks also hold a lot of fish.  Click the link to see a fishing map for Siesta Key.
Q:  What species are caught when fishing Siesta Key?
A:  One of the great aspects of fishing Siesta Key is the variety of species that are landed by both local and visiting anglers.  The mighty tarpon is caught off of Siesta Key beaches.  Snook are the premier inshore game fish.  Speckled trout, pompano, Spanish mackerel, bluefish, ladyfish, and more please anglers fishing the flats.  Sheepshead, mangrove snapper, gag grouper, and black drum are caught using live shrimp under docks and other structure.
Q:  When fishing Siesta Key, is it better to rent a boat or take out a fishing charter?
A:  It depends on the goals of the fishermen, as well as the number of people going.  Renting a pontoon boat is a great option, especially for larger groups with kids.  A large boat with a cover and high sides works well for larger groups with more casual anglers.  A Siesta Key fishing charter will cost a little more money, but clients will almost certainly catch more fish.  As a full time charter boat captain, Jim is out on the water over 200 days a year.  That gives him the ability to stay on top of the fish along with having a boat set up to fish.
Q:  Which works better, live bait or artificial lures?
A:  Both can be very effective when used in the proper application.  Live shrimp are best for more casual anglers who want to cast a bait out and let it do the work.  Some species such as sheepshead, are only taken on bait.  Anglers fishing structure will usually do best using bait.  Lures are a great choice for anglers fishing the beach and who want to move around.  Dragging a bucket of shrimp around can be a nuisance.  The same goes for anglers fishing from a drifting boat, lures allow them to cover more water.
Q:  Can visiting anglers keep fish to eat when fishing Siesta Key?
A:  Yes, they can!  Many of the species available are good to eat.  It is very important to be aware of the rules and regulations regarding fish species and the size limits, bag limits, and seasons.  Fish that are going to be kept should be put on ice right away.  Also, fish must be landed whole.  This means that fish can not be cleaned until the angler is done fishing and back to the car, dock, or home.
Q:  Where do clients meet Capt Jim om a Siesta Key fishing charter?
A:  The primary spot that Capt Jim likes to meet clients is the boat ramp in down town Sarasota at Centennial Park. It is centrally located and offers quick access to most of the best fishing spots. Other spots can be discussed, depending on the weather and client location.
What is provided on Siesta Key fishing charters?
Capt. Jim provides clients with everything that they will need on a Siesta Key fishing charter. He has a fishing license that covers all of his guests. All fishing rods, tackle, and bait is provided. A cooler with ice and waters is on board as well. The boat has all of the required United States Coast Guard safety gear.
Anglers going out on Siesta Key fishing charters need only bring their personal effects. This would include appropriate clothing for the current weather, cameras or phones, hats, sunglasses, and sunscreen. The vast majority of charters occur in the morning and clients are usually back on the dock before lunchtime. However, they are welcome to bring drinks and snacks along. They can put these in the cooler on the boat or bring a small personal cooler for themselves.
Capt. Jim likes to touch base with clients the afternoon or evening before the charter. He will discuss the current fishing, weather forecast, and any other factor that will affect the fishing trip. These include the number of anglers, experience level, and expectations. Some clients prefer to use their own equipment. This is perfectly fine and should be brought up when discussing the upcoming Siesta Key fishing charter.
Where do we meet when going out on Siesta Key fishing charters?
The meeting spot will be determined based on several factors. These include the location that the client is staying, current fishing situation, and weather forecast. Strong winds are fairly common, especially in the winter, and will effectively eliminate parts of Sarasota Bay. Capt. Jim likes to schedule the meeting spot to maximize the fishing experience. This is another thing that is discussed in the aforementioned phone call.
The preferred meeting spot for clients going out on Siesta Key fishing charters is a boat ramp in downtown Sarasota. Its official name is Centennial Park and it is known locally as the 10th St. boat ramp. It is located on the northwest corner of 10th St. and Tamiami Trail. It is an ideal location as it starts the trip right in the heart of the best fishing spots as well as quick access to the Gulf of Mexico.
Bay Island Park is another spot that Capt. Jim regularly meets his clients that. It is on the southwest side of the Siesta Dr., Bridge. This makes it convenient for anglers staying on Siesta Key as a do not have to leave the key itself. This can be advantageous during peak traffic times. It is also very protected from a Northwest when. However, during periods of low tides it can be difficult getting in and out of the boat. This is a consideration for less mobile clients.
Can we take fish home to eat on Siesta Key fishing charters?
While Capt. Jim vigorously practices catch and release, he does not mind if clients want to take a couple fish home for a meal. He will fillet the fish and put them in a Ziploc bag with ice. However, Capt. Jim likes to keep the emphasis of the trip on catching fish and having fun. Sarasota Bay gets a lot of fishing pressure and the resource must be managed responsibly.
The state of Florida is quite strict in its management of fishing resources. And, this is how it should be. Limits for several species are quite generous. These would include Spanish mackerel and sheepshead. However, just because the limit is for example 10 fish per day, clients will not be keeping that many fish. Again, the goal is a great day out on the water with friends and family and perhaps a few fish in the box for a meal.
Fishing the Siesta Key grass flats
The deep grass flats surrounding Siesta Key provide anglers with excellent action all year long. The most productive flats are those that are between 5 feet deep and 10 feet deep. The submerge grass is home to crabs, shrimp, and bait fish. This in turn attracts the predator fish. Drifting in anchoring on the deep grass flats is probably the most commonly used angling technique on Siesta Key fishing charters.
Fishing the deep grass flats is fairly easy, even for novice anglers. Fish are less spooky in the deeper water. Also, casting accuracy is not an issue in the open water. Many different species are found in this environment. Commonly caught species include speckled trout, Spanish mackerel, pompano, bluefish, snapper, grouper, sharks, ladyfish, catfish, jacks, and even the occasional tarpon or cobia.
Both live bait and artificial lures are productive on the deep grass flats. Anglers casting one quarter ounce lead head jigs with a grub body score consistently. This is usually done while drifting, allowing anglers to cover a lot of water in search of fish. Live shrimp and bait fish can be drifted out behind the boat as well. A live shrimp fished under a popping cork can be deadly in the right conditions.
Fishing shallow on Siesta Key
Snook, jacks, redfish, and big trout are often caught in water that is quite shallow. It seems odd to many visiting anglers that the larger fish are caught in shallower water. However, larger fish are less apt to fall prey to birds and other predators. Larger fish also can tend to be loners as opposed to being found in schools.
This type of fish and is generally best suited for more experienced anglers. It requires more patience and some decent casting skills. Capt. Jim runs the boat from the bow using his trolling motor, keeping the boat and prime casting position. Anglers then work cover such as mangrove shorelines, oyster bars, docks, and holes using artificial lures such as shallow diving plugs and soft plastic baits. This is a quality over quantity fishing situation. This type of fishing does not produce the numbers that fishing the deeper grass flats will. However, it generally results in larger fish being caught.
Fishing in Big Sarasota Pass
Big Sarasota Pass lies on the north side of Siesta Key. It separates Siesta Key from Lido Key. This is a large pass with abundant structure on the Siesta Key shoreline. It has submerged flats, sandbars, and deep drop-offs. Big Sarasota Pass is an excellent spot to fish most of the year.
Anglers drifting the pass on Siesta Key fishing charters can experience fast action with ladyfish and other species. Ladyfish will school up in the pass in huge numbers at times. Anglers can catch them bouncing a jig along the bottom as the boat drifts or by free lining a bait out behind the boat. Pompano, bluefish, Spanish mackerel, and other species are commonly landed as well.
Submerged structure is plentiful on the north side of Siesta Key in big Sarasota Pass. Much of the structure is in water that is deeper than most parts of Sarasota Bay, up to 25 feet deep. This provides excellent habitat for bottom dwelling species such as gag grouper, mangrove snapper, drum, redfish, and sheepshead. The sheepshead fishing can be terrific in winter and is a staple of Capt. Jim on Siesta Key fishing charters.
Big Sarasota Pass is great for children and novice anglers
For the most part, this is fairly easy fishing. Anglers simply drop a baited hook down to the bottom with a little bit of weight and wait for a bite. Small children and novice anglers have no problem catching fish when the bite is on. Sheepshead are very interesting looking, fight very hard, and taste great.
Snook will school up in big numbers in the pass from May through August. While many fish move out onto the beaches to spawn, quite a few fish stage in the passes well. This is a great time to catch a trophy snook. Live bait is generally the best approach as the fish are often down quite deep in the water column. Live pin fish, large shrimp, and live sardines are the top baits.
Fishing off of the Siesta Key beaches
When "fishing the beach" is mentioned it is referring to a stretch of the inshore Gulf of Mexico from close to shore to a couple miles out. In the spring and again in the fall, huge schools of bait fish will move into this area. This will attract predator fish such as Spanish and king mackerel, false albacore, tarpon, cobia, and sharks.
When the bite is on, the fishing can be incredible! It is very exciting to be able to see fish feeding aggressively on the surface and then cast a lure into them. In most cases, a bite is all but guaranteed. Spanish mackerel are quite easy to catch, while false albacore are a bit fussier. Trolling with heavy tackle is used when targeting king mackerel. Fresh chunks of Spanish mackerel are floated out behind the boat on heavy spinning tackle to draw strikes from cruising sharks.