Best 13 Crappie Fishing Lures
This article will list the best 13 crappie fishing lures. Crappie are a very popular freshwater game fish that are the largest member of the panfish family. They are an aggressive predator species that feeds primarily on bait fish. While many crappie are caught by anglers fishing with live minnows, artificial lures are extremely effective as well.
The best 13 crappie fishing lures are
Blakemore Road Runner
Marabou jig
Johnson Beetle spin spinnerbait
Rapala Husky Jerk
Mister Twister curly tail grub
Gulp baits
Berkley Power Tube tube bait
Clam Leech Flutter spoon
Bass Assassin Crappie Dapper
Bill Lewis Tiny Trap
VMC Moon Eye Jig
Rooster tail spinner
Rapala Shad Rap
While there are certainly other artificial lures that anglers can use when crappie fishing, these 13 crappie fishing lures will get the job done in any situation that an angler chasing these delicious panfish will encounter. These are my personal favorite crappie fishing lures. Capt Jim loves to go crappie fishing on his days off from running saltwater fishing charters in Siesta Key.
Crappie fishing techniques with lures
Anglers can use several different techniques when fishing for crappie with lures. These include casting, trolling, and vertically fishing, both in open water and through the ice. As mentioned earlier, crappie feed primarily on minnows and other bait fish. Therefore, the lures on this list imitate that forage.
Trolling has become the most popular technique used by anglers when crappie fishing. It can be done with artificial lures, live bait, or a combination of the two. Many anglers tip a jig in particular with a live minnow. Anglers can put out just a couple of lines or a whole bunch, but local regulations should be checked. Trolling is a very efficient way to cover a lot of water using multiple lures at different depths in search of fish.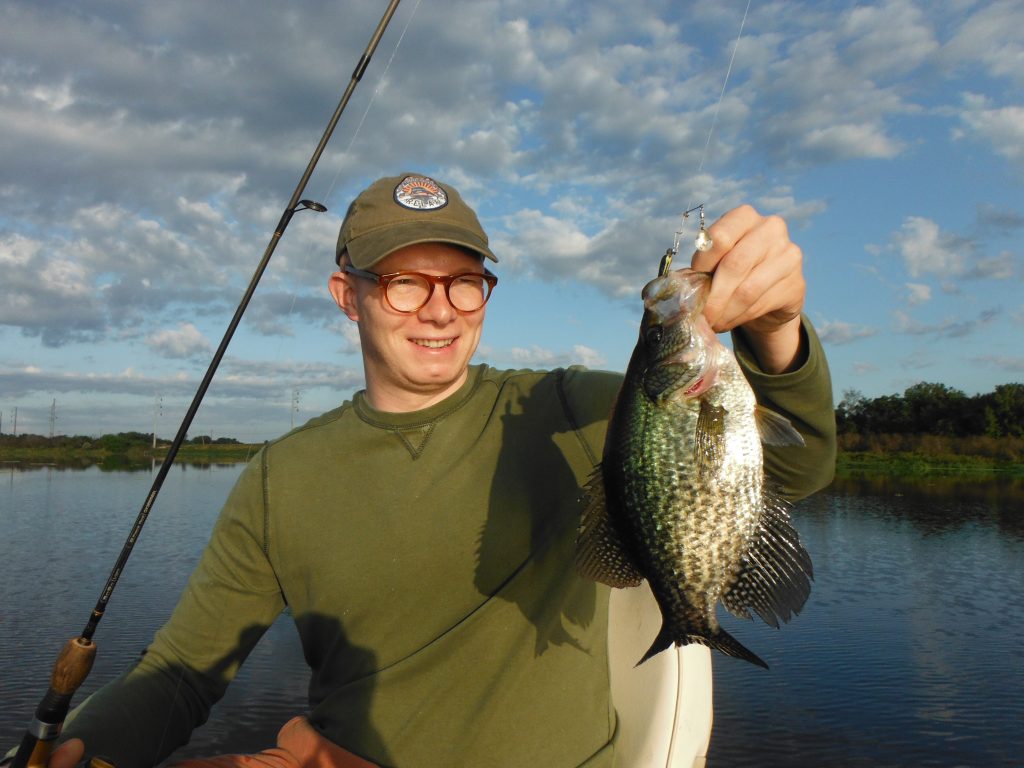 Anglers can certainly cast out artificial lures as well when crappie fishing. This is mostly done in shallow water when the crappie move up to spawn. Fallen trees and flooded timber along with man-made brush piles art top spots to find crappie and spring. Boat docks have become crappie magnets, especially in older lakes where much of the timber has rotted out.
Vertically jigging is an excellent technique used when crappie are staged up in deeper water. A vertical presentation is very precise and will allow the angler to fish specific offshore cover such as channel edges, rock piles, submerged islands, and wood cover of all types. Obviously, anglers ice fishing for crappie must use a vertical presentation.
Best crappie fishing tackle
In most cases, light or ultralight spinning tackle is the best choice for anglers crappie fishing with artificial lures. It will allow them to cast lures out and retrieve them back in, vertically fish in deep water, and troll. A 6 foot to 6 1/2 foot light or ultralight rod matched with a 1000 series reel is an excellent all round combination.
There is a specialized crappie fishing technique called "spider rigging". It earned this name by the multiple rod sticking out from either the bow or stern of the boat. Different length rods are used to thoroughly cover a wide swath of water as the boat trolls through. Anglers employing this technique can use artificial lures, but many use live bait as well.
Best 13 crappie fishing lures
My name is Capt. Jim Klopfer and I am a fishing guide in Sarasota, Florida. While I enjoy saltwater fishing in all forms, on my days off your likely to find me on a local lake or river chasing freshwater species. I especially enjoy fishing for panfish of all varieties including bluegill, shellcracker, and crappie and almost always prefer artificial lures. These are my favorite 13 crappie fishing lures that I use when I go fishing.
1) Blakemore Road Runner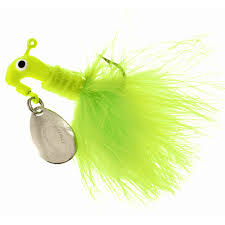 The Blakemore Road Runner is right at the top of my list of best 13 crappie fishing lures. It is a combination of a spinner and a jig in one tidy little package. The waters where I fish here in Florida are dark and tannin stained and the extra flash from the rotating blade really makes a difference. Brighter colors such as pink and chartreuse are the most productive in dark water while lighter colors such as white work well in clear water.
Road Runner lures are available in several sizes and a multitude of colors. Anglers can also choose between plastic grub bodies and those made from marabou. Marabou jigs work best when fished slowly such as vertically jigging or casting out while the plastic tail versions are best for trolling. 1/16 ounce and 1/8 ounce are the two best sizes for crappie fishing.
2) Marabou jig
Marabou jigs have been synonymous with crappie fishing for decades. They manufacture an excellent and productive lure at a very reasonable price. While there are many variations to choose from, I prefer the marabou jig and bright colors such as pink and chartreuse. Often a mix of colors works best. Again, white is an excellent choice in clear water.
Marabou is very lifelike and puts out tremendous action with very little movement. This makes it an excellent choice to slowly and thoroughly fish a particular area. It works well when vertically fished over submerged timber as well is cast out and retrieved. Marabou jigs are quite effective when fished under a float in shallow water. While they can be trolled, they are not my first choice for that.
3) Johnson Beetle Spin spinnerbait
A black Johnson Beetle Spin is my favorite all-around freshwater fishing lure. The reason for this is that it simply catches everything that swims! The 1/16 ounce size is a good choice for anglers who don't mind if a bluegill interrupts the crappie fishing. Those anglers specifically targeting crappie will do best with a 1/8 ounce size. I prefer black, however dark green and white are also productive colors for me.
This lure works best with a slow steady retrieve. It can be fished through the entire water column in both shallow and deep water. Beetle spin lures can be cast out towards likely fish holding structure and retrieved back in as well as slowly trolled. The only situation where it is not effective is in a vertically jigging application.
4) Rapala Husky Jerk
The Rapala Husky Jerk in the (04) size is an excellent crappie fishing lure, particularly when targeting larger fish. I use it a lot in the very shallow lakes that I have here in Florida by trolling along weed edges. Crappie will dart out and attack it. It is more limited than some other lures as it really has to be used in fairly shallow water. Gold works well in the darker water, white, silver, and firetiger are also productive.
5) Mister Twister curly tail grub
Mister Twister revolutionized jig fishing in the late 70's when they came out with their curly tail jigs. The action that this simple design has in the water is incredible! Chartreuse 1/8 ounce jigs are my favorite, but many other colors will produce as well. These are versatile lures that can be cast, trolled, or vertically presented. They are good ice fishing lures as well.
6) Gulp baits
There are several baits in the Gulp line that work well for anglers crappie fishing. They are next on my list of best 13 crappie fishing lures. The 1" Gulp Alive Minnow is my favorite and it catches other panfish as well. I usually fish it on a 1/16 ounce jig head, just as I would any other soft plastic bait. The added scent really is an advantage. Gulp also sells Crappie Nibbles and other baits that will catch them.
7) Berkley Power Tube baits
Tube baits are terrific crappie fishing lures! They multiple strands of the skirt put out a lot of action with the slightest movement. My favorite tube bait is the Berkley Powerbait line. I like white and chartreuse in the 2" size on a 1/8 ounce jig head for crappie. Tube baits work great in a vertical presentation, including through the ice. They can be trolled or fished under a float as well.
8) Clam Leech Flutter spoon
The Clam Leech Flutter spoon is an excellent lure to use for crappie when they are schooled up over structure in deeper water. It is a favorite among anglers ice fishing for crappie as well. They are available in many colors, brightly colored spoons work well. The smaller sizes are best for crappie. Anglers can even tip the spoon with a minnow or grub.
9) Bass Assassin 2" Crappie Dapper
I use the Bass Assassin line of soft plastic baits on my charters and their 2" Crappie Dapper is an excellent crappie fishing lure. It has the shad style tail which has a terrific swimming action in the water. Chartreuse, pink, white, and watermelon are the top colors. It is fished on a 1/8 ounce jig head. These are versatile lures that can be cast and retrieved, vertically jigged, or slowly trolled.
10) Bill Lewis Tiny Trap
The Bill Lewis Tiny Trap is a lipless crankbait that mimics shad and other bait fish. This lure is easy to use as it is cast out and retrieved steadily. It can also be trolled and some anglers vertically fish it as well. It is a great lure to use when searching for fish as anglers can cover a lot of water quickly. Chrome with a blue back is my top color. This lure will not catch as many crappie, but they will usually fool larger fish.
11) VMC Moon Eye Jig
The VMC Moon Eye jig is a quality jig head that can be used with any soft plastic grub body. Anglers ice fishing use it with live bait such as wax worms and minnows. It has a keeper which will hold the grub better that other jig heads. It has a quality fishing and comes in some bright colors, which I like best.
12) Rooster tail spinner
The Worden's Roster tail spinner is one of my favorite freshwater fishing lures. It catch just about everything from trout to bluegill, and will fool crappie as well. It works best with a slow steady retrieve. This is a shallow water lure for the most part. It is excellent in situations where anglers are fishing for crappie in streams or rivers. The 1/8 ounce size works well and they are available in many different colors.
13) Rapala Shad Rap
The Rapala Shad Rap is the best deep diving crankbait, in my opinion. It is an excellent trolling lure but can be certainly cast out as well. The smaller (04) 1 1/2" and (05) 2" baits are best for crappie fishing. They will dive down to ten feet or so and are an excellent choice when crappie are scattered over submerged structure or open deep flats.
In conclusion, I hope you enjoyed my list of the best 13 crappie fishing lures!