Best 9 Fishing Lures for Bluegill and Panfish
This article will list Capt Jim's best 9 fishing lures for panfish. Panfish are arguably the most popular fish in America. There are several reasons for this. Panfish are widely distributed. Most anglers live within a few miles of a good fishing spot. These diminutive gamefish put up a terrific fight on ultralight tackle. Finally, they are fantastic eating!
The best 9 fishing lures for bluegill and panfish are;
Beetle spin
Rooster tail spinner
Mister Twister grub
Rapala Ultralight Floating Minnow
Blakemore Roadrunner
Rebel Teeny Wee Crawfish
Gulp Alive Minnow
Betts popper
Rapala Jigging Rap
Many anglers use live bait such as worms and crickets to catch panfish. However, artificial lures can be used successfully as well. This is particularly true for the bluegill. They have a fairly large mouth given their size. Also, they are probably the most aggressive species in the panfish family. Remember, largemouth bass are really just giant sunfish, and we all know how they can be taken using lures!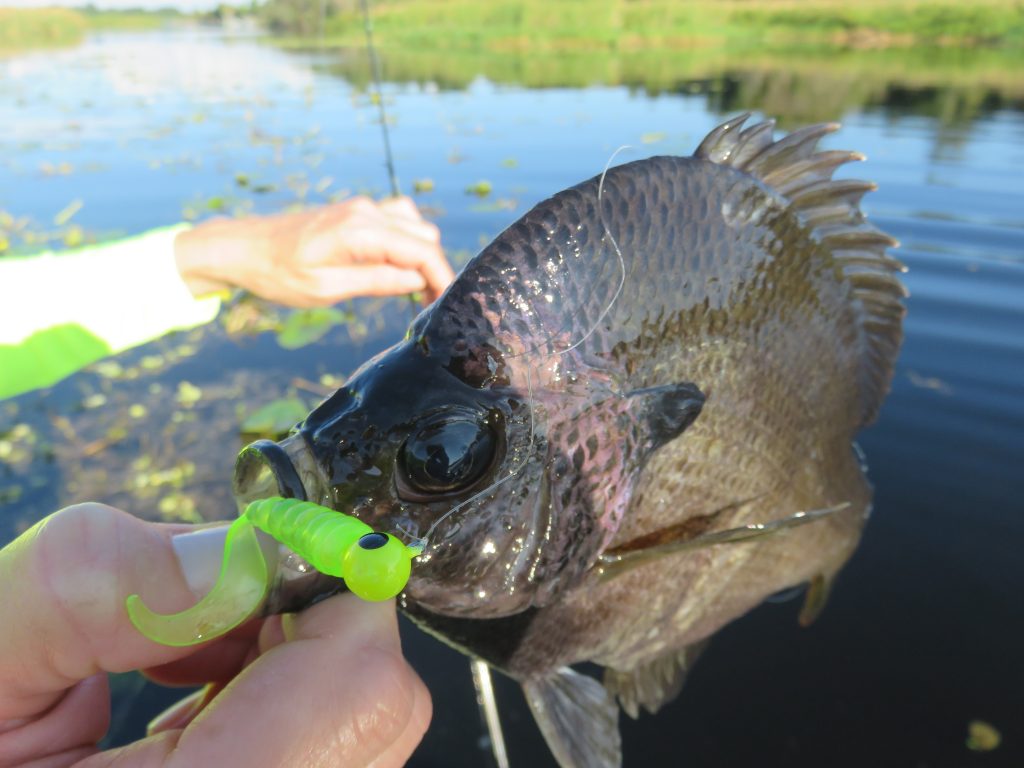 Proper tackle for fishing with lures for bluegill and panfish
Without a doubt, ultralight tackle is the best approach when fishing for panfish with artificial lures. It is important to have the right tackle when casting lures for panfish. Most anglers opt for spinning tackle. However, spin casting outfits are also used quite often. A quality rod and reel can be purchased for around $50 or less. 4 pound test monofilament line is a good all around choice. This will allow anglers to cast the very light lures a reasonable distance and results in a sporty battle.
"Fishing Lido Key is a participant in the Amazon Associates Program, an affiliate advertising program designed to provide a means for sites to earn advertising fees by advertising and linking to Amazon. As an Amazon Associate I earn from qualifying purchases. "
1)  Johnson Beetlespin
The Johnson Beetlespin is Capt Jim's "go-to" lure when fishing for panfish. Beetlespins are number one on his list of best bluegill and panfish fishing lures! It is extremely productive on a variety of species. The Beetlespin is just a very small spinnerbait. This is a lure with a "safely pin" wire frame. A spinner blade rides on top and a jig/grub are attached to the lower arm.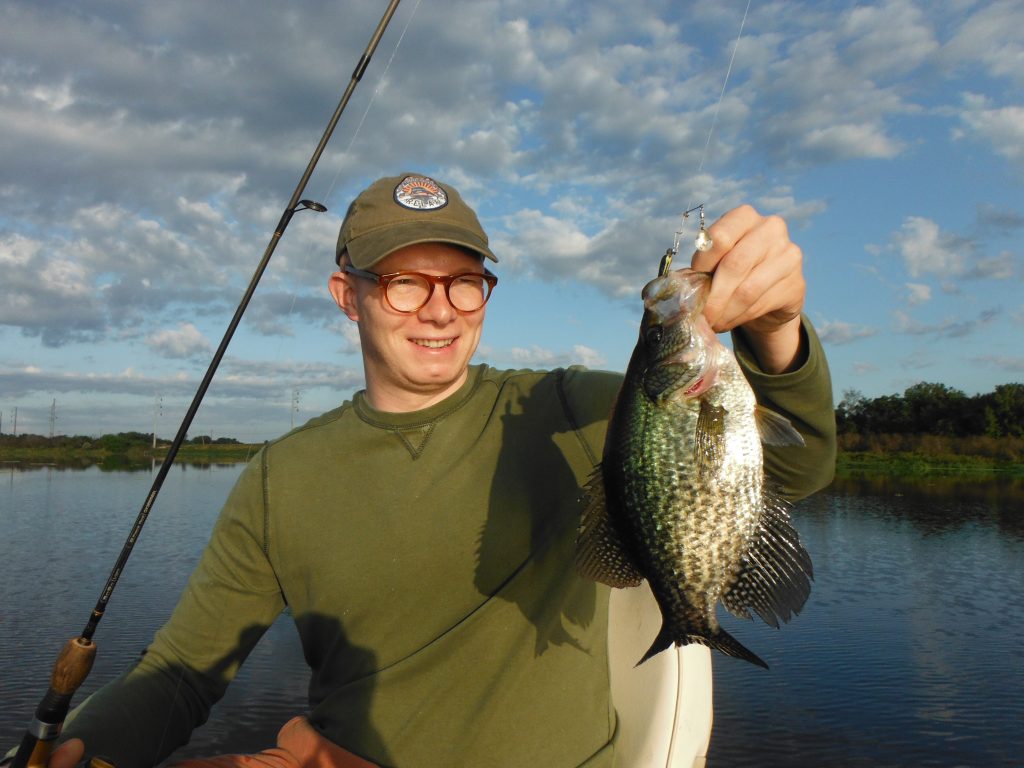 This lure is very easy to use. Anglers simple cast it out, allow it to sink, then retrieve it back in slowly. Generally speaking, the slower the retrieve the better, as long as the blade is spinning. Best colors vary greatly. Water color will often dictate the most productive color to use. In darker water, darker grubs such as black and green work well. White and chartreuse are good choices in clear water.
Beetlespin baits are also quite weedless. This makes them a great choice in areas with submerged vegetation. Bluegill and panfish are often found in this environment. Anglers can cast into open spots in lily pads and other plants. Often times, casting parallel to a weed line will produce. Finally, these lures work great when trolling. This allows anglers to cover a lot of water in search of a productive area.
2) Mister Twister grubs on a jig head
A Mister Twister 2″ grub on a 1/16 ounce jig head is second on the list of best 9 fishing lures for panfish. This is a basic lure that is effective for just about every freshwater and saltwater fish species. These diminutive versions are extremely effective for panfish as well. Jigs are also very versatile and will produce fish in a variety of applications.  Colors are endless, but chartreuse is Capt Jim's favorite color. They are also very effective when added to a small spinnerbait. It is a terrific crappie fishing lure.
Mister Twister jigs can be cast out to weed lines, docks, fallen trees, and other shoreline structure. The best technique is is cast the lure out, allow it to sink, then retrieve it back slowly. Jigs can also be fished vertically over structure in deeper water. Mister Twister jigs can also be trolled slowly to help locate schools of fish. They are a terrific, cost effective lure that catches a ton of fish!
3) Rooster tail Spinners
The Rooster tail spinner is #3 on the list of best fishing lures for panfish. Spinners are very effective freshwater fishing lures. Rooster tail spinner blades rotate and flash at very slow speeds. They also come in a myriad of sizes, shapes, and colors. 1/16 ounce is an excellent size for panfish. However, anglers can go up to 1/8 ounce to catch larger fish.
Like most panfish lures, Rooster tails produce best with a slow, steady retrieve. Spinners work best in open water as the hook and blade will foul on vegetation. Rooster tail spinners are a fantastic choice in river and streams. Anglers cast across the stream and allow the lure to drift down on a tight line.
4) Rapala Ultralight Floating Minnow
The Rapala Ultralight Floating Minnow is number four on the list of the best 9 panfish lures. These baits are not for anglers seeking numbers of fish. For the most part, these plugs will attract the largest bluegill and other panfish. They will also catch a lot of small bass. The lure is cast out towards likely structure and worked back in with an erratic retrieve.
The Ultralight Floating Minnow floats at rest and dives down a foot or two when retrieved. They are best used in shallow water. Productive colors include silver and white in clear water and gold in tannin stained water. Firetiger is a good all-round color choice.
5) Blakemore Roadrunner
The Blakemore Roadrunner is number five on the list of productive panfish lures. These baits combine a jig and a spinner, sort of like a mini spinnerbait. It is a very versatile bait that can be used in any water depth. The dressing can be either marabou or plastic. They come in a variety of sizes. Once again, 1/16 ounce is the best all-round size for panfish.
Anglers cast them out to structure in shallow water. Again, they work west with a slow, steady retrieve. Roadrunners are a terrific choice when panfish are located in deeper water. In this application, a vertical presentation works best. Finally, Roadrunners are extremely effective when trolled and will catch a lot of crappie as well.
6) Rebel Teeny Wee Crawfish
Number six on the list of best fishing lures for panfish is the Rebel Teeny Wee Crawfish. This is a bit of a specialized bait, designed primarily for fishing in streams and rivers. Crawfish are a top forage in flowing waters. Bluegill, warmouth, smallmouth bass and other species will take this bait. The best technique is to cast across the stream and bounce the lure off the bottom in an erratic manner. This will simulate a freeing crawfish.
7) Gulp! Alive! 1 Inch Minnow
Anglers seeking to enjoy the best of both live bait and artificial lure fishing will like the Gulp! line of baits. These lures are heavily scented and really produce a lot of fish! They are particularly effective on days when the fish are less aggressive and the bite is slow. The Gulp! 1′ Minnow can be used on a plain hook under a bobber. However, it is most often employed on a very light jig head.
8) Betts Poppers
Bluegill are notorious for attacking bugs on the surface. Popping bugs are very effective, particularly on aggressive bluegill. They are also great fun to fish! Most anglers cast poppers with a fly rod. However, when short casts will suffice, spinning tackle can be used. The bug is cast out close to structure such as lily pads, fallen trees, weed lines, and docks. After the popper settles, it is twitched which results in a "popping" sound. This will draw bluegill to the bait. Anglers can read more about Freshwater Fly Fishing in this article.
9) Rapala Jigging Rap
The Rapala Jigging Rap is a time proven ice fishing lure for bluegill and panfish. The bait sits horizontally. Jigging Raps come in a variety of sizes and colors. The 05 size is 2″ and best for smaller gamefish. Perch is a great all-round pattern. It is lowered down into the water and jigged up and down gently. Subtle movements are best in the frigid water.
In conclusion, this list of the best 9 fishing lures for panfish will help anglers catch more of these tasty light tackle game fish!