Best Cobia Fishing Tackle and Lures
This article will cover the best cobia fishing tackle and lures. Cobia are a popular saltwater game fish. They grow quite large, reaching weights of over 100 pounds. Anglers pursuing cobia will need to have the correct fishing tackle in order to be successful.
The best cobia fishing tackle consist of a heavy spinning or medium conventional outfit and a good selection of hooks and artificial lures. Cobia are a pelagic saltwater species that are found on both sides of the Atlantic Ocean. In the United States, cobia are found along the eastern United States coast from Texas to Maine. The world record cobia is 105 pounds and stout fishing tackle is required.
Cobia vary greatly in size. This makes it difficult for one rod and reel to cover every cobia fishing situation. Smaller fish, averaging under 10 pounds, are commonly caught in the inshore bays and passes. Occasionally, larger cobia are caught in these waters as well. Generally speaking, most large cobia are are caught along the beaches close to shore and near offshore structure such as wrecks, reefs, oil rigs, and hard bottom.
Cobia fishing techniques
Cobia are caught by anglers using several different techniques. Sight casting to cobia is fantastic sport! Cobia have a unique habit of swimming right on the surface of the water. This allows anglers to visually spot the fish and then present a lure or bait in front of it. This type of fishing can occur all along the Atlantic and Gulf of Mexico coastline. In this situation, heavy spinning tackle is usually the best choice, though anglers who are proficient with bait casting tackle can use those outfits as well.
While cobia are often seen cruising in open water, they are quite often caught by anglers fishing structure. Very large cobia are caught by anglers in the Gulf of Mexico fishing the numerous oil rigs as these attract bait and provide cover for cobia and many other game fish species. Hard bottom areas, natural ledges and sunken wrecks and artificial reefs will hold cobia as well. These cobia will often hold close to the bottom structure.
Chumming is a very effective technique used by anglers fishing structure. Chum will pull fish out away from the heavy cover and give anglers a chance to land them. Chumming also gets fish excited and in a mood to feed. Since cobia like to come to the surface, chum works especially well for them. Frozen chum will work, but live bait fish used as chum is extremely effective.
Cobia are often seen in small groups, referred to as pods. It is not uncommon at all to see a group of six or eight cobia swim right up to the transom of the boat. They are a curious fish, and this habit has led to many a cobia's demise. Cobia are also less fussy than many other game fish. In most cases, locating them is the most difficult part. Cobia will usually take a well presented lure or live bait.
Best rods and reels for cobia fishing
The best all round cobia fishing rod and reel is a medium heavy spinning outfit. A 7 foot to 8 foot medium heavy rod works well. Spinning tackle is very versatile. This type of rod has a heavy butt section which allows anglers to land a large cobia, while tapering to a fairly limber tip. This tip is important as it aids in casting lighter lures and live baits a fair distance.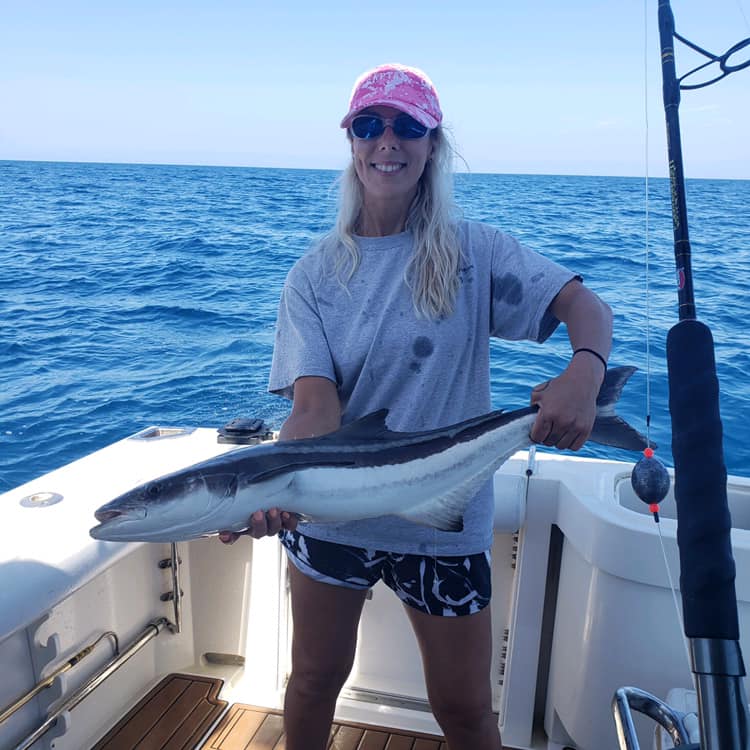 The rod is matched with a 6000 to 8000 series spinning reel. This real will have a lot of line capacity, which is important when chasing large game fish such as cobia. It will also have a substantial drag which will be needed to turn a large cobia went fishing around structure.
"Fishing Lido Key is a participant in the Amazon Associates Program, an affiliate advertising program designed to provide a means for sites to earn advertising fees by advertising and linking to Amazon. As an Amazon Associate I earn from qualifying purchases. "
There are places where anglers catch small cobia, in the 5 lb to 10 lb range. For the most part, this occurs in the shallow, inshore waters. In these instances, the same inshore tackle used for schoolie stripers and bluefish, speckled trout, and redfish will work fine.
Conventional tackle
There are situations where conventional tackle will be a better choice when cobia fishing. For the most part, this is when casting is not required. Anglers bottom fishing near heavy structure such as oil rigs and sunken wrecks will need stout tackle to pull a fish away from this heavy cover. A heavy conventional outfit does a better job in this application than spinning tackle will.
Some experienced anglers do prefer baitcasting outfits. These are conventional reels that allow for casting. Freshwater bass anglers use them extensively. It does take more practice, but in a skilled angler's hands, they are an excellent choice. Baitcasting reels have more power than spinning reels and in most cases a faster retrieve ratio.
Best fishing line
Anglers have two choices when it comes to fishing line; monofilament line in braided line. Most anglers fishing for cobia opt for braided line. It is more expensive, however it will last a very long time. The main advantages of braided line are that the thin diameter allows for more line to be wound on the spool as well as longer casting distances. Braided line also has almost no stretch, which is advantageous when fishing near heavy structure. 50 pound test 280 pound test braided line is used on both spinning and conventional outfits, depending on the size of the fish being pursued and the area being fished.
Leaders
Saltwater anglers are very familiar with the use of a shock leader. This is a section of heavier line that is used between the running line and the hook or lure. Fluorocarbon leader is preferred as it is less visible in the water. While cobia do not have teeth, they do have raspy jaws which will fray lighter line. Most anglers use a swivel to connect the leader to the running line. In most cases, 50 pound to 80 pounds leader is used for larger cobia.
Hooks
Anglers cobia fishing with live bait will obviously need hooks. Since cobia grow fairly large, larger live baits are usually used. These basically include any locally available forage species such as threadfin herring, pogies, mullet, sardines, blue runners, and more. In some areas, live eels are a top bait as well.
Cobia have a special affinity for crustaceans! Large live shrimp and medium-size live crabs are top baits. Anglers will do well with large, heavy live bait hooks. 4/0 to 8/0 conventional "j" hooks and 6/0 to 10/0 circle hooks will usually get the job done.
Fishing for cobia with artificial lures
While many anglers fish with live bait, cobia are curious fish and will readily take artificial lures. The top cobia lure is without a doubt a white buck tail jig with a soft plastic trailer. The jig provides casting weight as well is a stout hook and the trailer adds bulk and action to the lure. It is also a versatile bait in that it can be used to cast to fish seen cruising on the surface as well as fishing the entire water column from the bottom to the surface.
Lures are used for both sight casting and when vertically fishing wrecks and other structure. Another very effective cobia fishing lore is a butterfly jig. These are quite heavy and sink down to the bottom quickly, which is an advantage when fishing in deeper water. Once the lore gets to the desired depth or the bottom, it is jig very sharply and allowed to fall. Most strikes occur on the fall as the lure flutters, mimicking a helpless bait fish.
Plugs will certainly fool cobia as well. Larger diving and suspending baits are usually best as cobia prefer a larger meat. However, plugs have the disadvantage in that they make handling and releasing the fish much more difficult. Many cobia will be under-sized. A thrashing cobia and treble hooks are not a great combination.
Cobia fishing tips
Cobia are really not all that difficult to full once they are located. Therefore, finding them is of prime importance. Cobia are very temperature sensitive and are constantly on the move. Below are listed some cobia fishing tips which will help anglers achieve more success.
8 Useful Cobia Fishing Tips!
70° is the magic number. Cobia are very temperature sensitive and are constantly seeking the ideal water temperature. Not coincidental, this is also an excellent all round water temperature for bait fish. Sometimes just a few degrees of water temperature will make a huge difference.
Look for rays. Cobia will often times be found feeding under stingrays. This is particularly true on the shallow flats. As rays move about flapping their wings, they kick up but and sand off the bottom, which often dislodges crustaceans and other prey. However, cobia will be found feeding under rays offshore as well.
Cobia are often targets of opportunity. Anglers who are fishing offshore wrecks for other species such as bottom fish will do well to keep a rod rigged up and ready for cobia. This can be a live bait rig or a buck tail jig with a soft plastic trailer. Cobia are notorious for just appearing and anglers who are ready to take advantage of this opportunity will be more successful.
Use a net not a gaff. In most states, cobia need to be fairly large to keep. They are fantastic eating, so they are a desirable species. However, it is easy to overestimate the length. It is better to net the fish to ensure a healthy release.
Try jigs first, then use live baits if needed. This will result in the more active and aggressive cobia being caught first. Also, releasing the fish is usually easier.
Don't land a "green" cobia. Cobia are famous for kind of coming to the boat before they are really tired. The last thing an angler needs is for a 50 pound fish to be thrashing around on the deck.
Chum the wrecks. Chum will bring cobia up off of the bottom where anglers can sight cast to them as opposed to catching them off the bottom.
Cobia are primarily sight feeders. Therefore, most are caught during daylight hours, though disk and dawn can be great times to fish for them, as with most species.
Top cobia fishing spots
Cobia are found all along the coast line in the Gulf of Mexico and Atlantic Ocean. However, there are certain areas where cobia will be found in better numbers. Cobia are a pelagic species. That means they constantly migrate and are found throughout the water column.
The mouths and waters just inside of large bays are terrific Cobia spots. This includes but is not limited to Galveston Bay, Mobile Bay, Tampa Bay, and Charlotte Harbor are top spots on the Gulf Coast. On the Atlantic side, Biscayne Bay, Georgia and South Carolina tidal river mouths, Pamlico Sound, Chesapeake Bay, Delaware Bay, and Long Island Sound attract and hold fish.
For whatever reason, some stretches of beach are extremely productive cobia fishing spots for sight fishing. Two of the best are the Destin, Florida area and Virginia Beach and points north and south at the mouth of Chesapeake Bay. The Chesapeake Bay Bridge Tunnel is a cobia magnet. Any large bridge has the potential to hold cobia.
Anglers also run channel markers in search of cobia. They will lie right on the surface on the down current side of any type of marker post or buoy, waiting to ambush unsuspecting prey.
Pier fishing for cobia
There are very few fishing situations where a very large fish can be caught without using a boat. Cobia can be caught by anglers fishing from piers, due to their habits. Cobia cruise coastal waters several hundred yards off the beach. This is usually where fishing piers are located. Also, the height of the pier aids greatly in sighting a fish or small pod of cobia.
Most anglers use heavy spinning tackle when fishing for cobia from piers and even bridges. It can be difficult to handle a big fish near the pilings. Also, long casts are often required. Anglers can use lures, but in this situation live bait usually works best. Suspending a live bait under a cork is a good presentation.
In conclusion, this article on the best cobia fishing tackle and lures will help anglers catch more of these terrific game fish!