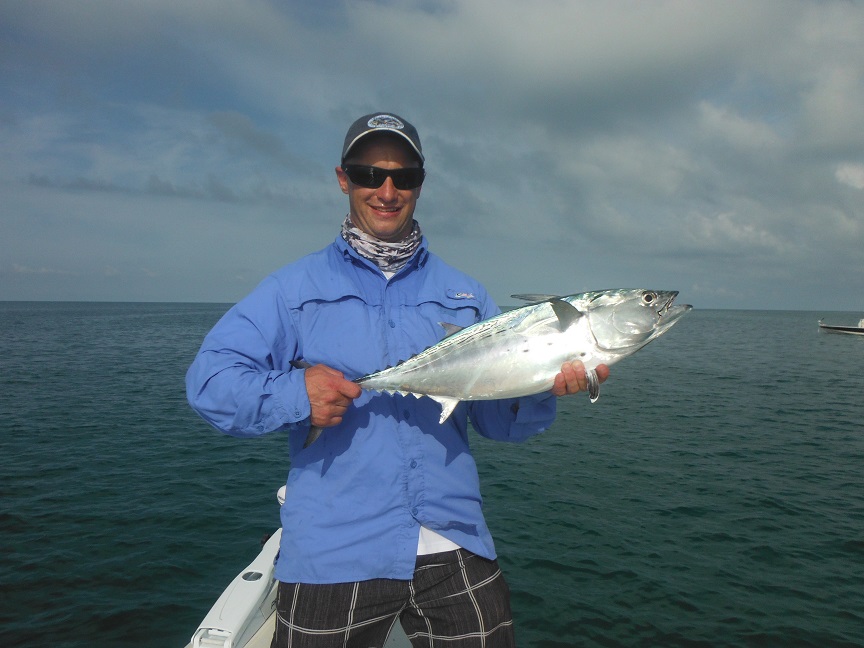 Siesta Key Gulf of Mexico Fishing Charters
The topic of this article is Siesta Key Gulf of Mexico fishing charters. While most of my trips are inshore, I will fish the near shore waters of the Gulf of Mexico when conditions are optimum. Anglers can expect to catch some larger game fish and experience some truly world class fishing.
My name is Capt Jim Klopfer and I run fishing charters in Sarasota and Siesta Key. I fish Sarasota Bay most of the time. However, I am well rounded and really enjoy venturing out into the Gulf of Mexico when the bite is on. Much of the fishing has a visual component, which only adds to the excitement!
Anglers going out on Gulf of Mexico fishing charters can expect to catch several species using multiple techniques. Spanish mackerel and false albacore will be seen feeding on the surface and will take lures and flies. Trolling produces them along with king mackerel. Cobia will be encountered, along with sharks. Bottom fishing produces snapper and sheepshead. Tarpon are sought in the summer.
Siesta Key Gulf of Mexico Fishing Charters
There are several different techniques that I use on my Gulf of Mexico fishing charters on Siesta Key. These are sight casting, trolling, drift fishing, and bottom fishing. All four of these techniques can be used to catch a variety of species.
Gulf of Mexico sight fishing charters

Of all of the techniques that I use on Gulf of Mexico fishing charters, sight casting to fish is the most exciting! Most often, this involves Spanish mackerel and false albacore. However, other species will be found chasing bait fish on the surface, including ladyfish, jack crevalle, and bluefish.
Birds are often the first clue that feeding game fish are in the vicinity. Diving birds will feed on the scraps. On a calm day, the fish can be seen feeding from a fair distance. The technique is to place the boat up-wind of the fish and then drift towards them. Lures such as spoons, jigs, and plugs can be cast into the fish. A hookup will almost surely ensue!
A silver spoon is a great lure for this situation. Spoons cast a good distance and put out a lot of flash and vibration. Plugs such as the Rapala X Rap and jigs with shad tails also are effective. Anglers fly fishing cast bait fish patterns with success. Live bait can even be used, though it is usually nor required.

In summer, schools of tarpon will be seen rolling on the surface. I position the boat to intercept them while my clients cast crabs and bait fish in front of them, hoping for a bite. This is not easy fishing and success is certainly not guaranteed. However, many consider it the ultimate angling challenge.
Trolling produces on Siesta Key Gulf fishing charters
Trolling is a very effective fishing technique that is used all over the world. It is very efficient, allowing anglers to present multiple baits at various depths. It is simple math as so much water can be covered in search of fish. King and Spanish mackerel are the top targets, but other species will be caught as well.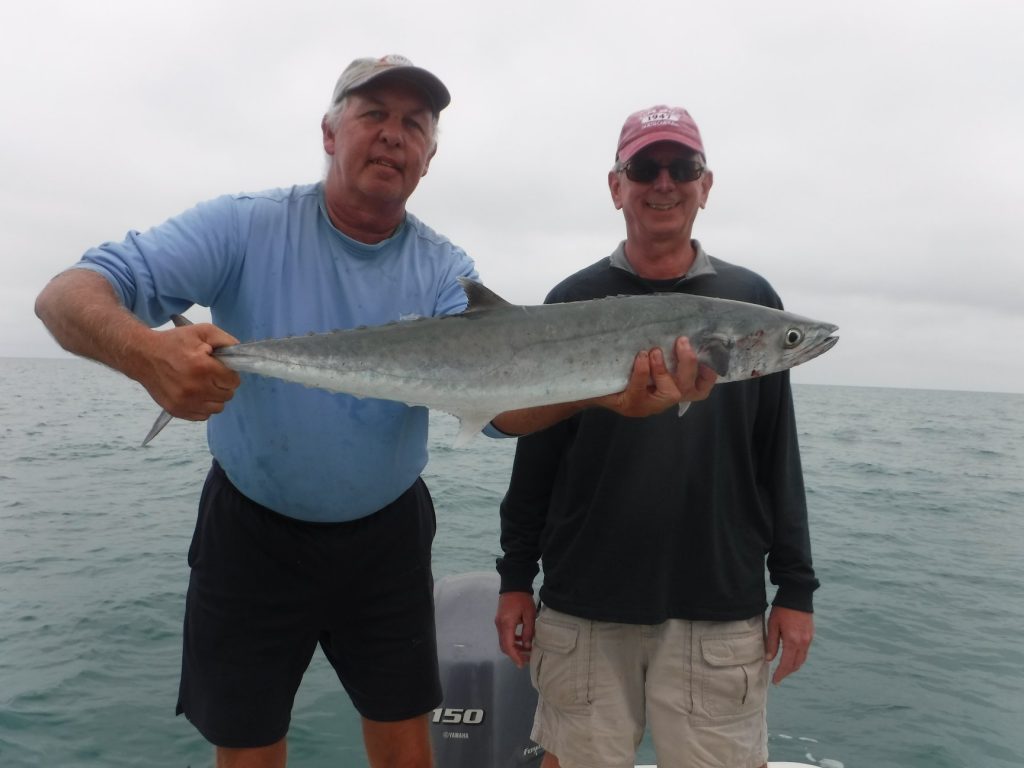 I troll almost exclusively when trying to catch king mackerel, but plenty of Spanish mackerel are landed as well. Large spoons are trolled behind a device called a planer, which gets the lure down deeper. Plugs can be trolled alone or behind a planer as well. Slow trolling live baits will produce trophy king mackerel.
The best spots to troll are bait schools, artificial reefs, and natural ledges. There are three artificial reefs right off of Sarasota, a couple miles from shore. These are fish magnets in the otherwise barren Gulf of Mexico. King mackerel will rarely be seen feeding on the surface like Spanish mackerel, trolling is a great way to locate them.
Drift fishing on Gulf of Mexico fishing charters
Drift fishing is another technique that I use on Siesta Key Gulf of Mexico fishing charters. There are times when fish are not feeding on the surface and trolling does not produce. Drifting a live or cut bait will often produce in this situation. Live bait fish are best, but shrimp will catch fish as well.
I use a special rig called a Sabiki rig to catch bait fish such as threadfin herring, scaled sardines, blue runners, cigar minnows, and pinfish. These baits are then free lined behind the boat. Same goes for a live shrimp. I usually do this using heavier tackle for sharks, king mackerel, cobia, and tarpon. However, plenty of Spanish mackerel and even false albacore are caught drifting baits out behind the boat.
Bottom fishing in the inshore Gulf of Mexico
Bottom fishing is an easy and productive technique that I use occasionally on my fishing charters. I really prefer casting lures and flies to game fish. However, bottom fishing with shrimp or bait fish will produce sheepshead, snapper, grouper, and other species.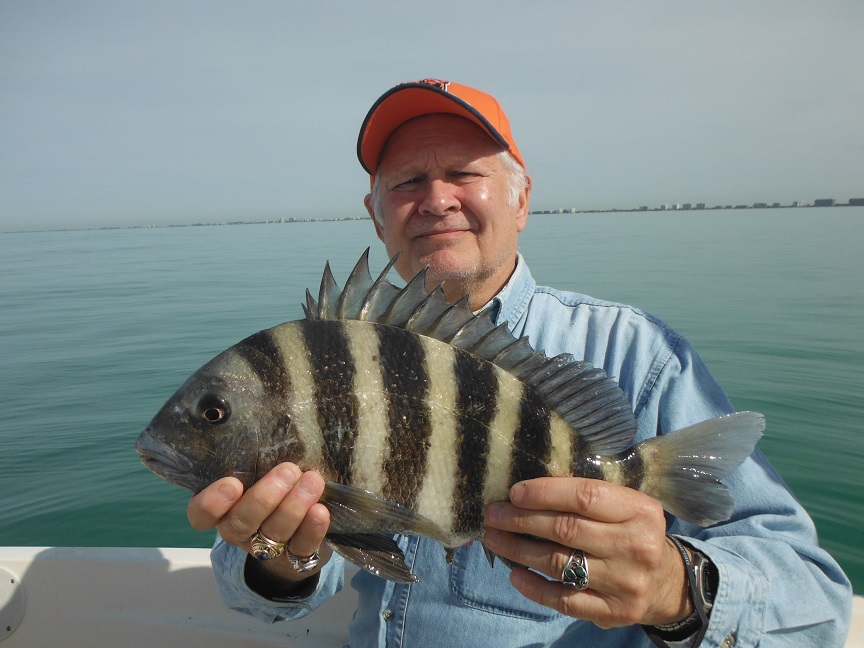 I do most of my bottom fishing in Sarasota on the three artificial reefs. There is not much other good bottom structure close to shore. Sheepshead will school up in big numbers in February and are fun to catch and good to eat. Mangrove snapper are prized by anglers seeking a meal as well.
Species caught on Siesta Key fishing charters
Anglers fishing in the Gulf of Mexico close to shore with me can expect to catch a variety of species. Some of these are available inshore as well. However, some species are only found in the more open waters of the Gulf.
Spanish mackerel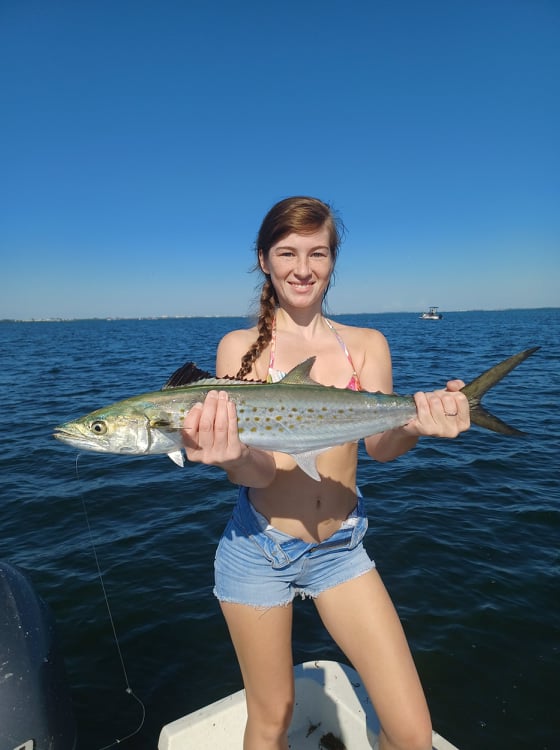 Spanish mackerel are the most plentiful and easy to catch species that I target on my trips. They are a migratory species, moving through in spring and fall. Some stay around all summer. They are caught fly fishing, casting lures, drift fishing baits, and trolling. Spanish mackerel are beautiful, fight hard, and taste great, they are a fantastic game fish species!
King mackerel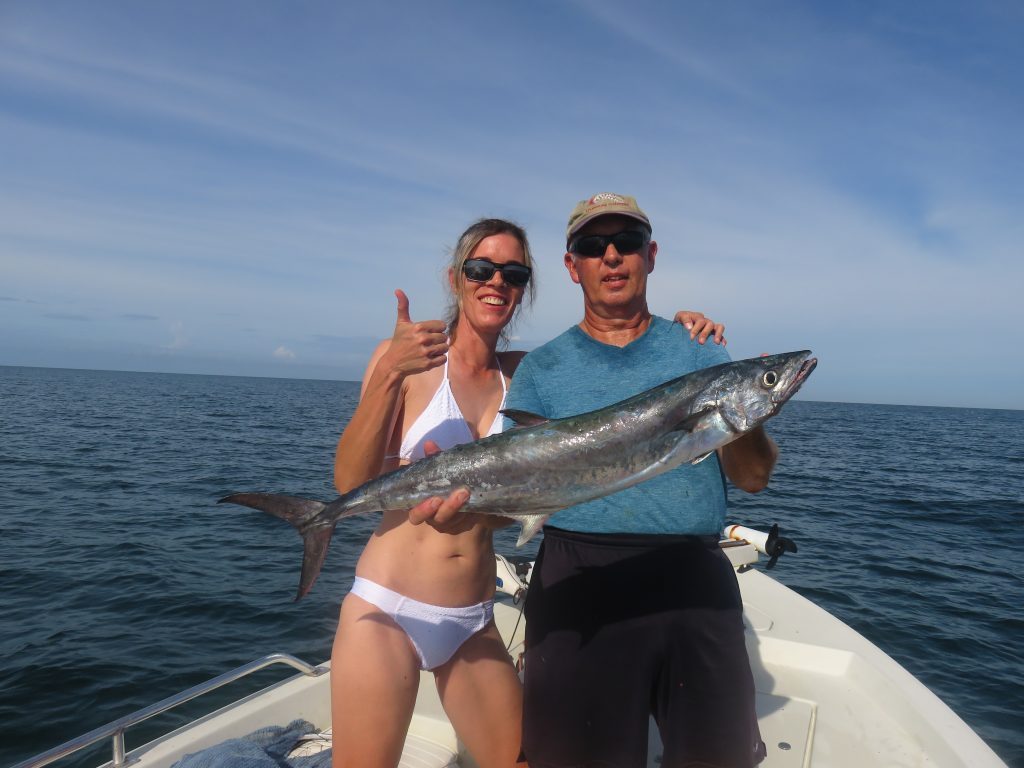 King mackerel are larger cousins of Spanish mackerel. They are mostly found offshore, but will move in close to shore when conditions are right. This is when I will dig out the heavier tackle and troll spoons behind planers for them. King mackerel grow large and make blistering runs. They are good to eat, especially when smoked.
False albacore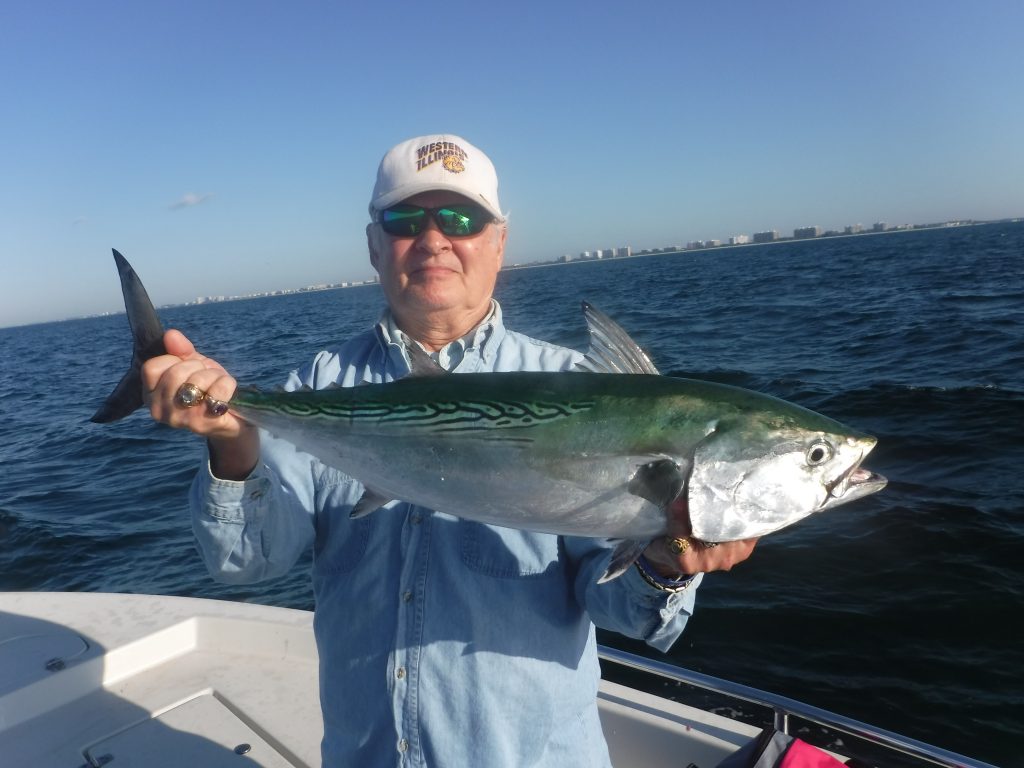 False albacore might be my favorite game fish! They are in the tuna family, though not considered good to eat. False albacore, also called bonito, are often found feeding on the surface. However, they can be fussier to get to bite than other species. Also, they move around quickly and can be frustrating. However, no other species fights harder!
Tarpon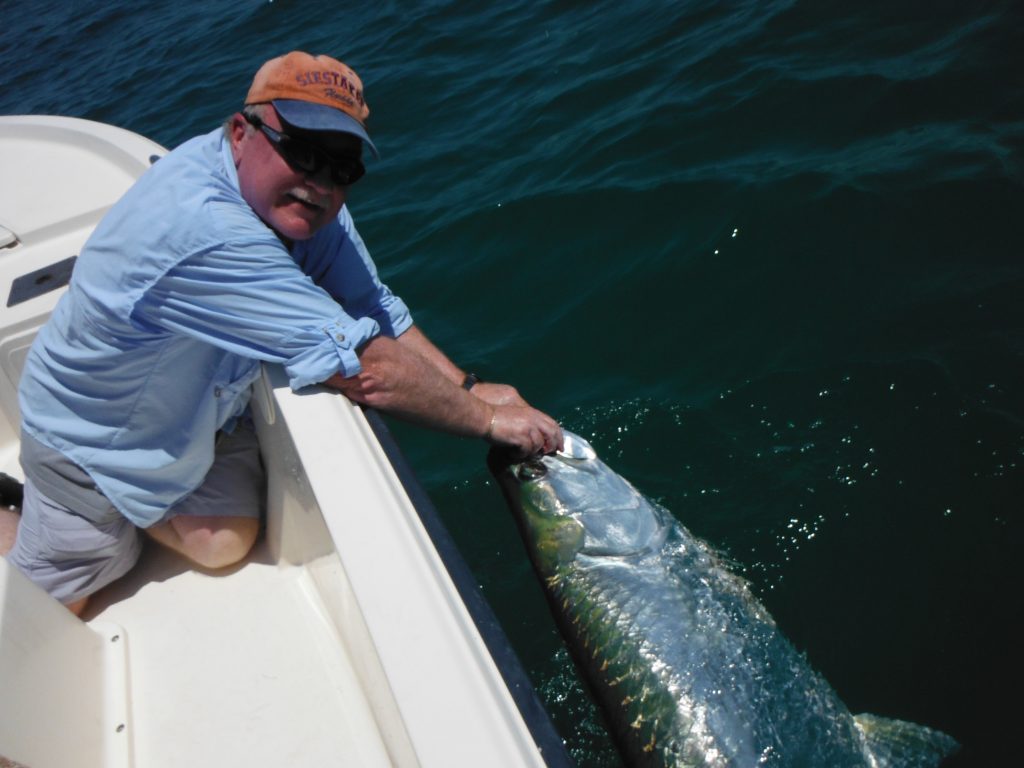 Many saltwater anglers consider tarpon to be the ultimate game fish species. They average 75 pounds and grow to over 200 pounds. I start fishing for them on my Sarasota fishing charters in the Gulf of Mexico in mid May and continue into July. Most often, anglers are sight fishing, casting live crabs and bait fish in front of them. Drifting baits will produce on days when they are not showing. Fly anglers can catch them, though it is challenging.
Jack crevalle
Jack crevalle are found both inshore and in the Gulf of Mexico. They are usually encountered in larger schools, often seen feeding on the surface. They will usually be close to shore, but will also be caught around bait schools and out on the reefs.
Ladyfish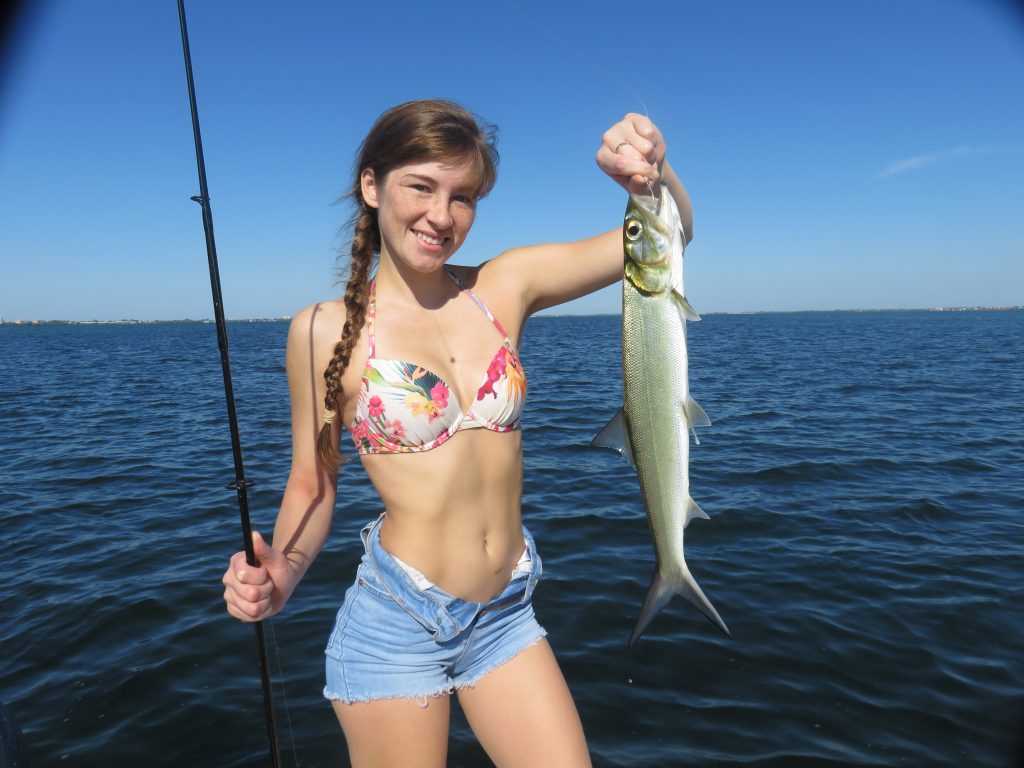 Ladyfish will often be found in large schools out in the Gulf of Mexico. The bars around both passes are prime spots, particularly on the outgoing tide. Ladyfish will also be found feeding on the surface and will take just about any lure or fly. While small and not good to eat, they are great fun on light tackle charters and provide fast action, especially for kids.
Cobia
Cobia are a highly prized game fish that I will catch once in a while on my Siesta Key fishing charters. They grow larger, over 100 pounds. Cobia are often encountered in smaller "pods" of fish, half dozen or so. They will cruise just below the surface and can be sight fished.
Most cobia are unexpected guests while fishing for other species. They love structure and the artificial reefs are top spots. They will also be found near bait schools. Smaller cobia are caught inshore, often hitting a jig meant for trout and other species.
Bluefish
Bluefish are well known to anglers up in the northeast part of the country. We get them here in Sarasota, though they average a couple of pounds. Bluefish are caught inshore, but out in the Gulf of Mexico as well. They will be found mixed in with other species feeding on top as well as on the reefs at times.
Sheepshead
Sheepshead are a structure oriented species that I catch on my Sarasota Gulf of Mexico fishing charters. I fish for them in the cooler months, with February and March being the top months. A live shrimp fished on the bottom works well. I primarily fish the inshore artificial reefs, but natural ledges will hold them as well.
Snapper
Snapper are another species that I catch on the ledges and reefs in the inshore Gulf of Mexico. They are caught inshore as well. As I stated earlier, I don't do a ton of bottom fishing, but when I do I certainly prize mangrove snapper and other snapper species.
Grouper
Grouper are one of the most popular fish in the Gulf of Mexico. Serious anglers charter a larger boat and head offshore in search of keeper grouper and tasty fillets. I catch a few grouper on my Gulf of Mexico charters, but most are undersized and released. They really are an incidental catch while snapper and sheepshead fishing. We catch them inshore as well.
Sharks
Sharks are often plentiful on my Sarasota Gulf of Mexico fishing charters, at times to the point of being a nuisance. I will often float out a mackerel fillet on a larger rod when fishing for mackerel and false albacore. Cut bait and live bait both work well. Blacktip and bonnetthead sharks are most common. I release all sharks that my clients catch.
In conclusion, this article on Sarasota Gulf of Mexico fishing charters will help anglers understand the options available when conditions are right!