Speckled trout fishing in Sarasota and Siesta Key
Clients experienced good speckled trout fishing in Sarasota so far in 2018. I have been running charters since 1991, and the one constant is change; each year is just a little bit different. This year the speckled trout fishing has been very reliable with both good numbers of fish along with quality size as well. It should only get better as summer approaches and the large schools of bait fish move into the passes and bays.
Capt Jim has been a fishing guide in Sarasota, Florida since 1991. Anglers who are interested in purchasing the equipment that he uses and writes about in his articles can do so HERE on the PRODUCTS page.
Most anglers doing some speckled trout fishing in Sarasota are caught fishing the deep grass flats. By this I refer to submerged grass beds in 4 feet to 10 feet of water. Grass is the primary cover here in Sarasota Bay as there is very little rock or other structure. Shrimp, crabs, and baitfish hide in the grass, which in turn attracts game fish. Anglers choose a flat by taking the wind and tide into account and then drifting over the grass until fish are located. The boat can be anchored while that area is worked thoroughly. Or, anglers can continue to drift and when the bite slows idle back around and drift the flat again. Some days you can make the same drift multiple times with good results.
Grass flats are the key to catching speckled trout
Sarasota Bay is blessed with many, many acres of pristine submerges grass beds. The bay north of Siesta Key is particularly good in this regard. The flats off of both Big Sarasota Pass and New Pass are very reliable spots. Marker #5, Marina Jacks, Bird Key, Radio Tower, and Middlegrounds all fall into this category. Further north, Buttonwood Harbor and the flats off of Stephen's Pt on the east side are also reliable trout producing spots for anglers speckled trout fishing in Sarasota. At the extreme north end of Sarasota Bay is Long Bar. This is a terrific area for trout, along with redfish and snook.
Sarasota Bay changes a bit south of the bridge going over to Siesta Key. Grass is less prevalent. However, there are still some nice flats, but oyster bars and mangrove shorelines. These are the dominant structures that hold fish. Anglers will not usually find the larger schools that hold on the expansive flats. Often times these trout will average larger in size. The "Little Bay" as we locals call it, run from Siesta Drive south to Blackburn Pt Bridge. The trout fishing will be better there in the cooler months.
Speckled trout fishing in shallow water
Trout can be found in shallow water as well, and while it sounds like a contradiction, these are often larger fish. Big trout are loners and will reside in potholes in shallow flats and along mangrove shorelines and edges of oyster bars. Wading can be a very effective technique when speckled trout fishing in Sarasota, especially in the winter. Extreme low tides will concentrate fish into potholes and depressions, there is not enough water anywhere else to hold fish.
One cool aspect to trout fishing is the many different methods that anglers can use to target this species. A live bait fished under a noisy float is a time proven technique and still catches a ton of fish to this day. Shrimp are the most commonly used bait though small pinfish, grunts, and shiners work well, too. Some anglers replace the live shrimp with an artificial shrimp and still catch plenty of fish.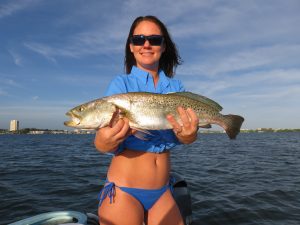 Artificial baits produce for people speckled trout fishing in Sarasota with the jig and grub combo being the most popular lure on the Gulf Coast. There are many different manufacturers of soft plastic bait, I prefer the Bass Assassin line, but all can be effective. A ¼ ounce jig with a 3" to 4" plastic shrimp or baitfish grub works best. Colors are subjective but the old theory of "light color in clear water and dark color in dark water" is a great rule of thumb. Glow, chartreuse, pink, olive, and rootbeer are great colors. Spoons and plugs can also be effective, though the treble hooks can result in more fish damage than the single hook lures.
Fly fishing for speckled trout
Fly fishing produces plenty of speckled trout as well. The best outfit is a 7wt or 8wt with an intermediate sink tip line, an 8′ leader and a Clouser Minnow pattern. The same colors that work when using soft plastic baits work as flies. Chartreuse/white, white/white, and olive/white are great colors to start off with.
Another benefit of drifting the deep grass flats in search of speckled trout is that many other species will be caught along with the trout using the same baits and lures. Spanish mackerel, bluefish, pompano, ladyfish, jack crevelle, gag grouper, mangrove snapper, flounder, sea bass, cobia, sharks, and more will be landed by anglers.
Night fishing around lighted bridges and docks is yet another method to take trout. It is a great option in the heat of summer when daytime temperatures can be unbearable. Live shrimp or shrimp imitating artificial baits work great.
While there are plenty of speckled trout around, it is VERY important when speckled trout fishing in Sarasota to protect the resource. Is it OK to keep a couple of slot trout. However, it is imperative, in my opinion, that the larger female trout are carefully released. We need those big girls in the water to spawn and keep the numbers good. I release all trout over 20" on my fishing charters, Capt Jim