Top 10 Speckled Trout (Spotted Sea Trout) Fishing Lures
This article I will list my top 10 speckled trout fishing lures. Speckled trout, properly known as spotted sea trout, are an extremely popular inshore saltwater species. They are found all along the Gulf of Mexico coastline and up the East Coast to Chesapeake Bay. Speckled trout are a beautiful fish that strike hard and are excellent eating, though perhaps not the strongest fighter in the sea.
My name is Capt. Jim Klopfer and I have been a charter boat captain in Florida since 1991. I fish for a variety of species, however my clients probably led more speckled trout than any other species. Speckled trout are available all year long and can be caught using a variety of techniques and baits.
Many anglers choose to catch speckled trout using live bait. There is nothing wrong with this, I use live bait often, especially live shrimp. In the summer, small baitfish are very effective. However, I use artificial lures more and more on my fishing charters when targeting speckled trout and other species. Below is my list of the top 10 speckled trout fishing lures.
1)  3″ Gulp Shrimp
The 3" Gulp Shrimp has jumped to the top on my list of top 10 speckled trout fishing lures. The key to the effectiveness of this lure is the built-in scent. The body of the lure itself is nothing special, it is a fair representation of a shrimp. However, the added benefit of it smelling and tasting like the real thing absolutely increases its effectiveness. I have no doubt that when the bite is tough this really makes a difference.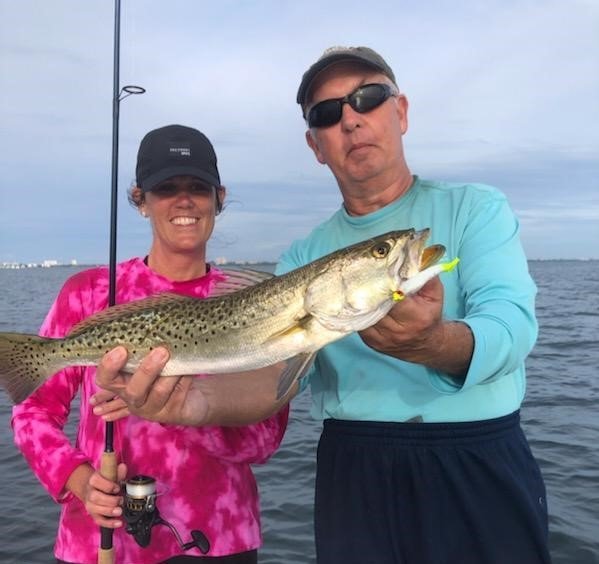 The vast majority of the time I fish the Gulp Shrimp on a 1/4 ounce jig head. I prefer a jig head with a lighter hook and a slightly smaller gap over some of the more popular prose style jig heads with a heavy hook in a wide gap. Speckled trout have a thin membrane in their mouth and I find the smaller hooks to result in more fish landed. I will occasionally go down to 1/8 ounce in shallower water.
In all honesty, I rarely find the color makes much of a difference when using these lures. Just for fun on charters sometimes, I will use extreme opposites like root beer for one client and white for the other. Most times, there is no difference in the amount of bites. If I did have to choose one color, it would be white with a chartreuse tail as they seem to be more durable.
2)  Bass Assassin Sea Shad
My second favorite speckled trout fishing lure is the 4" Bass Assassin Sea Shad. This is what some anglers would call a swim bait. It is a soft plastic lure with a shad style tail that puts out a lot a vibration in action in the water. There are a myriad of manufacturers who offer anglers soft plastic lures of this type. The reality is that when properly finished, they can all be effective. I just prefer the Bass Assassin line.
These baits are available in a wide variety of color options. As a charter boat captain, it is more important to have a lot of several callers than to have a few baits in a bunch of different colors. Therefore, I have narrowed down my favorite colors to glow with a chartreuse tail, chartreuse, new penny, and red/gold shiner. These four basic color patterns cover every situation I find myself in. Like the Gulp Shrimp, I fish these on a 1/4 ounce jig head most of the time.
3)  Rapala X-Rap Extreme Action Slashbait
I really enjoy casting plugs for any species. My favorite plug by far for speckled trout and every other species is the Rapala X-Rap Extreme Action Slashbait. This is in the family of lures known to anglers as jerk baits. They are long and slender and have a very erratic action and the water. They dive down several feet, right in the strike zone of the speckled trout.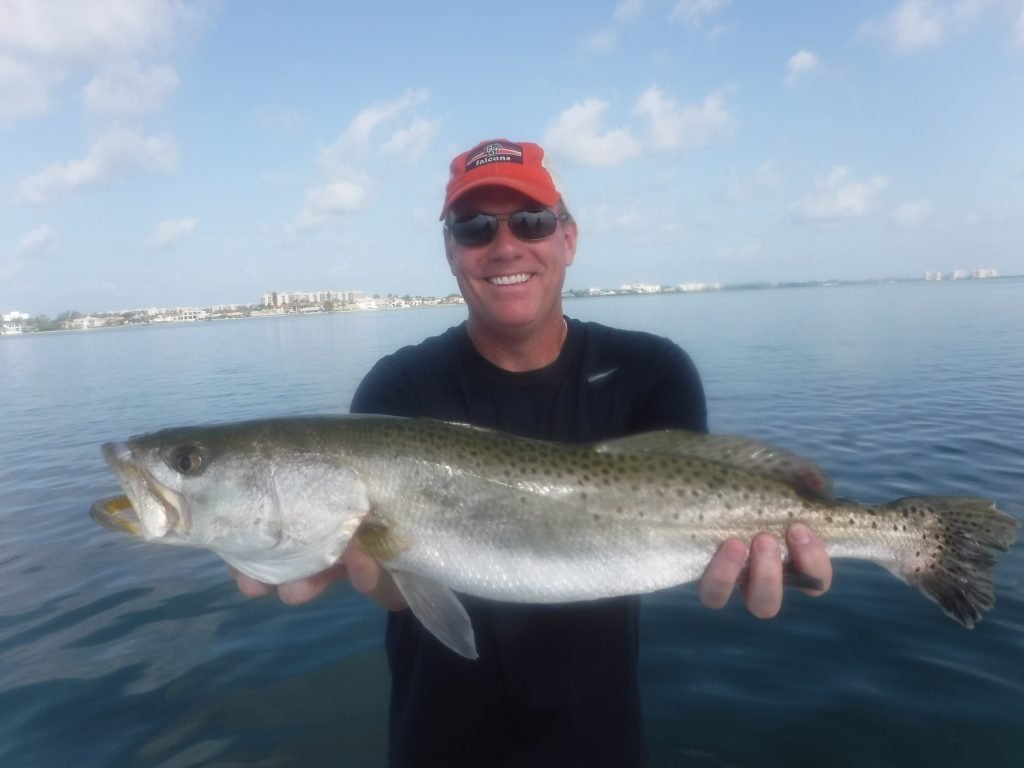 The lure is cast out and retrieved back in using hard jerks with a pause in between. The pause is vital to the action as it resembles a dying or wounded bait fish. I only use a couple colors of these lures, pilchard and ghost (white). The 08 size is perfect when small fry bait or hatch bait is on the flats while the larger 10 size works well when drifting the deeper grass flats. These lures tend to catch larger fish as well. As a final advantage, anglers can troll to locate fish.
4)  Johnson Sprite spoon
The Johnson Sprite spoon is next on my list of top 10 speckled trout fishing lures. This is what I call in open water spoon as it has an exposed treble hook. Spoons are excellent fishing lures for several reasons. They cast a long way, have an excellent Hilton action, put out a lot of flash and vibration, and catch a wide variety of species. Anytime that fish are feeding on small bait fish, a spoon is a good choice.
Spoons come in a variety of finishes. However, most saltwater anglers choose either gold or silver. I like silver in very clear water and gold and water that has a little more color. If I had to choose just one to use for speckled trout, it would be gold, they seem to have a bit of an affinity for that. The lore is cast out and retrieved back in either a steady or erratic retrieve. It is best to use a swivel when using a spoon to help reduce line twist.
5)  Gulp Jerk Shad
Next on the list of top 10 speckled trout fishing lures is the 5" Gulp Jerk Shad. This has to same advantages of the shrimp version while providing a larger profile. I will often switch to this lure when the trout are running smaller in hopes of attracting a larger fish. I also fish it most often on a 1/4 ounce jig head, though it works well on a swim bait hook.
This bait is also available in a variety of colors. I have pretty much landed on white is my favorite color, though I will fish a darker golden bream color occasionally. I also use this bait a lot in the winter when snook fishing and white is their favorite color as well. Therefore, I really only need to stock and keep one color on the boat, and this is white.
6)  DOA Deadly Combo
The next lure on my list of favorite speckled trout fishing lures is really a system. It is marketed by D.O.A. as the Deadly Combo. It is in a ingenious take on the popping cork and live shrimp rig. It incorporates a noisy float similar to the Cajun Thunder style floats used in Louisiana. Several feet under the cork is a DOA Shrimp. The idea is that the noisy cork attracts the fish while also making the shrimp jerk up and then flutter down.
One little twist that I often use is to replace the shrimp with a 1/16 ounce jig head and a Gulp Shrimp. This is especially true if the bite is a little tough. The shrimp that comes with that will catch plenty of fish though. This is an excellent lower for novice anglers and especially kids to use as it is easy to cast and the harder and more actively jerk the float generally speaking the more effective the lure is.
7)  Rapala Skitter prop
Most saltwater anglers enjoy casting top water lures, and I am certainly no exception. I don't do it is much on charters for safety reasons as I do when fishing myself as it is easy to get excited and have the lure come flying back at the angler. However, for those with a little bit of experience, top water plugs are great fun to fish and speckled trout will reliably take them.
My personal favorite top water plug is the Rapala Skitter prop. I like this bait over the other walk the dog -type baits primarily because it has more built in action. As long as the angler can twitch the rod tip sharply, the plug will produce. It has a conical nose and a propeller at the rear, which kicks up a bunch of commotion. I do not feel that color makes much of a difference on top water lures, but gold has worked well for me.
8)  MirrOlure MirrOdine
MirrOlure has been a company that has been producing effective but speckled trout fishing lures for decades. They are home-based in Florida not too far from where I fish in Sarasota. One of their newer editions, the MirrOdine has quickly become a favorite among anglers. It comes in several sizes which can be matched to the locally available forage.
This is a suspending plug. That means that it sink slowly and when twitched sharply will jerk forward and then hang there motionless in the water. Fish find this action irresistible as it really simulates an easy meal. This bait is available in a variety of colors, with Olive being the one that I use most often.
9)  MirrOlure 52 M series
The original MirrOlure still catches plenty of fish. The 52M series has been very popular ineffective for many years. It is a bit longer and or slender than the MirrOdine and works great when speckled trout are feeding on pin fish, grunts, and other larger forage. I also like the TT or tiny trout line with green and gold being my favorite color pattern.
10)  Clouser Minnow
Last on my list of the top 10 speckled trout fishing lures is not really a lower, but instead is a fly. It is called the Clouser Minnow and in reality is a tiny version of a buck tail jig. It consists of a hook with dumbbell weighted eyes tied on the front and some type of dressing. The fly is cast out and stripped back in using the same jerk and pause motion is used in other lures. I most often cast this on a 7wt or 8wt outfit.
Anglers do not need to use a fly rod to catch speckled trout on a Clouser Minnow. One secret trick of the trade is to take a plug and tie a 2 feet leader onto the back hook with the fly on the other end of the leader. There will be times when the plug will attract the fish but they will be reluctant to take it. However, once attracted, they will often hit the smaller fly trailing behind. Chartreuse is a great all round fly color.
In conclusion, this article on my top 10 speckled trout fishing lures will hopefully encourage anglers to put down the live bait and try casting artificial lures instead!