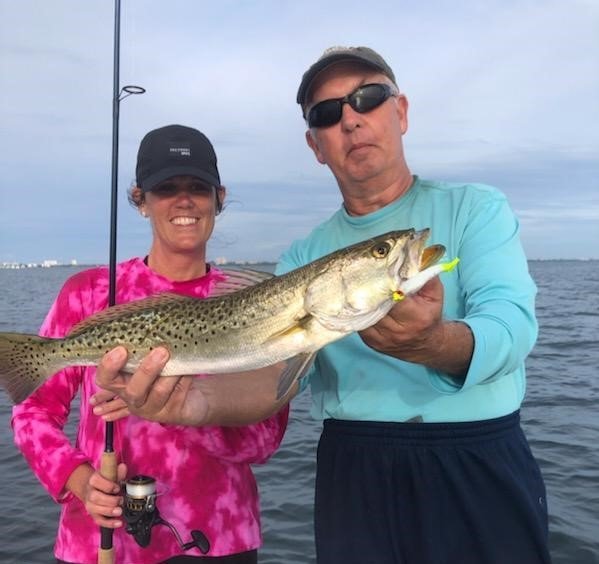 In this article I will thoroughly cover how to catch speckled trout. Speckled trout, also known as "spotted sea trout" are a very popular inshore saltwater game fish. They are a beautiful fish that takes lures and live baits and is terrific to eat.
My name is Capt Jim and I am a fishing guide in Sarasota, Florida. I probably catch more speckled trout throughout the year than any other species. Speckled trout are great for clients as their aggressive nature makes them fairly easy to catch, once located. They do not put up the toughest battle, but are great fun to catch.
Speckled trout are found all along the coats from Texas to the Mid Atlantic. They can tolerate a bit of brackish water, though not as much as some other species. They prefer the inshore flats but can be found in deeper channels, rivers, and in the surf as well.
Speckled trout habits and forage
Speckled trout are mostly found in fairly shallow water. In Florida where I fish, most are caught over submerged vegetation that we call "grass flats". The grass holds shrimp and other crustaceans along with bait fish. This in turn attracts speckled trout. They are opportunistic feeders that will take a wide variety of prey.
Speckled trout, especially larger fish, will be caught in very shallow water as well. While the "schoolies" are usually found a bit deeper, the larger fish are loners that are comfortable in water as shallow as a foot deep. The flats in Texas and Florida are famous for giving up some big fish.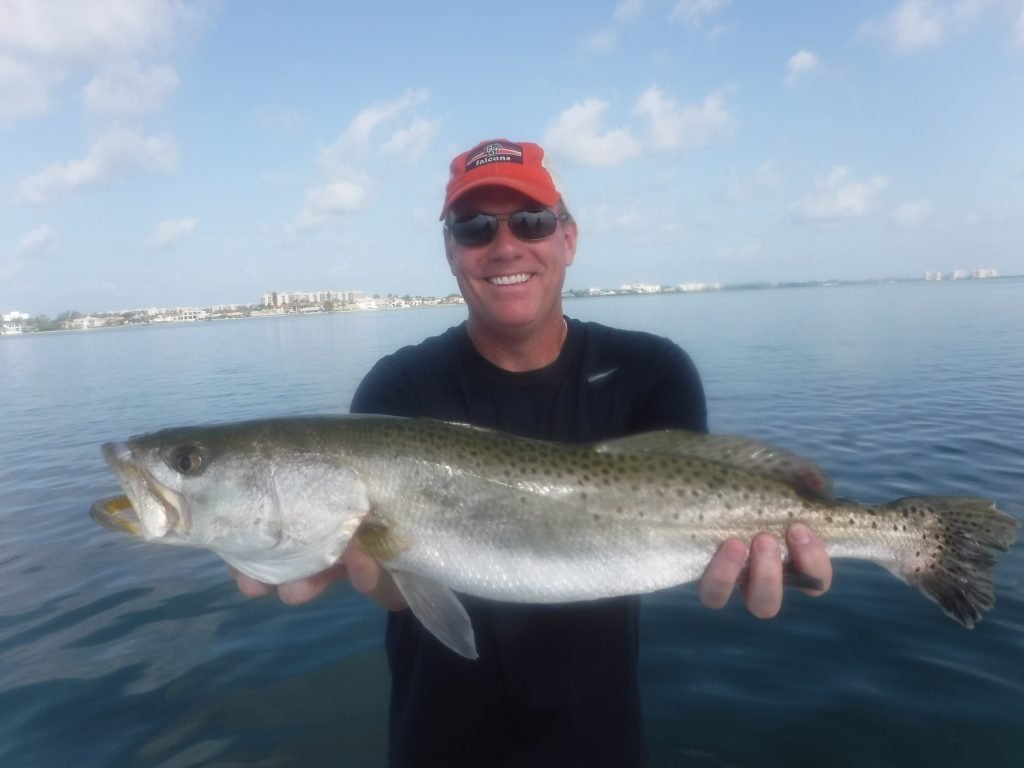 Oyster bars are great spots to find speckled trout. They break the tidal flow and provide habitat for crabs, shrimp, and bait fish. Finger mullet are a favorite forage and are often found near bars. Anglers fishing for speckled trout will catch fish on the edges of bars throughout their range.
In the extremes of summer and winter, speckled trout will move to deeper water. This can be rivers, channels, inlets and passes, and deeper holes in flats. While not as temperature sensitive as some other species, they will school up in these spots. Anglers who find them will experience some great action!
Best rod and reel for speckled trout fishing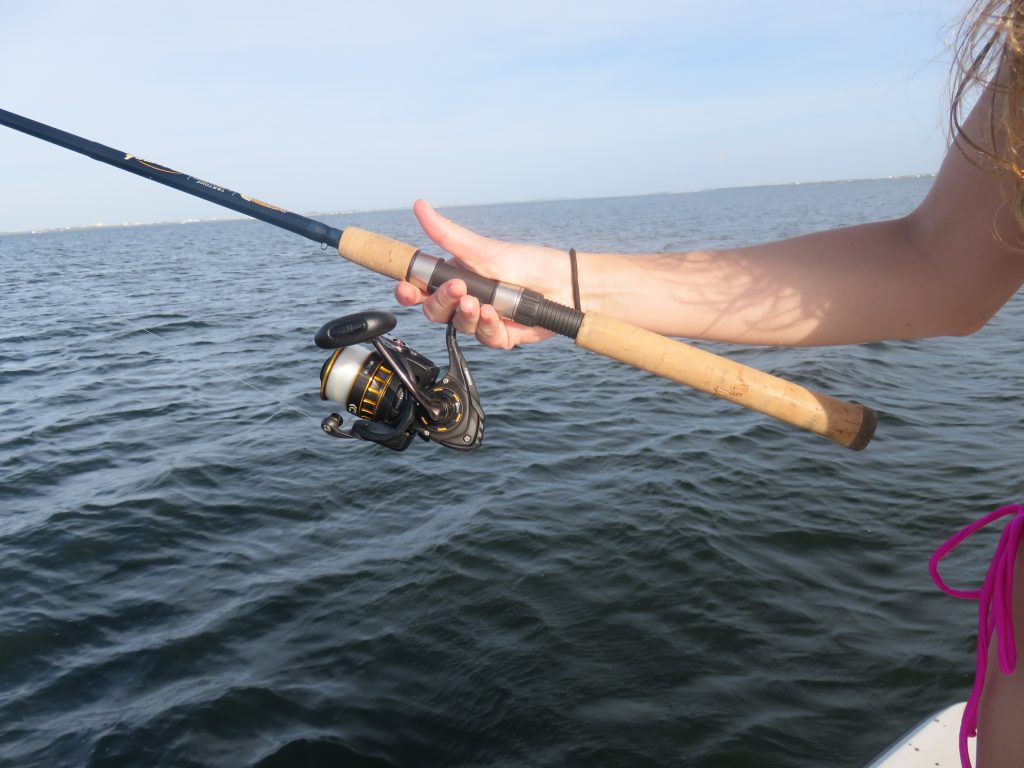 For the majority of anglers fishing for speckled trout, a light spinning combo is the best choice. This is a versatile outfit that will cast light lures and live baits easily while still being stout enough to handle a decent fish. I use the 7′ medium light St Croix Triumph rod with a 2500 Daiwa Black Gold reel and really like it! I use 10 pound monofilament line, I like the stretch when fishing for speckled trout.
Conventional tackle has a place in speckled trout fishing as well. This is particularly true along the Gulf Coast off Texas and Louisiana where anglers cast larger lures and popping cork rigs. They also have some big redfish there which will hit a bait meant for trout. A 7′ medium rod and reel with 20 lb braided line works well.
Click to shop Amazon for a KastKing baitcasting combo
Rigging up for speckled trout
I prefer to keep it simple when rigging up for speckled trout. A 24" piece of 25 lb test flourocarbon leader is attached to the running line using a double uni-knot. Anglers can use a #10 black swivel if that is easier. The lure or hook is then tied on the end. When using live bait, I like a long shank #1/0 hook, I think it is easier to remove. Circle hooks are fine, too.
Top speckled trout fishing techniques
There are several techniques that anglers can use when speckled trout fishing that will produce fish. The technique that I use most often, by far, on my fishing charters is drifting the deep grass flats. This works well for a couple of reasons. It produces both numbers of fish as well as the occasional trophy (we call them "gator trout" down here) speckled trout. It also produces a wide variety of species.
Both live bait and artificial lures can be used when drifting the flats. Lures cover more water while also provoking strikes from fish that may not be actively feeding. The top lure by far is a jig head with a soft plastic grub body. I prefer a ¼ ounce jig head ( I don't care what color) with a 3" Gulp Shrimp, 5″ Gulp Jerk Shad, or a 4" Bass Assassin Sea Shad body. The Gulp baits cost more but have the advantage of scent, which can make a difference on a tough day.
Other productive speckled trout fishing lures include spoons and plugs. Suspending plugs such as the MirrOLure MirrODine work great. I prefer jerkbaits and my favorite is the #8 or #10 Rapala X-Rap Extreme Action Slashbait in white or pilchard. Gold and silver spoons work well and are easy to fish. I like the ½ ounce Johnson Sprite spoon. A steady retrieve with a lot of hard twitches in between works great with both lures.
Live bait can be free lined or fished under a cork when drifting the grass. In areas of sparse vegetation, a live or cut bait can be fished on a bare jig head. In water between three and eight feet deep, a live shrimp fished under a popping cork is extremely effective. The cork is twitched sharply, attracting fish to the bait. Live grunts, pinfish, and other bait fish are also productive and will often catch larger fish. A soft plastic bait can also be used. It would be easy to argue that more speckled trout have been caught using this method than all others combined.

Fishing for speckled trout in shallow water
It sounds like a contradiction, but often times the largest speckled trout are caught by anglers fishing quite shallow water, often less than two feet deep. Large fish fill lie in depressions called "potholes" where they can dart out and ambush prey. Oyster bars will hold fish as well.
Big speckled trout in shallow water are not easy to catch! They are very spooky and a mistake by the angler will send them scurrying away. Dawn and dusk are prime times. Wading is often the best approach as even the stealthiest boat will make some noise. Long casts are usually required.
It is difficult to fish in very shallow water as well. Only certain lures can be used if there is any grass or vegetation. Topwater plugs can be very effective and will draw some explosive strikes. Weedless spoons such as a Johnson Silver Minnow will work through the weeds. A soft plastic jerk bait rigged weedless on a swimbait hook is a top lure as well.
Speckled trout are difficult to sight fish, unlike some other species. They blend in so well and are often hidden in the grass. Blind casting and working potholes is the best approach. Oyster bars are always worth a shot. I like to fish on the higher tide stages when targeting trout in shallow water. Anglers with boats that run very shallow like a low tide as it concentrates fish in holes.
Fishing deep for speckled trout
There are times when speckled trout will move into the deepest water available. This occurs in the coldest and hottest times of the year, especially in winter. Trout will often migrate up into are rivers. In Florida, these rivers are usually deeper than the surrounding flats. Residential canals act the same way and are almost always several degrees warmer.
It is tough to beat a large live shrimp in this situation. It can be free lined or fishing on a jig head. A soft plastic bait will also work, especially in deeper water. Anglers do need to slow down their presentations. In the warmer months, anglers do well bu just working water a little bit deeper than where they were finding them.
Fishing for speckled trout from shore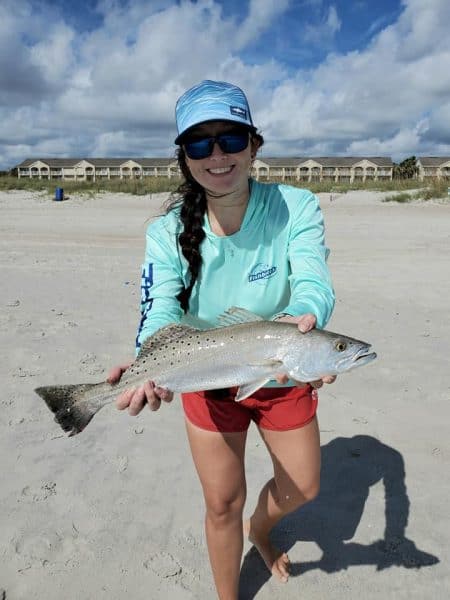 Speckled trout can certainly be caught off of beaches from Texas to New Jersey. They are quite common in the Carolinas and anglers fishing the Gulf Coast catch them from the beach as well. The same techniques that produce for anglers with boats will work fine in the surf. Lures work best if there is much surf and live baits will produce when it is calm.
Jetties are piers can be decent spots as well, depending on the location. Long jetties all along the coastline are prime sports to catch speckled trout. Anglers will often find large schools of fish. A free lined live bait works great. Anglers casting lures parallel to the shore will catch them as well. Live bait is usually the best bet for anglers fishing from docks and piers.
Fly fishing for speckled trout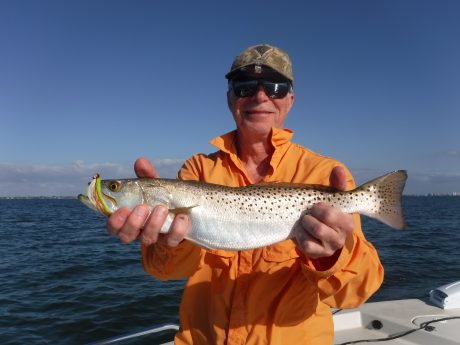 Anglers fly fishing for speckled trout can catch plenty of fish as well. In fact, they are probably the most commonly caught fish on my fly fishing charters. The locations and techniques are very similar to spin fishing. In deeper water, drifting the deep grass flats while casting a fly on a sink tip line will produce plenty of trout along with other species.
Anglers fishing shallow water or casting to breaking fish can go with a floating line. A 7wt or 8wt outfit is fine for most speckled trout fishing situations. Fly selection runs the gamut, but a #1/0 chartreuse/white Clouser Minnow is tough to beat. Any bait fish or shrimp pattern will produce. In reality, location and presentation are much more important that fly (or lure) selection.
In conclusion, my article on how to catch speckled trout will help anglers catch more of these beautiful inshore saltwater game fish!