13 Productive Redfish Fishing Tips
This post will highlight 13 productive redfish fishing tips. Redfish, also known as "reds", "red drum", "channel bass", and "puppy drum", are an extremely popular inshore saltwater game fish. They are found along the United States coastline from Texas to the mid Atlantic. Redfish are a hard fighting species that many anglers consider to be very good eating as well!
The 13 productive redfish fishing tips are;
redfish have an inferior mouth
low, incoming tide is best for redfish on the flats
shrimp are the top live bait when fishing for redfish
redfish love structure
oyster bars are top redfish habitat
live bait fish will produce when redfish fishing
inlets and passes will hold redfish
Weedless spoons are excellent redfish fishing lures
redfish will move offshore in the fall
soft plastic baits will produce redfish
anglers surf fishing will catch redfish

cut bait produces redfish
redfish will take a fly
These 13 redfish fishing tips will help anglers catch more of these highly desirable inshore game fish species throughout their range. Each tip will be covered in detail in the sections below.
Capt. Jim Klopfer is a fishing guide in Sarasota, Florida. He mostly fishes inshore for redfish, speckled trout, snook, and other species. Redfish are without a doubt one of the most highly coveted species on the West Coast of Florida. Capt. Jim is sharing these tips which he has learned out on the water with anglers in the hopes that they will become more successful.
Redfish have an inferior mouth
One look at the mouth of a redfish will give anglers a clue to how it feeds. Redfish have an "inferior" mouth. That means the nose protrudes out in front of the mouth. This results in a fish that is designed to feed on the bottom. The hard nose is used to root along the bottom in search of it's favorite food; crustaceans.
Crabs and shrimp are the primary forage of fish that have an inferior mouth. Bonefish are another great example of this. Redfish will certainly take bait fish as well and anglers do catch them even using topwater plugs. However, the vast majority of redfish are caught by anglers presenting their baits and lures on or near the bottom.
Low, incoming tide is best for redfish on the flat
Most anglers fishing for redfish on the flats prefer a low, incoming tide. This is next on list list of redfish fishing tips. The primary reason for this is that it will concentrate the fish. Reds will stage up in holes, channels, and edges, waiting to the water to rise so that they can move up and feed. Generally speaking, the fish will be in an aggressive mood at this time.
Read Capt Jim's article on the best redfish tackle and lures
As the water rises, redfish will move up on the flat to search for shrimp and crabs. They will also scatter out and disperse. This makes locating them more difficult, there is a lot more water in which they can be found. As the tide peaks and begins to fall, redfish will move back towards deeper water. They can still be caught, but are often not as active as they have been feeding on the incoming tide.
Shrimp are the top live bait for fishing for redfish
Shrimp are the top live bait for several reasons. Most importantly, shrimp are a favorite forage of redfish and are found throughout their range. Shrimp offer game fish a lot of protein while being fairly easy to catch. Gulf Coast redfish grow fat on shrimp!
Live shrimp are also readily available. Just about every coastal bait shop will sell them. Shrimp are also fairly easy to keep alive. A small aerator will do fine. Live shrimp are also versatile and can be presented in several ways. A live shrimp fished under a popping cork is tough to beat for catching redfish. Shrimp also catch every other inshore saltwater species.
Redfish love structure
Like many game fish, redfish often are found around some type of structure. Docks and bridges are prime spots, as are jetties, ledges, submerged rocks, oyster bars, and wrecks. Any type of natural or man made structure is likely to hold redfish at one time or another.
Anglers have several choices when choosing redfish tackle. However, the same inshore rod and reel used for other types of fishing work fine. Capt Jim like a 7′ Medium action rod with a 3000 series reel. This will handle all but the largest redfish.
"Fishing Lido Key is a participant in the Amazon Associates Program, an affiliate advertising program designed to provide a means for sites to earn advertising fees by advertising and linking to Amazon. As an Amazon Associate I earn from qualifying purchases. "
Oyster bars are top redfish habitat
Redfish love oyster bars! The reason for this is simple; food. Oyster bars hold all kinds of crustaceans, especially crabs and shrimp. These are the primary forage of redfish. Also, oyster bars are fairly easy to fish. They are readily seen on the lower tide stages as well as on the higher tides. Live bait and lures can be equally productive.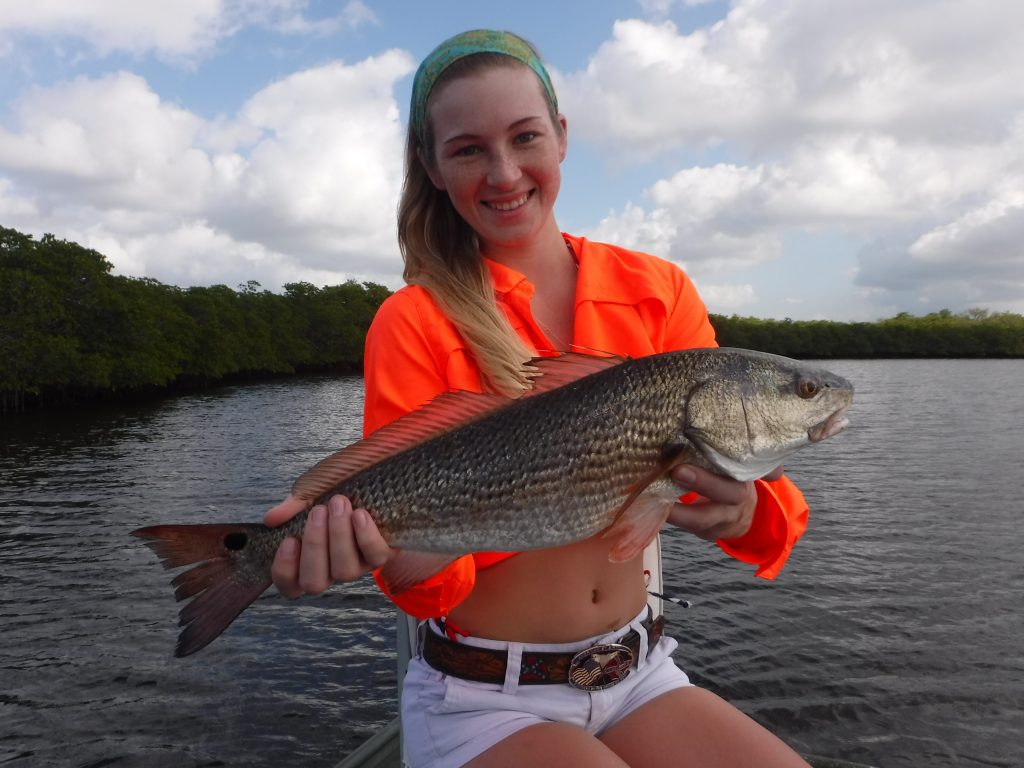 Live bait fish will produce when redfish fishing
While redfish feed primarily on crustaceans, they will certainly eat bait fish as well. This is particularly true as the fish get larger. The type of bait fish used will vary depending on the region being fished. Finger mullet, pinfish, pigfish (grunts), scaled sardines, Spanish sardines, threadfin herring, mud minnows, and menhaden are all used as live baits by anglers fishing for redfish. This is another tip on list list of redfish fishing tips
Inlets and passes will hold redfish
Inlets and passes ("pass" is just a term for an inlet that is used on the Gulf Coast) are natural holding spots for migrating fish, and redfish are no exception. Many of these areas have long rock jetties which provide desired cover. Also, current flow will bring forage to the fish hiding in ambush mode.
Read more about fishing for redfish in Capt Jim's article
Fall is a prime time to fish for redfish in inlets and passes. Redfish school up and move from the inshore water to the open water as part of their spawning run. This is perhaps the prime time to catch the largest redfish. Anglers use heavy tackle and cut bait fish and crabs on the slack tides.
Weedless spoons are excellent redfish fishing lures
Locating redfish can be difficult as they roam about in large areas. Anglers casting artificial lures can cover a lot more water than they can with live bait. The best lure for this is a weedless spoon. It casts a mile, puts out flash and vibration, and can be used successfully in very shallow water.
The gold Johnson Silver Minnow spoon in the ½ ounce size is a time proven redfish lure. It still catches fish to this day. Anglers have a lot of other choices as well.
Redfish will move offshore in the fall
Redfish have a well defined seasonal migration pattern. They roam about in the inshore bays, then start to group up in large schools in late summer. These schools can be found on the flats before they move out. Quiet, patient anglers can get them to bite, but they are skittish in the shallow water.
At some point, they then move out into the open Gulf of Mexico and Atlantic ocean. These are almost always large, "over-slot" bull reds. Anglers that are fortunate enough to run across one of these schools may experience a truly memorable day. The school can be easily seen milling just under the surface. These fish can also be found on structure such as artificial reefs as well.
Soft plastic baits will produce redfish
Soft plastic fishing lures are effective redfish baits as well. These lures are usually 3" to 6" long with a paddle, shad, or straight tail and are fished on a jig head or swimbait hook. The weight should match the depth being fished. Capt Jim likes the Bass Assassin line of lures, but there are plenty of quality baits for anglers to choose from.
Anglers catch redfish surf fishing
Surf fishing for redfish is very popular all along the coast from Texas to Virginia. Anglers can use the basic medium inshore tackle to cast lures in the trough. However, most redfish are caught by those using traditional surf fishing tackle. These are long, heavy rods that allow anglers to cast a bait with a heavy weight out past the breaking waves.
Read more about surf fishing tackle
Cut bait is usually used in this application. These baits stay on the hook better during a long cast and in strong current. Any locally available fresh fish will work, mullet are a favorite bait. Crabs can be used as well, though to do not stay on the hook as good.
Cut bait produces redfish
There are times when cut bait is the best choice for redfish. It is another tip on list of redfish fishing tips. As mentioned in the previous tip, surf fishing is a prime example. Also, when the water temperature gets high on the shallow flats from Texas to Florida, redfish often are reluctant to chase down a live bait or lure. The same can apply at the other end of the spectrum in cold water. A fresh chunk fished on the bottom or under a float will often produce when nothing else will. Mullet, pinfish, and ladyfish are top baits.
Redfish will take a fly
Sight casting a fly to tailing redfish is terrific sport! This can be challenging, especially in areas where the water is clear and where angling pressure is heavy. Anglers fly fishing for redfish usually pursue them on the shallow flats where they can be found feeding. In areas where the water has a bit more color, redfish can be easier to fool. Floating lines and flies that imitate crabs and shrimp are usually used.
In conclusion, this article on the 13 redfish fishing tips will help simplify the lures and techniques for catching reds!